Some posts on this site contain affiliate links. If you book or buy something through these links, I earn a small commission (at no extra cost to you). Take a look at my privacy policy for more information.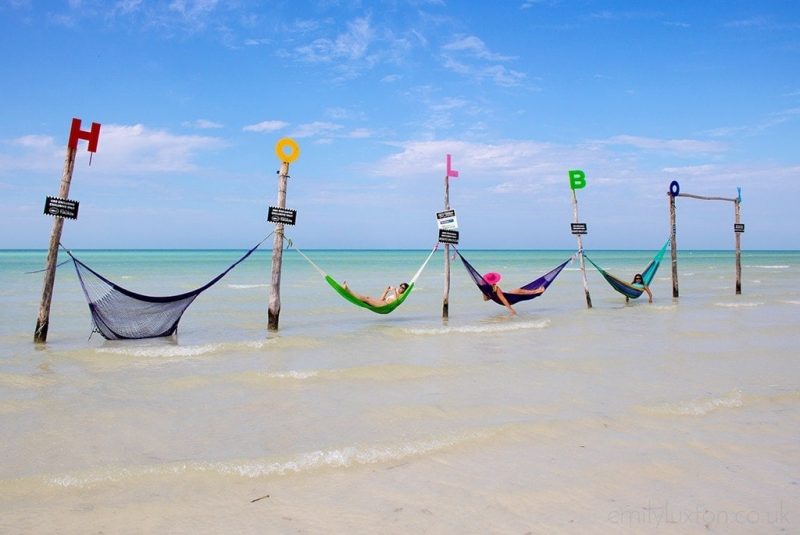 This Isla Holbox travel guide is aimed primarily at backpackers, with tips on how to get there and an outline of what things cost. But this info is useful for travellers of all budgets!
Considered Mexico's "best-kept secret" by many, Isla Holbox has emerged as one of the hottest new tourism destinations on the Yucatan Peninsula.
It's still just out of the way enough that Holbox isn't overrun, retaining instead the sleepy and untouched vibe which is the island's real charm.
Colourful buildings, heaps of street art, a chilled-out atmosphere, and plenty of gorgeous beaches make Holbox a paradise for backpackers.
But figuring out how to get there is still a little tricky, so I put together this handy Isla Holbox travel guide after my own trips to Mexico's stunning island paradise. Buen Viaje!
READ MORE: 27 Awesome Off the Beaten Path Destinations in Mexico
How to Get to Isla Holbox
To reach Isla Holbox, you can take a ferry from Chiquila, a small town on the coast. Ferries depart every half hour or so until about 9:30pm.
The ferry costs $220 MXN one way of $400 MXN return*. There are two ferry companies: 9 Hermanos and Holbox Express, which alternate departures throughout the day. Both cost the same, so just book whichever one is leaving next.
*price as of January 2023
Chiquila can be easily and cheaply reached by bus. You can also hire a car, book a shuttle online, or book a private transfer. If you're backpacking Mexico or travelling on a budget, bus travel is usually the cheapest option, and it's fairly convenient.
Most towns in the Yucatan area have an ADO bus station where you can purchase a ticket to Chiquila. You can also purchase tickets online from the ADO website or app, but as far as I can tell you either need to use a Mexican debit/credit card or PayPal. So for most visitors, PayPal is the only option.
There is a very small bus station in Chiquila. It's just down the road from the ferry station – about a 2-3 minute walk – so ignore the offers of taxis if you don't mind carrying your own bags a short distance.
You can buy ferry tickets for both ferry companies at their kiosks in the bus station or at the ferry terminal. There's usually a big queue for the bus station kiosks with everyone who just got off the bus, so it might be better to walk to the port, see which ferry is departing next, then buy the tickets. The price is the same no matter where you buy the tickets.
DAY TOUR: You can also visit Holbox on a full-day tour from Cancun (from $80pp).
Bus from Cancun to Holbox
The ADO bus from Cancun to Chiquila costs $286MXN and takes between 2:20 – 3:30 hours. There are several departures per day, but times vary quite often. My advice is to buy your ticket a day (or more) in advance so you know what time to leave.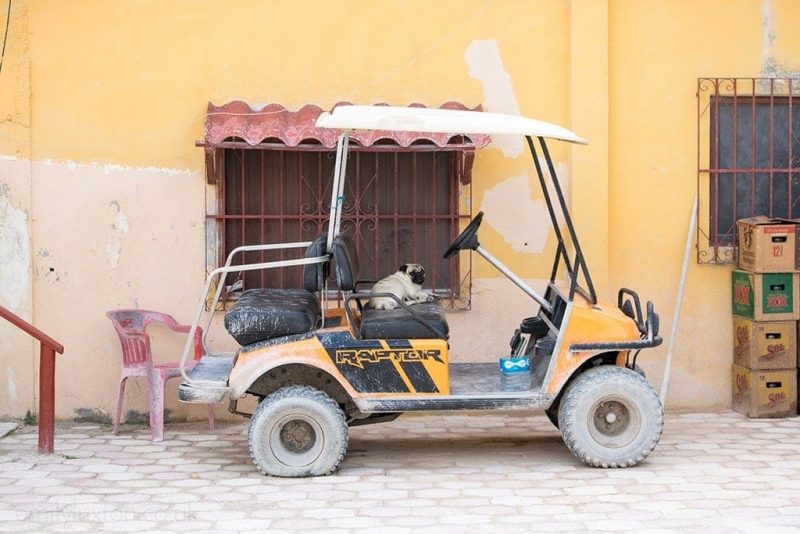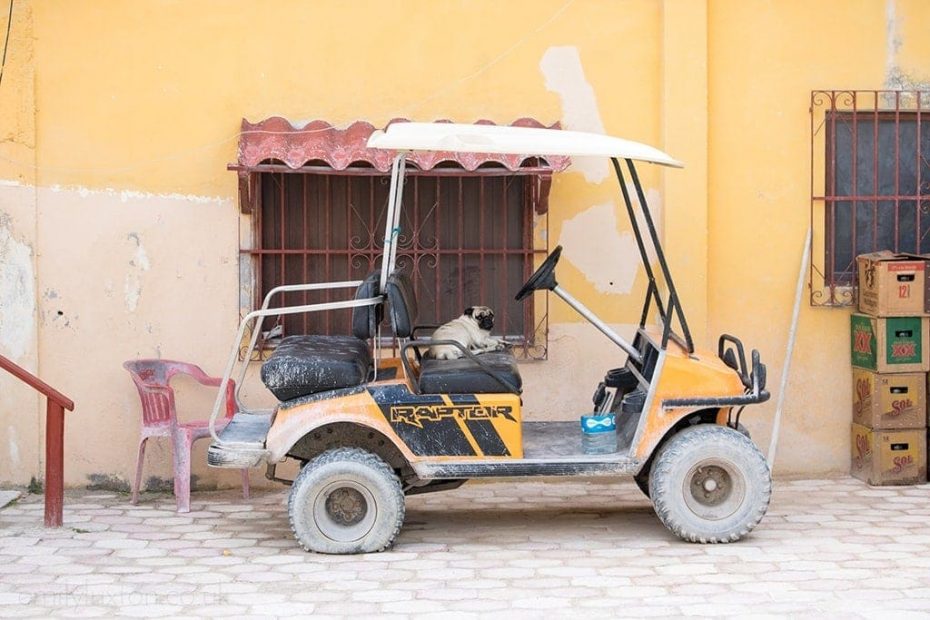 Bus from Mérida to Holbox
The ADO bus from Mérida to Chiquila costs around $450MXN and takes about 5 – 5:30 hours.
When I first made the journey in February 2017, there was only one departure a day, leaving from the Noreste bus station. When I revisited in November 2019, there was also an early morning departure from the ADO station (7:15am from Terminal Paseo 60) which was much more convenient. ADO buses tend to be a little nicer in my experience!
If you miss the early bus from Merida to Holbox but can't wait another day, there's an alternate option. You can hop on a local bus to Cancun and ask to get off at El Ideal, where there is an intersection with the road to Chiquila.
Mérida to El Ideal cost me $169 MXN for 2nd class. There are usually a few taxis waiting here, and they will take you to Chiquila for about $300 MXN (not too bad if a couple of you are sharing).
Or, if you time it right, you can hop on the bus coming from Cancun to Chiquila (check the ADO website for the timetable). The journey from Ideal to Chiquila takes about one hour.
Cancun Airport to Holbox
There is no direct bus from Cancun Airport to Holbox. The cheapest option is to take the ADO from Cancun airport to Cancun bus station. This costs $94MXN and takes 25-45 minutes depending on which terminal you land at. There are buses really frequently throughout the day. From Cancun Bus Station, you can take a bus to Chiquila (see above).
If you're short on time or don't fancy the connection, you can book a shared shuttle service direct from Cancun Airport to Chiquila. There are a couple of different services; I booked through El Holboxeno. It costs $785pesos (around $40 USD) so it's not the cheapest option, but it is the simplest, fastest, and most convenient way to travel from Cancun Airport to Holbox.
Getting to Holbox by Private Transfer
If you're travelling in a group, a private transfer might actually be fairly reasonable and can save you the headache of navigating busses. For example, you can book a private luxury transfer from Cancun Airport to Holbox from $149 USD for a group of three. The price includes the ferry and offers a fast, comfortable experience.
El Holboxeno also offer private transfer services, and I had a good experience when I booked their shared shuttle.
Getting to Holbox by Plane
Those who are short on time, or fancy a different sort of experience, can charter a plane from Cancun airport. The journey takes twenty minutes and the plane can carry five passengers.
When I enquired, I was told it costs $500 USD to hire the plane for a single journey to or from Cancun Airport, or to simply charter it for a one hour flight around the island. A half-hour flight costs $300 USD – not too bad if a few of you can split the cost! You can book it online through Expedia from £363 for a trip from Cancun to Isla Holbox.
If you're lucky enough, you may be able to grab a discount. If the plane is heading to Cancun airport anyway to pick someone up, and has no passengers for the outward journey, they'll sell you a spot for just $50 USD per person.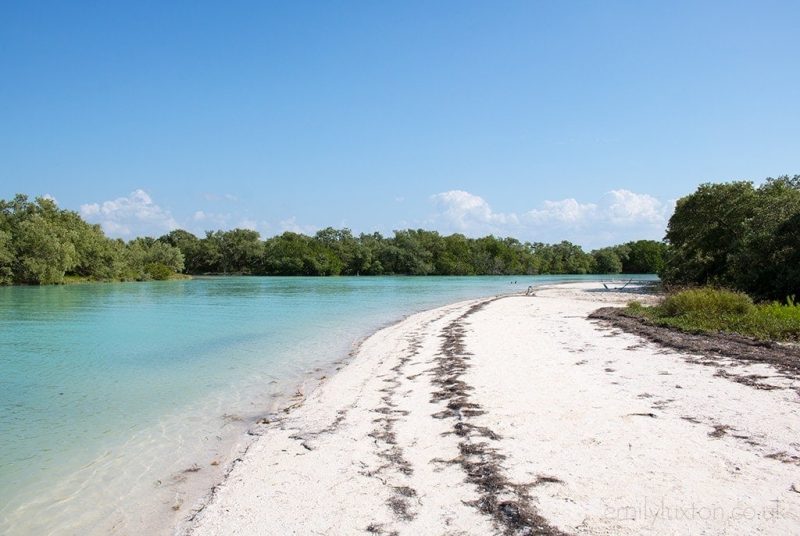 Getting Around Isla Holbox
There are very few cars on Isla Holbox, and the taxis are all golf buggies. The town of Holbox is very small and perfectly walkable, plus it's laid out in grid format so finding your way is easy. From the ferry port, it takes only 8 minutes to walk to the main square at the centre of town, and an extra two minutes to walk to the main hotels and hostels.
Just follow the road directly in front of the port in a straight line until you reach the square.
Taxi – Prices are fairly reasonable: I paid $30MXN from the ferry port to the town on the other side of the island (about five minutes drive). However, it's unlikely you'd ever really need to take a taxi since most things are within walking distance.
Bike – You can rent bikes on Holbox pretty easily from a few of the hotels and shops in town. Prices tend to start from $40MXN per hour.
Golf Buggy – You can also rent a golf buggy if you fancy going further or just having some fun. The sandy roads are very quiet and pretty easy to navigate.
We paid $150 MXN per hour for two hours (from Rentadora Monkey's just off the main square) – which is more than enough time to explore the island. There aren't roads all over the island, so you'd probably get further on a bike, but it's great fun to bounce around the dirt roads for a while. Watch out for potholes!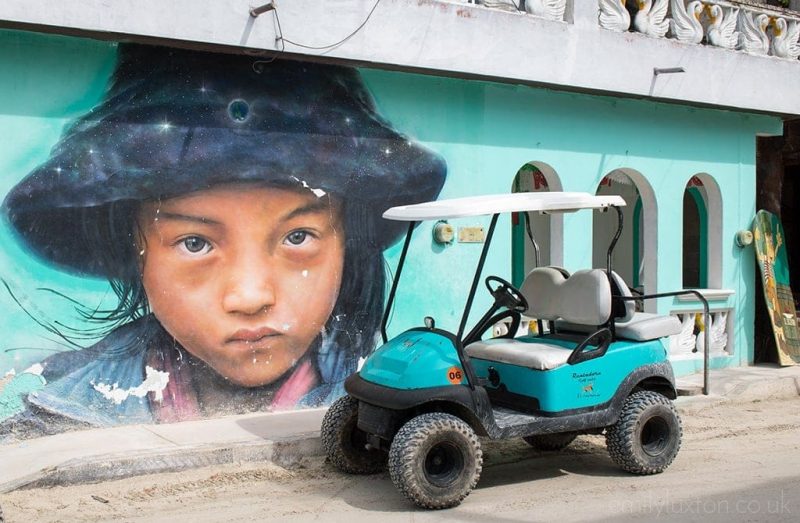 Where to Stay in Holbox (on a Budget)
When I first wrote this Isla Holbox travel guide, there was only one hostel listed on Hostelworld! Now, there are several more options, so if you're backpacking Isla Holbox there's a lot more choice.
READ MORE: 12 of the Best Hotels and Hostels in Holbox
Barco Verde Hostel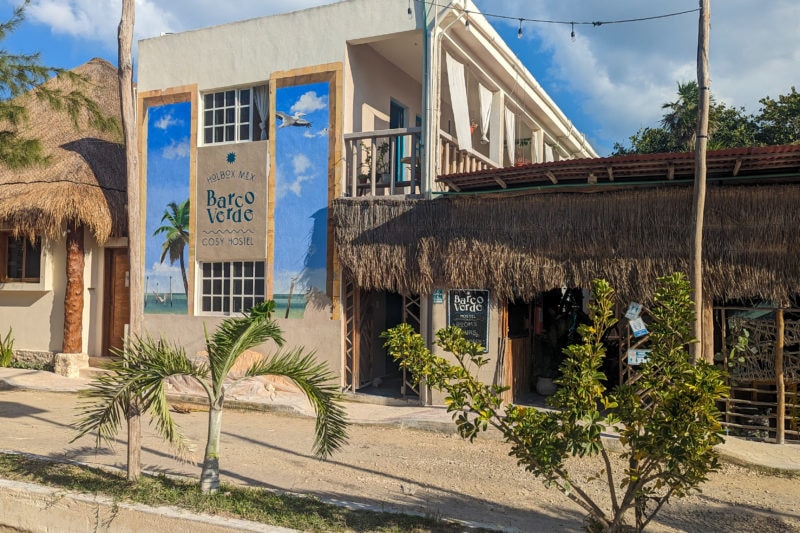 When I stayed here in a few years ago, it was Bucaneros hostel, but on my more recent visit, I noticed they've re-branded! The new Barco Verde Hostel looks very similar to the previous hostel: a small, boutique-y affair with quiet vibes and a fun communal courtyard area.
When I stayed here, the hostel had a really cool vibe and a fun bar, with paintings and murals everywhere and colourful hammocks dotted around. It looks pretty similar these days but I don't have first-hand experience.
Tribu Hostel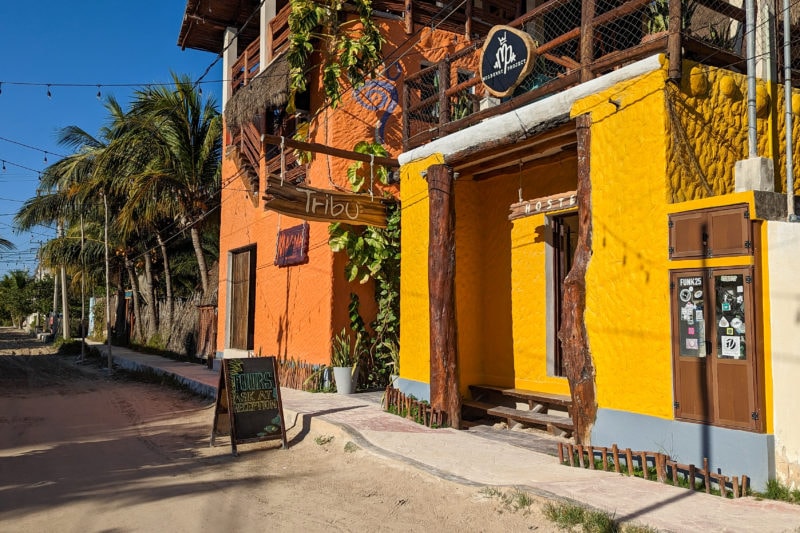 Tribu Hostel is one of the most popular hostels on Holbox and has a great reputation. I didn't stay here, but I've been to the bar many times – it has a really fun vibe and an awesome pub quiz!
Tribu is probably the best – and most popular – hostel in Holbox; big, well-put-together, and very modern. The bar is great and there's a lot going on, like game nights and pub quizzes. Dorm beds start at $214MXN a night. Again, a cool vibe, and plenty to recommend it.
Che Hostel
Newly added since my first visit to Holbox, Che Hostel looks like a very strong contender. It has really high ratings on Hostelworld, spacious-looking dorms, and a pool. Definitely worth checking out.
Airbnb Isla Holbox
On my most recent trip to Isla Holbox, I stayed at an AirBnb because I was in the mood for solitude! There are quite a few apartments and other options on AirBnb, offering a reasonably-priced alternative to the island's hotels. If you've never used it before, click here for a £25 discount!
The Airbnb I stayed at was Habitacion de Victoria. It was a small one-bedroom studio apartment just behind the main square. The location was perfect and the place had everything I needed, so would be perfect for a solo traveller or couple on a budget. Use the tool below to search for other options.
You can walk to pretty much all hostels and hotels from the ferry port in about ten minutes. Walk off the ferry and head up the road in front of you in a straight line until you reach the road running parallel to the beach. Turn right and you'll find both hostels a couple of blocks down.
Things to do in Isla Holbox
READ MORE: 19 Awesome Things to do in Isla Holbox
Whale Shark Tour
Isla Holbox is considered one of the best places in Mexico to see whale sharks. June to mid-September is whale shark season in Holbox, so this is the time to visit if you want the chance to swim with these fourteen-metre-long fish.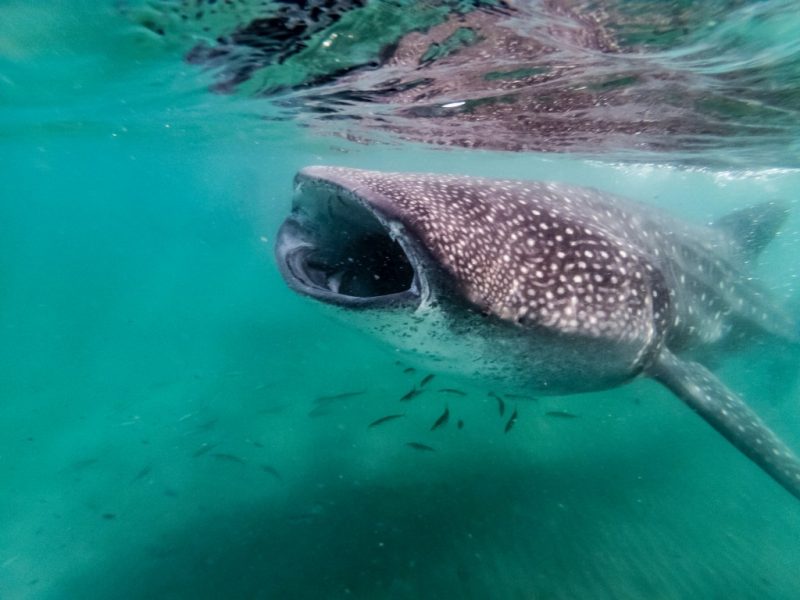 Book a whale shark tour to snorkel with the gentle giants, which are completely harmless, or rent a kayak or SUP board and search for them.
Tours start from $200, so they're not exactly cheap, but it's worth the splurge for such a once-in-a-lifetime experience. Check the latest prices and find out more HERE.
Be careful to stick to the regulations set by CONAMP, which are there to help preserve the species and stop tourism from harming the whale shark populations.
Kayaking Tour in the Mangroves
Explore the lagoons and mangrove forests around Holbox in search of crocodiles and flamingos. Prices from $45 USD per person when booked online through Viator.
Flamingo Spotting
Isla de Pasion, the small island close to Holbox, is the best place to see the area's famous flamingos. You can book a boat tour to get there – there are plenty of companies locally so it's easy to book direct. But if you're backpacking Isla Holbox, it's also possible to see the flamingos for free (see below).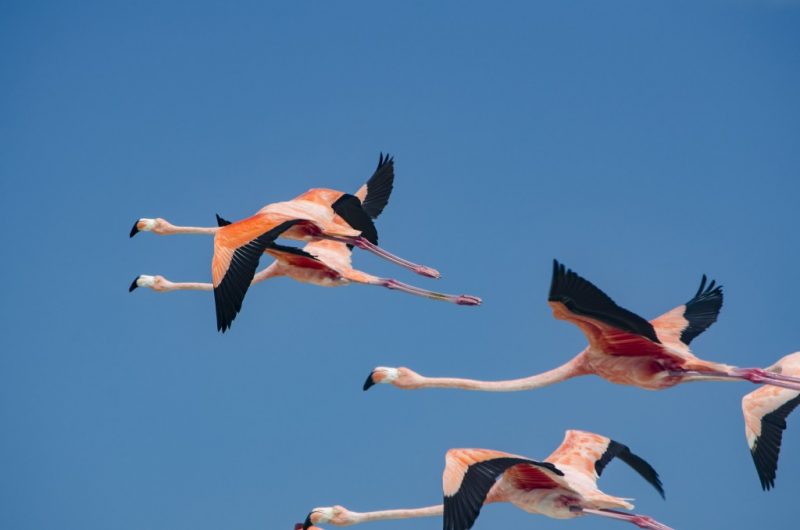 Free things to do in Holbox
Yum-Balam Nature Reserve
One of the Yucatan Peninsula's best nature reserves, Yum Balam on the south side of the island is easy to reach by golf cart or bike – or it takes about 30-40 minutes to walk there.
Just keep following the main beach road past all the hotels and keep going until you reach the end of the road, behind Las Nubes Hotel. Yum Balam is home to 420 bird species, crocodiles, jaguars, tapirs, monkeys, and hawksbill turtles, among others. It's free to enter and offers wildlife spotting opportunities, a sense of adventure, and completely deserted beaches.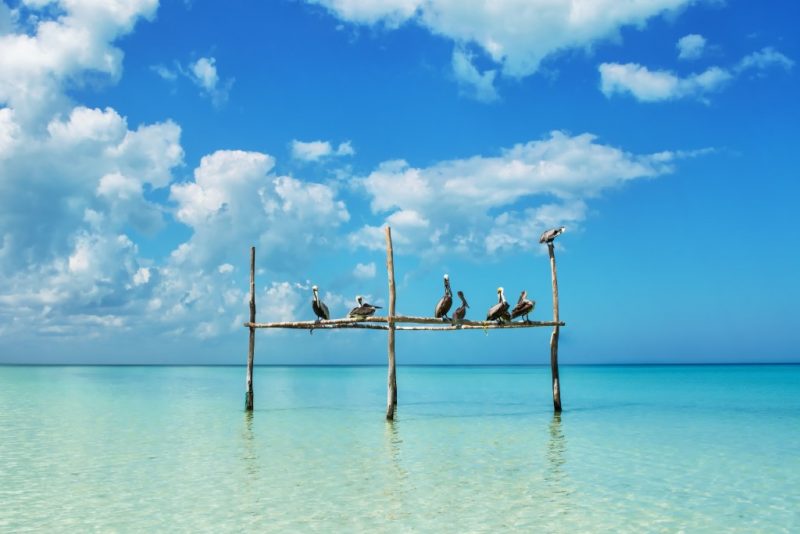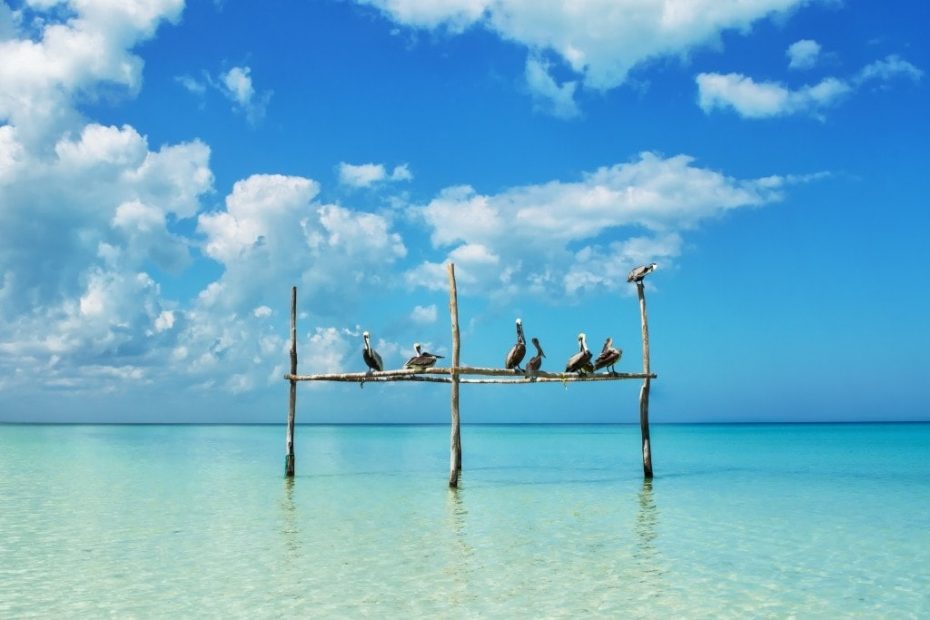 Walk through the nature reserve and along the beach, and you'll come to a point where a large river means you can't go any further. Don't cross the river (crocodiles have been seen there).
Instead, at low tide you can wait out to the sandbank which is visible offshore. A sign marks the start of the protected area, which you can't pass, but you'll see lots of birds – and it's not uncommon to spot a flock of flamingos wading in the shallows.
Relax!
The main thing to do in Isla Holbox is chill out! Laze on the beach or in a hammock, read a book, watch the sunset, and relax. There's not much going on, so this is the perfect place for some serious R&R.
READ MORE: 5 of the Best Beaches in Holbox
Food and Drink in Isla Holbox – Where to Find Cheap Eats
For cheap eats in Isla Hobox, stay away from the beach and the main square. Diving into size streets should reward you with better prices and quieter restaurants!
Street Food
Close to the main square in town, there's a small market with a few stalls selling tacos, tortas (sandwiches), and empanadas. For traditional Yucatecan cuisine and cheap eats on Holbox, this is the place to come. Tacos from $15 MXN each.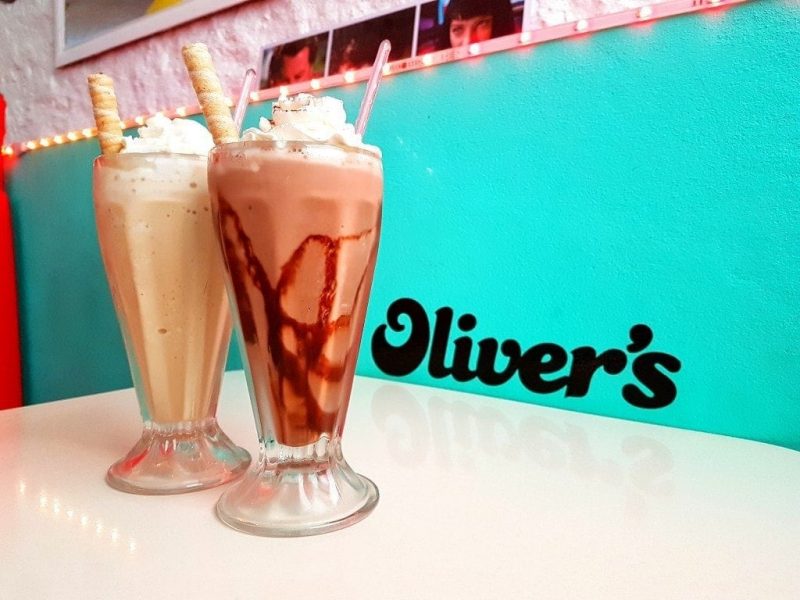 Budget-Friendly Holbox Restaurants
Oliver's – An adorably kitsch fifties-style diner, with really good burgers, coke floats, and milkshakes. Very cute and really good fun! Find it on the main square.
UPDATE: Oliver's Diner is now Oliver's Steakhouse. The new space downstairs is bigger and it's had a cool update. The burgers are still amazing – and now start from $165MXN including fries. Don't miss the pina colada!
Las Almendras – A cute cafe serving up BBQ meat, sandwiches, and smoothies from a bright green camper van.
El Cocal de Holbox – Brilliant budget option serving up reasonably priced local food. And order of three tacos will set you back $60 – $110MXN depending what you get. Larger lunch dishes start from $120MXN.
Rosa Mexican – a hipster-y semi-outdoor joint with a tasty menu. It's a little bit pricier but a good option if you fancy a treat!
Roots – AMAZING pizza place with al-fresco dining in a beautiful, fairy-lit garden. Pizzas from $167. The famous local dish Lobster pizza is $600MXN.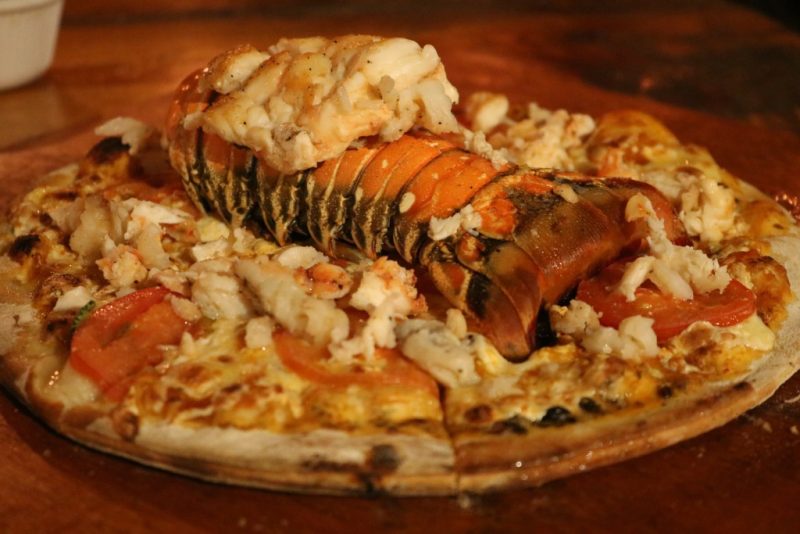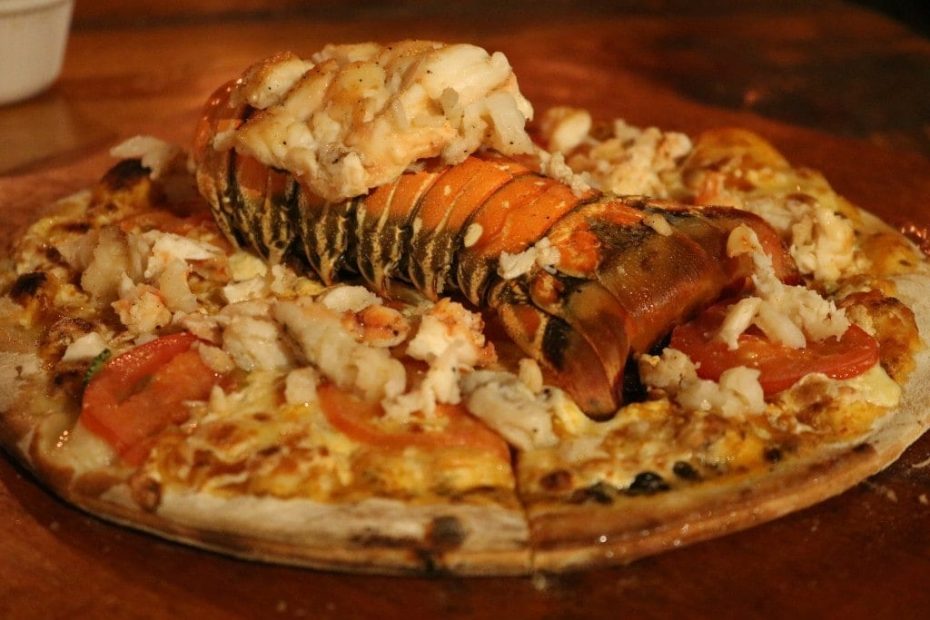 Raices – Very cool, laid-back beach bar – and possibly one of the cheapest beach bars on Isla Holbox. An order of tacos starts from $140, or the seafood skewers are awesome and cost $240MXN.
El Taco Queto – This unassuming little taco place was heaving with locals when I visited – always a good sign. It also sold the cheapest tacos I found in Isla Holbox – starting from $16MXN each. The pastor and the chuleta (pork chop) were particularly good.
Snacks
Por Que No – This super cute little parlour is home of the best gelato I had on Isla Holbox. A cone starts from $40MXN.
A Mar Cafe – On the road between the main square and the beach, this small coffee shop has amazing brownies, and good coffee. Cappuccinos from $40 MXN.
Holbox Beach Bars
There are plenty of beach bars to discover on Holbox, and prices are ranging. But on the whole, you'll find cocktails are usually around the $150MXN mark and beers start at about $40MXN – more for craft brews.
A much cheaper option is to buy some beers at the local supermarket (usually around $12 MXN each) and take them to the beach with you – but remember to take all your rubbish home!
Raices Beach Bar – My favourite beach bar on Holbox was Raices, a super chilled out reggae bar with swing seats and live music. Cocktails start at $130MXN, and if you spend the day on a lounger there's a minimum spend of $350MXN.
Alma Bar – A trendy new rooftop lounge overlooking the beach, Alma Bar has a gorgeous little swimming pool, hammocks, and heaps of laid-back style.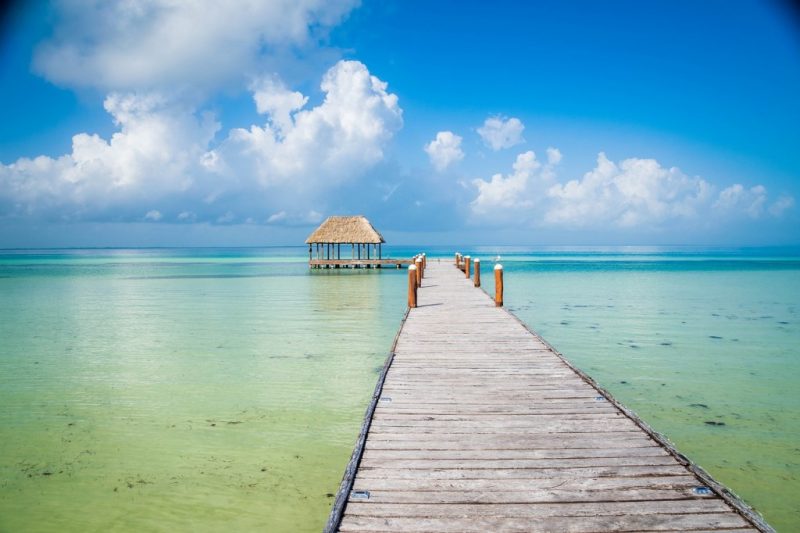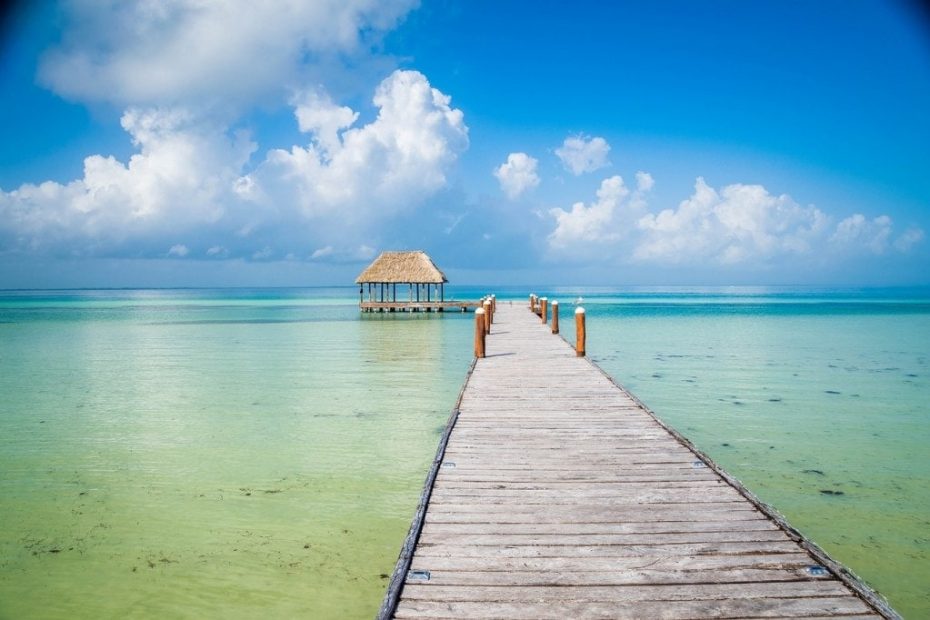 Beach Bar at Villa Flamingos – At the edge of the Yum-Balam Nature Reserve, Villa Flamingos is pretty quiet and feels cut off from the busy (by Holbox standards) beach strip. The beach bar is chilled, there's a nice pool, and Acapulco chairs on a deck overlooking the ocean. Great for chilled-out vibes.
Hostels – Drinks at both Tribu Hostel and Bucaneros started from $50 MXN on my first visit to the island. They've probably gone up a bit now, but will still be the cheapest places on Isla Holbox for a cocktail.
Getting Back from Isla Holbox
On my first trip, it was surprisingly hard to plan my return journey from Isla Holbox, because there's no bus station at Chiquila and nowhere on the island to book in advance. Today, it's much easier!
The ferry back to Chiquila runs all day with really frequent departures, as on the way over. From there, buses depart infrequently from opposite the Chiquila ferry port.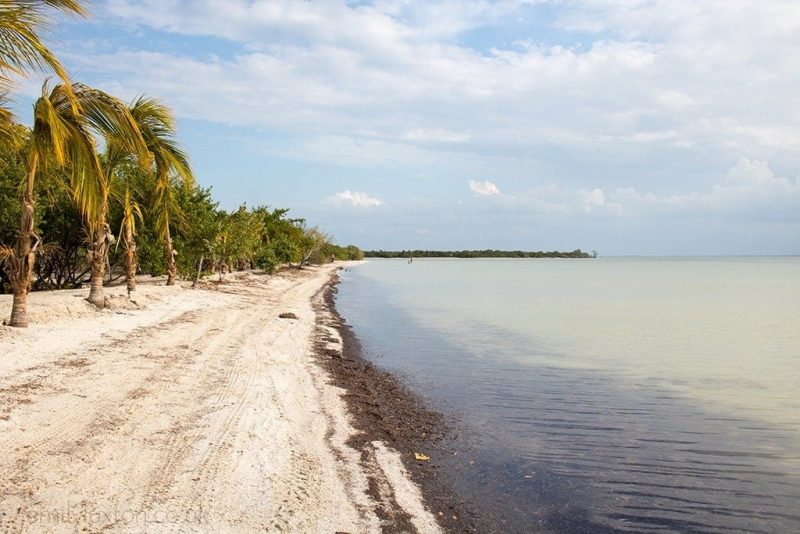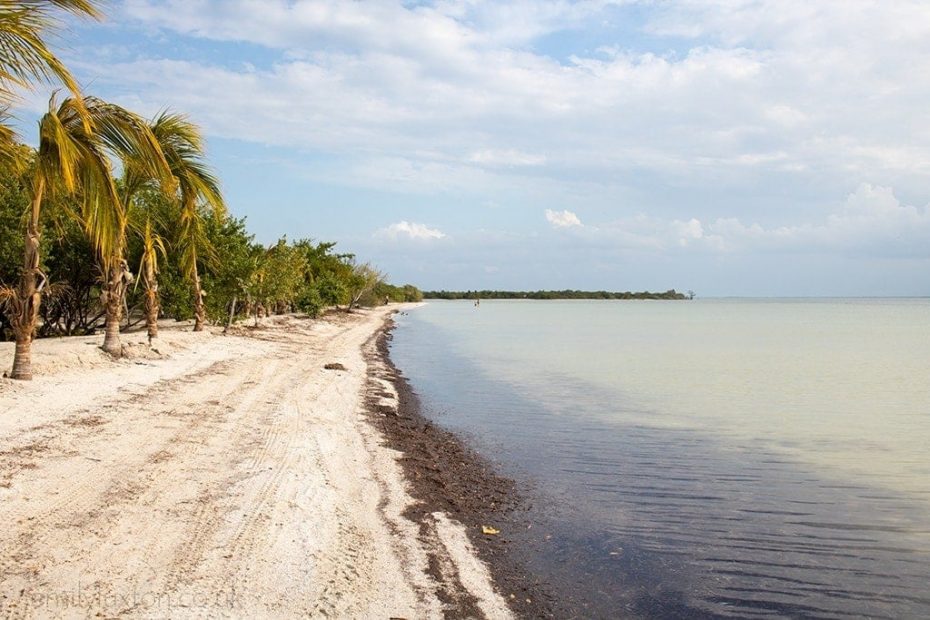 How to Get From Holbox to Cancun
There are several departures a day from Chiquila to Cancun, with the last one at around 6:15pm. These times vary and are likely to change. But, as mentioned earlier in this Isla Holbox travel guide, you can now book online through the ADO website so it's much easier to plan your return journey.
How to Get From Holbox to Mérida
There is only one ADO bus a day to Merida – at the time of writing it departed at 4:45pm. There may be other options but the ADO is generally the best company, and being able to book online makes it much easier.
Alternatively, you could take a bus Tizimin, which has a large bus station where you can transfer for a bus to Mérida (regular departures) or elsewhere. Or, you can take a taxi to El Ideal ($300MXN or more, as mentioned earlier) and wait at the intersection there for a bus running from Cancun to Mérida. These come past every twenty minutes or so and the 2nd class busses cost $169 MXN.
Word of warning: there seemed to be no ATM in Chiquila. But the ADO bus station did have a card machine so you should be able to pay for your tickets with card if needed.
Useful Isla Holbox Travel Tips
ATM's on Isla Hobox
There are only a handful of ATM's on Holbox that dispense pesos, and these seem to run out of cash or break down fairly often. On the Friday of my first trip, all three machines were out of action – and based on the responses from locals this seems to happen a lot. They were still all down the next morning, when I left, so I'm guessing they weren't refilled until Monday.
There is also no ATM in Chiquila, so if you run out of cash you may be in a bit of a pickle!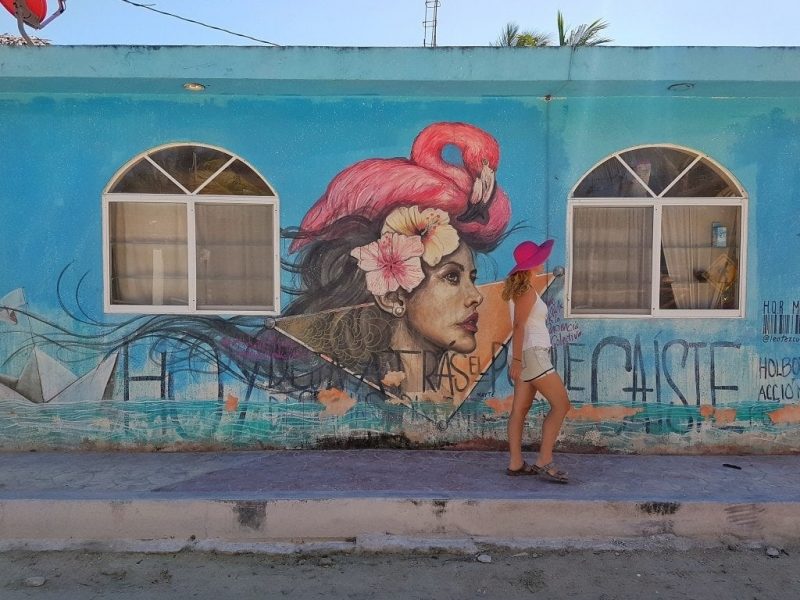 There are some other ATM's that dispense US dollars – with a hefty $7 USD withdrawal fee – but not many places accept dollars. So, you'll need to exchange the US dollars into pesos, but this is usually at a pretty poor rate.
UPDATE: more places on Holbox accept card payments now, so if you're starting to run out of cash, you won't starve. But I highly recommend taking plenty of cash with you to Isla Holbox to avoid any difficulties!
Water
Tap water isn't safe to drink in Holbox, so you'll have to buy bottled water. I recommend using a Water-to-Go bottle, as these can instantly filter water from any source. Readers of my blog can also bag a 15% discount using code ELUX15.
Isla Holbox Travel Guide – Final thoughts
Despite becoming more "touristy" these days, Isla Holbox is still one of the treasures of Mexico's Yucatan Peninsula.
There's nothing quite like walking barefoot through the sandy streets to reach the beach, or watching a magical Holbox sunset from the pier.
With its boho vibes and brightly coloured walls, Holbox feels like a true "backpacker town". Exactly the kind of place that made me fall in love with Mexico – and keeps me coming back over and over!
Have you been to Isla Holbox? Share your own tips in the comments!
Pin this Post!