Some posts on this site contain affiliate links. If you book or buy something through these links, I earn a small commission (at no extra cost to you). Take a look at my privacy policy for more information.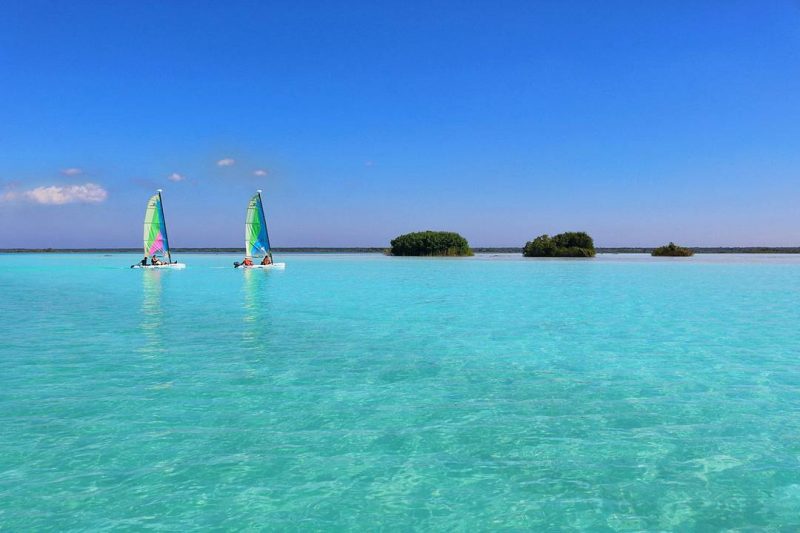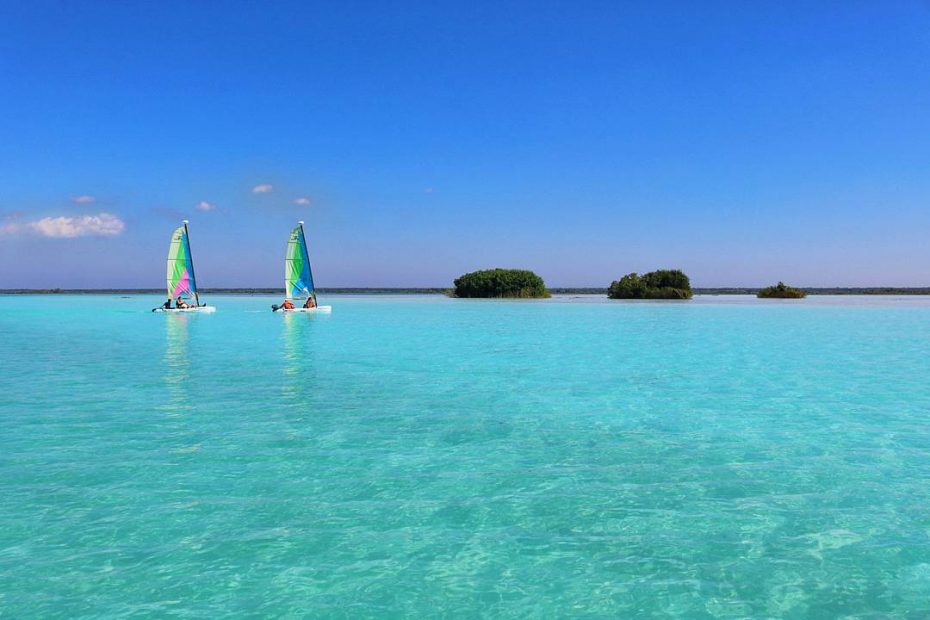 A complete guide to how to get to Bacalar, Mexico by bus, car, and plane from most major tourist hubs.
Want to visit the beautiful, colourful town of Bacalar and the famous "Lake of Seven Colours"? This is easily one of the most beautiful nature spots on the Yucatan Peninsula, with impossibly clear cyan waters fed by underwater cenotes.
Getting to Bacalar is very easy from most parts of the Yucatan Peninsula. There's an ADO bus station in town and several buses a day.
You can also get to Bacalar from Belize by car, bus, or even ferry (via the border town of Chetumal).
Wherever you're starting from, you can use the drop-down contents menu below to jump to the section you need. Buen viaje!
Where is Bacalar?
Bacalar Lagoon is a vast lake on the eastern coast of the Yucatan Peninsula in Mexico's Quintana Roo state. It's about as far south as you can go along the east coast of Mexico, right by the border with Belize. A small town, also called Bacalar, sits along the southwestern edge of the lake.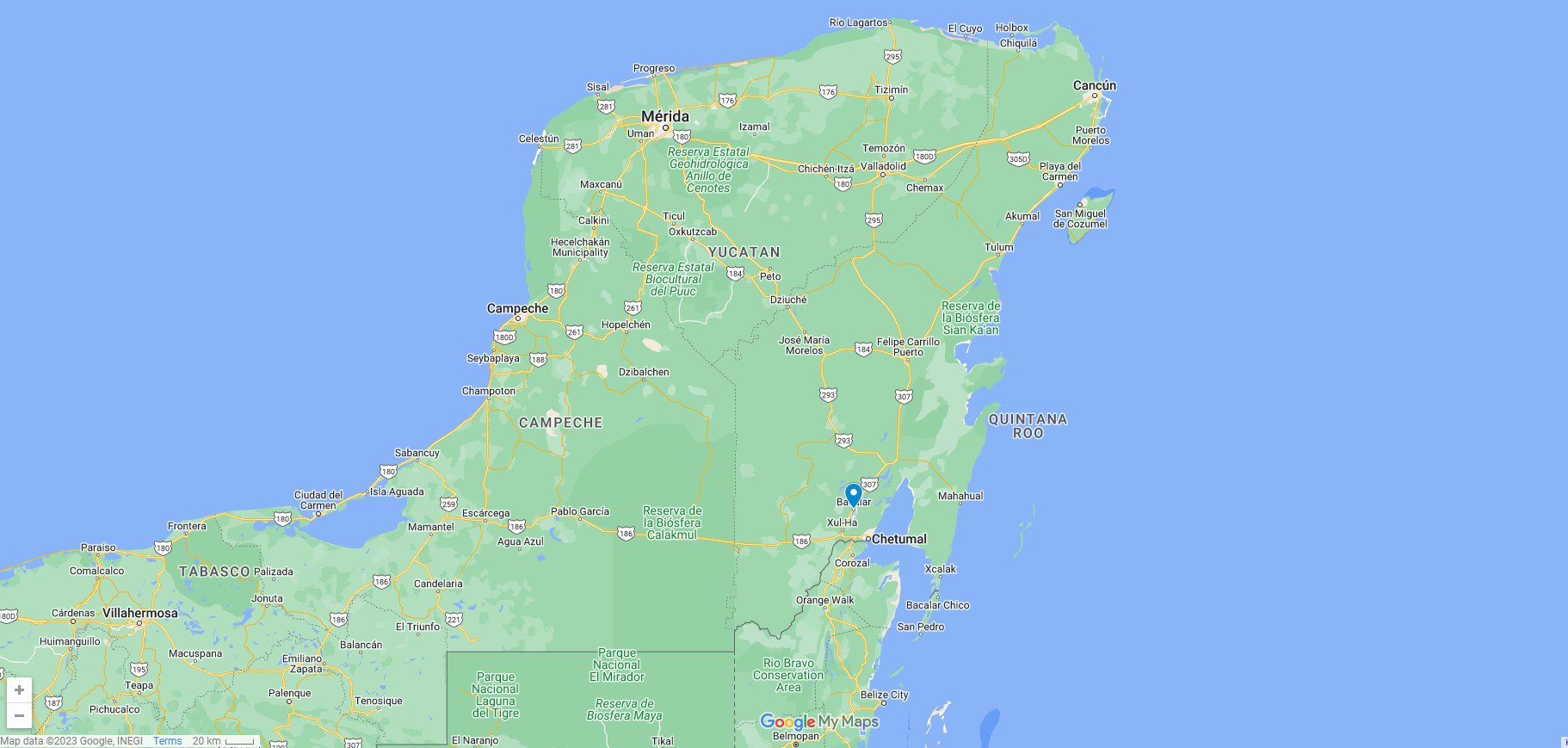 Flying to Bacalar Mexico: Closest Airports
The closest airport to Bacalar is Chetumal International Airport, about 40 minutes drive away. This airport only has one direct flight route, between Mexico City and Chetumal.
The closest major international airports are in Cancun (4 hours) and Merida (4.5 hours). Both have direct flight connections to a variety of national and international destinations.
If you arrive into Chetumal Airport, a private transfer to Bacalar starts from $51.89 USD (click here to check latest prices). Alternatively, you can head to Chetumal ADO bus station and take the bus to Bacalar. The journey is about 40 minutes and there are frequent departures throughout the day.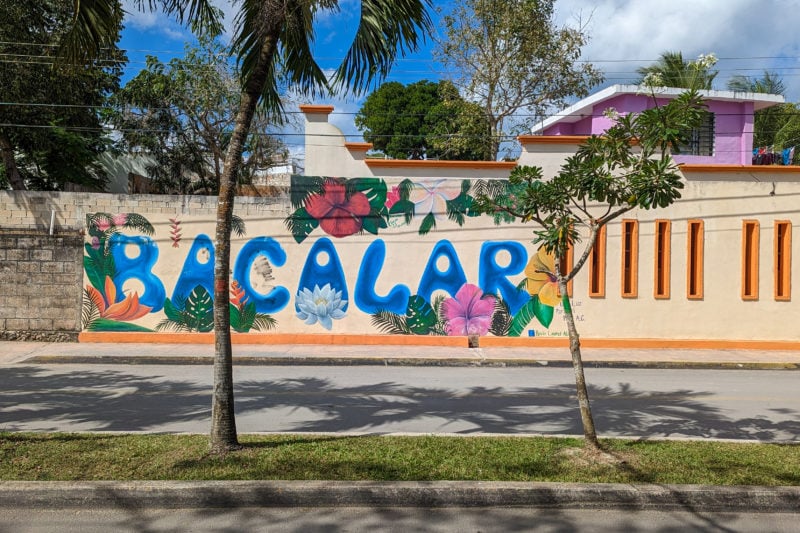 How to Get from Cancun to Bacalar
Driving
Driving from Cancun to Bacalar is very simple. Head out of the city and onto Highway 307, then follow this south all the way to Bacalar. The journey typically takes about 4 hours, but can be closer to 6 hours when the traffic is bad.
It's quite a straightforward journey, but I recommend using a satnav to avoid getting lost. The road is more or less a straight line and there's not much in the way of scenery, but there are some good spots to stop off along the way if you want to make a road trip out of it.
You can break the journey up by stopping along the Riviera Maya. The popular town of Tulum is almost halfway – known for its beautiful white sandy beaches and Mayan ruins.
If you're wondering how safe it is to drive from Cancun to Bacalar, I've covered that near the end of this post.
Bus from Cancun to Bacalar
To get to Bacalar from Cancun, you can also take an ADO bus from Cancun Bus Station. The bus from Cancun takes about 6 hours and there are departures almost every hour throughout the day (from 6am to around midnight).
Tickets cost around $500-600 MXN. If you purchase them in advance online or via the ADO app they are often cheaper. Head to ADO.com.mx to check the bus times for your travel date.
The ADO buses in Mexico are excellent. They are comfy, safe, and easy to book. Buses are air-conditioned and have toilets on board, so you should have no qualms about travelling by bus throughout the Yucatan Peninsula.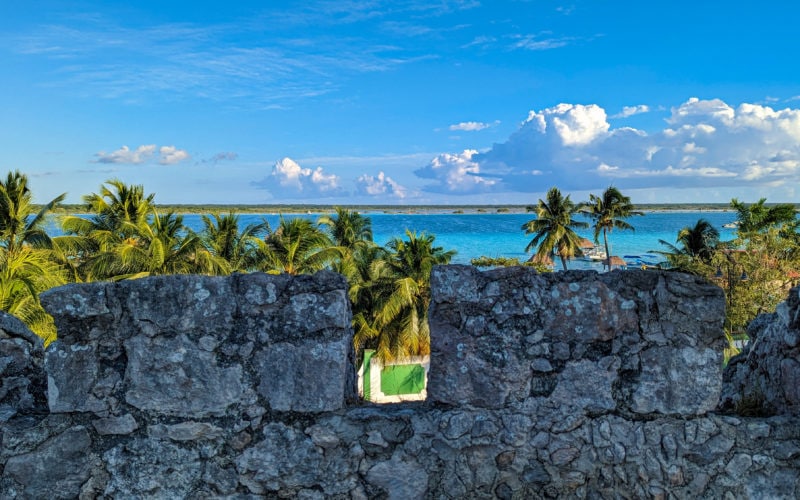 How to Get from Cancun Airport to Bacalar
There are no direct buses from Cancun Airport to Bacalar. However, you can easily take a bus from the airport to the Central Bus Station in downtown Cancun, from where you can then take a bus to Bacalar.
Buses run from Cancun Airport to downtown Cancun very frequently (there are at least two buses an hour). The journey takes about an hour from T3 or 45 minutes from T2 and costs $110 MXN. The buses run from around 8am until midnight.
You can buy tickets from the ADO counter inside the terminals, shortly after leaving the baggage claim area.
Alternatively, you can take a taxi to the central bus station but this is MUCH more expensive. You could also pre-book a private transfer, which might be useful if you're arriving late at night. Click here to check transfer prices and availability.
Prefer to drive? You can pick up a rental car at Cancun Airport and hit Highway 307, as described in the section above.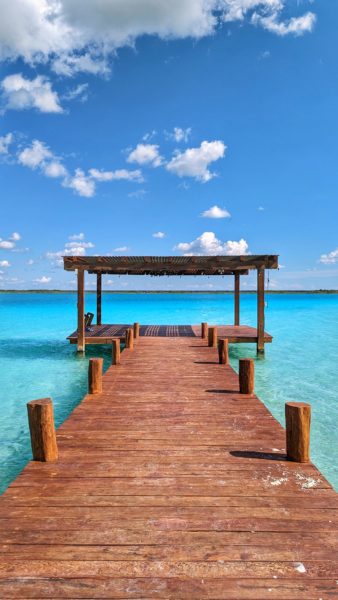 How to Get to Bacalar from the Riviera Maya (Playa del Carmen & Tulum)
The Cancun to Bacalar bus also calls at Playa del Carmen and Tulum along the way. So if you're heading to Bacalar from the Riviera Maya, head to one of these two ADO stations.
Playa del Carmen to Bacalar
The ADO bus from Playa del Carmen to Bacalar takes 4 hours and usually costs around between $400-500 MXN. There are multiple departures throughout the day. From 7:40am, there is roughly one bus an hour until about 7:30pm, with a couple of much earlier and later options as well.
Bear in mind that buses leave from Playa del Carmen Alterna station (not the Turistica one).
If driving, it takes between 3-4 hours (depending on traffic), following Highway 307 all the way.
Tulum to Bacalar
The ADO bus from Tulum to Bacalar takes 2 hours 50 minutes and usually costs around $370 MXN. There are multiple departures throughout the day, with roughly one an hour until about 9pm.
If driving, it usually takes around 2.5 hours (depending on traffic), following Highway 307 all the way.
Alternatively, you can book a private transfer between Bacalar and Tulum. These are more expensive, but some have the option to include a 2-hour stop in the stunning Sian Ka'an Biosphere Reserve. Click here for more info.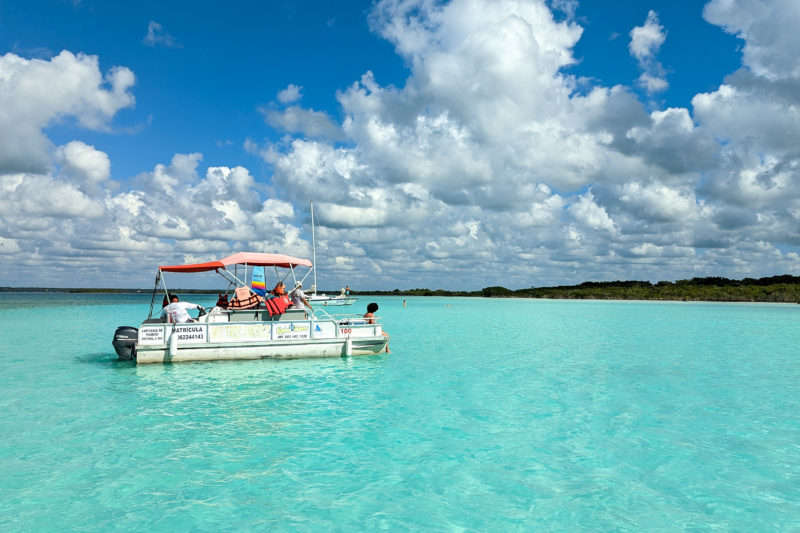 How to Get to Bacalar from Merida
You can also get to Bacalar from Merida by ADO bus. The bus takes about 5 hours and costs $630 MXN. You may be able to get tickets cheaper if you purchase them in advance.
Most buses leave from the Mérida Centro Histórico ADO station. At the time of writing, there are 5 departures a day, with the first at 7:30am and the last at 6pm.
If driving, it usually takes 4 or 5 hours from Merida to Bacalar. The drive time from Merida International Airport is 4 hours 20 minutes in normal traffic. It's a fairly straightforward drive, following highway 184 to Polyuc, then the 293 until you reach highway 307 which runs straight through the lakeside town.
If you want o break the journey up, you could drive via Valladolid and/or Chichen Itza. The total drive time for this route would be 6-7 hours depending on traffic, so it's longer. But it's worth it for the chance to spend a night (or longer) in the beautiful town of Valladolid and visit the famous Mayan pyramids at nearby Chichen Itza.
How to Get from Palenque to Bacalar
Over in Chiapas state, Palenque is a little further afield than some of the other destinations covered here. The bus takes about 9 hours, and there are usually only one or two buses a day.
For some reason, the only options available are night buses, arriving into Bacalar at either 2:40am or 4am. These buses are operated by AV, a sister company of ADO, and usually aren't quite as nice as ADO buses. They are still comfy enough, but both times I took this bus the AC was on super strong and I was very cold – so I recommend wearing long pants and a sweater for the journey.
To drive from Palenque to Bacalar would take around 6 hours. However, Chiapas state is considered less safe for driving than Yucatan or Quintana Roo. In Chiapas, road blockades can be quite common when locals are protesting. Generally, these issues only affect the road between Palenque and San Cristobal (you can read more here) but you may want to seek advice from locals before making plans to drive from Palenque to Bacalar or vice versa.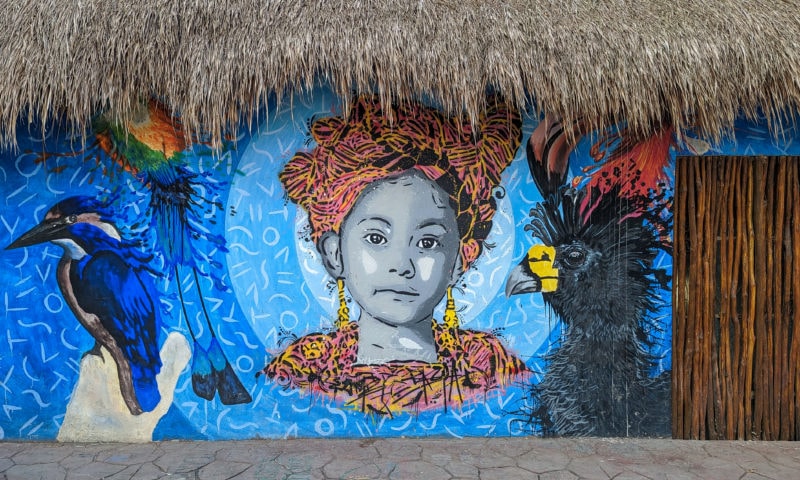 How to Get to Bacalar from Belize
For those travelling overland from Belize, Lake Bacalar is often the first port of call when arriving in Mexico. The border crossing is at nearby Chetumal, so the lakeside town makes a logical (and beautiful) first stop.
Bus
You can take a bus from Belize City to Chetumal, then change for a bus to Bacalar.
There used to be an ADO bus from Belize City to Chetumal. It took 4 hours (including immigration at the border) and cost around $500 MXN. This was temporarily suspended during the Covid-19 pandemic, and it is unclear when it will start running again.
For some reason, this bus route has apparently never been shown on the ADO website – so unfortunately, you'll probably have to head into the terminal to enquire if it is running. If it's not, there are several local bus companies that can get you to Chetumal. They might be less comfy than an ADO bus, but they'll also cost a bit less.
If you're coming from further north in Belize, there are also buses from Corozal to Chetumal. These take around 45 minutes – mainly due to how long the immigration process takes.
Ferry
You can also get to Chetumal by ferry, or "water taxi", from either Caye Caulker or San Pedro. Again, from Chetumal you can take a taxi or bus to Bacalar.
From Caye Caulker to Chetumal the boat takes 3 hours 15 minutes and costs $1400 MXN per person. San Pedro to Chetumal takes an hour and a half and costs $1300 MXN. Check out San Pedro Water Taxi for timings and ticket prices.
Driving
The drive from Belize City to Bacalar typically takes around 3 hours. You could add in a stop at the Altun Ha Mayan ruins along the way to break up the journey.
If you plan on driving from Belize to Bacalar (and elsewhere in Mexico), check that company you rent the car from permits you to take it into another country. Otherwise, it may invalidate your insurance.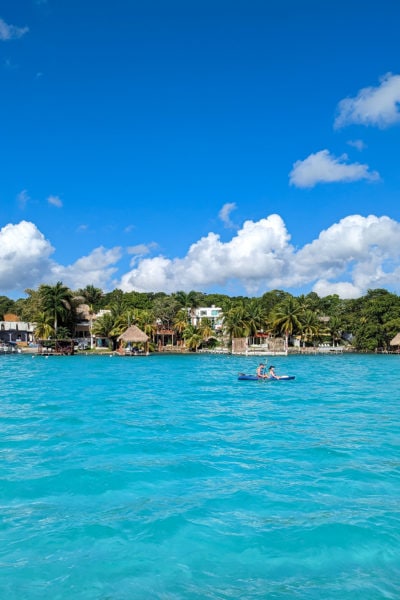 Is it Safe to Drive from Cancun to Bacalar?
Quintana Roo state is one of the most touristy parts of Mexico and generally quite safe.
Between Cancun and Bacalar, you'll be following Highway 307, which is a major road that's generally in good condition. You may come across some potholes or other damage, so be sure to keep an eye on the road at all times.
Between Tulum and Bacalar, the only gas station is at Felipe Carrillo Puerto. So it's a good idea to fill up your tank in Tulum.
One problem that, unfortunately, does exist involves the police. Apparently, they will occasionally stop drivers and expect bribes before they'll let them go. I'm not sure exactly how common this is – it definitely does happen but it also seems to be quite rare. I've done several road trips around the Yucatan Peninsula and never encountered this issue myself, and I certainly wouldn't let it put me off driving.
You can read more about the above – and get some useful insider driving tips – in this guide to driving in Mexico.
How to Get to Bacalar from Further Afield
If you're coming to Bacalar from elsewhere, I recommend flying into one of the nearby airports, then taking a bus.
From Mexico City, you can fly directly to Chetumal Airport, then take a bus, private transfer, or drive to Bacalar (about 45 minutes).
From anywhere else, you should be able to fly into Cancun or Merida, then either drive or take a bus to Bacalar (see above).
I hope you've found this guide on how to get to Bacalar useful. If you have any questions, scroll down to leave a comment!
Read More…
27 Off the Beaten Path Destinations in Mexico