Some posts on this site contain affiliate links. If you book or buy something through these links, I earn a small commission (at no extra cost to you). Take a look at my privacy policy for more information.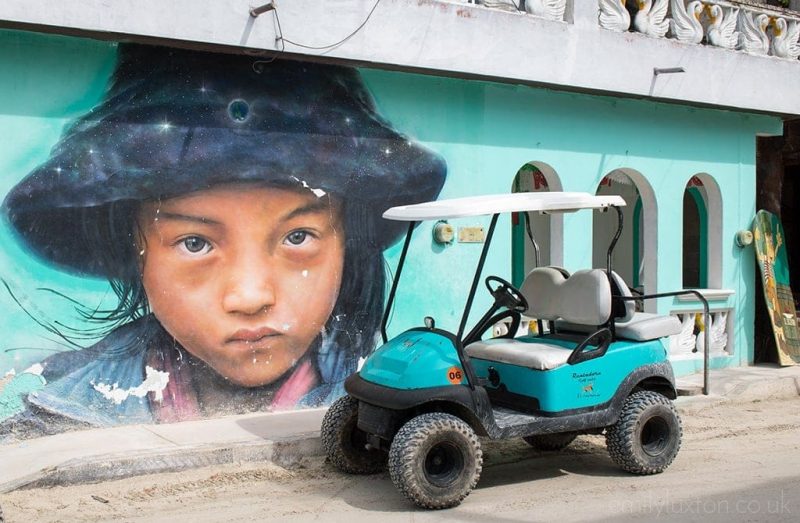 It was the perfect remedy. Isla Holbox arrived in my life on the same day that my trip, my plans, and my happiness, crumbled around me. I was in Mexico, far from home, when the news came through that my granddad was dying. I went to bed knowing full well that by the time I woke up, he would probably be gone, and there was nothing I could do. No way in the world I could get home to see him one last time.
My sister called me, and I sat on the sofa watching the sun come up across the sea. The distant shapes of the resorts – modern day palaces – on Cancun's hotel strip turned dusky pink, their windows glinting gold. And I heard Cheryl's voice, floundering to find the right words (much like another day, eleven years ago, when she called with other terrible news). I sat looking at the palm trees and trembling, crying quietly, trying to reassure her that I was ok.
And then we came to Holbox. This little island was exactly everything I needed it to be. It was a joyous distraction when I needed distracting, and a quiet, tranquil, sleepy place when I needed to reflect and think. Everything negative I had been thinking and feeling for months came to a head that day, and here I was on a dusty, colourful, happy little island that brought me back to the kind of travel I fell in love with all those years ago. I was exactly where I needed to be.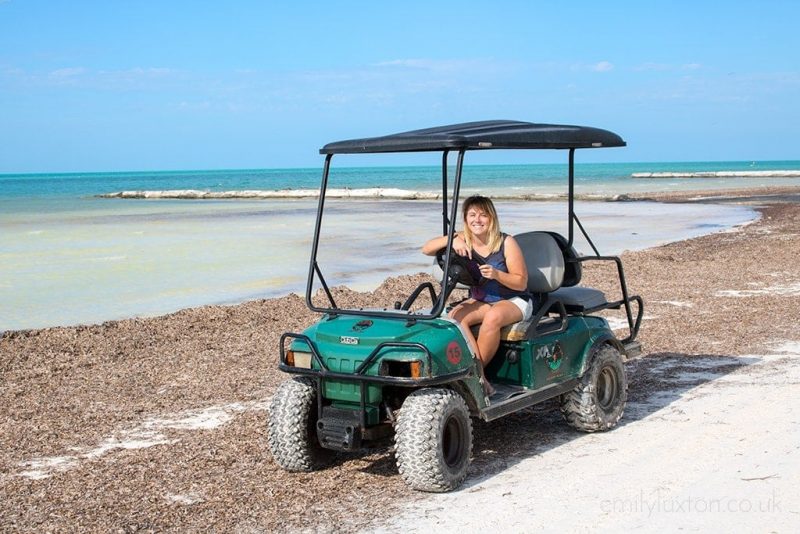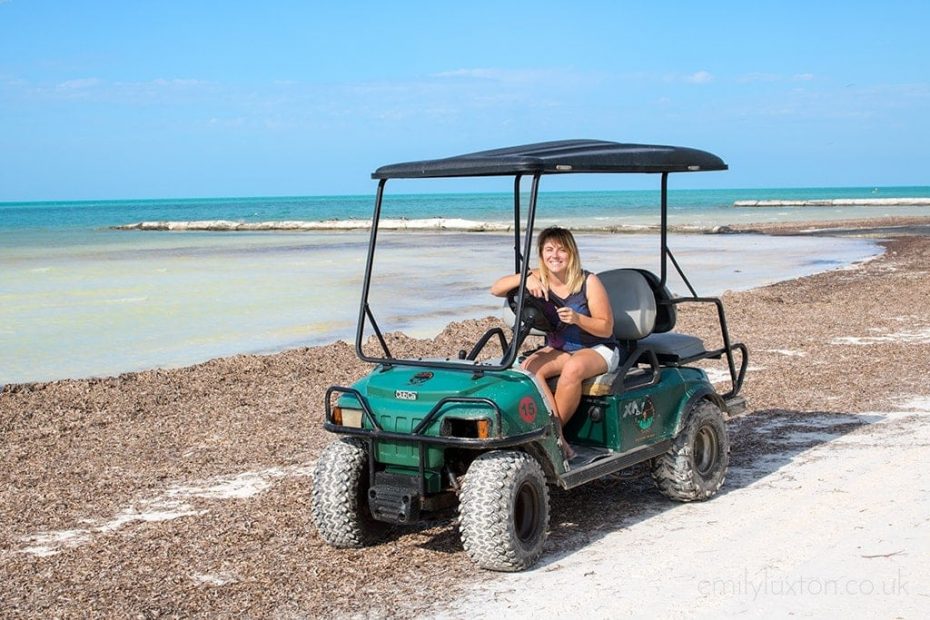 Oh, Holbox. With your one-storey cuboid buildings, all painted in bright, cheerful colours. Where my favourite shade of riotous turquoise lives in abundance, and houses and hotels are decorated with intricate murals and huge colourful paintings. Where dirt tracks end in blue sea, and where we spent an afternoon hurtling along potholed roads in a golf buggy, cackling with laughter.
This was the perfect place to reconnect with myself, and my love of travel. To release the pain of losing my granddad, the man who gave me my first travel book and sparked a life-long dream that would result in my starting this blog. And to feel at once ready to leave Mexico, and certain I will come back. I fell in love with Holbox, its sleepy style of life and its run down charm. This was the Mexico I had dreamed of, a far cry from the polished resorts of Cancun and Tulum.
This was the kind of place that feels like home to a backpacker. A place where you can walk in the road barefoot, and where the main method of transport is by golf cart. Where you can buy tacos on the street for fifteen pesos each, and where trendily retro restaurants are popping up without jarring with the landscape of the town. New buildings and stylish bars have opened, and you can sense the oncoming development as Holbox becomes more on the tourist radar. But you get the sense that things won't change too much. The Holboxeños are too relaxed, too proud of their island, to let tourism distort what's truly magical about this place. Let's hope that remains the case.
Photos of Isla Holbox