Some posts on this site contain affiliate links. If you book or buy something through these links, I earn a small commission (at no extra cost to you). Take a look at my privacy policy for more information.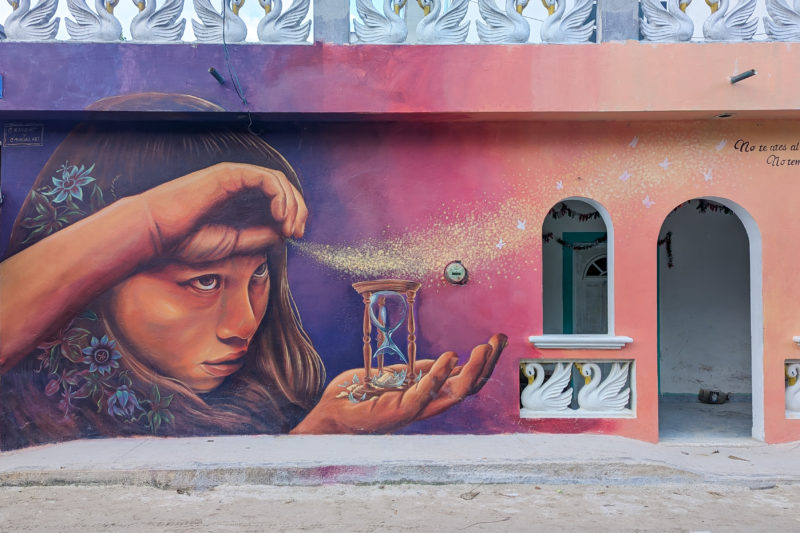 With its boho vibes, brightly coloured murals, and dreamy beaches, Isla Holbox feels like a little slice of paradise. These are the best things to do while on your trip to Holbox…
Isla Holbox is easily my favourite place in Mexico. I've been three times in the last few years – and am currently typing this from my hotel balcony, watching the palm trees sway on the breeze.
I love that this is an island where you can walk through town barefoot along sandy, car-free roads. An island where music spills from almost every building, and where you can dine on the beach with waves lapping at your toes as you watch the sunset. An island where everything is a little bit slower than it ought to be, because we're on island time!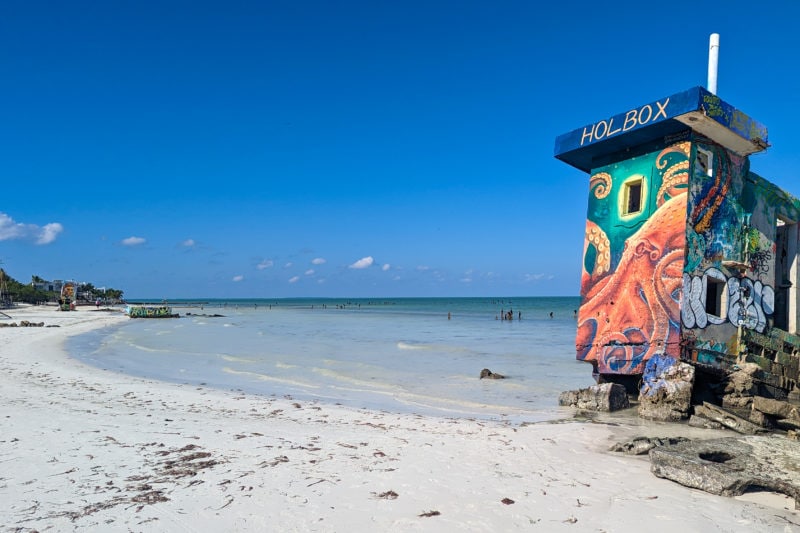 I've come to Holbox as every kind of traveller. From a budget backpacker – staying in the cheapest hostel I could find and living off tacos and beer – to my current trip, splashing out on a nice hotel and some of the island's higher-end restaurants.
It means that at this stage, I really know the island inside-out. I've done almost everything there is to do in Holbox, eaten my way through all the best restaurants, and found what I think might be the best beach bar on the island.
After painstaking research (and a LOT of dreamy beach days) this is my guide to the best things to do in Holbox. Buen viaje!
Quick List: What to do if you Only Have 1-2 Days in Holbox
Holbox is the kind of place where you could easily spend several days (or several weeks!). But if you're short on time, here's a quick list of the can't-miss things to do on the island. I'll share more info on each one in the next section of this post.
Enjoy the beach
Go swimming with whale sharks (if it's the right season) or book the three islands tour. Both, if you have time.
Eat seafood
Rent a bike or golf cart to explore (don't miss the Yum-Balam Nature Reserve)
Watch the sunset over the sea
19 Things to do in Holbox
Holbox town is a tiny little fishing village, laid out in a grid system with a lively Plaza at the centre. Getting around is easy: it takes no more than ten minutes to walk from one end to the other, and there are no cars on the island so there's very little traffic to watch out for.
1. Chill at Holbox's Gorgeous Beaches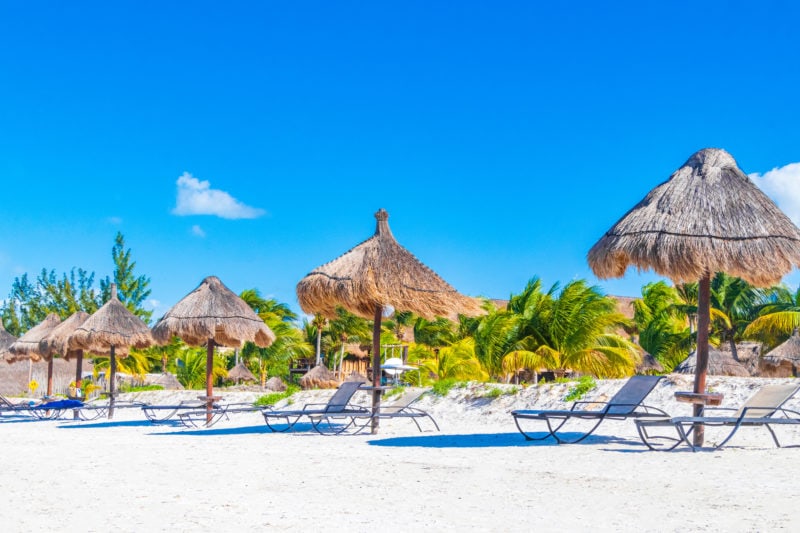 You've come to a paradise-esque island with white sandy beaches, swaying palms, and infectiously laid-back vibes! OF COURSE one of the best things to do in Holbox is to hit the playa and chill out!
Rent a hammock or sunbed (you'll find them dotted all along the beach) or simply find a patch of sand and lie down. Click here to check my guide to the best beaches in Holbox and choose your favourite slice of paradise.
If you prefer, you can hole up in one of the numerous beach bars lining Holbox Playa. Most will let you use a bed or hammock in exchange for a minimum spend per person. If you're on a budget, Capitán Capitán is a good shout – great seafood and reasonable prices – but there are some fancier ones too (I like Villa Flamingos).
2. Swim with Whale Sharks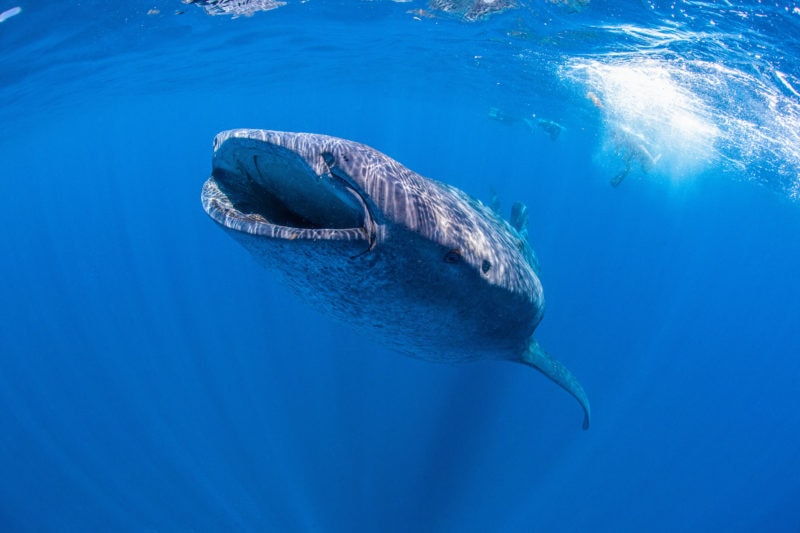 One of the most popular things to do in Holbox is to take the opportunity to swim with whale sharks. These beautiful, harmless creatures are the world's largest fish, so swimming with them is a very special experience.
Whale shark season in Holbox runs from May to September, so if you're on the island at the right time of year, you can book yourself onto a tour.
Just make sure you find one with strong ethics. Tours should never feed the animals or let guests touch them. Most tours in Holbox won't allow more than two people into the water with a whale shark at a time. Check reviews before booking anything and make sure you're choosing an operator that sticks to the rules.
3. Explore the Colourful Street Murals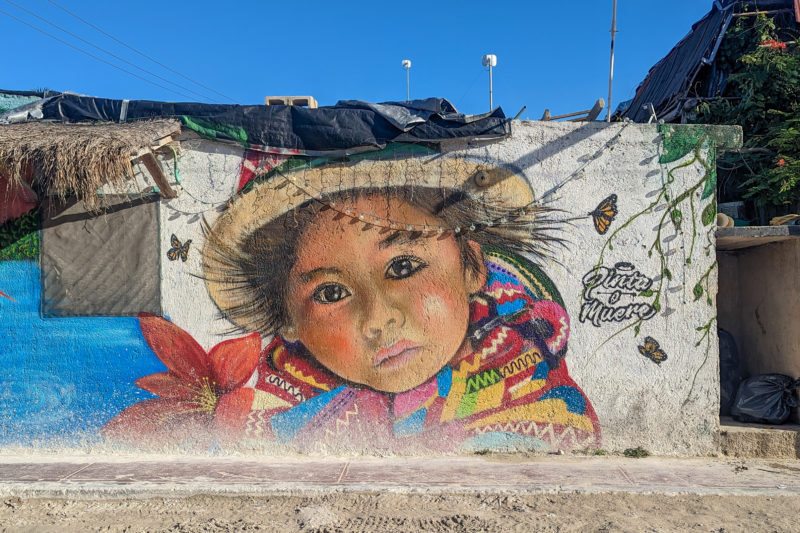 What I love most about Holbox is the COLOUR! Like much of Mexico, this is a seriously colourful little island town. And one of the best things to do in Holbox town centre is to take a self-guided tour of the colourful murals which are dotted all over the place.
They're easy to find: it feels as if there isn't a single street that doesn't have a mural on it! It doesn't take much more than ten minutes to walk the length of this small town, so exploring is easy. Some of the best streets for murals are in the blocks surrounding the main square, and along the Av. Pedro Joaquín Coldwell which runs parallel to the beach.
4. Walk to the Holbox Sandbar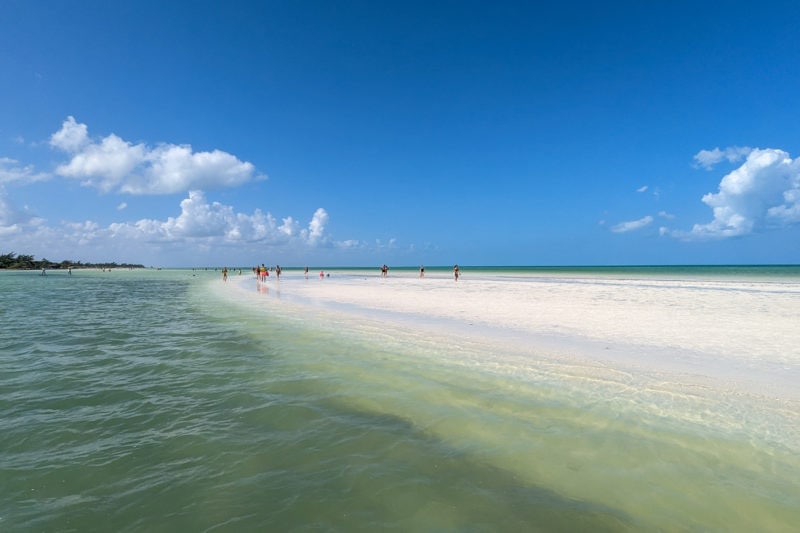 Holbox Sandbar is a strip of ice-white sand that stretches from Holbox Beach (near Hotel Villas Flamingo) out to Punta Mosquito.
Even when the tide is covering it, the sandbar is usually no more than ankle deep, so you can walk all the way along until you reach the nature reserve boundary. The beach here, Playa Mosquito, is a popular spot for sunbathing and chilling – but there are no facilities or shade.
Instead, there's a great deal of birdlife, including pelicans, frigates, and – at the right time of year – flamingos. Just make sure you don't pass the sign that clearly marks the start of the protected area!
Between the sandbar and the main island is a sheltered, waist-deep lagoon which is great for spotting marine life. I saw baby rays last time I was there.
5. Explore Yum-Balam Nature Reserve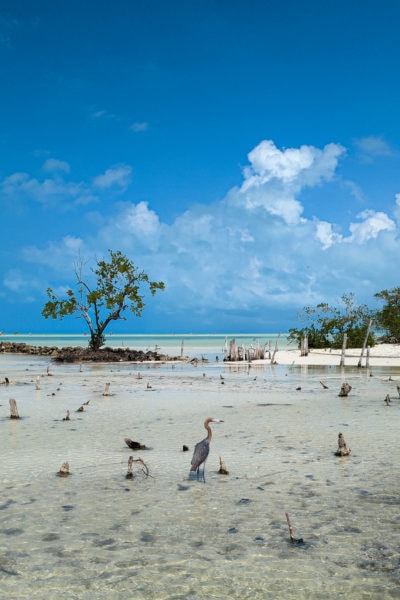 One of the best things to do in Holbox is to head out to Yum-Balam Nature Reserve. You'll find it at the northeastern end of the beach, just beyond Hotel Las Nubes.
A walk through the swampy reserve will have you wading across ankle-deep rivers and ducking under tangled tree branches as you spot the local wildlife (including lizards, sandpipers, and herons). The path is winding and sometimes tricky to spot, so it feels like a mini-adventure! You can also find your very own private patch of beach as you follow the coast.
The furthest point you can walk to is a wide river (which meets the sea almost opposite the marker for Playa Mosquito on Google Maps). I'm told crocodiles live in this river, so it's not advisable to try and cross it.
Once you reach the river, you can wade offshore to the Holbox Sandbar. The lagoon is usually less than waist height, and within about 5-10 minutes you'll reach the sandbar.
6. Take the 3 Islands Tour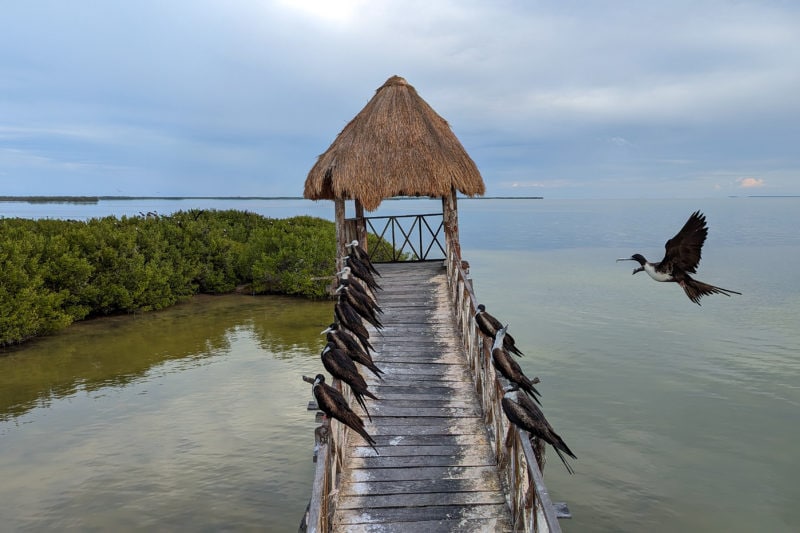 One of the classic tours on Isla Holbox is the Three Island Tour. This is a half-day speedboat tour that takes you to three islands: Punto Mosquito (for flamingos and wildlife), Isla Pasión – Passion Island (for empty white sand beaches) and Isla Pájaros – Bird Island (a natural bird sanctuary).
Most tours also stop for a swim at Yalahao Cenote on the mainland, rumoured to have once been used by pirates to top up their freshwater supplies.
There are several tour operators in town, so shop around to find a company you like the look of. If you prefer to book online, click here to check the prices of a speedboat tour on GetYourGuide.
7. Eat Lobster Pizza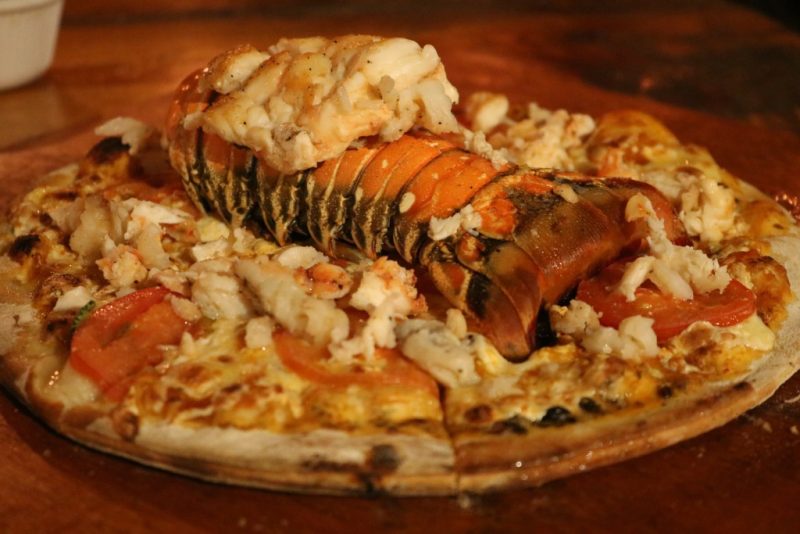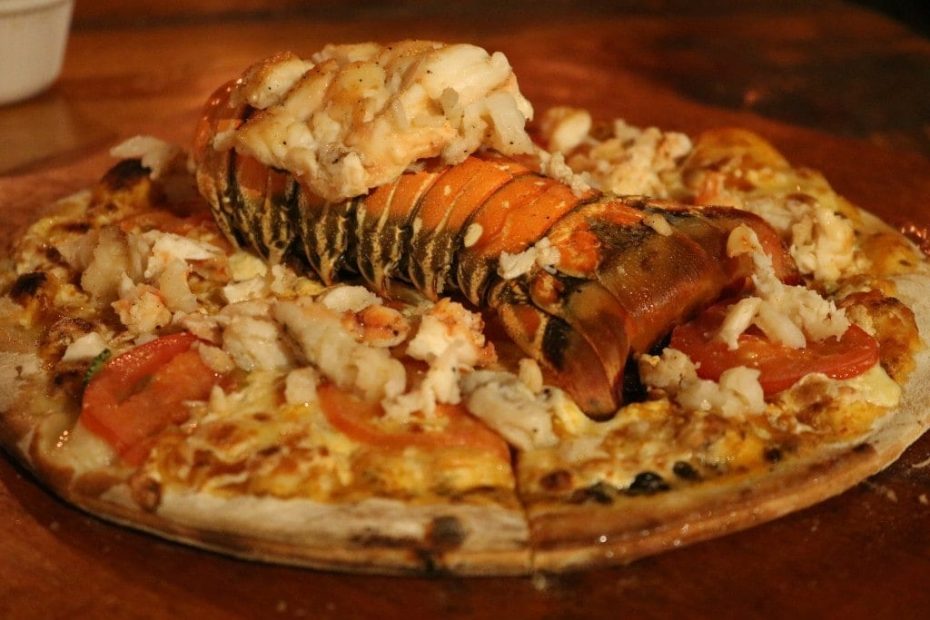 The signature "local" dish on Holbox is lobster pizza. Fresh, local lobster – only in season – served up on a thin crispy pizza base. Supposedly, the original was created by Pizzeria Edelyn, but many argue that the best is to be found at Roots, which is where I tried it.
It's a gorgeous outdoor restaurant where you can sit at tables on the sandy floor amongst lanterns hanging from trees, and watch as chefs hand toss the pizza dough. And the lobster pizza was DELICIOUS (749MXN).
8. Watch Sunset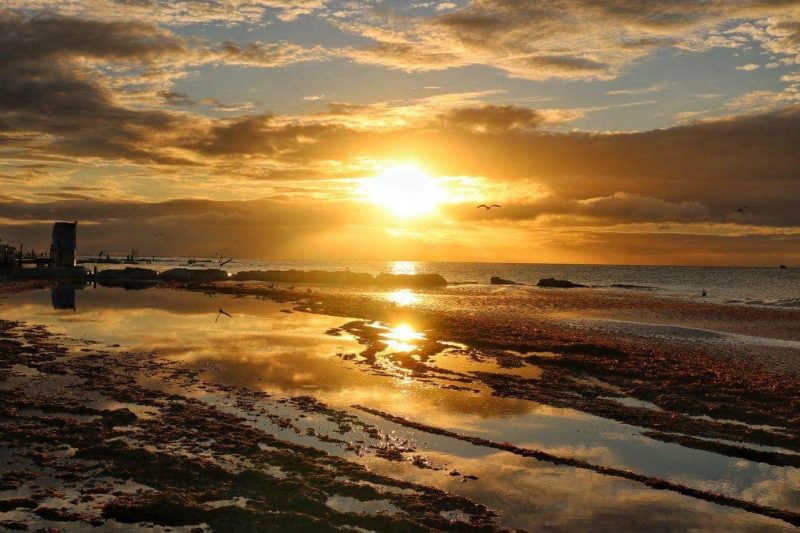 Holbox sunsets are something special. Every day, tourists and locals gather on the little pier on the beach to watch the sunset over the sea.
One day the sky will be burnt orange and vivid red, the next it might be paintbox pink with fluffy candyfloss clouds. Pick up some beers from a shop and settle down on the beach to watch. Good spots are the wooden pier near the Holbox Letters, or the 'corner' in front of El Chiringuito Bar Zomay.
Speaking of Bar Zomay, that's one of the best beach bars in Holbox to watch the sunset. Others are Escape Holbox, Alma Bar (rooftop bar at Villas Tiburon), and the rooftop restaurant at Spirit Holbox Hotel. Click here for my full list of the best bars in Holbox.
9. Go Kayaking in Bioluminescence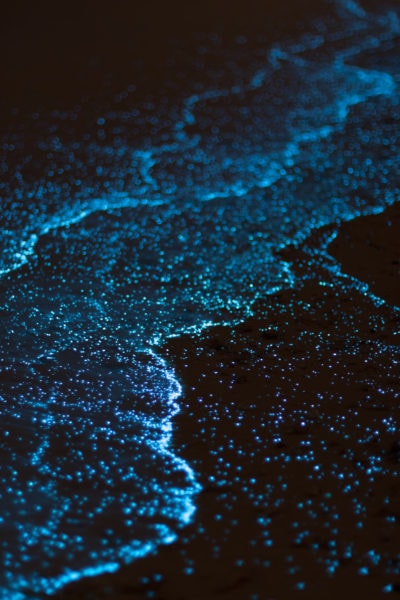 Bioluminescence is light produced by living creatures – and Holbox is one of the places where you can witness this spectacle from the shore. On the southern beaches of Isla Holbox, bioluminescent plankton create a vivid blue glow when the water is disturbed. It's especially visible on clear, dark nights when there's no moon.
You can see it by simply taking a taxi to Punta Cocos after dark – though this can be more expensive than a tour. Basic tours, which cost around 300-400 MXN, involve transport to and from the southern tip of the island, with about 30 minutes at the beach to paddle in the water and observe the bioluminescence.
For a much more adventurous experience, try a nighttime kayaking trip to see the bioluminescence. At sea after dark, you'll have the best chance of seeing the glowing plankton up close with minimal light pollution. You'll also get an incredible view of the stars – and even a few planets – overhead.
10. Get a Massage on Holbox Beach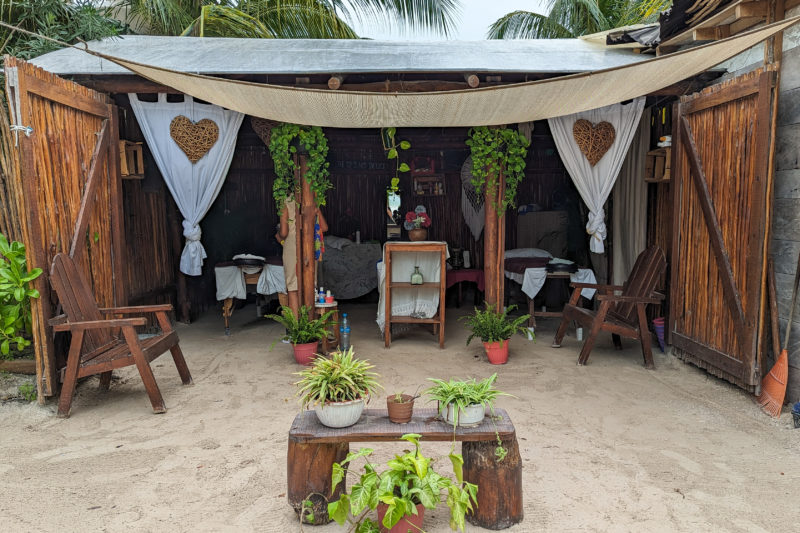 There's nothing quite like a massage by the sea, listening to the sounds of the waves crash on the shore as you completely unwind. You'll see lots of places offering massages around Holbox (this is a holiday island, after all), from open-fronted wooden 'palapas' right on the sand to swankier spas in hotel resorts.
I really liked Mayan Massage by Selene. There are a few branches – I went to the one next door to Ehuan beach bar (just before Casa Iguana). It's a rustic palapa and the front is open onto the beach road, so you do get quite a lot of noise from passing golf carts and the music from the beach bar – but the Mayan Massage was EXCELLENT!
If you're looking for a more private spa experience, try The Spa at Spirit Holbox hotel, where treatments also include a hydrotherapy session with pools, waterfalls and a jacuzzi.
11. Rent a Golf Cart to Explore Holbox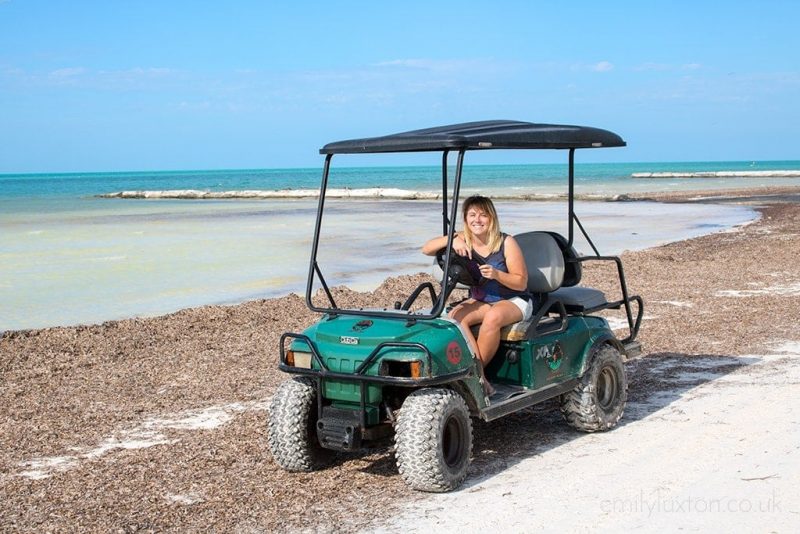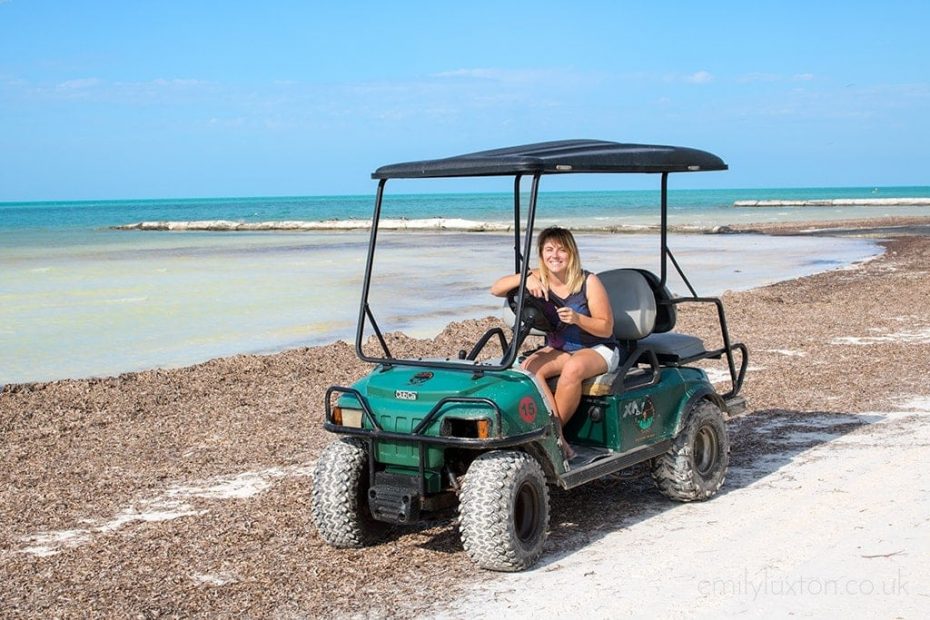 One of the best ways to explore Isla Holbox is to rent a golf cart and set out on an adventure. There are almost no cars on the island, so everyone gets around the island's sandy streets by bike, moped, or golf cart (carrito de golf).
You can rent these from a few places around town. I've rented from Rentadora Monkeys (near the main square) in the past but there are a few different options. It's not cheap – prices start from $350 MXN for 1 hour or $2500 MXN for 24 hours last time I checked (in February 2023). But it's a really fun way to get around, and in about 2 hours you can explore most of the driveable parts of the island.
12. Go for a Bike Ride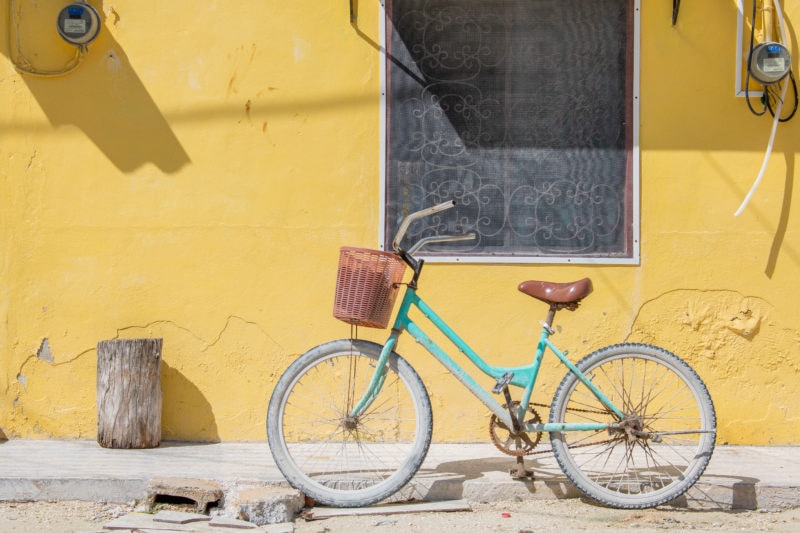 If renting a golf cart feels too fast-paced for island life, you can also rent a bike to get out exploring. This is a lovely way to get around the island and see a few different sights.
None of the distances are particularly huge: you can bike from the town centre to Yum Balam Nature Reserve, or (in the opposite direction) to Punta Cocos in less than 10 minutes. But biking is more than a quick way to get from A to B – it's also a great way to explore Isla Holbox and soak up the tropical scenery.
13. Kayak Amongst the Mangroves
Holbox is a nature lover's paradise. A protected area with abundant wildlife, most of the island is wild and undeveloped. Take a guided kayaking tour into the mangrove forests for a chance to see some of the island's most precious wildlife up close, including flamingoes, pelicans, and osprey. Even (rarely) crocodiles!
Kayak is the best way to explore, as it's much more eco-friendly than a motorboat. It's also quieter, which means you'll be able to get much closer to the wildlife without disturbing it. Try this sunrise mangrove kayaking tour (from $56 USD) or this mangrove tour in double kayaks (from $53 USD).
14. Eat Seafood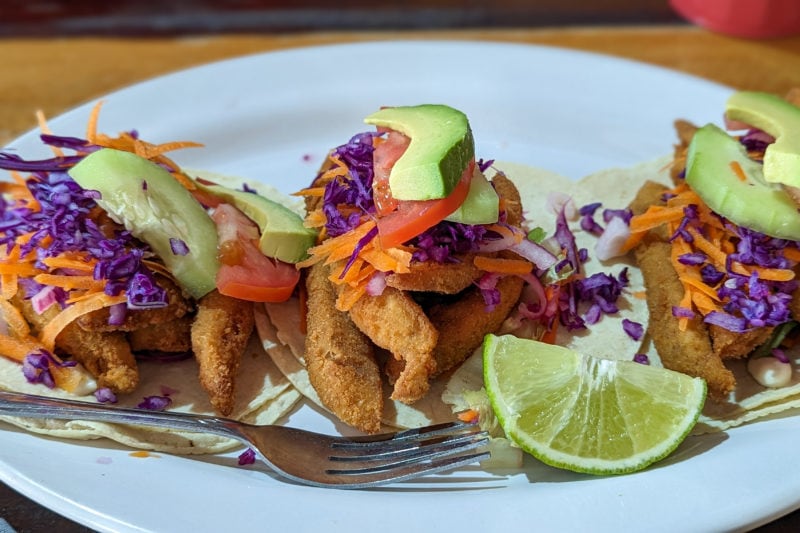 Before it was a boho tourist haven, Holbox was a tiny fishing village. These days, the local fishermen are supplying super-fresh, super-delicious seafood to the island's best restaurants.
I've already mentioned lobster pizza (a must try) but there's also ceviche, sushi, pulpo (octopus), coconut shrimp, and – my favourite – fish tacos! Try some of these restaurants while you're visiting…
Las Panchas – possibly one of the best seafood spots on the island. Casual, simple, and beloved by both locals and visitors.
Ñaña Beach Club – excellent fish tacos.
Ser Esencia – upmarket spot known for its multi-course tasting menus. This is one of the best restaurants on Holbox.
Roots – for lobster pizza.
Restaurante Hinata – for delicious sushi.
El Ma.Carmita – raw-bar concept known for oysters, ceviches, and seafood. I had the best meal of my trip here (fresh fish fillet with risotto)!
For the chance to catch your own, try this private fishing and sightseeing boat trip. Eat your catch and experience the freshest ceviche imaginable!
15. Go Beach Bar Hopping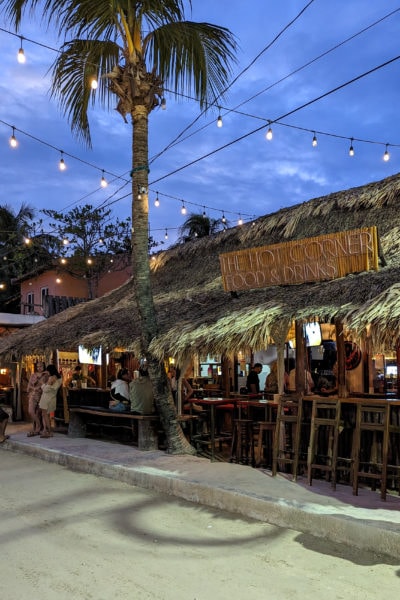 Fancy sipping a cocktail with your toes in the sand? Holbox has a ton of fantastic bars, from swanky beach clubs and rooftop terraces to more rustic beach bars and lively party bars.
I've got a separate guide rounding up all the very best Holbox bars, but here's a shortlist to get you started:
The Hot Corner – lively party bar with a great ambience.
El Chiringuito Bar Zomay – one of the best beach bars for sunset.
Luuma – boho-chic vibes and great cocktails
ALMA – rooftop bar with a small pool and beach views
Salma – cool beach bar with tiki vibes
Crónicas Taproom – cool spot on the main square with craft beers
16. Horse riding on the beach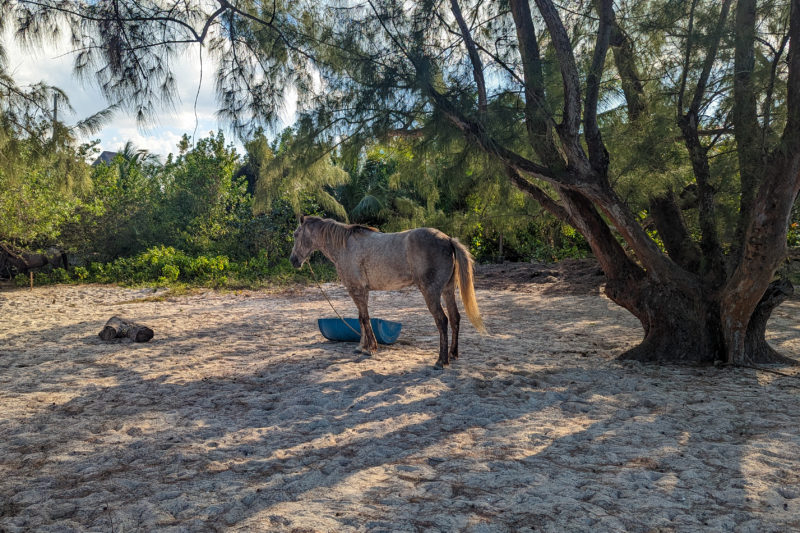 Love horseriding? In Holbox, this is the perfect way to get a little "off the beaten path" and see things that you might not be able to reach on foot or by bike/golf cart.
You can join a guided horseback ride to explore the beaches and mangrove forests of Isla Holbox from a different perspective. This is one of the more expensive tours available on the island, but worth it if you want to try an adventure with a difference.
17. Learn to kitesurf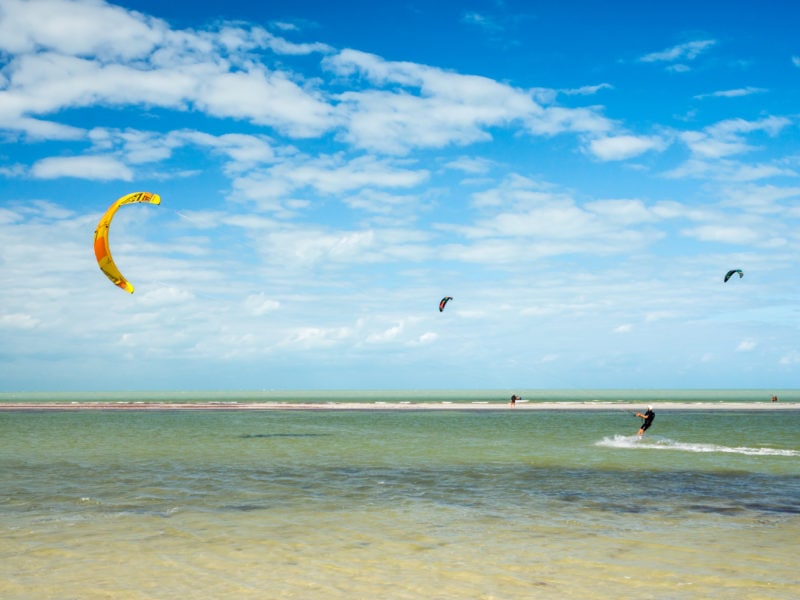 Every time I come to Holbox, I watch the kitesurfers speeding across the waves and leaping into the air, and I think "I'd love to try that". Yet somehow I still haven't managed it – partly because lessons can be a little expensive, and I guess I'd rather spend that money on tacos, beer and massages!
Holbox is known to be a great place to learn to kitesurf, thanks to its consistent winds, sheltered sandbar and calm, boat-free waters. The kitesurfing season runs from November to May/June.
If you fancy giving it a try, book a taster session at one of the local schools – or take a full course (9 hours over 3 days) to master the basics. KukulKite and Holbox Kiteboarding School appear to be the highest rated schools on the island. Kitesurfing lessons with KukulKite start from $260 USD – click here to check latest prices and availability.
18. Go Paddleboarding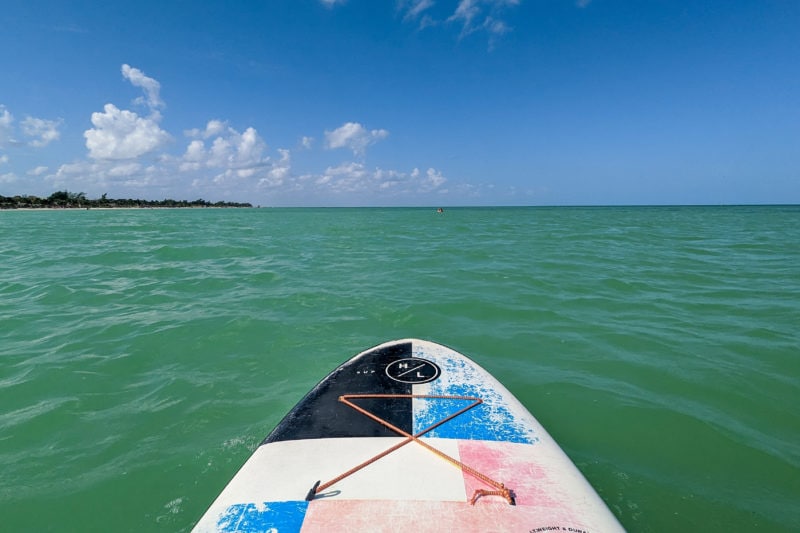 Prefer your watersports at a gentler place? Holbox is also a perfect location to explore by paddleboard. You can rent them from most kitesurfing schools and at a few places along the beach. I got mine from Kayak Holbox n Travels (a bright blue wooden stall near BarBarossa) and would highly recommend them.
If you paddle to the Sandbar, you can enjoy the sheltered waters of the lagoon – and spot fish and rays swimming in the super clear, calm waters beneath you. Depening on how long you have the board for (and how much energy you have) it's possible to paddle all the way to Punta Mosquito. You can't land there as it's part of a protected area, but you can watch the birds from your board.
19. Try an Escape Room in Holbox
Escape Room Holbox is the perfect thing to do if the weather turns bad, or you just fancy a break from being out in the sun! It's operated out of Tribu Hostel and starts from $300 MXN pp (for a group of five).
Sadly, I wasn't able to do this on my trip as I was travelling solo and didn't think a solo escape room would be all that fun. Next time! However, the reviews are excellent and the price isn't bad, so if you're looking for something different to do, this is a great option.
What About the Holbox Hammocks?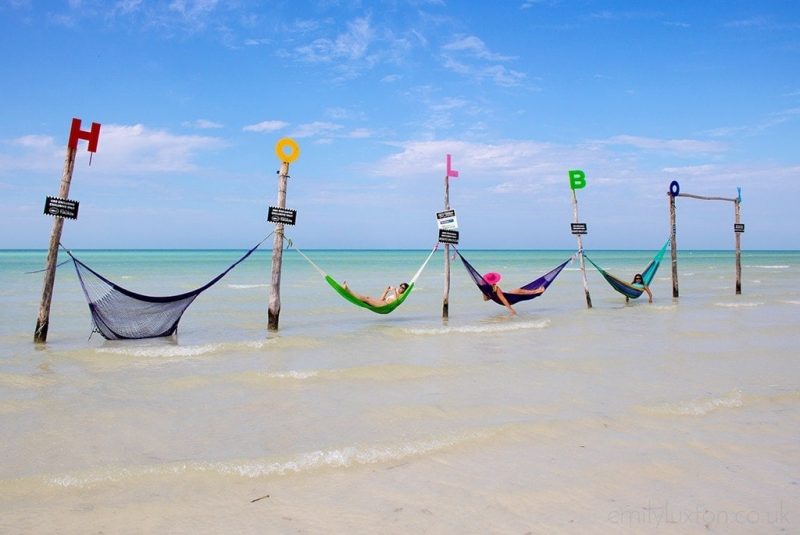 A lot of online guides to Holbox list "photographing the hammocks" as one of the best things to do. I haven't included them on this list for two reasons. One: because taking a photo in a hammock didn't really feel like an "activity"! And two: because the most iconic hammocks have now been removed.
There used to be a lot of hammocks strung up directly over the sea – the most famous being a string of colourful hammocks topped with letters spelling out "Holbox". These have been removed – apparently for conservation reasons – as have most others (as of my most recent visit in February 2023).
There are still a few hammocks on the beach (not over the sea) as well as swings and colourfully painted giant chairs. So you'll still find plenty of photo ops.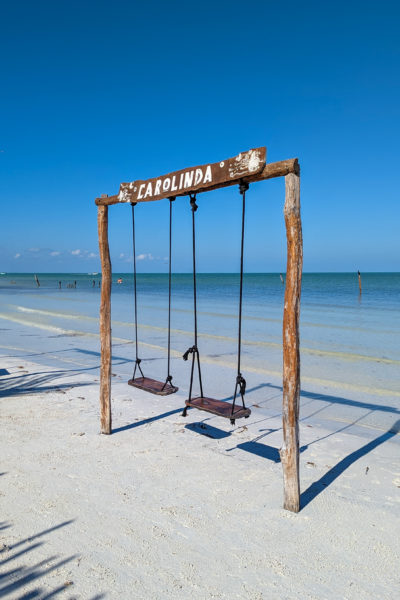 More on Holbox & Nearby
12 of the Best Hotels in Holbox
I hope you found my guide to the best things to do in Holbox helpful. Leave a comment with your own tips at the bottom of the page!