Some posts on this site contain affiliate links. If you book or buy something through these links, I earn a small commission (at no extra cost to you). Take a look at my privacy policy for more information.
Cancun is a great setting for a holiday. The city's thriving nightlife, pristine beaches, and luxurious hotel strip are popular with tourists for good reason. But there is so much more to Mexico than all-inclusive resorts and cocktails by the pool, so it's worth taking at least a couple of day trips from Cancun while you're there.
This is a rich and beautiful country with a fascinating culture, abundant wildlife, and some seriously stunning nature. So get out and explore it! After travelling extensively around the area on four trips over the last few years, I like to think I know some of the best places to explore around Cancun. Here are a few amazing ideas to get you started…
9 Best Day Trips from Cancun
Map provided by
Wanderlog
, a road trip planner
In the post below, I've included instructions for getting to each spot using public transport – usually the awesome ADO bus network. And in case you don't fancy organising your own travels, I've also included a recommended tour using affiliate links (more info on those here).
DON'T forget your suncream and insect repellent for your day out – the mosquitoes in Cancun and surrounding areas can be fierce!
Isla Mujeres
Having just spent two nights here, I can definitively say that Isla Mujeres is an amazing place for a Cancun day trip. You can reach the island so easily from downtown Cancun, and within half an hour you'll be on a tropical island paradise! A visit to the island is definitely one of the best things to do in Cancun.
The northern end of the island is home to a stunning public beach, as well as a shabby-chic Centro filled with sandy streets, lively bars, and great foodie hotspots. You can snorkel and dive the reefs around the island, or head to the underwater sculptures at Manchones. If you want to explore, rent a bike, moped, or golf cart and zip around the island, which is only about 7km long.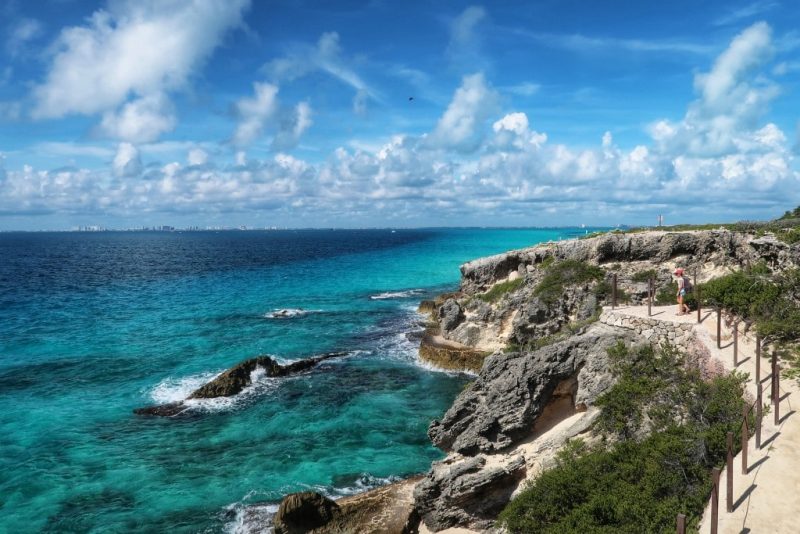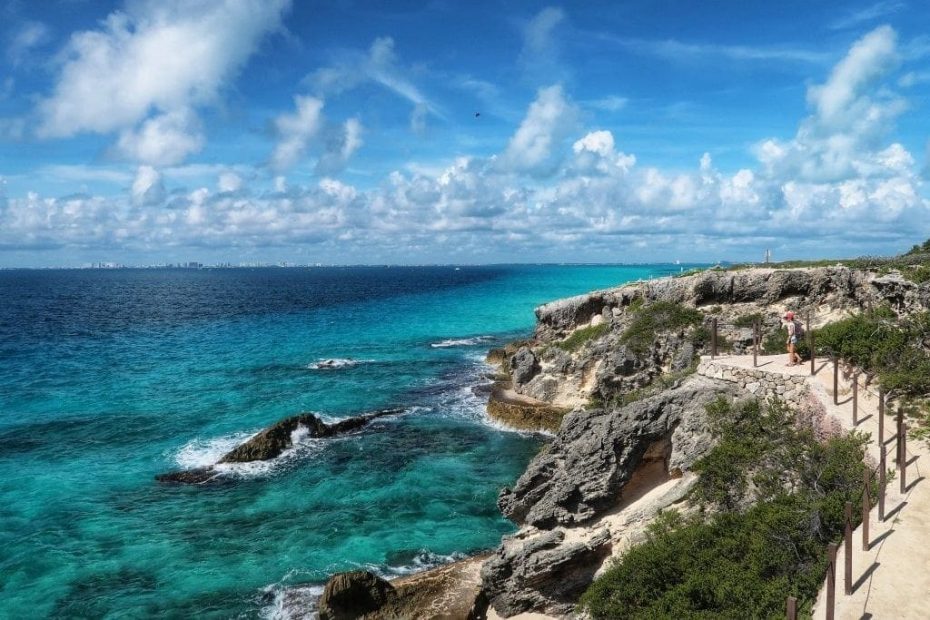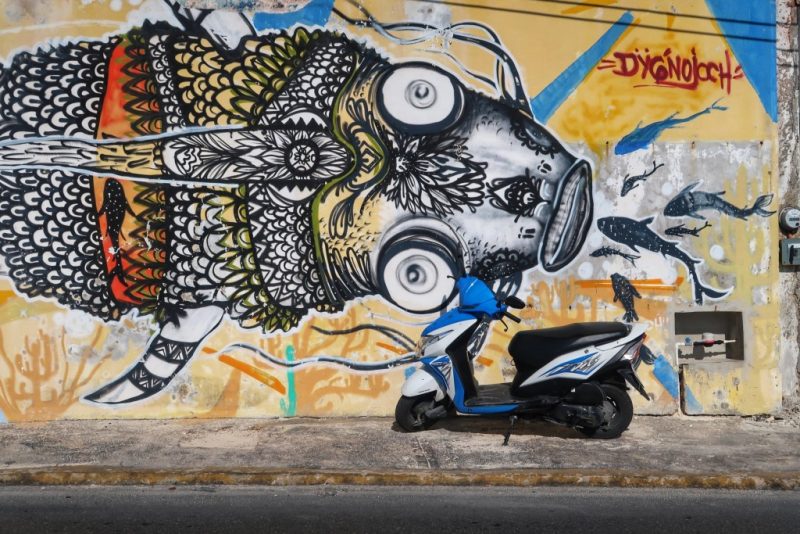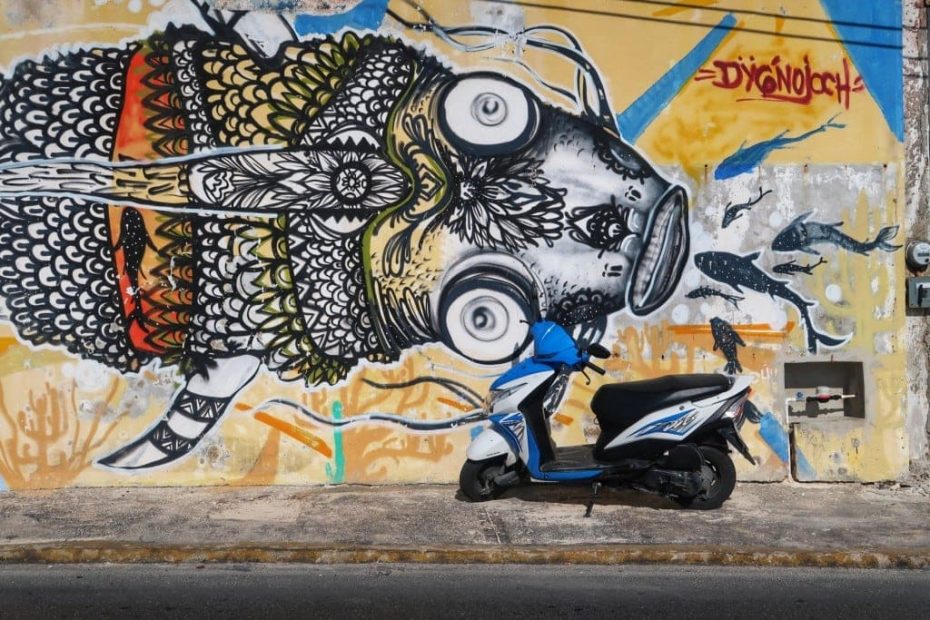 How to Get There: Head to Puerto Juarez in downtown Cancun and take the Ultramar ferry. A round trip costs 300MXN and ferries depart every half hour.
RECOMMENDED TOUR: Isla Mujeres All-Inclusive Full-Day Catamaran Tour from Get Your Guide. 10 hour tour from $56.80pp)
Chichen Itza
One of the most popular day trips from Cancun is definitely Chichen Itza, and it's easy to see why! This is one of the largest Mayan cities ever built, and is one of the Seven New Wonders of the World – so it's a big must-visit for any first-timer to Mexico.
Chichen Itza is huge, and could easily take up a whole day. The "main" attraction is the massive step pyramid, known as El Castillo or Temple of Kukulcan. But there is so much more to see! Be warned – you may end up walking pretty far and there's not much shade, so bring a sunhat and plenty of water.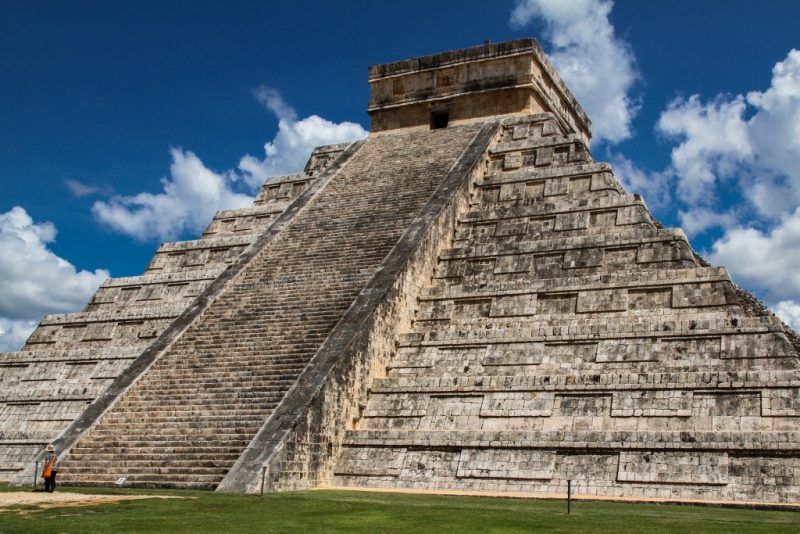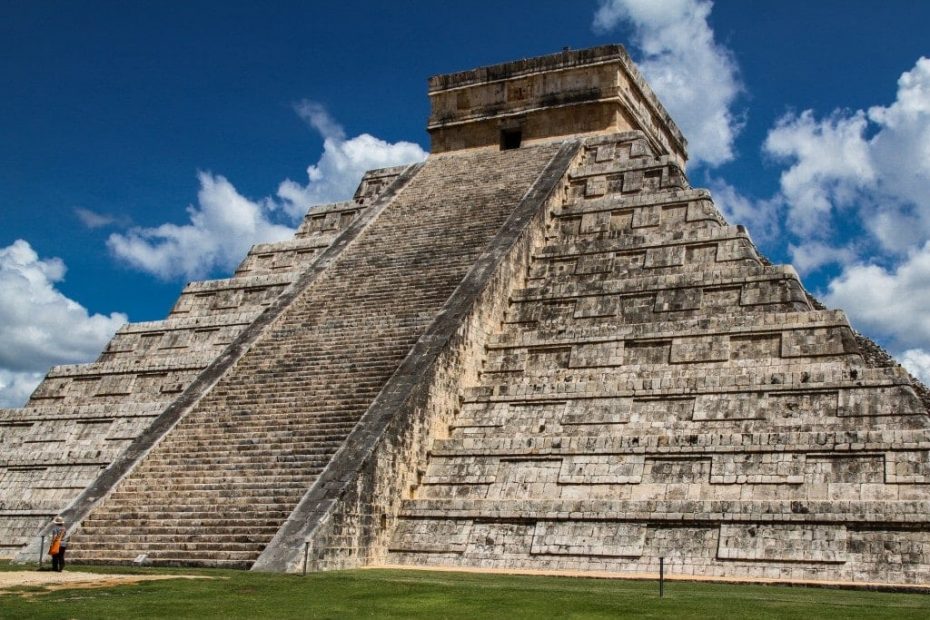 How to Get There: An ADO bus departs from Cancun bus station to Chichen Itza at 8:45am daily, with a return bus departing Chichen Itza at 4:30pm.
RECOMMENDED TOUR: Chichén Itzá, Ik Kil Cenote & Valladolid All-Inclusive Tour from Get Your Guide. Full day tour from $45.99.
Tulum
Tulum is Mexico's hippy and yoga paradise on the Caribbean coast. Seriously trendy, this gorgeous little town has more hipster bars and vegan restaurants than Shoreditch!
It also has some jaw-droppingly perfect beaches, incredible Mayan ruins, and some of the prettiest boutique hotels I've ever seen. Throw in great vibes, a relaxed party scene, and a more authentic feel – and you have the ideal alternative to Cancun.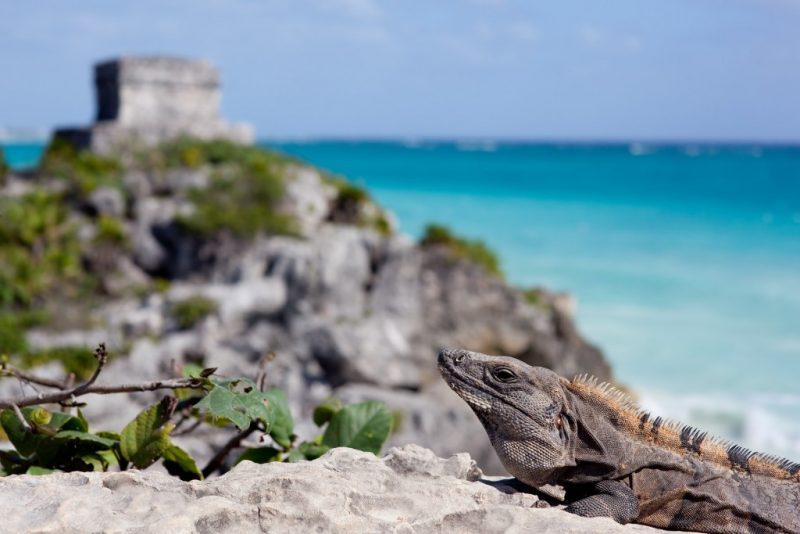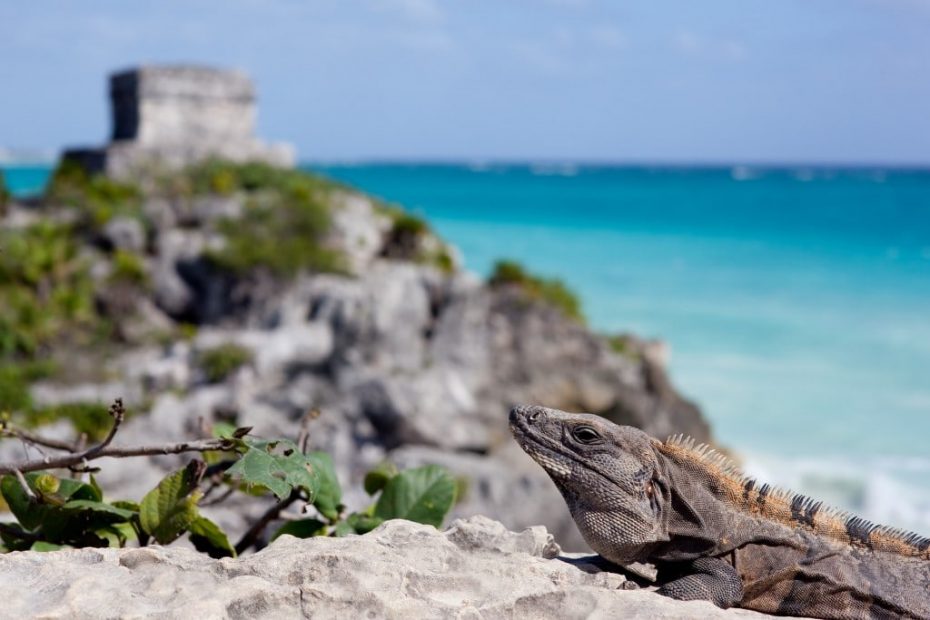 How to Get There: The ADO bus from Cancun to Tulum takes around 2 hours, with numerous departures all day. You could visit as a day trip or stay for a few nights. Check out this guide on how to get from Cancun to Tulum for all the transport options.
RECOMMENDED TOUR: Tulum, Coba, and Cenote Full Day Tour.
Akumal
Not far from Tulum, the two bays at Akumal are famous for the huge numbers of turtles which can be found swimming very close to shore. Thanks to nearby reefs, the crystal-clear waters of the bays are very calm, with perfect snorkelling conditions. You can grab a snorkel, wade into the water, and spot a turtle within minutes. Just please follow the rules about where to swim, and don't touch the turtles – it's bad for them!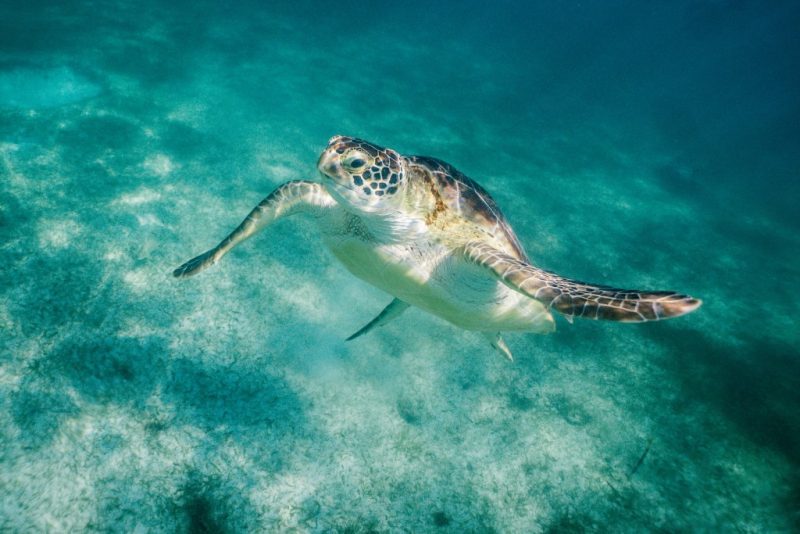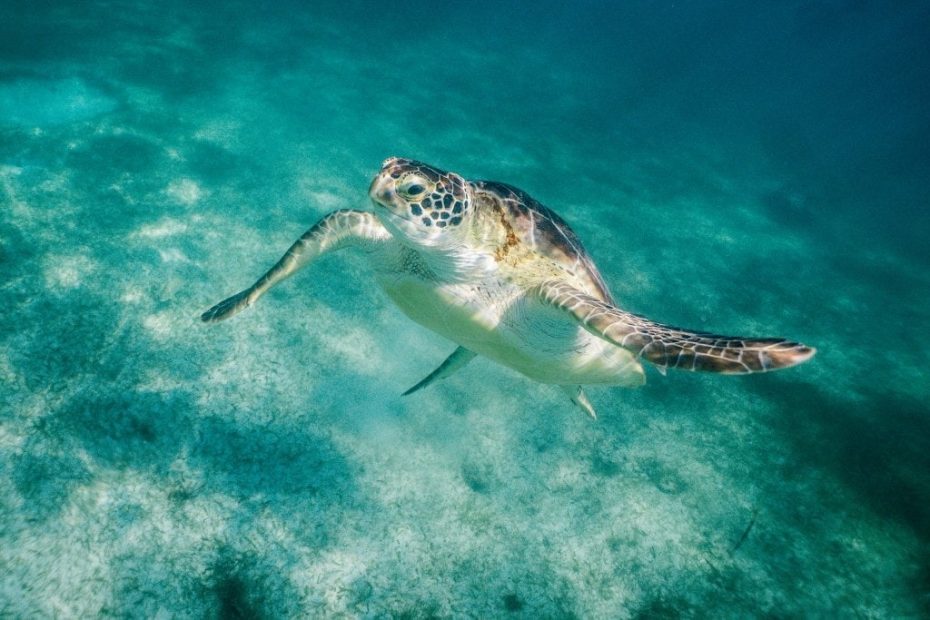 How to Get There: The best way is to take the ADO bus to Playa del Carmen, then either take a taxi (around 250 MXN) or a colectivo (around 25 MXN). Look for a colectivo heading to Tulum and ask to get off at Akumal.
RECOMMENDED TOUR: Marine Turtle Observation Tour – 5-hour tour, from $125pp.
Playa del Carmen
Playa del Carmen is just down the road from Cancun, and makes a great day trip. Or, like Tulum, you could easily stay for a few days. Especially when you consider Playa del Carmen's party scene – which is pretty awesome.
Known for its palm-lined beaches, coral reefs, and varied nightlife, Playa del Carmen can feel a bit like a smaller Cancun. It's ideal, though, for anyone in search of more public beaches or the chance to escape the resorts a little. Playa is also a great jumping-off point for exploring the rest of the Riviera Maya!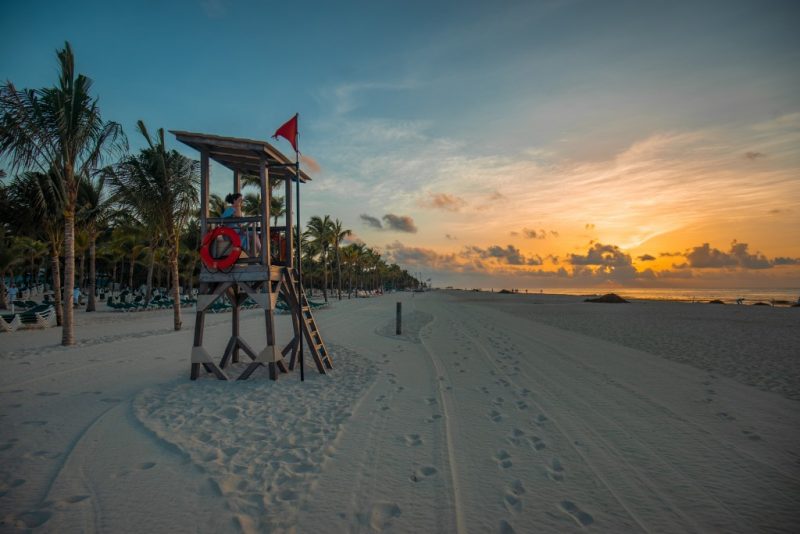 How to Get There: The ADO bus from Cancun to Playa del Carmen takes just over an hour, with super frequent departures all day.
Cozumel
Cozumel is a small island just off the coast from Playa del Carmen – but it feels a whole world away from the busy party town. A haven for scuba divers, Cozumel is rugged and windswept.
Many of its beaches feel less polished than the ones in Cancun and Playa – but that's all part of the charm! For an unforgettable experience, rent one of the colourful convertible bugs or busted-up jeeps to tour the island.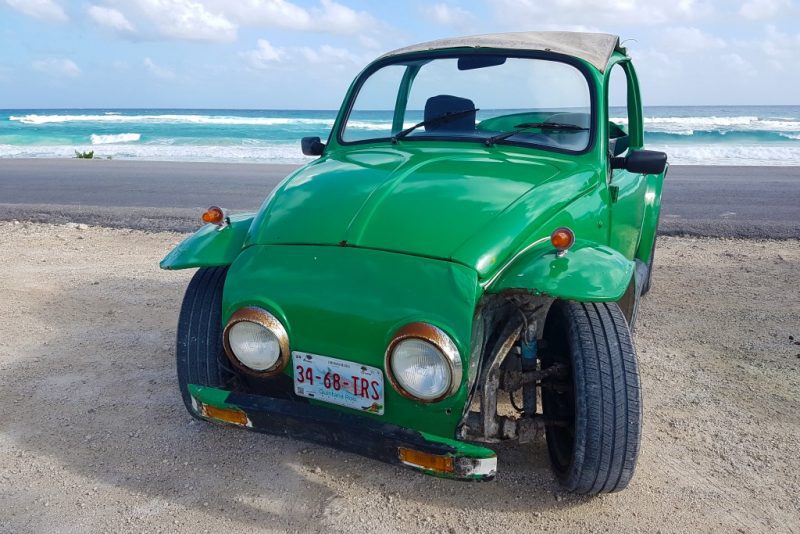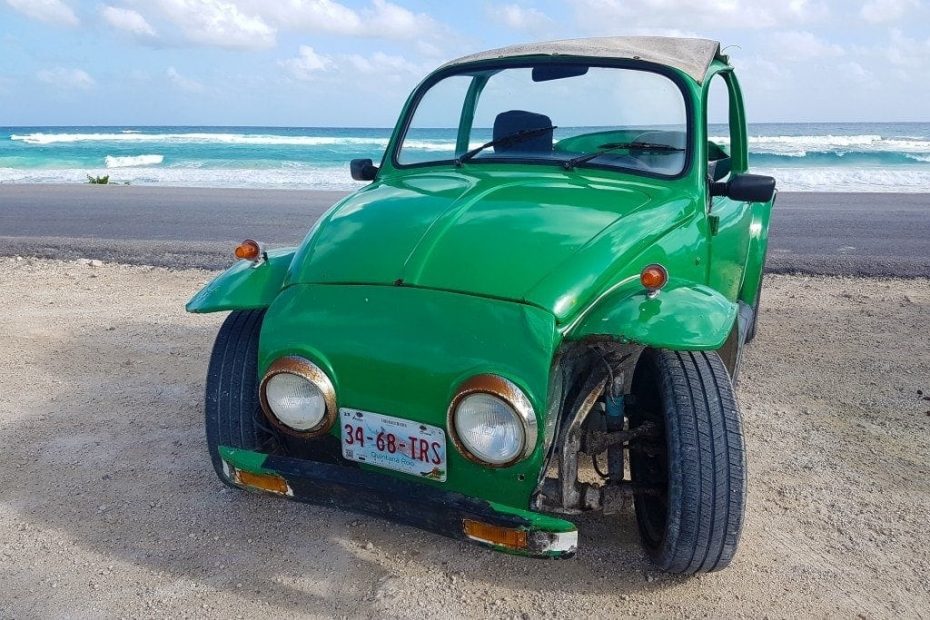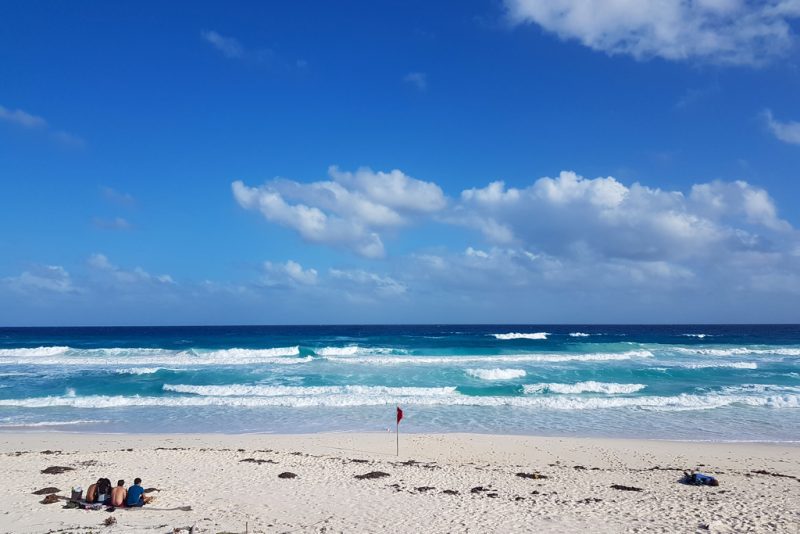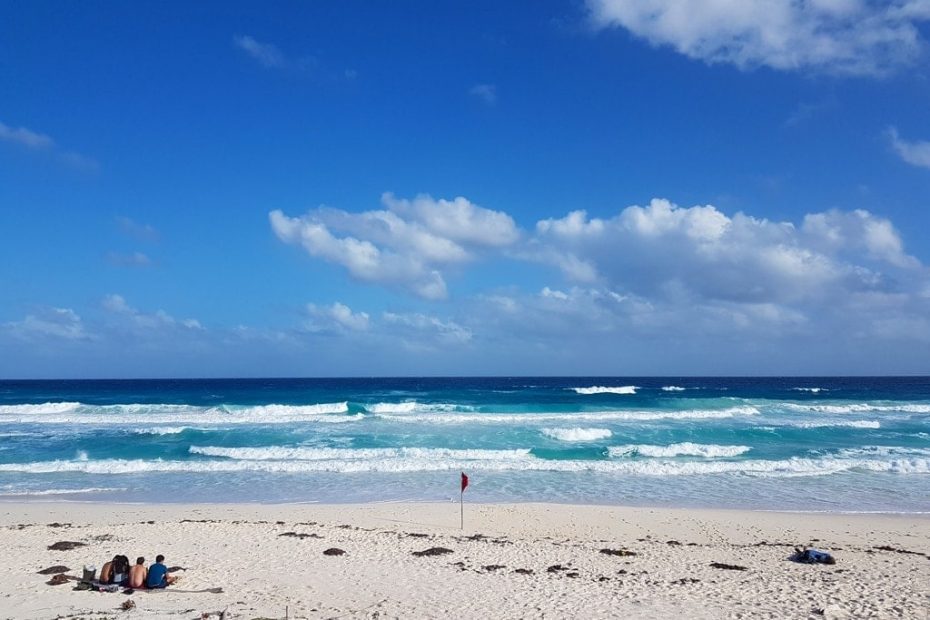 How to Get There: Take the ADO bus from Cancun to Playa del Carmen, then hop on either the Ultramar or Mexico Waterjets ferry to Cozumel. Buy tickets directly from the ferry kiosk to get the best price. Check this guide for more info on getting to Cozumel from Cancun!
RECOMMENDED TOUR: Cozumel Snorkelling Tour – full-day tour from $119pp.
Rio Lagartos and the Pink Lakes
If you want to get right off the tourist trail, head to Rio Lagartos – a tiny, sleepy town on the edge of an enormous lake and biosphere reserve. Feed crocodiles at the local crocodile farm, take a sunrise boat tour to spot the bird and wildlife around the lake, and head to nearby Las Coloradas to see some bright pink salt lakes.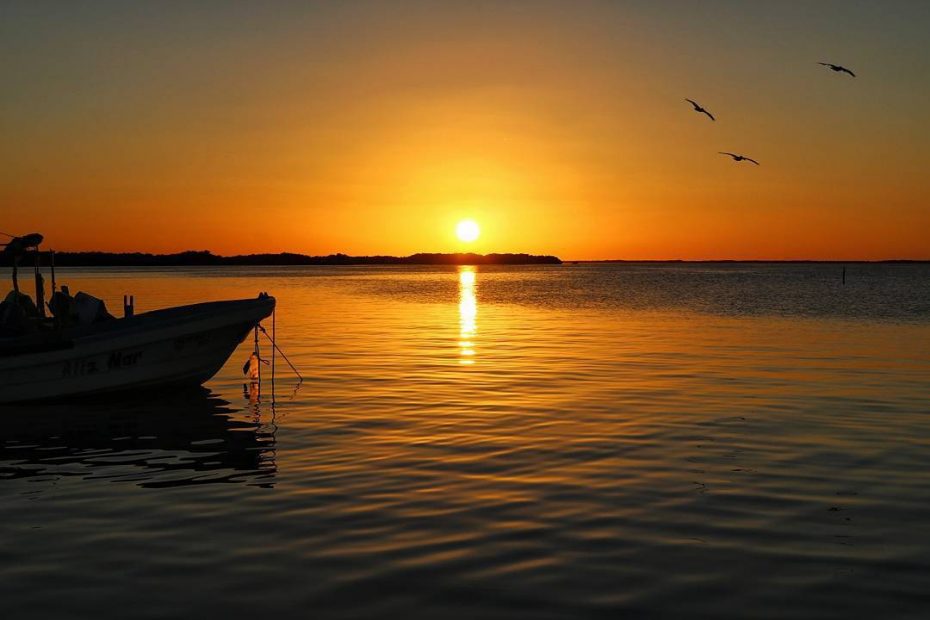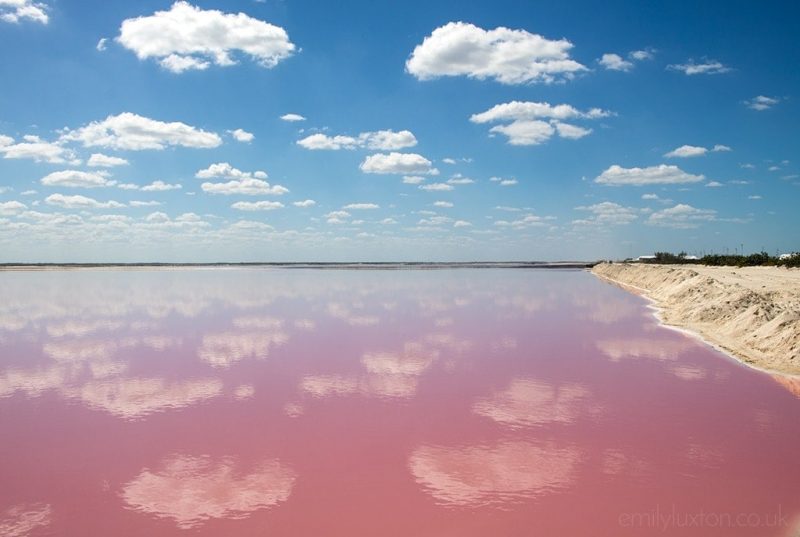 How to Get There: This is the longest journey on this list, so it may be worth staying a night or two in Rio Lagartos to truly make the most of it. From Cancun, take either the ADO or Mayab bus to Tizimin, which takes around 3.5 hours. From Tizimin you can either take a bus or a colectivo. Both take an hour, but Colectivos are more frequent.
RECOMMENDED TOUR: Day Trip to Las Coloradas and Ek Balam – full-day tour which includes a visit to the mangrove forests of the Rio Lagartos biosphere reserve. From $149pp.
Cenote Hopping around Cancun
One of the best day trips from Cancun would be to visit one, or a few, of the nearby cenotes. A cenote is a sinkhole, filled with water. They are caused by the collapse of limestone bedrock, exposing the underwater river beneath.
There are hundreds of cenotes across Mexico's Yucatan Peninsula. Thanks to the limestone, the water within is often a vivid shade of blue, green, or turquoise. You can swim, and even dive, in many of the cenotes; the water is often incredibly deep. Check out this incredible list of 34 cenotes in the Riviera Maya for inspiration.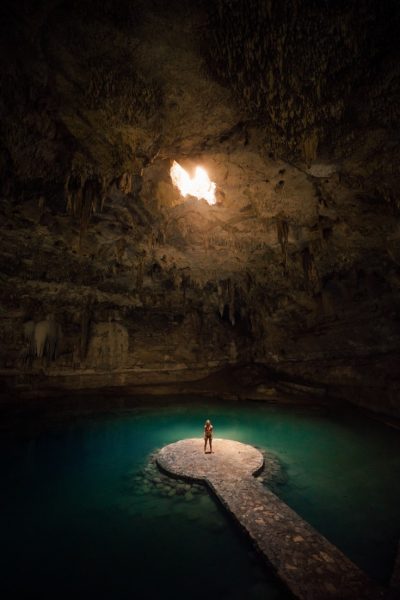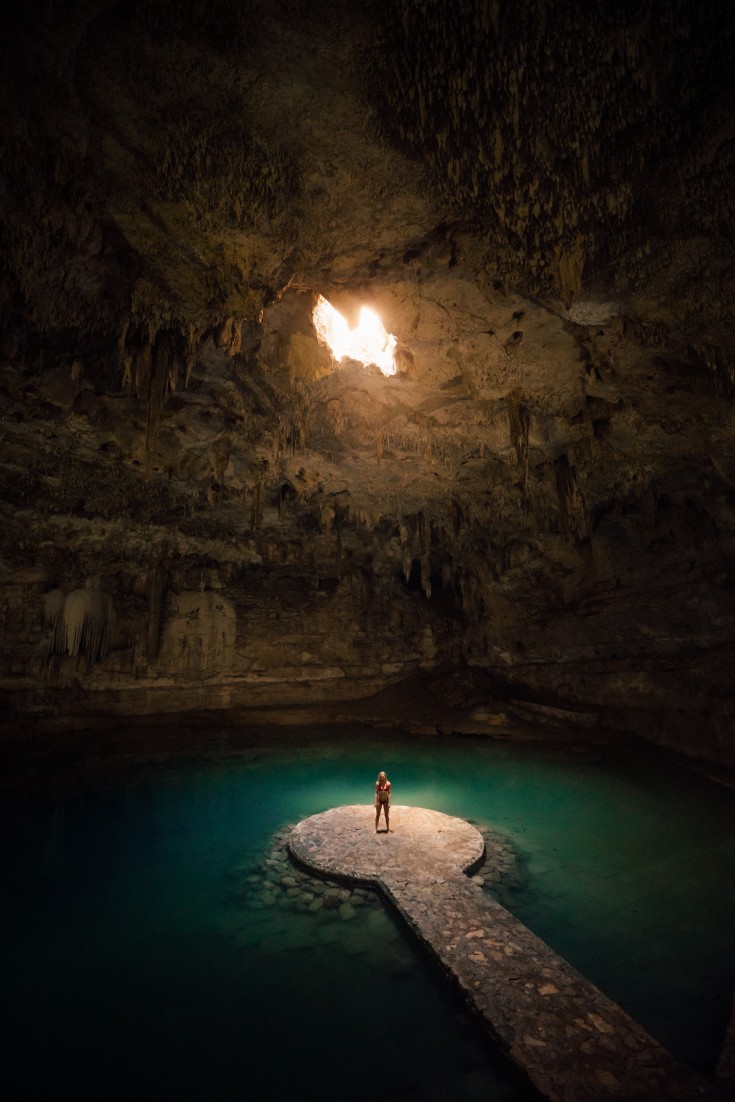 How to Get There: The best way would be to rent a car, load up Google maps, and go on a little road trip. Alternatively, you might be able to hire a taxi or Uber in Cancun and pay a daily rate for the driver to take you to a few nearby spots.
RECOMMENDED TOUR: Cancun Cenote Tour: Snorkeling, Rappelling and Ziplining from Viator. 7-hour tour, from $98.90pp.
Valladolid
Last but not least, we have Valladolid. Those in search of a little culture will adore this picturesque city, which is one of Mexico's so-called Pueblos Magicos (Magic Towns). Filled with colourful colonial buildings, the city oozes with historical beauty. You'll also find plenty of local arts and crafts, making this a great place to shop for souvenirs. Don't miss Donato Bates market!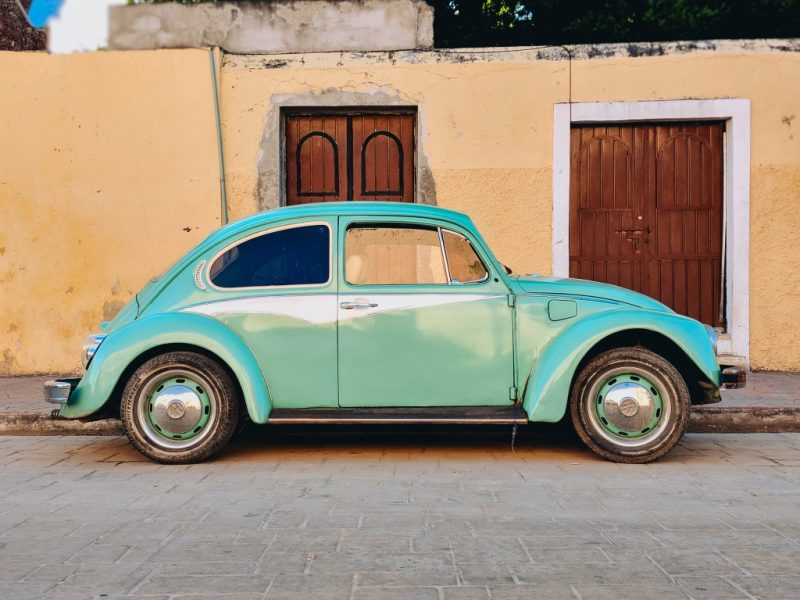 How to Get There: ADO have multiple buses from Cancun to Valladolid every day, which take around 2 hours.
READ MORE: 27 Places to Get Off the Beaten Path in Mexico
Read More
Grand Fiesta Americana Coral Beach Cancun – A Detailed Review
Pin This Post