Some posts on this site contain affiliate links. If you book or buy something through these links, I earn a small commission (at no extra cost to you). Take a look at my privacy policy for more information.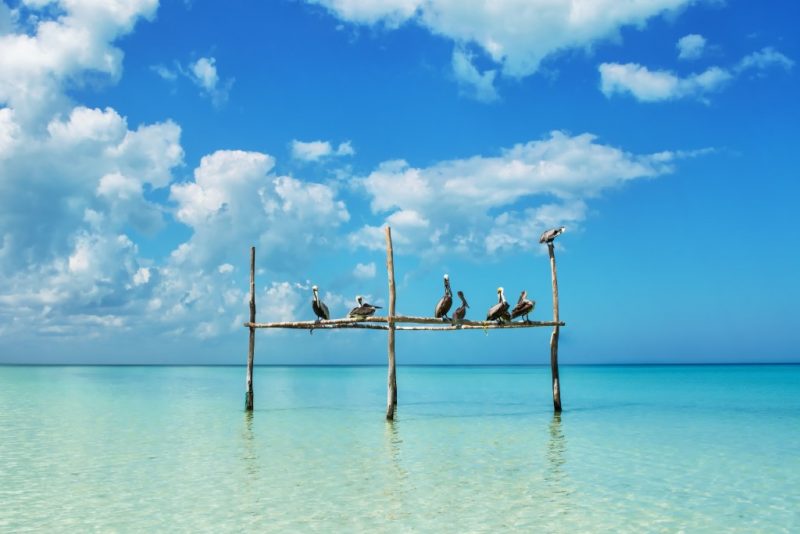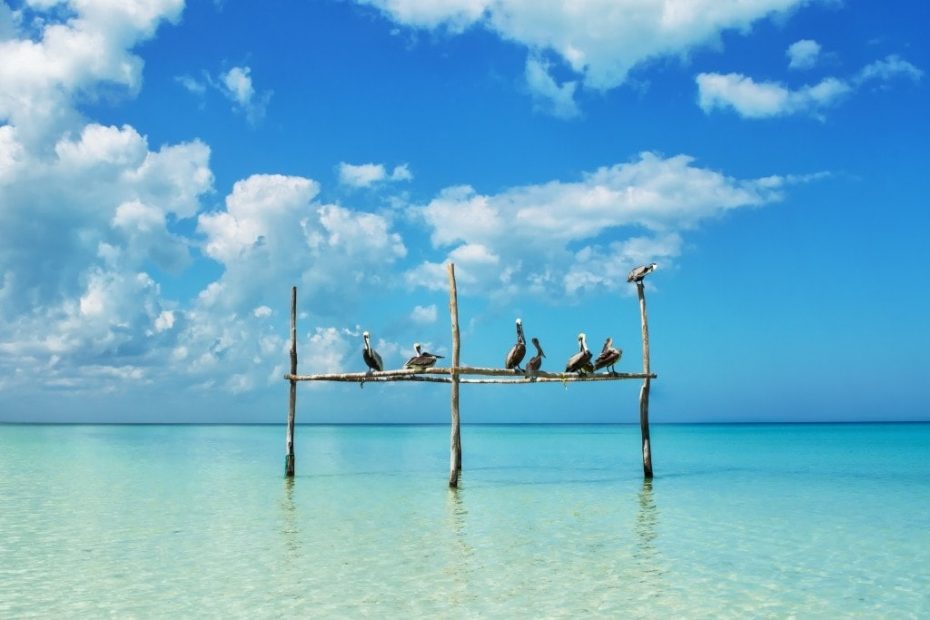 White sand, swaying palm trees and turquoise seas… these are the best beaches in Isla Holbox…
This gorgeous little island is one of my favourite places in Mexico. I love its laidback vibes, sandy streets, colourful murals, incredible nature and – above all – its beautiful beaches.
All of them boast calm, shallow seas and powdery white sand backed by tropical greenery. There's also an abundance of birdlife, including pelicans and frigates, and you can often see fish swimming in the crystal-clear waters.
And whatever kind of beach day you're looking for, there's a beach to suit every vibe! If you want catering and sun loungers, you can find everything from luxurious beach clubs to casual, toes-in-the-sand beach bars along the island's larger beaches.
Rather enjoy a little more wilderness – or even have a beach all to yourself? Holbox has that, too!
Over several different visits to Holbox, I've gotten to know the island pretty well. I've visited every beach, tried out a bunch of the bunch clubs, and found some of the best sunset spots on the island.
In this quick guide, I've broken down the five main beach options in Isla Holbox to help you find your perfect little slice of sandy paradise. Enjoy…
Map of the Best Beaches in Isla Holbox
5 Best Beaches in Holbox
1. Playa Holbox – the Main Beach
Pros: Closest to town, lots of bars, restaurants and beach clubs.
Cons: Can be prone to more seaweed, usually busier and noisier than other beaches, not much shade unless you pay for it!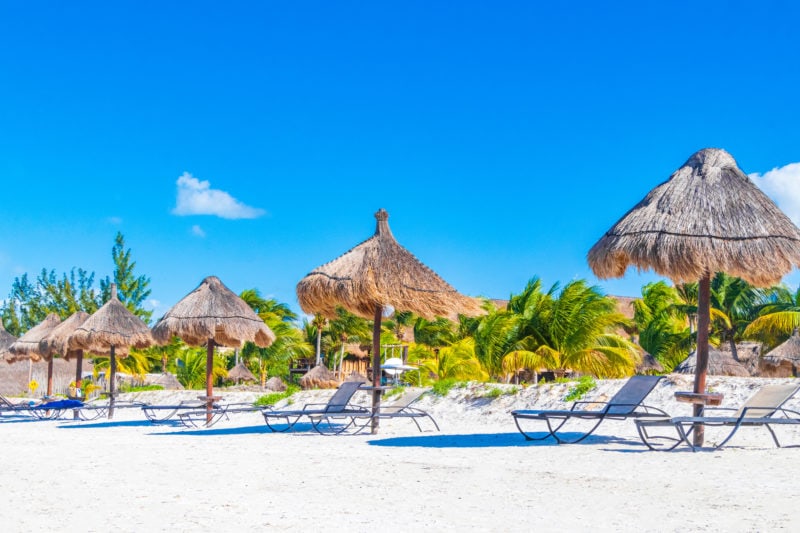 The main beach in Holbox is found right in front of the town, so it's the most popular and the easiest to get to.
It's also BEAUTIFUL: think white sand and clear, shallow water that's perfect for swimming. There are tons of amenities here: with a great mix of restaurants, bars, and beach clubs on the sand to suit all tastes and budgets. You can also rent kayaks and paddleboards from a few places along the beach, or get a beach massage for the ultimate relaxation!
In between all the beachfront hotels and beach clubs, there's plenty of empty white sand for you to relax on.
If you want the shade of an umbrella or palapa, or you prefer to laze on a sun lounger, you can head to a beach club. To use the beds, you usually have to meet a minimum spend on food and drink (generally around 500-600MXN pp).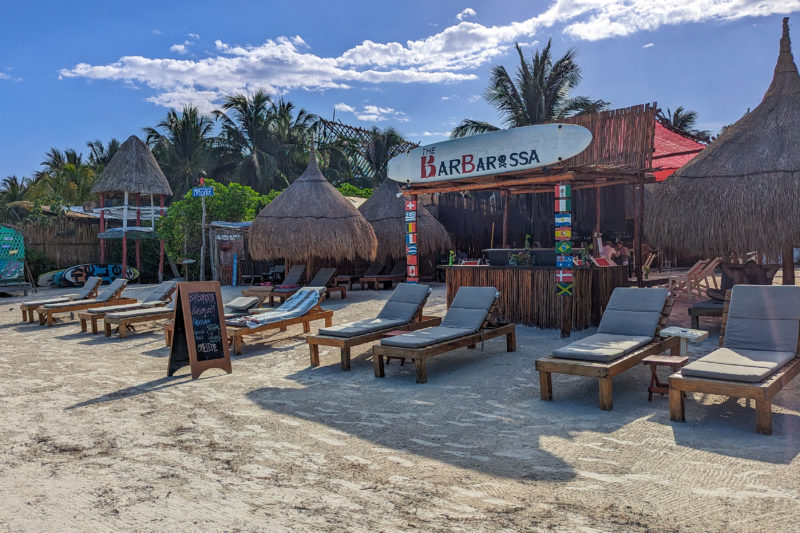 When the wind is blowing from the northeast, Holbox main beach can feel a little windswept. Thankfully, the waves rarely get very big. After storms or heavy wind, the seaweed can be a little worse on this stretch of beach. Many of the luxury hotels take pains to clear it from their beach club areas!
Getting there: simply walk two blocks up from the main square in Holbox town centre (head up Calle Tiburón Ballena or Calle Palomino).
2. Playa Mosquito (the Holbox Sandbar)
Pros: Idyllic white sand, sheltered lagoon to swim in, remote feeling.
Cons: No shade or facilities.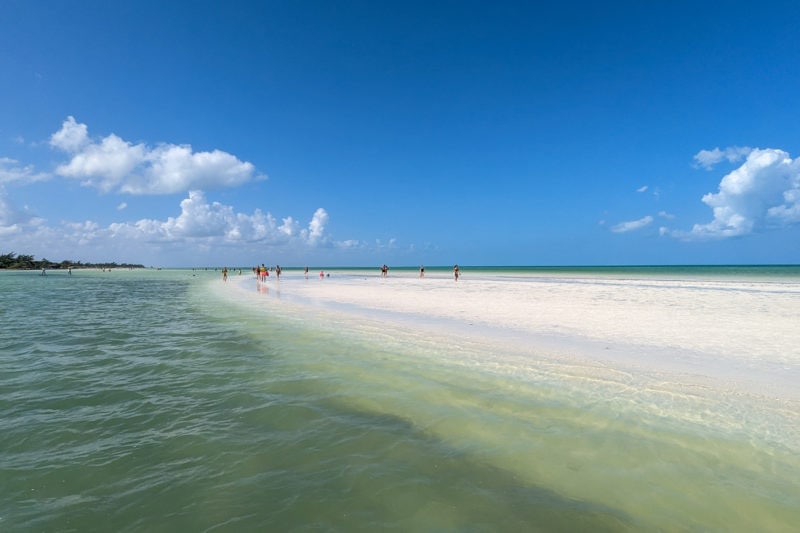 Starting from the eastern end of the main Holbox beach, a huge sandbar runs all the way to Punta Mosquito at the island's northernmost tip. Even when the tide is covering it, the water is usually no more than knee deep, so you can walk along the sandbar out into the ocean.
You can't walk all the way along the Holbox Sandbar, because Punta Mosquito falls within a protected nature reserve. At the point marked on Google Maps as "Playa Mosquito" there's a small rope fence and a sign warning visitors not to go any further.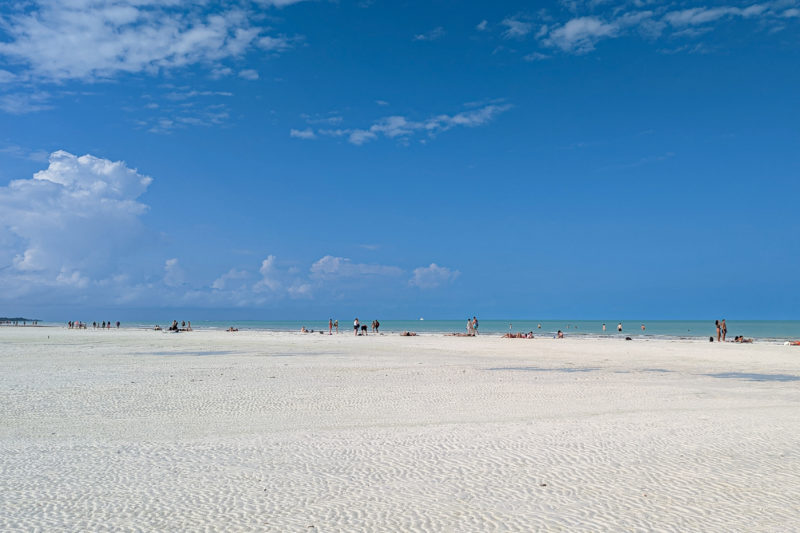 The spot just before this roped-off section is perhaps the most unique beach in Holbox. Relax on the pristine white sand, watch the birds that call the reserve home, and swim in the most impossibly clear waters you can imagine!
In between the sandbar and Holbox island itself, there's a sort of lagoon, which has very calm, shallow waters (waist-deep at most). Last time I was there, I spotted some baby manta rays swimming in the shallows!
Getting there: the sandbar starts veering off from the main beach around Hotel Villas Flamingo. Simply walk along it until you can go no further!
3. Yum Balam Nature Reserve (facing the sandbar)
Pros: Can sometimes get a tiny beach to yourself, shade from trees and bushes, lots of wildlife, sheltered lagoon to swim in.
Cons: No facilities, quite far from the town.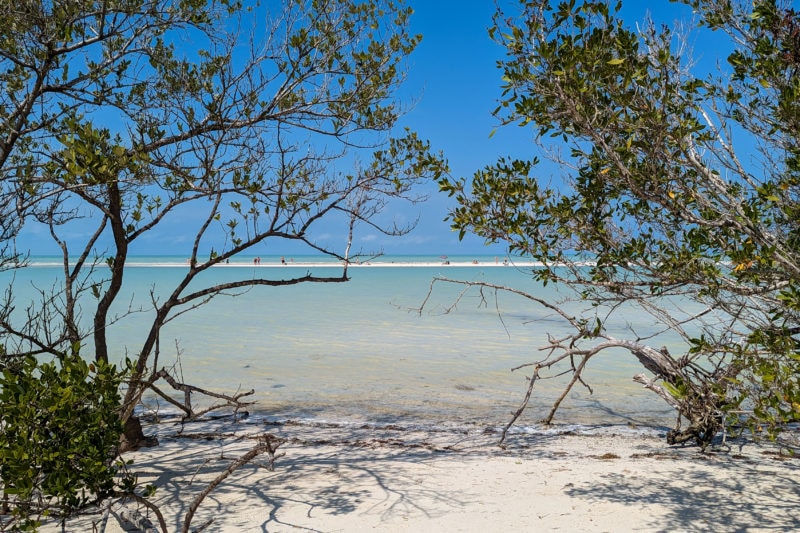 At the far end of Holbox Beach, just past the last hotel, is the entrance to part of the Yum Balam Nature Reserve. This vast nature reserve actually includes most of Isla Holbox and part of the mainland. But the section along the coast facing the sandbar is home to some of the more remote beaches in Holbox.
If you want a beach to yourself, this is the place to come! Wandering northeast from the end of the main beach will take you into the reserve. Here, you'll find several small pockets of sand backed by tangled bushes and trees – supplying a little shade and a good spot to hang your towel!
You can only walk about 1km into the reserve: no further than where the river meets the sea opposite Playa Mosquito. I'm told crocodiles are sometimes seen in this river, so don't attempt to cross it!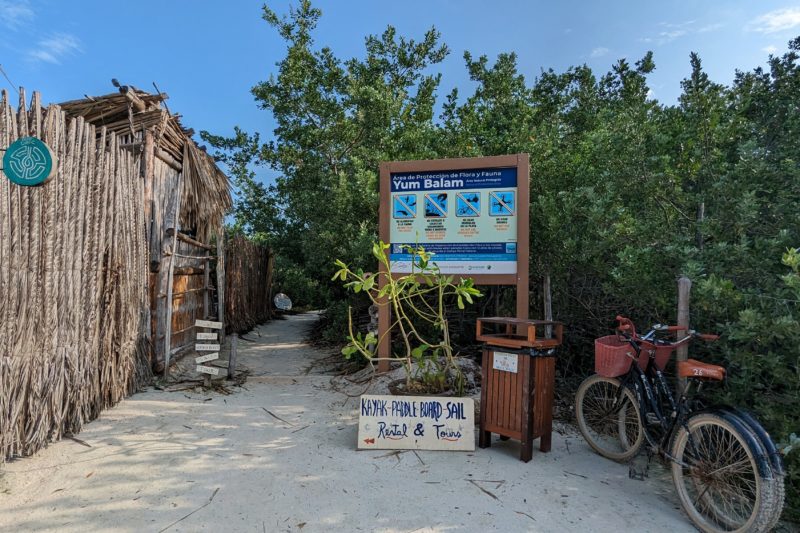 Getting there: take a taxi (100MXN each way) or walk (30 mins from town) to the entrance of the reserve. The entrance is found at the end of the sandy beach road, just past Hotel Las Nubes. Follow the path into the reserve and along the beach until you find a spot you like.
4. Beaches West of Holbox Town
Pros: Shade from trees in some spots, sheltered swimming, some beach clubs and restaurants.
Cons: Restricted to the gaps between hotel beach clubs, not as much shade (unless you pay for a bed and umbrella).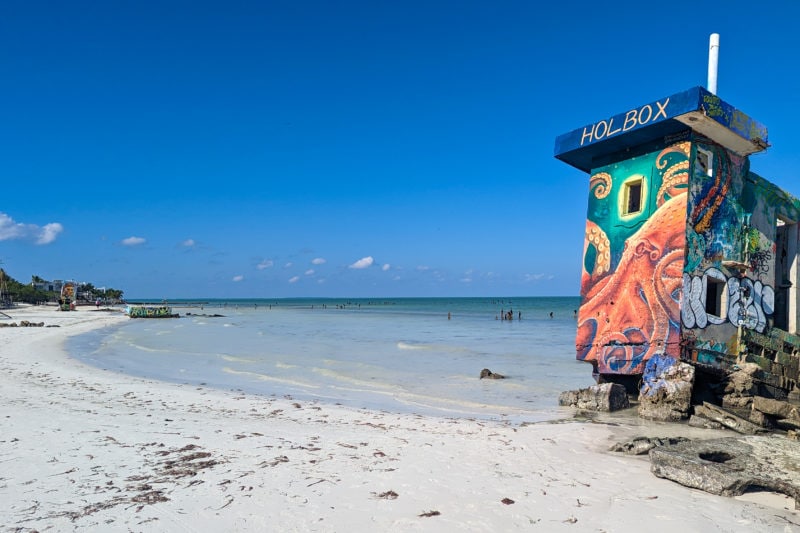 The main strip of beach in Holbox seems to run east from the town. However, if you head west instead, there's still plenty of beach to enjoy!
The beaches here tend to be a little quieter than the "main" beach. There are fewer hotels and beach clubs, so you can easily find a patch in between – although there's not always shade. The section between Hotel Puerto and Mystique is a nice spot, with shade from the bushes in the morning.
Several hotels have built banks of sandbags to create sheltered swimming coves, where you can enjoy shallow, safe water – ideal for families with young children.
The further you go, the quieter the beaches get. If you want a secluded swimming spot, head towards Casa Blanca. The beaches between there and Punta Cocos get very few visitors.
Getting there: simply head to the main beach and turn left instead of right!
5. Punta Cocos
Pros: Remote feeling with several secluded spots, much quieter, lots of nature, shade from trees and bushes.
Cons: Far from the main town, only two beach clubs so food/sunbeds etc tend to be more expensive.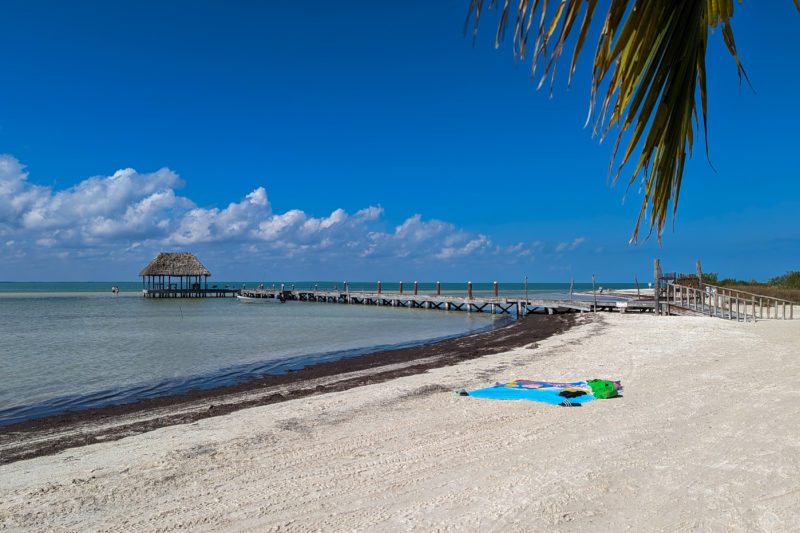 Punta Cocos is probably my personal favourite beach on Isla Holbox. It's about the furthest point you can get from town and feels deliciously quiet and remote.
With plenty of shade from trees and bushes, this is the ideal spot for someone who burns as easily as I do! And since the beach faces west, it's also one of the best sunset spots on Holbox.
There's one hotel – Margaritaville St Somewhere – and one beach club, the Holbox Magico, which has bright pink hammocks and cute boho vibes. But I prefer to skip both of these and walk right along the beach to the furthest point you can go. Here, you'll reach a skinny strip of sand with a lagoon on one side and the sea on the other.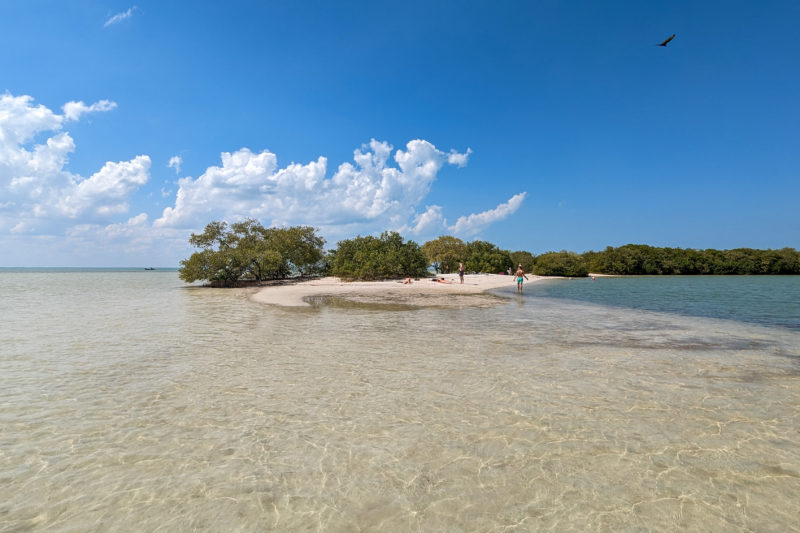 Punta Cocos is part of the local nature reserve. Make sure you respect any roped-off areas as these are essential breeding/hatching spots for birds and turtles!
TOP TIPS: bring plenty of water and snacks (or money for the beach club. Insect repellent is also vital, especially around the lagoon. And don't forget your suncream!
Getting there: you can take a taxi (around 100MXN) from town, ride a bike along the sandy roads, or walk. If walking, you can follow the road, but I think it's nicer to walk along the beach from Holbox Tow. Simply head west and follow the coast all the way around past Margaritaville (the last hotel) and down towards the lagoon.
Does Holbox Have Sargassum or Seaweed?
In recent years, Cancun and the Riviera Maya have been having an issue with high levels of sargassum (a kind of seaweed) washing up on beaches. Where it builds up in piles and dries out, it can create a bit of a stink and ruin the idyllic white-sand vibes. Seaweed season in Cancun usually starts in May and lasts until about October, but it varies from year to year.
Usually, northwest-facing Holbox is spared this phenomenon – except after particularly bad storms. There is, however, a great deal of seagrass. It's an important habitat and food source for the wildlife that makes this island such a special place.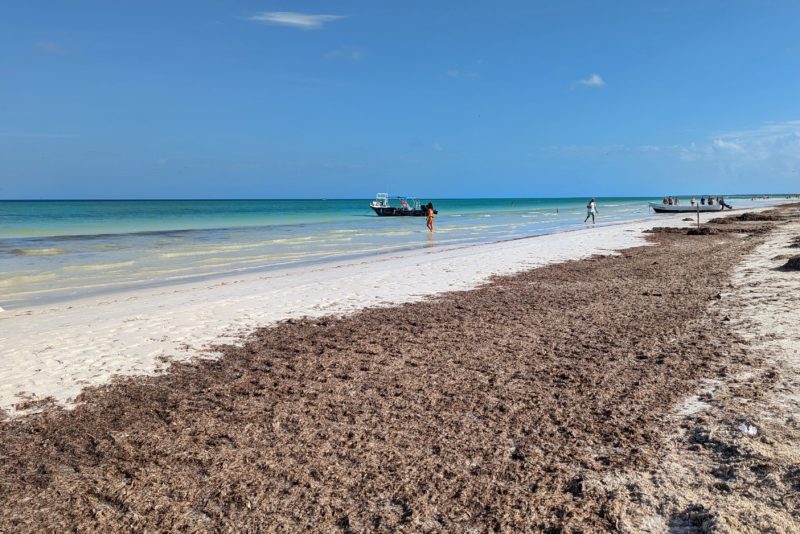 After heavy wind and rain, though, it can wash up onshore in large amounts and the buildup has a tendency to smell as it dries out. It's not too much of a bother, though, and definitely not as bad as the summertime sargassum can be along the eastern coast of the Yucatan Peninsula.
Best Holbox Beaches for Sunset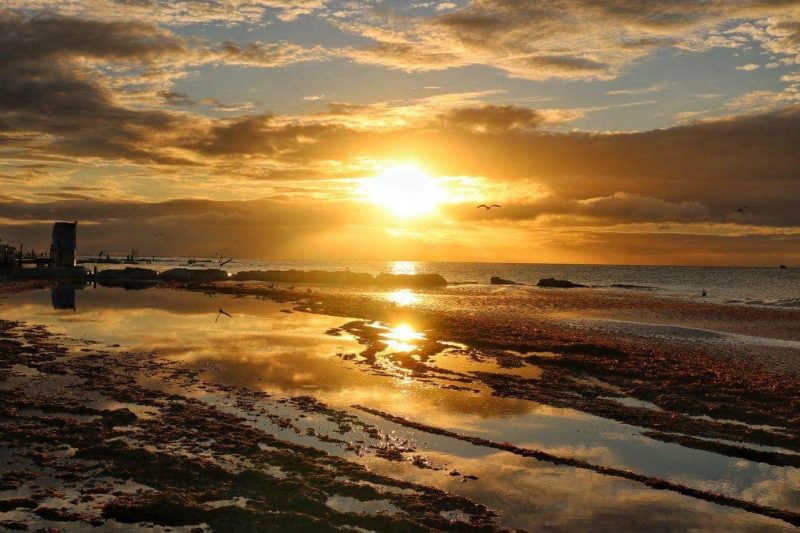 Holbox Pier on the main beach (near the colourful Holbox letters) – this is the island's most popular sunset spot.
In front of El Chiringuito Bar Zomay (or the bar itself).
Punta Cocos – west-facing Punta Cocos is a gorgeous sunset spot. The wooden pier in silhouette against the setting sun makes for brilliant photos.
More on Holbox
I hope you found this guide to the best beaches in Isla Holbox helpful. Let me know which one is your favourite in the comments below!
Isla Holbox Budget Travel Guide