Some posts on this site contain affiliate links. If you book or buy something through these links, I earn a small commission (at no extra cost to you). Take a look at my privacy policy for more information.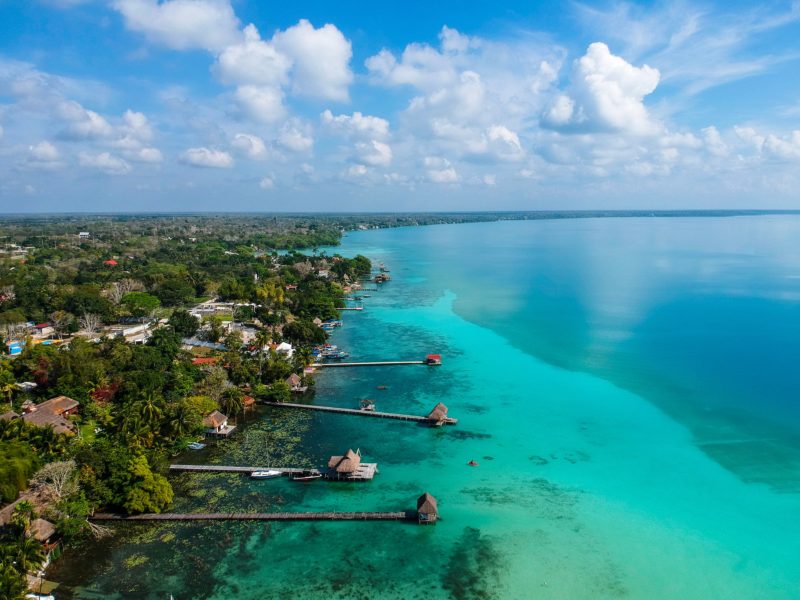 A travel guide for visiting Bacalar Lagoon in Mexico's Yucatan Peninsula – with a list of FAQs.
Lake Bacalar – more often called Bacalar Lagoon – is one of my favourite places in the Yucatan Peninsula, along with the tranquil, colourful town of the same name. In fact, this is one of my favourite spots in the whole of Mexico!
A huge lake with unbelievably clear, turquoise waters, Bacalar still feels like a bit of a "hidden gem". It's definitely a lot more popular than it was the first time I visited, but still has the sleepy, quiet vibes I fell in love with.
If you're planning a visit to Bacalar Lagoon, I've popped together a bit of a travel guide. I've tried to cover as many of the main FAQs about the town and the lake as I can.
Hopefully, this will help you when planning your own trip to the "Lake of Seven Colours". If you've got a question I haven't covered here, please feel free to leave a comment at the end. I'll try to help if I can!
Bacalar and Bacalar Lagoon Travel Guide
While I was writing this travel guide, I had a look at all the most frequently asked questions about Bacalar on Google. Surprisingly, many of them hadn't been answered all that well!
So, I've gathered up the top FAQ's and popped them all together below. Use the drop-down contents list above if you want to skip ahead.
Where is Bacalar Mexico?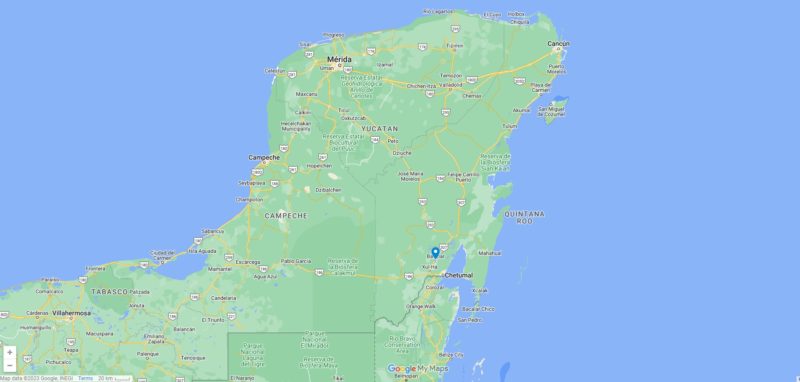 Bacalar Lagoon is a vast lake on the eastern coast of the Yucatan Peninsula in Mexico's Quintana Roo state. It's about as far south as you can go along the east coast of Mexico, right by the border with Belize.
Bacalar is also the name of a small town found along the southwestern edge of the lake. The town sits on Highway 307, which runs south from Cancun as far as the Belize border, about a 4-hour drive from Cancun Airport. The largest town in the area is the border town of Chetumal, which is about 30-40 minutes down the road from Bacalar.
The lake is roughly 42km long and only 2km across at its widest point, and is famous for its ever-changing vivid blue colours, leading to the nickname "Laguna de 7 Colores" (7 Colours Lake).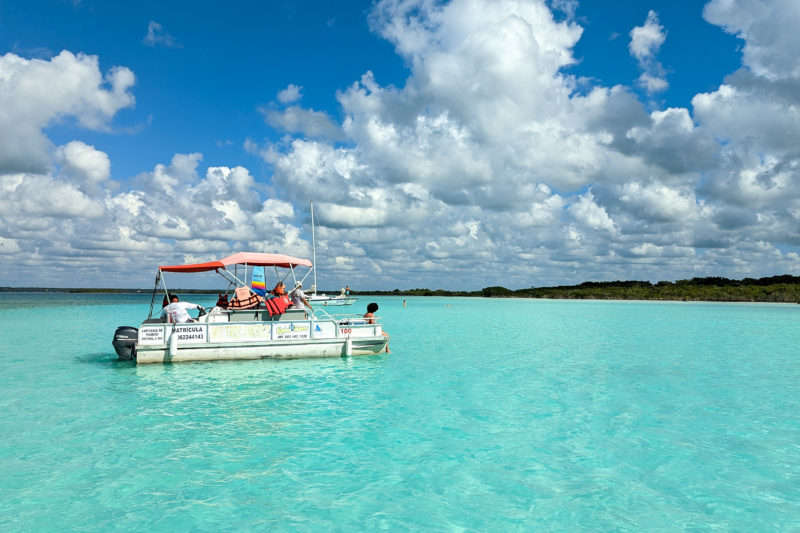 Is it a Lagoon or a Lake?
Many people seem to use the terms lagoon and lake interchangeably when talking about Bacalar. So is it a lagoon or a lake – and what's the difference?
Lagoons are bodies of water that are separated from the sea by a barrier island or reef, and usually have brackish water (a mix of salt and fresh water).
Despite its proximity to the coast, Bacalar is, in fact, a freshwater lake fed by underwater cenotes.
FYI – I've seen a few sources calling Bacalar the "second largest lake in Mexico". This is untrue: the largest is Lake Chapala (1,100 km²) and the second largest is Cuitzeo Lake (452 km²) in Michoacan state.
Is Bacalar Worth Visiting?
Let me save you some time and give you the short answer first: yes, Bacalar is absolutely worth visiting!
But if you want a more thorough answer, read on…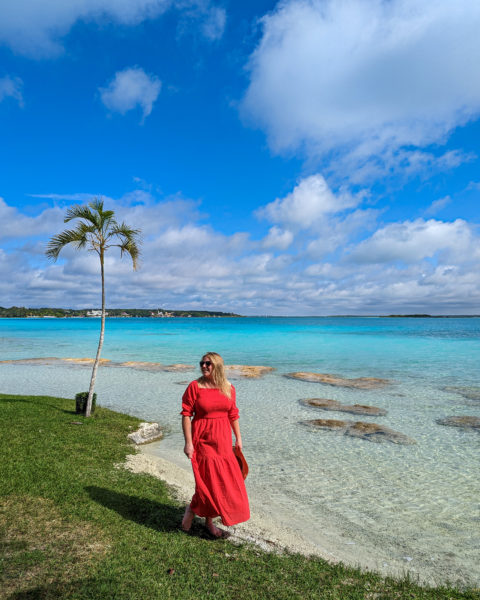 Nicknamed the "lake of seven colours", Bacalar Lagoon is a vast, beautiful lake known for its many different shades of blue. Along the edge are some beautiful swimming spots, with cyan water so vivid it almost looks photoshopped.
The town itself is a charming little place with colourful street art, a historic fort, and chilled-out vibes.
If you love nature, Bacalar is definitely worth visiting. As well as the gorgeous lake, there's a huge, dark-blue cenote to visit, and the area is rich with wildlife. There's also a very unique natural phenomenon: the stromatolites. These look like rocks, but are actually prehistoric living creatures. These are the oldest living lifeforms on our planet, and are only found in a handful of places around the world. It's thanks to these water-purifying "beings "living fossils" that Bacalar lake is so unbelievably clear.
Alongside all that stunning nature, Bacalar is great for watersports including paddleboarding, sailing, and (when the weather is right) windsurfing. There's so much to do here!
And if you simply want to relax and swim in those crystal-clear fresh waters, there are beach clubs along the lake to suit most budgets.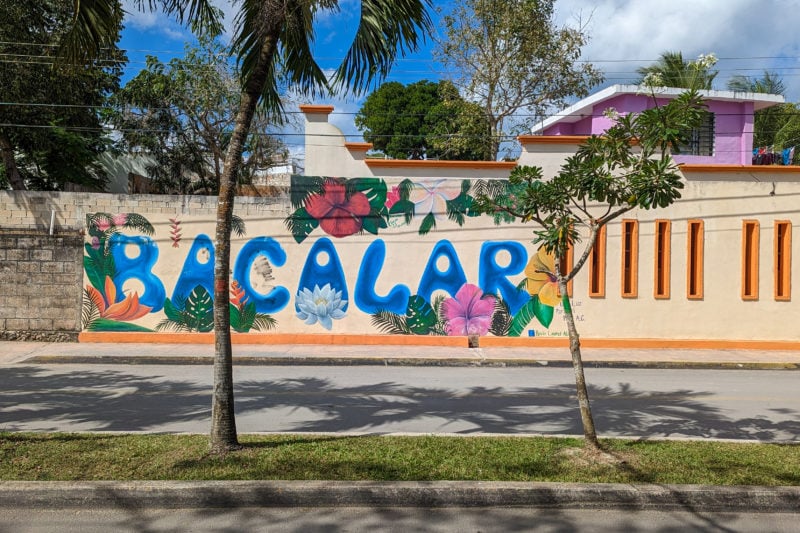 How to Get to Bacalar
It's very easy to travel to Bacalar from most parts of the Yucatan Peninsula. There is an ADO bus station in town and several buses a day.
READ MORE: Check out my guide on getting to Bacalar for more in-depth info.
To get to Bacalar from Cancun, you can take an ADO bus from Cancun Bus Station. The bus from Cancun to Bacalar takes about 6 hours and there are departures almost every hour throughout the day. Tickets cost around $500-600 MXN. If you purchase them in advance online or via the ADO app they are often cheaper. Head to ADO.com.mx to check the bus times for your travel date.
The same bus calls at Playa del Carmen and Tulum, so if you're heading to Bacalar from any of those towns you can easily take the bus from the ADO station.
From Merida: You can also get to Bacalar from Merida by ADO bus. The bus takes about 5 hours and costs $630 MXN. There are fewer buses per day but still several choices for departure times.
From Campeche, you will have to take a bus to either Merida or Escarcega first, then change for a bus to Bacalar. And from Palenque, you'll have to take the 9-hour bus ride overnight to reach the lakeside town.
If you're travelling to Bacalar from further afield, I suggest flying into either Cancun, Merida or Chetumal airports. From any of these, you can either rent a car or take a bus.
How Many Days / How Long to Stay in Bacalar?
You can explore Bacalar town and the lake in one or two days, but to really make the most of the lake and the surrounding nature you'll likely want three or more days.
If you're very short on time, it would be possible to see everything in a day. You could take a boat tour in the morning, then visit the fort and walk around the town centre in the afternoon. But it would be equally possible to while away a whole week in Bacalar. I honestly think I could stay there for a month and not get bored of that incredible lagoon!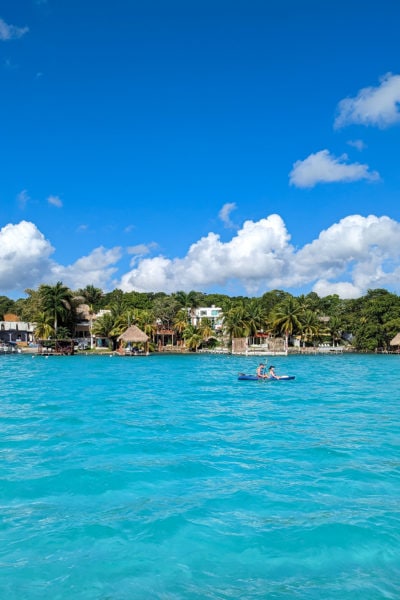 When is the Best Time to Visit Bacalar?
The best time to visit Bacalar is generally considered to be between November and May. It is, however, pretty much a year-round destination. Average high temperatures sit between 28-32°C throughout the year. For the most comfortable temperatures, January is the coolest month to travel to Bacalar, with an average low of 19°C and a high of 28°C.
According to WeatherSpark, June to October are the rainiest months in Bacalar, with September having the most rainfall and more overcast skies. However, rain on the Yucatan Peninsula usually comes in short, heavy showers. So you may still enjoy sunshine for most of the day.
Christmas week and Holy week (Easter) are among the most popular times for locals to holiday in Bacalar. Therefore, the area can be extremely busy and expensive at this time. It's also often busier at weekends, so if you can visit mid-week you're more likely to find a good deal on accommodation.
I myself have been to Bacalar in January and February and enjoyed clear, dry, sunny weather on both occasions!
Why is it Called the Lake of 7 Colours?
Bacalar is often called the "Seven Colours Lake" or the "Laguna de los Siete Colores". This nickname is due to the varying shades of blue found across the lake.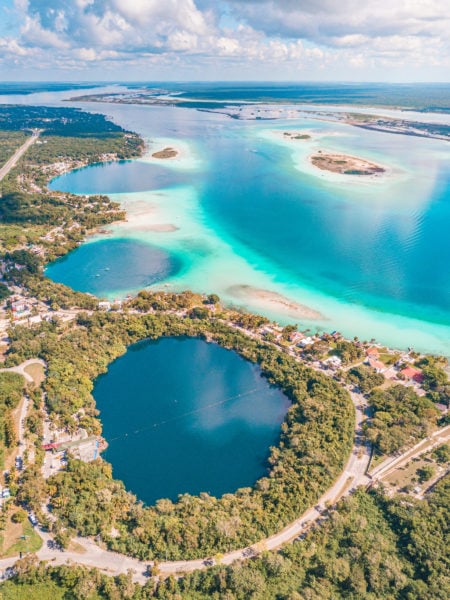 Near the shore, the shallow, clear waters are a vivid cyan, while over the deep cenotes that feed the freshwater lake, it is a much darker blue or green colour.
The best way to experience these different shades is by taking one of the popular Bacalar boat tours. These will take you to a few spots on the lake, including two of the underwater cenotes, so you can see the changing colours of the water with your own eyes.
Can you Swim in Bacalar Lagoon?
Yes, you can swim in Bacalar Lagoon / Lake. It's a freshwater lake with very clear water – so it's a really wonderful place to swim.
Around the edges of the lake, the water is fairly shallow, often waist-deep. Many of the beach clubs have small jetties so you can jump straight into the deeper water without having to wade through the silty mud.
A local organisation called Agua Clara por Bacalar monitors the water quality and publishes a monthly report – including the levels of E Coli in the lake. At the time of writing, these results are "excellent". Click here to check the latest report.
PLEASE NOTE: swimmers are asked to take a few measures to protect the lake (read more here). Don't use sunscreen while swimming (I recommend covering up with a rash vest instead), don't pee in the lagoon, don't exfoliate with the clay of the lake, and don't touch the stromatolites. Please check up on the rules and make sure you help protect the lagoon for future generations.
Are there Beaches in Bacalar?
There aren't really any sandy beaches around the edge of Lake Bacalar. The edges of the lake hit the land directly, and are generally surrounded by grass.
Instead, there are numerous balnearios or beach clubs. These lakeside clubs usually have a bar and/or restaurant and several chairs or sun loungers. Some have changing rooms and towel rentals. Many have small jetties into the lake, so you can hop straight into the deeper water to swim without wading through the silty mud at the water's edge.
Some charge an entry fee, while others have a "minimum charge" that you have to spend on food and drink.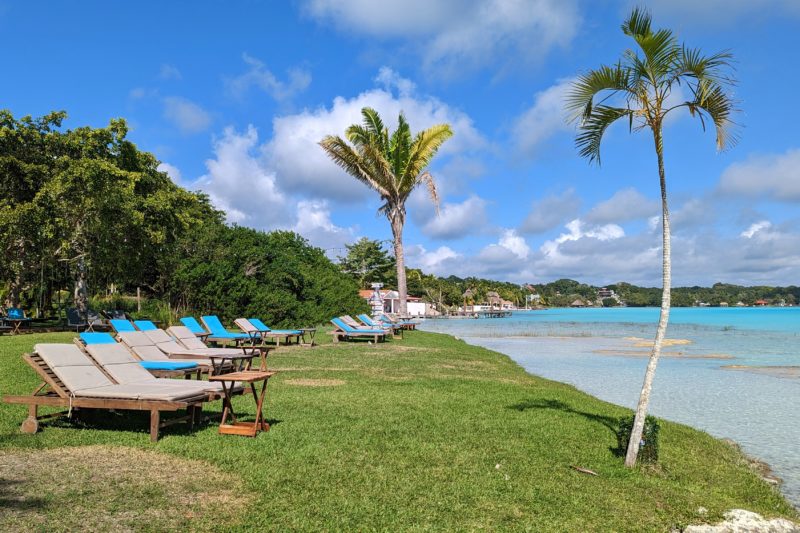 What Happened to Cocalitos Bacalar – is it Open?
Cocolitos was one of the most popular beach clubs in Bacalar. Found just outside the town, this lakeside beach club was famous for its colourful over-water hammocks and swings. It's also home to a sanctuary of giant estromatolitos (stromatolites): ancient, "living" rock-like formations created by layers of microorganisms.
However, when I visited Bacalar in January 2023, the famous Cocolitos beach club was closed – and had been for a few months. Locals told us there had been a disagreement amongst the family who own it, and no one was sure when (or even if) the beach club would be reopening. I'll try to update this post as and when I learn more.
In the meantime, you can still visit the stromatolites here as most boat tours stop off at the sanctuary.
Are the Boat Tours Worth it?
One of the most popular things to do in Bacalar is to take one of the many boat tours around the lake. These are a great way to see the lake. You'll visit a few main sights, including the underwater cenotes which feed the lake. You can see how the colour of the water changes in different parts of Bacalar Lagoon, leading to the nickname "Seven Colours Lake".
You'll also stop off at the stromatolite sanctuary next to Cocolitos Beach Club (see above). So you'll get a close-up view of the fascinating "living fossils" that keep Bacalar's water so pure.
I actually enjoyed the boat tour so much that I did it on both of my visits to Bacalar! It's a great way to see the major sights around the lagoon in a short space of time.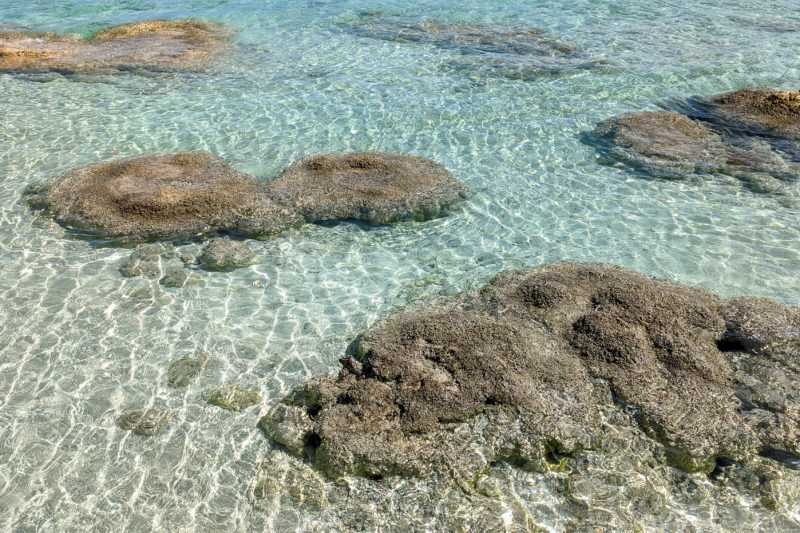 Are there Crocodiles in Bacalar Lagoon?
The Riviera Maya's freshwater areas are often home to crocodiles, and Bacalar is no exception. There have been a few reported crocodile sightings in the last few years, but these are very rare and most reports that can be seen online appear unsubstantiated.
In March 2022, an independent local news site reported that a man had been minorly injured in a crocodile attack in Bacalar. It's hard to verify if the story was true or a hoax, as it wasn't reported elsewhere and appears to have been based on a tweeted photo by the man in question. This is the only reported attack from recent years so it appears to be a freak incident.
Bacalar Lagoon is 42km long and only some areas are built up. Crocodiles are usually fairly shy, so if there are crocodiles in Bacalar they're unlikely to be seen anywhere near the town or tourist areas. They'll usually stick to the quieter, wilder spots where they won't be disturbed by the many boats on the lake. So if you're nervous about swimming in the lake, stick to beach clubs and swimming spots near town.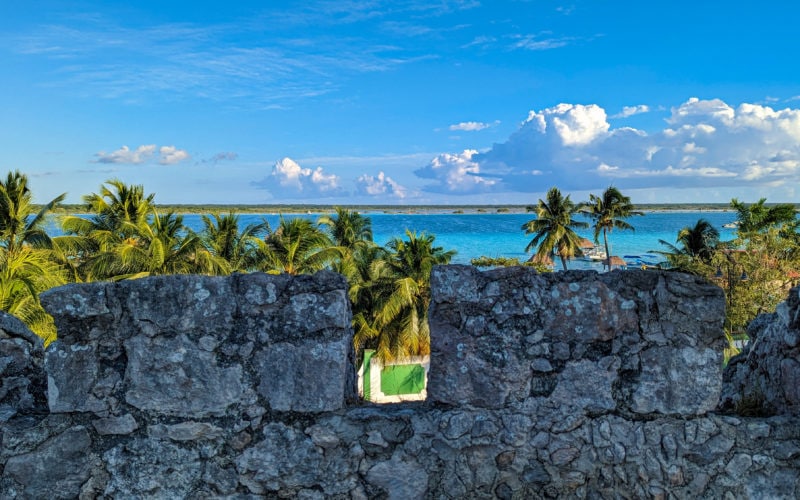 More on Bacalar and Nearby
If you do travel to Bacalar, be sure to check out these other posts…
27 Off the Beaten Path Destinations in Mexico
Got another travel question about Bacalar that I haven't covered here? Scroll down to leave a comment and I'll try to help!