Some posts on this site contain affiliate links. If you book or buy something through these links, I earn a small commission (at no extra cost to you). Take a look at my privacy policy for more information.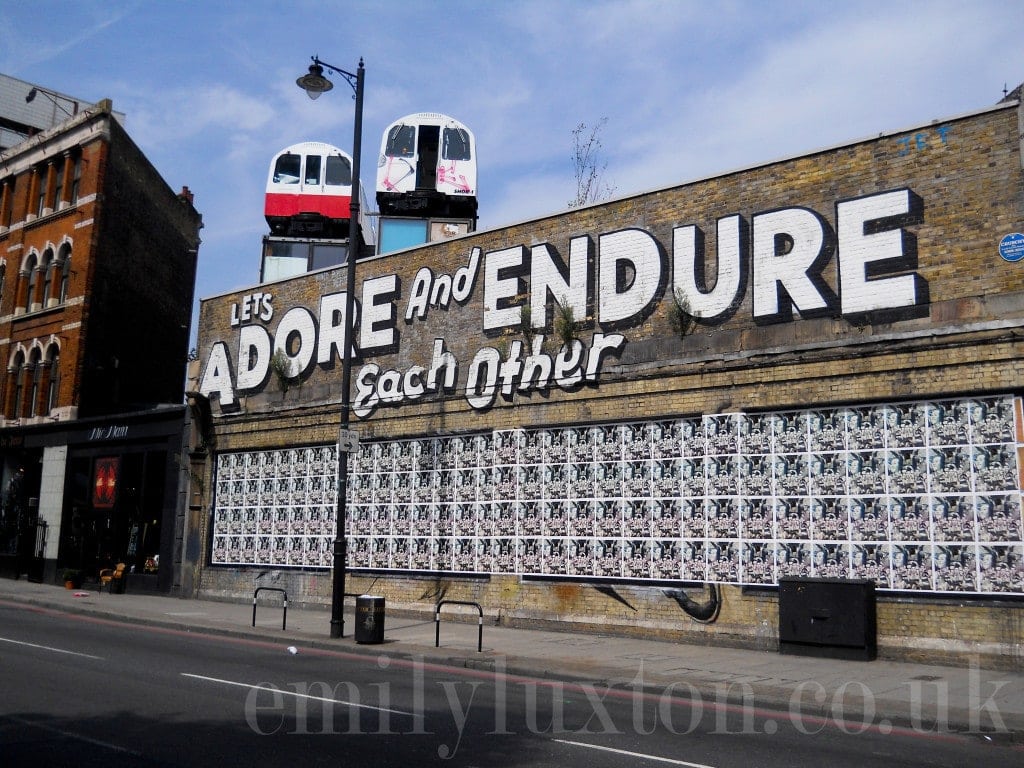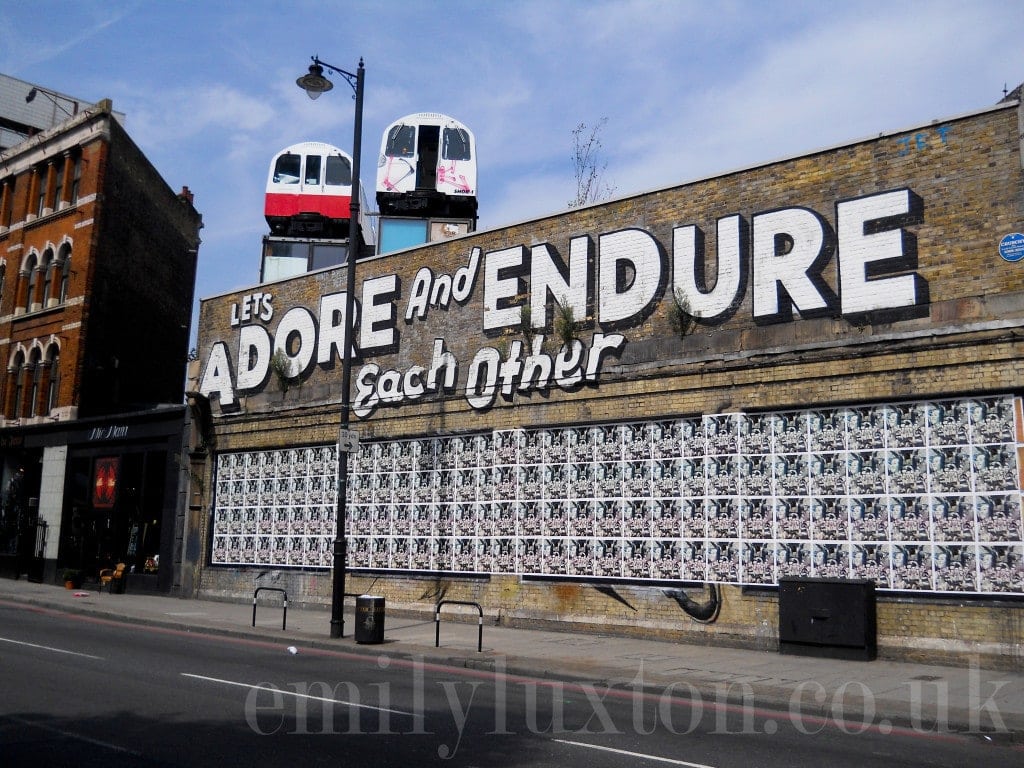 This self-guided East London walking tour is the perfect way to discover how E1 is constantly reinventing itself. Visit a former slum, today a peaceful neighbourhood of elegant red brick buildings. And stop at several of East London's most popular street art hotspots to see the ever-changing imagery which gives this part of London its unique personality.
Update 2020: I originally wrote this post a couple of years ago, when I was living around the corner from Brick Lane. As you can imagine, a lot of stuff has changed since then. Although I've tried to keep track of the changes some things in this post might be outdated.
The great thing about street art is that it is constantly evolving. However, the history of the area remains the same. As do the street art hotspots mentioned in this guide. The works of art might have changed, but you can still use this walking route to explore the best East London street art.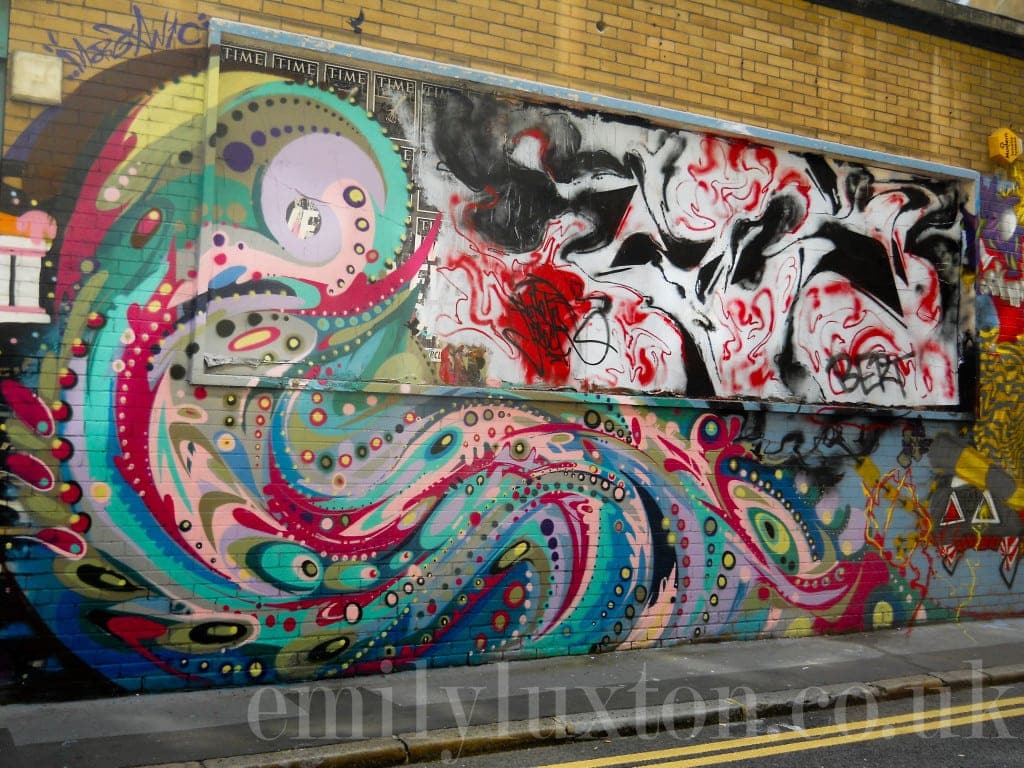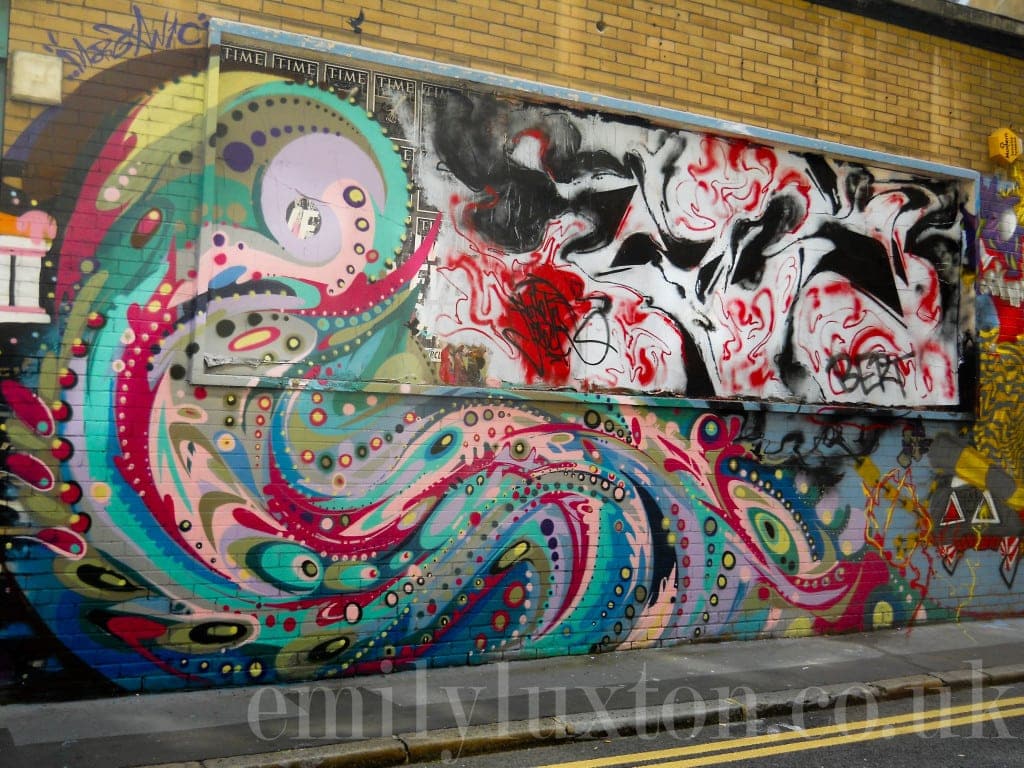 East London Slums and Street Art Walking Tour
What I love about this is that it focuses on two very fascinating – and very different – aspects of East London. On the one hand, the history: specifically that of the Old Nichol slum which once stood on the site which is now Boundary Estate. History remains fixed and unchanged, no matter how obscured by redevelopment.
On the other hand is the street art scene, which is ever-changing and often fleeting. Constantly updated, over-painted, or lost to the weather or the forces of redevelopment.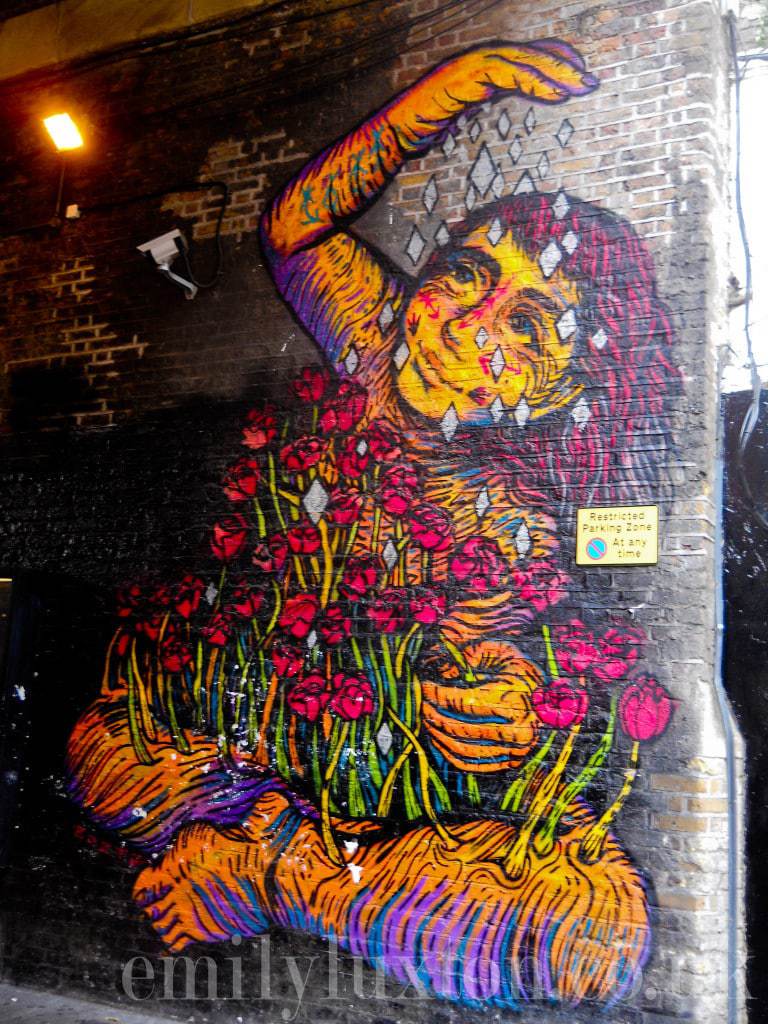 Old Nichol Slum
The Old Nichol slum was one of the most notorious slums of Victorian London. This was partly due to its fictionalisation in Arthur Morrison's A Child of the Jago.
The six thousand or so inhabitants were known for drunkenness and criminality. Apparently, police feared to walk the streets of the estate. Decaying tenement buildings – with extortionate rent and corrupt landlords – housed whole families in single-room apartments, often sharing one bed. With a quarter of all infants dying before their first birthday, the mortality rate was exceptionally high. Illnesses such as whooping cough, scarlet fever, and tuberculosis were especially prominent.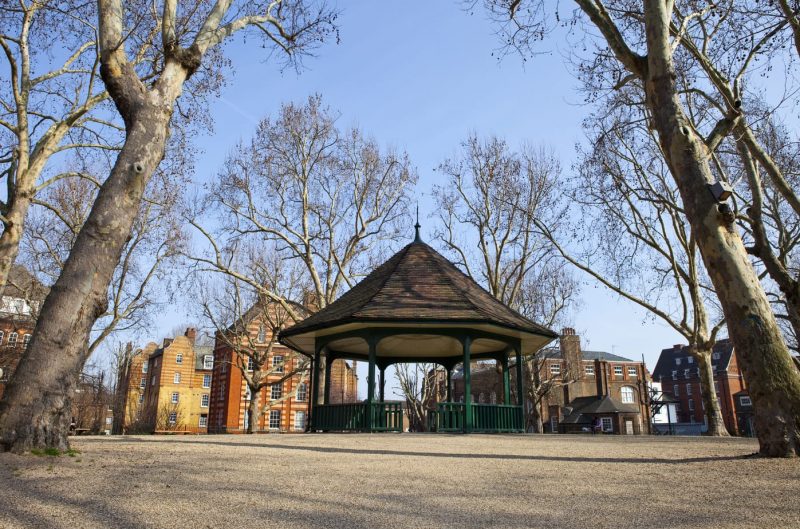 It all paints a rather bleak picture. However, the slum's clearance began in 1891 and included 730 houses inhabited by 5719 people. The neighbourhood was subsequently reborn as the Boundary Estate, which officially opened in 1900.
Today, this section of East London is composed of grand buildings and serene streets. Its dark past is all about forgotten. It's a fantastic example of East London's ability to reinvent itself, just like next-door Hoxton and Shoreditch.
The history of the Old Nichol slum is fascinating, and I recommend for further reading this Daily Mail article by Christopher Hudson.
East London Walking Tour Map
East London Walking Tour Route
1. Swanfield Street
Start at Swanfield Street, where it turns off Bethnal Green Road. This is the eastern perimeter of the Boundary Estate and was previously Mount Street on the Old Nichol slum. On the left are the sturdy red-brick buildings which replaced the slum at the beginning of the 20th century. It's very hard to picture the bleak, polluted streets of the Victorian slum now, with the grand apartment buildings lining a wide, leafy street.
2. Weaver's Cottage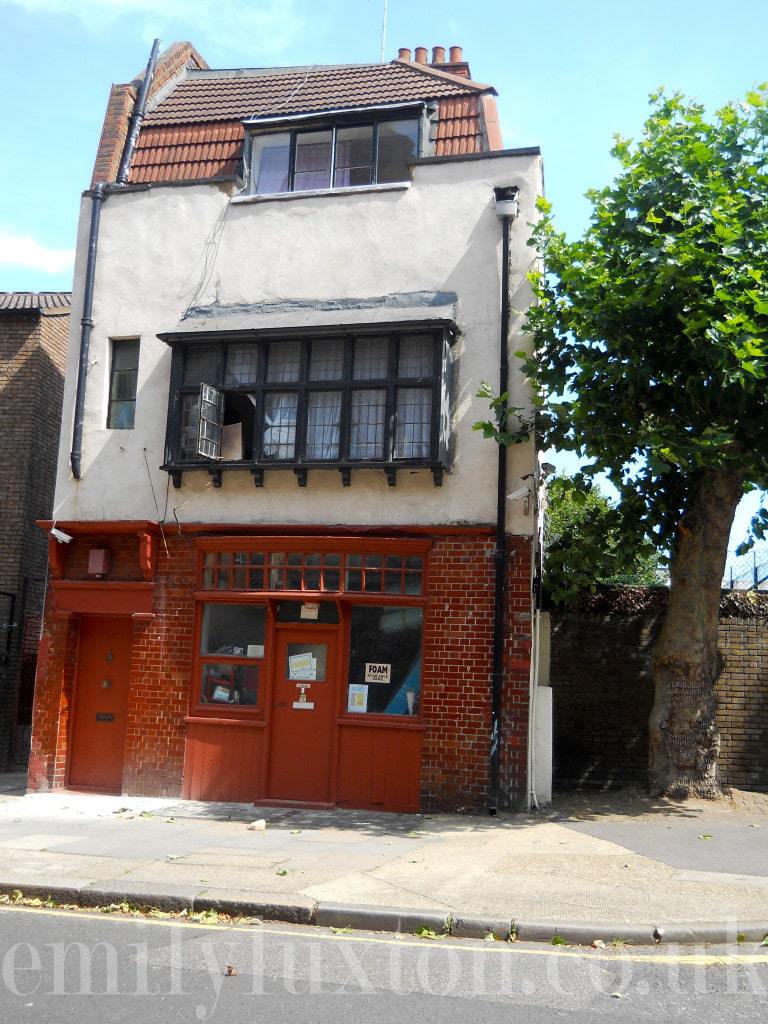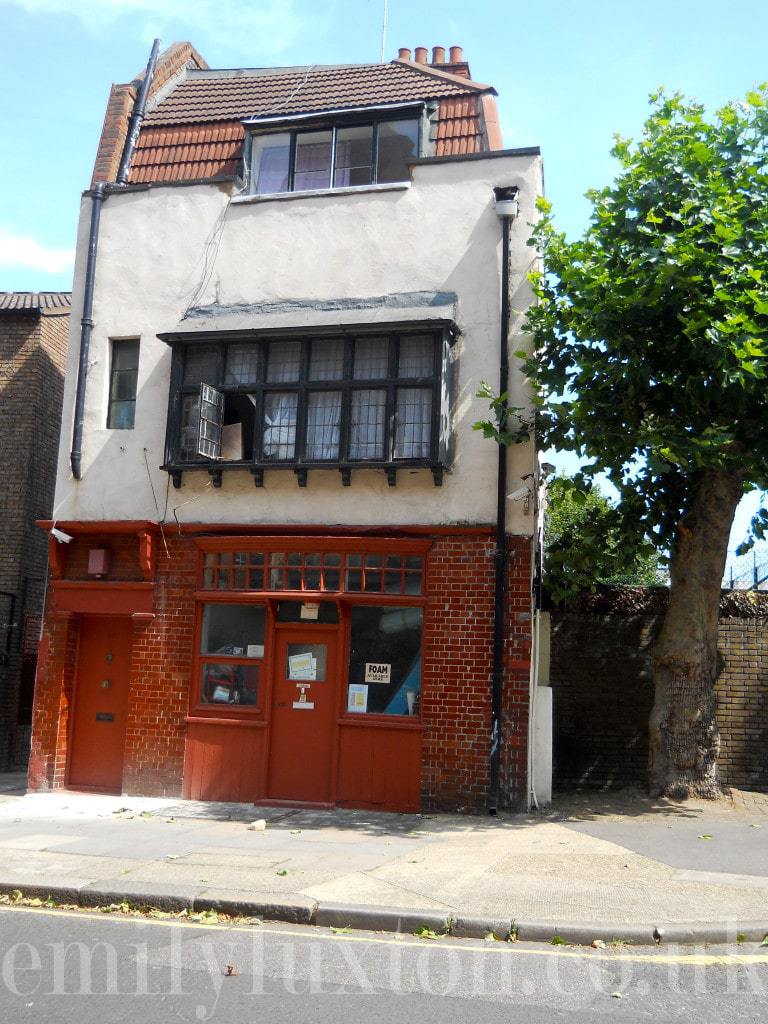 Number 74 Swanfield Street is the last remaining weaver's cottage of the re-developed slum. Now a foam cutter's workshop, this is a rickety, lopsided building with a red-tiled roof and wood-trimmed shop front. Standing out among the matching terraced houses, it has become a quaint relic. But don't forget the terrible living conditions of its former occupants.
A high number of tenants in the Old Nichol were silk-weavers, descendants of Protestant Huguenots who migrated from France in the late 1680s and 90s. This had a direct influence on the architecture of the area. Most of the cottages featured long upstairs windows known as "long-lights" or "weaver windows". These allowed the maximum amount of daylight into the upper storeys.
3. Arnold Circus Bandstand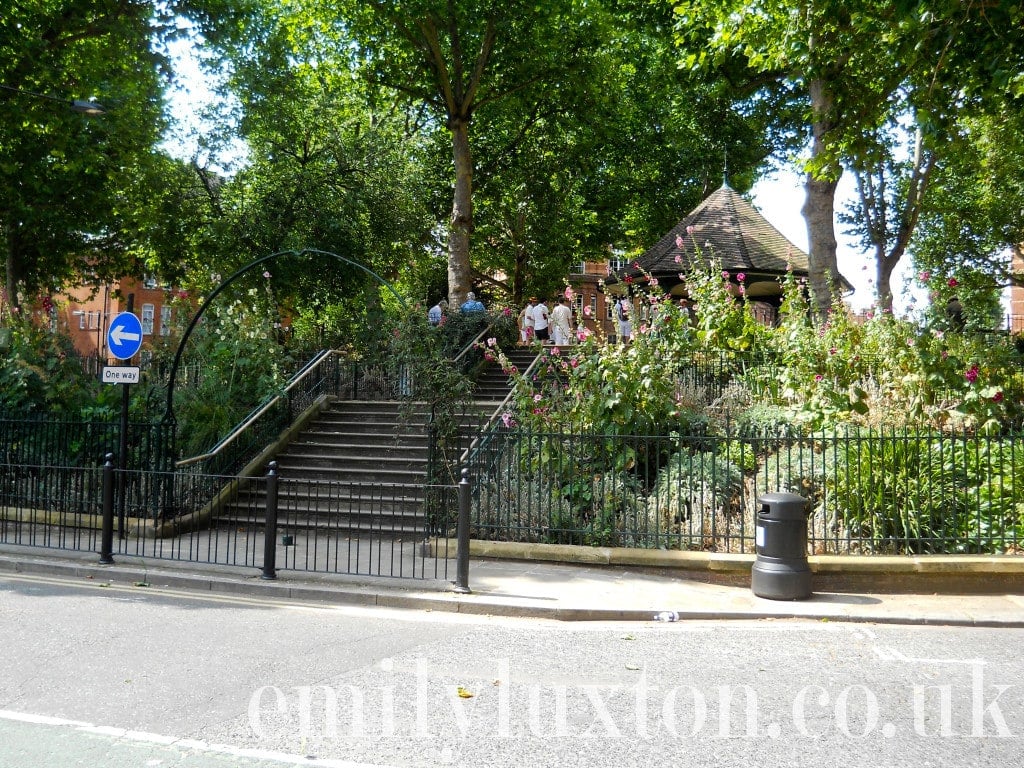 Turn into Rochelle Street and head up to the Arnold Circus bandstand and Boundary Gardens. This is the centrepiece of the estate which sits atop the of the Old Nichol slum. Today it's a very pleasant area, especially during spring and summer. The bandstand is surrounded by greenery and blooming flowers, as well as elegant red brick buildings.
It's also a popular meeting place among locals; people come here to play table tennis or enjoy a picnic lunch. It seems that a beautiful community hotspot has sprung up – literally – from the dust of the old slum.
4. Old Nichol Street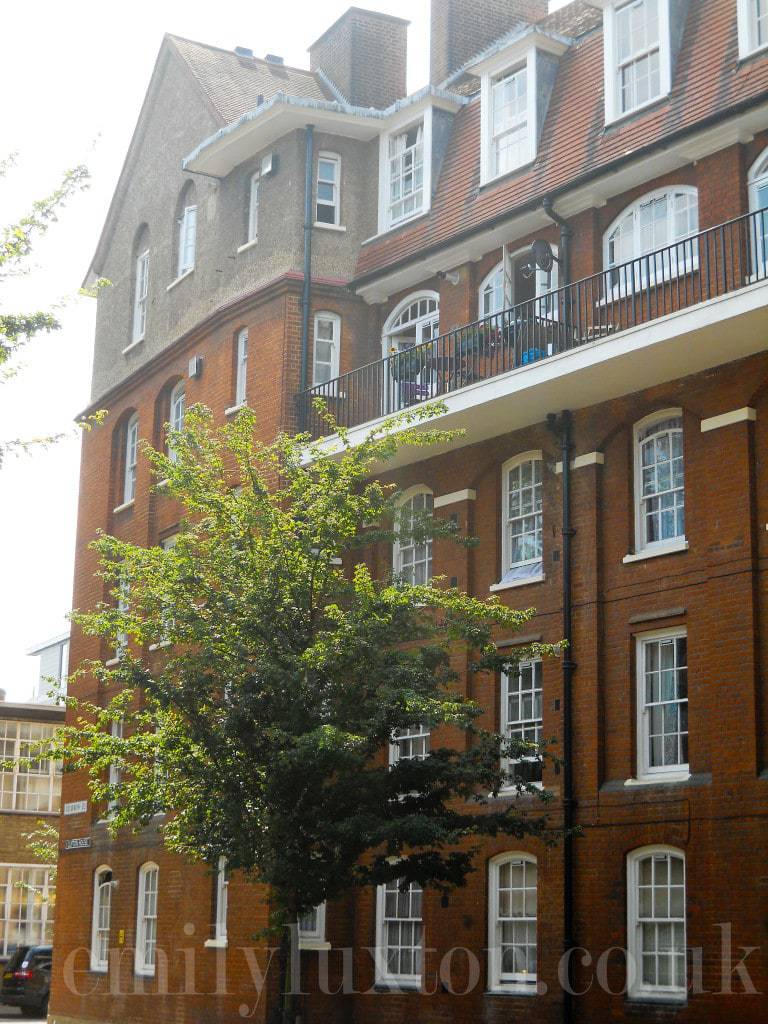 Head down Club Row – more wide, tree-lined streets – and onto Old Nichol Street, one of the few roads on the estate to retain its former name when the slum was razed. Apparently, number 19 used to be the Old Nichol pub – out of business for years – but it now houses one of those uber-trendy whitewashed clothes stores with initials for a name that over-populate the Shoreditch/Hoxton area.
5. Chance Street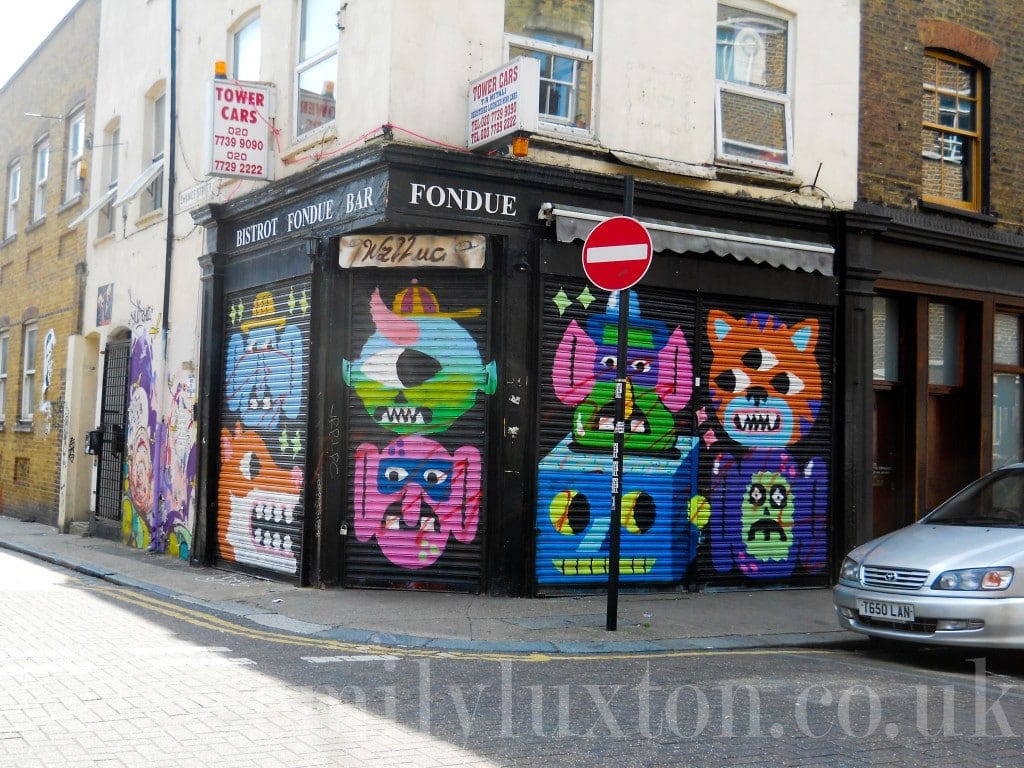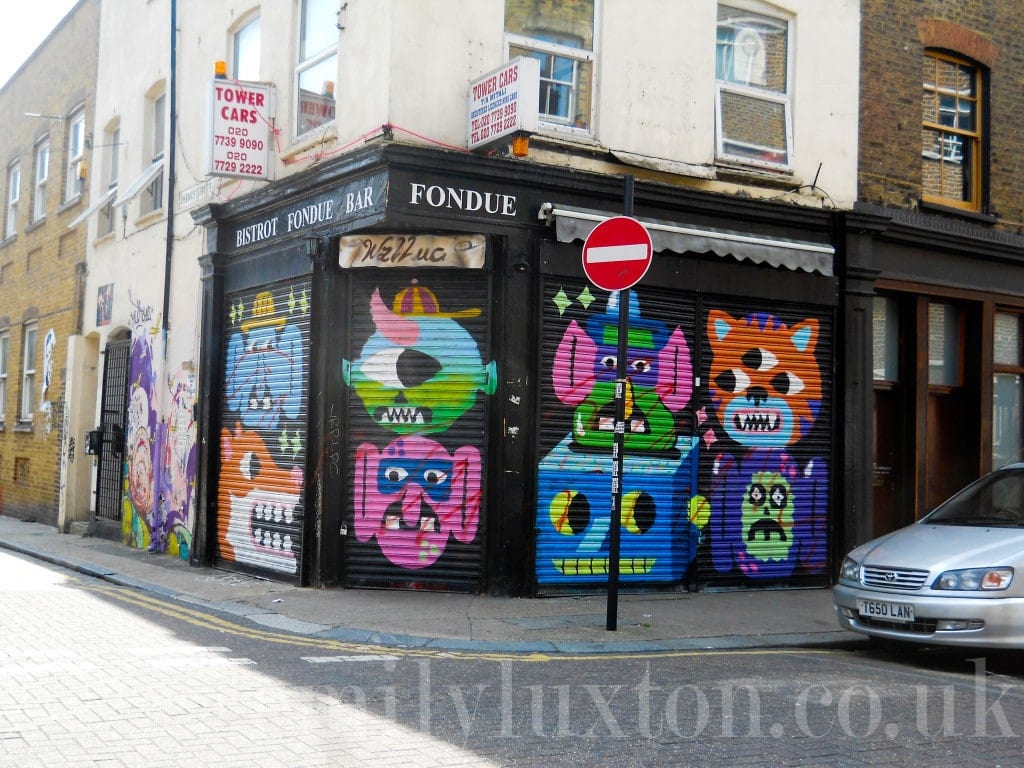 Turning left into Chance Street, you will start to see hints of the street art this area is famous for. Chance Street tends to have lots of paste-ups but not much in the way of permanent painted work. At the time of writing, one of the shops across the road was covered by the faces of colourful cartoon animals by Malarky. There are also a couple of fantastically unique shops selling jewellery and bric-a-brac, so I highly recommend a spot of window shopping!
6. Shoreditch High Street
Head right into Redchurch Street and walk towards Shoreditch High Street. This is a fantastic area for street art, but you'll have to explore for yourself as the work there is changing every other minute.
If you nip into Ebor Street you will find Eine's Pro and Anti walls, two fairly permanent installations which have been around for a few years now – I love the bright colours of the repeated text on the 'Pro' side of the road.
7. Boundary Passage
Turn right into Boundary Street, where on your left you will see Boundary Passage, marking the western edge of the estate and allegedly as far as the Victorian police would head into the old slum. At the time of writing, there was one remaining Dr Gee cartoon tile from an earlier display. But the beauty of E1 street art means something will most likely take its place soon enough. Head through the passage and turn right onto Shoreditch High Street.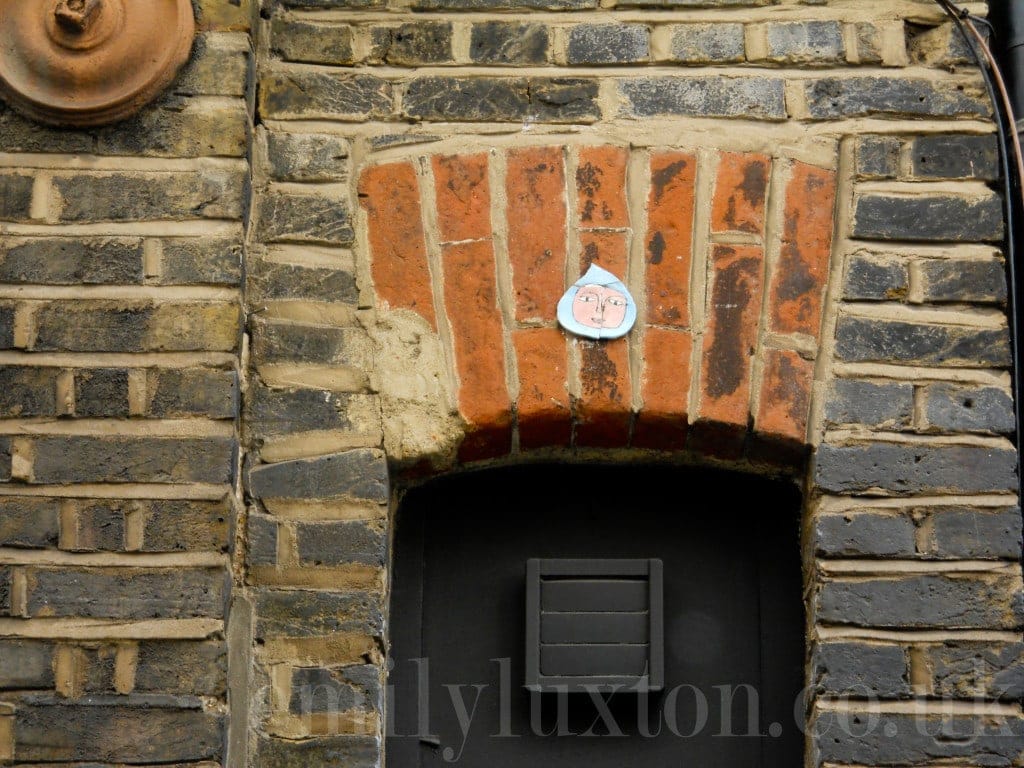 8. Rivington Street
Keep going until you reach Rivington Street, then turn left. This is another popular place to find ever-changing street art, as well as more permanent pieces such as Scary by Eine under the bridge. Look carefully around this area as there is a lot going on above eye level, or too small to notice casually.
Above the street sign on Standard Place you'll find a row of torsos; carved from the same material as the wall they are almost completely hidden. Another hidden gem around here is the Autograph photography gallery. Also, if you're a fan of art books don't miss Artwords Bookshop, home to an incredible selection of books and magazines focusing on contemporary visual culture including the most recently published titles.
9. Curtain Road
Head out onto Curtain Road. Over the road in Mills Court, there used to be an old Banksy piece, the coke-snorting policeman. This has been gone for some years, but there's often some street art to be found in the area.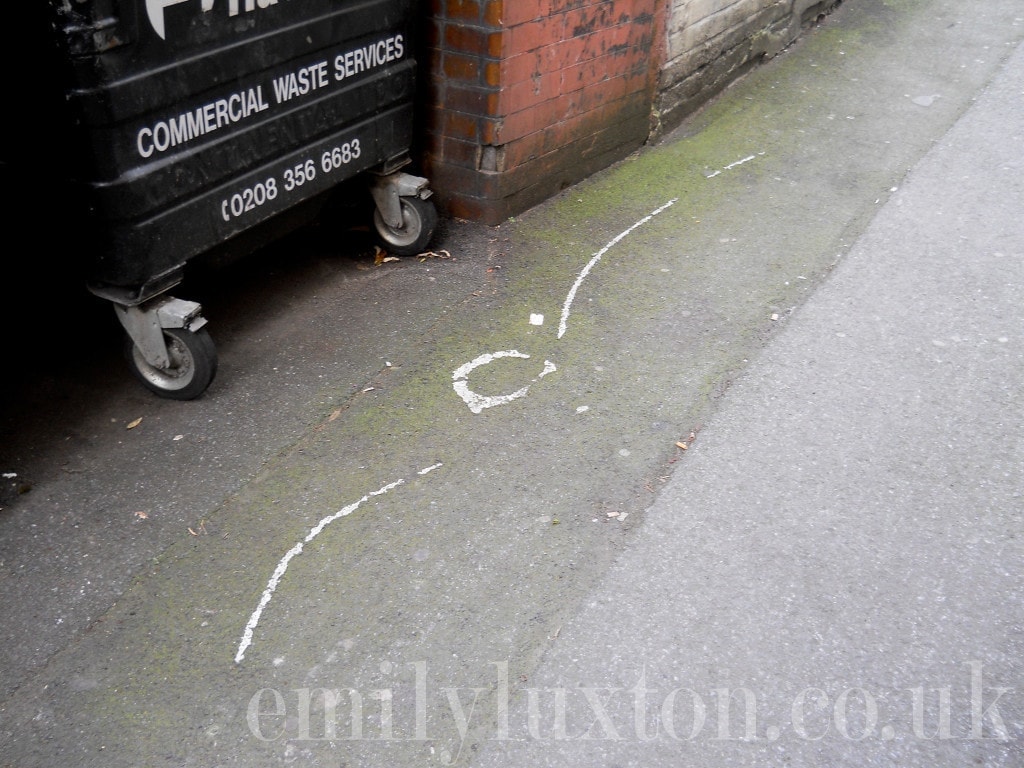 10. Christina Street
Continue down Curtain Road, crossing over Great Eastern Street, to find a huge mural covering the building between Christina Street and Scrutton Street. Follow this up Christina Street for a few more fantastic pieces, again constantly changing.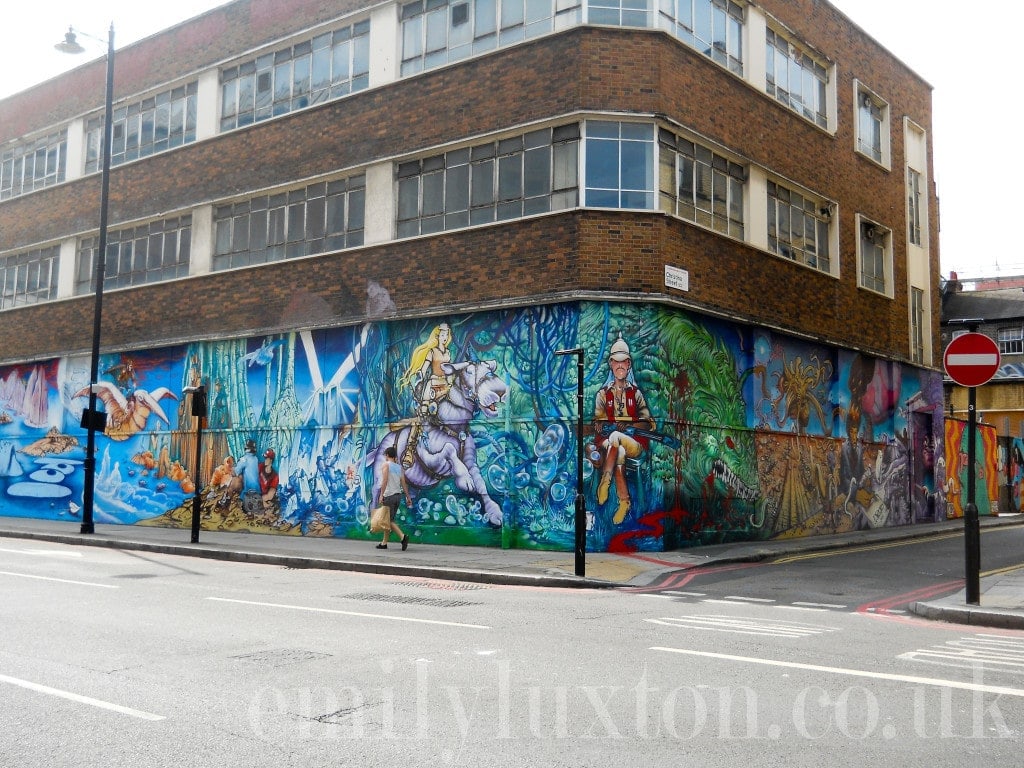 11. Broad Street Viaduct Legal Street Art Wall
Nipping back the way you came and taking a right onto Great Eastern Street will bring you to the final stop. Here, an abandoned section of the Kingsland Viaduct has been turned into a "legal wall" and artists are regularly commissioned to create adverts.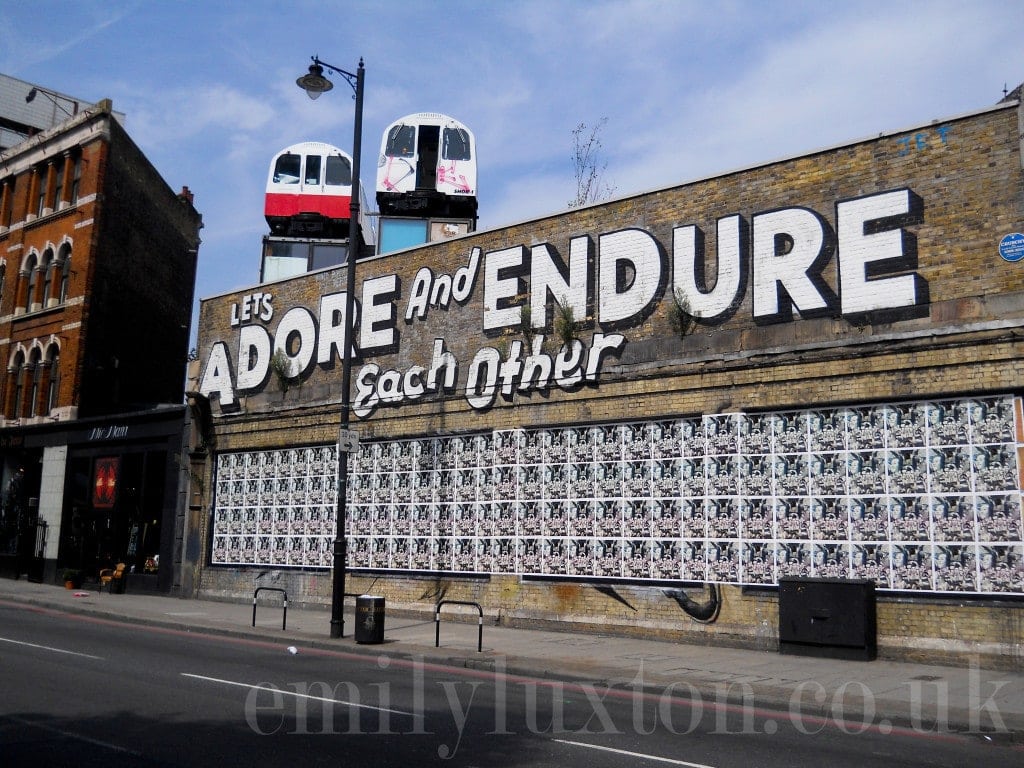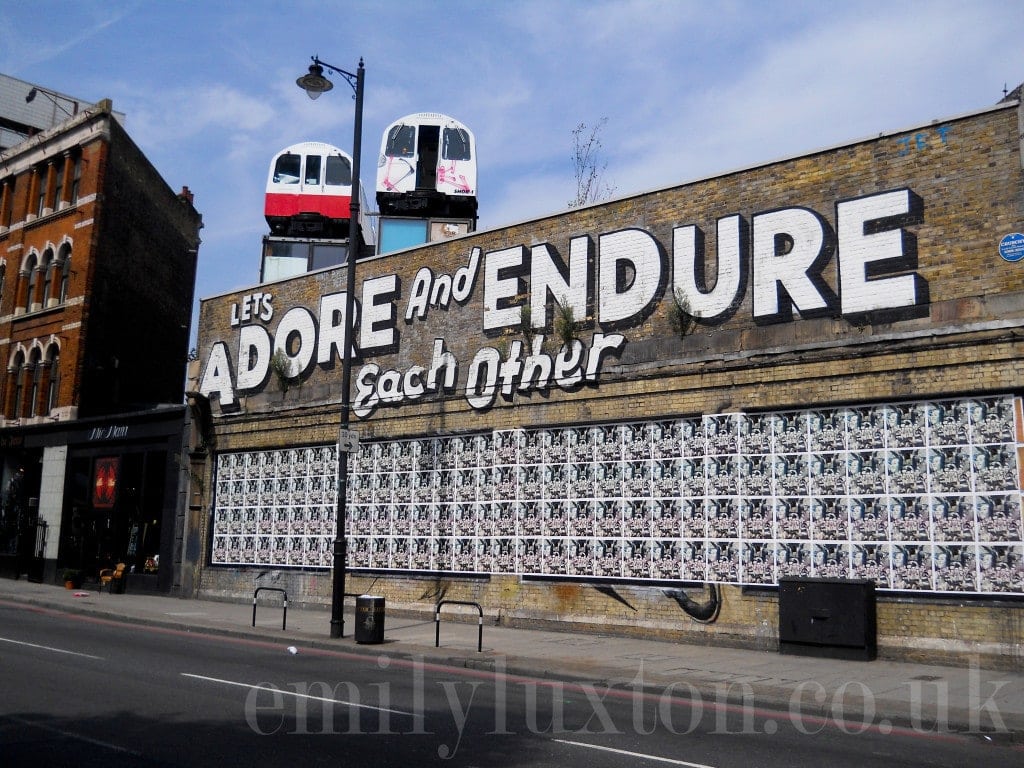 Across the top on the left-hand side of the road, Steve Power's bright and bold mural has a very touching message for us: "Let's adore and endure each other". Look up even further and you'll see two graffiti-strewn Jubilee Line carriages dumped atop the building, marking the old tracks that once led to the now-demolished Broad Street Station.
These decommissioned carriages have been converted into artists studios and are home to the noteworthy Village Underground project, a non-profit space for culture and creativity. Back at eye level, there's still plenty to see next door and it's ever-changing; while I was there the doors of the Graffiti Life building were getting a new paint job!
So, that's it for the journey through East London's gritty history and brightly impermanent present. Hope you enjoyed! Now get out there and explore – and don't forget your camera!
Read More
Brick Lane Street Art Walking Tour in East London
East London Street Art – Guide to Popular Artists
A Local's Guide to Bermondsey and South East London
Pin this Post