Some posts on this site contain affiliate links. If you book or buy something through these links, I earn a small commission (at no extra cost to you). Take a look at my privacy policy for more information.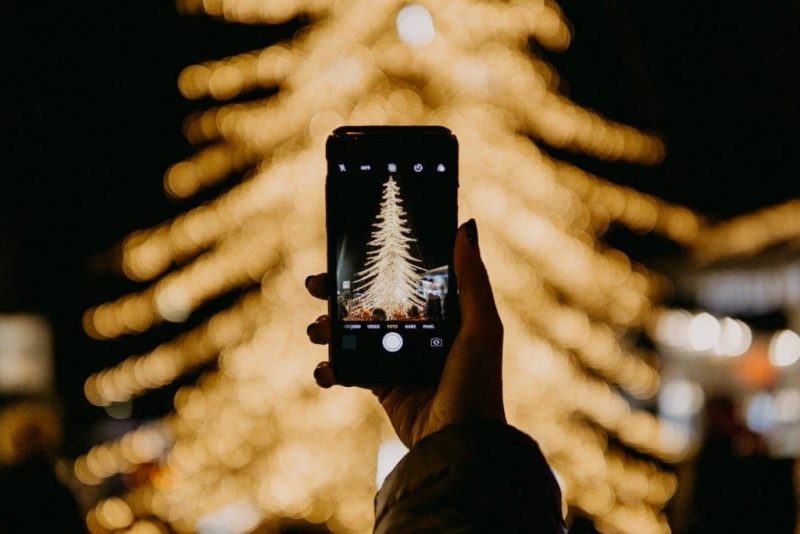 One of the best places in the UK to enjoy the Christmas season is London! From the Oxford Street lights to the ever-impressive Harrods Christmas windows, there's just so much to get you feeling festive in the capital. Especially all the incredible London Christmas markets. The city is bursting with them and there really is something for everyone.
These markets are one of my favourite things about Christmas in the capital. Gorgeous gifts, hot snacks, mulled wine, hand-crafts, hot chocolate… need I go on? So, here's a list of some of the best London Christmas markets to visit this year…
Updated 03/12/2019: This post has now been updated with the latest info and 2019 dates, as well as a few new xmas markets.
RELATED POST: Best Ice Skating in London this Christmas
13 of the Best London Christmas Markets
Southbank Centre Winter Market
8th November 2019 – 5th January 2020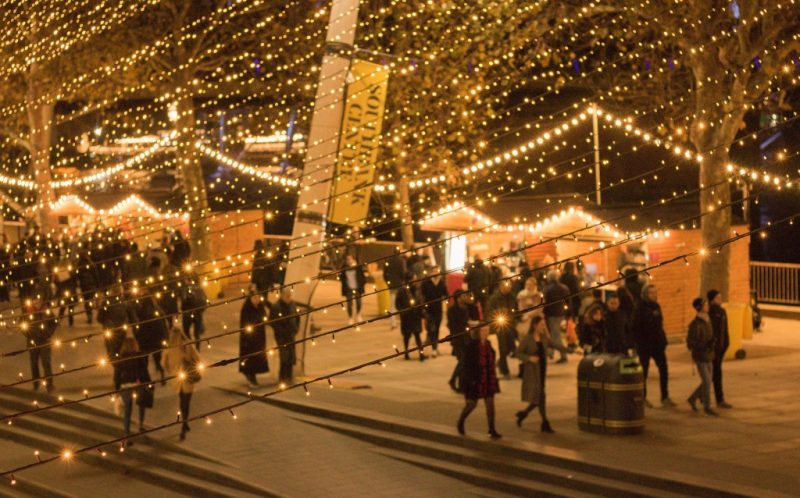 One of my favourite London Christmas markets can be found along the Thames at South Bank, where beautifully decorated wooden chalets line the river beneath the glittering London Eye. This is the perfect place to indulge a healthy Christmas appetite; German mulled wine – aka Glühwein – barbecued bratwurst, chimney cake, crepes, waffles – the list goes on and on. There's also a great range of Christmas gifts including handmade soaps, wooden toys, and unique jewellery.
Alongside the market, the Southbank Centre always hosts a range of events over the winter period – in the past there's been a Finnish Rooftop Sauna, a Wintertime Rave-A-Roo, and Slava's Snowshow. Be sure to check the What's On list to plan your visit.
Southbank Centre, Belvedere Rd, London, SE1 8XX
12 noon – 8pm Friday 11am – 8pm Saturday 12 noon – 6pm Sunday
Somerset House Christmas Arcade
13th November 2019 – 5th January 2020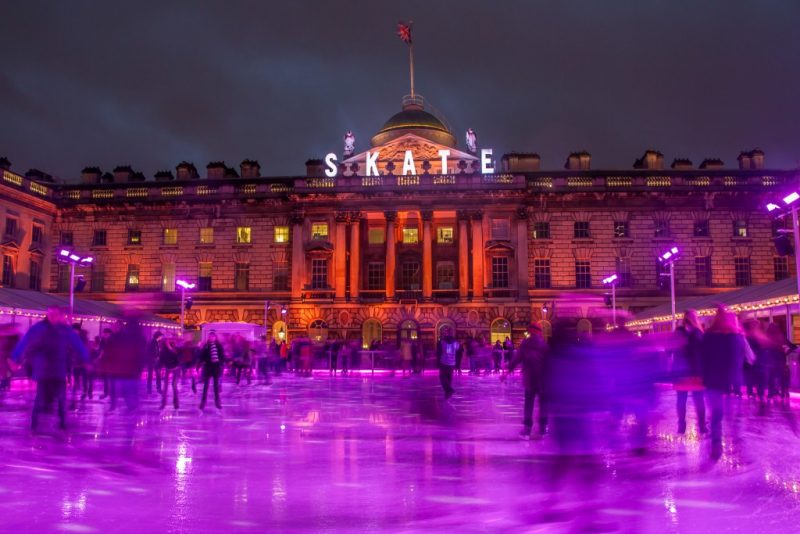 The Christmas Arcade at the gorgeous Somerset House is a fantastic place to pick up a few bespoke Christmas gifts. Every year, pop-up shops are installed in the opulent rooms of the West Wing, turning the house into a temporary mini-mall, while outside in the courtyard is one of London's nicest ice-rinks and a beautiful Christmas tree.
Once again, The Christmas Arcade has been transformed into a pop-up version of Fortnum & Mason's flagship Piccadilly store, with loads of great festive treats including their iconic hampers, food and drink, confectionery, decorations, winter accessories, and games.
Somerset House, Strand, London WC2R 1LA
Monday – Saturday 10am to 9pm, Sunday 10am to 5:30pm (10.00 – 10.30 browsing only). Click here for festive opening times.
Hyde Park Winter Wonderland
21st November 2019 – 5th January 2020
Every year, Winter Wonderland takes over London's Hyde Park with glittering lights, snow-covered chalets, and dozens of fairground rides. As London's most popular Christmas Market, it's fairly overcrowded and can be pretty expensive, but entry is free and it's so fun that it's definitely worth a visit.
Tons of fabulous market stalls are laden with great gifts and gorgeous decorations, but there are loads more attractions at Winter Wonderland – including a funfair, ice skating, the Magical Ice Kingdom (filled with incredible ice sculptures), and some great shows. Some of the attractions and rides are charged and can be very popular, so its recommended to buy the tickets online in advance.
Hyde Park London, W2 4RU
10am – 10pm (except Christmas day).
Covent Garden Christmas
12th November 2019 – 5th January 2020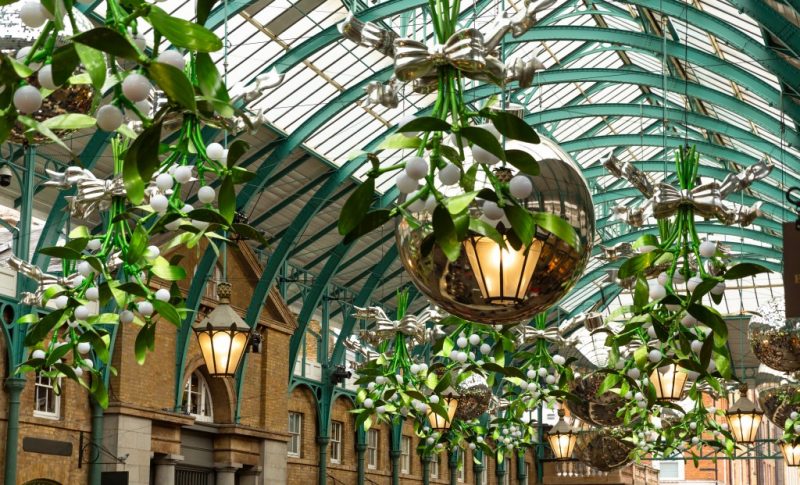 For me, Covent Garden is the king of the London Christmas markets. Every year, the lights and decorations are gorgeous; it's always a sight worth seeing! This lovely festival always boasts a range of treats including craft workshops, special festive menus, and street entertainers.
Covent Garden has some of the best Christmas lights in London so don't miss the switch-on if you're in town. The date is 12th November but it's usually around mid-November. Alongside the usual street performers, there are a range of events on at Covent Garden throughout the Christmas period.
New for 2019 is the Tiffany & Co Winter Wonderland and Ice Rink, inspired by New York City's Central Park. Families can meet Father Christmas in his grotto at the London Transport Museum from 30th November – so don't miss your chance to tell him what you want for Christmas! Also new for 2019 is the Wonder Wood – an enchanting forest of Christmas trees, each one decorated by a different brand.
Covent Garden Piazza, WC2E 8AA
Zero Waste Market
7th December 2019
Recommended by: Roshni, The Wanderlust Within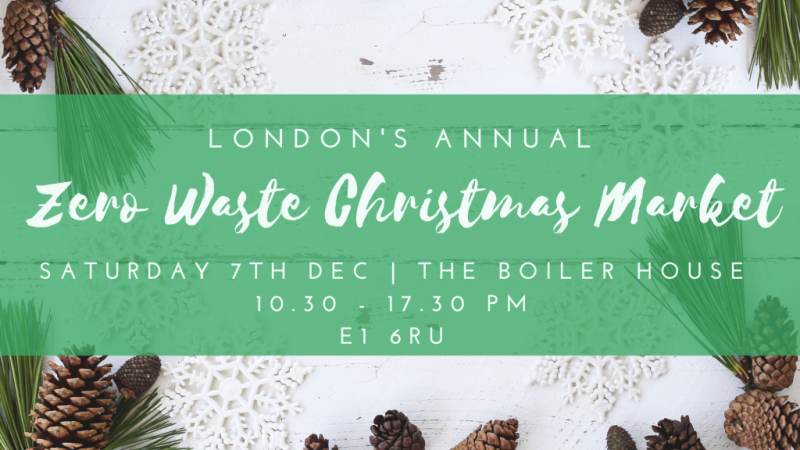 Avoiding excessive waste is a challenge, especially during Christmas time. If you're looking for alternatives head down to the Zero Waste Christmas Market on Saturday, December 7 2019. The event has 44 sustainable and ethical brands catering to food, drink, personal care, fashion, luxury items, fitness and health, homeware and festive decor.
There will also be a selection of ticketed workshops and free talks throughout the day so you can learn how to have a greener Christmas. To ensure zero waste, be sure to bring along your own mugs and reusable containers to enjoy the vegan food and drink options.
UPDATE – The venue has now been changed to: The Boiler House, 152 Brick Lane, E1 6RU. This is also the perfect location to try out my Brick Lane street art guide.
Tickets to the event are between £5 – £10.
Kingston Upon Thames Christmas Market
14th November 2019 to New Years Eve
Recommended by: Sophie, Travels of Sophie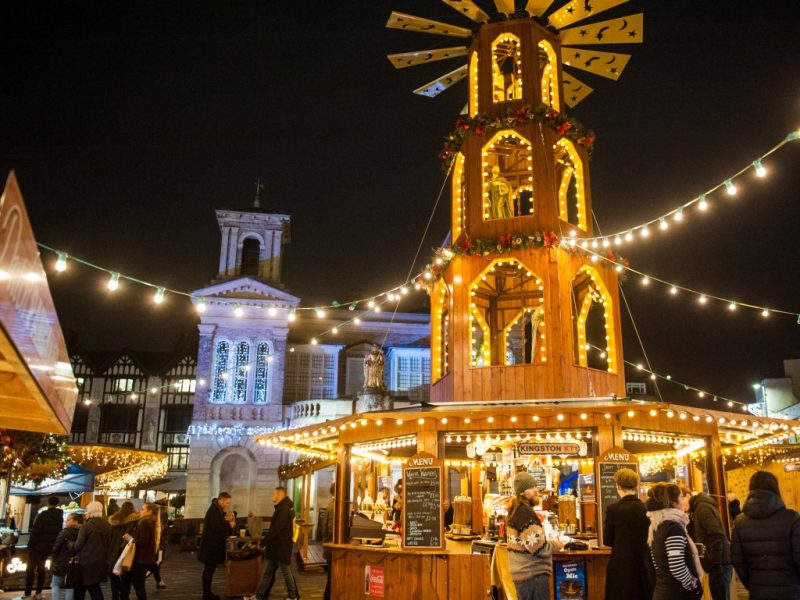 Every year the picturesque Ancient Market Place and surrounding pedestrianised streets in Kingston Upon Thames are transformed into a magical, glittering Christmas wonderland. Over 50 traditional wooden cabins appear, selling festive treasures and handmade crafts, making it the perfect place to shop for unique gifts and stocking fillers.
No Christmas Market would be complete without a cup of steaming mulled wine and street food, and Kingston Christmas Market certainly won't disappoint. There are numerous stalls serving classic street food and all the Christmas favourites. There is also regular live entertainment to help you get into the festive spirit.
Market Place, Kingston, KT1 1JT
Sunday – Wednesday 10am – 6pm, Thursday – Saturday 10am – 8pm
Leicester Square Christmas Market
8th November 2019 – 5th January 2020
Recommended by: Chris, More Life in your Days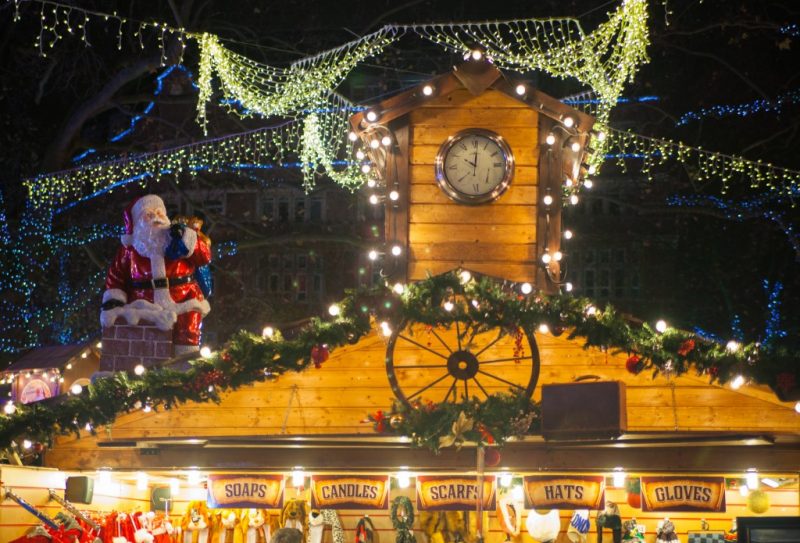 There is a great Christmas Market at Leicester Square, right in the heart of London. It is a relatively new market having only started in 2015 but it has quickly become a favourite for locals and visitors alike. From 8th November to 5th January, Leicester Square is transformed into a wintery paradise complete with Christmassy music and market stalls selling all sorts of gifts (handmade wooden toys, Christmas decorations, etc) as well as warming drinks and comforting food.
Little ones will be spellbound by the Santas Grotto (need to book tickets in advance), whilst adults are also well catered for thanks to the wide range of entertainment offered in the Spiegeltent.
Monday – Friday 12pm – 10pm, Saturday – Sunday 10am – 10pm
Greenwich Market Christmas Lates
Lights on from 20th November. Christmas late nights every Wednesday in December.
Recommended by: Rose, Where Rose Goes. Read her post on the best things to do in Greenwich for more great tips!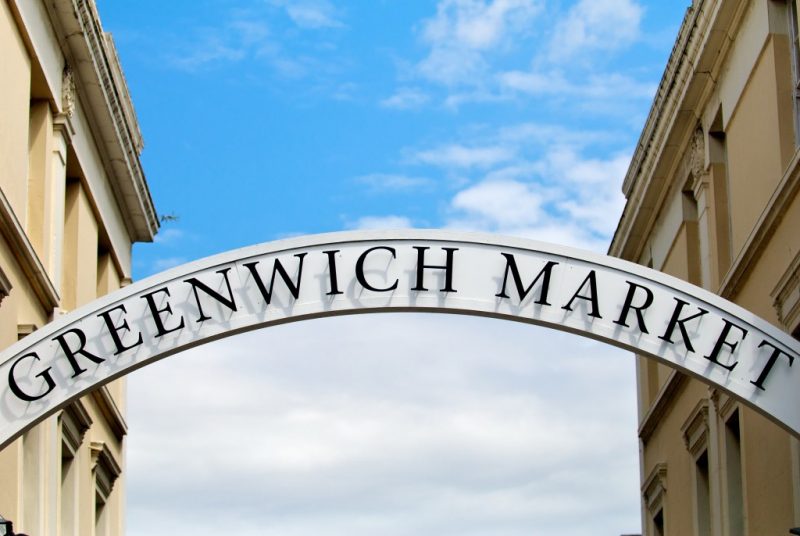 Charming Greenwich is atmospheric around the year, and Christmas is no exception. Unlike some parts of London where a Christmas market pops up in November, Greenich Christmas Market is like a caterpillar to a butterfly as the normal market receives a spectacular Christmas makeover. The inside hall is decorated with hanging lights and Christmas decorations while the usual food stalls are replaced with bratwurst, gingerbread cookies and mulled wine.
Greenwich Market is open 7 days a week from 10am-5.30pm but there are some specific Christmas late events you should add to your calendar: the 4th, 11th and 18th of December. The market is open until 8pm on these days: perfect for an early evening mulled wine. Not that anyone would judge you for having one with lunch!
Greenwich Market London SE10 9HZ
Christmas by the River at London Bridge City
26th November 2019 – 5th January 2020
Recommended by: Rai, A Rai of Light
Set against the backdrop of some of London's most iconic sights, Christmas by the River has been a part of the festive scene for the past 5 years. It returns to delight in 2019 running from 26 November to 5 January. Wooden cabins line the riverside stretching along Queen's Walk from London Bridge City Pier to the Scoop at More London.
I particularly enjoy the wide variety of good food and drink stalls, sampling cuisine from around the world. London Bridge City market is also a good stop for some Christmas shopping where you're able to find everything from artisan gifts to traditional souvenirs in London. The market also hosts a number of storytelling events, tastings, and free craft workshops to ensure all visitors are fully prepared for the festive season.
10am-9pm everyday ( closed on Christmas Day)
Country Living Fair London
13th – 17th November 2019
Recommended by: Lydia from Africa Wanderlust
Jumpstart your holiday shopping this November with a trip to the Country Living Magazine Christmas Fair. You can spoil your loved ones with the most exquisite gifts like a dillisk flavour soft goat cheese hand-rolled into pearls or a carefully crafted artwork of a glanced scene of birds made with glass kiln fired enamel. The Country Living Fair is an excellent Christmas Market in the area because it carries a wide range of shopping items.
Treat yourself with a VIP experience to save you time by bypassing the queue, convenience with access to the private lounge, and a treat as you indulge in bottomless Prosecco. If you make this event a family affair, there is a group discount for parties of 10 or more. Tickets go on sale in November so start creating your wishlist because the event will be here before you know it!
Come for the first-rate shopping, but make sure to stick around for the Country Living giveaway for an opportunity to win special prizes for yourself, family, or friend. If you love arts and crafts, you should consider entering the Country Living Festive Stocking Crafting Competition. It is a fun way to test your skills and who knows, you might win!
Opening hours vary each day, check the website for more info.
Maltby Street Night Market
22nd November 2019 and every Friday till Christmas
Recommended by: Leo, Safarinomad.com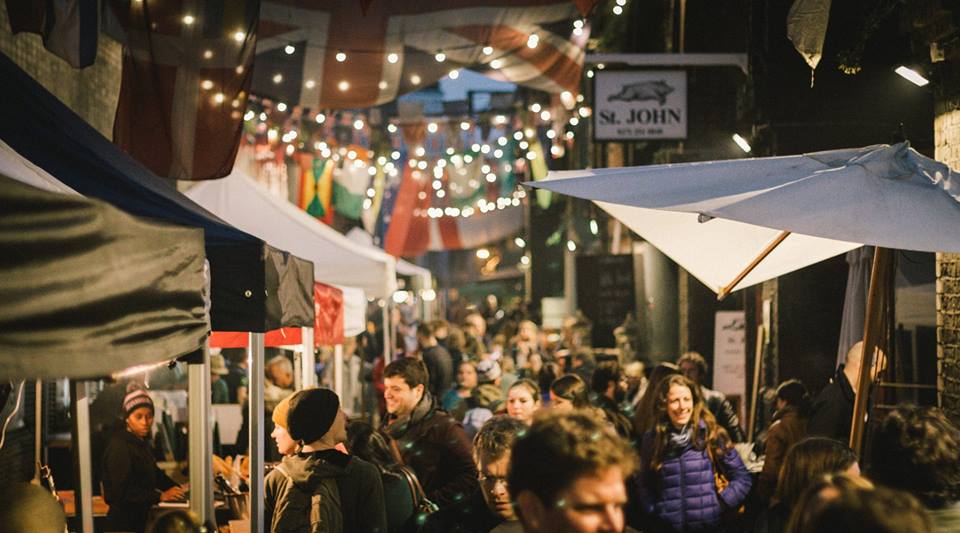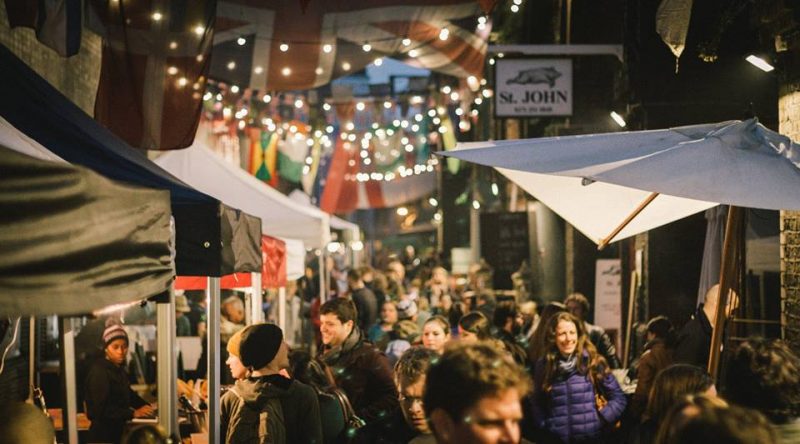 Maltby Street Night Market is a winter market that usually commences each Friday in December in the run-up to Christmas, from 4:00 p.m. until 9:30 p.m. Delicious flavours under the beautifully festooned with lights of the Ropewalks' Victorian railway arches makes this event perfect.
What can you expect there? Exclusive festive menus from around the world, mulled wine, street food, cocktails and other winter feasts, all accompanied by traditional sounds of carolers.
Opening times: Open 5pm – 9.30pm
Bloomberg Arcade's Winter Market
Wednesday 27th and Thursday 28th November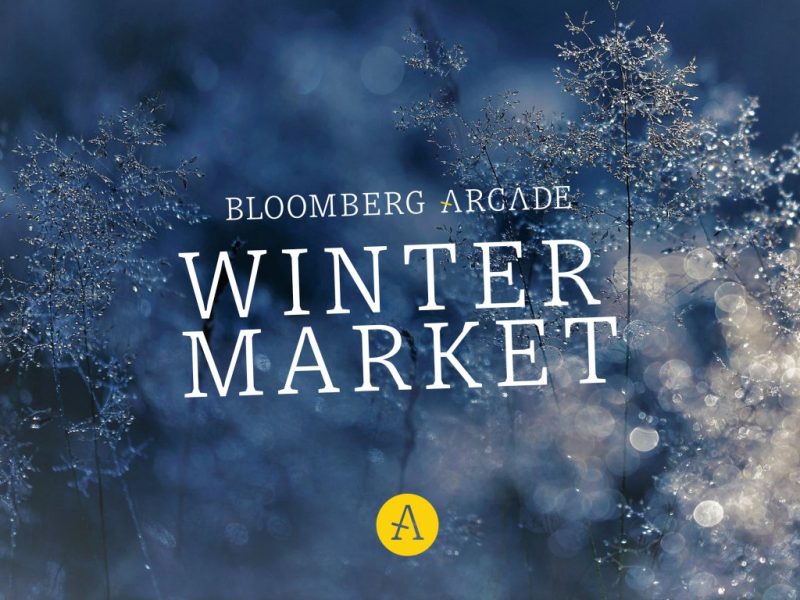 New for 2019, Bloomberg Arcade are hosting their first-ever Winter Market in the heart of the Square Mile. It's the newest of the London Christmas markets, so don't miss it!
The market will showcase a collection of carefully curated brands, so you can support local craft and artisan producers who champion a positive and sustainable ethos. Located in the all-weather Bloomberg Arcade, the market is ideal for gifts, stocking-fillers and indulgent treats.
On Thursday evening the award-winning Sancta Lucia Choir will spread festive joy with a one-off magical performance hosted within Bloomberg Arcade at 6:30pm culminating in an enchanting close to the Winter Market.
Bloomberg Arcade, EC4N 8AR
11am – 8pm
Winterville, Clapham
UPDATE: Winterville will NOT be taking place in 2019. Hopefully, it will return in 2020.
Recommended by: Eniko, Travel Hacker Girl – check out her list of off the beaten path destinations in London for some extra exploring while you're in the capital.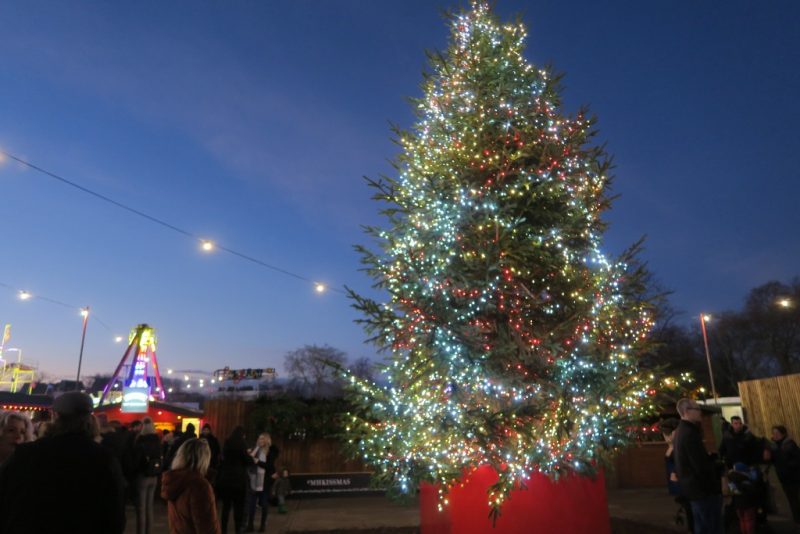 Winterville is a very special Christmas experience in London on Clapham Common. It is not just a Christmas market with cute little stalls with handmade products and delicious food. There are many pop-up events, including magic performances, puppet shows and concerts.
If you are adventurous you can go ice skating or try one of the many rides on site. The PLONK mini golf is another fun experience in Winterville, but perhaps the highlight of a visit is the Backyard Cinema. They have a cool theme every year, including going through a Christmas tree labyrinth and then you can watch a festive movie.
Clapham Common, SW4 9DE
What are your favourite London Christmas markets? Have I missed any off this list?
Pin This Post!