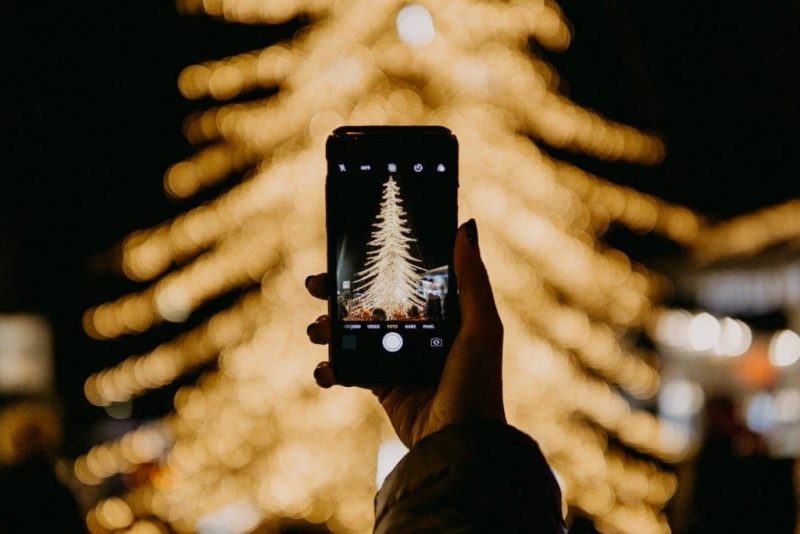 With just a few weeks to go, it's officially time to be excited about Christmas, and one of the best places in the UK to enjoy the holiday season is London! From the Oxford Street lights to the ever-impressive Harrods Christmas windows, there's just so much to get you feeling festive in London.
One of my favourite things about Christmas in the capital is the abundance of festive markets: gorgeous gifts, hot snacks, mulled wine, hand-crafts, hot chocolate… need I go on? So, here's a list of five of the best London Christmas markets this year…
Update 17/09/2019: This post has now been updated with the latest info and 2019 dates.
RELATED POST: Best Ice Skating in London this Christmas
Hyde Park Winter Wonderland
21st November 2019 – 5th January 2020
Every year, Winter Wonderland takes over London's Hyde Park with glittering lights, snow-covered chalets, and dozens of fairground rides. As London's most popular Christmas Market, it's fairly overcrowded and can be pretty expensive, but entry is free and it's so fun that it's definitely worth a visit.
Tons of fabulous market stalls are laden with great gifts and gorgeous decorations, but there are loads more attractions at Winter Wonderland – including a funfair, ice skating, the Magical Ice Kingdom (filled with incredible ice sculptures), and some great shows. Some of the attractions and rides are charged and can be very popular, so its recommended to buy the tickets online in advance.
Hyde Park London, W2 4RU
10am – 10pm (except Christmas day).
Southbank Centre Winter Market
8th November 2019 – 5th January 2020
One of my favourite London Christmas markets can be found along the Thames at South Bank, where beautifully decorated wooden chalets line the river beneath the glittering London Eye. This is the perfect place to indulge a healthy Christmas appetite; German mulled wine – aka Glühwein – barbecued bratwurst, chimney cake, crepes, waffles – the list goes on and on. There's also a great range of Christmas gifts including handmade soaps, wooden toys, and unique jewellery.
Alongside the market, the Southbank Centre always hosts a range of events over the winter period – in the past there's been a Finnish Rooftop Sauna, a Wintertime Rave-A-Roo, and Slava's Snowshow. Be sure to check the What's On list to plan your visit.
Southbank Centre, Belvedere Rd, London, SE1 8XX
12 noon – 8pm Friday 11am – 8pm Saturday 12 noon – 6pm Sunday
Somerset House Christmas Arcade
13th November 2019 – 5th January 2020
The Christmas Arcade at the gorgeous Somerset House is a fantastic place to pick up a few bespoke Christmas gifts. Every year, pop-up shops are installed in the opulent rooms of the West Wing, turning the house into a temporary mini-mall, while outside in the courtyard is one of London's nicest ice-rinks and a beautiful Christmas tree.
Once again, The Christmas Arcade has been transformed into a pop-up version of Fortnum & Mason's flagship Piccadilly store, with loads of great festive treats including their iconic hampers, food and drink, confectionery, decorations, winter accessories, and games.
Somerset House, Strand, London WC2R 1LA
Monday – Saturday 10am to 9pm, Sunday 10am to 5:30pm (10.00 – 10.30 browsing only). Click here for festive opening times.
Covent Garden Christmas
2019 Dates TBC
For me, Covent Garden is the king of the London Christmas markets. Every year, the lights and decorations are gorgeous; it's always a site worth seeing! This lovely festival always boasts a range of treats including craft workshops, special festive menus, and street entertainers.
The 2019 theme is yet to be revealed, but it's always something impressive. Last year they had dozens of mistletoe chandeliers hanging over the streets and market buildings, adorned with hundreds of glistening berries.
Covent Garden has some of the best Christmas lights in London so don't miss the switch-on if you're in town. The date is TBC but it's usually around mid-November. Alongside the usual street performers, there are a range of events on at Covent Garden throughout the Christmas period.
Covent Garden Piazza, WC2E 8AA
What are your favourite London Christmas markets? Have I missed any off this list?
Love this post? Pin it for later: