Some posts on this site contain affiliate links. If you book or buy something through these links, I earn a small commission (at no extra cost to you). Take a look at my privacy policy for more information.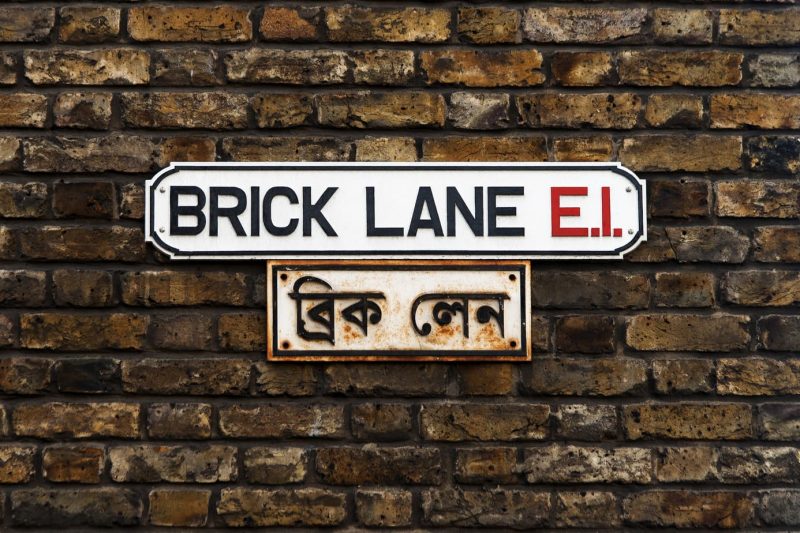 This self-guided Brick Lane street art walking tour is the perfect way to discover this vibrant corner of East London. Delve into the neighbourhood's rich and ever-changing art scene, where it seems that every free surface is coated in graffiti, paste-ups and even sculptures.
This route focuses specifically on the street art around Brick Lane and Bethnal Green Road, as well as the surrounding side streets. Brick Lane is one of the most famous streets in London, known for its amazing street art, rich history, and vibrant culture. So a street art walk is the perfect way to start exploring the area! If you want to explore further, don't miss my Slums and Street Art East London Walking Tour route. You could even combine the two and fill a whole day exploring the area.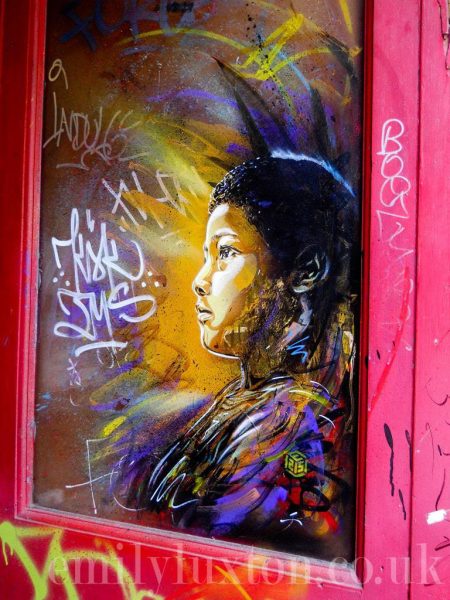 Update 2020: I originally wrote this post a couple of years ago, when I was living around the corner from Brick Lane. As you can imagine, a lot of stuff has changed since then. The great thing about street art is that it is constantly evolving. However, the good news is that even if some of the works of art have changed, the street art hotspots mentioned in this guide remain the same. You just might not see exactly what I did!
Brick Lane Street Art Tour Map
Brick Lane and East London Street Art Tour
Getting There
The best tube stations to start from are Aldgate or Aldgate East. Both of these come out onto Whitechapel High Street, on either side of Osbourne Street.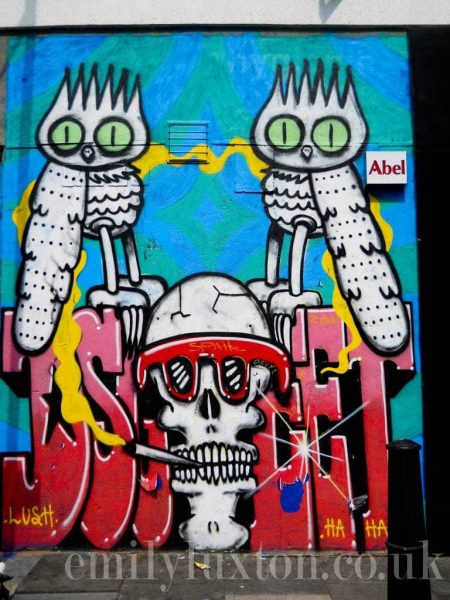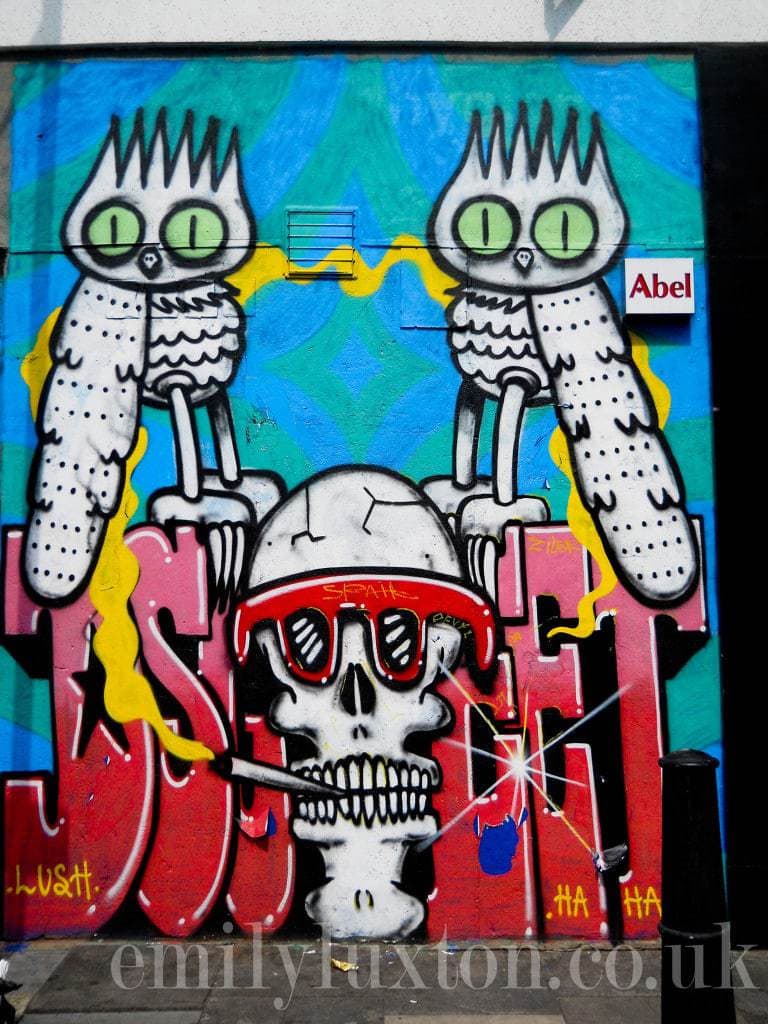 Best Time to Explore the Brick Lane Street Art
The best time for the walk is a Sunday or a weekday evening. This is because many shops have artworks painted onto their shutters, and these can only be seen when the shops are shut.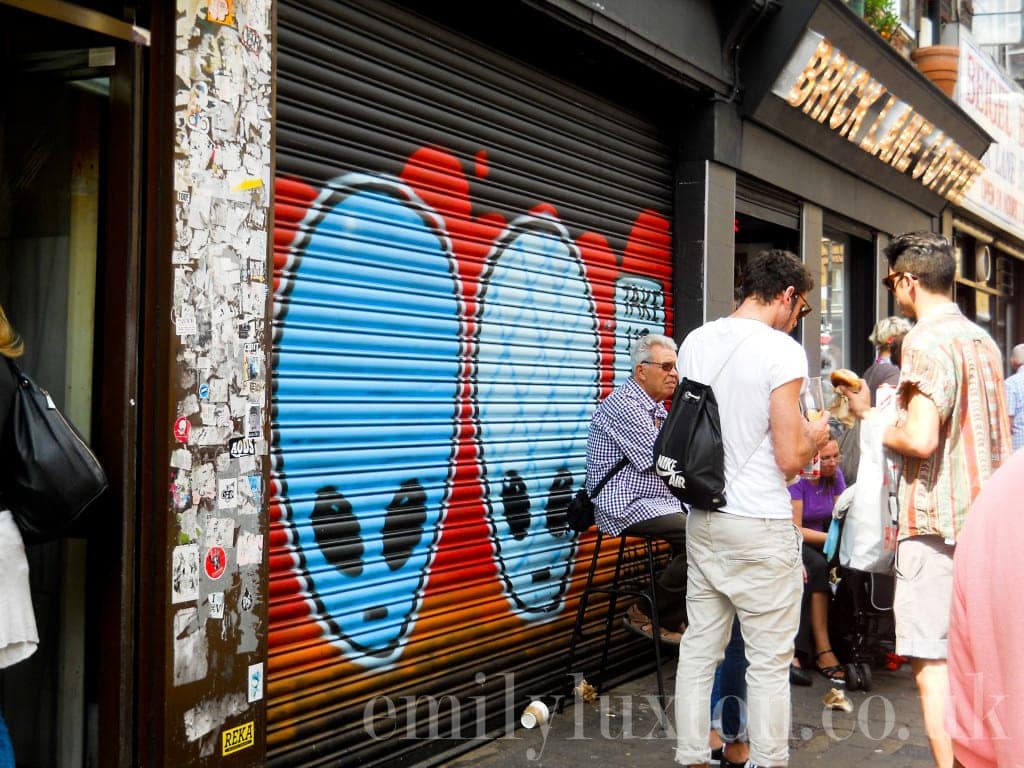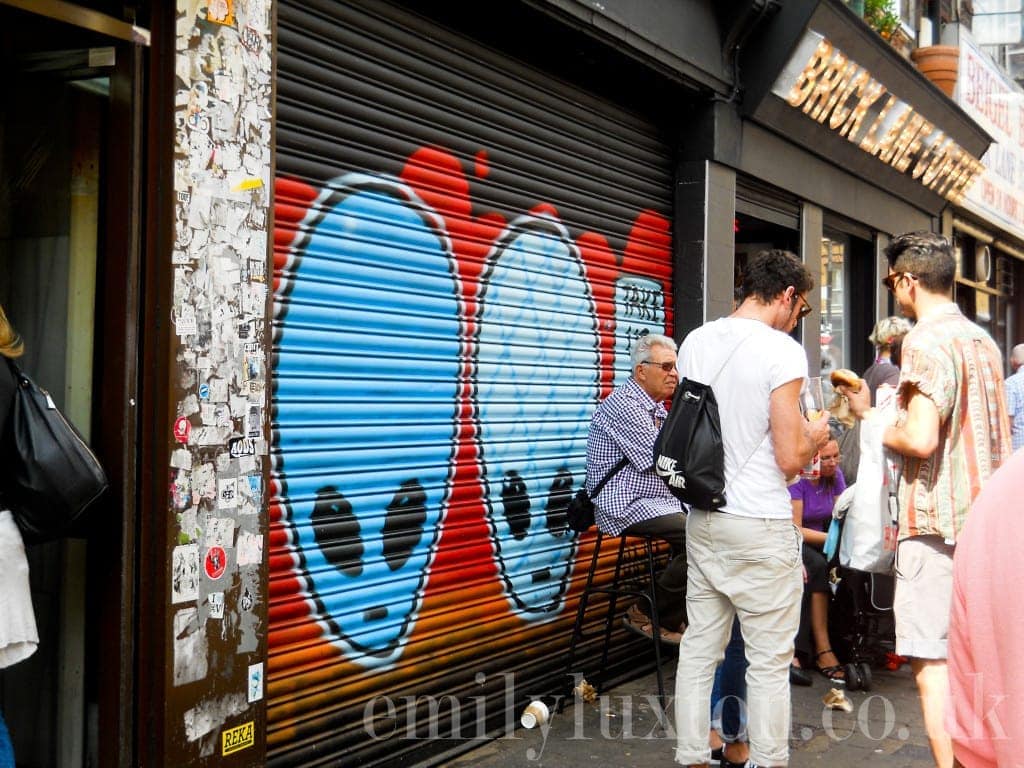 Also, Brick Lane is closed to traffic for a street market on a Sunday. This provides a fantastic diversion – as well as a great soundtrack – for a street art walk! However, it does get very crowded. The good news is that most of the best art is found on side streets, so you can escape from the Brick Lane crowds as you follow my walking tour route.
1 – Start of Brick Lane
Start at the bottom of Brick Lane, at the corner of Wentworth Street. This is where Osbourne Street ends (A) and turns into Brick Lane.
Brick Lane is sometimes known as "Banglatown" thanks to its historic Bangladeshi-Sylheti community. These days, the street is a legendary London curry spot as the lower half is lined with a huge array of curry houses.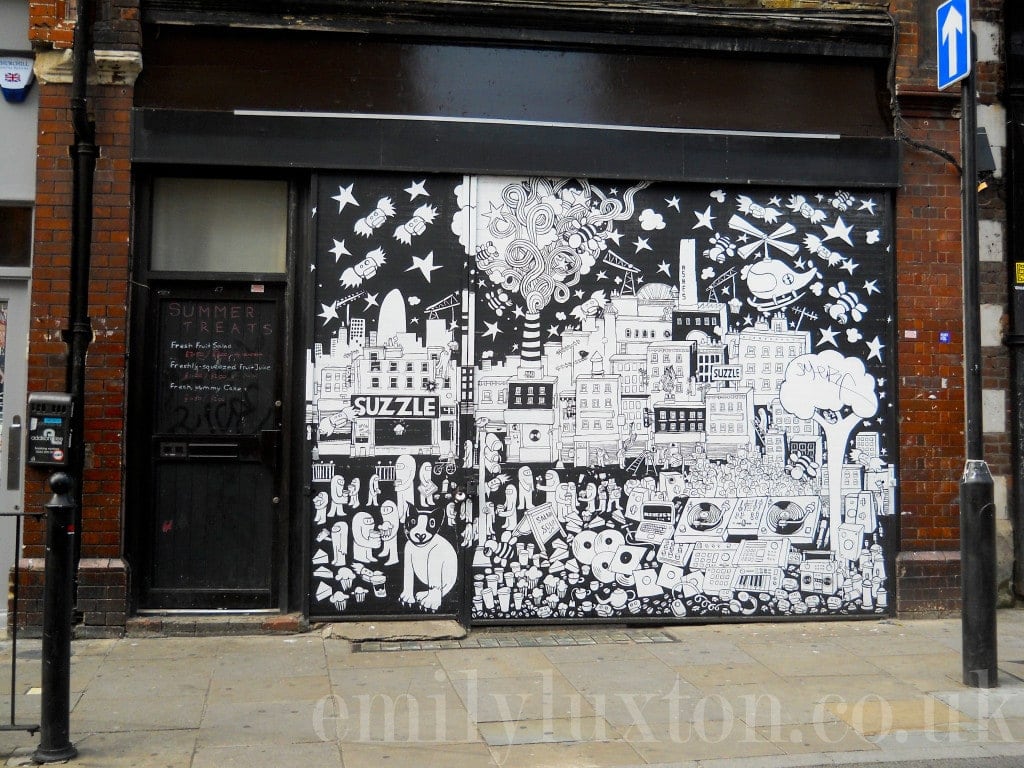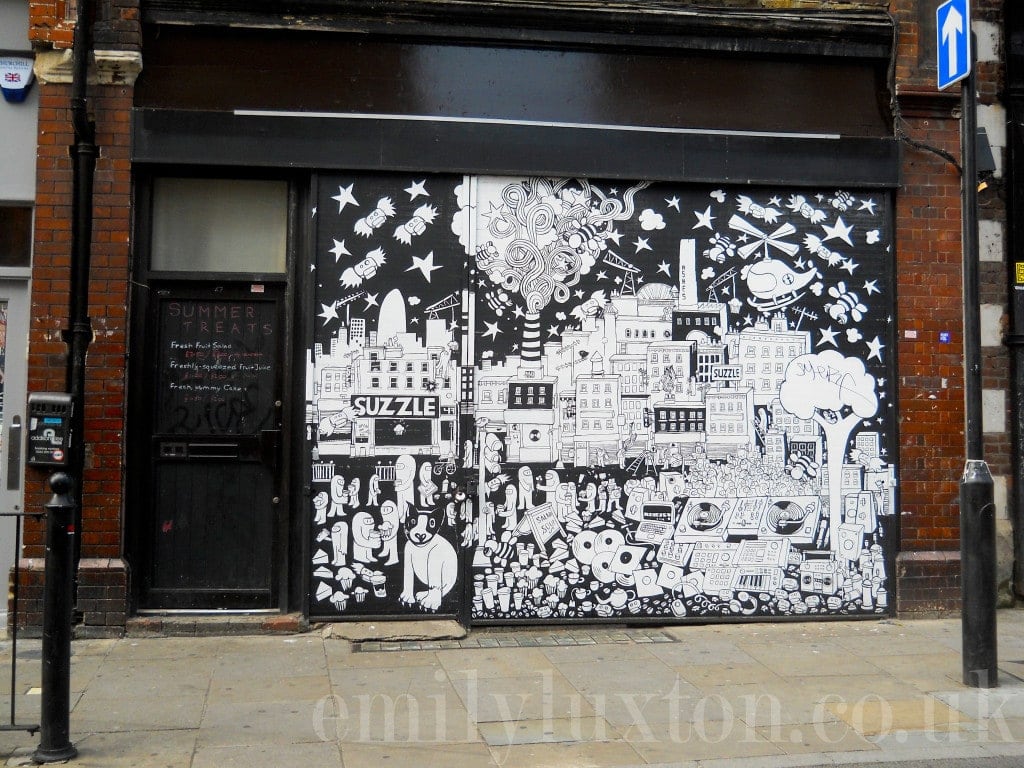 You'll start to see traces of the area's strong artistic heritage immediately. Head straight up Brick Lane until you reach Fashion Street, keeping an eye out for murals decorating shops and coffee houses to the multitude of peeling paste-ups, as well as numerous paste-ups.
2 – Fashion Street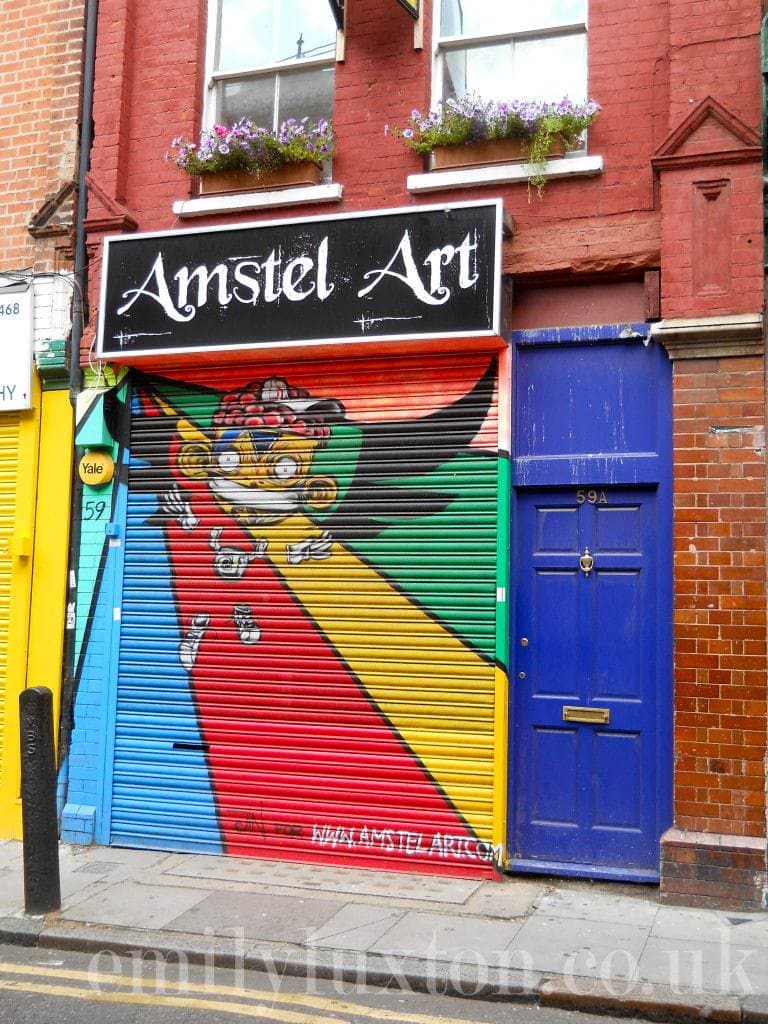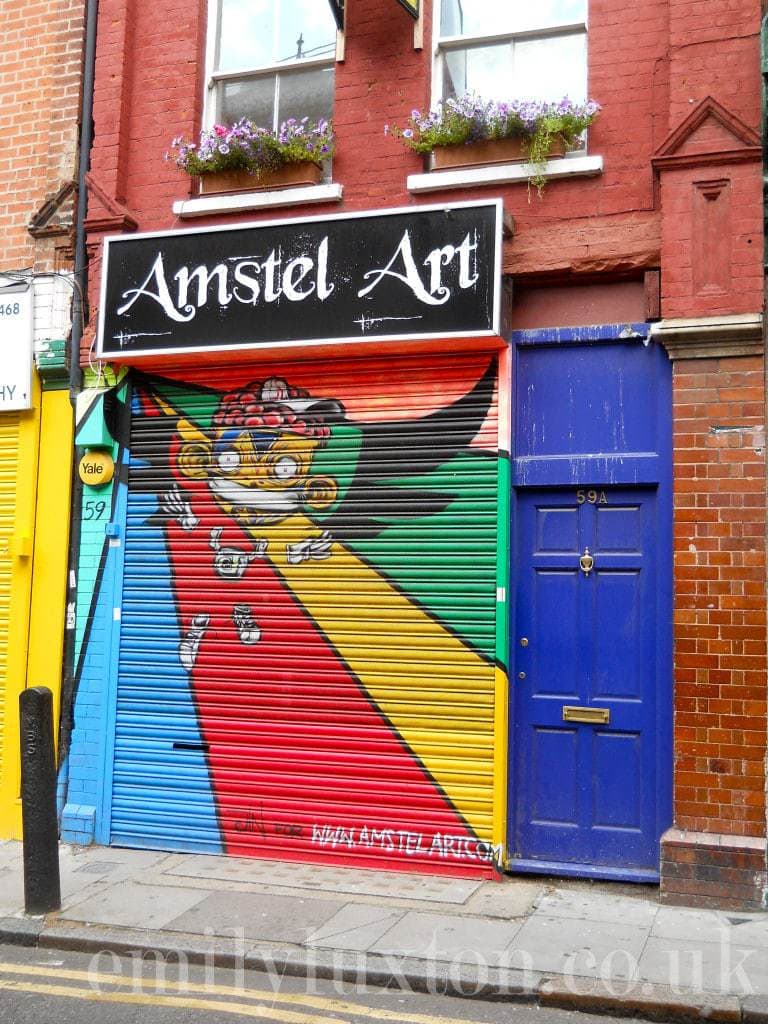 Take a left onto Fashion Street (B). Here, you'll find a quiet lane of narrow, red-brick townhouses facing the stately exterior of the GCU University building.
A few pieces of street art can be found along Fashion Street. But what really stands out are the bright, primary colours of the shop shutters, making a great backdrop for photography. Towards the far end, near Commercial Street, you will also find a brightly coloured mural by Irish artist Conor Harrington.
Head back onto Brick Lane. On the left-hand side just after Fashion Street, you'll spot a little alleyway leading to an off-road car parking area behind some shops. This nondescript, rubble-strewn yard is a hidden treasure trove bursting with colourful art. The yard was still there last time I visited the area, but as Brick Lane is constantly being redeveloped it may not be around forever.
Walk back out onto Brick Lane and keep heading up to Hanbury Street.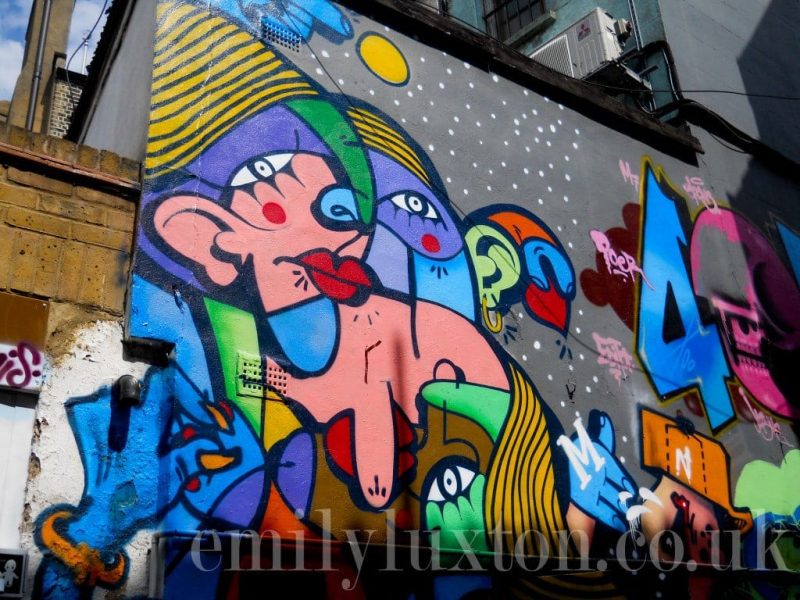 3 – Hanbury Street
Turn left onto Hanbury Street (C), home to several vintage shops, cafes, and bars – as well as plenty of street art. You'll also find Hanbury Hall – a historic community centre with a popular cafe.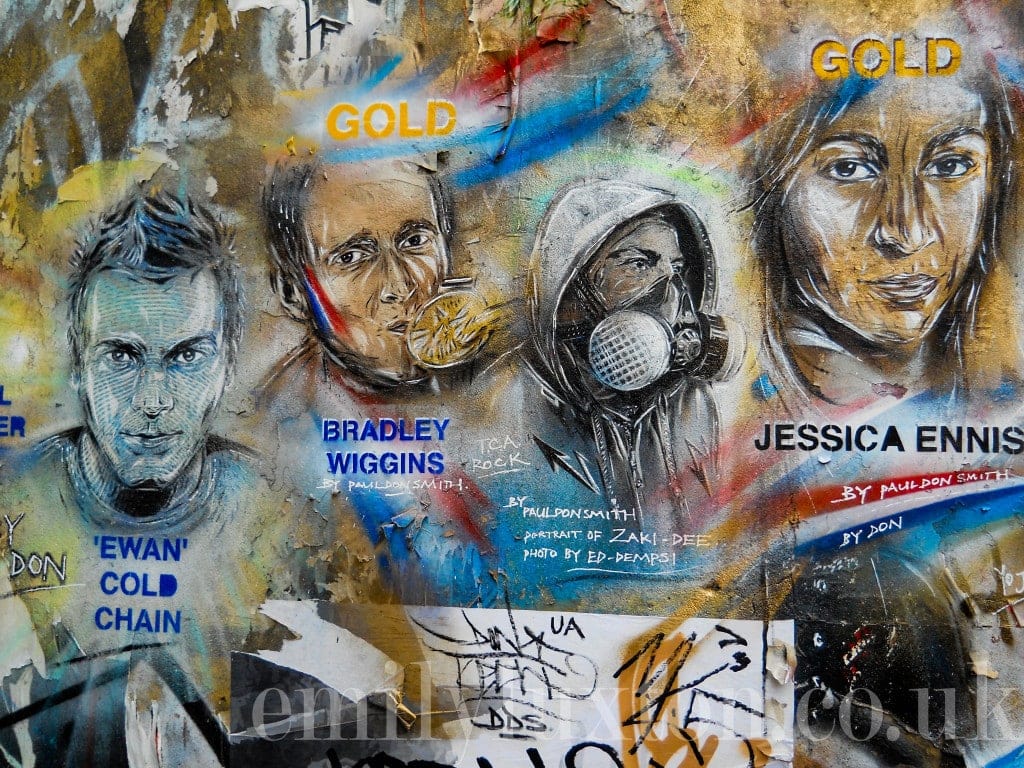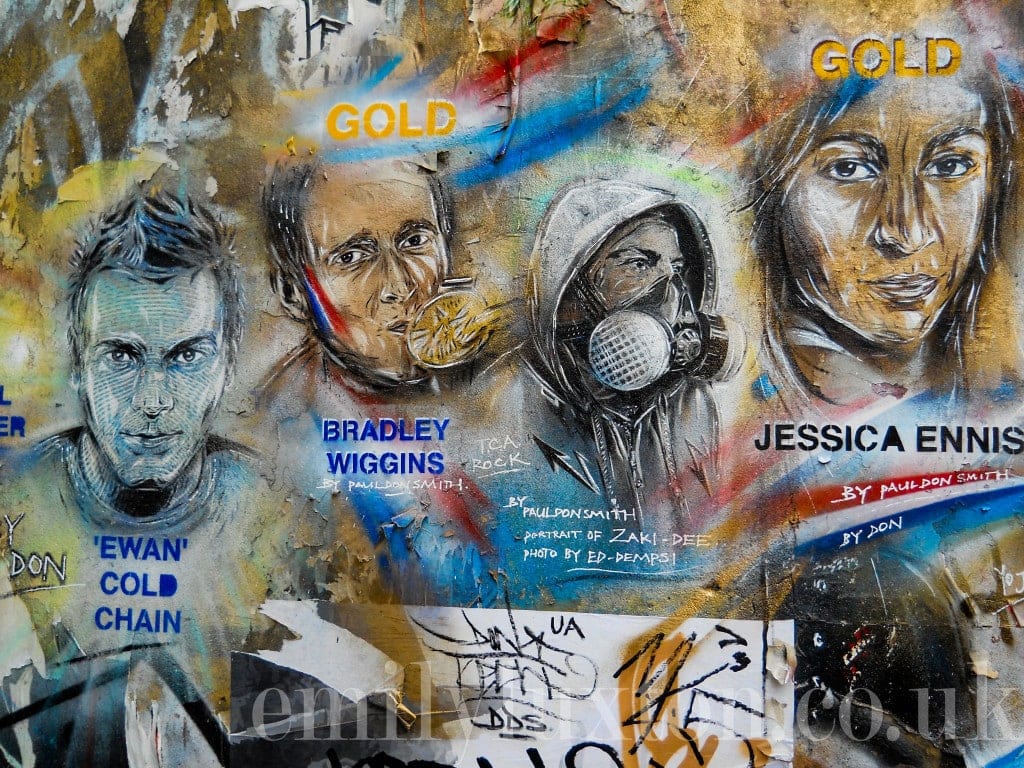 Cross back over Brick Lane to the eastern side of Hanbury Street (D) to find a road bursting with lively, eclectic street art and artist's studios. Here you will find Roa's crane, a long-standing piece the street is known for, as well as several of the unmistakable Malarky animals. The street is also home to fab vintage store Atika (formerly Blitz).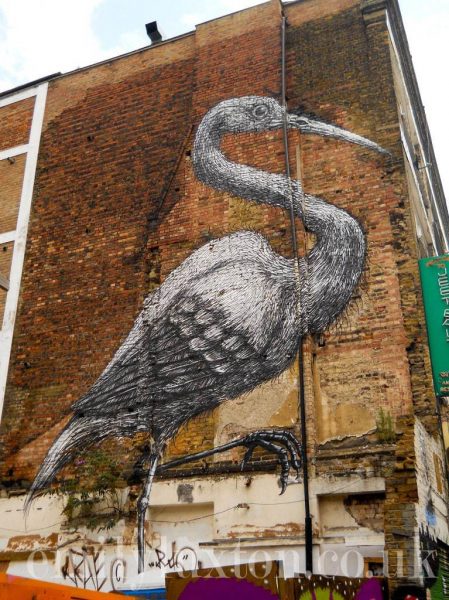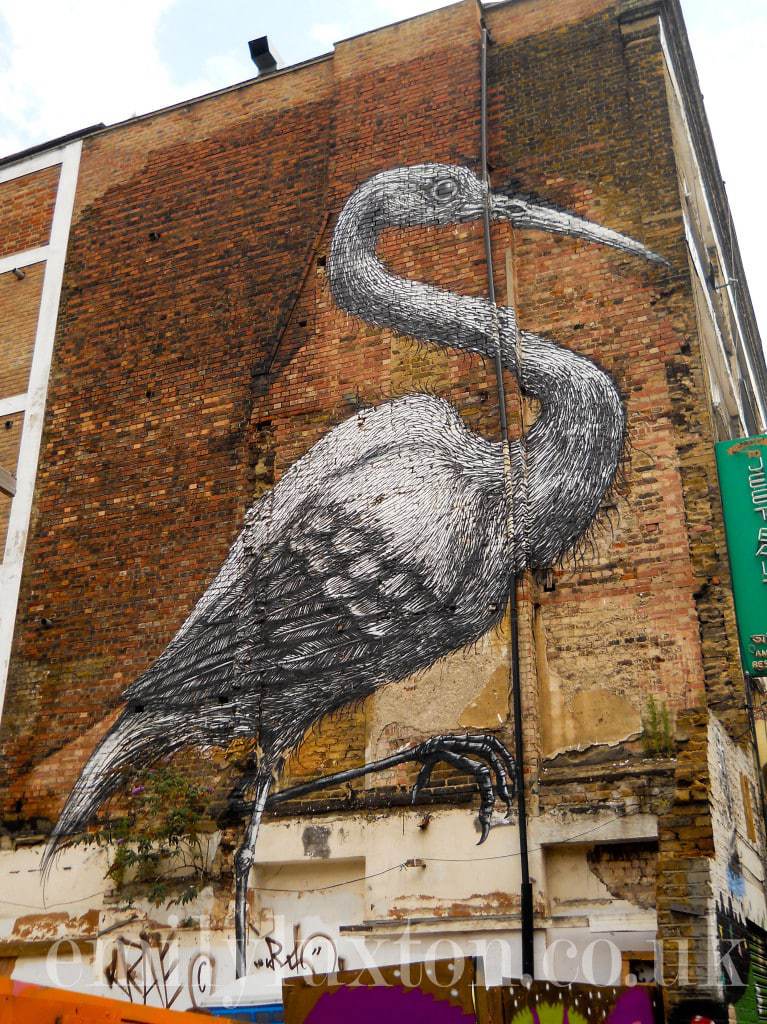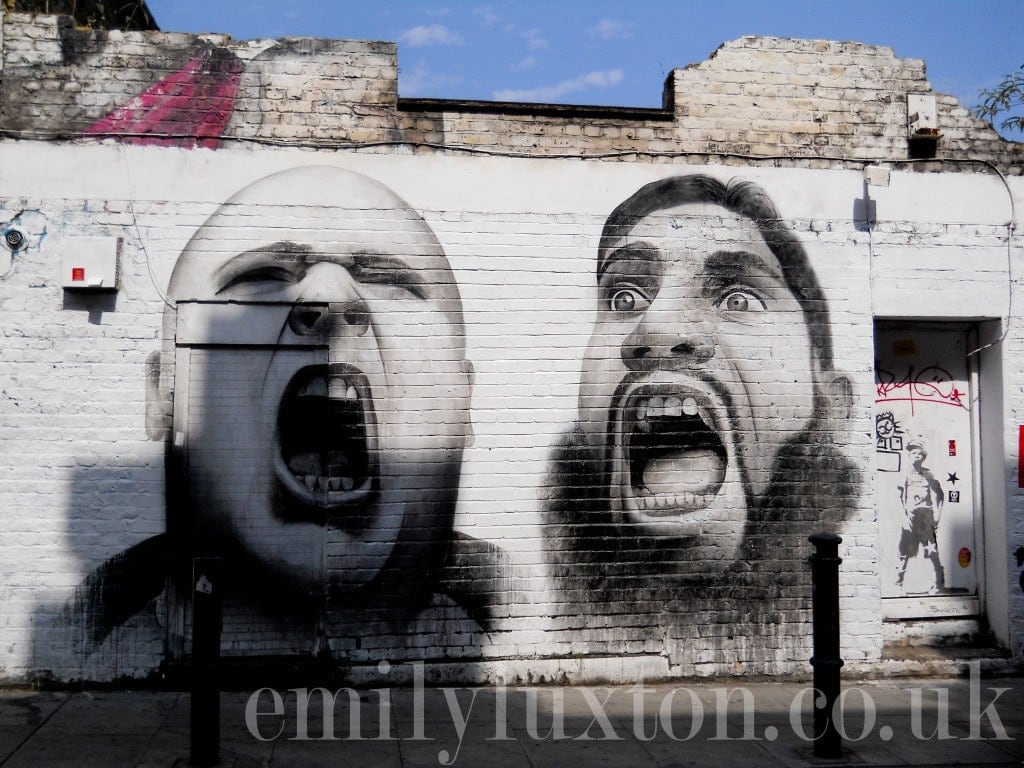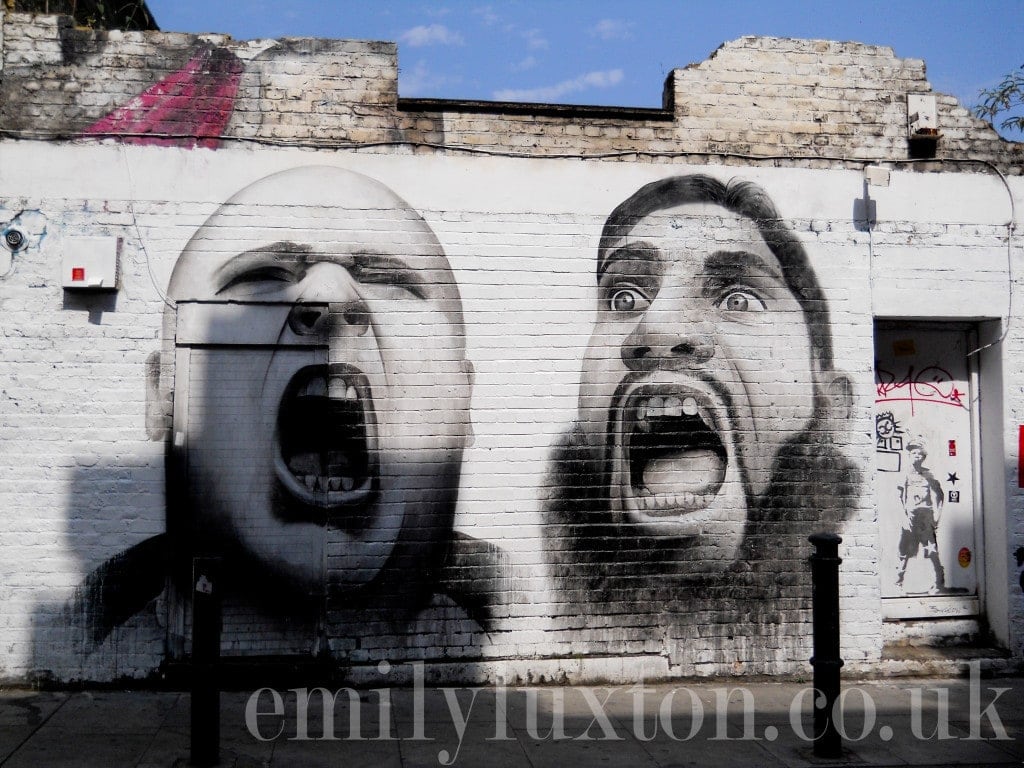 4 – Continue Up Brick Lane to the Railway Bridge
Back on Brick Lane, keep heading up until you reach the junction with Buxton Street and Quaker Street. On the left, you will see one of Christiaan Nagel's mushrooms. These are brightly coloured sculptures made from polyurethane (aka "surfboard foam"), fibreglass and stainless steel. This one is bright red and sits atop the lean-to furniture market at 115B Brick Lane.
On your right, you will find the small alleyway leading to Code Street. This is usually home to some great large-scale graffiti – I've spotted a mural by Spanish artist El Pez there before.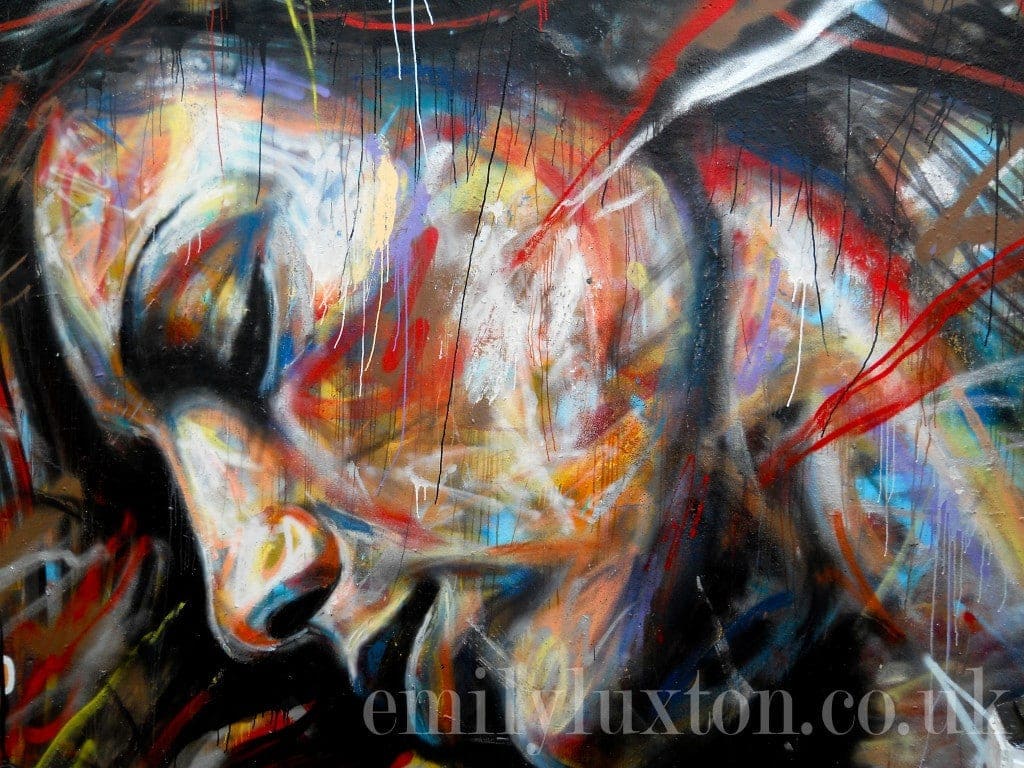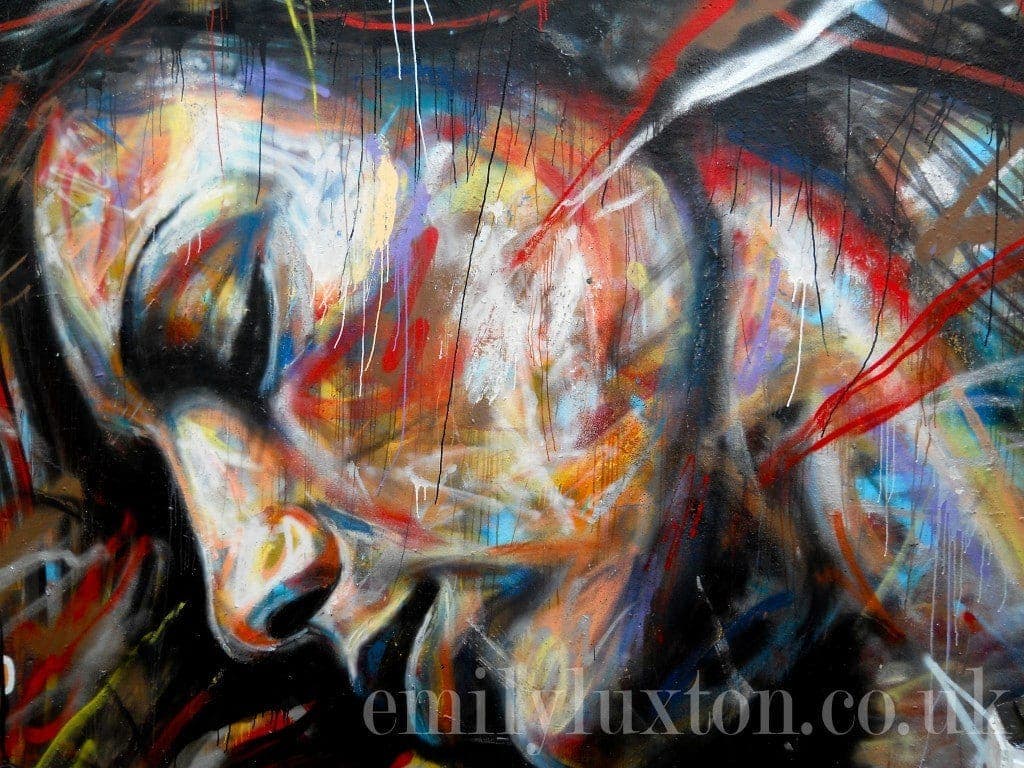 5 – Cheshire Street and Grimsby Street
If you're visiting on a Sunday, under the railway bridge is where the Brick Lane Street Market really kicks off. So check out the stalls and buy yourself a fresh fruit salad or some falafel. Past the bridge, turn left into Cheshire Street (F) – jam-packed with fascinating shops – and take the first left into Grimsby Street.
This is another hot-spot for street art. At the time of writing, you could find two of Dscreet's owls, as well as a couple of Stik's stickmen. Grimsby Street will lead you right back around to Brick Lane, so turn right and start heading back up the way you came.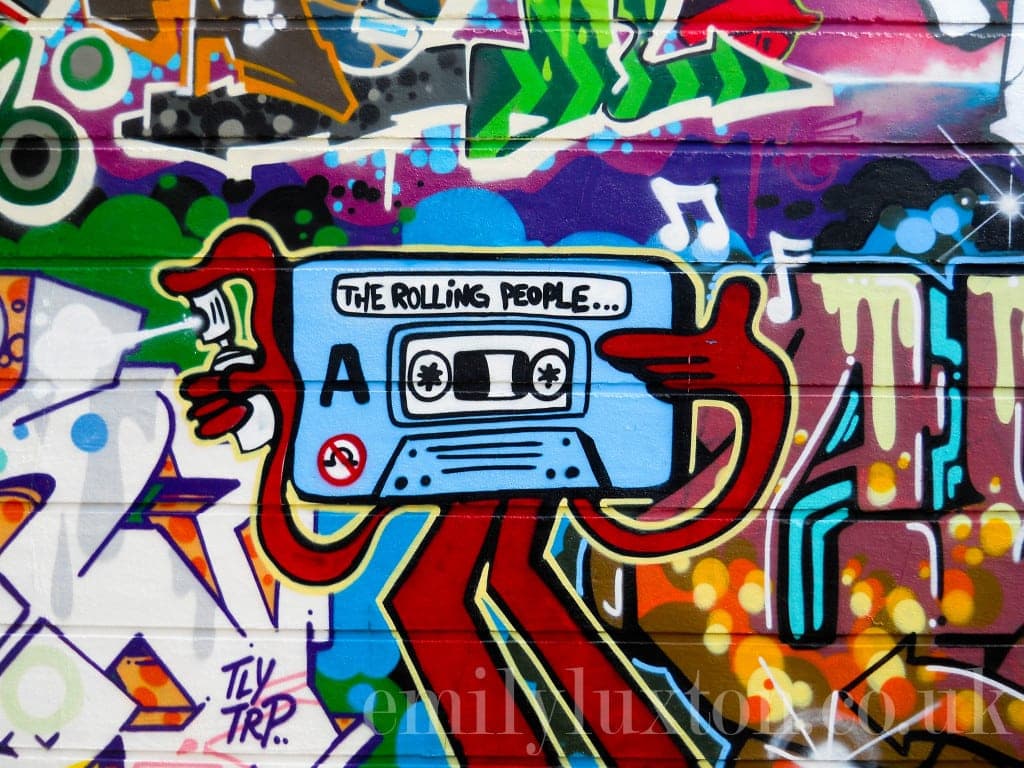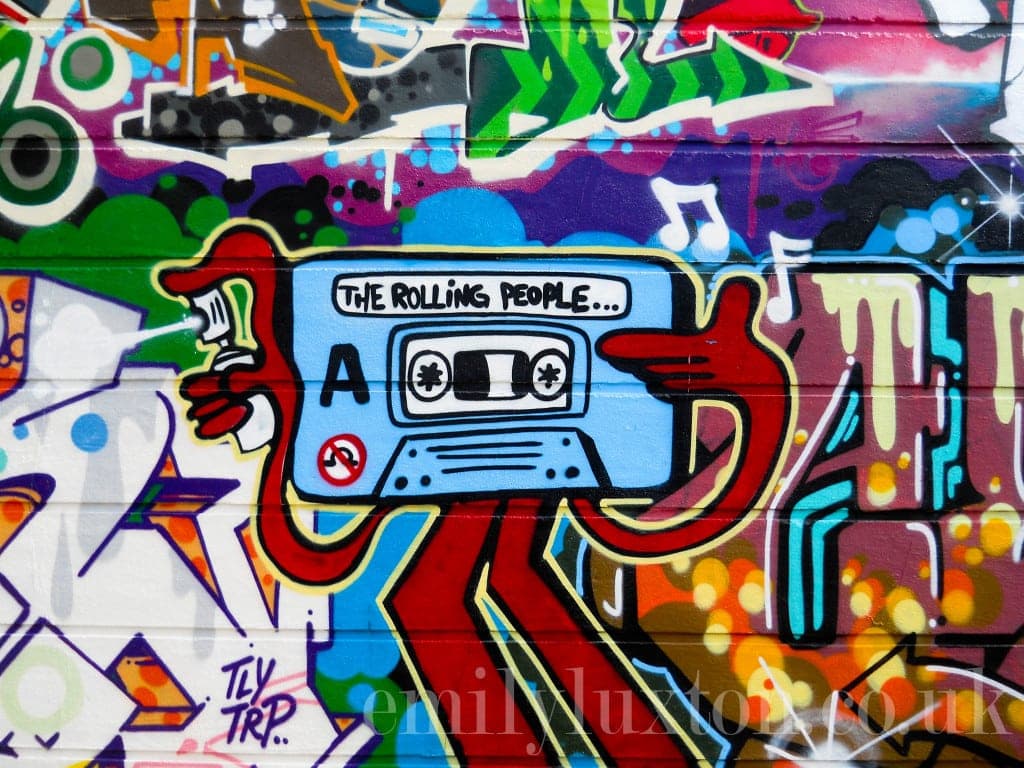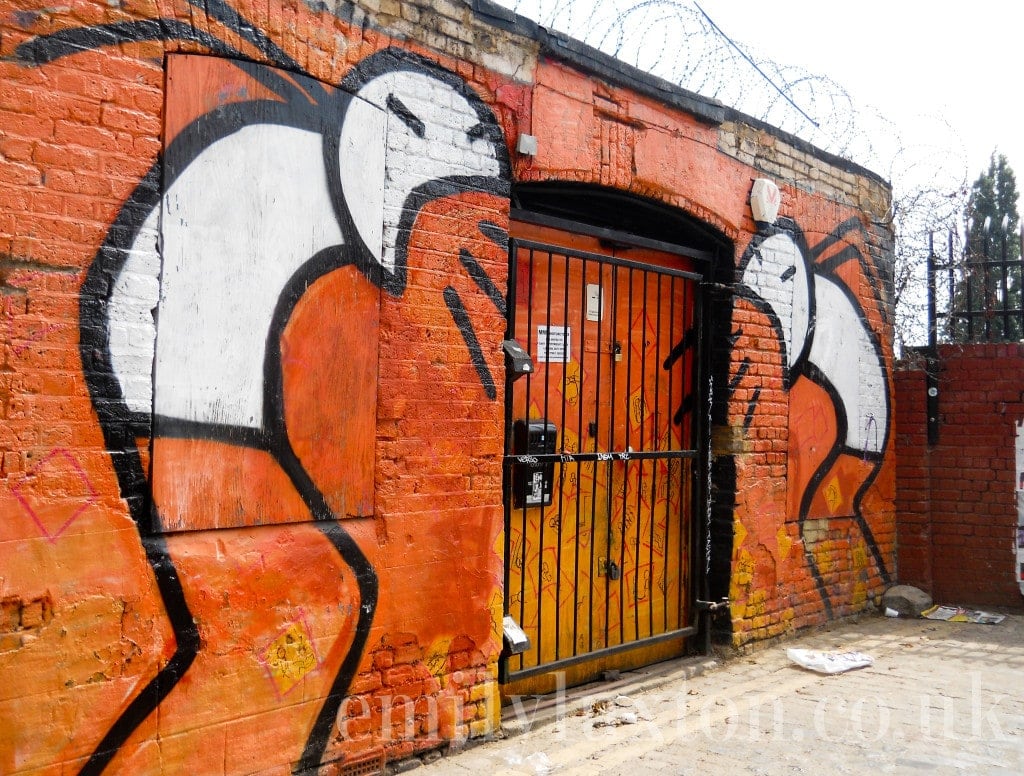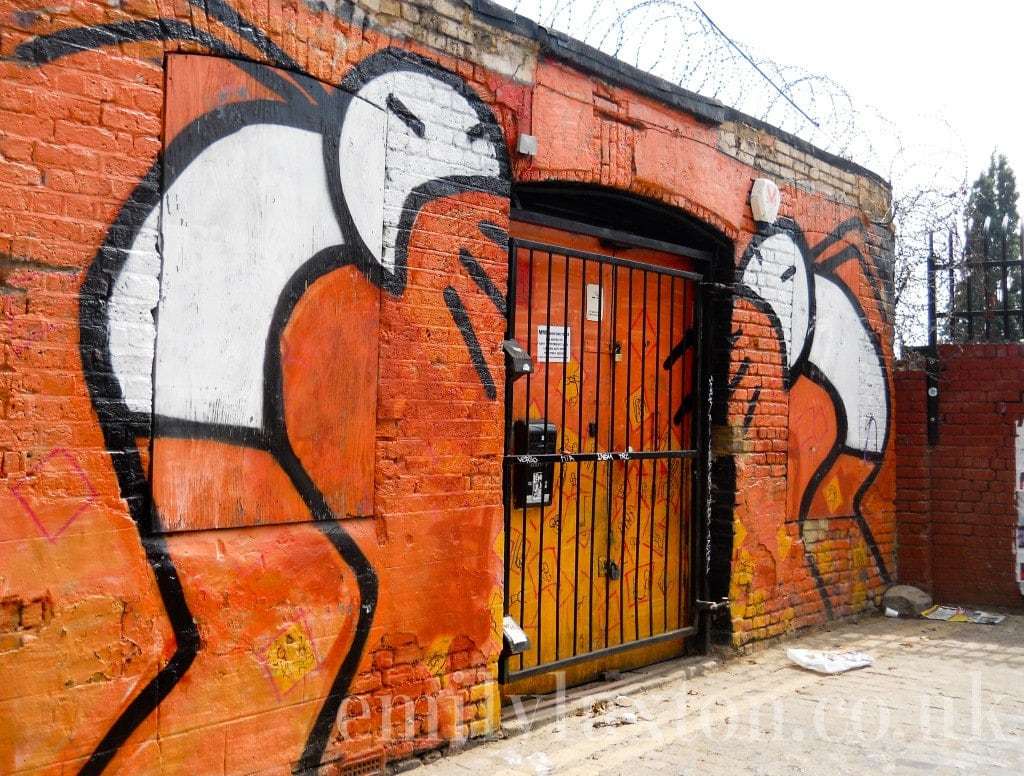 6 – End of Brick Lane
Carry on to the top of Brick Lane. On the other side of Bethnal Green Road (G) you can see a few more fantastic pieces, including another Stik, as well as a "legal wall" used for commissioned street art, usually advertising.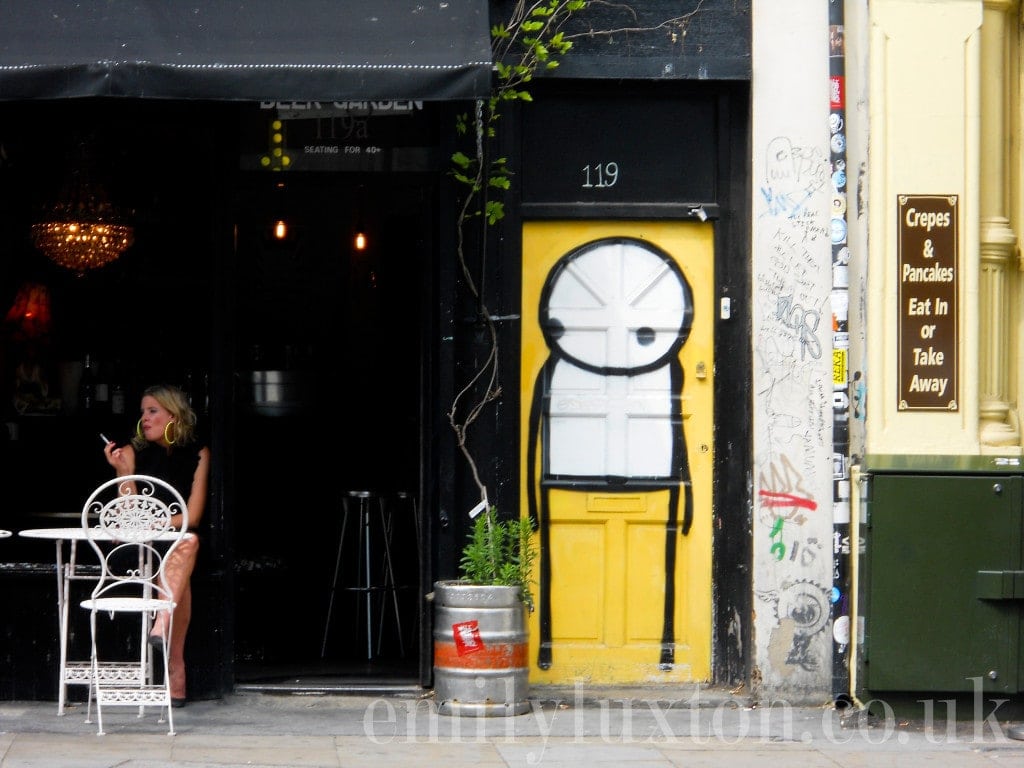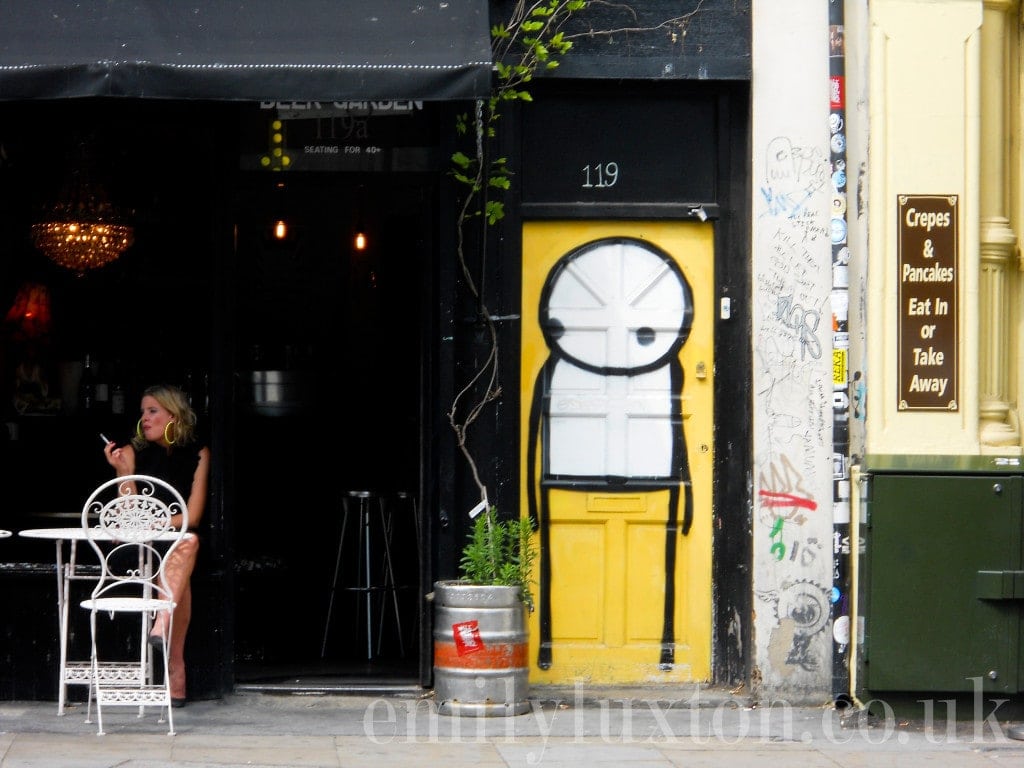 If you're in need of refreshments at this stage, there are plenty of great bars and cafes along this section of Brick Lane. I like the shabby-chic Casa Blue for its fab cocktails.
Don't miss the chance to visit the justifiably famous Beigel Bake. Considered by many to be the best bagels in London, they're particularly famous for their salt beef bagels. These are served up with huge chunks of salt beef and mustard. Open 24 hours, this incredible bakery also makes a great post-club pit-stop!
7 – Bacon Street
Head a short way back down Brick Lane and turn right at Bacon Street. There's always plenty of street art around here – including top names like Jimmy C and Malarky.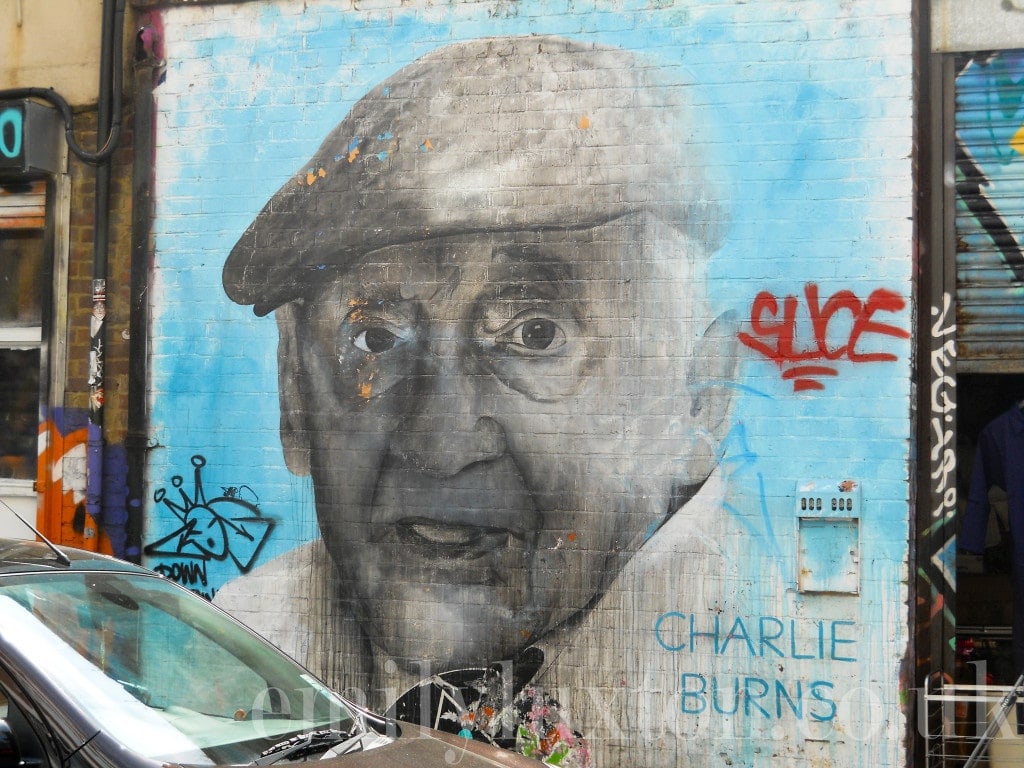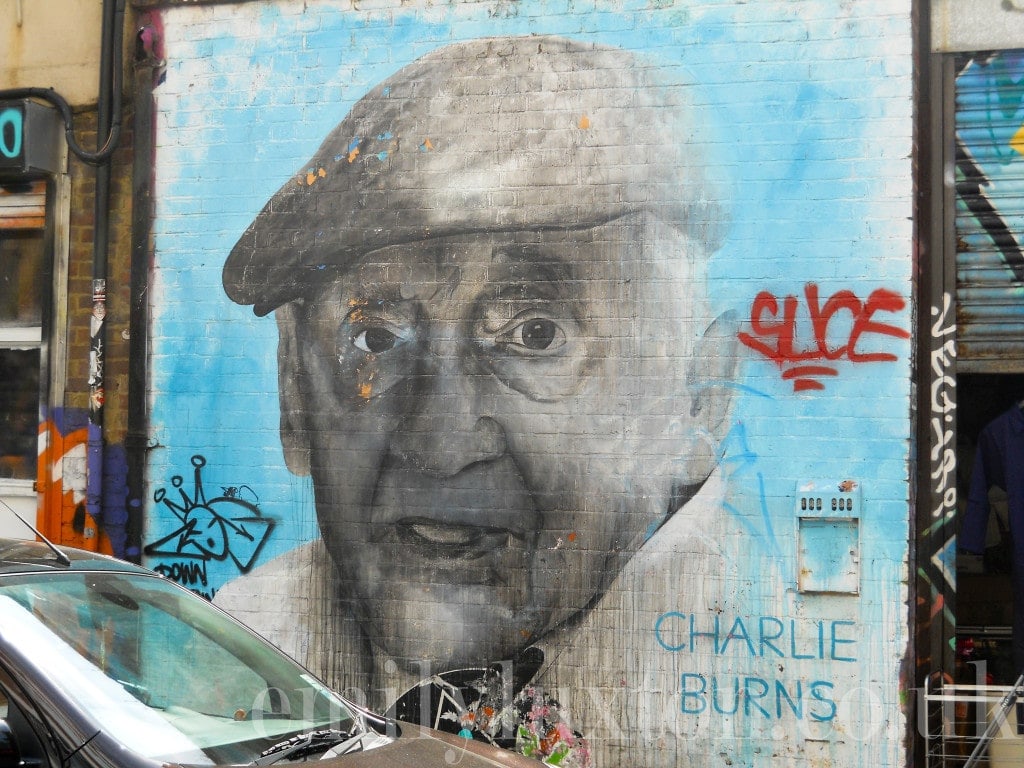 The real treasure here, though, is a gorgeous black and white portrait of Charlie Burns, the "oldest man on Brick Lane". Charlie was a ninety-six-year-old resident known as the King of Brick Lane, known for watching the world pass by from the passenger seat of his daughter's car seven days a week outside the family's second-hand furniture store. You can read a fascinating interview with him at Spitalfields Life.
8 – Sclater Street
Turn right into Sclater Street (H) and walk right to the end. Sclater Street used to be a good spot for street art, but recent renovations had left it fairly bare last time I visited. However, you might spot one or two pieces. At the end of Sclater Street, cross over Bethnal Green Road (the crossing is around the corner to the right).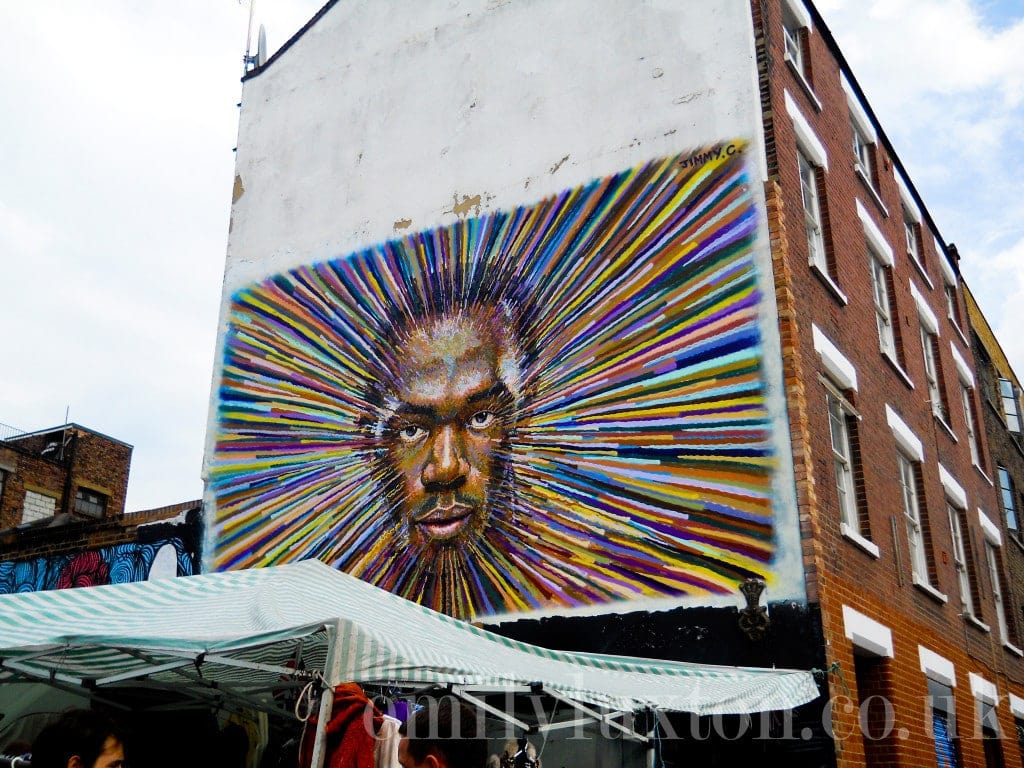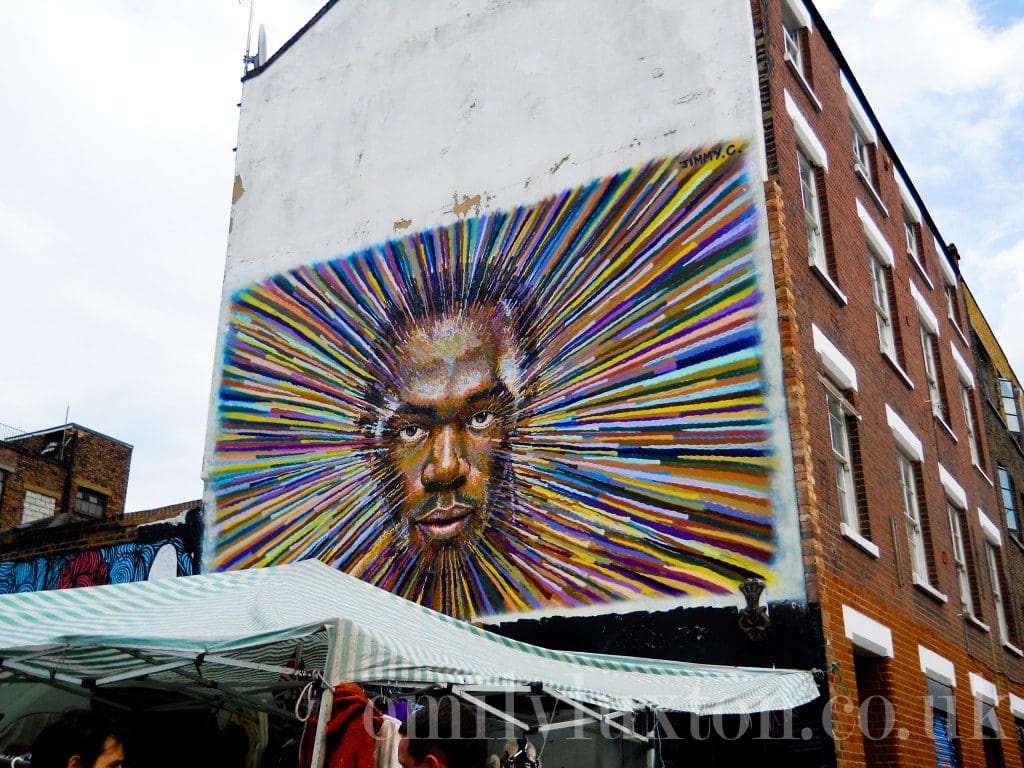 9 – Club Row
Take a left into Club Row (I), where you will see another Jimmy C portrait outside Lounge Lover on Whitby Street. There's also a squirrel by Roa.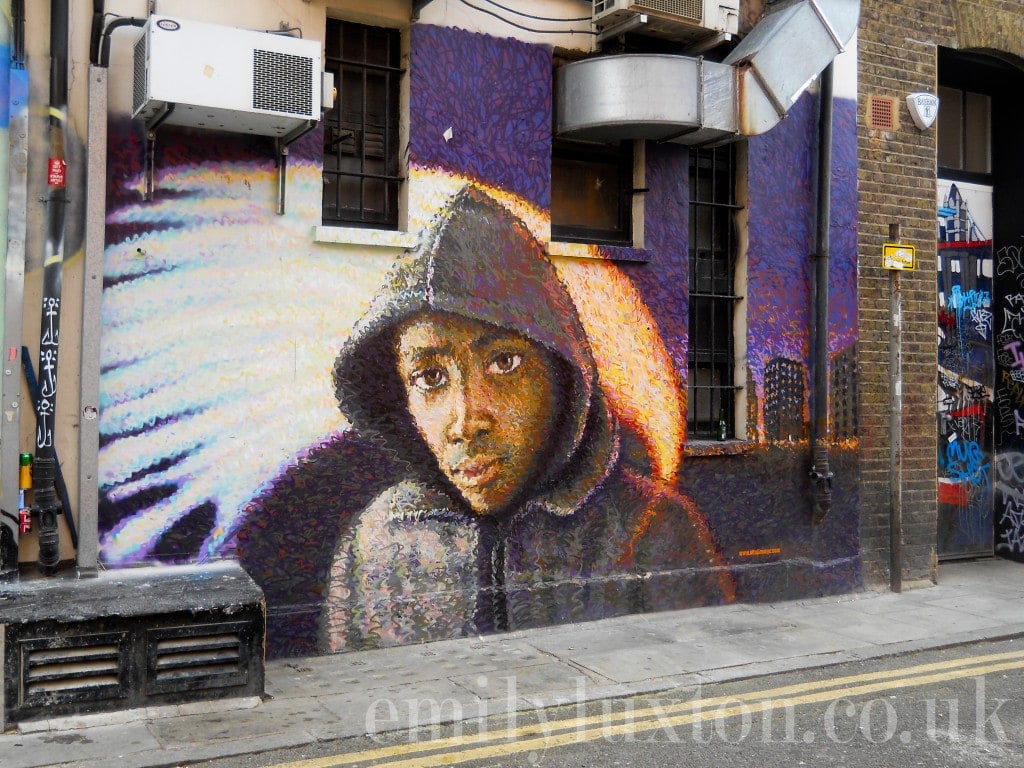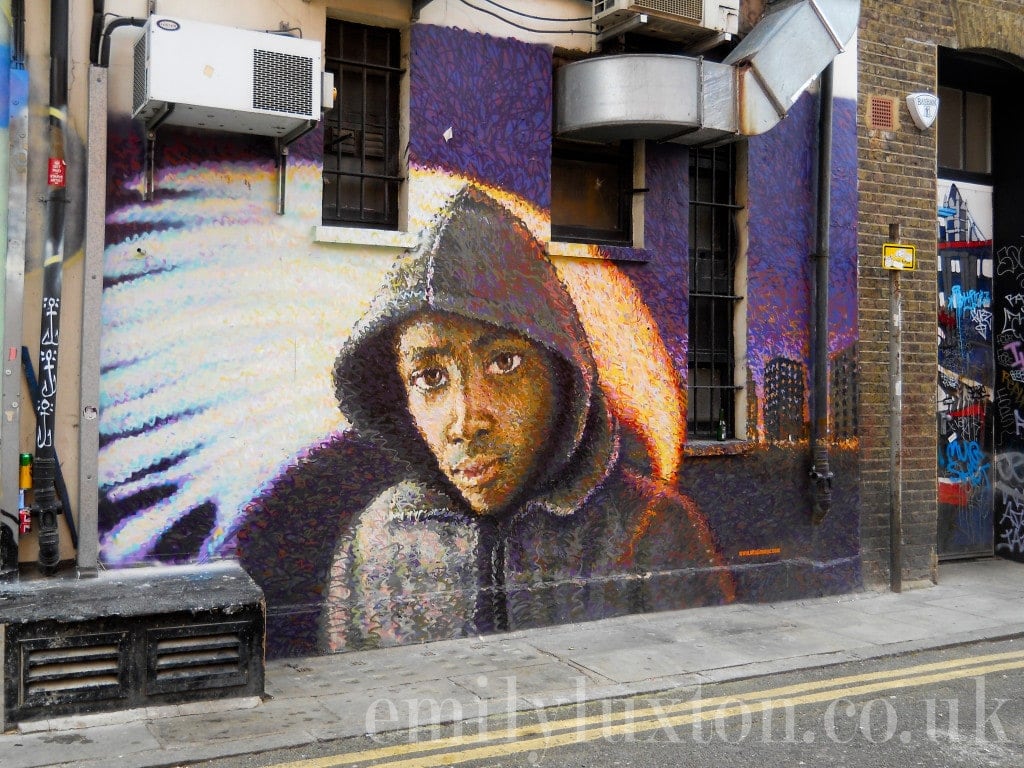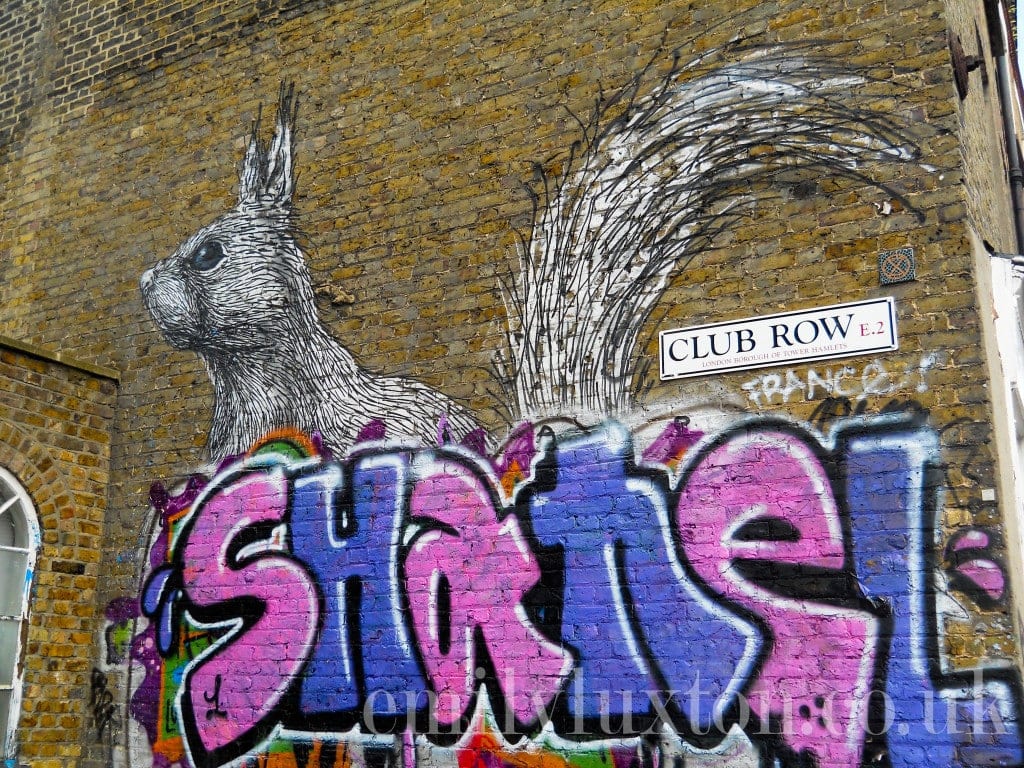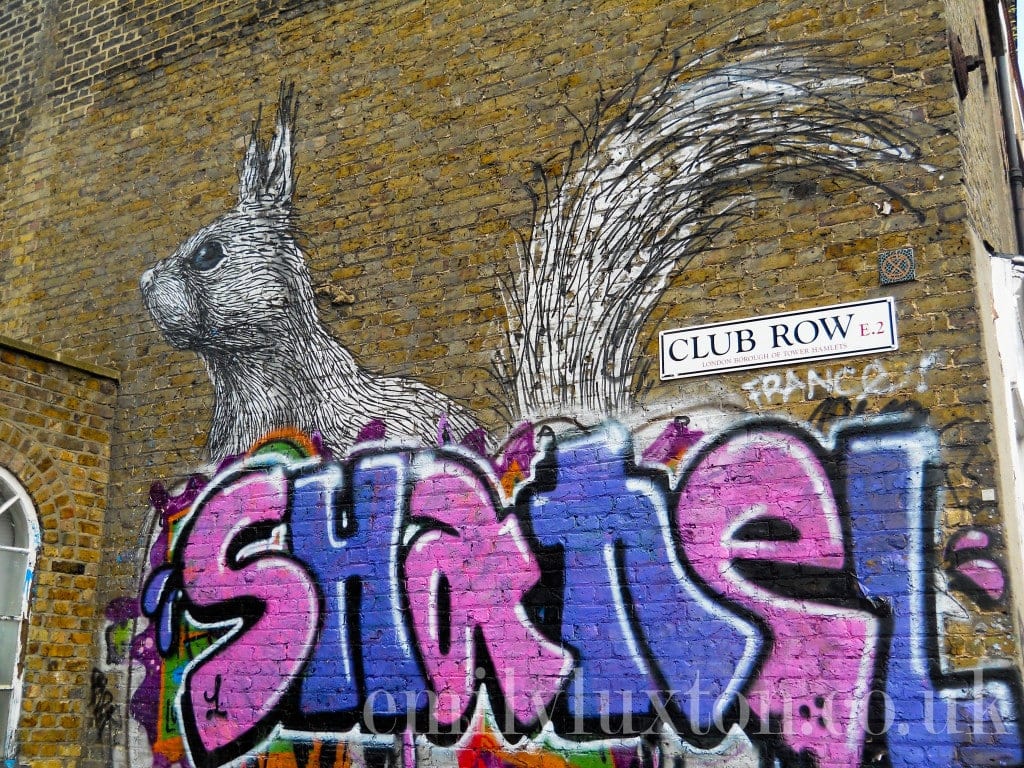 10 – Redchurch Street and Ebor Street
Turn left into Redchurch Street – where there's always plenty of street art to discover – and then left again onto Ebor Street (J), where you will find Eine's Anti and Pro walls.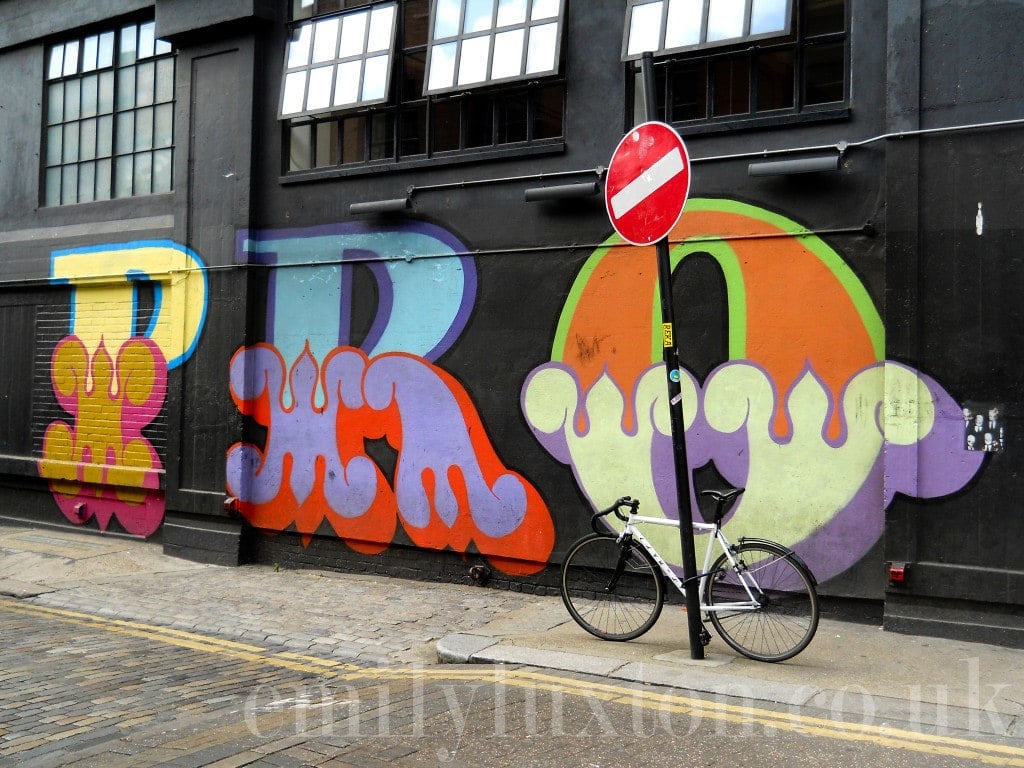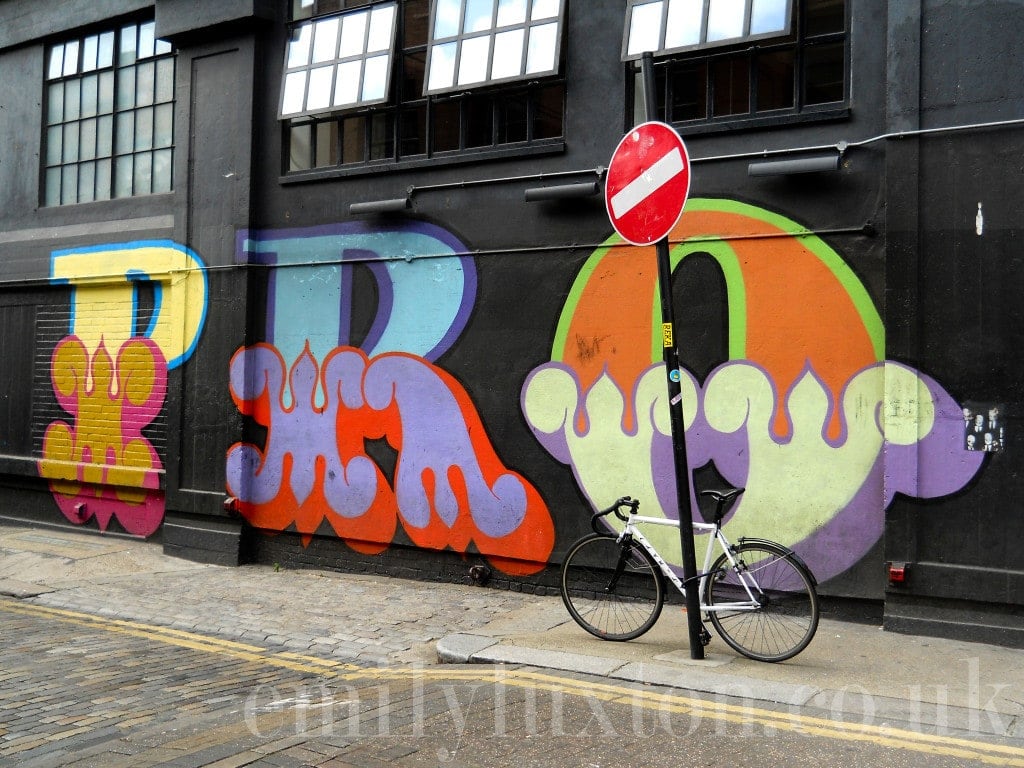 This is the end of the Brick Lane street art tour – although there is still loads left to discover! From here, it's a short walk to Shoreditch High Street overground station or about a twenty-minute walk to Liverpool Street.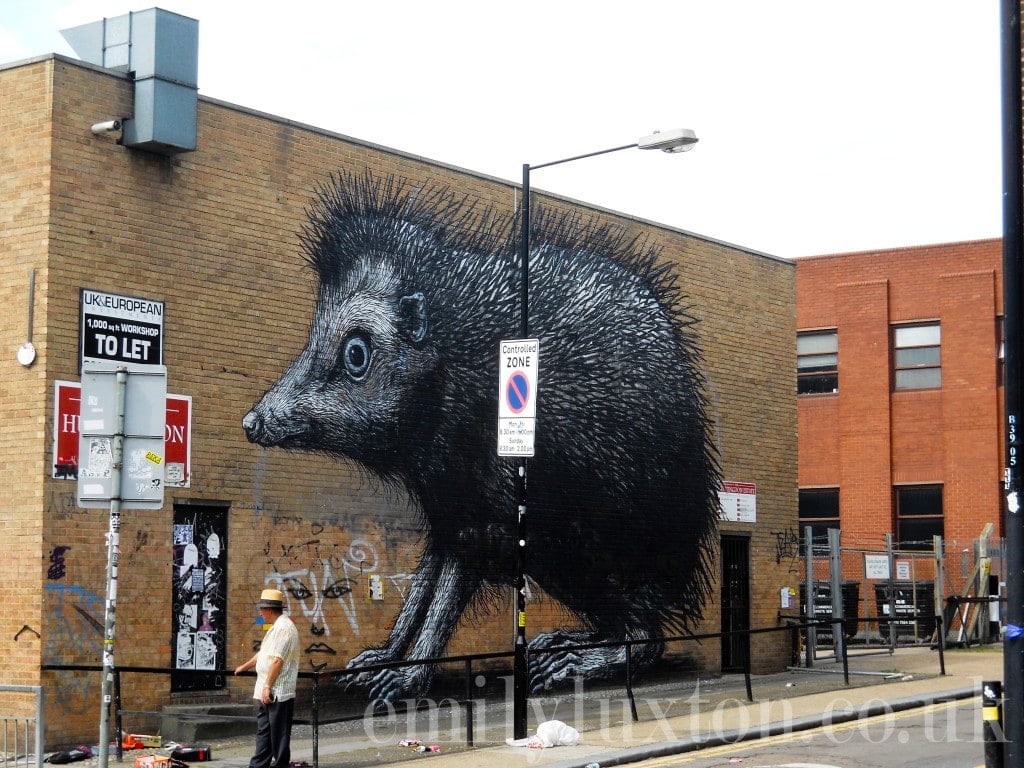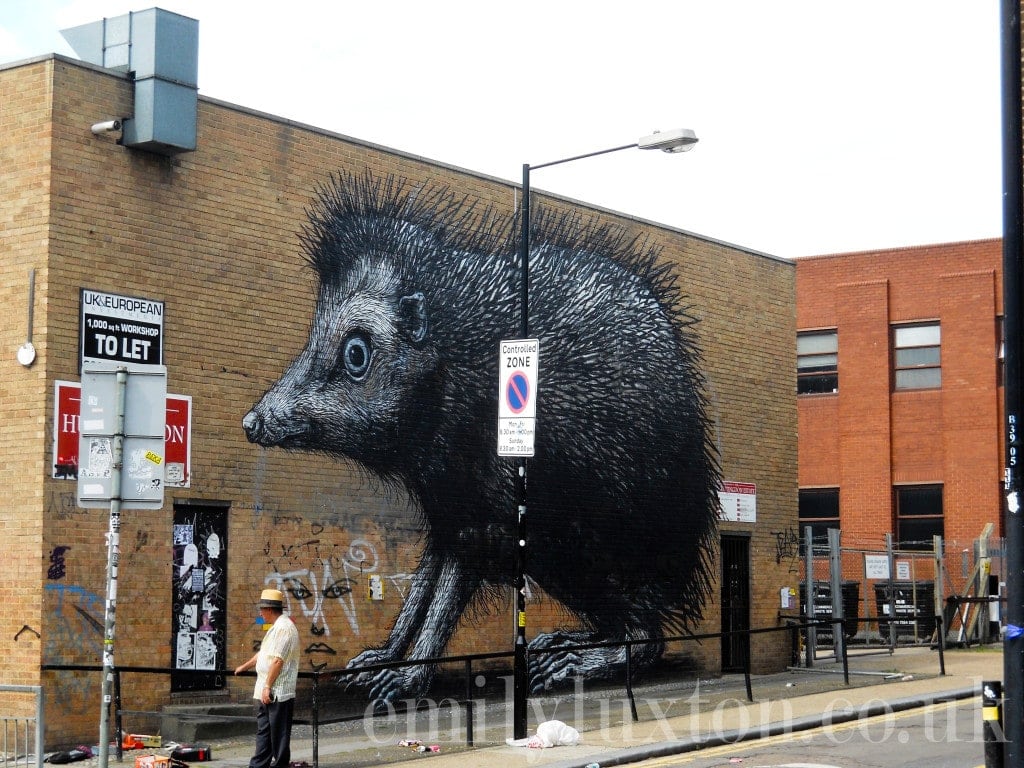 Did you find this Brick Lane street art walking tour useful? Let me know in the comments – and if anything has changed then please help me keep the guide up to date!
Read More
Slums and Street Art Self Guided East London Walking Tour
East London Street Art – Guide to Popular Artists