Some posts on this site contain affiliate links. If you book or buy something through these links, I earn a small commission (at no extra cost to you). Take a look at my privacy policy for more information.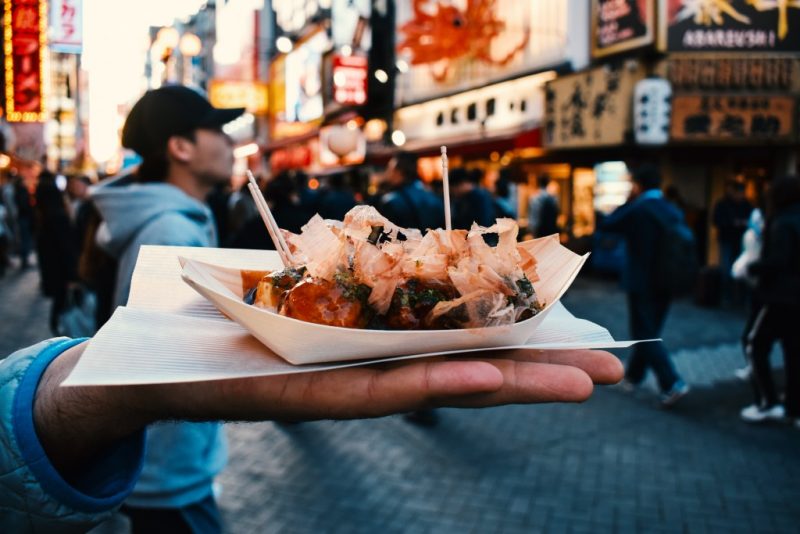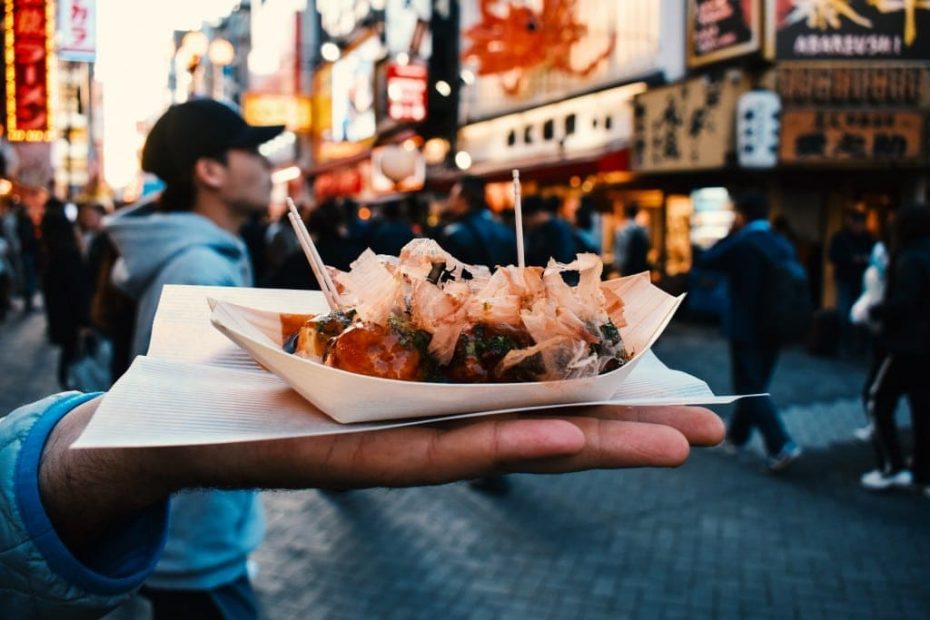 When I was planning my trip to Japan, I knew I had just enough time to visit either Kyoto or Osaka, so I asked my Facebook friends which one. Everybody overwhelmingly voted for Kyoto, so that's where I decided to go. But then I discovered that Pamela, a friend I'd made in Bali a few weeks before, was going to be in Osaka while I was in the area. So I changed all my plans and headed there* – and wow am I glad I did.
*In the end, I found time to visit Kyoto too. Read all about it in this post.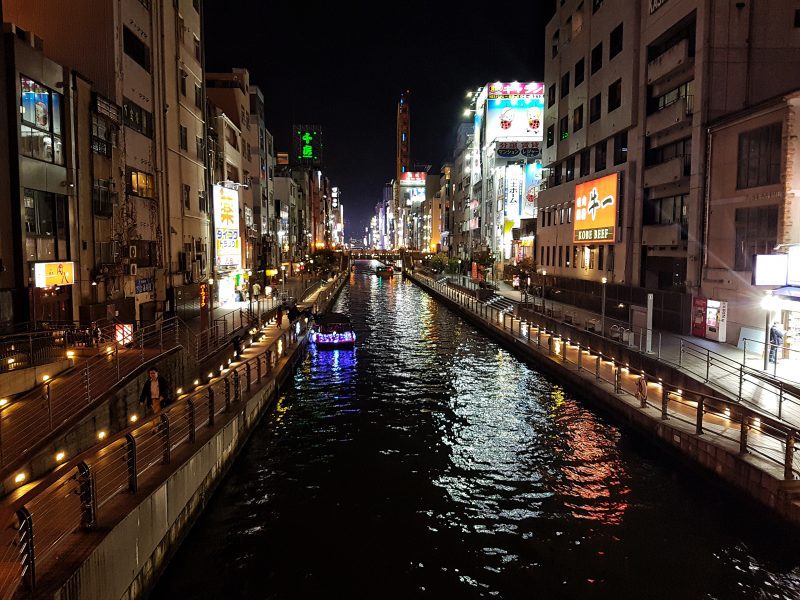 Osaka Food Guide
I feel like all I did while I was in Osaka was eat and drink! There were two crazy nights of bar crawls (thanks Moonshine Bar for letting me karaoke my little heart out till 4am, and to the guys at Cherry Bomb which was easily my favourite little dive bar in the city).
But those nights were supplemented with days of eating everything we could get our greedy mitts on.
Pamela and I bonded over our shared love of food (aka greediness) and together we scoured the city, particularly the area around Dōtonbori and Shinsaibashi, for the best food in Osaka. If you want more details, check out this fabulous Osaka food guide, but here are a few highlights to get you started…
1. Takoyaki
Tako = octopus. These little balls are everywhere in Osaka. They were invented here, and they're the city's most popular street food. Grilled or fried octopus sits at the centre of a gooey ball of batter filled with tempura scraps (tenkasu), pickled ginger, and green onion.
They're cooked en-masse in a special takoyaki pan to get the perfect ball shape, brushed with takoyaki sauce and mayonnaise, and finally smothered in katsuobushi (dried bonito flakes). The description can sound off-putting, but trust me… takoyaki balls are delicious. Don't miss them!
Best Place to Try: From any of the street stands on Dōtonbori road or at Kuromon Ichiba Market.
2. Okonomiyaki
Okonomi = "what you like" and yaki = "grill". So Osaka's iconic dish is often loosely translated to "as you like it pancake". Although it's not sweet or fluffy, or even particularly disk-shaped, Okonomiyaki is pretty similar to a pancake.
Batter and cabbage are fried – usually on a teppan griddle at the centre of your table – and then heaped with toppings. Choices include octopus, squid, prawn, pork, beef, minced meat, and shrimp. Or at Ajinoya you can order the Ajinoya Mix Okonomiyaki – which comes with everything!
Best Place to Try: Ajinoya, Chome-7-16 Nanba Chūō-ku, Osaka (Google Maps)
3. Ramen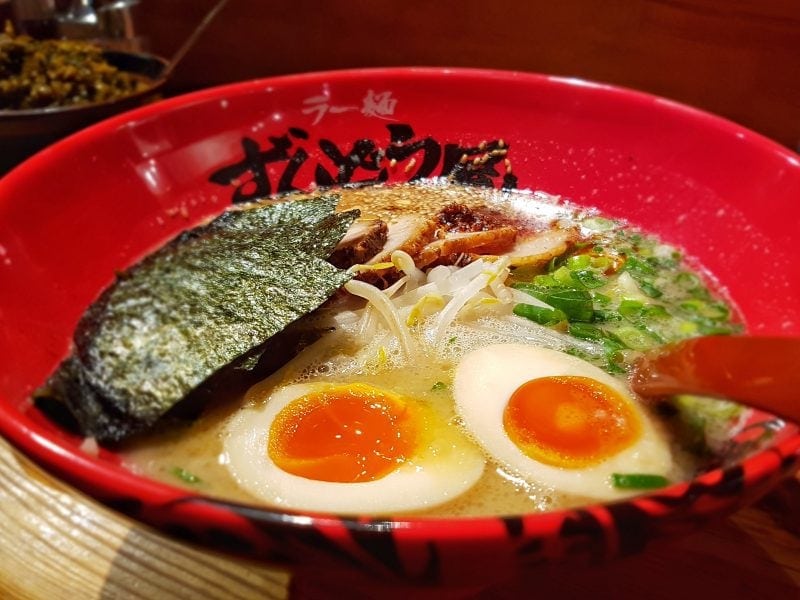 We hung out with quite a few ex-pats while we were bar crawling, and all of them were full of recommendations for the best ramen in Osaka.
You could spend your whole time in the city eating only ramen and probably never get bored (I know I wouldn't), so it's worth checking out a few different shops. But my favourite was Ramen Zundoya in Shinsaibashi. The portions are huge, the broth is really rich, and you can add a bunch of optional toppings to customise your ramen.
Best Place to Try: Ramen Zundoya, 1 Chome−5−7, Shinsaibashisuji, Chūō-ku, Osaka (Google Maps).
4. Conveyor Belt Sushi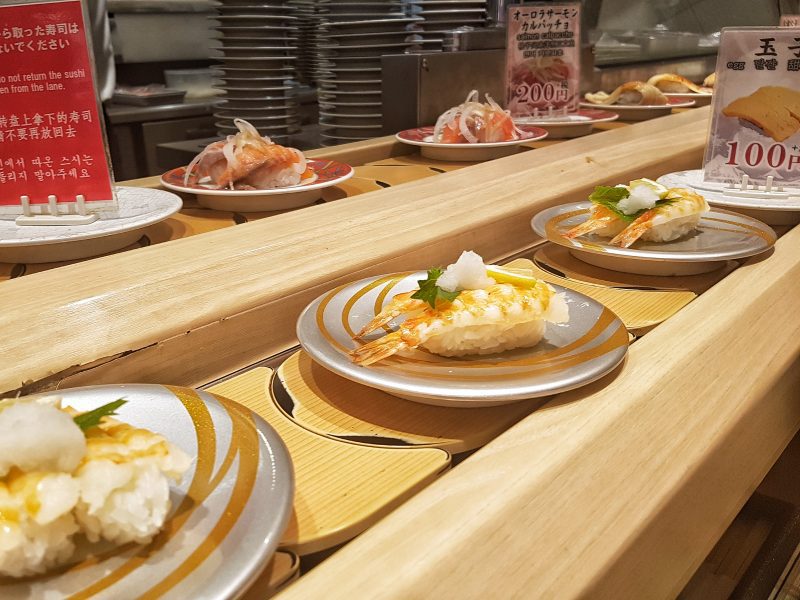 You can't go to Japan and not eat sushi. I've never been a big fan, and even I loved it there. And for those who can't get their heads around raw fish, there are plenty of cooked options.
The best place we found was Daiki Suisan (Dōtonbori branch). The food sails past on a conveyor belt on colour coded plates, and you simply help yourself (you can also order from the menu).
By the end of our session we'd stacked up some 20 or so plates between us, but the bill was still surprisingly reasonable. I loved the grilled salmon, but die-hard sushi fan Pamela was all about the raw fatty salmon. The fattier the better, apparently. Don't miss this place for a fun, and fairly well priced, sushi dining experience in Osaka.
Best Place to Try: Daiki Suisan, 1−7−24 Dotonbori, Chūō-ku, Osaka. (Google Maps)
5. Melonbread Ice Cream Sandwich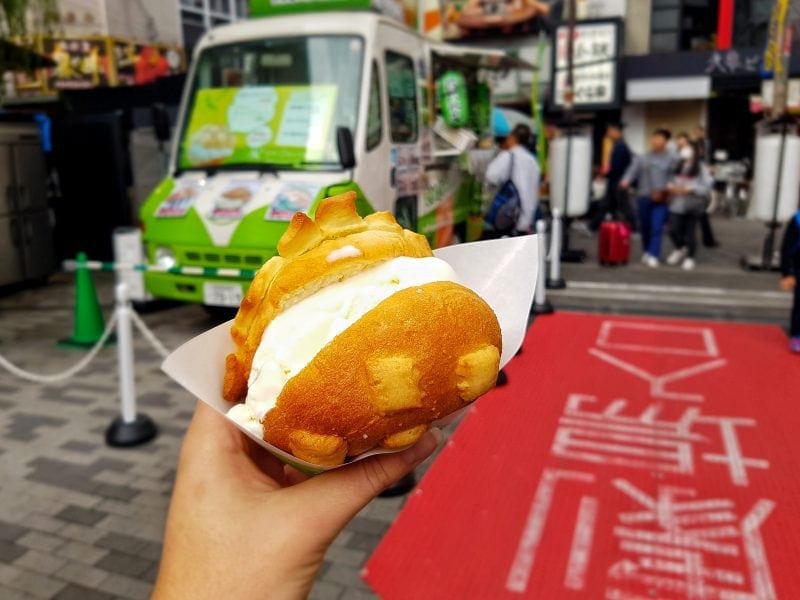 Melon Pan, aka Melonbread, is a popular Japanese sweet bread roll that contains absolutely no melon. It's named Melon Pan because of its distinctive outer crust, which looks a little like a melon.
The folks at Melonpan Ice, a chain of stores across Japan, have elevated this tasty bread into something even more delicious… and it must not be missed! They serve the fresh-baked bread still warm and stuffed with ice cream, to create the perfect, creamy, hot-and-cold dessert. This was one of my favourite discoveries in Osaka!
Find it at: The street food square in Dotonbori. Melonpan Ice food truck, 1 Chome-4-19 Dōtonbori, Chūō-ku, Osaka (Google Maps).
What's missing from this list? If you have a great tip for food to try in Osaka, scroll down and leave me a comment!
Read more
Read this post on the best day trips from Osaka if you fancy going further afield.
Heading to Tokyo? Check out my guide to the most insane Tokyo food adventures!
Found this post helpful? Please pin it and share the love…