Some posts on this site contain affiliate links. If you book or buy something through these links, I earn a small commission (at no extra cost to you). Take a look at my privacy policy for more information.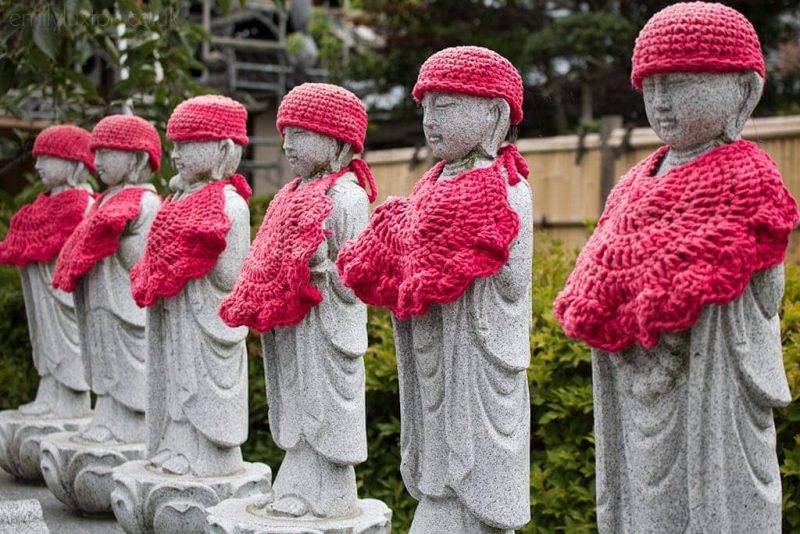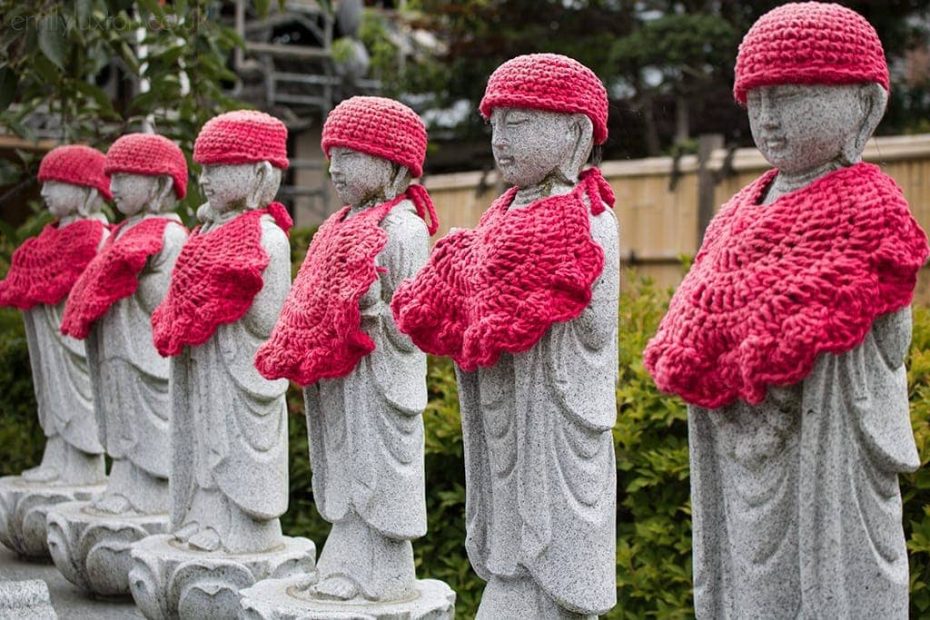 Aizuwakamatsu is a castle city in Japan's Fukushima Prefecture, a few hours north of Tokyo. Easily reached by train, the city is surrounded by green countryside and sloping mountains. This small but fascinating city has so much to offer – especially in terms of culture and history. Drawing on a rich heritage as Japan's "Samurai City", Aizuwakamatsu is a must visit for those interested in learning more about Japanese traditions or martial arts.
Visit a samurai school to learn Japanese archery, or head to an edo-period sake brewery. Explore the famous castle and discover the sad stories of the samurai wars fought around it. Or simply head to the nearby countryside and onsen resorts to relax! My Aizuwakamatsu travel guide tells you everything you need to know to have the perfect two- or three-day trip. This is everything you need to do, see, and eat in Aizuwakamatsu…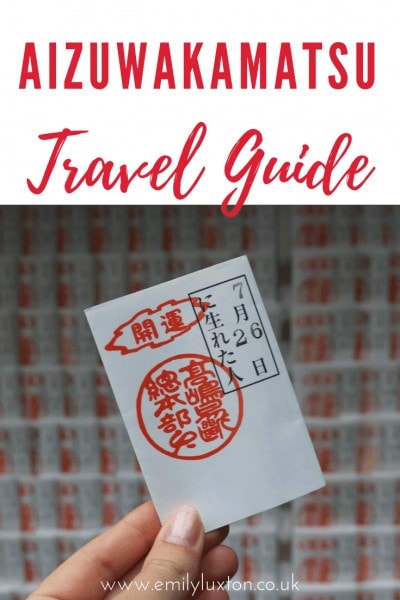 How to Get to Aizuwakamatsu
From Tokyo Station, take the JR Tohoku Shinkansen to Koriyama (about 1.5 hours). If you really want to travel in style, book Green Car tickets – the first class of the JR line. At Koriyama the transfer is easy: a huge mural welcomes you to the platform for boarding the train to Aizuwakamatsu. Hop on the JR Ban-etsu West Line to Aizuwakamatsu (about 1 hour 20 mins). It's the last station so it couldn't be easier!
The whole journey should take around three hours and there's only one change – easy! But if you prefer, you can always hire a car (prices start from £15 a day on RentalCars.com) and drive yourself there. That way you can make the most of the local countryside, and even stop off at some of the small towns around Aizuwakamatsu.
READ MORE: 17 awesome places to get off the beaten path in Japan
Wait, Is Fukushima Safe?
Perhaps memories of the 2011 reactor disaster in Fukushima are putting you off travelling to the region. Since I'm no expert, let me point you in the direction of this much cleverer article for peace of mind. But in brief; most of Fukushima Prefecture is safe to return to.
Numerous tests have been carried out and have found that radiation levels in many areas are back to a safe level. Aizu itself is very far from the site of the accident – and "levels in the entire region are now as low as normal background radiation around the world". So yes, it's safe to visit Aizuwakamatsu.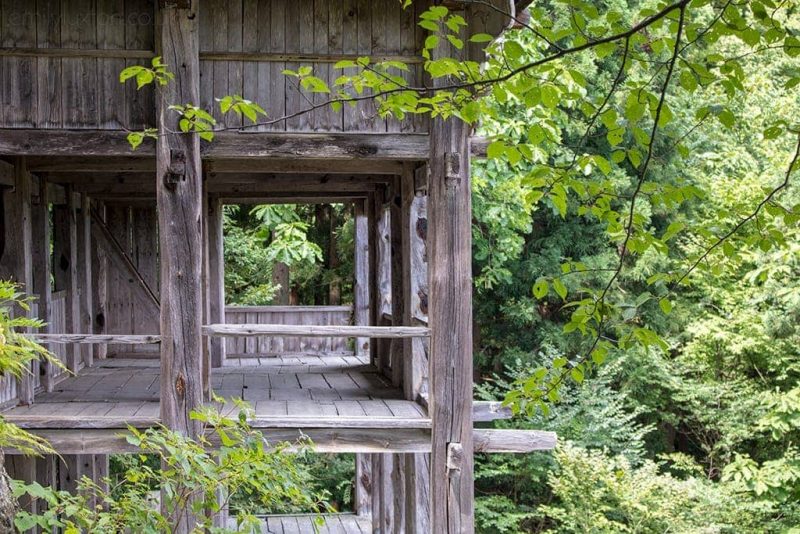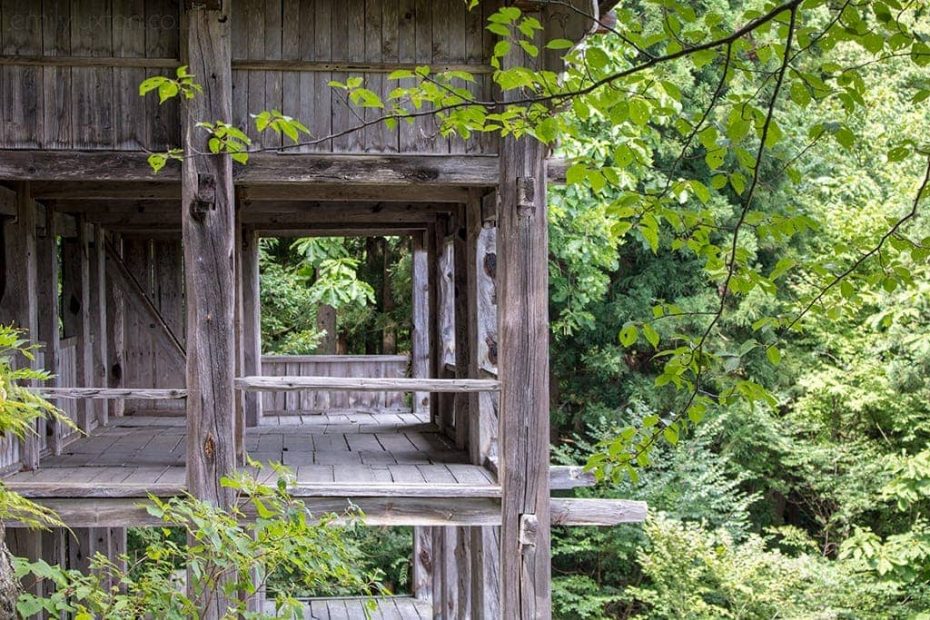 11 Things to do in Aizuwakamatsu
My round-up of the top things to do in Aizuwakamatsu and the surrounding area. This lot should keep you busy for a couple of days…
RECOMMENDED TOUR: Aizu Half-Day Private Trip with Nationally-Licensed Guide, from £65.75
Practice Kyudo (Archery) at the Nisshinkan Samurai School
One of the best things to do in Aizuwakamatsu is to visit the Nisshinkan. This was a school established in 1803 for the children of local samurai families, and it was famous for its high education levels and strict moral code. Today, you can visit to discover all about Aizuwakamatsu's samurai history. You can also try your hand at kyudo, Japanese archery, which is ideal for those interested in martial arts. Other activities include zen meditation, tea ceremonies, or painting local crafts.
Entry: ¥560 (archery ¥300 for ten minutes). Or you can book this tour with an English-speaking guide through Vitor, from £273.12.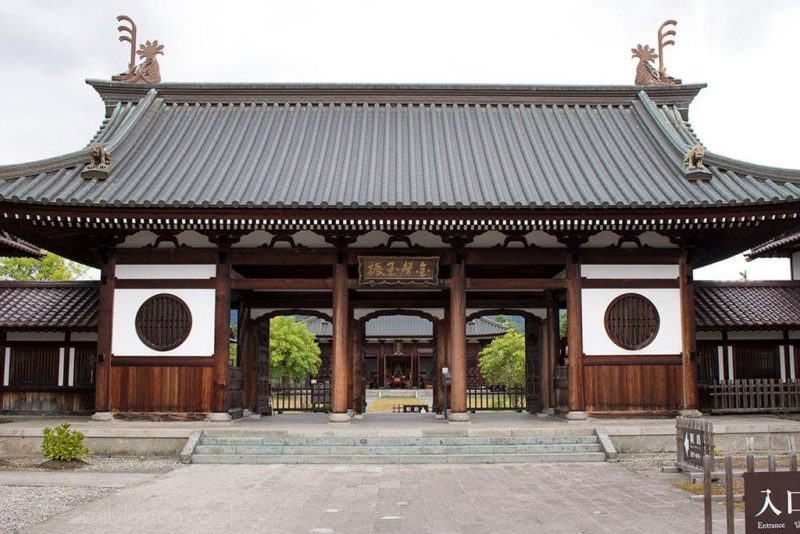 Aizuwakamatsu Castle
Also known as Tsuruga Castle or Tsurugajō, the historic castle at the city centre is known for its iconic red-tiled roofs. This is definitely one of the top things to do in Aizuwakamatsu and an absolute must-see. Again, you can learn all about the fascinating (and often brutal) samurai history of Aizu. And the views from the top of the castle are incredible.
Entry: ¥410, or ¥510 including Tea Room entrance.
Learn the Sad Story of the Byakkotai
One of the most popular, and memorable, stories from Aizu's recent history is that of the Byakkotai, or White Tiger Batallion. These were a group of samurai fighting in the Boshin War of 1868 – and they were among the last of the samurai in Japan. Retreating from battle, a group of twenty teenaged samurai, all aged around 17 years old, saw Aizu burning from the slopes of Mount Iimoriyama.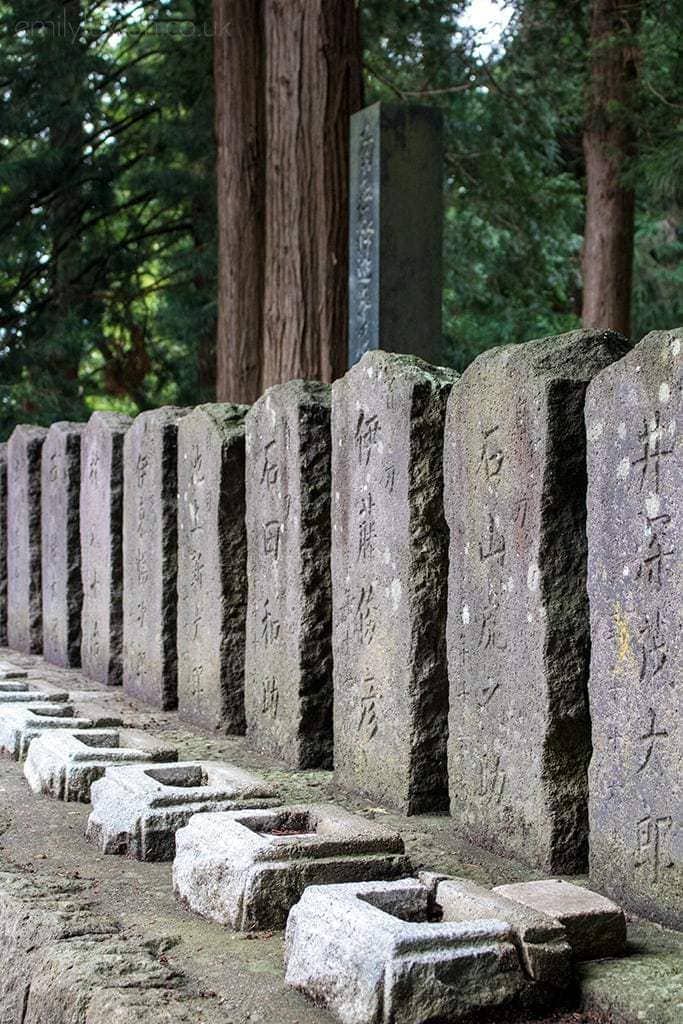 Mistakenly thinking that the castle was also on fire, and that the battle was lost, they followed samurai culture and committed seppuku – ritual suicide – using their own swords. It was important to samurai to die with honour, rather than surrender or be caught. The sad part of the story is that the battle wasn't lost that day, and the suicides were needless. Because the samurai were fighting the emperor, the government wouldn't allow their bodies to be buried for over a year – so their remains were left on the side of the mountain where they fell. Today, there is a proper grave and a memorial which you can visit. go with a guide to get the full story, or visit the nearby museum.
Entry: free
Sazaedo Temple
Also on the slopes of Mount Iimoriyama is a fascinating temple that's truly one of a kind. The tall, spiral-shaped Sazaedo Temple is built entirely from wood and dates from 1796. That's not the most impressive part, though. It's unique double-helix structure means that people climbing up the twisting path inside never pass those coming down, as it's a totally separate path. The temple is pretty amazing, considering when it was built, and is full of history. Definitely a must do in Aizuwakamatsu.
Entry: ¥400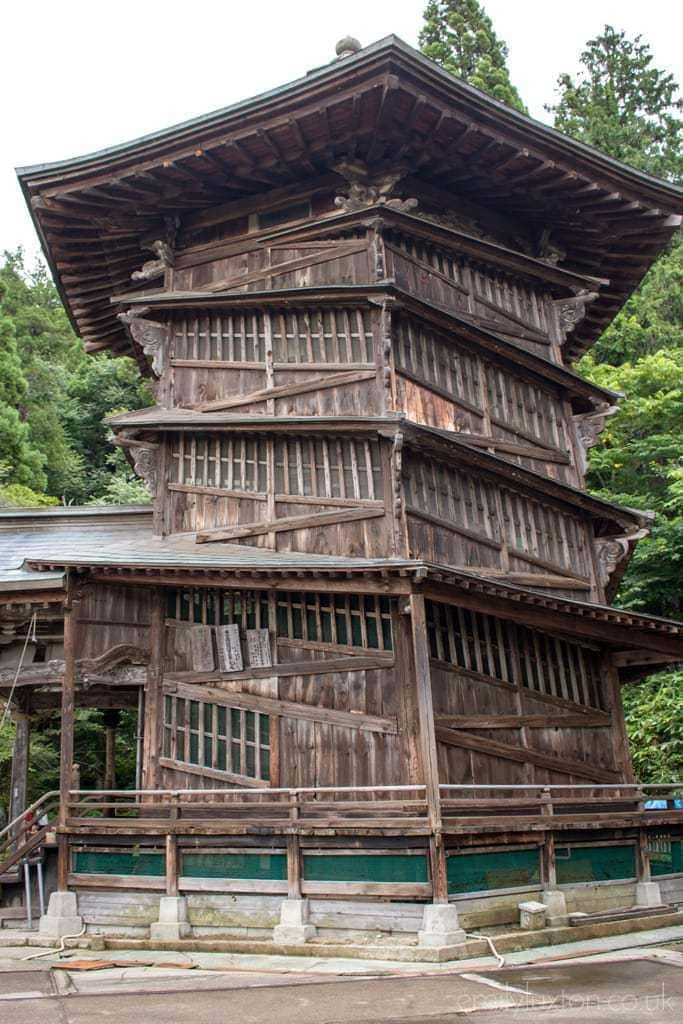 Explore a Samurai Residence
If you want to learn more about the samurai history of the city, the Samurai Residence is another great thing to do in Aizuwakamatsu. Here, you can discover more about every day life as a samurai, and about what life was like during the Edo Period. It's also a beautiful example of traditional edo period architecture.
Entry: ¥850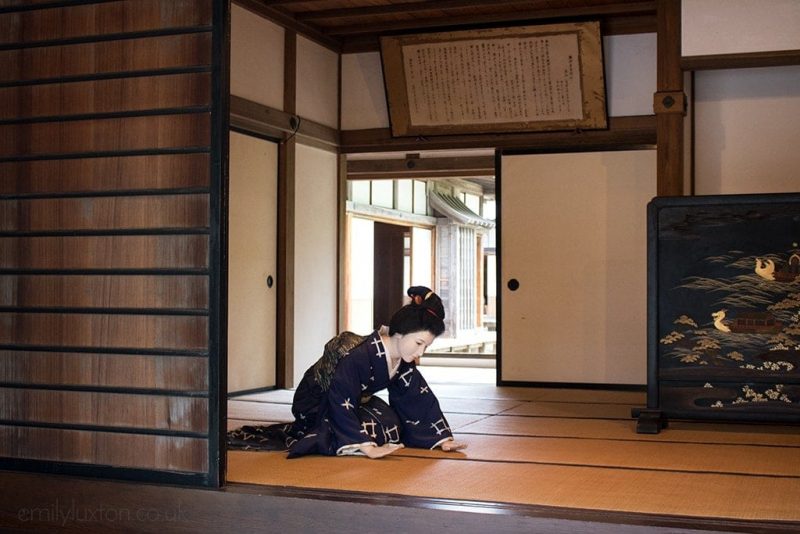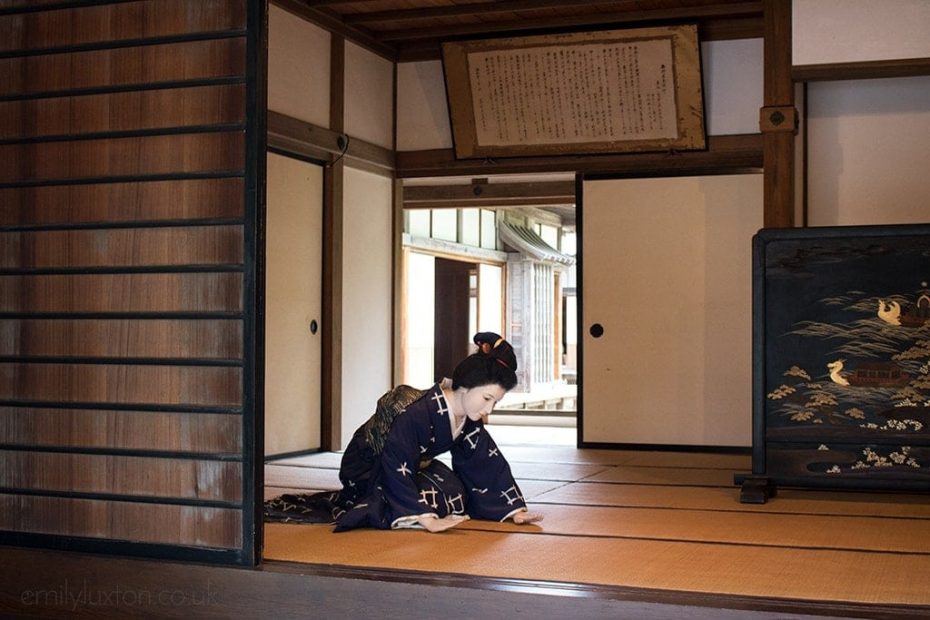 Sake Brewery Tour and Tasting at Suehiro Brewery
Aizu is famed for its sake, thanks to pure waters and fertile rice fields. There are several gold medal winning sake breweries in town, so don't miss the chance to try a few of the local drinks. At Suehiro Brewery, visitors can enjoy a free tour of the brewery, a lesson in how sake is produced, and an exploration of the upper rooms of this historic brewery. More importantly, you can enjoy a tasting of several of the brewery's current offerings! Since they don't export, this is also one of the only places you can enjoy these award-winning sakes.
Entry: Tours and tastings are free – you just show up at one of the scheduled tour times.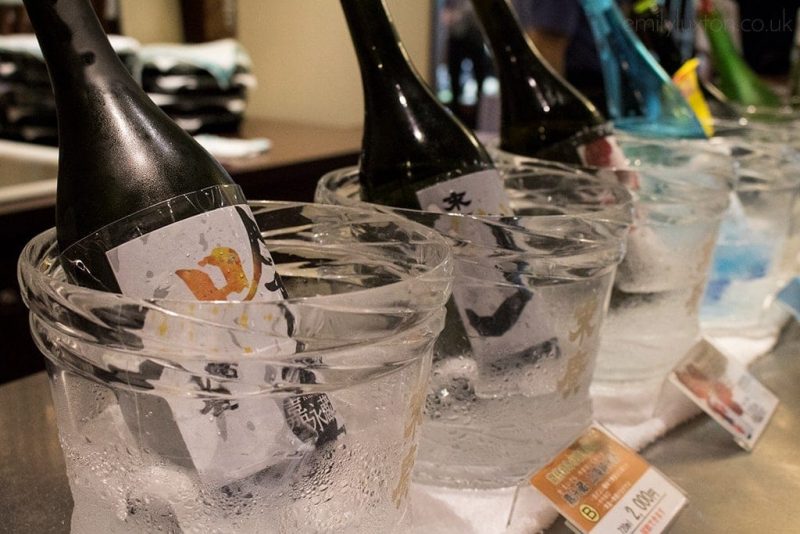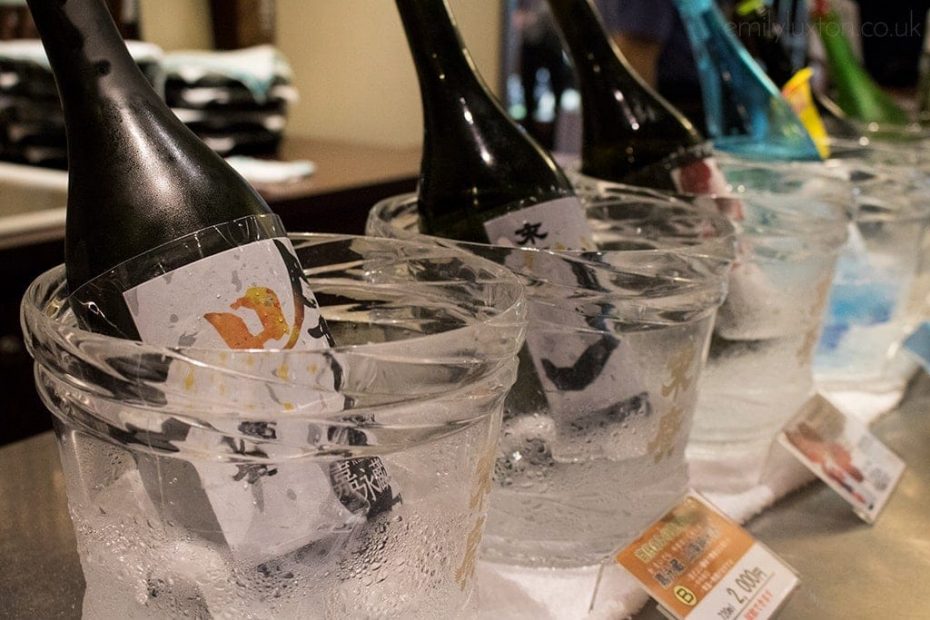 Sakudari Kannon Temple
If you have time, a visit to the Sakudari Kannon temple is one of the best things to do in Aizuwakamatsu. It's actually a little way out-of-town, down the road in Aizumisato – so you may find it easiest to hire a car to get there. This is another beautiful wooden temple, built to house a statue of Kannon (the Bhuddist goddess of mercy). There are 33 kannon temples around Aizu, which form a local pilgrimage, and this is the 21st on the route. Not only is this centuries-old wooden temple an impressive site, but it's a great excuse to get out into the beautiful countryside that surrounds Aizuwakamatsu.
Entry: free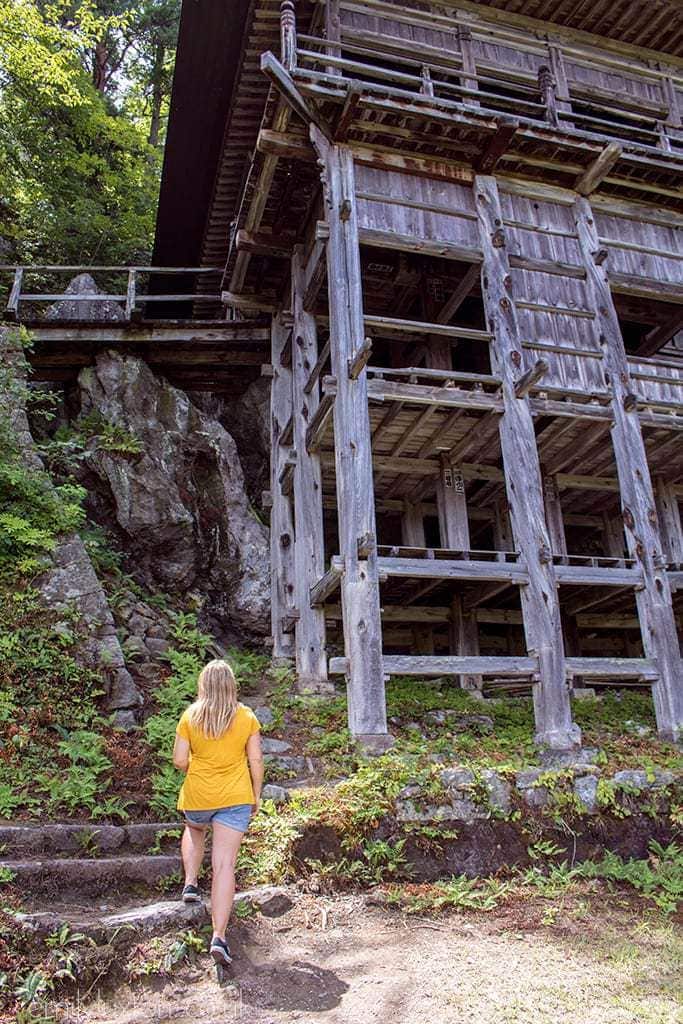 Rent a Kimono in Aizuwakamatsu
It's hard to resist the idea of a photo-op in a traditional kimono or yukata. Get stuck in to Japanese way of life and spend some time in a kimono – a great way to immerse yourself in the local culture, and look pretty doing it! Rent a kimono in Aizuwakamatsu from Sozai Hiroba and get Instagramming!
Recommended Tour: Samurai Kimono With hair and makeup Professional photography plan, from £124.93
Price: from ¥6,000 + tax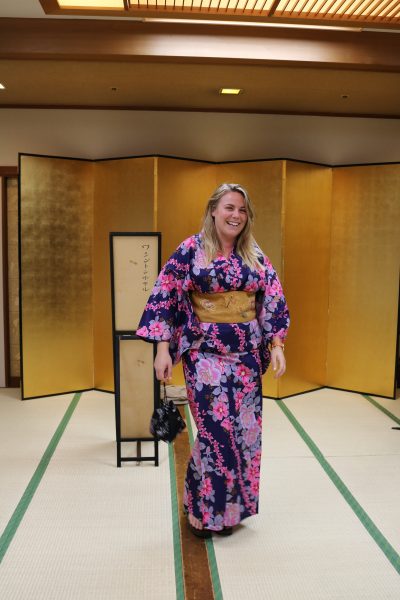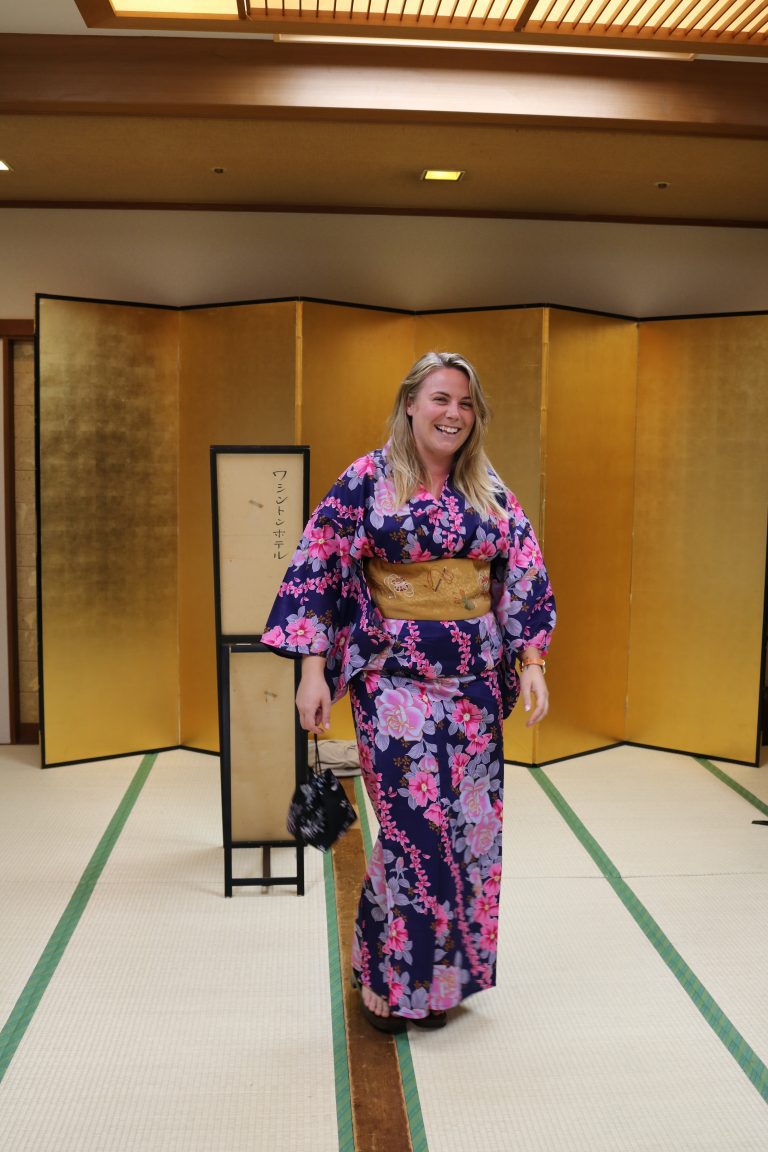 Hit the Traditional Shops on Nanukamachi street
Dotted along Nanukamachi street at the centre of Aizuwakamatsu are dozens of boutique shops and traditional craft stores. It's the perfect place to pick up a few gifts, and support some local artisans at the same time. My personal favourite was Nagatoya, a traditional sweet shop that's over 170 years old. If you're on the hunt for souvenirs, local crafts that you should keep an eye out for include:
sake
lacquerware
painted candles
Aizu cotton cloth (it has a distinctive striped pattern)
the adorable local folk toy Akabeko (a red cow that I'm obsessed with – you'll find a giant singing one outside the train station).
Okiagari Koboshi (another super cute folk toy and a symbol of luck and resilience)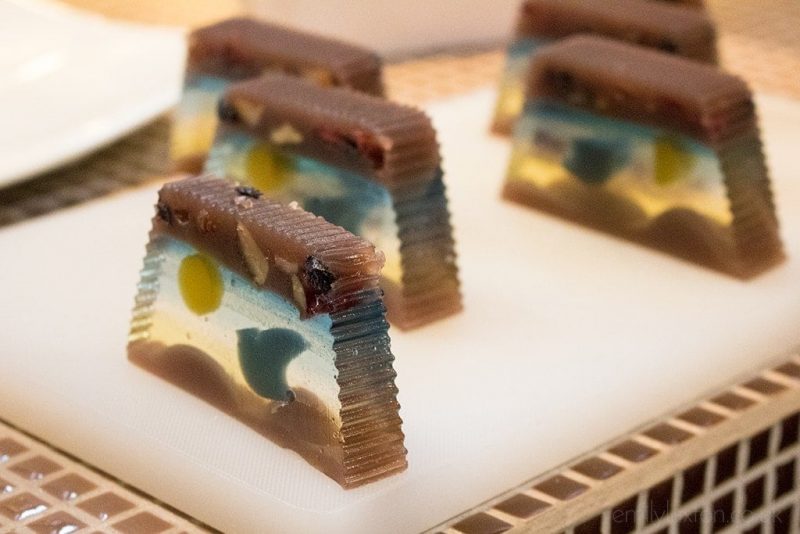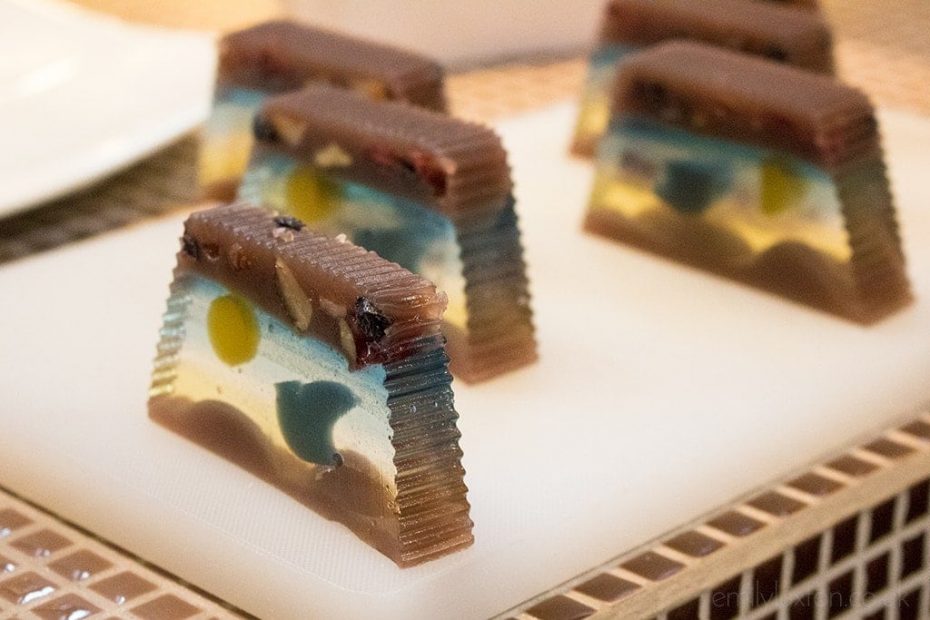 Learn How to Decorate Lacquerware
Lacquerware craft was established in Aizu in 1590 and it's still a thriving industry in the local area. Head to Suzuzen to try your hand at one of the more creative things to do in Aizuwakamatsu! You can choose a piece of ready-made lacquerware to decorate using coloured powders and varnish. It's a delicate process, but perfect for creative types. And you'll be left with a brilliant souvenir of your time in Japan.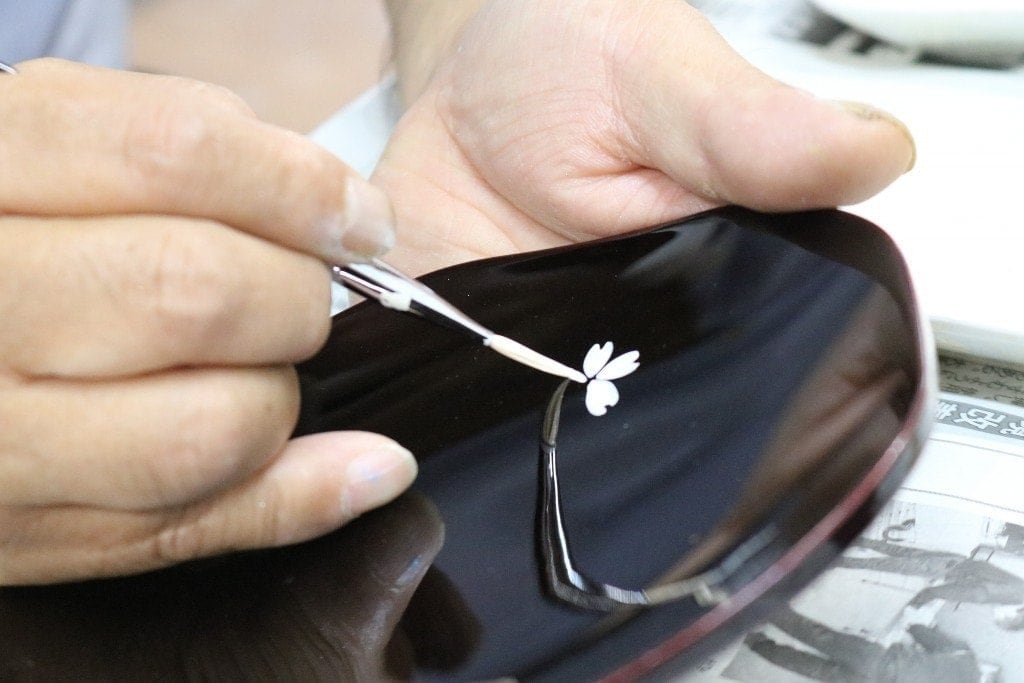 Price: ¥1,600 to ¥2,500 (depending on which item you want to paint). You need to make a reservation before arriving.
Recommended tour: Half-day tour experiencing local crafts in Aizu.
Relax at Higashiyama Onsen
If all that culture and history leaves you in need of some relaxation time, you're in luck. Aizuwakamatsu is blessed with natural hot springs, which are surprisingly close to the city centre. To best enjoy them, spend a night or two at an onsen hotel, or ryokan, at Higashiyama Onsen.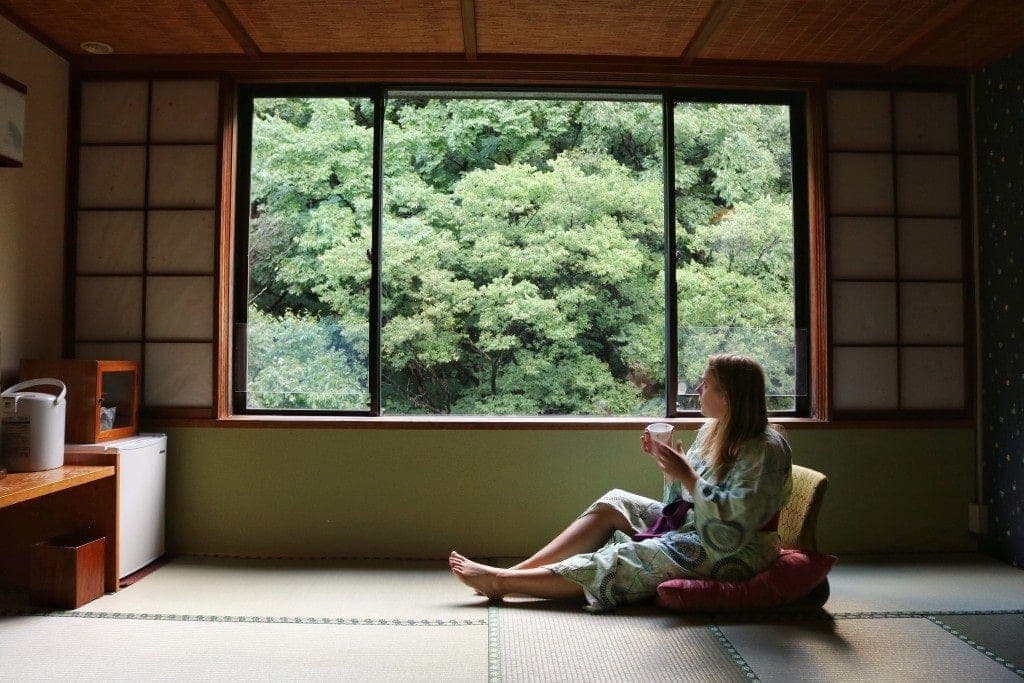 I stayed at Harataki Ryokan which is a gorgeous, traditional hotel with rooms overlooking the Yugawa mountain stream. Views of thick forest greenery and the sound of rushing water are the perfect way to relax… and the onsens themselves are glorious. There's an outside bath nestled into a private corner right beside the river, from which you can have a view of one of the small waterfalls that dot the river.
Price: From £140 GBP per night. Check prices on Hotels.com or Booking.com.
Best Restaurants in Aizuwakamatsu
Every region of Japan has its own local delicacies and speciality cuisine, and Aizu is no different. Below, I've rounded up some of the must-try local dishes in Aizuwakamatsu and recommended some of the best places to find them. Enjoy…
Must Try Dishes in Aizu
Sauce Katsudon – a breadcrumbed pork cutlet, deep-fried in a special sauce, and served on a bowl of rice and shredded cabbage. This is Aizu's signature dish and should not be missed!
Kitakata Ramen – characterized by unique, firm noodles, ramen from the small town of Kitakata is among the most popular styles of ramen in Japan, so it's a must-try in Aizuwakamatsu.
Wappameshi – a local dish of rice, fish, and veg steamed in a circular wooden box.
Aizu beef – less famous than kobe beef, but equally as delicious!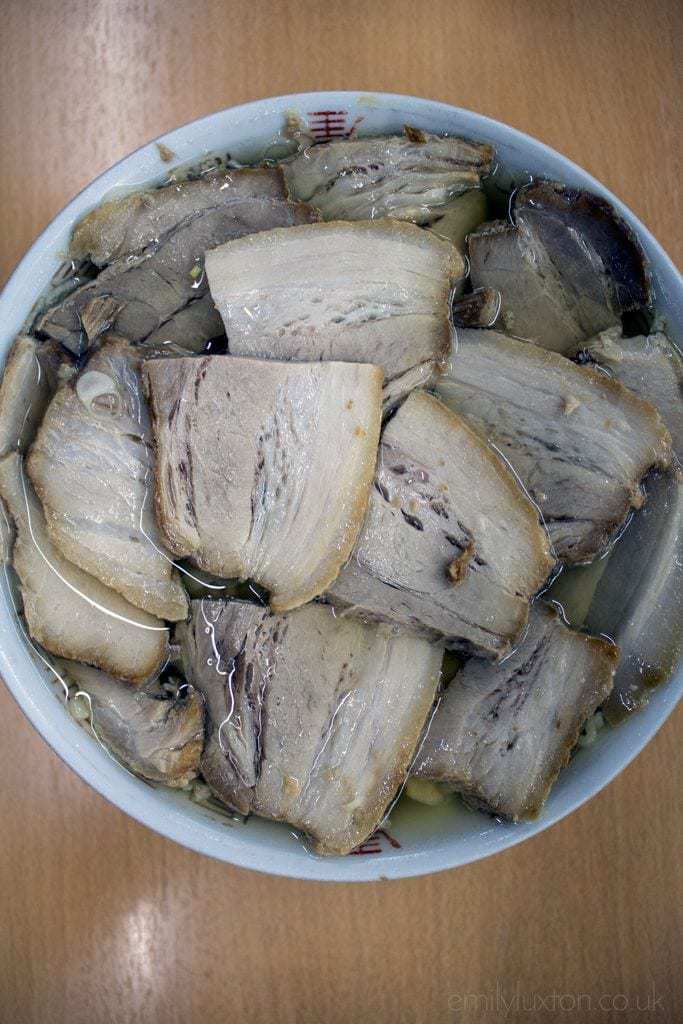 Horse sashimi – raw chunks of local horse meat. Perhaps not super tempting to Westerners, but surprisingly tasty. Enjoy with sake.
Dengaku – skewers of food basted in miso and grilled over an open flame. Apparently a samurai staple once.
Nishin Sansho-zuke – dried herring fillets sandwiched between sansho leaves and pickled in vinegar, sake, and soy sauce.
Kozuyu – a regional speciality and a must at wedding feasts in Aizu. It's a hearty soup veggies, shiitake mushrooms, and balls of wheat gluten.
Peaches – the region of Aizu is known for its peaches, which are huge and super juicy.
Takino
One of the best restaurants in Aizuwakamatsu is Takino. It's housed inside a beautiful, restored house that's around 200 years old, and is a must-visit. They serve up an array of Aizu's most traditional dishes, and this is probably the best place to try both wappameshi boxes and kozuyu. I had the most enormous and delicious lunch here – don't miss it!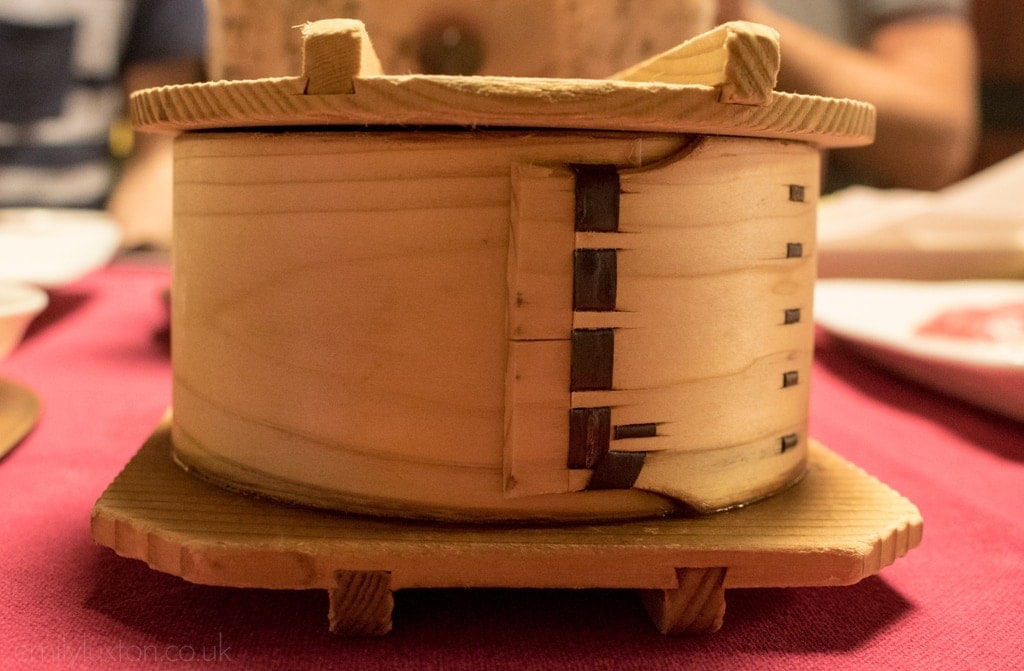 Bannai Shokudō
In the neighbouring town of Kitakata you'll find this insanely popular little ramen joint! Bannai Shokudō is actually part of a chain, but it was born right here in Kitakata and is the reason why the Kitakata ramen style is so famous. Although there are many places to try Kitakata ramen, this is probably the most iconic. Go early as there's usually a queue every morning and at lunchtime.
Jumonjiya
If you're looking for the best place in town to try sauce katsudon, Jumonjiya is right up there. Every restaurant has its own secret recipe for the sauce, so it's always different. But you can't go wrong with Jumonjiya – my serving of sauce katsudon was amazing. Be warned – you're going to need ALL your inner samurai strength just to pick up the enormous pork cutlets with chopsticks, let alone finish the dish!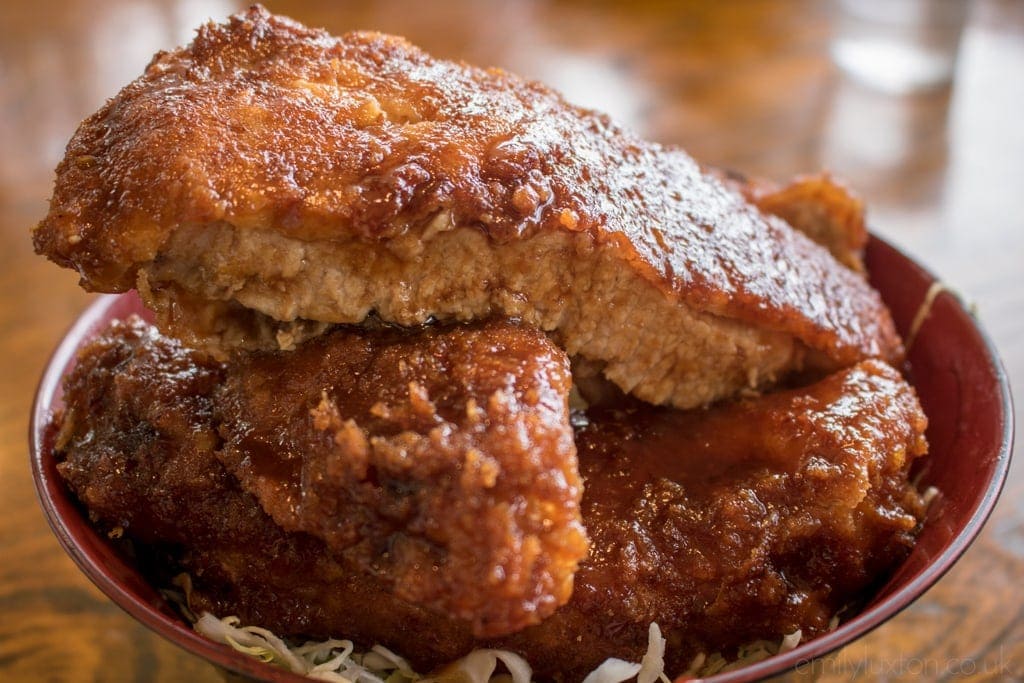 Harataki Ryokan
If you're heading to Higashiyama Onsen, Harataki Ryokan is a great spot for dinner. Waterside dining in a lovely restaurant with lots of traditional local dishes to try.
Mitsutaya
Back in the city centre, Mitsutaya is one of the best places to try those super tasty dengaku skewers. You can sit at a stool around the kitchen and watch your chef grill the skewers over an open flame. I recommend trying one of everything – it's all delicious!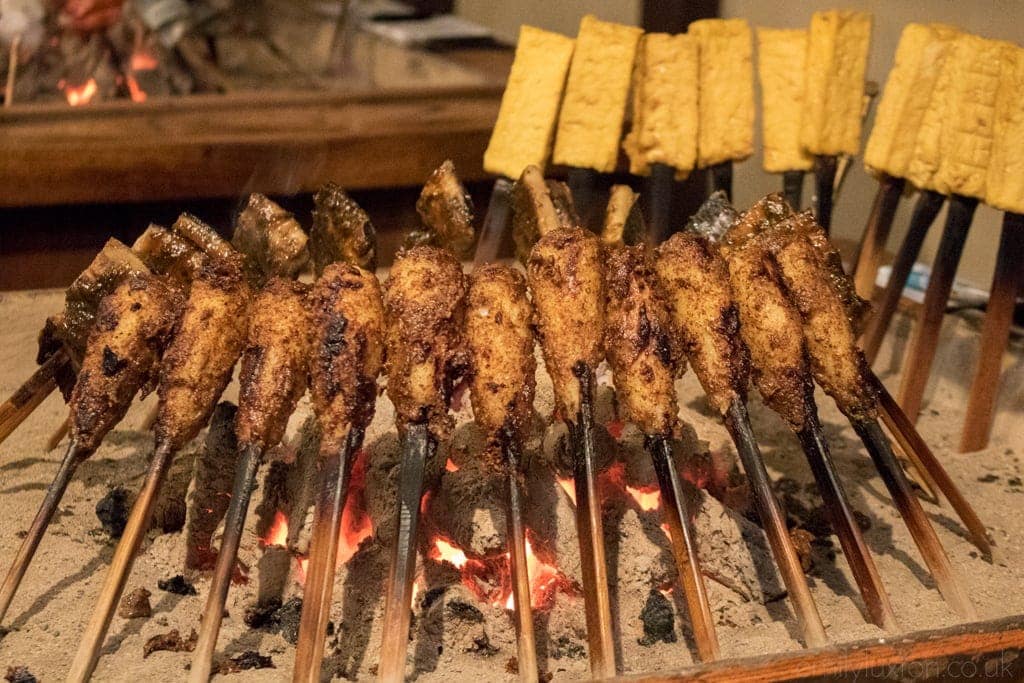 Izakaya Hairansyo
A cosy, traditional local spot, Izakaya Hairansyo is the perfect place to discover local snacks like Nishin Sansho-zuke and horse sashimi. Be sure to order some of the local sake to wash it all down. They have dozens of bottles for you to try!
More Information
If you need assistance, or want to pick up an English map, head to the local tourist office. There's one at Aizuwakamatsu Station, or at Tsurugajo Castle. Check out the city's official websites below for more information.
Samurai City – Aizuwakamatsu Tourist Website
17 off the beaten path destinations in Japan
Disclaimer
Some of the links in this post are affiliate links which support the running of my site, but don't affect the price you pay at all. All the tours I've recommended are from my affiliate partner, Voyagin. I trust them and have always had great experiences with their tours.
My trip to Aizuwakamatsu was organised by All About Japan and the local tourist board. But, as always, all words and opinions are my own!
Pin This Post!