Some posts on this site contain affiliate links. If you book or buy something through these links, I earn a small commission (at no extra cost to you). Take a look at my privacy policy for more information.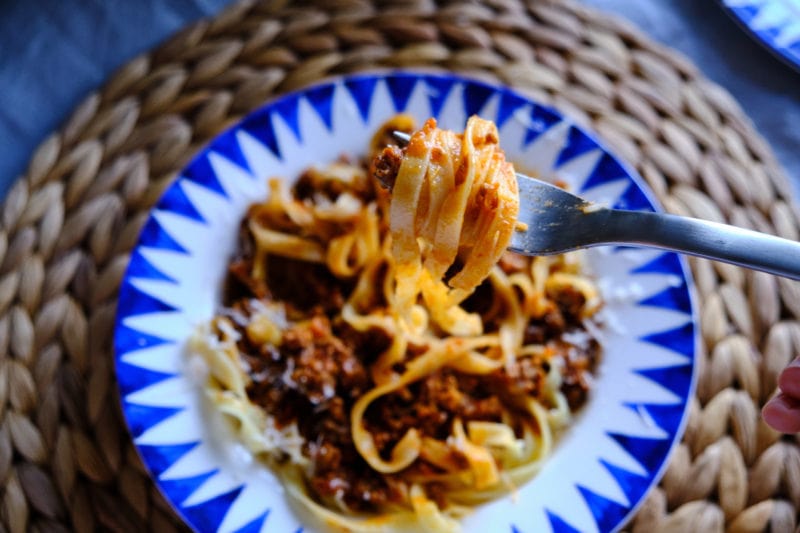 When it comes to Bologna, the question isn't so much what to do there as what to EAT! So this Bologna Italy food guide should come in pretty handy for visiting the city!
Along with the surrounding Emilia-Romagna region, Bologna is considered to be the culinary capital of Italy.
This is the home of some of Italy's most famous foods, including the city's namesake, bolognese – which locals simply call ragu, and eat with tagliatelle rather than spaghetti.
Italian food is very regional: each area of the country has its own unique cuisine, influenced by its history, culture, and by the kinds of ingredients it produces. The food in Rome is very different to the food in Bologna or Naples, for example.
Some of the food you might associate most with Italy actually comes from Bologna and the Emilia Romagna region. Foods such as balsamic di Modena, Parmigiano Reggiano, parma ham all originate from here – to name just a few!
So Bologna is the perfect city break for foodies!
This is a city where it's genuinely hard to find a bad meal. Where the food is so good you might just make lunch last all afternoon and forget to go sightseeing. And where you'll find yourself wishing you had more room in your luggage for all the food souvenirs you'll want to take home!
Read on for the top food and drinks you have to try in Bologna, plus suggestions for where to try them…
Best Bologna Food Tour
If you really want to discover the Bologna food scene, your best bet is to take a tour with a local.
We did the 4-hour Classic Food tour from Taste Bologna on our first morning in the city. It was SUCH a good way to immerse ourselves in the local cuisine, with multiple stops at different markets, cafes, and restaurants to discover some of the must-try dishes in Bologna.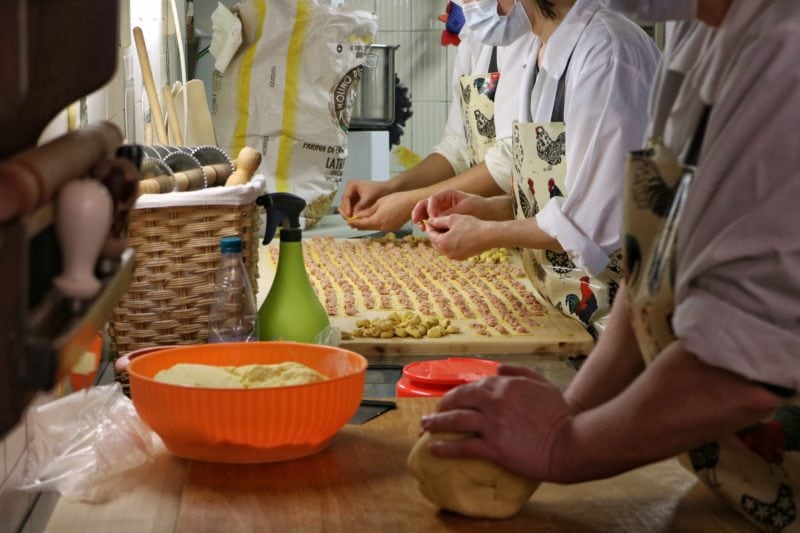 A food tour is always my favourite way to explore a new city, as it gives a chance to see it through a local's eyes. Not only did we visit some places I'd probably never have experienced otherwise – like the historic Osteria del Sole – but our guide was also full of tips for places to eat and foods to try throughout the rest of our visit.
I highly recommend booking a food tour with Taste Bologna for your trip. Preferably as close to the start of your trip as possible, because this is a great way to start exploring! Click here to check out more reviews and check availability.
ALTERNATIVE TOUR: You could also take a cooking class, like the Hands On Home Cooking Class, to learn more about local cuisine. Click here to check prices and availability.
What to Eat in Bologna: Top 7 Dishes
Bologna is the home of some of the most famous food in Italy, including a number of incredible pasta dishes. Of course, bolognese is probably the most famous – but that's just the tip of the iceberg.
I'm kicking off my guide to what to eat in Bologna with the top 7 dishes you must try when you're in the city. Then, in the next section, I'll delve into some of the top regional foods that you also need to try!
1. Tagliatelle al Ragù Bolognese (NOT spaghetti bolognese)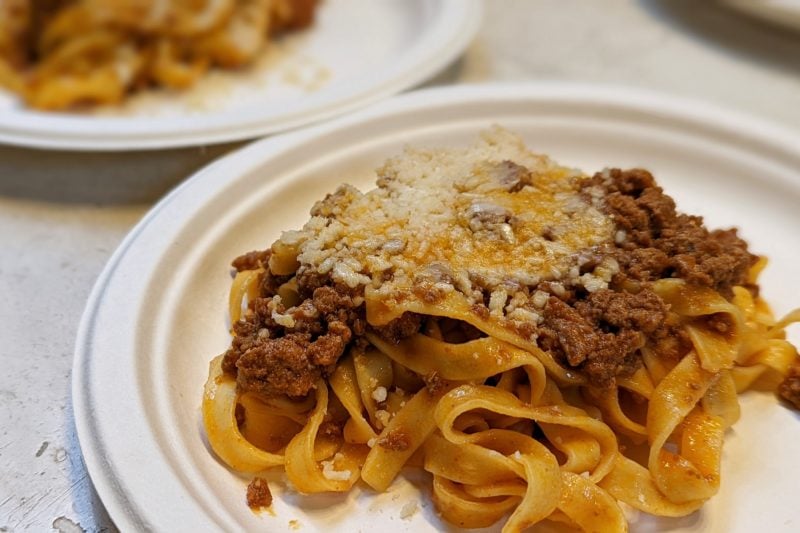 One of the most famous dishes in Italy comes from Bologna: the food we call "bolognese" was named after the city, after all!
But don't go searching the restaurant menus for "spaghetti bolognese", because you won't find it! The dish you're looking for is tagliatelle al ragù or ragù alla Bolognese.
Back home, our version of spaghetti bolognese is usually a pretty heavy, wet dish with lots of tomato sauce. This is actually nothing at all like the traditional ragù in Italy.
Ragù alla Bolognese is a thick, meat-based sauce. A blend of beef and pork are slow-cooked in white wine, milk, and a very small amount of tomato paste. It's very rich and quite dry compared to the "bolognese sauce" you might have tried outside of Italy.
Traditionally, ragù alla Bolognese is served with a wide, flat pasta like tagliatelle – not spaghetti – and topped with plenty of local parmigiano (parmesan) cheese.
Where to try it: I get the feeling that it's hard to find a bad Tagliatelle al Ragù in Bologna. I think the best one I had came from Mercato di Mezzo – a covered market with a renovated food court in the Quadrilatero area.
2. Stuffed Pastas: Tortellini and Tortelloni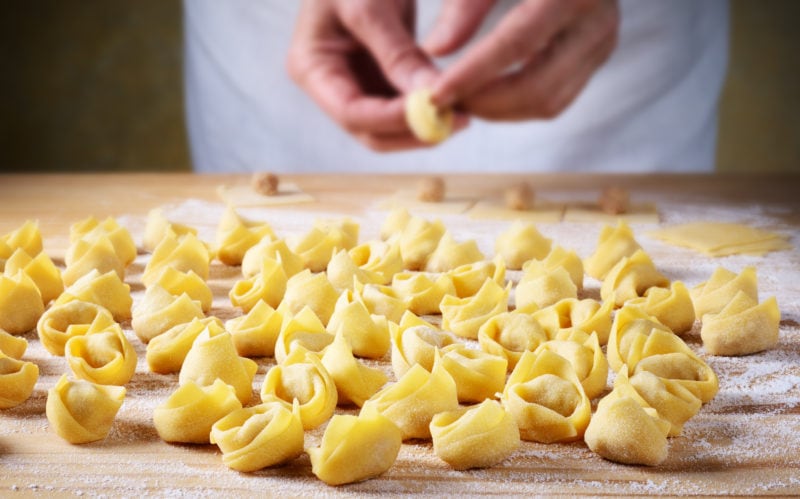 Alongside its namesake ragù, the other thing Bologna is famous for is its stuffed pasta dishes – especially tortellini and tortelloni.
Both of these stuffed pastas are similar shapes. The main difference is that tortellini is smaller and more delicate than tortelloni. These delicious filled pastas are made by hand at pasta shops throughout the city.
Tortellini is traditionally stuffed with ground meat and parmesan cheese, and is most commonly served in a broth (see below) – although it can also come served with ragù or other sauces.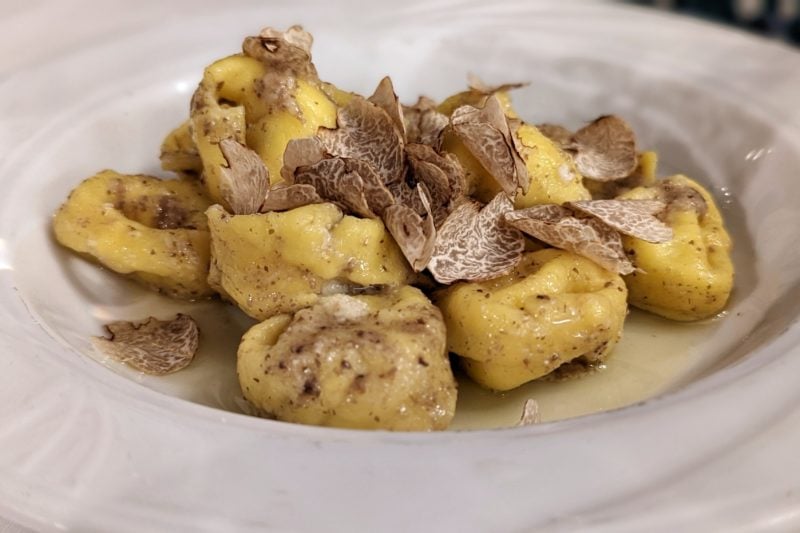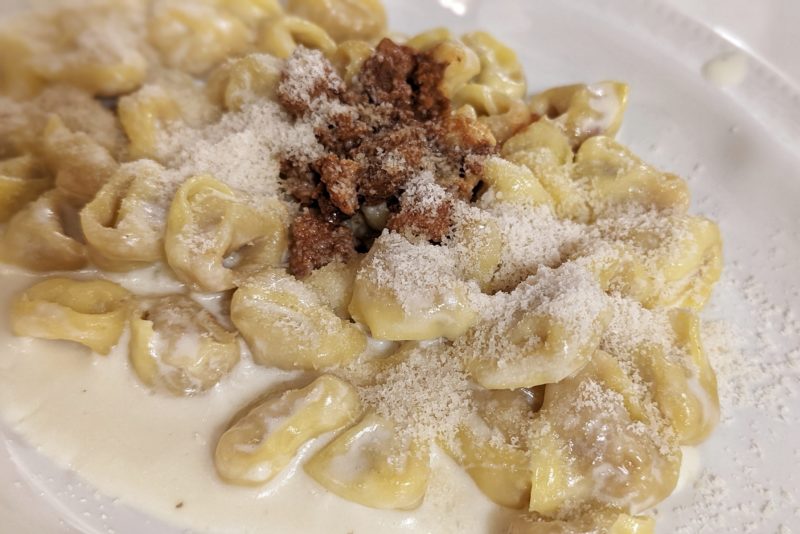 The larger tortelloni is usually stuffed with a vegetarian filling – ricotta and parsley or pumpkin are the most common – and can be served with a variety of sauces. It's often served simply with sage-infused butter, or with a creamy parmesan sauce.
Where to try: the truffle tortelloni at Ristorante Da Cesari is a must, or head to the ultra-trendy Oltre for their incredible meat tortellini in parmesan sauce. Also, don't miss the Tortellini Montegrappa, served with cream and ragù, at Ristorante da Nello.
3. Tortellini en Brodo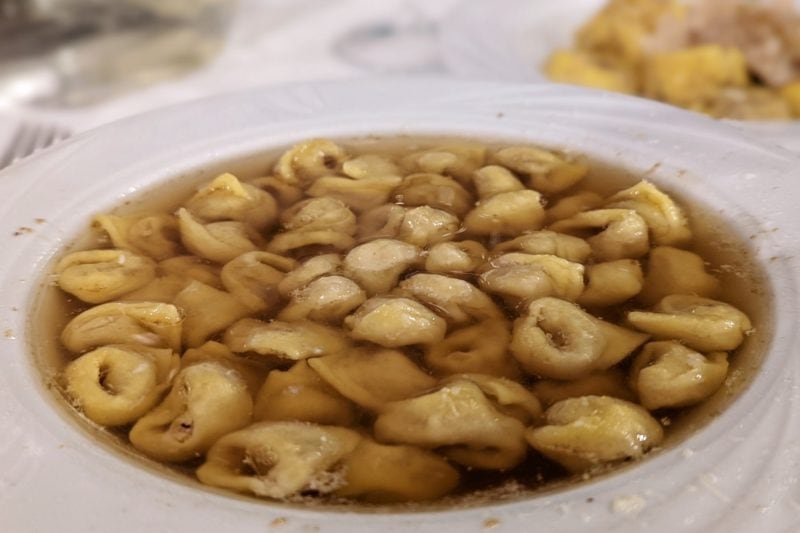 Tortellini en Brodo (tortellini in broth) is one of the most traditional dishes in Bologna. The mini filled pastas are boiled and served in a bowl of rich, meat-based broth – usually topped with a bit of parmesan.
This super-simple dish doesn't look great in photos, but I can assure you its absolutely delicious. A must-try when it comes to what to eat in Bologna.
Where to try it: I had mine at Ristorante Da Cesari – a historic restaurant known as one of the best places to try traditional food in Bologna. It was delicious!
4. Balanzoni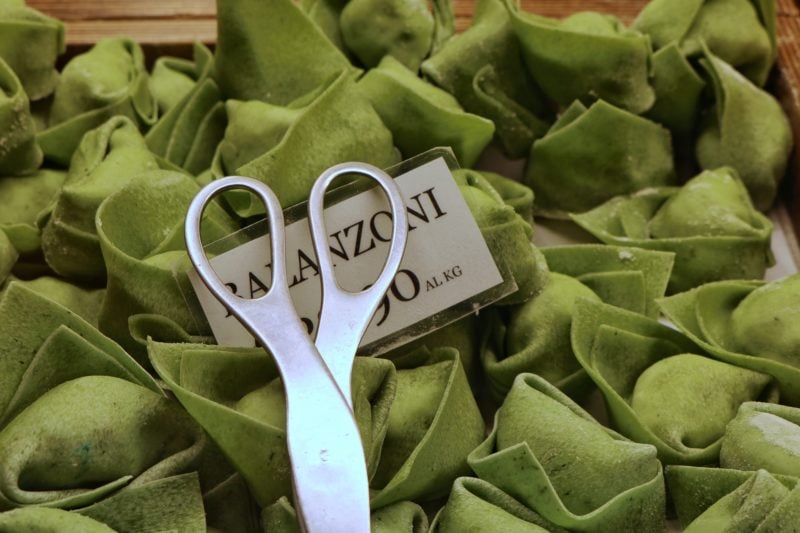 As if that wasn't enough filled pasta for one city, Bologna has another classic dish up its sleeve! Balanzoni are another type of stuffed pasta, but these ones are a striking green colour, because the dough has been flavoured with spinach.
Balanzoni are a little bigger than tortelloni. The filling is normally ricotta, parmesan, eggs, spinach, and either mortadella or chopped pork loin. Sage butter is one of the most popular sauces – but we tried our balanzoni with ragù, which was also delicious.
5. Lasagne al forno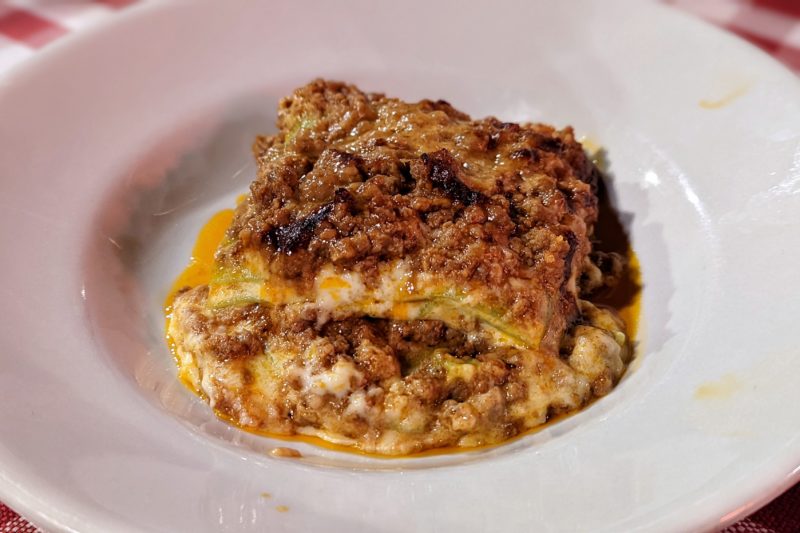 Lasagne has many forms across Italy – but the one from the Emilia Romagna region, Lasagna al forno, most closely resembles the dish you've probably tried at home.
In Bologna and the surrounding region, Lasagna al forno is traditionally made with layers of thick ragù alla Bolognese, lasagne, bechamel sauce, and Parmigiano-Reggiano cheese.
One local difference is that the sheets of lasagne pasta are usually green. The colour comes from spinach mixed into the dough.
6. Cotoletta alla Bolognese (Veal Cutlet)
Cotoletta alla Bolognese, also known as Petroniana, is a very traditional dish from Bologna. However, since the main ingredient is veal, this one might not be to everyone's taste.
It's a very thin veal cutlet, coated in breadcrumbs and fried in butter. This is topped with a slice of prosciutto and grated parmesan. It's quite rich, and the version I tried was a tad on the salty side, but it's certainly one of the most traditional dishes to try in Bologna.
7. Gramigna alla salsiccia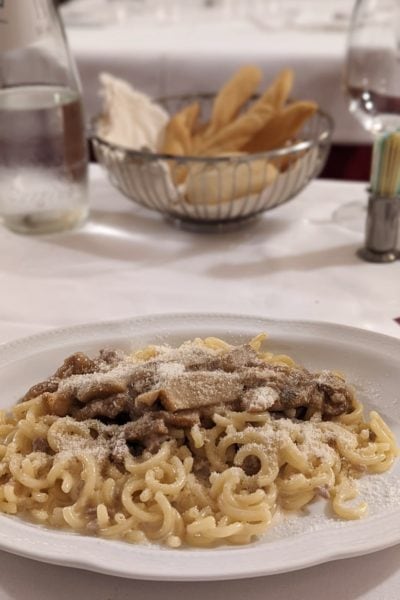 There's one last pasta dish for you to try in Bologna: gramigna alla salsiccia (gramgina with sausage).
Gramigna is a slim, hollow pasta tube which looks a little like a mini version of macaroni. It's usually served with chopped sausage meat, either in cream or a thick, tomato-based sauce.
Where to Try: we tried the gramigna with cream, sausage and mushrooms at Ristorante Da Nello and loved it.
Regional Food in Bologna and Emilia Romagna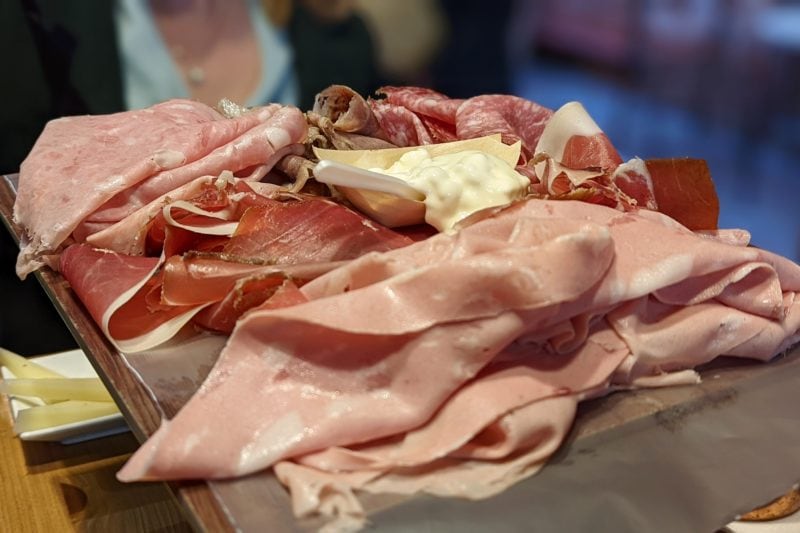 Bologna is the capital of the Emilia Romagna region in northern Italy – a region known for its rich traditional food and drink. This region's gastronomy has the highest number of DOP products in Italy – including Balsamic di Modena and Parmigiano Reggiano.
What is DOP?
DOP stands for Denominazione d'Origine Protetta (Protected Designation of Origin). It's a legal certification from the European Union that guarantees a food product is produced in a specific geographical zone and in the traditional way.
RECOMMENDED TOUR: Emilia Excellence Food Tour (7 hours). Discover all the best DOP produce in the Emilia Romagna region on this full-day food tour. Click here to check the latest prices and availability.
1. Mortadella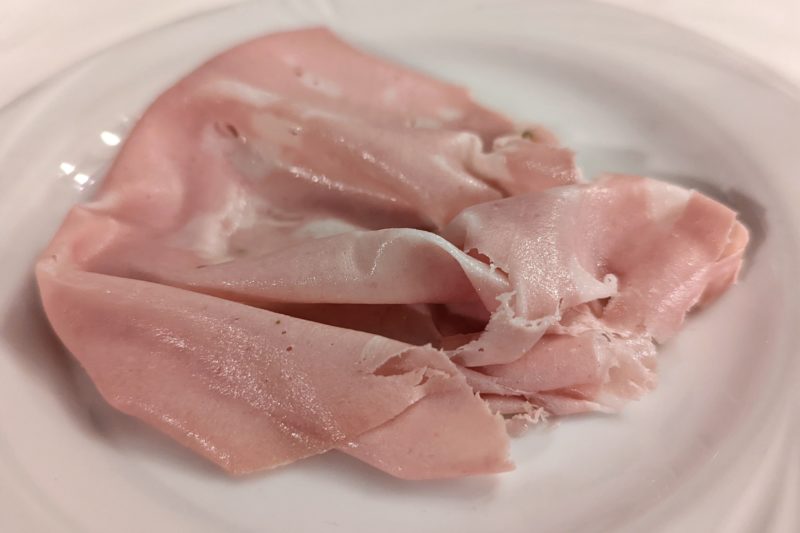 Mortadella is one of the most popular cured meats in Bologna. It's a large sausage or luncheon meat, usually served in thin slices as charcuterie or in a sandwich.
It looks a little bit like the ham they call baloney in the USA – and also reminds me of the "teddy bear" ham we had in the UK back in the 90s – but it's much, much nicer!
You should also try Salami Rosa, which is very similar to mortadella but is a more ancient recipe. It has a slightly different flavour because it's sliced by hand rather than using a machine.
2. Prosciutto di Parma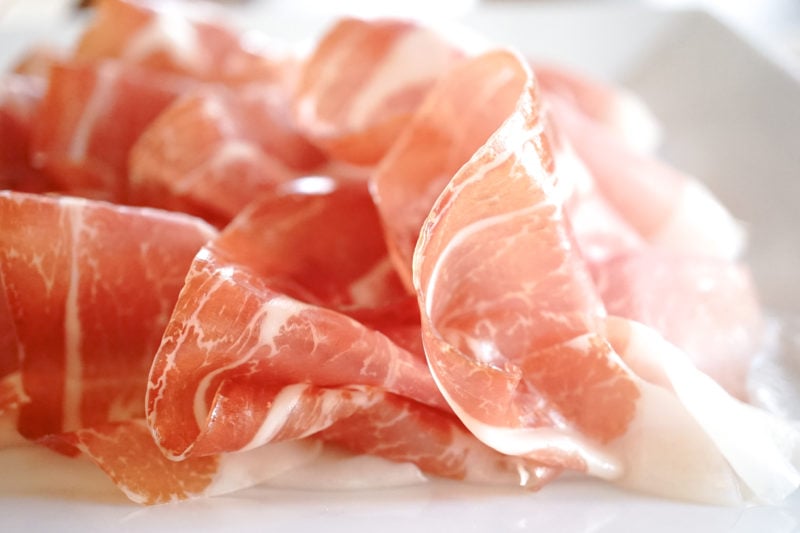 Parma ham, aka Prosciutto di Parma, is probably one of the most famous DOP foods to come out of the Emilia Romagna region in Italy.
Prosciutto is a cured, unsmoked ham – salty-sweet and absolutely delicious. "Di Parma" simply means that it comes from the town of Parma, about 1.5 hours from Bologna. Here, the traditional method of curing ham dates right back to 100BC!
RECOMENDED TOUR: Parmesan, Parma Ham & Balsamic Vinegar Tour from Parma (6 hours, from £91.15pp)
3. Parmigiano Reggiano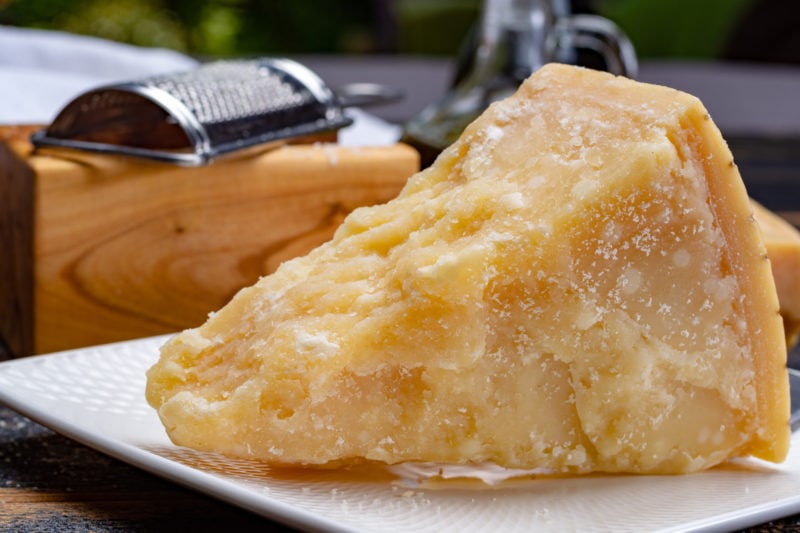 Another famous DOP food from Emilia Romagna is Parmigiano Reggiano (parmesan). Often called the "king of cheese", this is a hard, granular cow's milk cheese. It's aged for at least 12 months – sometimes up to 48 months!
And if it doesn't say DOP, it's not true Parmigiano Reggiano.
The cheese is most commonly served on top of pasta dishes. In Emilia Romagna, they also eat parmesan on its own, drizzled in a little balsamic. Be sure to try it this way, too!
RECOMMENDED TOUR: Parmigiano-Reggiano Cheese Tour (2 hours, from £57.18pp)
4. Balsamic di Modena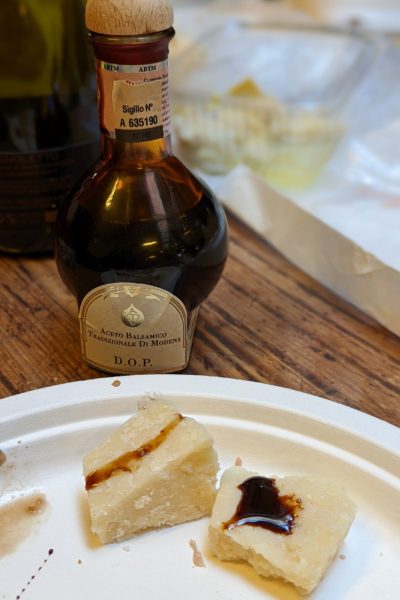 Modena is a small town just west of Bologna, famous as the "home" of balsamic vinegar.
There are two "levels". Aceto Balsamico Tradizionale di Modena DOP is considered the "best", protected by its DOP status, while Aceto Balsamico di Modena IGP is less expensive.
Both are delicious, and something you must try when you visit Bologna. You could even take a trip to Modena to see where the famous condiment comes from!
RECOMMENDED TOUR: Balsamic Vinegar "Aceto" Tasting Experience in Modena (1 hour, from £20.63pp)
5. Tigelle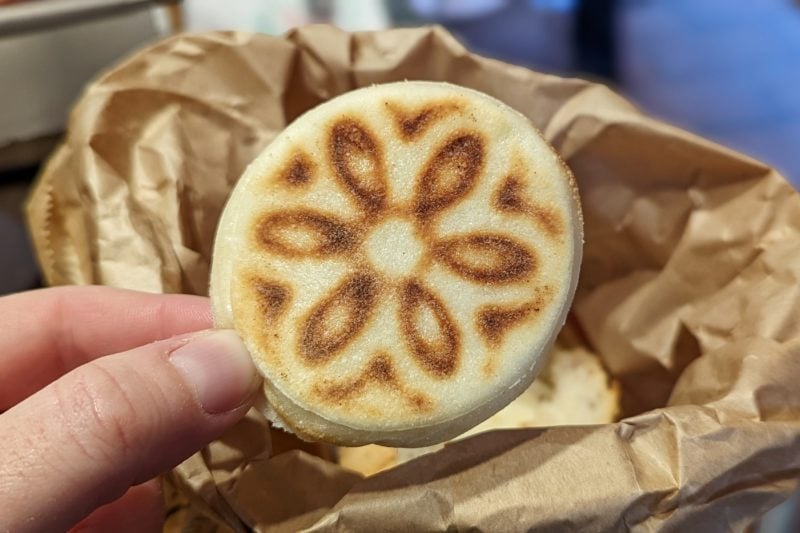 Also known as crescentina modenese, tigelle are small, round flatbreads which remind me a little of English breakfast muffins.
They originated in the Modena region and are a popular street food throughout Emilia Romagna. They're often stuffed with cured meats and cheese to create a mini sandwich.
Other Cured Meats and Cheeses to try in Bologna
Squacquerone – a soft cow's milk cheese which feels like a sort of spreadable mozzerella. Spread it on some bread and top with prosciutto. Delicious.
Formaggio di Fossa – "cheese of the pit", a kind of cheese ripened in special pits dug in tuff rock. Specifically, look for Pecorino di Fossa di Sogliano DOP, cave-aged sheep's cheese.
Copa Di testa – a kind of salami made from pig's head. Looks a bit gross – tastes amazing.
Salami Rosa – similar to mortadella (see above).
Must-Try Desserts and Sweet Food in Bologna
1. Tenerina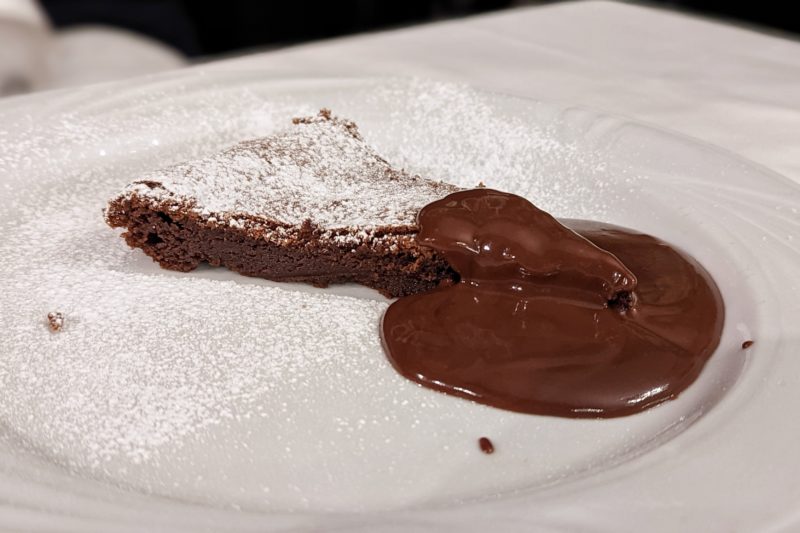 Torta Tenerina is a traditional dessert from the city of Ferrara in Emilia Romagna – and one of my personal favourite foods in Bologna!
It's a slim, moist chocolate cake similar to a brownie, with a slightly crisp crust and a decadent, intensley chcoolatey interior.
Where to try: mine came from Ristorante Da Cesari and I loved it.
2. Zuppa Inglese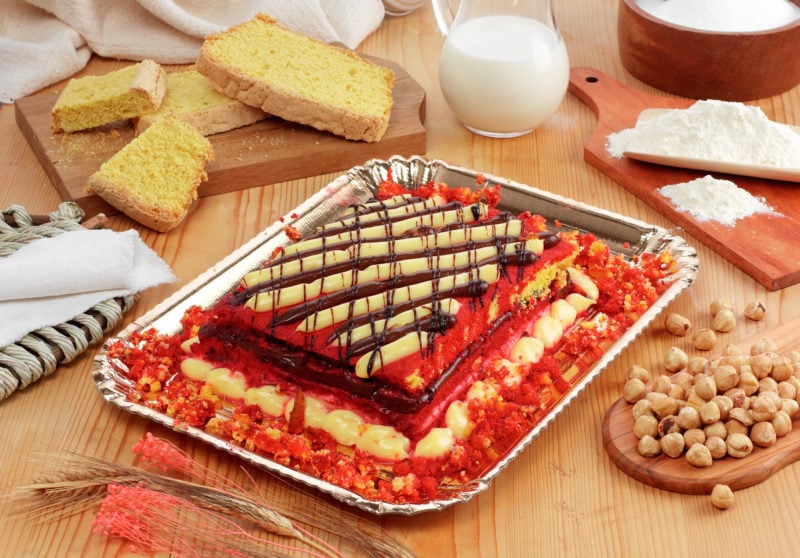 Zuppa Inglese, aka "English Soup", is a little bit like an Italian version of an English trifle. It's made using sponge dipped in Alchermes (an Italian herb liquor) layered with a thick egg custard. There's also sometimes a layer of chocolate custard.
3. Fiordilatte Bolognese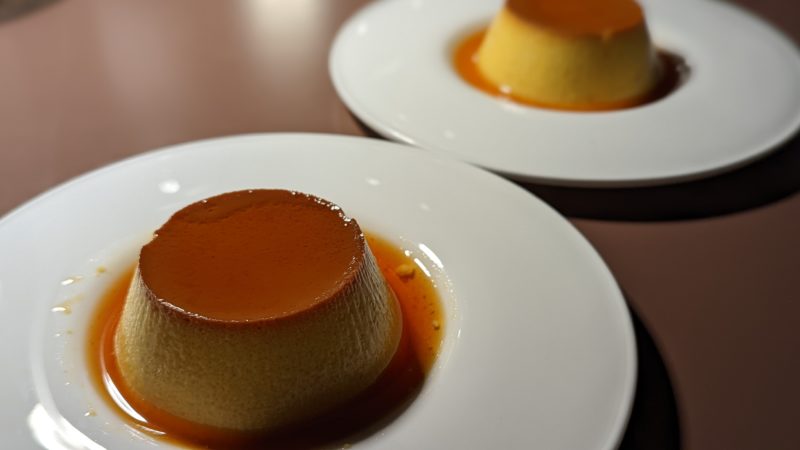 A lot of food guides for Bologna forget to mention Fiordilatte Bolognese, a dessert that is little-known outside of Italy. It's a simple dessert made from eggs, sugar and milk – very similar to a crème caramel.
4. Torta di Riso
Torta di Riso, rice cake, is a traditional cake from Bologna which is popular all over Italy. It's made by boiling rice in milk with lemon peel and vanilla sugar, which is then used to make a cake dough flavoured with almonds, almond liqueur, and candied citron.
5. Gelato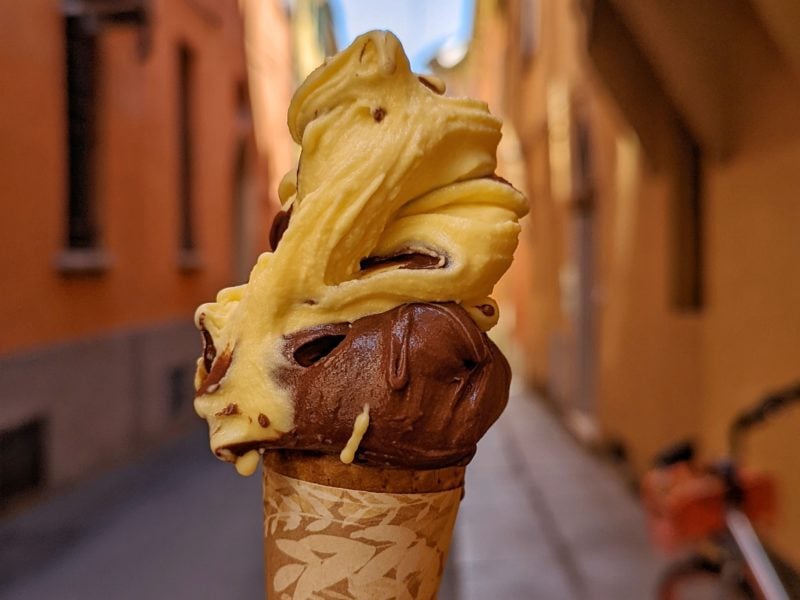 You can't go to Italy without trying gelato! And Bologna might just be one of the best cities in Italy to try it.
There's a Gelato University here which trains students from around the world. In fact, there's even a gelato museum in Bologna!
For a Bolognese twist, look out for local flavours like fiordilatte or zupa inglese. Cremeria Santo Stefano is a great shop for that, or for a truly decadent treat try the Cremino (a local triple layer chocolate) gelato at La Torinese 1888.
Where to try: my favourite food bloggers have a dedicated post listing the 7 best gelato shops in Bologna, so check that out for tips.
6. Chocolate Tortelloni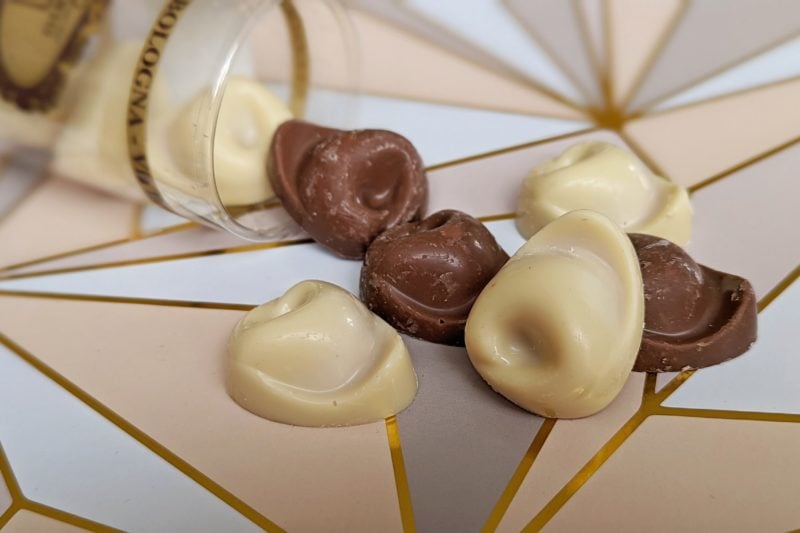 One last sweet food in Bologna that makes a great souvenir from your Italy trip: chocolate tortelloni!
These are tasty little chocolates in the shape of the city's famous filled pasta. Inside is a soft, creamy chocolate filling. Chocolate Tortelloni are made by Majani, one of the oldest Italian chocolate factories in Bologna.
Where to buy: pick some up at the Drogheria Gilberto in the Quadrilatero district, a historic family-run shop which opened in 1905!
Drinks in Bologna
Decadent Coffees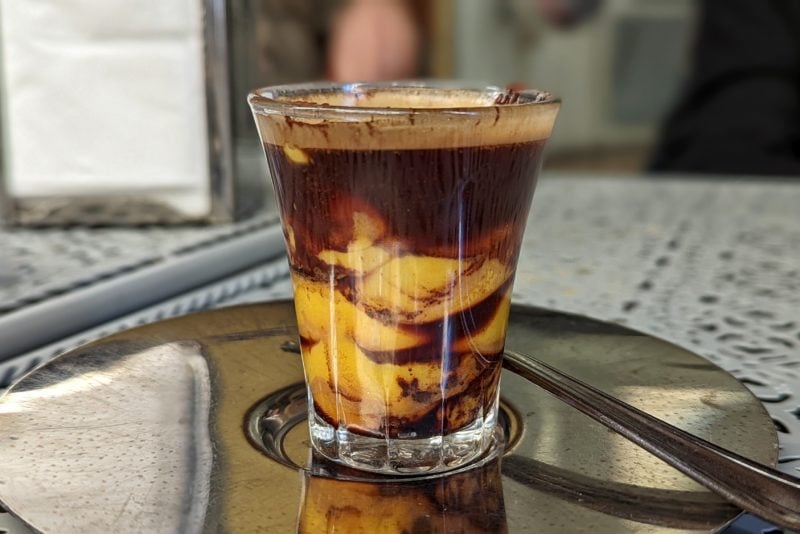 One of the best things about Italian cuisine is the coffee, and Bologna is no exception! You can't miss the classics, of course, from a cappuccino with breakfast to an after-dinner espresso.
But for something a little different, try one of these unique local twists which turn the classic espresso into a sweet treat!
Zabaione – coffee mixed with a rich egg custard.
Torinese – espresso mixed with chocolate and cream.
Fior de latte – espresso mixed with a kind of artisan pannacotta.
Where to try: You can try all three at Aroma Specialty Coffees, a short walk from the Piazza Maggiore.
Lambrusco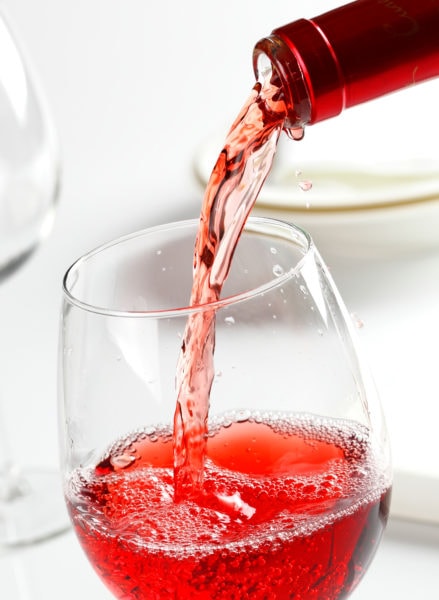 Lambrusco is probably the most famous wine from the Emilia Romagna region of Italy. It's a sparkling red wine, which sounds a bit unusual, but its fruity and sweet taste make it appealing on warm days in Bologna!
Pignoletto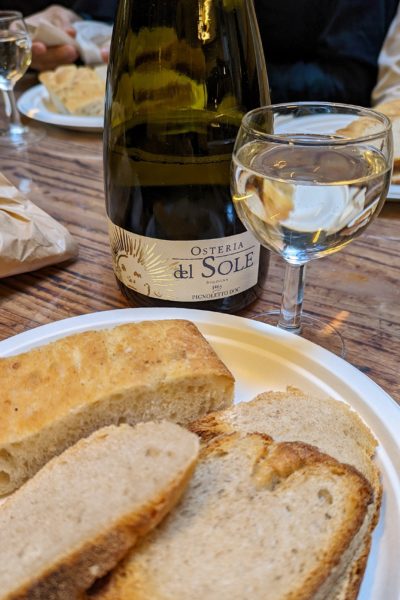 The much less well-known pignoletto is a white sparkling wine, softer and a little drier than the more famous prosecco.
The grapes for pignoletto are grown in the vineyards between Modena and Bologna, so it's very much the city's signature drink. And it goes down very well with a platter of local cured meats and cheeses!
Where to Try: Head to the historic Osteria del Sole, the oldest osteria in Bologna which has been in the city centre since 1465! They don't serve food, but customers are allowed to bring their own – as long as they buy the wine!
RECOMMENDED TOUR: Wine Tasting in One of Bologna's Oldest Inns (2.5 hours, from £45.58pp)
Aperitivo in Bologna
Speaking of drink, one thing you must do when you visit Bologna – or any Italian city, for that matter – is experience aperitivo.
An aperitivo is a pre-dinner drink, usually alocholic, which is meant to stimulate the appetite. These cocktails tend to be on the more dry and bitter side, such as the iconic Aperol spritz. Apparently, the idea is to cleanse the palette and wake up your digestive system, ready to eat!
Here are some of the best places to head for aperitivo in Bologna:
High End
Café Marinetti at Grand Hotel Majestic. If you're looking for something special, the beautiful Café Marinetti at Bologna's historic Grand Hotel Majestic is the place for you.
This is a truly elegant space decorated with marble columns, glittering chandeliers, and framed photos of royalty and political figures who have visited the beautiful hotel over the years. And the cocktail menu is absolutely fabulous – you'll struggle to choose just one!
Budget
Camera a Sud. We happened to be staying right around the corner from this lively, cosy bar – which was always full of locals both inside and out. This is one of the most popular spots in Bologna for an aperitivo, with boho, shabby-chic decor and a great vibe.
Bologna Welcome Card
Want to squeeze a bit of sightseeing in between all that delicious food in Bologna?! The Bologna Welcome Card is a great way to save a bit of money.
The card starts from €25 per person and gives you access to most of Bologna's top attractions. Including the famous Asinelli tower (the 498 steps are a great way to burn off all that past), and several museums.
It also includes a guided walking tour of the city centre, and discounts for several other attractions.
We had the Bologna Welcome PLUS card (€40pp) for our visit and it proved invaluable. The PLUS option includes a few extras, such as the City Red Bus (an open-top tourist bus) which made for a great lazy afternoon of sightseeing when our tummies were too full of bolognese and gelato to walk!
Final Thoughts
Bologna really is one of the best cities in Italy for food and drink! With so many incredible "DOP" products in the surrounding region, and some great signature dishes, you're certain to be well-fed every day of your trip!
I hope this guide to what to eat in Bologna has given you plenty of inspiration. Just make sure you bring your appetite!
Read More
14 Dishes you Have to Try in Rome
Where to Find the Best Gelato in Rome
18 of the Best Small Towns in Italy
Is there anything missing from my Bologna Italy food guide? Scroll down to share in the comments!