Some posts on this site contain affiliate links. If you book or buy something through these links, I earn a small commission (at no extra cost to you). Take a look at my privacy policy for more information.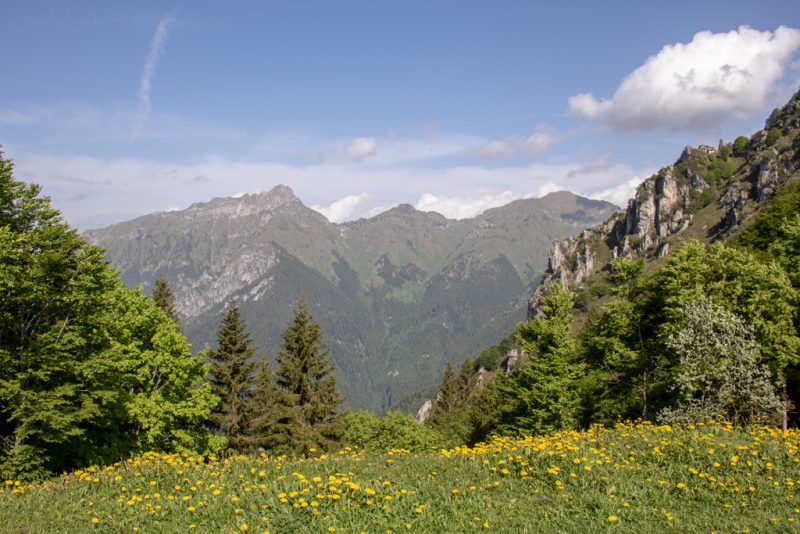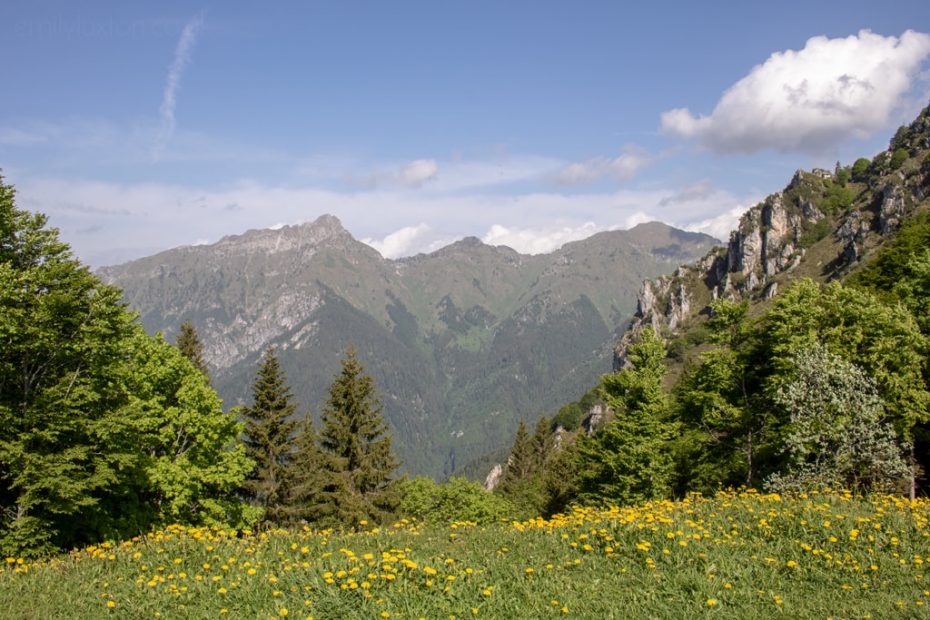 Valle di Ledro is the perfect destination for anyone in search of outdoor adventures and pristine nature. This glacial valley in the mountainous region of Trentino is a less-known side to Italy, which feels more off the beaten path than many of the more popular destinations.
.If you're looking to escape the crowds of Garda and relax in an untouched setting, this is the place for you. It's ALSO the destination for anyone in search of adrenaline and adventure. In the few days I was there I hiked up a mountain, biked back down it, met a caveman, watched the sunrise, discovered a hidden waterfall, wandered through a forest full of art, and rappelled down a 56m high waterfall. So you can pack a lot of adventure into a short trip!
This is my guide to Valle di Ledro in Trentino – covering everything from why you should visit, to what you should do when you get there. As always, if you have any questions (or tips of your own) feel free to reach out in the comments.
Where is Valle di Ledro – and Why Visit?
How to Get There?
Top Things to do in Valle di Ledro
Where to Stay
Disclaimer – my trip was partially supported by Visit Trentino and the Valle di Ledro tourism board. As always, all words and opinions are my own.
Where is Valle di Ledro – and Why Visit?
Valle di Ledro is a small valley nestled into the mountains of Trentino, in northern Italy. It's in the south of the region, just west of the tip of Lake Garda, and about an hour's drive from the region's capital of Trento.
While Ledro Lake is far smaller than Lake Garda, it's also far quieter, making it a great alternative. Although it's reasonably popular with locals and a few German tourists, Valle di Ledro feels like a pretty well-kept secret. (Sorry about this post, then). If you want a taste of the Italian alps and a gorgeous lake setting, but you don't want to share it, this hidden European gem is the place for you.
RELATED POST: You could also check out Valle del Chiese while you're in Trentino
How to Get There?
The closest airport to Valle di Ledro is Verona. From there the best option would be to rent a car and drive to the valley.
Alternatively, you can take a train to nearby Rovereto, then either a taxi (1 hour) or a bus (2 hours, changing at Riva del Garda).
9 Things to do in Valle di Ledro
Spend the Night in a Mountain Hut
One of my favourite things we did in Valle di Ledro was spending the night in a rifugio – a "Mountain Hut" – in the peaks above the valley. Literally meaning "refuge", a rifugio provides simple accommodation for hikers spending multiple days on the trail.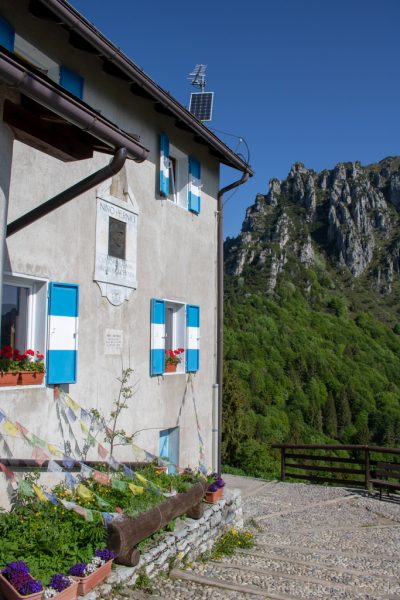 Starting at Lago di Ledro, we hiked up to the Rifugio Nino Pernici, which took about four hours or so. There we spent a gorgeous evening sampling local food and chatting to the owners. The name mountain hut is a bit misleading: this is a beautiful, family-run guest house offering tasty homecooked food and really nice accommodation. Our room was a small four-bed dorm with glorious views from the window. After the exhausting hike and enormous dinner, I slept like a baby – waking up in time for a spectacular mountain sunrise!
Climb a Mountain
Speaking of mountains, this is absolutely one of the best things to do in Valle di Ledro! There are loads of excellent hiking routes in the hills around the valley, from day hikes to challenging peak summits and multi-day treks. There's something to suit all abilities and fitness levels, so don't miss the chance to push yourself and explore the stunning mountain scenery.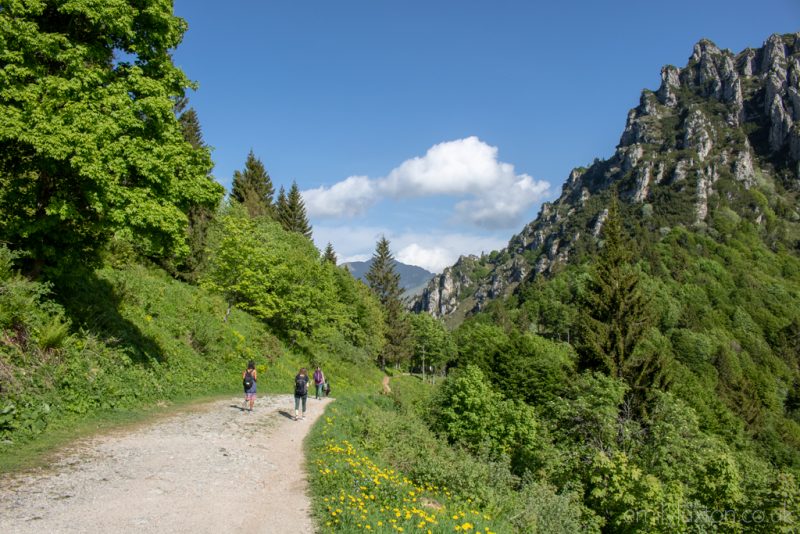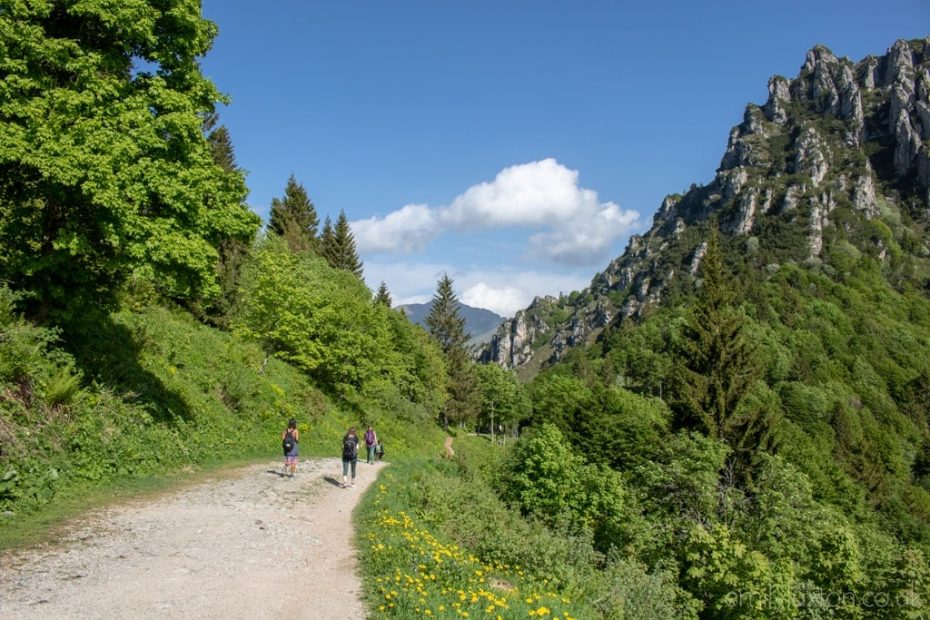 If you love walking but don't fancy a climb, there are also plenty of easy and pleasant hikes along the valley floor. The 9.3km circuit around Lake Ledro is pretty much flat all the way, and beautifully scenic!
Or Bike Down One!
After our night in the Rifugio, we came back down the mountain the fun way – on two wheels! Valle di Ledro is perfect for mountain biking. There are winding, paved mountain roads for a smoother ride, or you can hit the off-road trails for more of a challenge. Ledro Bike Rentals offer a great range of mountain bikes, so you can hit the trails and get your adventure on!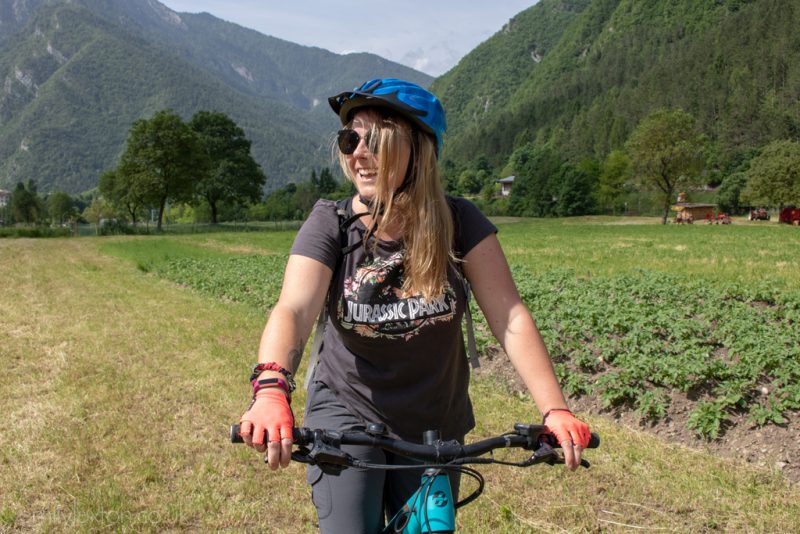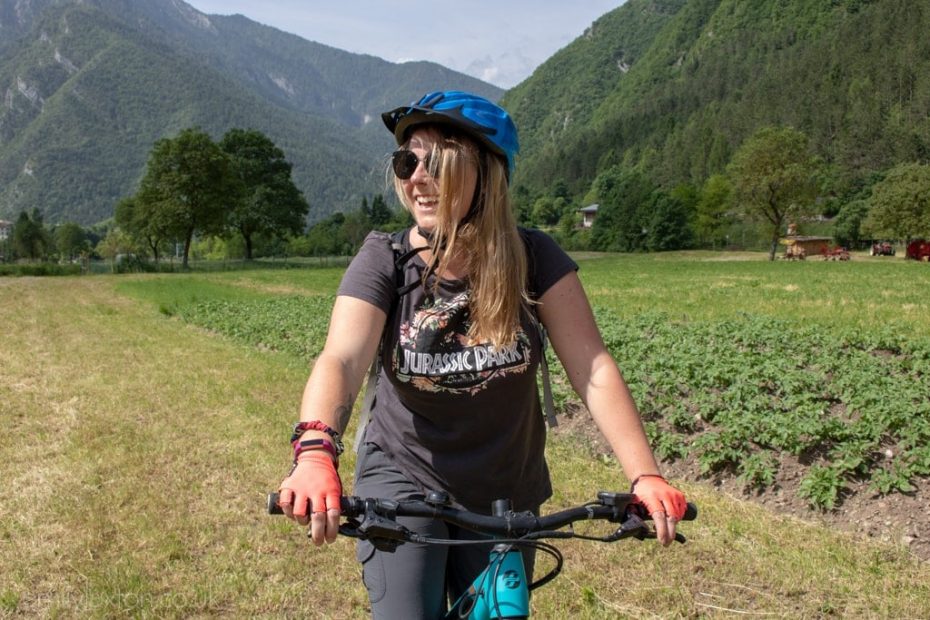 Don't think you quite have the fitness to tackle the steep uphill climbs while mountain biking? Do what I did an opt for an e-bike! All the fun of the downhills, without the hard work of the ascents!
Discover the Hidden waterfall of Gorg D'Abiss
One of the top things to do near Valle di Ledro is to visit the hidden waterfall of Gorg d'Abiss. It's a short, undemanding walk from the village of Tiarno di Sotto. Follow a bubbling river between low, moss-covered cliffs to reach this stunning waterfall.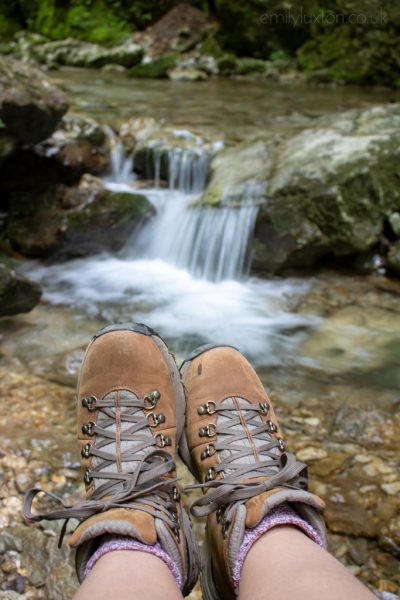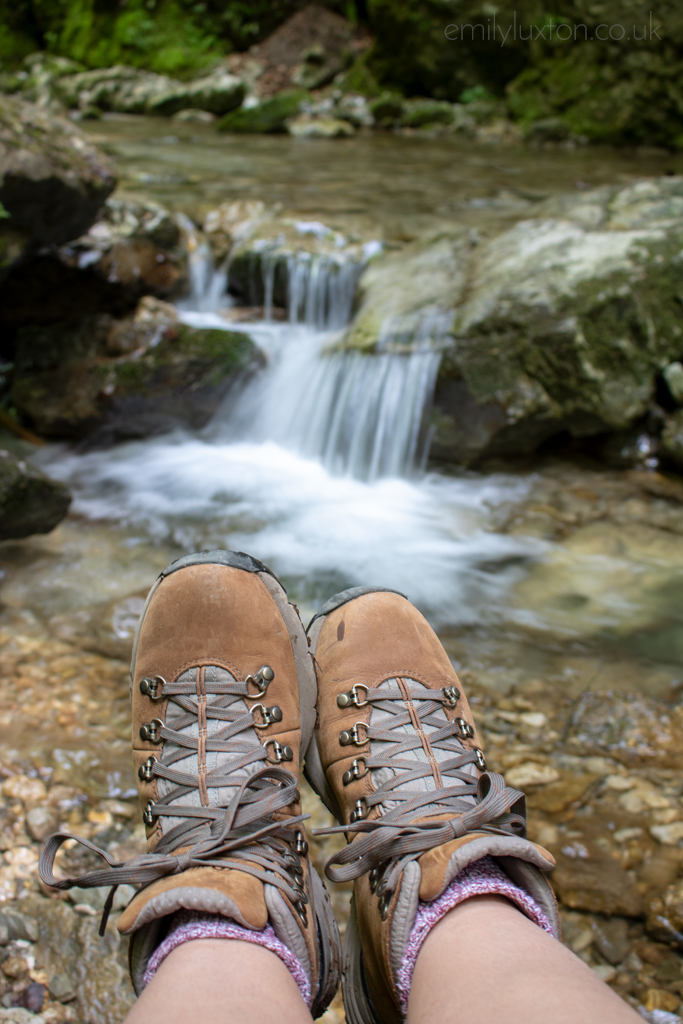 Tucked into dense forest, the Gorg d'Abiss truly is a surprise, and you're unlikely to have to share the views with many other tourists. Bursting through the rocks at the end of a canyon, the fall is an impressive sight, as is the brilliant cyan of the pool it plunges into. If you're brave enough, cool off with a dip in the chilly waters!
Enjoy the Lago di Ledro
At the heart of the valley, the Lago di Ledro is a glorious and enticing sight. A picturesque alpine lake with striking blue-green waters, it's easy to see why this is a popular summertime spot for locals. It's small, but fairly quiet, making this the perfect alternative to Lake Garda: all of the same gorgeous mountain scenery, but less jostling for space on the beaches.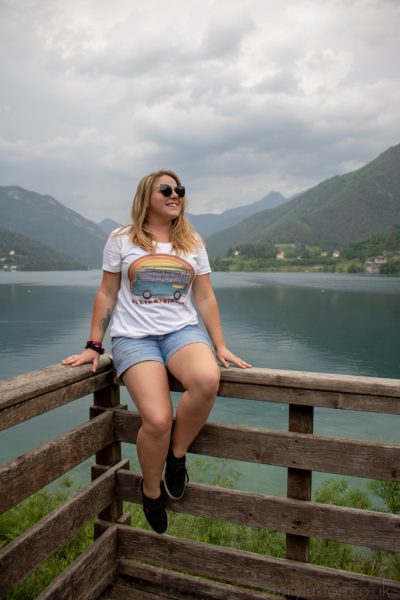 This is reputably one of the cleanest lakes in Italy, so it's ideal for swimming during summer. Just plonk yourself on one of the shingle beaches around its edge and spend the day relaxing. If you feel like being more active you can try your hand at watersports such as SUP or kayaking, or cycle around the circumference of the lake. The trail is paved and fairly flat so it's a beautifully easy bike ride!
Meet your Ancestors at Museo delle Palafitte
One of the highlights of my trip to Valle di Ledro was the Museo delle Palafitte, a museum dedicated to pre-historic life in the valley.
On the edge of the Lago di Ledro, archaeologists discovered the original remains of a pile-dwelling village dating from 2200-1350 BC. Over ten thousand poles emerge from the lake's surface; the remains of one of the largest prehistoric settlements ever found in Europe.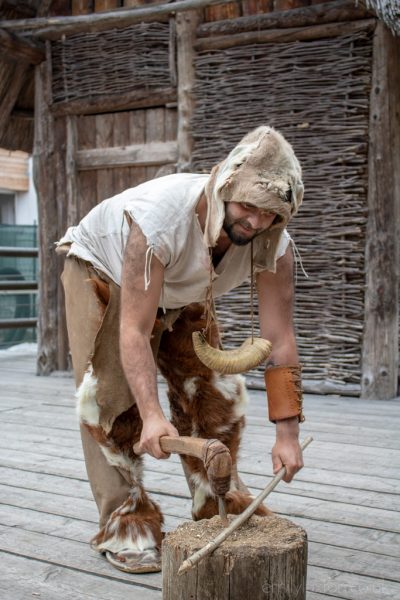 I'm not normally a museum person, but this one was fascinating. Inside different reconstructed pile-dwellings, you can meet the resident prehistoric men and women, explore the buildings, and try on some prehistoric outfits. We also tried our hands at using a few of the different tools and weapons – like chopping wood, grinding corn, making fire (almost), and archery. This was all rounded off with a prehistoric meal inside the cabin! Definitely a fascinating insight into the way our ancestors lived – and a must-visit in Valle di Ledro.
Try Your Hand at Canyoning
For adventure and action, the best thing you can do in the area is canyoning. If you've never done it before, this sport involves trekking through river gorges. You'll throw yourself off cliffs, clamber over rocks, abseil, and slide down waterfalls!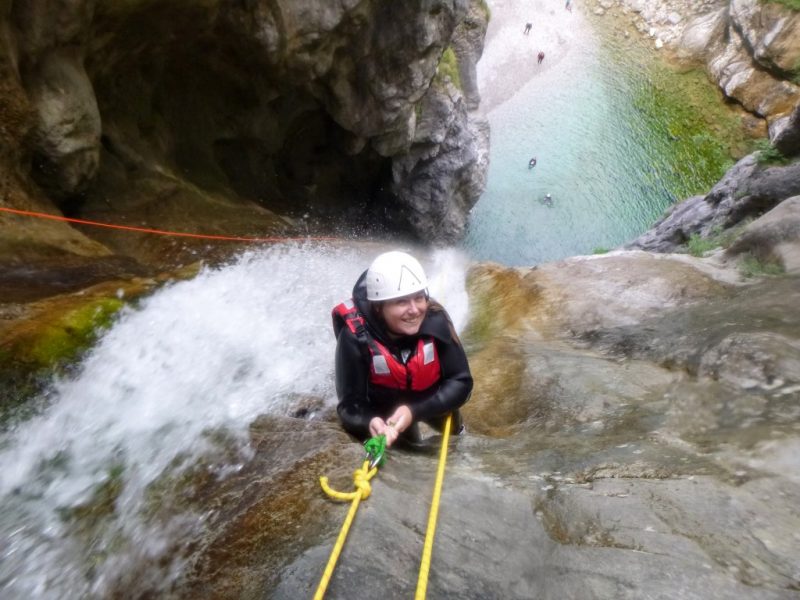 We headed to Palico Integral canyon with Trentino Climb. It was a pretty challenging tour and one that is not for the faint of heart. The final descent was some 50-odd metres abseiling down a waterfall, the spray hammering my face. It was tough – BUT it was also great fun! This is a real test of your limits, as you face fears and take on some pretty huge heights. The payoff is a huge hit of adrenaline and the thrilling sense of pride at having done it!
RELATED POST: Doing One Thing a Month That Scares Me
Get to Know the Local Cuisine
Many regions in Italy have their own unique cuisines, and the Alpine region of Trentino is no different. Local dishes are a delicious blend of Meditteranean flavours, German influences, and mountain cooking. Here are a few of the must-try food and drinks in Valle di Ledro…
Strangolapreti – The quirky name of this dish means "priest stranglers". They're small dumplings made from bread, spinach, and cheese, smothered with butter and basil. And they are AMAZING – especially after a tough hike in the mountains. If you only try one thing while in Ledro, make sure it's strangolapreti!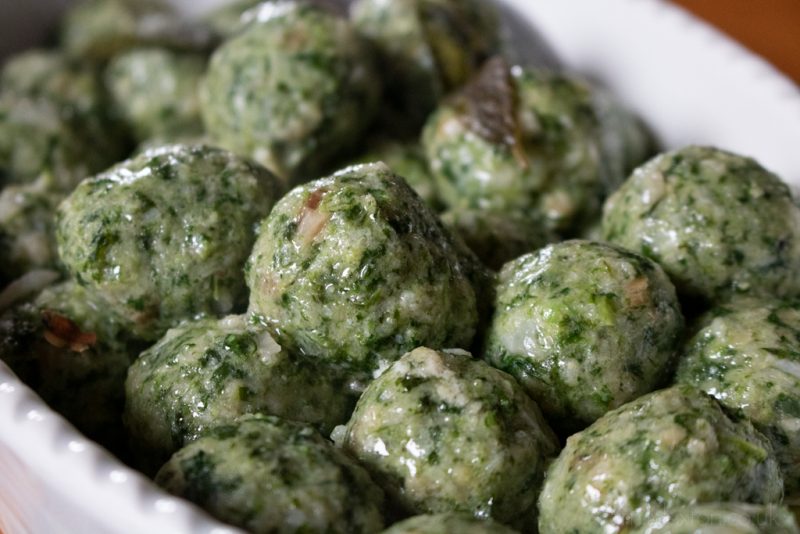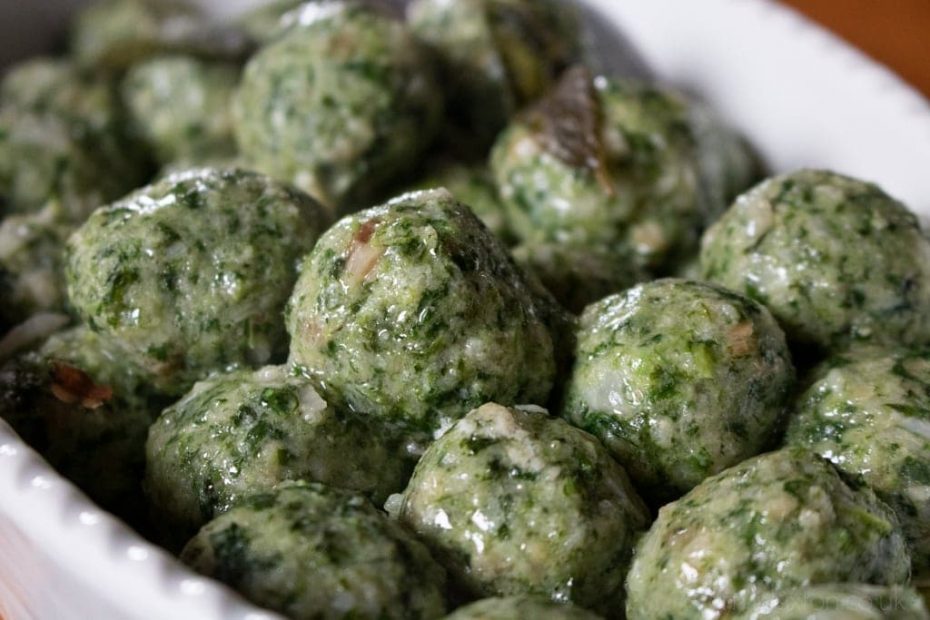 Goulash – During the First World War, many people of Valle di Ledro were evacuated to villages near Prague. The local dishes they learned to cook there have become a strong part of the Ledro cuisine – such as goulash!
Polenta – Polenta has always been an indispensable dish in Trentino, although now it's being "rediscovered" by star chefs and features on many local menus. One local variation in Ledro is polenta mixed with mashed potatoes, which is yum!
Picco Spritz – Similar to the more famous Aperol Spritz, this one is made with local spirit Picco Rosso and is even MORE delicious in my opinion! Picco Rosso is a bright red liqueur made from mountain strawberries and raspberries – don't miss the chance to try it while in Ledro!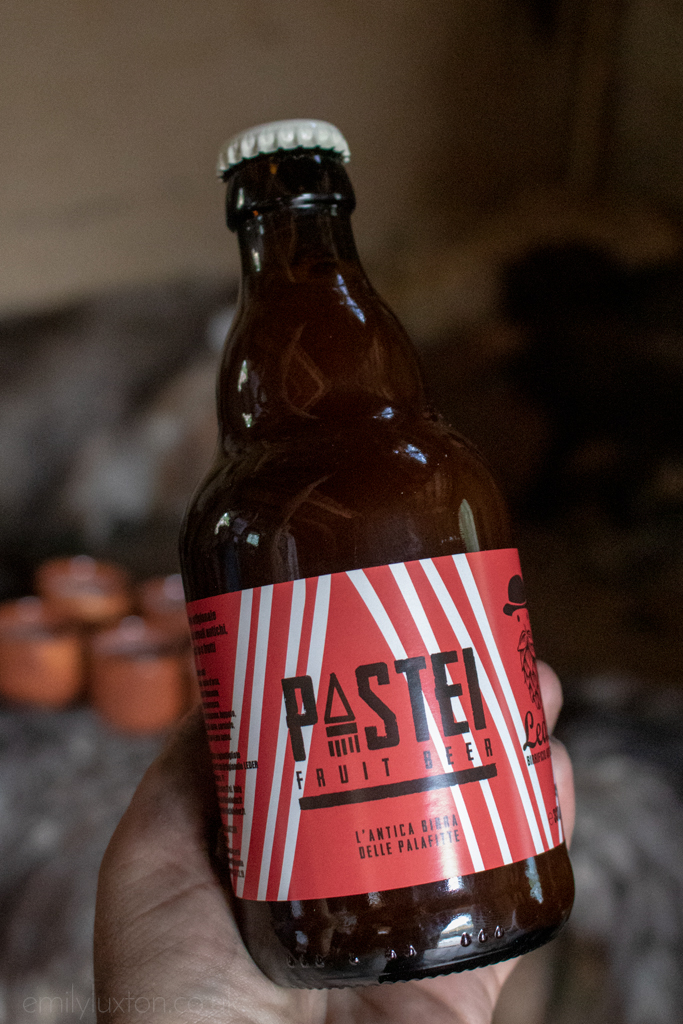 Beer – Local brewery Birrificio Artigianale Leder has a great range of delicious craft beers. We tried Pastei – a fruit beer inspired by prehistoric ingredients – at the Museo delle Palafitte.
Trento DOC – Trento DOC is the local sparkling wine in Trentino and it's heaven. There are a lot of different wineries producing different versions, and they're all good in my experience. But Ferrari is the original so this is the one you MUST try!
Take a Trip to Ledro Land Art
Ledro Land Art is one of the coolest cultural things to do in the Valle di Ledro. Throughout the pinewood forest of Pur, you can explore a trail of creative outdoor art pieces. All the works were constructed by local artists, largely from natural materials. The idea is to create a relationship between the forest and the art, and it's a great way to add another dimension to a humble forest walk.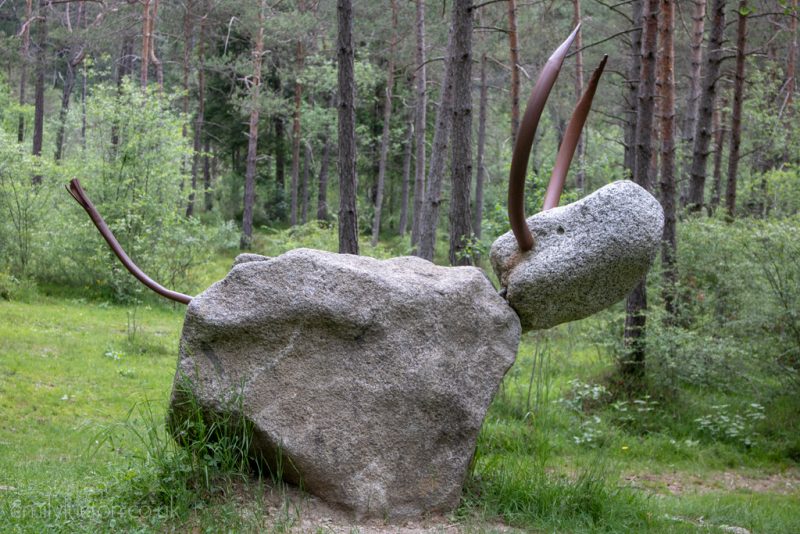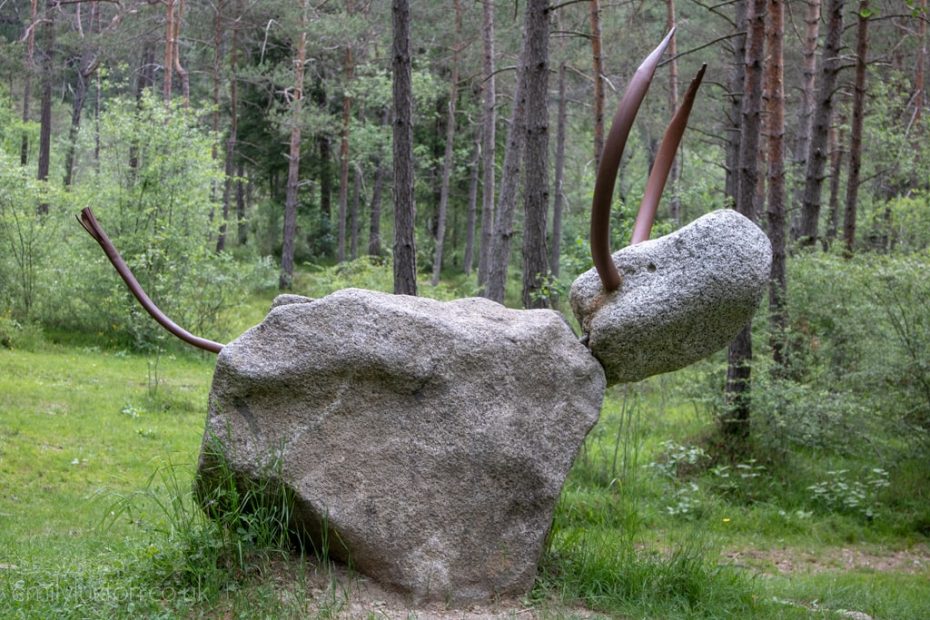 My personal favourite was Paolo Vivian's "Cow Show", a herd of adorable stone cows with metal horns. Formed from two lumps of rocks each the sculptures are simple but surprisingly expressive. And they are seriously cute!
Where to Stay
FYI – this section contains affiliate links. If you book something using one of these links I'll make a small commission, without affecting the price you pay at all!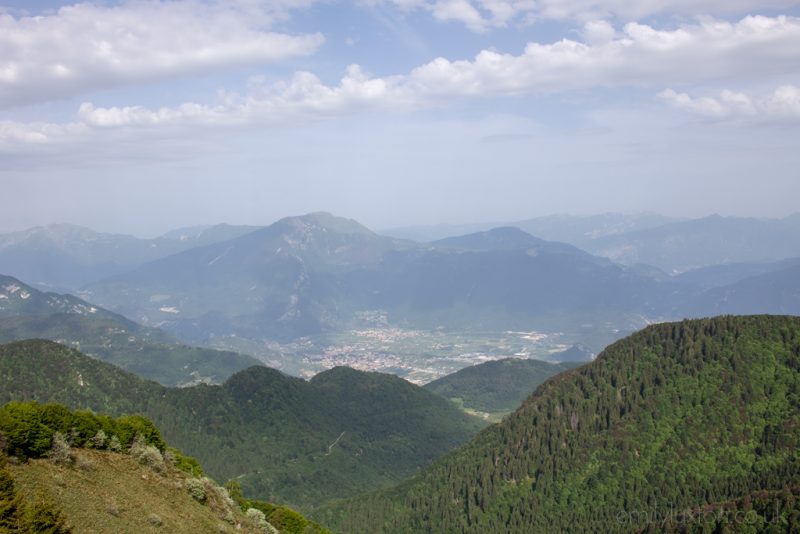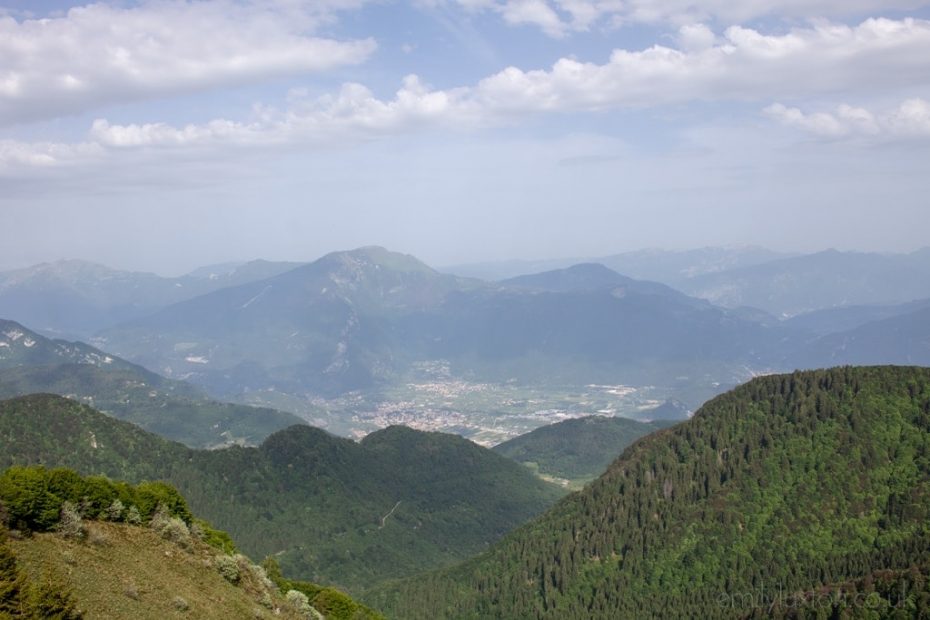 Hotel Maggiorina
Hotel Maggiorina is a simple but clean and comfortable hotel with a very Alpine feel. This was where I stayed and it's conveniently located in the pretty village of Bezzecca, which is ideally placed for exploring the valley. The rooms were lovely and the hotel has some gorgeous mountain views, as well as a really tasty breakfast.
Hotel Lido
I only stopped at Hotel Lido for an aperitivo, so I never saw the rooms. But it was a lovely hotel right on the shore of Lago di Ledro so it would be PERFECT if you're after a nice beach-y holiday on the water. The hotel has a private beach, as well as an indoor swimming pool. The food was really good, too!
Airbnb
If you prefer to have a place to yourself, there are quite a few lovely looking apartments and houses around Lago di Ledro on Airbnb. Click here to get £25 off your first booking if you've never used it before (I'll get £15 credit too so we both win!).
Have you visited Valle di Ledro in Italy? If I've missed anything, scroll down to leave a comment!