Some posts on this site contain affiliate links. If you book or buy something through these links, I earn a small commission (at no extra cost to you). Take a look at my privacy policy for more information.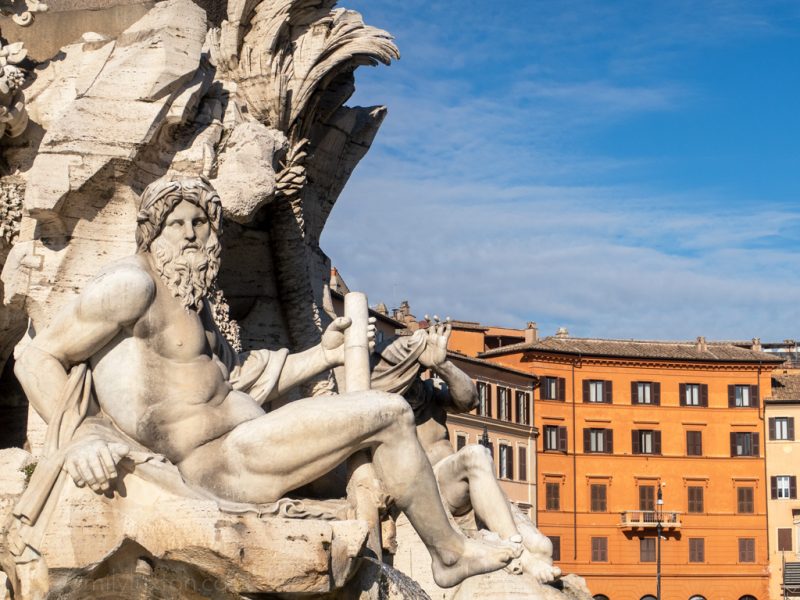 Could January be the best time to visit Rome? After my recent long weekend in the Italian capital, I'm pretty well convinced it is. If nothing else, because the cold weather is ideal if you want to spend your time drinking wine and eating pasta. Although, you might be disappointed, as I'm pretty sure I've already eaten ALL the pasta after spending four days doing very little else.
More on the reasons why January is such an awesome time to visit in the first section of this post. I've written this to help you plan your own trip, so hopefully, this covers everything you need to know. If you have any questions, feel free to ask in the comments – or get in touch on social media.
Is January a Good Time to Visit Rome?
Rome Weather in January
Things to do in Rome in Winter
Photographing Rome in January
What to Pack
Where to Stay
This post contains a few affiliate links. If you book something I recommend, I'll make a small commission, without affecting the price you pay. Also, I was gifted a 2-night hotel stay and one tour, but paid for the rest of the trip myself.
Is January a Good Time to Visit Rome?
Short answer: YES! Long answer, it depends on what you're looking for. If you want sunshine, swimming pools, and day trips to the beach, January probably isn't the best time to head to Rome (or Italy in general). But there are a lot of perks to travelling out of season, so here's why I think January is the ideal time to travel to Rome…
It's warmer than England
More on this in the next section, with weather averages and what-not, to help you plan. While you can't expect sizzling sunshine, January in Rome is definitely warmer than the UK, so it's a nice little escape. I loved wandering around in the sunny streets, taking a much-needed break from the winter cold.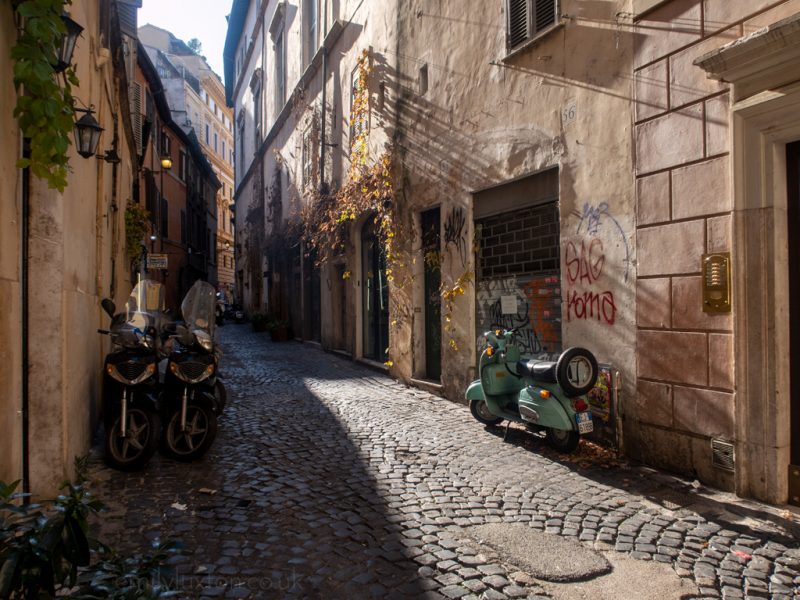 Cooler Weather is Good for Sightseeing
Sightseeing in Rome can mean a lot of walking. I can't imagine how unpleasant it would be to trudge around the crowded colosseum in the burning heat, or wander through the cobbled streets of the Centro Storico (Historic Centre) at the height of summer! January's cooler climate is much more pleasant for exploring Rome on foot, and you can visit the major attractions without breaking a sweat.
Cold Weather = Better for Eating!
When it's hot outside, a big hearty bowl of pasta might not seem all that appetising. A lot of the typical local dishes in Rome are quite heavy: things like carbonara, cacio e pepe, and sandwiches made from pizza dough slices (so good). Delicious, but substantial!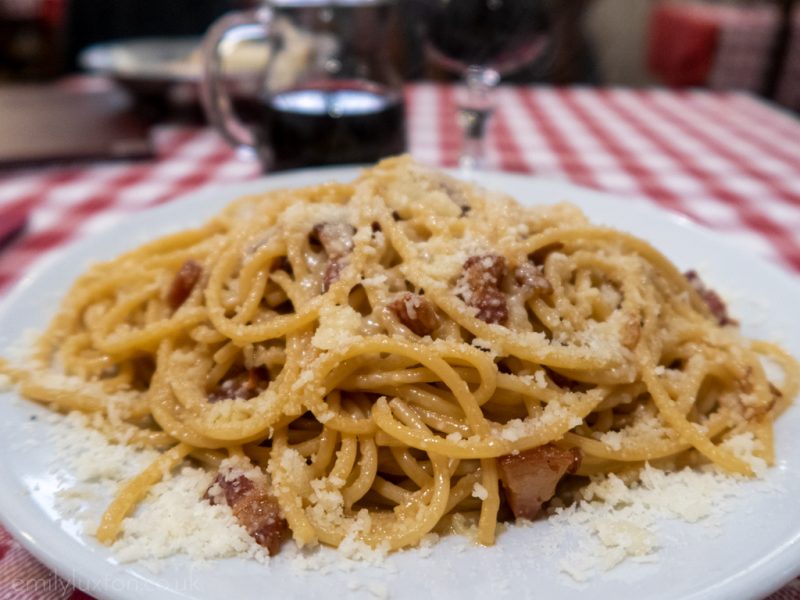 All those hearty pasta dishes and rich comfort foods are perfect for the cold weather. I definitely found January was the perfect time for eating everything in Rome. And I very much ate EVERYTHING!
Less People
When I was researching my trip, all the sites warned about how you need to book "skip the line" tickets for the major tourist attractions like the Colosseum and the Vatican several days in advance.
The queues at the Colosseum can be hours long, apparently, and "skip the line" tickets sell out fast. In January, I bought my ticket online the same day, about 4 hours before I visited! And the queues, when I got there, were only about 20 people long. All the touristy sites I visited were pretty quiet – at least by Rome standards – pleasant and not overly crowded.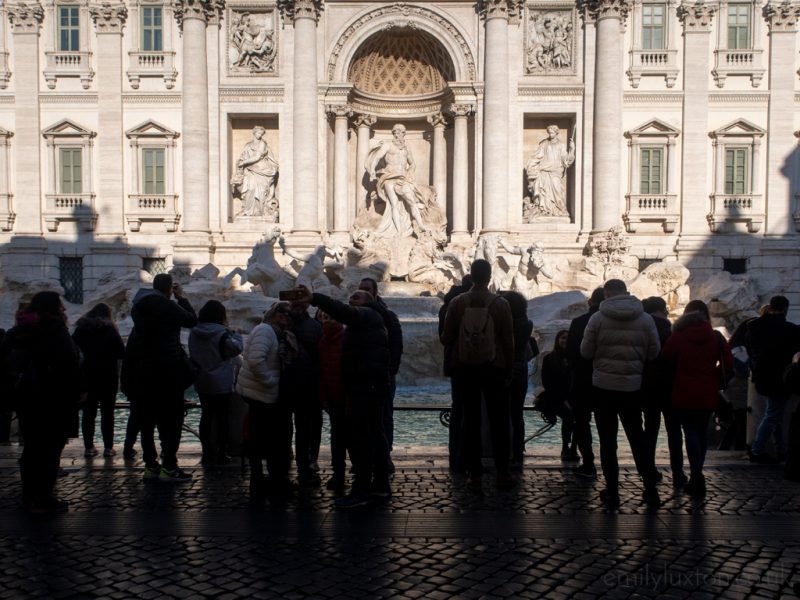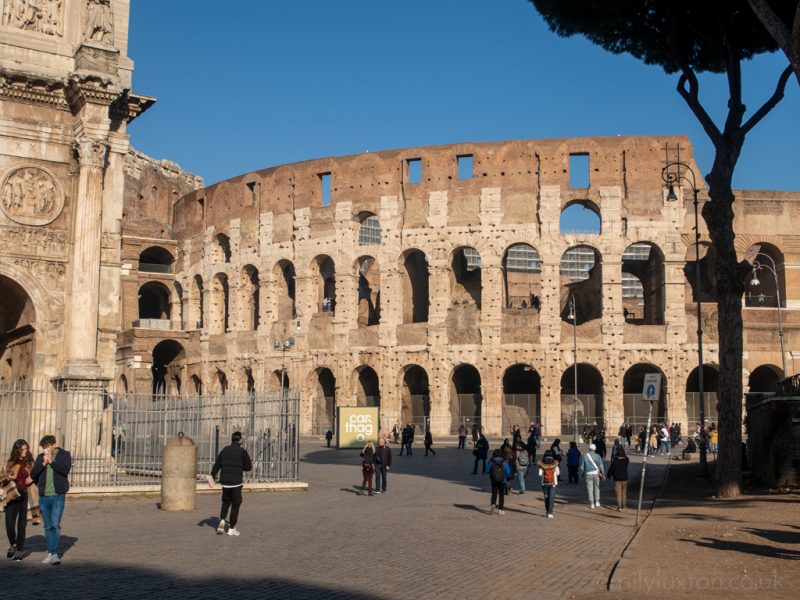 At the Vatican, our guide showed us photos of the museum's corridors during the busiest season and it was rammed – I don't know how anyone even sees anything! It was still pretty busy when we visited (the line for St Peter's Basilica was INSANE) but if you book a tour with skip the line tickets you'll get around pretty quickly and you won't be battling too many crowds.
January Sales!
A lot of people head to Rome for the shopping. That wasn't a draw for me (I only popped into one shopping mall to use the loo!) but I know Rome has a great reputation as a shopping destination – and it's easy to see why.
January is the PERFECT time to visit Rome if designer shopping is your thing. January sales are as much a thing in Italy as they are back home, so this is the best time of year for bargain hunting.
Flights are Cheaper
Speaking of those January sales, they can also mean nice low flight prices. My flights were just over £60 return from London Gatwick, booked a week before I flew. If you fancy a last-minute getaway, January is a pretty good month to grab a bargain flight.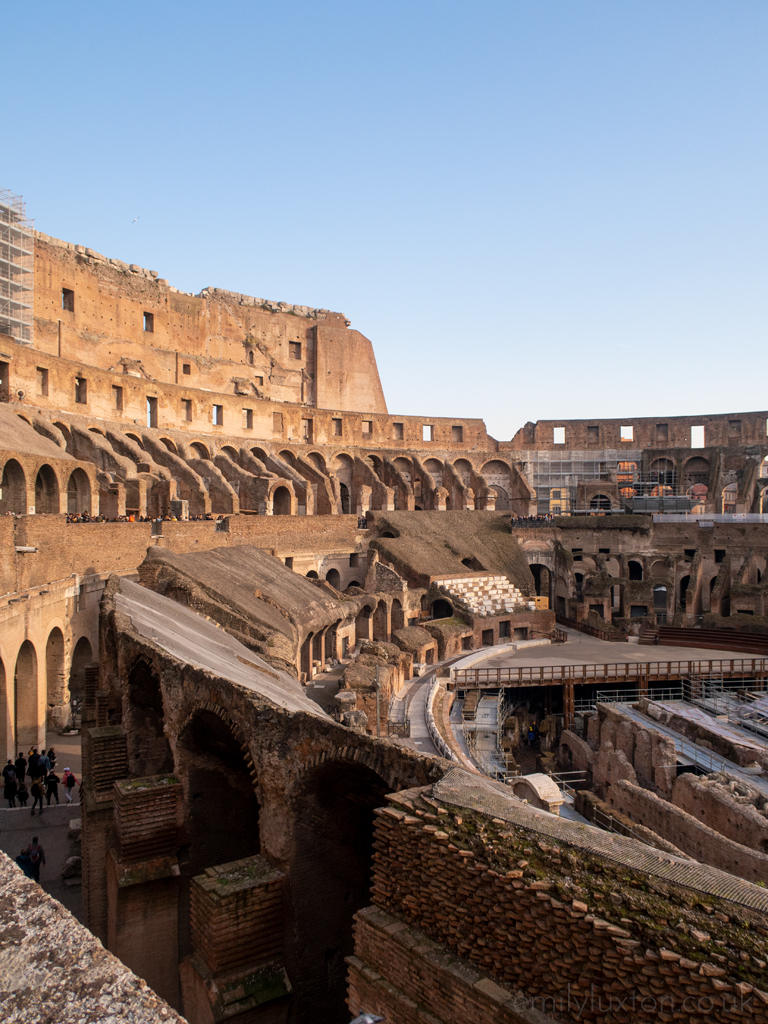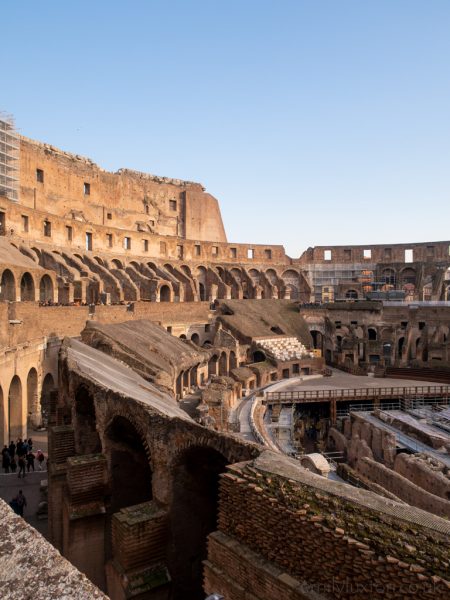 Rome Weather in January
January is the coldest month in Rome, but as mentioned above this doesn't necessarily mean it's a bad time to visit. According to the Met Office, the average high temperature in January is 13.1°C (55.6F). So it's cold, but still warmer than the UK, where the max in London is 8.1°C.
January also has the lowest average rainfall of winter – 49mm compared to 93mm in November and 83mm in December.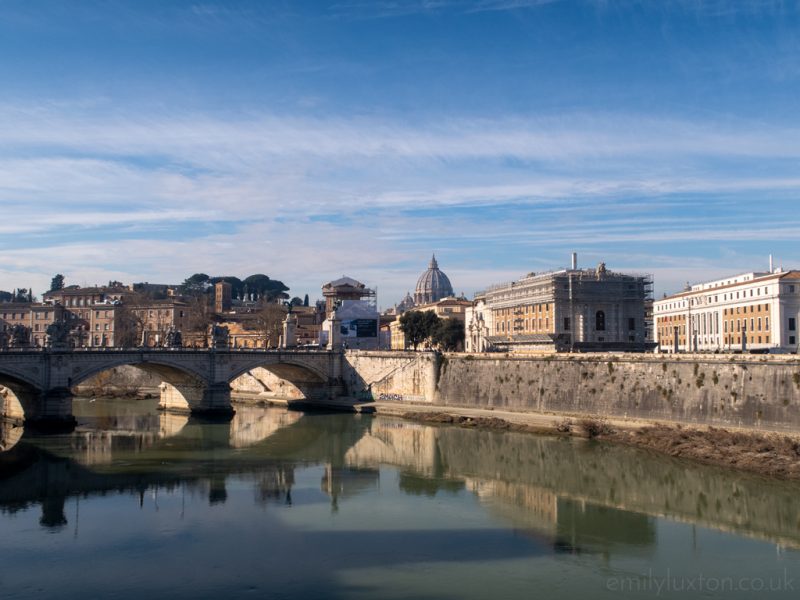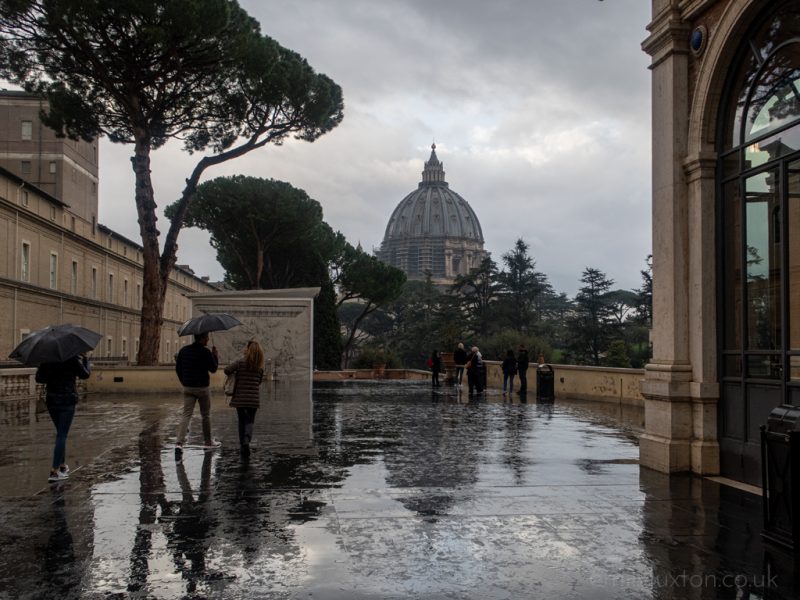 I was in Rome from the 16th – 20th January and mostly had cool, clear weather and sunshine. During the afternoon it was around 14°C (57F), warm enough for me to be wandering around without a coat on in the sunshine. Evenings were chiller, though, around 5-8°C (41-47F). On one of my four days, it rained (a LOT!) – but several locals I spoke to mentioned that this was unusual for January.
Things to do in Rome in Winter
All the normal things to do in Rome, winter or not, still apply in January. Everything is open, and the major tourist attractions are actually a fair bit quieter at this time of year. Here's a quick rundown of the best things to see and do during the colder weather:
Vatican Tour
The Vatican is one of the "must-see" things in Rome, and one of the most popular tourist destinations in all of Italy. This means it gets pretty busy at all times of year – although in January it was MUCH more pleasant than the height of tourist season.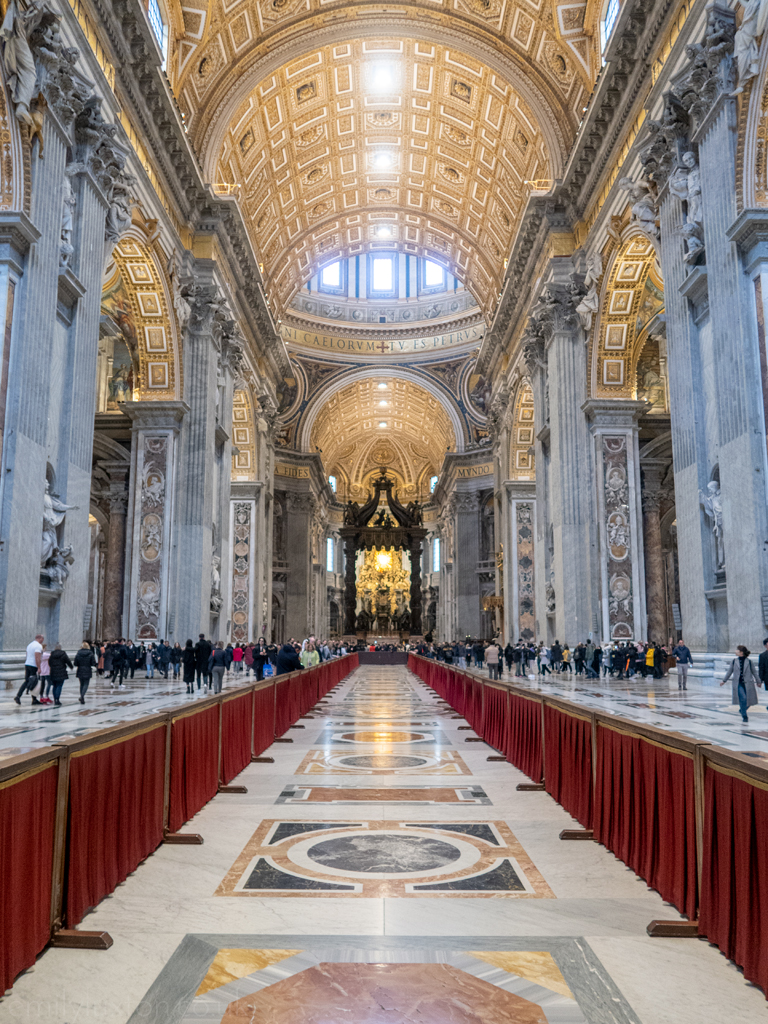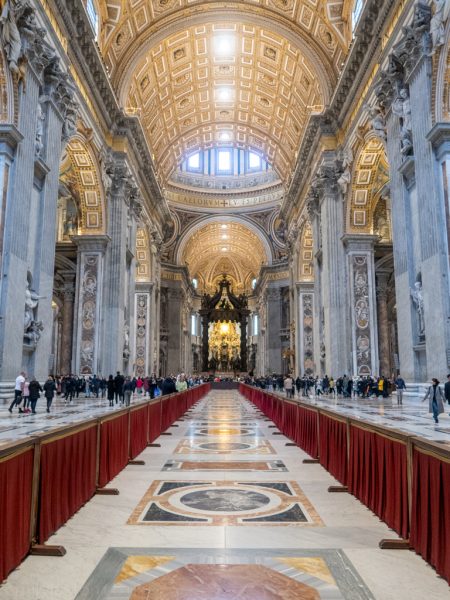 For the best experience, I really recommend you book a tour. I'm not always a fan of tours, but sometimes you just need one, and the Vatican is – in my opinion – one of those times. Not just because the history is long and interesting, and the art collection is overwhelmingly enormous – but also because navigating the museums, the Sistene Chapel, and St Peter's Basilica becomes a whole lot easier with a guide.
I booked my tour through Original Travel*, who found me a 4-hour Context Travel tour of the Vatican with "skip the line" access. This proved INVALUABLE. Despite the horrendous rain, the line for St Peter's Basilica was huge, stretching right around the main square of the Vatican. It can take hours to get in – but we strolled straight from the Sistene Chapel to the basilica without a pause. Our guide was super knowledgable, and the whole tour was really fascinating.
*Tour was gifted in exchange for an honest write-up.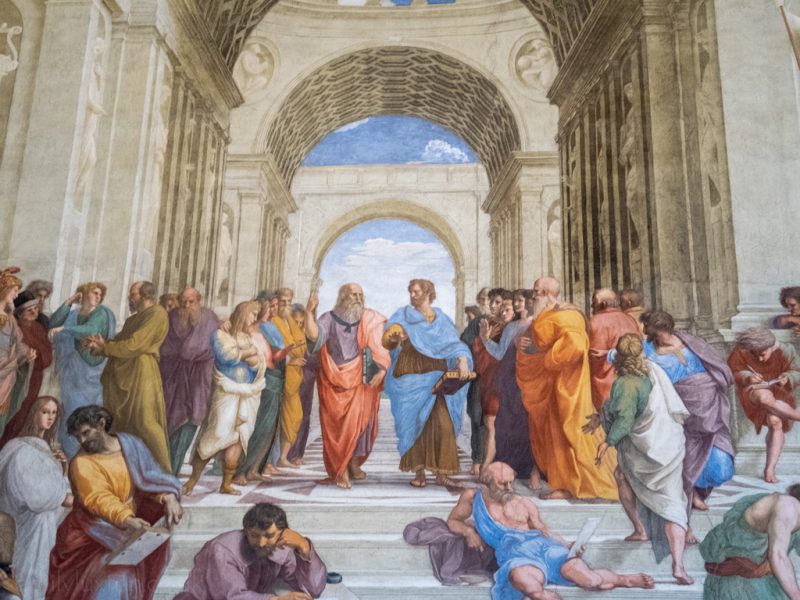 Eat EVERYTHING!
As mentioned earlier, the best thing about going to Rome in January is that it's easier to eat all the wonderful food on offer there.
A lot of people think of Italian food as being the same all over the country. While you can find bolognese, lasagne, and pizza everywhere, the cuisine actually varies a surprising amount from region to region. There are a lot of specialities specific to Rome, so be sure to get adventurous and try a few.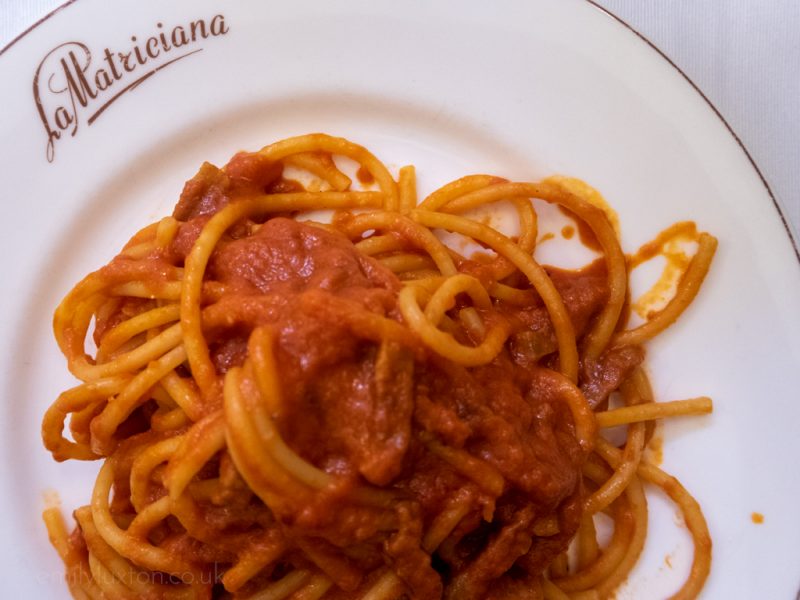 I've written a separate post about what to eat in Rome, but here's a top-five to get you started:
Cacio e pepe
Pizza al taglio
Suppli
Amatriciana
Deep-fried Artichokes (Roman-Jewish style)
RELATED POST: 9 of the Best Places to Try Gelato in Rome
Take a Food Tour
Food tours are always my favourite way to get to know a new city. Part of my whole "deeper travel" ethos is to discover the local cuisine, and there's no better way to do this than on a tour with an expert local guide.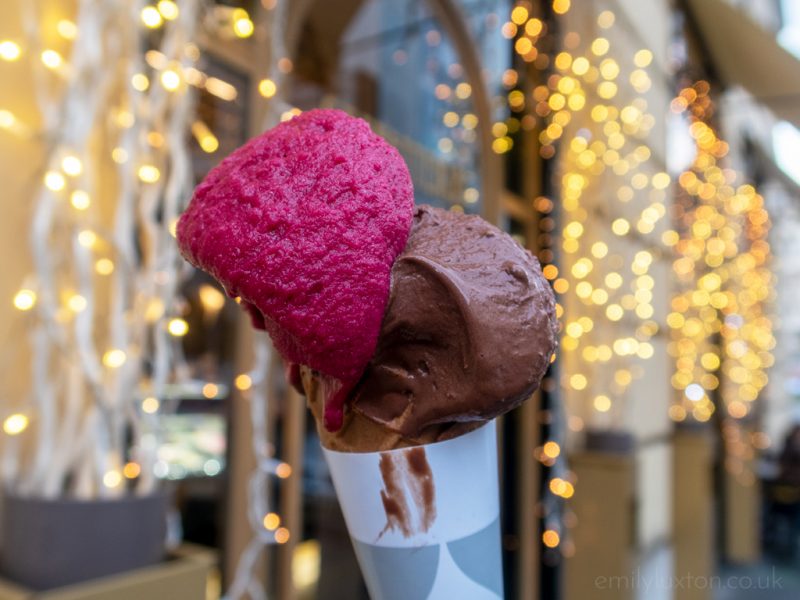 There were loads of food tours in Rome to choose from. I booked this 2.5-hour evening food tour through Get Your Guide (from £33.91pp), because it had loads of really high reviews. I wasn't disappointed; the tour was great, our guide Graziella was amazing, and I ate a LOT. Definitely recommend it.
Alternative tour: 4 Hour Food Tour by Night with over 20 food tastings – from £78.14pp.
Tour the Museums
If the weather takes a turn for the worse, Rome has no shortage of museums for you to duck into. OK – some are actually so impressive that they shouldn't only be seen as shelter when it rains! Here are a few you shouldn't miss…
Colosseum (not really a museum, but definitely a must-see in Rome)
Borghese Gallery
National Roman Museum
Galleria Nazionale d'Arte Moderna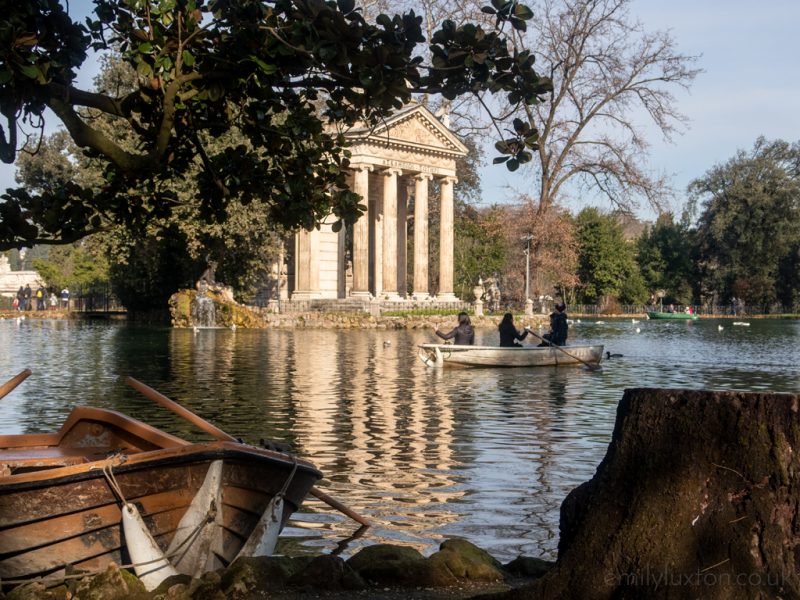 Take a Cooking Class
This is another fabulous indoor activity – and one that involves my favourite thing to do in Rome: eating! Taking a cooking class is a great way to learn a little more about the local cuisine, meet some new people, and have a delicious meal, too.
Recommended Tour: Rome Pasta & Tiramisu Workshop (from £46.88pp) OR Rome Make Your Own Pizza Cooking Class (from £42.54pp).
Photographing Rome in January
One thing to bear in mind about visiting Rome in January is how the weather and lighting might impact your photography.
During winter, the sun rises later and sets earlier, so you have less hours of daylight to shoot in. And all the narrow streets can mean long, awkward shadows throughout the mornings and afternoons. So be sure to think about the best times to visit attractions if photography is your thing.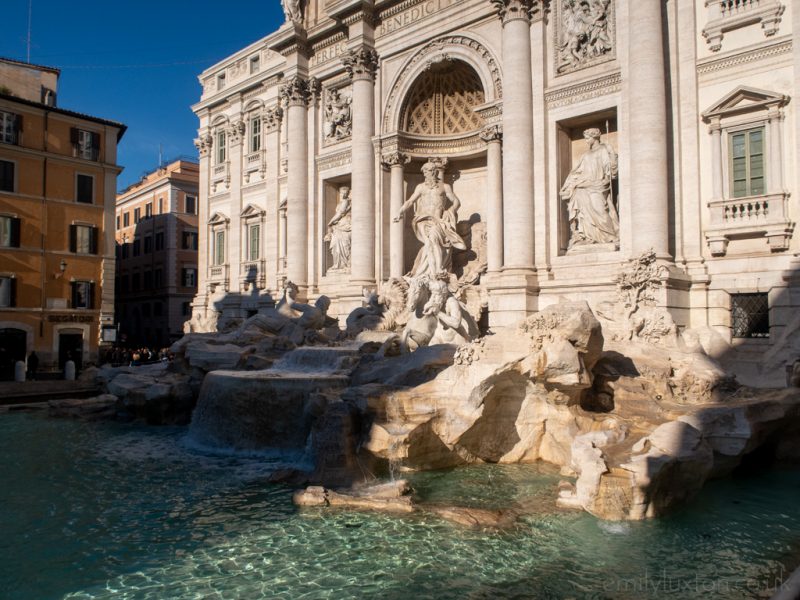 For example, people always say go to Trevi Fountain early so it's less crowded. But when I got there at about 10am, most of the fountain was still in shadow, and I had to wait for the sun to rise a little higher to get a photo that wasn't half in shadow. There's less point in visiting early if you beat the sun as well as the crowds!
If you're really serious about photography, maybe spend a day doing a bit of a scout around, so you can figure out the best times to come back to the things you want to shoot.
What to Pack
Because the weather can be so unpredictable, it's hard to know what to pack for a January trip to Rome. Especially if you're travelling with just hand-luggage, like I was!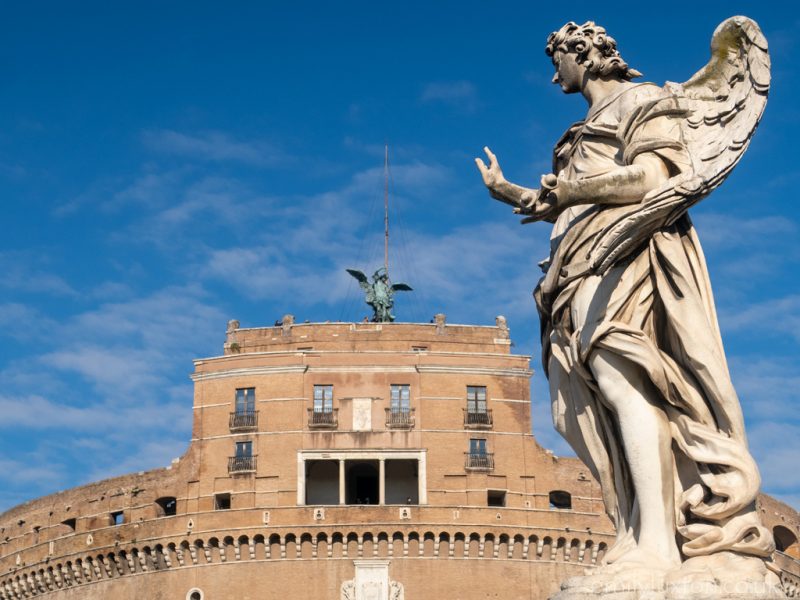 Layers are key, because it can be pretty warm when the sun is at its highest, but cooler through the morning and evening. Plus, the narrow streets of the Centro Storico stay pretty shady and cool all day – which I imagine is lovely in summer, but in winter it means lots of going from cold shade to warm sunshine as you explore.
Wear a few light layers and you can take them off or on as the weather changes. Here's what I wore on my 4-day trip:
Leggings
2x dresses
Thick cardigan
Jeans
3x long-sleeved tops
2x jumpers
Warm coat
Rain jacket
Ankle boots
Trainers
Be sure to take REALLY comfy shoes for sightseeing. I stupidly took my wedge heeled ankle boots, which are OK for a couple of hours walking but basically murdered my feet after wearing them all day. Also – a lot of the streets in the Centro Storico are cobbled, which is tricky to walk on in heels. Stick to comfy, sturdy flats if you plan to walk a lot.
Where to Stay
Palazzo Dama
I spent two nights at the Palazzo Dama, which was organised through Original Travel*. A historic villa which was once the residence of the noble Italian Malaspina family, Palazzo Dama is a seriously elegant boutique hotel.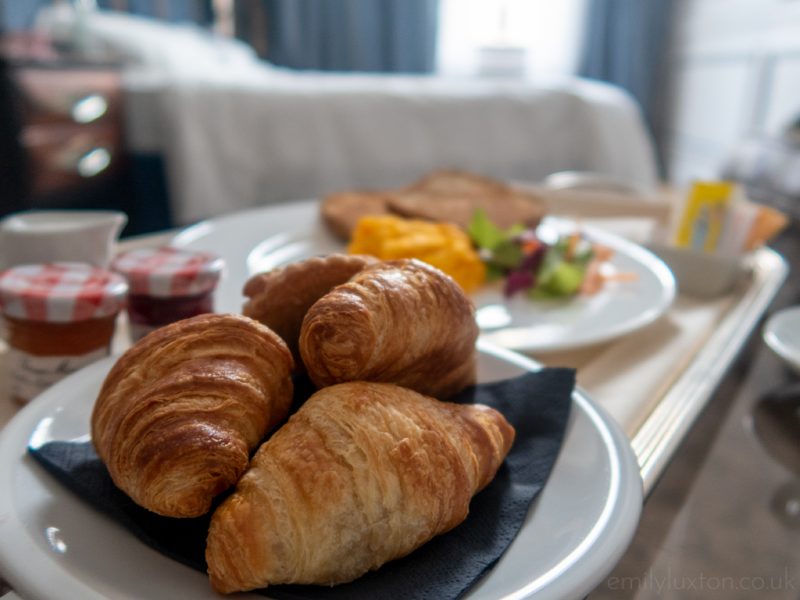 My room was gorgeous, the service was faultless, and the breakfast was fabulous. Plus, the location is great. A little outside of the historic centre in the quieter, stately neighbourhood of Spagna (one of the swankiest in Rome), the hotel is right by Flaminio metro station and just a 10-minute walk from the Spanish Steps.
*Stay was gifted in exchange for an honest write-up.
Maison Vantaggio
For a more mid-range budget, I can also recommend Maison Vantaggio, where I spent the other two nights of my trip. A converted apartment on the edge of Spagna district, this is the perfect budget option.
Given the price, I wasn't expecting much – but my stay here was perfect. I loved the decor, the host was really lovely, and there was a little kitchen area with complimentary snacks, drinks, and cakes left out all day. I'll definitely be staying here again on my next trip to Rome.
CHECK LATEST PRICES: Booking.com | Hotels.com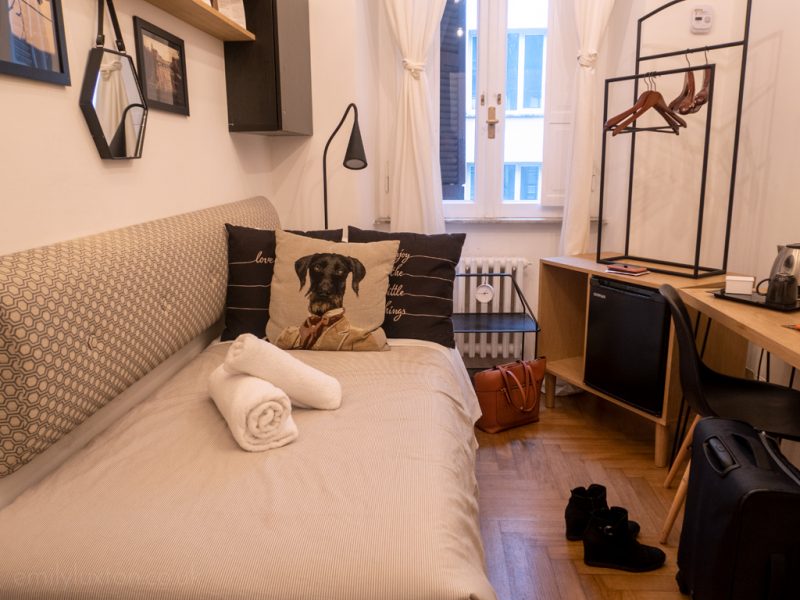 Hostels in Rome
If you're on a budget – or travelling solo – there are lots of hostels in Rome to choose from. I like the look of The Beehive, which has really high reviews on Hostelworld and looks really nice and chilled out.
There's also The Yellow, which is one of the most popular hostels in Rome on Hostelworld. It sells itself as a party hostel so if you're looking for a fun social scene this one could be for you.
MORE: Click here to search all hostels in Rome and take your pick!
About Original Travel
Original Travel are a luxury tour operator who specialise in creating tailor-made holidays across the globe. Planning your own travels can be daunting, especially if you travel solo. One way to get around that is using a trusted tour operator. I found Original Travel fantastic.
They have an app, and send all your travel documents to it, as well as an itinerary drawn up for you. It makes all the planning stuff so much easier – and you don't have to worry about forgetting anything important. If you're looking for someone to help you plan your own Italy trip, I'd happily recommend Original Travel.
Pin This Post