Some posts on this site contain affiliate links. If you book or buy something through these links, I earn a small commission (at no extra cost to you). Take a look at my privacy policy for more information.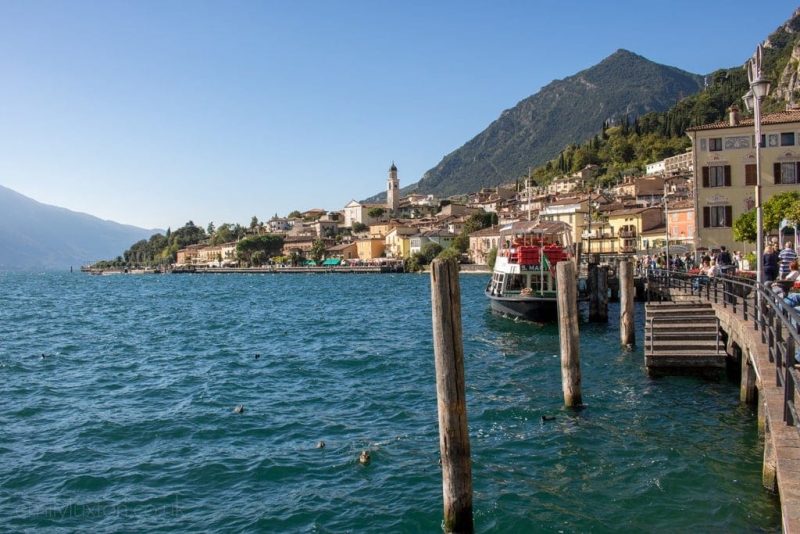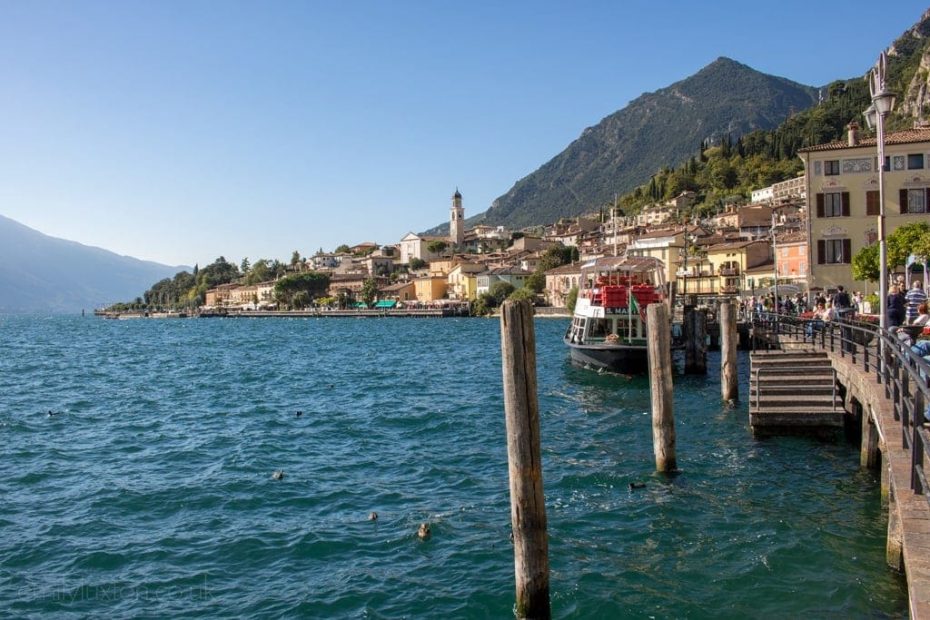 A couple of weeks ago, I headed to Lake Garda on a coach trip with National Holidays – and my little brother Jordan! We had the most amazing itinerary, with day trips to Venice and Verona, as well as lot's of free time to explore the lake. But our last day was definitely my favourite. National Holidays arranged a Lake Garda boat trip for us, and we set out to explore a few of the pretty towns along the edge of the lake.
READ MORE: Check out my National Holidays review to find out more about the trip as a whole.
Boat Trip on Lake Garda
We hopped on board our bright yellow Speedy Gonzales boat and chugged away from Riva del Garda. It was the most glorious day, the water was sparkling, and Lake Garda could not have looked more pretty!
Thanks to a crowded boat, a thick accent, and a dodgy tannoy, I couldn't make out much of the tour guide's narration as we traversed the lake. But let's face it, I wasn't really listening to how high the waterfalls or how many years old the towns were! I was too busy staring out the window at the scenery. Lake Garda is, genuinely, one of the prettiest places I've ever been.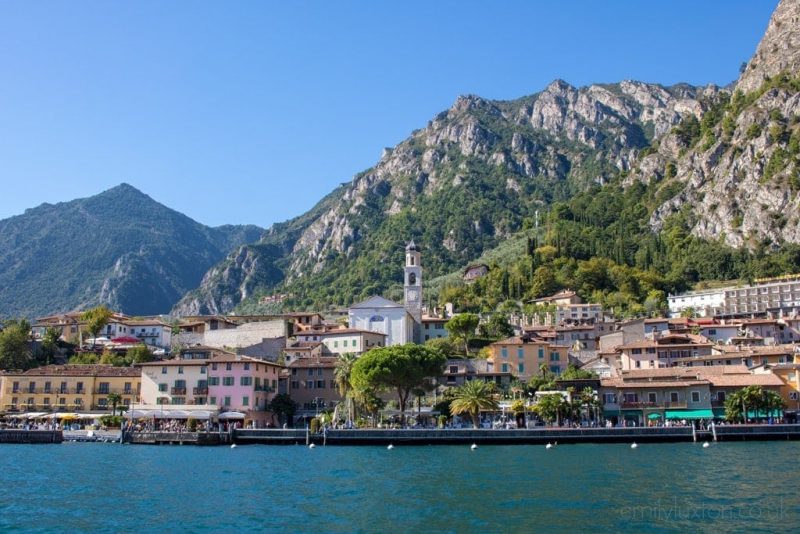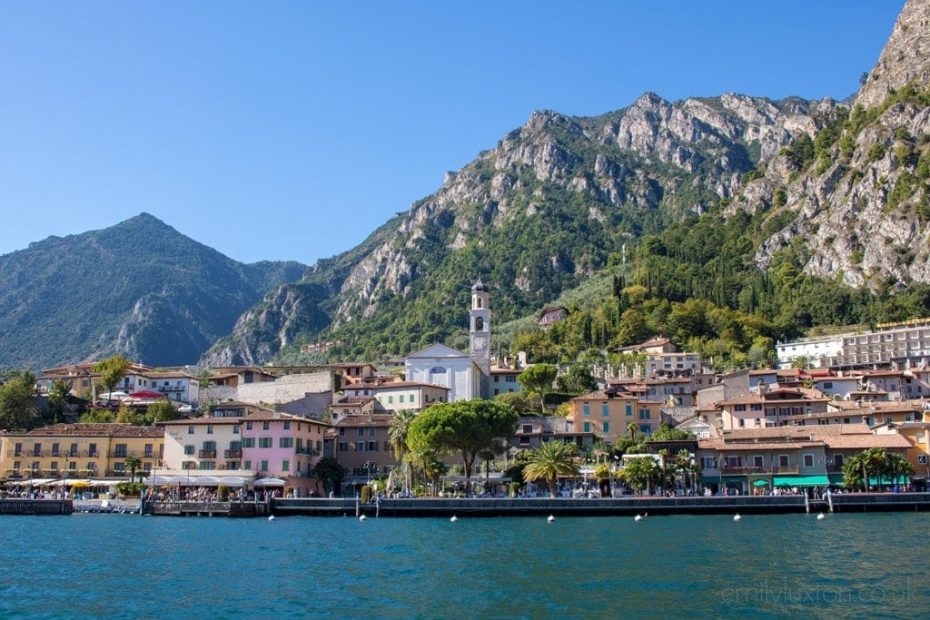 The lake itself is enormous, with clear blue water that looks almost unnaturally perfect, surrounded by towering mountains. Along the slopes are winding roads, plunging waterfalls, and colourful little towns nestled into the foothills. It's all so pretty, but seeing it from the water was a whole new perspective. A Lake Garda boat trip is definitely a must-do in the area so I was glad National Holidays had included one in our itinerary, as otherwise, I might not have done it!
Limone
Our first stop was Limone, which is one of the cutest towns I've ever seen – and it looks extra-pretty approached from the water. Our boat dropped us off and we had just over two hours to explore the town. That might not seem like a lot of time but it's a small town and there's not too much to do.
We wandered through the pretty streets, stopping to take endless photos of the colourful buildings (sorry Jordan). Limone is famous for its lemons, and much of the town is painted a pastel yellow colour. Although it's quite touristy now, they've managed to preserve a sleepy small-town feel, maybe because the tumble of narrow streets zigzagging along the slopes of mountain foothills make it easy to forget that there's anyone else around.
We browsed the cute touristy shops selling Murano glass, and had a gelato by the port – which is full of colourful rowing boats. It's one of those towns that looks like it was built to be a backdrop for photographs, and it's an absolute must-see in Lake Garda!
RELATED POST: Discover Valle del Chiese in Trentino
Malcesine
Next up, we bundled back in the boat and cruised to the opposite side of the lake to explore Malcesine. Although it's a bit bigger than Limone, this is still a pretty small town and again, it looks absolutely gorgeous as you approach from the water.
Malcesine is a Medieval town nestled onto a little curve of land in front of the tallest mountain on the lake, Monte Baldo. Colourful buildings, red-tiled roofs, a picturesque marina, and all of it overlooked by one of the three castles on Lake Garda. Scaliger Castle is seriously ancient – the site of the fortress dates back to last centuries of the first Millenium B.C! – although the castle as it looks today dates from the 11th century AD. It's a really impressive site, and if I'd had more time I'd have loved to explore inside the castle walls. But we were on a mission…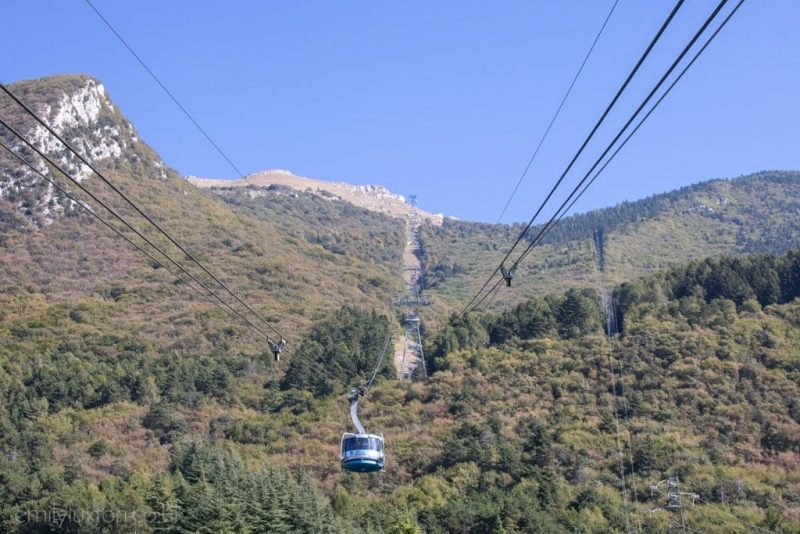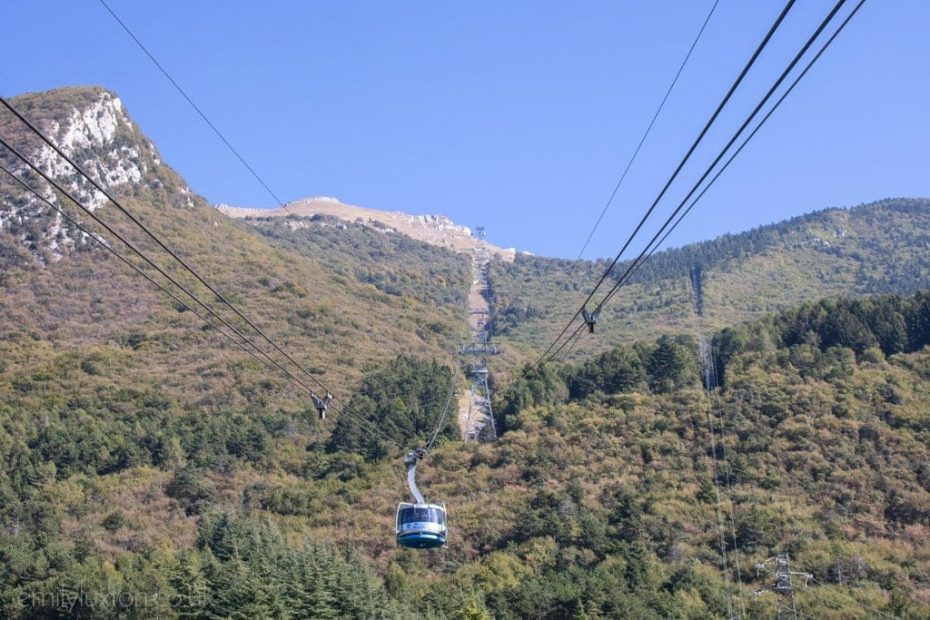 Monte Baldo Cable Car
One of the top things to do in Malcesine is to take the cable car to the top of Monte Baldo. Since my brother has never seen mountains before, I thought I'd treat him to a whole new experience. This wasn't part of the Lake Garda boat trip, but National Holidays are super flexible. I text our driver to let him know we wanted to spend longer in town and would make our own way back – and off we went!
After an immense queue (Monte Baldo gets busy), we squeezed into a pretty tiny cable car with about 70 other people. That's not me exaggerating, they count people in and I'm pretty sure I saw 70 on the screen! Luckily, as the last ones on we were pressed up against the glass doors, with awesome views all the way up. And it's a LONG way up!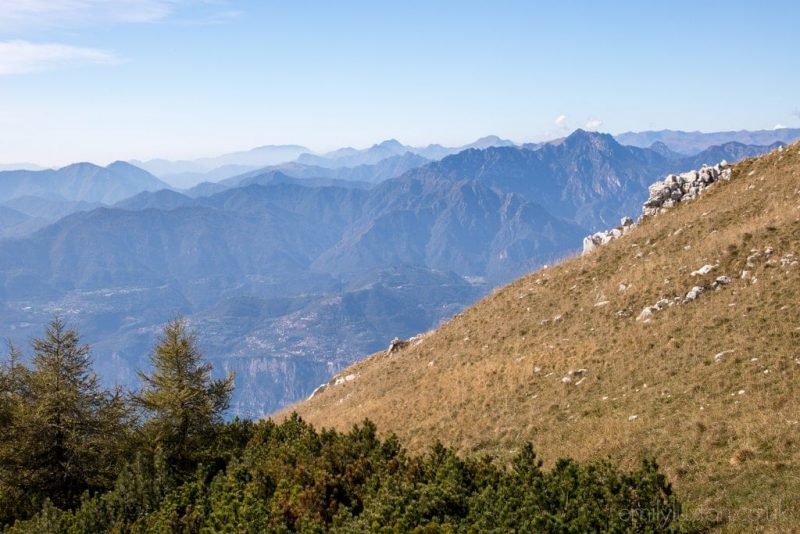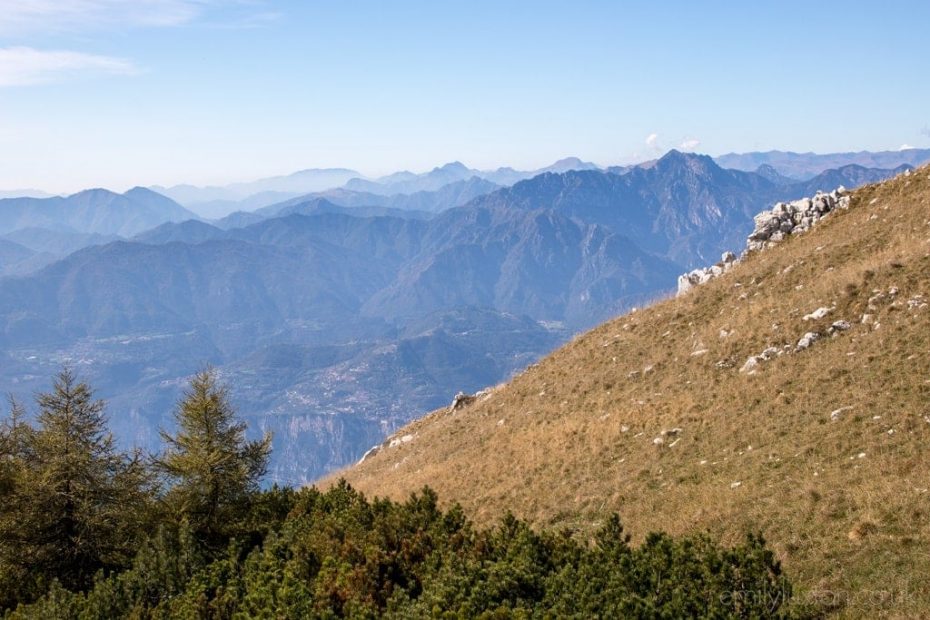 But the rewards were immense. The views from the top of Monte Baldo are just incredible! Since it's the tallest mountain on Lake Garda, from up there you can see over the tops of all the other mountains clustered around the lake. And beyond them are more and more mountain peaks, stretching on endlessly, all pale blue-ish in the midday sun, some topped with snow. But what was so sweet was knowing that it was Jord's first time seeing a view like that.
After all this time travelling, I still find spectacular views moving. But I've realised that compared to a newbie, even I have become complacent! Seeing Jordan's reaction and remembering that feeling of "firsts" (which is one of the reasons I started travelling in the first place) brought it all back for me, and it was such a special moment.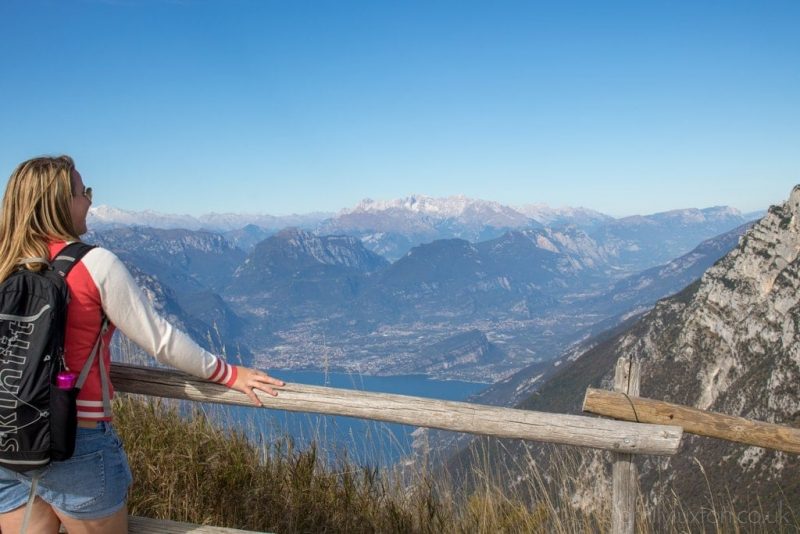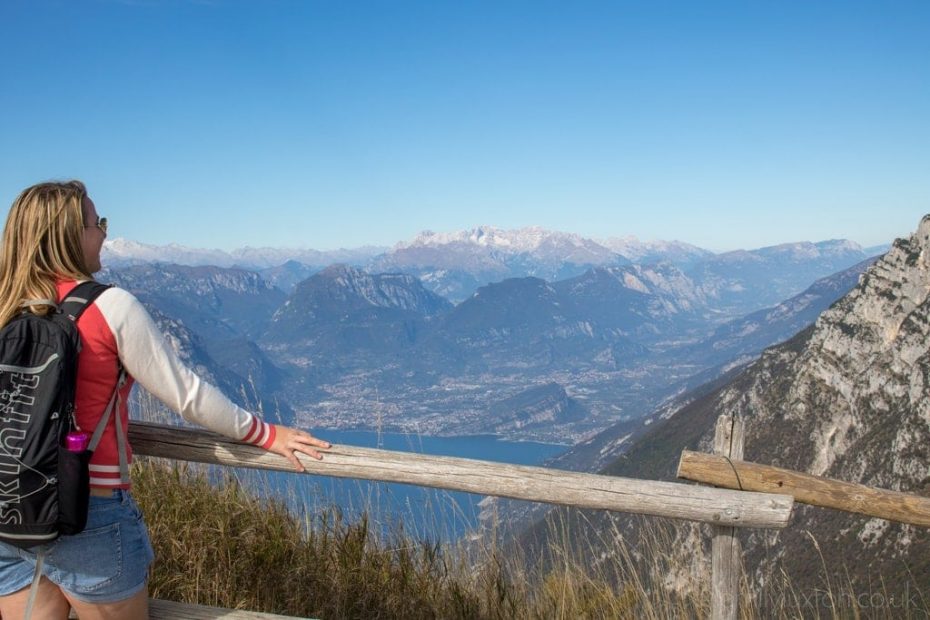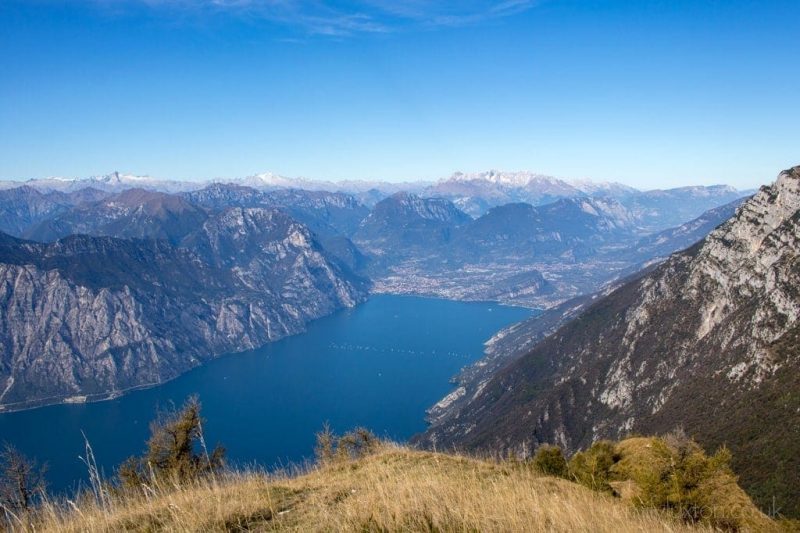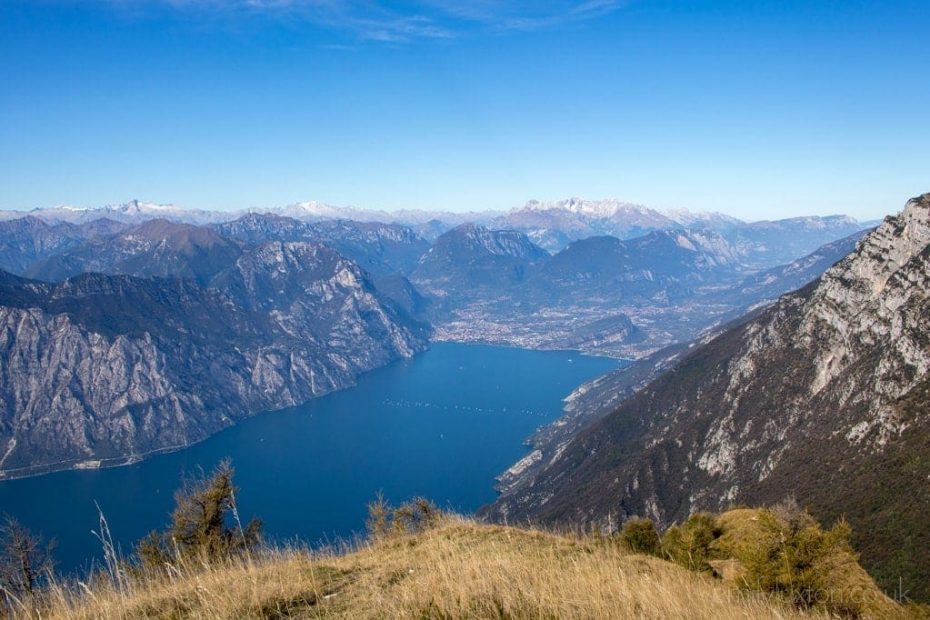 About National Holidays
I was exploring on the Lake Garda & Venice Inclusive Spectacular tour from National Holidays. This included two full day excursions, to Verona and Venice, and the Lake Garda boat trip I've outlined in this post! You can read more about the tour as a whole in my blog post all about it!
My trip was part of a collaboration with National Holidays. But, as always, all words and opinions are my own!
RELATED POST: Seeking Adventure in Trentino's Valle di Ledro
Pin this post!