Some posts on this site contain affiliate links. If you book or buy something through these links, I earn a small commission (at no extra cost to you). Take a look at my privacy policy for more information.
Love Italy? Love sparkling wine? Then add these Italian sparkling wine regions to your travel wish list!
When people think of sparkling wines from Italy, Prosecco is usually the first thing that springs to mind. But it's far from the only option!
Several different sparkling wines are produced in across northern Italy. There's even a sparkling red wine! If you're a fan of fizz, Italy really is the place to go.
Below, I've rounded up the top Italian wines and the regions that produce them – complete with a map. If you want to go wine tasting on your trip to Italy, these are the parts of the country you need to visit. Cheers!
Italian Sparkling Wine Regions: Map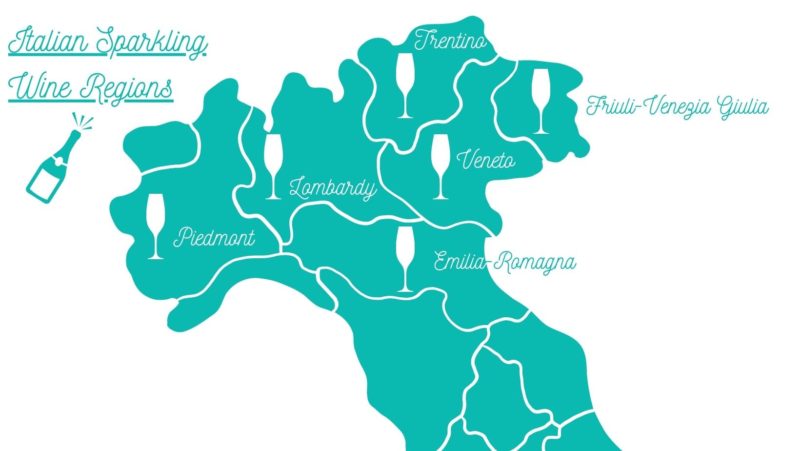 6 Italian Sparkling Wine Regions for your Bucket List
1. Prosecco: Veneto and Friuli-Venezia Giulia
Prosecco is probably the best-known Italian sparkling wine – grown in two regions: Veneto and Friuli-Venezia Giulia. The famous canal-filled city of Venice and romantic Verona make excellent bases for exploring the area. There are some excellent prosecco tours from Venice so it's easy to get out and explore!
Prosecco is made in the 'Charmat Method' using the Glera grape, but up to 15% can be other permitted grape varieties. Which means there are loads of different kinds of prosecco to try.
It can be Dry, Brut, or Demi-sec (medium-sweet), and fruity or floral. Basically, whatever your favourite style of sparkling wines is, you're sure to find a Prosecco you like!
Where is the prosecco region?
Prosecco is a DOC wine ("Denominazione di Origine Controllata"), meaning it has to come from a very specific area in order to be called Prosecco. The area is large, spanning nine provinces in the Veneto and Friuli regions.
There's also Prosecco Superiore DOCG, the next level up, which originates in a tiny area around the towns of Conegliano and Valdobbiadene.
2. Franciacorta: Lombardy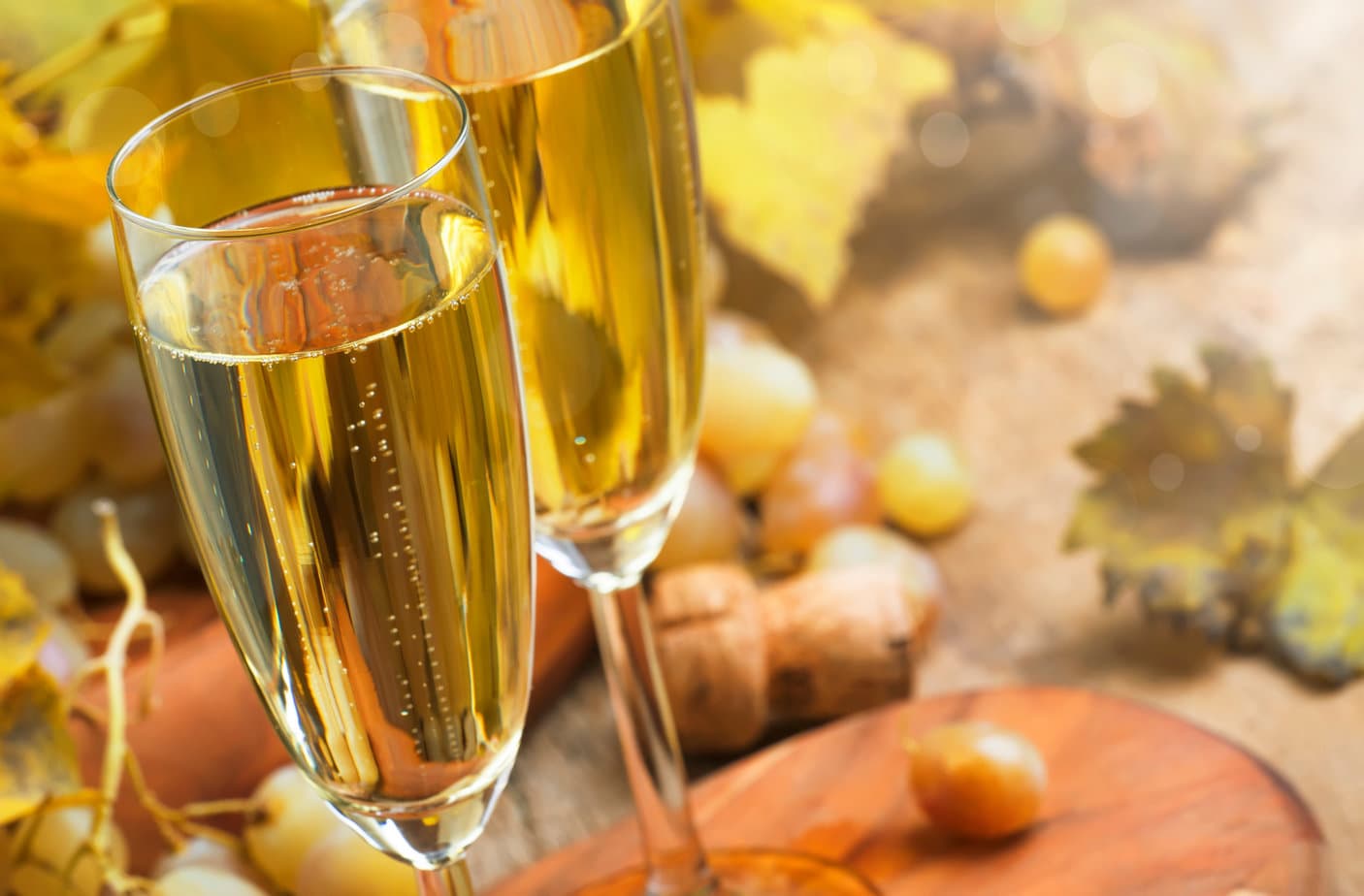 Hopping east into Lombardy, we have Franciacorta: a DOCG wine produced in the province of Brescia.
It's made using the 'Traditional Method' (also called 'Metodo Classico' in Italian), which means it has similar depth and flavour to Champagne. This wine can be aged for up to five years, so usually has more body and complexity than Prosecco.
Franciacorta is made from a blend of Chardonnay, Pinot Bianco and Pinot Nero grapes. There's also a rosé variety (just Chardonnay and Pinot Nero) and a Blanc de Blancs (just Chardonnay and/or Pinot Bianco).
3. Trento DOC: Trentino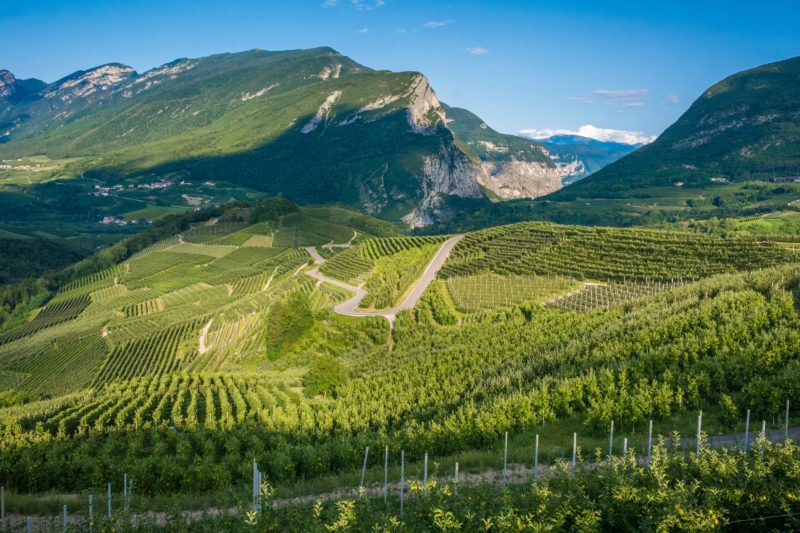 High amongst the Dolomite mountain range, Trentino is one of the more underrated parts of Italy – and one of my personal favourite areas. In this high-altitude region, they produce Trento DOC, one of the best Italian sparkling wines. That's my opinion, but many locals agree.
Trento DOC is made using Chardonnay, Pinot Nero, Pinot Meunier and Pinot Bianco. As with the other DOC wines, the grapes must be grown within a very specific area of the Trentino region.
It's made following the 'Traditional Method' and is known for its crisp acidity.
The beautiful city of Trento makes a good base for exploring – but don't miss the stunning Valle del Chiese and Valle di Ledro for some mountain adventures while you're there. Trentino is one of the best wine regions for a group trip as there are so many amazing things to do in the area!
4. Asti Spumante: Piedmont
Like Prosecco, Asti Spumante is made using the Charmat Method. Sparkling wines made using this method aren't aged for very long, which gives them a fresh fruit flavour because they retain more of the grapes' original aromas.
Asti (also called Asti Spumante) is produced throughout south-eastern Piedmont, Italy – particularly around Asti and Alba.
It's made with the Moscato Bianco grape, so is sweeter and lower in alcohol than some of the other Italian sparkling wines on this list. This sweetness means it's a great option for pairing with dessert.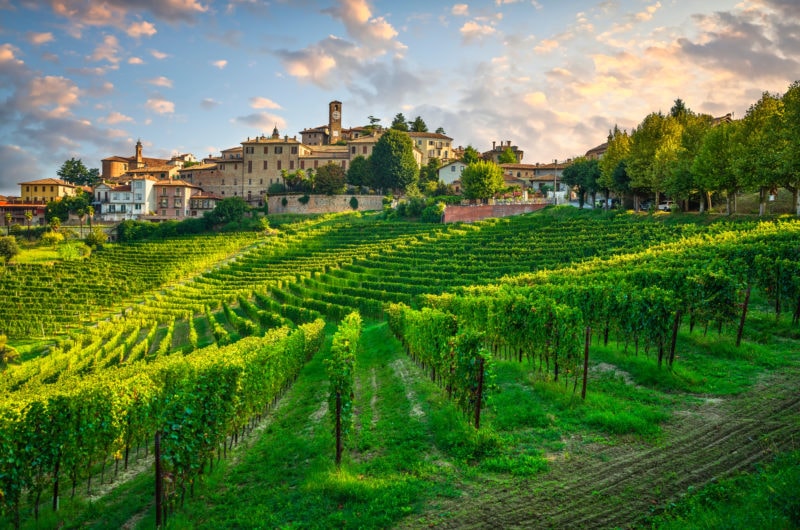 5. Alta Langa: Piedmont
Also from the Piedmont region is Alta Langa. Unlike Asti, this one is made using the Traditional Method, using Pinot Nero and Chardonnay grapes.
Alta Langa can be white or rosé, depending on the percentages of those grapes. But it must be aged for at least 30 months.
Piedmont is a great chance to get a little 'off the beaten path' of Italy. Turin, the largest city, makes a good base, but Asti is near to the areas where both Piedmont's sparkling wine varieties are produced.
6. Lambrusco: Emilia-Romagna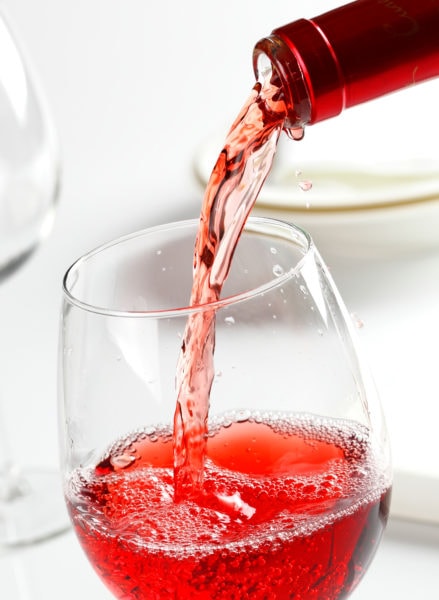 Finally, we have Lambrusco – a red sparkling wine! It's made using the Lambrusco grape, grown in four areas in Emilia-Romagna – as well as Mantua in Lombardy.
Three of these wine zones are also associated with some of Emilia-Romagna's most famous DOC food items. There's Modena, home of the balsamic vinegar, Parma, with its iconic ham, and Reggio-Emilia. All three of them produce the most famous Italian cheese Parmigiano Reggiano. Lambrusco pairs excellently with all those snacks!
Base yourself in the gorgeous city of Bologna to explore the surrounding area. I have a handy Bologna food guide to help you explore the city's incredible culinary scene.
Have you visited any of these Italian sparkling wine regions? Which is your favourite?