Some posts on this site contain affiliate links. If you book or buy something through these links, I earn a small commission (at no extra cost to you). Take a look at my privacy policy for more information.
The name Italy conjures up so many archetypal travel images: art, food, wine, ancient ruins, and, of course, stunning beaches. From the Amalfi Coast in the South to the Riviera in the North, there are hundreds of fabulous choices for beach holidays in Italy – and thanks to my many travel blogger contacts, I've rounded up a number of excellent recommendations over the years. Here are four of Italy's best beach towns, as recommended by travel experts and bloggers…
RELATED POST: 18 of the Best Small Towns in Italy
Vernazza
In her post on Cinque Terre for my Postcard From series, blogger Kristen recommended the town of Vernazzo. "There's only one main road so you become really familiar with it. The food there is very good, and everyone is friendly." Vernazzo is one of five colourful, centuries-old seaside towns which form part of an increasingly popular hiking trail, where you can walk from village to village.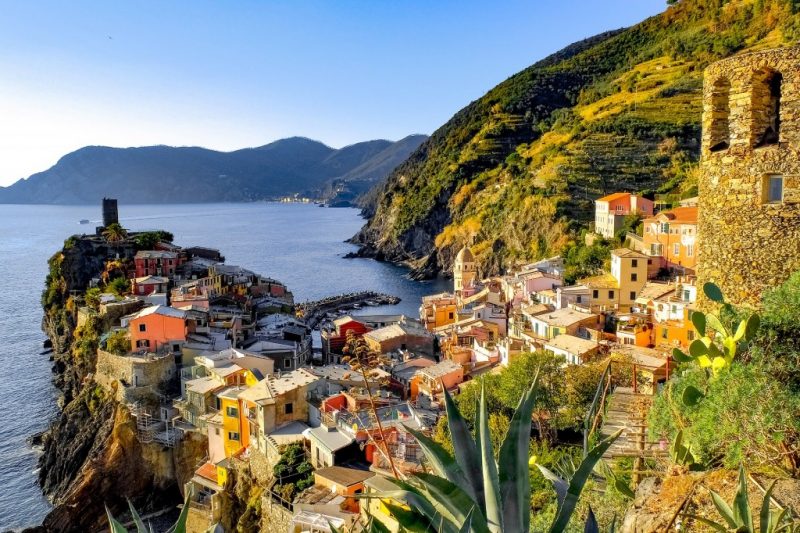 Hot Tip: The towns of Cinque Terre are known for their pesto and their focaccia bread, so make sure to try both of those – and you can buy jars of the pesto in supermarkets if you become addicted, as you might well do!
Lignano Sabbiadoro
A small town in the province of Udine, Lagnano-Sabbiadoro is a very popular place for beach holidays in Italy, and is is one of the main summer resorts in northern Italy. A modern seaside town, with a beach that has been awarded a Blue Flag and plenty of tourist activities, this is a great place for holidays with kids.
Hot Tip: The folks at Unitas Marina, a local tourist agency, say photography fans shouldn't miss the Faro. A red lighthouse grounded by a long wooden jetty where you can walk to the end facing the sea, the Faro is a brilliantly photogenic spot.
Positano
In her Postcard From… Italy, foodie blogger Danni recommended the town of Positano on the Amalfi Coast, as she says it's in a great location fr sightseeing and visiting other towns on the Amalfi coast as well as the islands. Once a small finishing village nestled between hills, Positano is now a busy tourist spot, with pastel coloured buildings tucked into the foot of striking cliffs.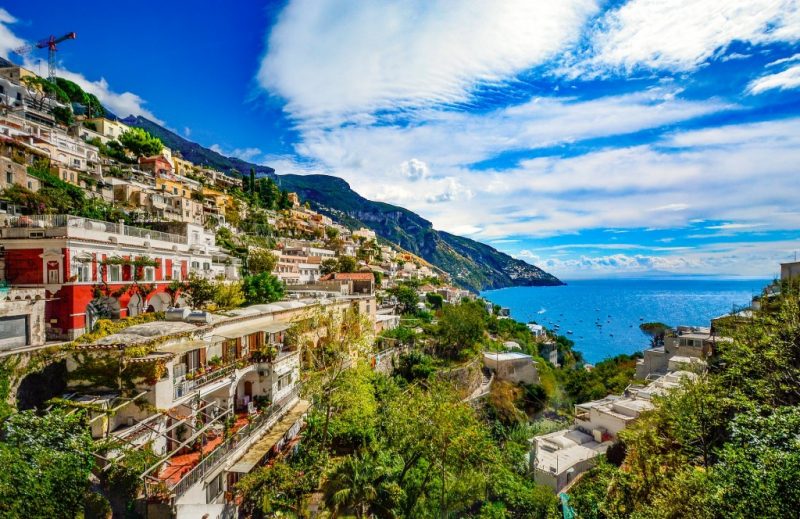 Hot Tip: For the best food in the area, Danni recommends the family-run restaurant La Tagliata in the nearby hillside village of Montepertuso, saying "The menu is adapted to what is in season and what Mamma and Nonna feel like cooking! Everything served comes from the garden or is sourced locally."
Tarquinia
On Twitter, blogger Paxview Jeff (@JR_justJR) got in touch to recommend Tarquinia, north of Rome. It's not well known, which means it's a great option for escaping the hoards of tourists, but it's also home to Etruscan ruins and tombs – making this an awesome place to explore and sightsee.
Hot Tip: Don't miss the Monterozzi Necropolis. A 3,000-year-old marvel and a UNESCO World Heritage Site, the necropolis is composed of hundreds of intricate underground tombs dug right into the stone – containing thousands of graves.
Where's your favourite beach in Italy? Share your tips in the comments!