Some posts on this site contain affiliate links. If you book or buy something through these links, I earn a small commission (at no extra cost to you). Take a look at my privacy policy for more information.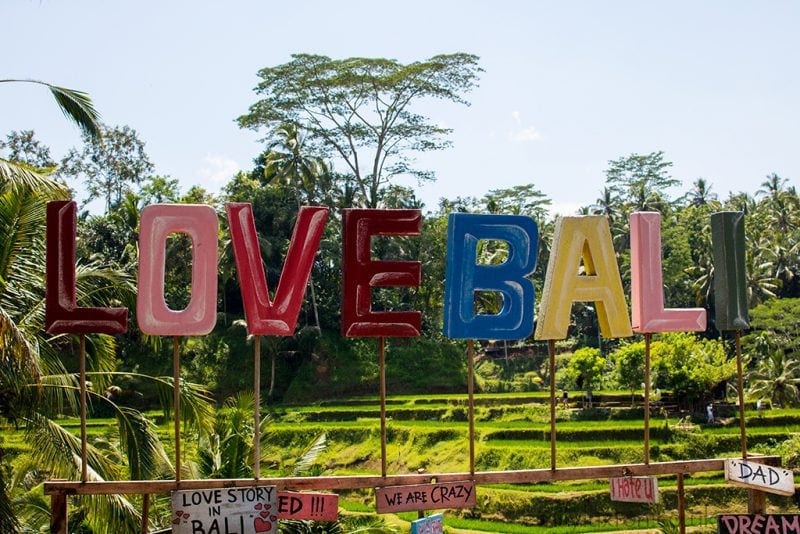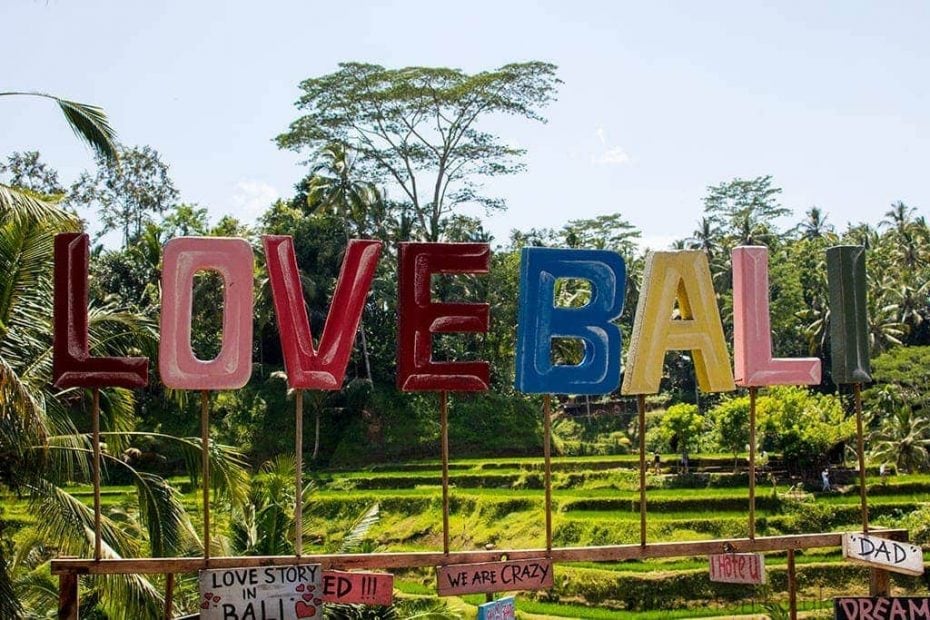 Out of my six weeks in Indonesia, almost two of them were spent in the small town of Ubud, a week at the start and end of my trip. After spending so much time there, I think it's safe to say I'm a bit of an expert now – so I've compiled this in-depth Ubud travel guide.
Focusing on what things cost in Ubud, from food and accommodation to activities and massage, I'm hoping you can use my experience to plan your Bali travel budget.
Although my last trip to Ubud was a couple of years ago now, most of the prices in this post are still pretty accurate. I've made updates where possible and will continue to do so.
If you have any questions or comments about this Ubud travel guide, feel free to ask! The comments box is right at the bottom of the post, or you can email me. Otherwise, I hope this post is useful…
This post contains affiliate links. I'll make a small commission on anything you book based on my recommendation, without affecting the price you pay at all.
Ubud Travel Guide for Backpackers
The following is a guide to budget travel Ubud, but it's relevant for all kinds of travellers. I've included prices and what things cost to make planning as easy as possible.
For reference, 10,000 IDR = £0.55 GBP (or $0.68 USD) as of May 2022.
How to Get to Ubud
Airport Taxi
Cost: 300,000 IDR from Bali airport to Ubud Centre (1.5 hour trip).
Tips: Make sure you know the location of your hotel before you order. The base fee to Ubud centre is 300,000, but the stand tried to charge an extra 50,000 to drop me at a hostel that was actually before Ubud centre. I had the location up on Google Maps and was able to argue my case. But personally, I'd say avoid the Airport Taxis altogether and get a Bluebird or aGrab (read on for more details).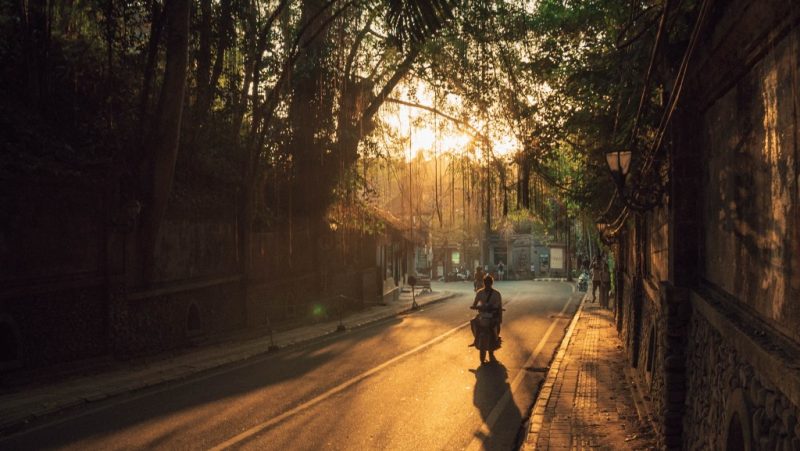 Uber or Grab from Bali Airport
Cost: 130,000 IDR from Seminyak to Ubud centre (1.5 hour trip).
Ride-hailing is pretty readily available in Bali and was the cheapest option I found other than a bus. Although Uber is no longer available in Bali, Grab is the Asian version of the app and it is available across the island. So I recommend downloading Grab and setting up an account ready for your trip.
You can't order Grab to the airport because the local "taxi mafia" will block them, and there are some places that the drivers won't be able to drop you off. This is annoying since as you can see the prices are far more reasonable than the taxis, often costing half or even a third of the price.
Alternatively, the Indonesian ride-hailing company is Go-Jek, which operates in Bali. I've never tried this app myself – but it was recommended by a traveller in the comments section.
Perama Bus
Cost: 60,000 IDR from Kuta to Ubud (around 2 hours).
This is by far the cheapest option and in my experience, Perama are a really good, organised company. They don't seem to collect from the airport but their office in Kuta isn't far from the airport so you could get a taxi there and then hop in a bus. You can book online in advance, so Perama are pretty easy to deal with.
READ MORE: Where to go in Bali
Cheap Metered Taxi from Kuta to Ubud
Skip the prepaid Airport Taxis at Bali airport, because they love to rip tourists off! Instead, the metered Bluebird Taxis have the best prices and will cost around 200,000 IDR to get you to Ubud. Here's how to find them.
Walk out of the terminal and head to the strip of shops in front of the domestic terminal – Starbucks is the best landmark. Walk down that strip, then follow the road round to the exit (there's a pavement/sidewalk with a wire fence on the left). About halfway down there's a pedestrian gate out to a side street, where you'll usually see a bunch of Bluebirds waiting. I've dropped the location in red on the above map for you.
Ubud Travel Guide: Getting Around
Ubud is pretty small and very walkable, so you can get around most of the town on foot. Many of the attractions are quite far from town, though, so to reach those you'll want to rent a scooter, hire a driver, or book a tour.
Scooter Rental – 60,000 IDR for 24 hours from Joker Hostel. I think most places charge around the same but I wouldn't pay more than 60 a day! I didn't need to refuel mine, but I'm told 10-20,000 IDR is enough to fill her up for the day.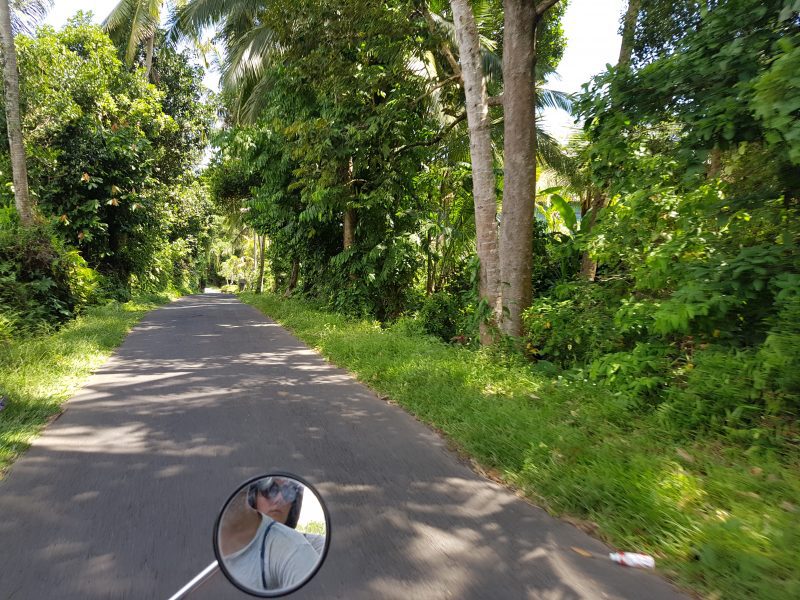 Hiring a Driver – There are a lot of people offering taxi services in Ubud and the surrounding area, and you can easily hire a driver for the day to take you to anywhere you want to go. Two girls I met had paid 600,000 IDR between them for a day and visited 5/6 spots, but another girl only paid 250,000, so my guess is it all depends on your haggling skills. Finding a driver is easy – just walk along any of the main roads in Ubud centre and you will be offered a taxi within two minutes!
Accommodation in Ubud (on a budget)
Thanks to its lovely central location, Ubud is one of the best areas to stay in Bali – especially for nature lovers and backpackers. There are several different styles of accommodation in Ubud, from hostels, to simple guest houses and homestays, to nice hotels and posh resorts.
Below are a couple of my favourite budget options, or check out this guide on where to stay in Ubud for more recommendations.
READ MORE: My Guide to the Best Hostels in Ubud
Joker Hostel – 100,000 IDR a night in a 12-bed dorm. Hostels in Ubud tend to be a little pricier than the rest of Asia, but they're still affordable. The relatively new Joker Hostel is about the lowest price I found in town for a dorm bed.
The location was good, there was aircon in the dorm and a really great breakfast included. But, the hostel isn't particularly soundproof – it's not a party hostel but if people are up at night talking in the courtyard it'll likely keep you awake. The atmosphere is great though and the staff are amazing.
Jangkrik Homestay – £13.50 GBP per night (booked online), including breakfast. There are loads of homestays and guesthouses dotted around Ubud and these are the cheapest option for a private room. Jangkrik Homestay is a small, family-run property just off Jl. Hanoman, in a very quiet, leafy complex. The location is amazing, the family are really sweet, and the room is basic but comfortable.
Things to do in Ubud
This is the best part of any Ubud travel guide – what to do there! Below, you'll find some of the top things to do in Ubud. I;ve also included the prices to help you cost it all up!
Balinese Dance at Ubud Palace – 80,000 IDR. One of the top things to do in Ubud is to watch a performance of Balinese dance. There are dozens, possibly hundreds, of options around town – ranging in price. Some are even free. But the nightly performances at Ubud Palace tend to be the most popular.
Monkey Forest – 40,000 IDR. The Ubud Monkey Forest is exactly what it sounds like – and it's great fun! Just be careful of your belongings, and don't pick any up – those monkeys are feisty!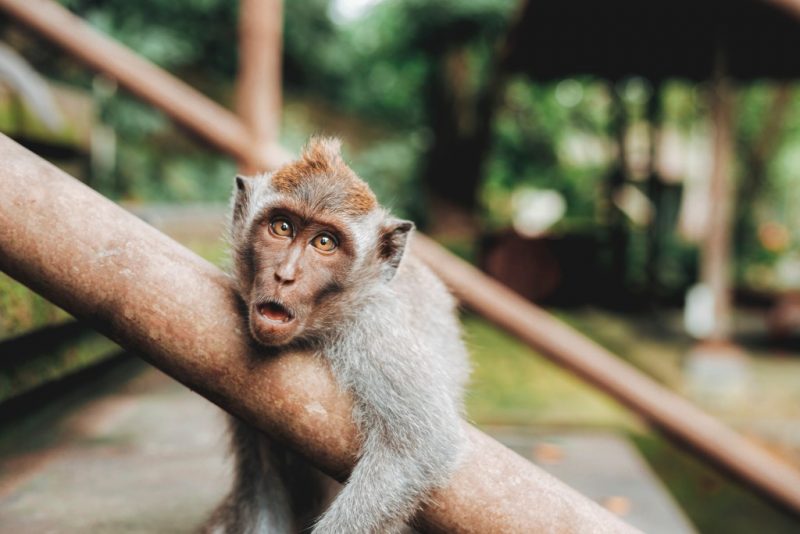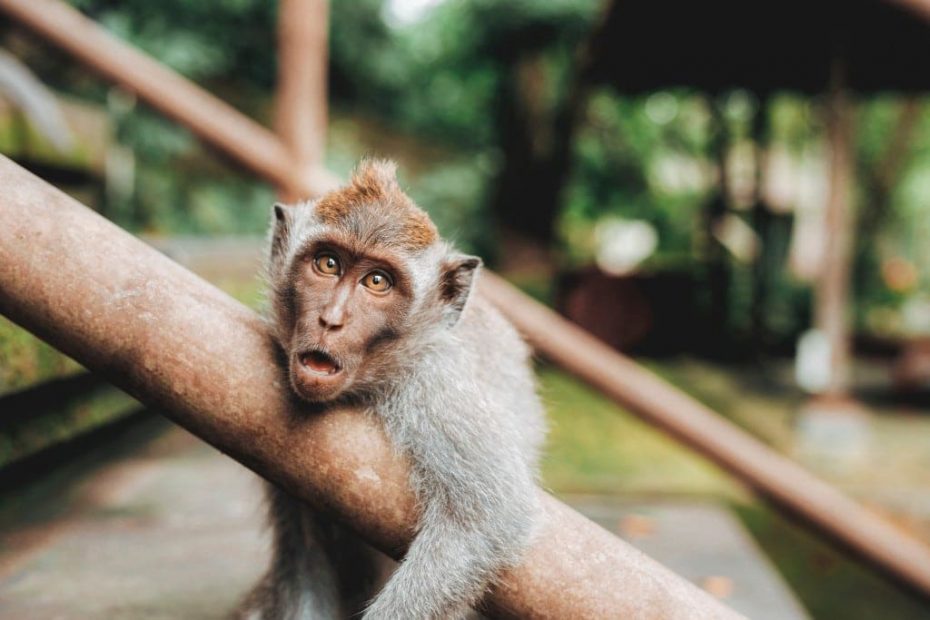 Temples – Free. There are dozens, maybe hundreds, of temples all over the city – so take some time to explore a few. Exploring the many Hindu temples is considered one of the best things to do in Bali, and Ubud is probably the best place to discover them. The architecture is amazing and they offer a great insight into the local Hindu culture.
Yoga Barn – 130,000 IDR for one class (1.5 hours unless otherwise stated), or you can purchase in bulk to get a discount. A 30 day unlimited class card costs 2,600,000 IDR. This is a big yoga studio complex with a variety of yoga and meditation classes all day, every day (find the schedule here).
Find more things to do in Ubud here – choose from over 100 local tours and activities.
Things to do Around Ubud
The area surrounding Ubud is full of amazing discoveries that need to be on every Bali itinerary! Hop on a moped or hire a driver and get out into the countryside to discover these awesome things to do around Ubud…
Sunrise Trekking Mount Batur – Most tour companies seem to charge around 250,000 IDR for this, which includes breakfast and coffee at the top. I booked a private Batur sunrise hike through Go Voyagin for £39 GBP. It costs a bit more, but I found it much easier to book the trip online. And I had a fantastic experience with the company (review here).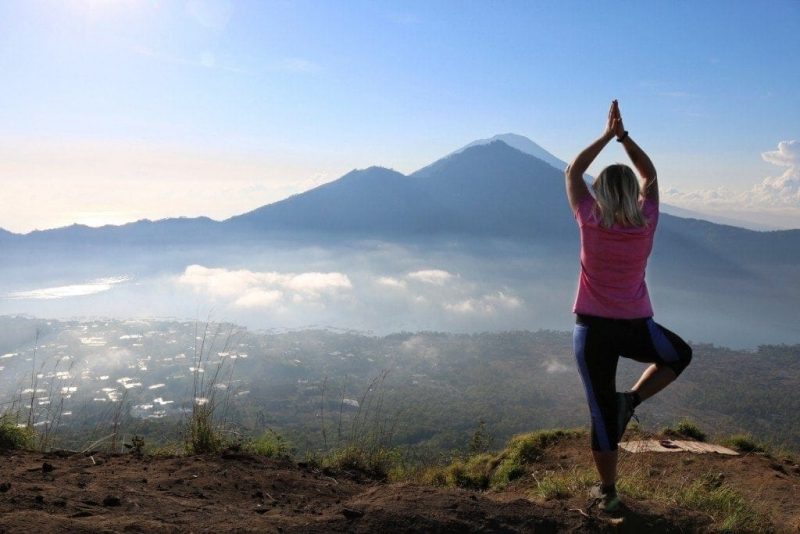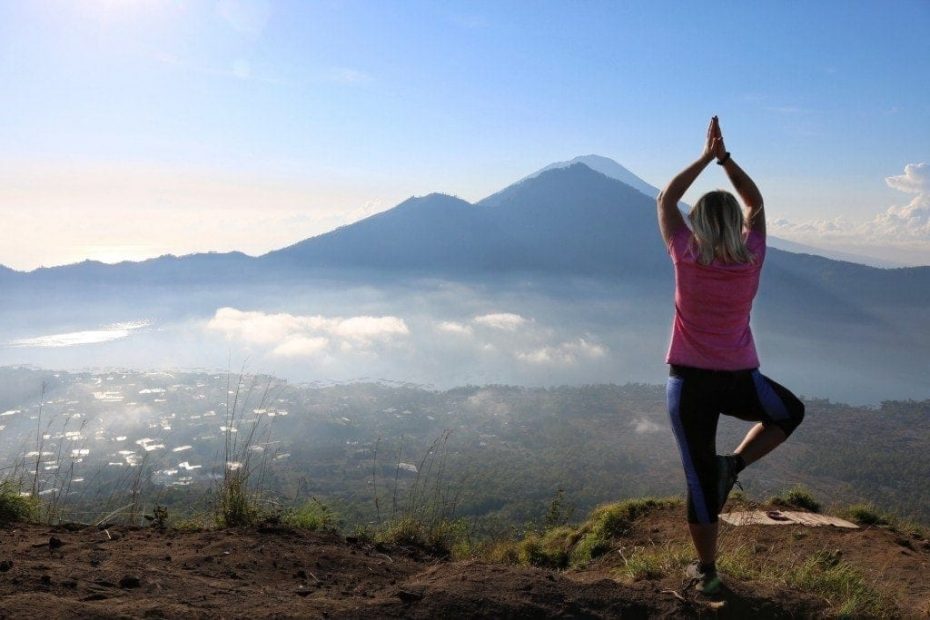 Tegalalang Rice Terraces – Free for the initial view. There are a series of checkpoints on the far side requesting a mandatory "donation" (around 3,000 IDR) to walk further, but you can get a fab view without needing to pay. There are also dozens of other rice terraces around Ubud which are completely free to visit, too, but the ones at Tegalalang are the most famous.
Tirtha Empul (Holy Spring Temple) – 15,000 IDR for entry, plus a donation (seems to be your choice) to borrow a sarong. Plus 2,000 IDR to use the toilets. There are a series of fountains here which are used as part of a cleansing ritual, so you'll want to change out of your wet things after taking the plunge.
White Water Rafting – From £48 GBP per person when booked online through Go Voyagin (currently half price down to £24). White water rafting down the beautiful Ayung river – price includes hotel pick up.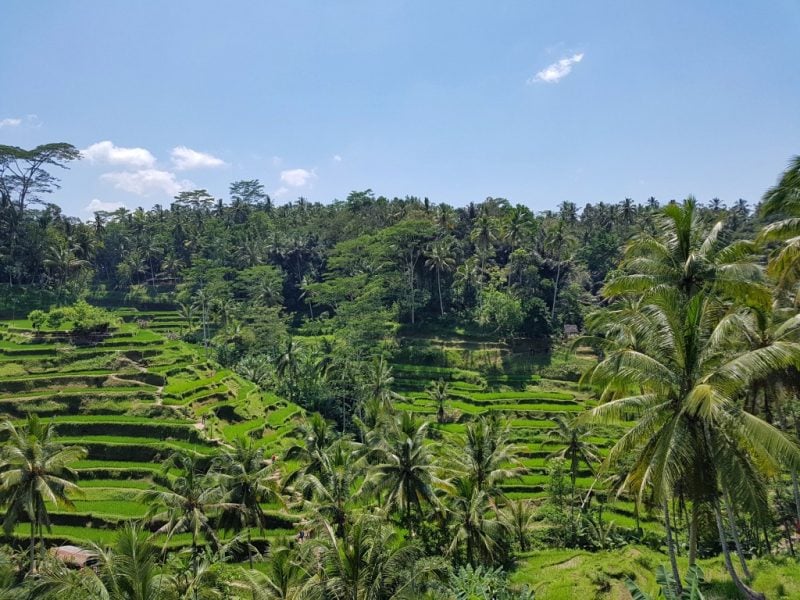 Ubud Waterfalls
There are dozens of waterfalls around Ubud. Some are free, others charge a few thousand rupiah to enter and have facilities like changing hut and staff on hand to stop accidents. At Goa Rang Reng they even helped me up and down the slippery rock face to get to the pool! Here are a few of the waterfalls near Ubud…
Kanto Lampo Waterfall
Free when I visited as it was closed for swimming (but they still let me look around). There was a sign about a 5,000 IDR donation so I think you might have to pay that when it's open.
Goa Rang Reng
5,000 IDR. – A sacred cave and a small waterfall in a pretty spot surrounded by forest. There's not much room to swim, but the shallow pool is a great place to cool off.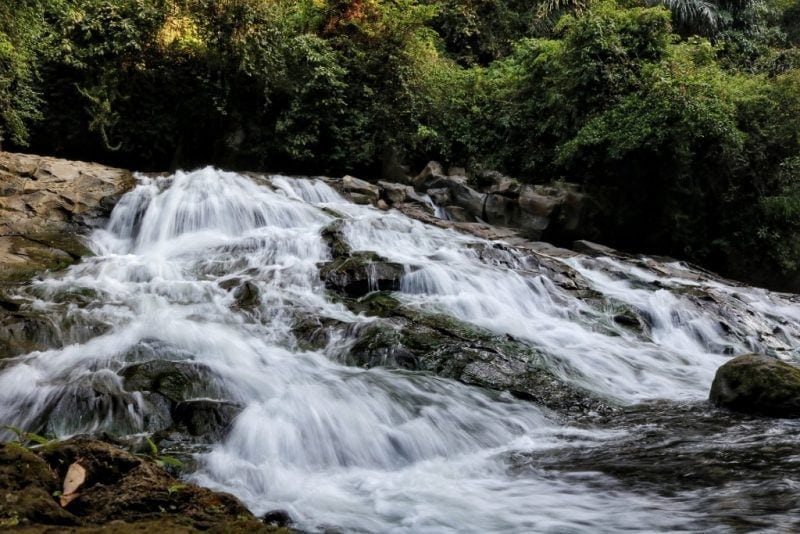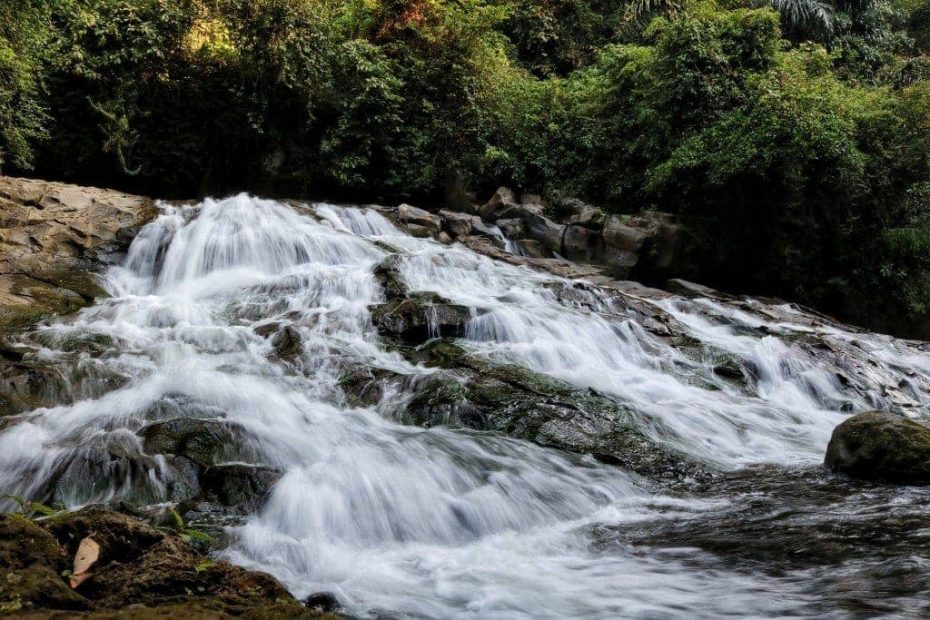 Tegenungan Waterfall Entrance Fee
Tegenungan is the best known of the Ubud waterfalls. The entrance fee for Tegenungan is 10,000 IDR to enter from the village side. It costs another 10,000 IDR to climb up the other side.
The views are slightly different on each side, but if you only want to pay once you might prefer to enter from the far side (opposite the village), as you can stand on top of the waterfall before making your way down. This is the most popular, and busiest (and therefore most expensive) waterfall in the area. It's probably also the best for swimming – but it gets crowded.
Bali Food Prices – Ubud Restaurants
Prices for food and drink in Ubud vary massively depending on where you eat. This is a big "digital nomad" and expat town, and it's very popular with tourists too, which pushes prices up slightly. Cheap eats can be found in Ubud, though – just hunt out smaller "warung locals". If you don't mind paying a bit extra, the tourist restaurants cater for just about every Western taste. These are some of the best places to eat in Bali – and there are some really excellent vegetarian, vegan and raw food restaurants around.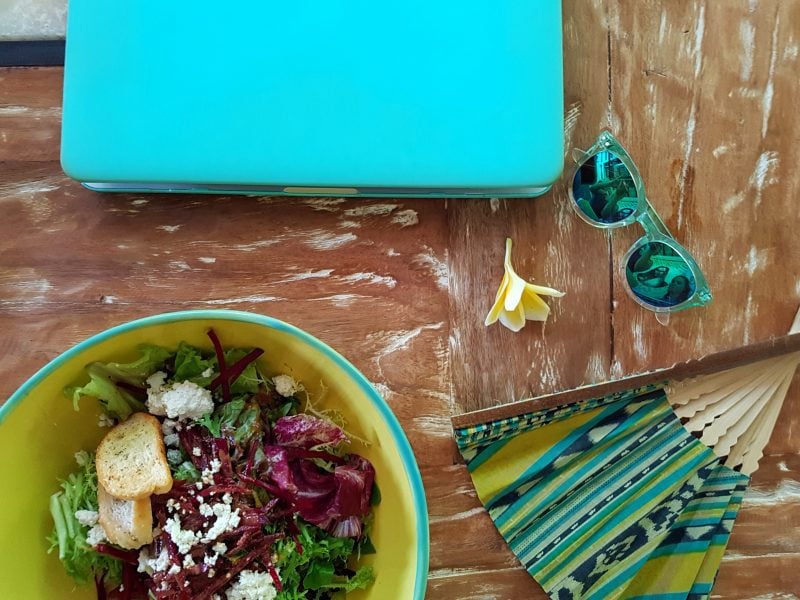 Bottled Water
Expect to pay 3-5,000 IDR in supermarkets and small shops for a small bottle (6-8,000 IDR for a litre), and 10-12,000 in a tourist restaurant. I recommend travelling with a filter bottle like Water-To-Go (read my review here) so that you can drink from any water source. Saves you money and reduces plastic waste – win-win! Get 15% off when you use my exclusive reader discount code ELUX15.
Best Budget Ubud Restaurants – Warung Locals
The cheapest places to eat are the small local restaurants. Ask for the nearest "Warung Local" at your hotel/hostel, or check out these places – all tried and tested by me!
Echo Kitchen – 16,000 IDR for Mie Goreng, 7,000 for mango juice.
Mama's Warung – 22,000 IDR for Thai curry with tempeh. 15,000 IDR for fried spring rolls (the portions are sharing sized) – ask for Mama's peanut sauce with them because it is the best. 30,000 for Babi Kecap (braised pork with sweet soy sauce).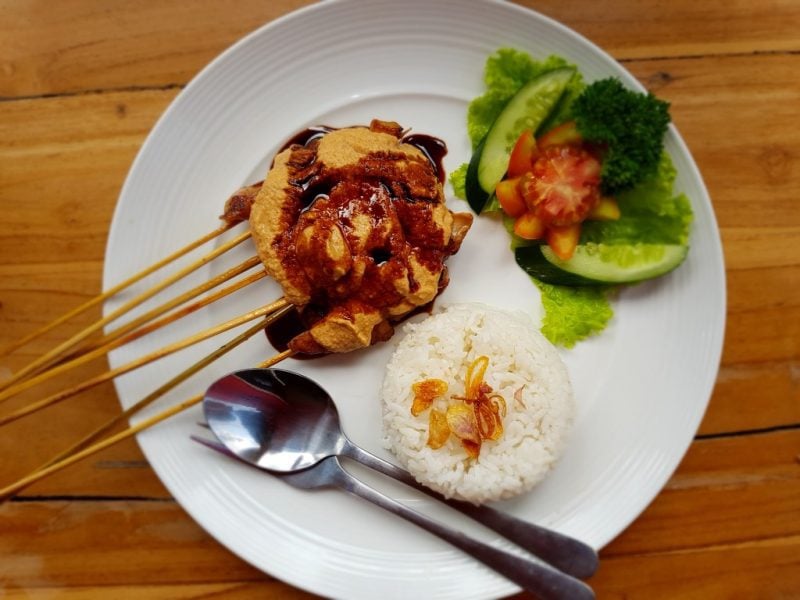 Warung Nasi Betutu – 15,000 IDR for chicken fried rice. This place is just off JL. Monkey Forest, there's a sign pointing down an alleyway so keep an eye out for it.
Biah Biah+ – 20,000 IDR for Mie Goreng. Not far from Pura Pusering Jagat on Jl. Hanoman.
Orange – 8,000 IDR for Mie Goreng. Somewhere outside of Ubud, en route to Tengunengun. I've just included it here to show how cheap you can find food away from the tourist areas.
Other Places to Eat in Ubud
There are a lot of tourist restaurants and trendy cafes around Ubud. The food is often a little fancier than at Warung Locals, and there are lots of international food options like tacos, burgers, and pizza.
Burger Shop Ubud – Home of the best burgers in Ubud, perhaps in Bali, this is a tiny, trendy restaurant which would look right at home in Shoreditch. Prices range from 79 – 189,000 IDR for a burger and fries depending on what fillings you opt for.
Clear Cafe – Perhaps my favourite cafe in Ubud, this is one of the best places to find healthy food options and veggie meals. Salads range from 35 – 45,000, while sandwiches and mains tend to start from 45,000.
Atman Nourish Cafe – Nasi Goreng 45,000, marinated tempe sticks 25,000. Cakes around 50,000. A delicious vegan and vegetarian restaurant with a cute, hippy-chic style.
Yasmin – 100,000 IDR for a three-course set menu. Turkish and Arabic food, including mezze and tagine – great if you need a break from nasi goreng.
Some of these places tack on a 15% fee for service and taxes, so check the menu. Prices shown here are the menu prices before any extra charges.
Ubud Coffee Shops (and Juices)
This is where things can get expensive. For good coffee in Ubud you'll likely be paying at least 30,000 IDR. Juices and smoothies tend to cost around the same, if not more – although you can get pretty cheap juices at many of the Warung Locals (at Echo Kitchen a mango juice was 7,000 IDR).
Looking for a great place to get some work done? Check out my round-up of the best cafes to work from in Ubud.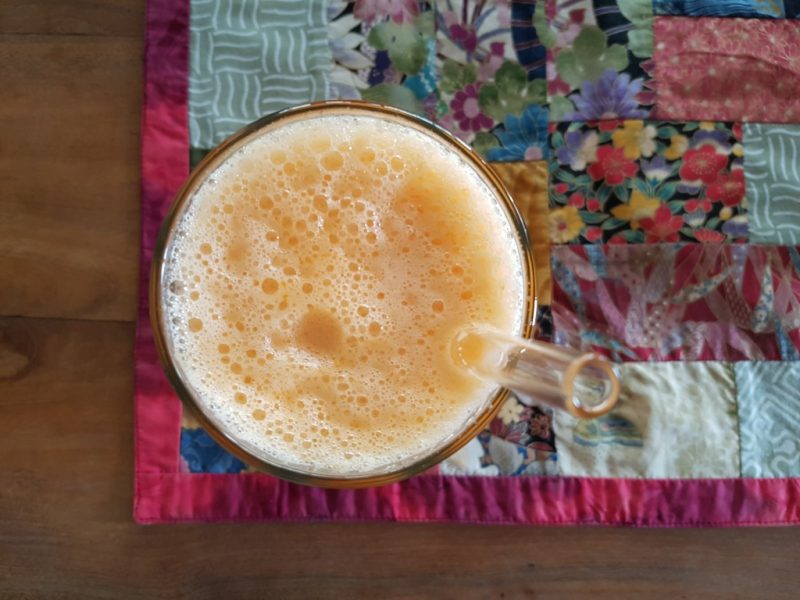 Seniman – 44,000 IDR for a raw cacao shake. 32,000 IDR for a flat white.
Buddha Bowl – 25,000 IDR for a latte. Juice 25,000 IDR. Smoothie 35,000 IDR.
Warung Semesta – Mix juice 27,500 IDR. Cappuccino 22,500 IDR. Fresh young coconut 15,000 IDR.
Atman Nourish Cafe – Smoothies 52,000 IDR.
Cat Cafe Ubud – Sweetest cafe in the whole town, great if you love cats! 30,000 IDR for latte. 15,000 for a chocolate chip scone!
Onion Collective – 22,000 IDR for latte.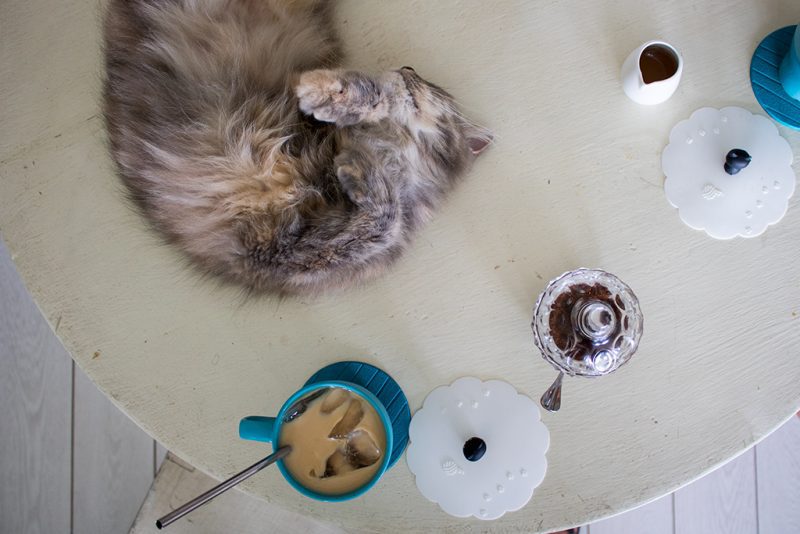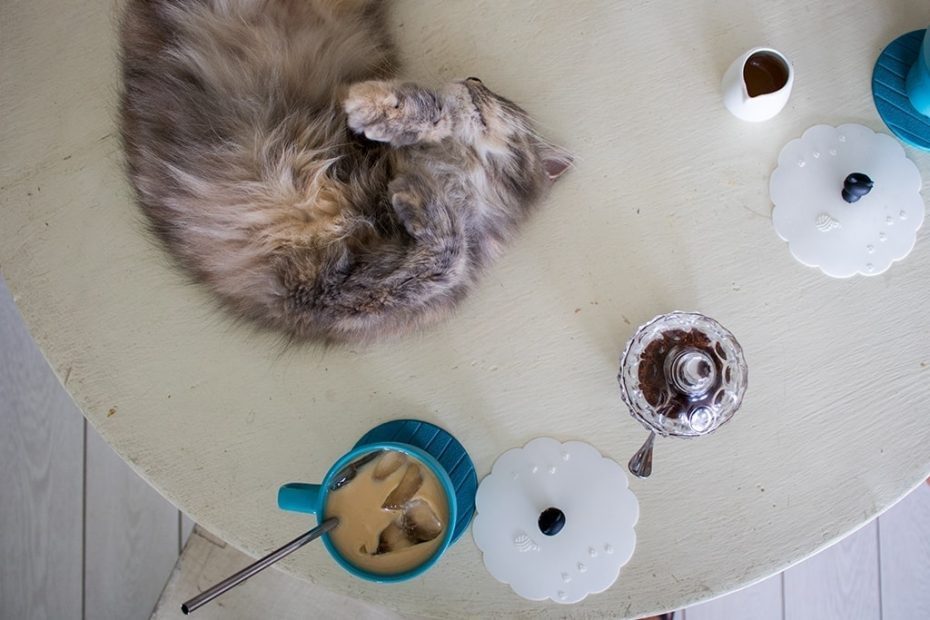 Some of these places tack on a 15% fee for service and taxes, so check the menu. Prices shown here are the menu prices before any extra charges.
Bars in Ubud
Definitely not as cheap as I'd like them to be, especially as a non-beer drinker! Beer is always the cheapest option, and buying in supermarkets rather than at bars will also save you a fair bit of cash. In bars, wine (generally not great) and cocktails tend to be a bit pricier, but there are happy hours so keep an eye out.
Lol – 60,000 IDR for a glass of wine*.
Laughing Buddha – 99,000 IDR for a daiquiri*.
Supermarket – Bottles of Bintang (the local beer) at the supermarket cost around 13,000 IDR.
*Plus 15% service charge and taxes.
Ubud Laundry
At Joker Hostel they charged 25,000 IDR per kg – my relatively small carrier bag full came in at 50,000 IDR which is pretty steep. There are plenty of laundry services around town, some charge per weight and others per item. Generally, these seem to be cheaper than getting it done at your hotel or hostel, who will just outsource it to one of these launderettes anyway! Try Bakti Laundry on Monkey Forest Road.
Ubud Spas and Massages
A hub for yoga, restoration, and relaxation – Ubud is the perfect place to indulge in a traditional Balinese massage.
You can find some really cheap massages in Ubud if you shop around. Budget places range from 60-80,000 and are fairly basic – at the lower end of the spectrum, some places are also pretty dirty. If you want a really great Balinese massage in Ubud, splurge a little.
Mid-range places come in at about 120-200,000 and are generally really nice, with quiet interiors and the whole "spa" experience. Finally, High-end places seem to be anything from 200,000 upwards and are usually found within the more upscale resorts.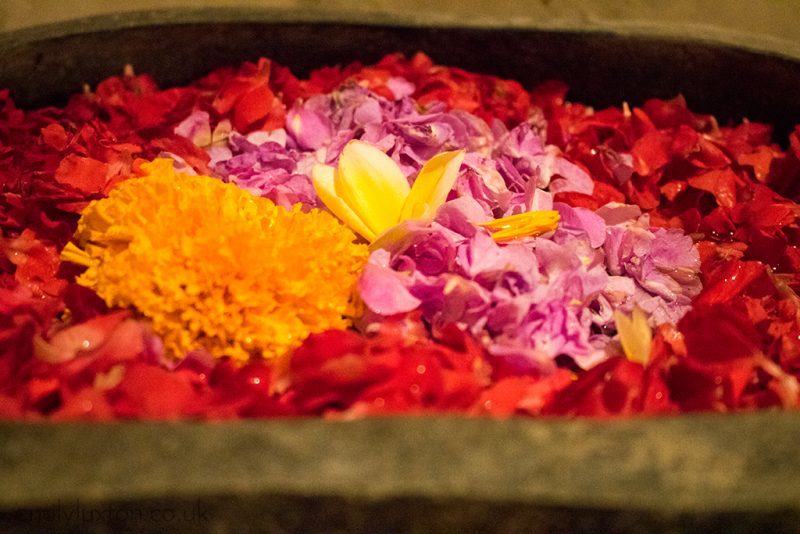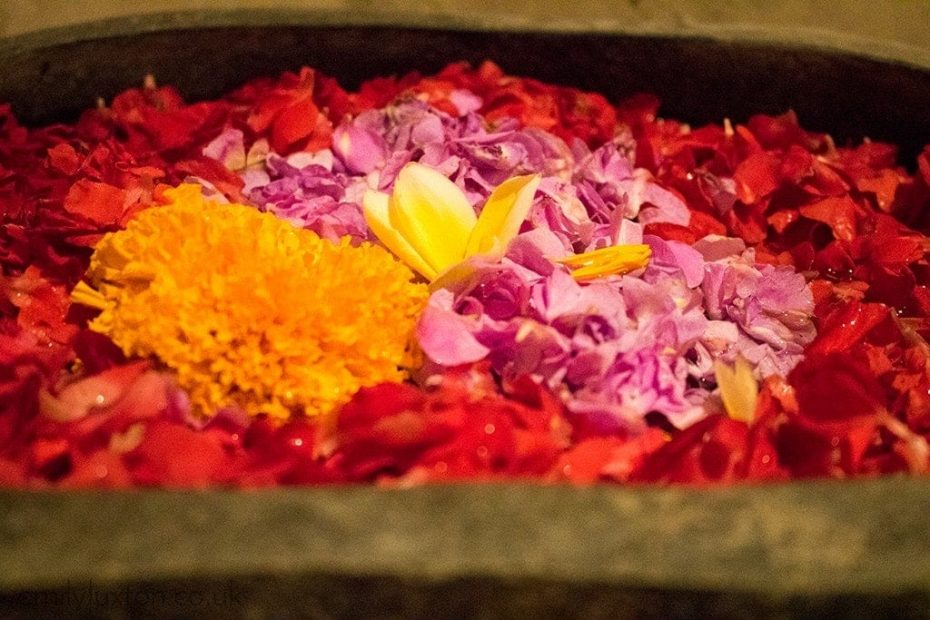 Budget Massages in Ubud
Bali Relax Spa – At 60,000 IDR for an hour this was the cheapest massage in Ubud that I could find. However, I wouldn't recommend this place – dirty, noisy, and uncomfortable. Jl. Jatayu.
Pratama Spa – 70,000 IDR for a one hour massage (55,000 for a pedicure). The interior is pretty basic and you have to put up with a little noise from the street downstairs, but the girls are friendly and the massage is surprisingly good. Jl Monkey Forest Road.
Glory Spa – 80,000 IDR for a one hour massage. Again, basic and noisy but it was always busy when I passed, and my massage was very good. Jl. Raya Ubud.
Mid-Range Massages in Ubud
Spa Bali – 133,000 IDR for a one hour massage, although there are discounts and package deals available. I paid 306,000 IDR for a one hour massage and one hour pedicure with nail polish (including 15% taxes and service charge).
This was the best spa in Ubud that I tried while researching this travel guide. My treatment was done in a private room upstairs, far away from the noise of the street and well worth the extra cost in my opinion. Jl Raya Pengosekan.
Read More!
Best Cafes to Work from in Ubud
So, that's my Ubud travel guide, and guide to what things cost there! I really hope you found this post helpful!
If you have any questions about Bali prices and travel costs, or you want some recommendations, please feel free to get in touch!
If you found this post useful, please share the love and pin it!