Some posts on this site contain affiliate links. If you book or buy something through these links, I earn a small commission (at no extra cost to you). Take a look at my privacy policy for more information.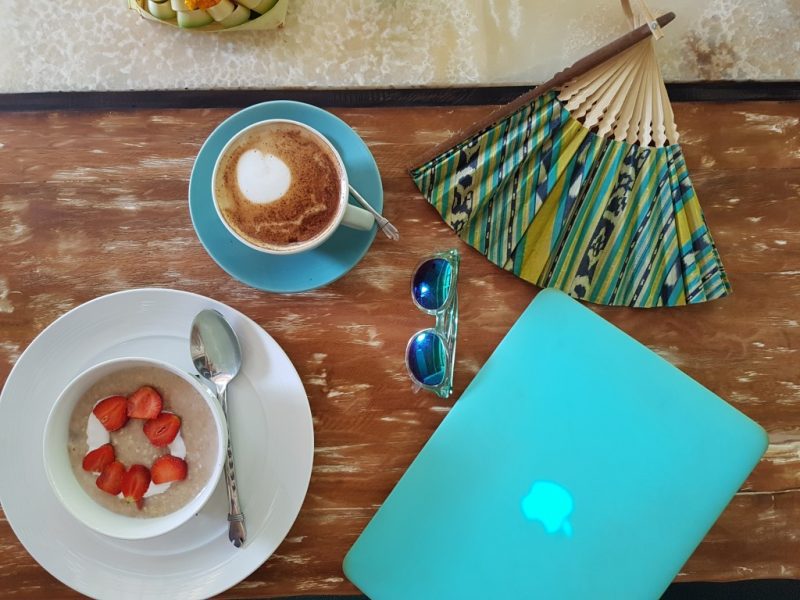 A round-up of the best coffee shops, bars and cafes to work from in Ubud, Bali.
Out of the six weeks I spent in Indonesia, two were spent in the small town of Ubud. Mostly because this is a paradise for internet workers; there are a couple of co-working spaces in town and dozens of excellent coffee shops with speedy WiFi.
I spent most of my time there working from various cafes, so I think I've managed to put together a pretty comprehensive list of the best cafes to work from in Ubud.
Listed below are the one's I recommend. To make the cut, a place needed to have decent WiFi, good coffee (and/or tasty food), and a nice atmosphere for working. Here are my favourite coffee shops with WiFi in Ubud…
What Makes a Great WiFi Cafe in Ubud
Co-working spaces work out great if you're staying in Ubud long-term. But the day rates can be pretty pricey, so if you're only passing through a coffee shop or cafe might be easier to work from.
For me to classify WiFi as "decent", it needs to: upload photos to WordPress, send emails (with attachments) quickly, and play videos on YouTube. If you need more than that (like uploading videos or huge files), you might want to head to a Co-working space.
If you're planning on basing yourself somewhere to take a remote apprenticeship, or focus on your freelance career, this selection of cafes will provide some great spots to work from…
Map of the Best Cafes to Work from in Ubud
Use the map below to find your nearest WiFi cafe.
Oh, and if you're in Bali right now and have a great new recommendation to add to the list, please get in touch! I'd love to hear about some more great cafes to work from in Ubud.
8 Best Cafes to Work from in Ubud
1 – Anomali
Best For: Good Coffee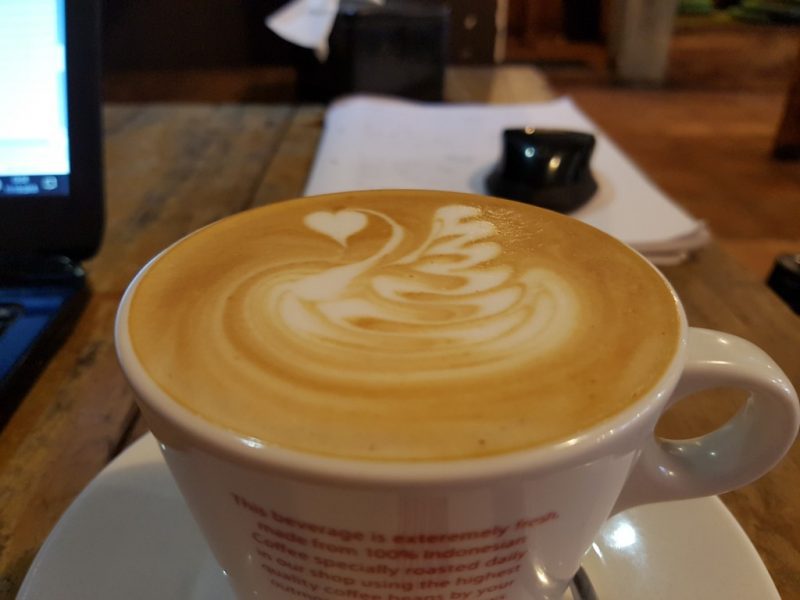 Part of an Indonesian chain, Anomali has really good coffee and a lot of really tempting cakes and sweet treats on offer. There's no table service unlike a lot of the other cafes on this list, which means you can get away with nursing one drink and hiding away in a corner to work for hours. I was there about three hours one morning and no one even glanced at me, let alone chased me to order another drink.
There aren't many plug sockets, and in my experience the WiFi hasn't been perfect. When it's working it works well, but it seemed to drop in and out. However, a couple of other bloggers have mentioned this place having very fast WiFi, so there's a chance I was just there on a bad day.
WiFi Rating: 3/5
Cost of a Latte: 35,000
Air-con: Yes
2 – Cat Cafe
Best For: Cat company!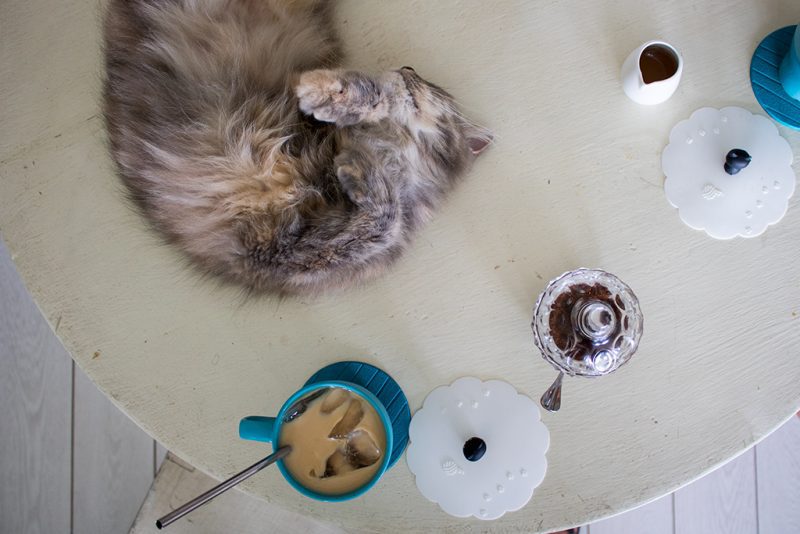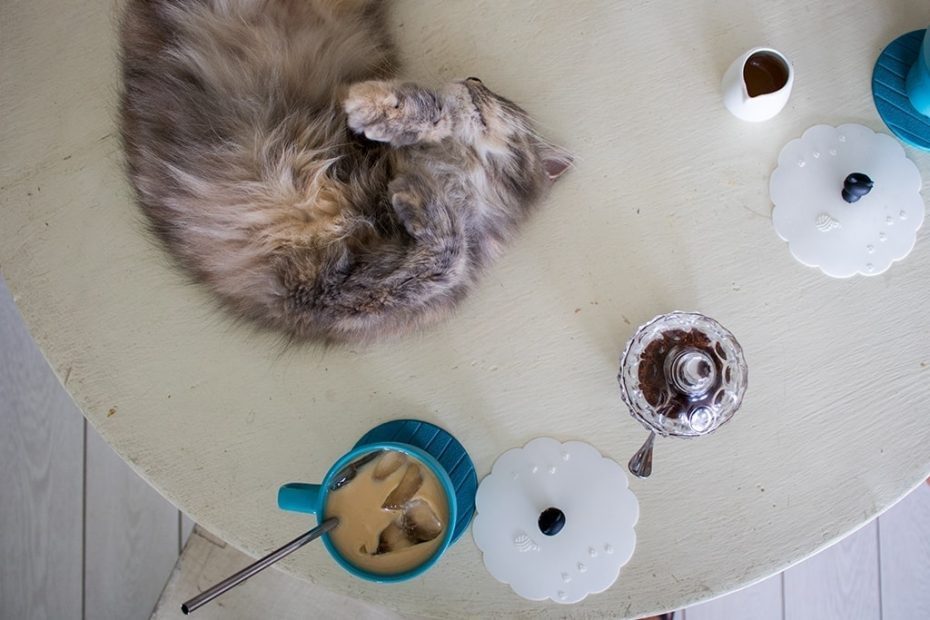 If you're a cat lover (like me) Cat Cafe Ubud is a great place to do a little work.
Although a cat cafe may not be the obvious choice for getting some work done, this adorable little cafe is a great alternative to the normal working environment. You can work in a quiet, cosy little cafe in the company of around a dozen cats.
It's generally pretty quiet, the staff are really friendly, and they told me they're happy for folks to work here. While this probably isn't the kind of place to make conference calls or do anything that needs total concentration, it's makes a nice change and it's very relaxing – the perfect place to think, write, or take some notes. And hang out with some cute kitties!
WiFi Rating: 4/5
Cost of a Latte: 30,000
Air-con: Yes
3 – Chill Out Bar and Restaurant
Best For: Being pretty empty in the afternoon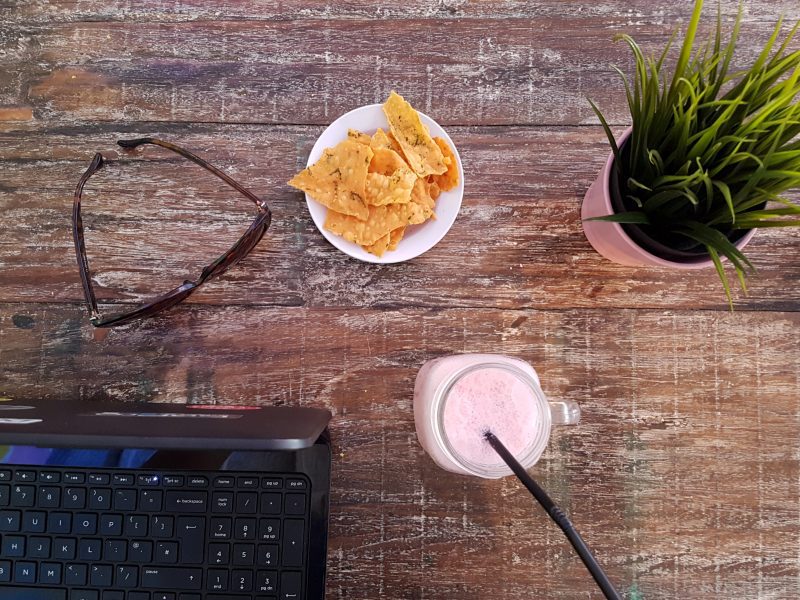 By night it's a funky bar with live music and cocktails. By day, though, it's a chilled out and quiet bar with decent WiFi and great milkshakes. Chill Out Bar seems to be a bit of a hidden gem in terms of work spaces, with most folks flocking to the funkier coffee shops and cafes, so you'll likely have it all to yourself in the afternoon.
Free corn chips with your drinks order is a nice touch, and the staff were kind enough to move a fan right next to our table while we visited – but they're also keen for you to keep ordering drinks while you work, and approached me a few times for my next order (before I'd even finished my first drink).
WiFi Rating: 4/5
Cost of a Latte: 30,000
Air-con: No (And gets pretty hot despite the fans)
4 – Clear Cafe
Best For: Fresh, healthy food.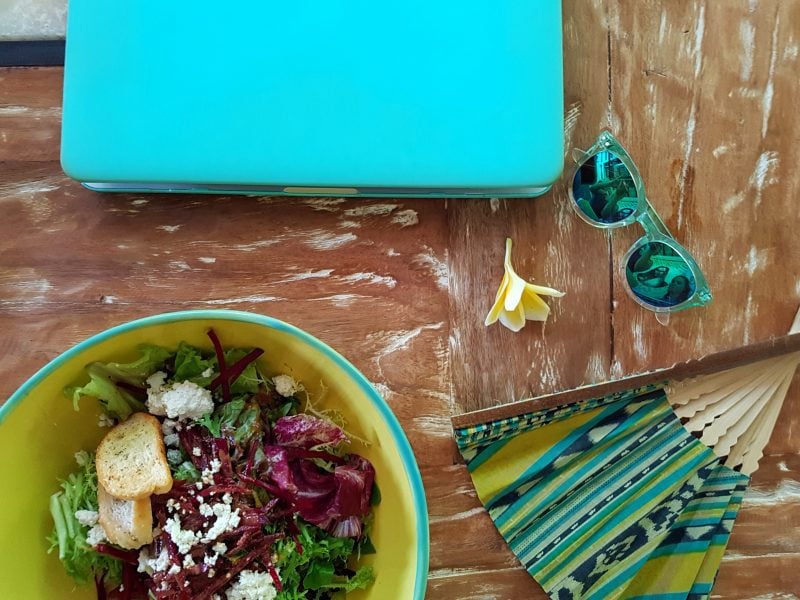 In terms of atmosphere, Clear Cafe is definitely my favourite cafe in town – and it probably has the fastest WiFi Ubud has to offer outside of CoWorking spaces. It's huge, airy, and the decor is an Instagrammer's dream. Mini flower gardens in the loos, large fishponds, lots of greenery and funky indoor fountains make it feel like you're sitting in a garden.
Throw in decent WiFi and an amazing menu with delicious, healthy food and plenty of juices – and you have digital nomad heaven. There's a big lounge area upstairs with floor cushions which is ideal for working. And there's even a fireman's pole to get back downstairs! I'm pretty sure this is the coolest cafe in Ubud.
WiFi Rating: 5/5
Cost of a Latte: 25,000 (Try the cinnamon latte, it's delicious).
Air-con: No (But fans and a good breeze)
5 – Nomad
Best For: Tasty food
I only discovered Nomad on my last day in Ubud, which is a shame because it turned out the food here was excellent (although a little overpriced). It was always really busy in the evenings when I passed, but during the day Nomad was quiet and perfect for working.
There are loads of different seating options, but the low tables with floor cushions in the bar area are perhaps the best for working, since they have their own plug sockets and get plenty of breeze from the open walls.
The downside is the street noise from the busy main road outside, so this isn't a great place for making calls and things. But there's a good atmosphere, the coffee is pretty decent, and the food's great.
WiFi Rating: 4/5
Cost of a Latte: 28,000
Air-con: No (But fans and a good breeze)
6 – Onion Collective
Best For: Being welcoming to workers!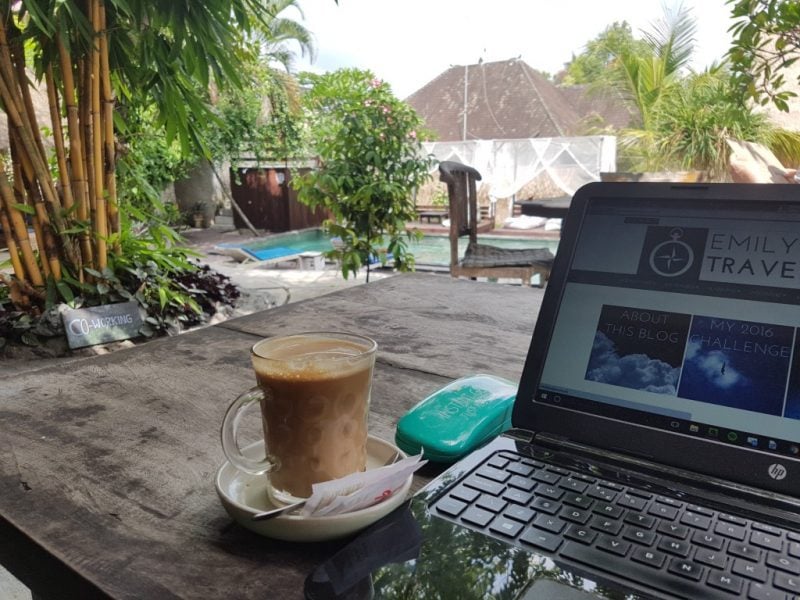 The Onion Collective in Ubud is a friendly CoWorking space which also offers reasonably priced accommodation – and has it's own pool! The on-site restaurant is also a great place to work, with high speed internet and a nice, chilled out atmosphere. I've spent a whole day working here and not once been hassled to order more drinks than I actually wanted, which is nice.
This is also one of the best hostels in Ubud, and a great place to meet people. You can stay on site in a dorm or private room, and because it's part of a CoWorking space the vibe is generally more welcoming for workers.
They have live music and movie screenings in the evenings, so it's a more social workspace than some of the others. However, the restaurant is mostly outdoors. There's plenty of shade and there are some powerful fans around, but I found it got a bit too hot in the afternoon. That being said, it's nice to work surrounded by greenery and fresh air – and having a pool on site is a real bonus.
WiFi Rating: 4/5 (They actually have really fast WiFi, but on my second visit it dropped out a couple of times so I had to mark them down a point. I still think this is probably the best internet Ubud has to offer in a cafe!)
Cost of a Latte: 22,000
Air-con: No (But it's mostly outside, so there's a nice breeze and fans)
7 – Seniman
Best For: Really good coffee!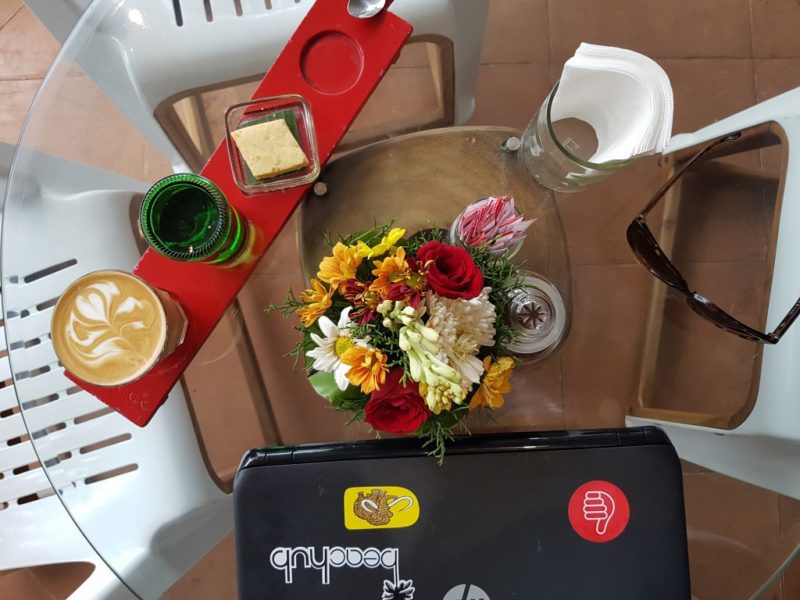 Seniman is probably my personal favourite on this list, mostly because of the awesome locally roasted coffee (the roastery is just across the road). Plus I love the rocking seats, which let me trick myself into thinking I'm almost burning off the cakes by rocking as I work!
Presentation is cute; coffees come on a coloured wooden paddle with a biscuit and a glass of water. The downstairs aircon room is quieter than the main coffee shop upstairs and you can people-watch through the big front window. WiFi is super speedy and there are plenty of plug sockets. In terms of food and drink, Seniman is probably the best coffee shop in Ubud – and it's such a fantastic place to work!
WiFi Rating: 4/5
Cost of a Latte: 32,000
Air-con: Yes (In separate downstairs room)
8 – Warung Semesta
Best For: Quiet atmosphere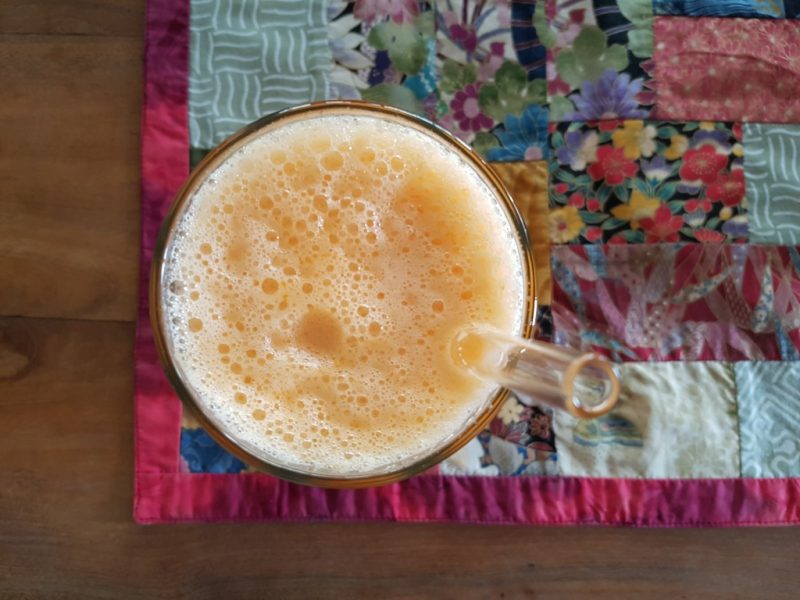 Quiet and cute with a nice, chilled-out atmosphere and good food, Warung Semesta is a really nice cafe to work from in Ubud. The WiFi isn't perfect and sometimes drops out, but it ran well enough for me to send emails and upload a few photos to my blog. 
Service is really friendly, but quite slow – perfect if you want to spread your drinks orders out throughout the day. There's no aircon but plenty of powerful fans, and the downstairs is really open so there's usually a nice breeze.
WiFi Rating: 3/5
Cost of a Latte: 27,500
Air-con: No (But fans and a good breeze)
Do you know any more of the best cafes to work from in Ubud? Scroll down to leave a comment with your recommendation!