Some posts on this site contain affiliate links. If you book or buy something through these links, I earn a small commission (at no extra cost to you). Take a look at my privacy policy for more information.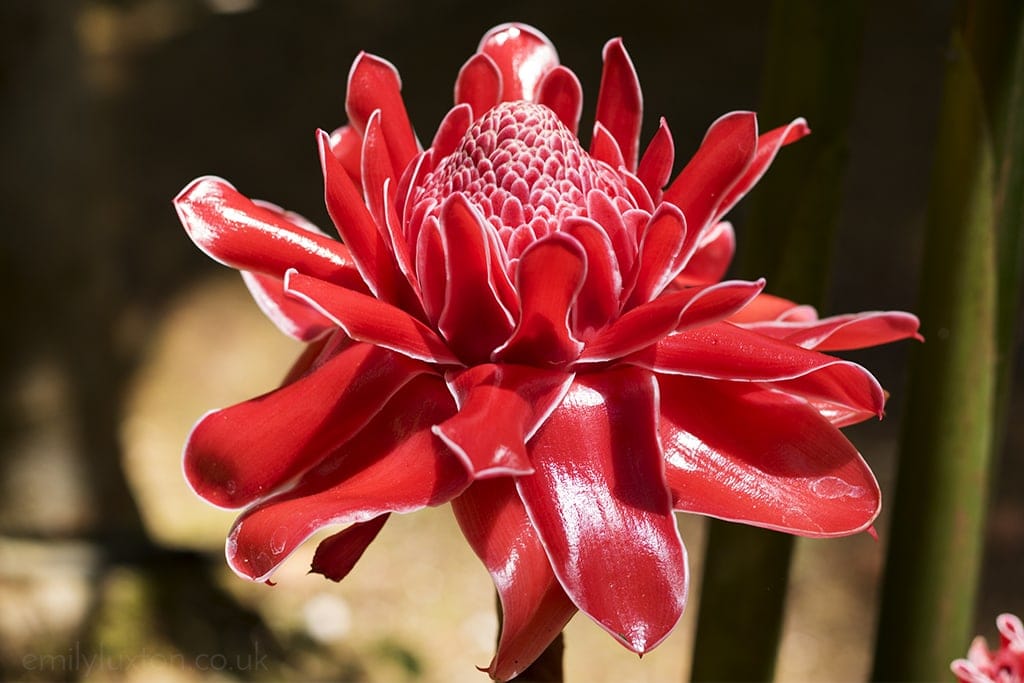 Other travellers have always raved to me about how cheap India is. And since travelling there I've realised that it is. But in some of the more touristy places, prices are starting to creep up, and just how cheap India is depends on exactly how you travel.
Goa is one of the more touristy parts of India, so depending on your travel style it might be a little more pricey than you'd expect. But travel costs in Goa are generally still far less than the rest of Asia, and definitely much lower than Europe.
Read more – check out this fab guide to what to wear in India for some really helpful tips! 
Is Goa Cheap?
How much does Goa cost? I recorded everything I spent for six days, in order to give you a rough idea of what to expect in terms of prices. Most of the following Goa prices relate to Vagator and Anjuna, where I spent most of my time. Hopefully these figures will give you a good idea of Goa travel costs to help you plan your India travel budget.
For reference, ₹100 = roughly £1 GBP (or $1.50 USD) as of April 2016.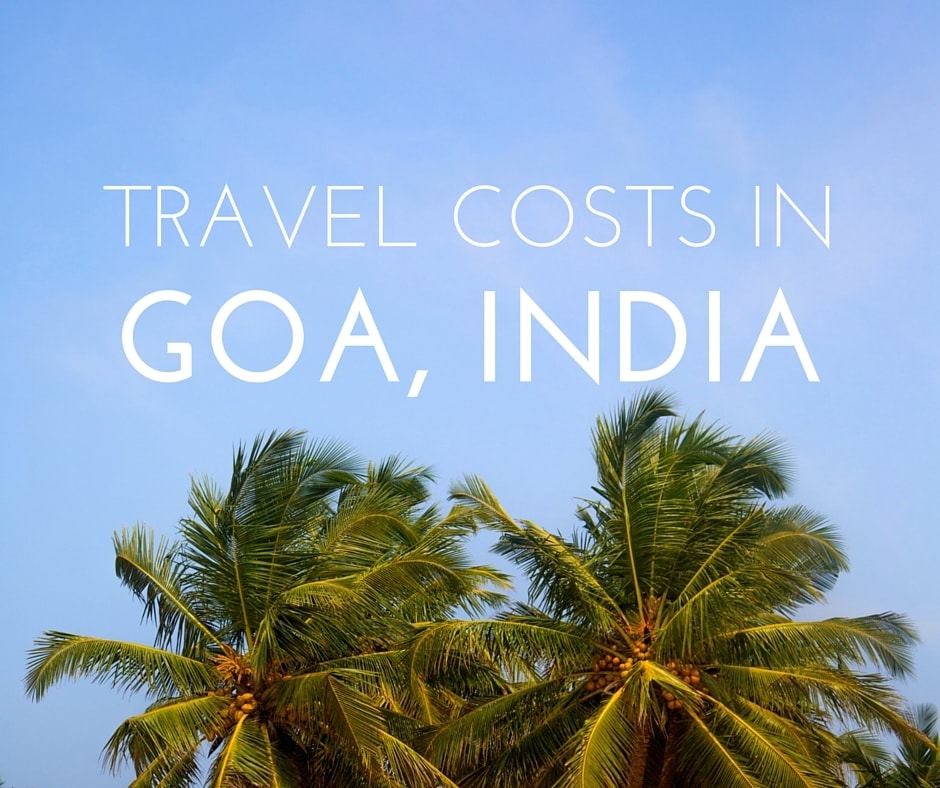 Travel Prices in Goa
Getting There and Around
Taxi from Goa Airport to Vagator – ₹1100. Go to the Pre-Paid taxi stand before leaving the airport. The prices are fixed here and you'll get a better deal than haggling with the taxi drivers outside.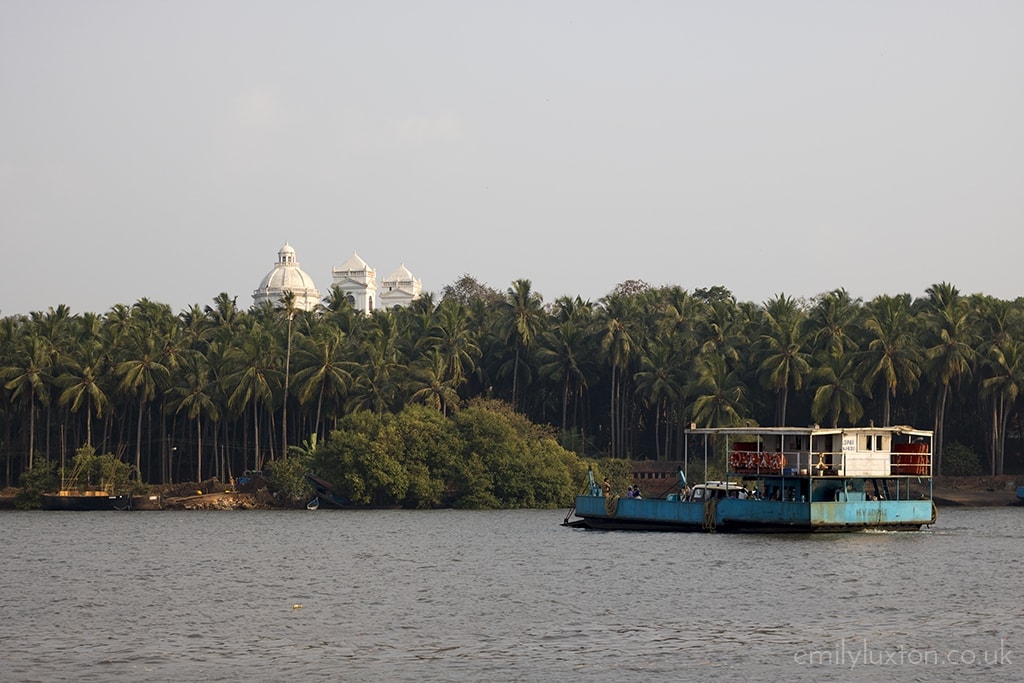 Taxi from Vagator to Mopsa (about 20 minutes) – ₹100 per person. Taxis in Goa can be fairly hard to negotiate with so ask your hostel if they can recommend a driver.
Scooter Rental in Goa
₹200 a day. The best way to get around Goa is by renting a scooter. We paid ₹200 a day for our scooter rental in Goa, and a litre of petrol – sold in bottles at the side of the road – cost around ₹70-80.
The roads are bad and full of potholes, cows, goats, and pedestrians, so you need to keep your wits about you. But driving a scooter in Goa seems pretty straightforward. I was on the back with a friend driving so can't speak from experience, but if you're a confident driver you'll be fine.
Top tip: by all accounts, the police are often on the lookout for ways to extort bribes from you. But if you wear your helmet and carry your international driver's license they probably won't be able to find anything wrong.
Accommodation Costs in Goa
My India travel budget is a little higher than most backpackers', so I can afford to splurge on private rooms rather than dorms every now and then. In order to meet other backpackers, I prefer private rooms in hostels to hotel rooms and guest houses. By all accounts, a private room in a guest house is a bit cheaper, so if you're travelling with friends or as a couple look into this. If you're on a budget or travelling solo, go for a hostel dorm. Hostels are still a fairly new concept in India, but there are some really good ones to be found – try to get recommendations from a friend of a travel blogger you can trust (like me) in order to find the best one.
Top Tip – I almost always use hotels.com to search for hotels, because I love their rewards scheme, which works like a loyalty card giving you one night free for every ten nights you book through the site.
₹1400 a night for a private room with (really good) aircon and an en-suite. Dorms are cheaper (₹450) and looked pretty decent from the glimpse I had. This hostel is part of a local chain called The Hostel Crowd which came highly recommended by other travellers. Genuinely, this is one of the best hostels I've stayed in; the vibe is really chill, the people are nice, the free breakfast (7am till 11am) is pretty good, and there lots of events like movie nights, yoga, and barbecues. This is a proper backpacker hostel – as blogger Anna said on looking around, "it's not India" – but if you value ease, events, a good atmosphere and the ability to meet other travellers then this is probably the best hostel in Goa.
Sightseeing and Activities
Jungle Hostel in Vagator run a lot of tours and shuttle buses to nearby towns, so I did most of my sightseeing through them as it was simply easier. Organising things in India can be a bit of a mission, and while I also did lots of exploring independently on a scooter with a friend, the tours were a good way to meet people. These are some of my sightseeing costs in Goa…
Half Day Guided Tour of Old Goa
With Jungle Hostel – ₹400. Top Tip: the churches of Old Goa are free to enter, so if you can get there on your own steam this can be a pretty cheap day out.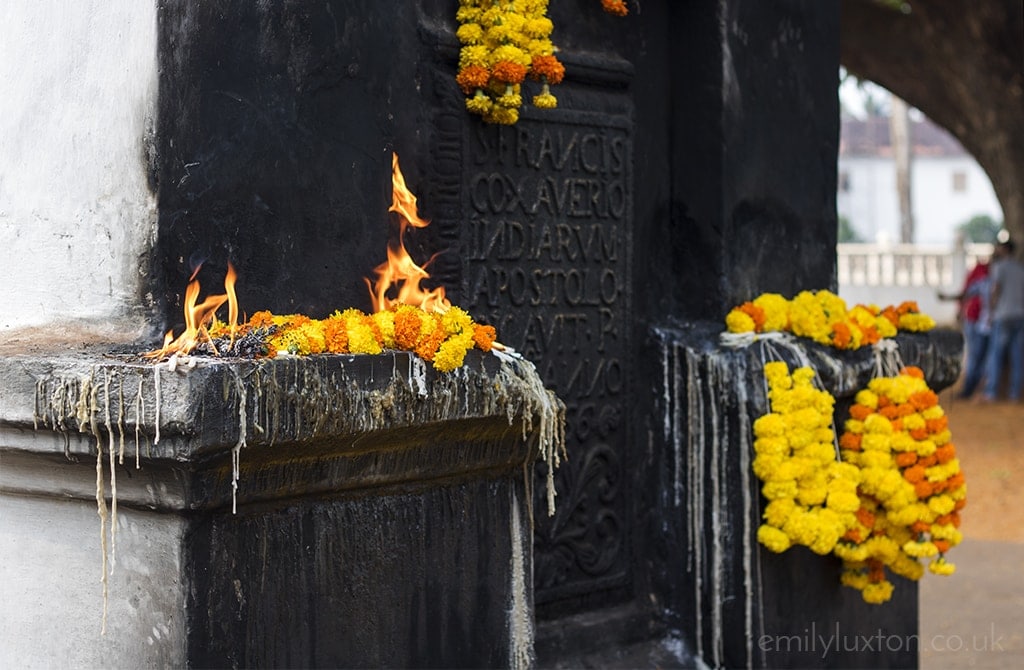 Full Day Tour of Spice Plantation and Dudhsagar Waterfalls
With Jungle Hostel – ₹1600. Included all transport, entry fees, lunch, and snacks – and actually worked out cheaper than getting to the falls on our own from what I could gather.
Cooking Class with Mukti Kitchen
₹2000 for a two hour, one-on-one cooking class in Goa. I made four traditional Goan dishes, and there was enough for two people so my friend was able to join me for a free lunch. I'd happily recommend the Mukti Cooking Class if you're interested in learning to cook some Indian cuisine. Mukti was awesome and the food we prepared was amazing. Plus I got to note down all the recipes to try again at home.
Free Things to Do in Goa
There are plenty of free attractions to keep you busy if your India travel budget is tight. For one thing, there are the beaches that Goa is famous for. In Vagator, head to Little Vagator Beach which is to the left, the larger beach to the right is more popular with local families and gets quite busy.
Hit the markets, like Anjuna Flea Market or the Saturday Night Market in Arpora, to browse and people-watch. Head to Fontainhas to explore the old Latin Quarter of Goa, go for a trek in Mollem National Park or Krishnapur Canyon, climb up to Chapora Fort to watch the sunset, or just chill out. The relaxed pace of life in Goa is infectious – so laze in a hammock or on the beach and just soak it up!
Food and Drink Prices in Goa
The cost of food in Goa is generally pretty reasonable, but it depends on where and what you eat. These are some of the best restaurants in Vagator that I found, with prices to give you an idea of what to expect to pay for food. However, if you opt for street food and go to local restaurants you will definitely be able to get much cheaper food. As this was my very first stop in India I was wary of food poisoning and hit the slightly more expensive tourist restaurants after checking out Trip Advisor reviews. I can report that I had no issues whilst in Goa, and can gladly recommend the following places…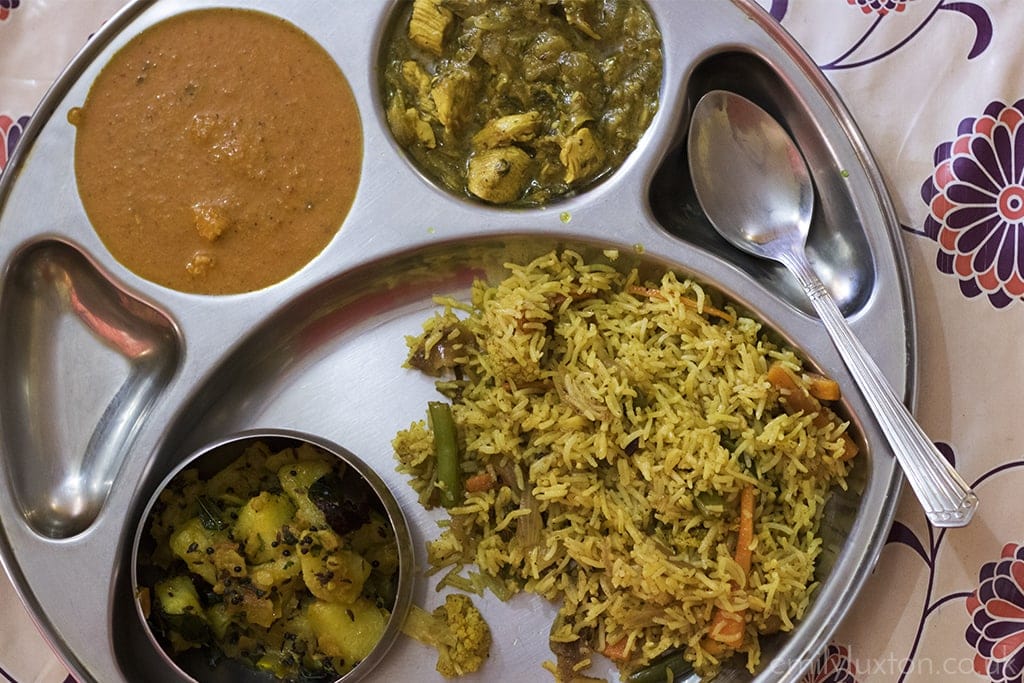 Fishtail
Really nice restaurant on Little Vagator beach recommended by Anna from Global Gallivanting, a British blogger living in Vagator. Fish Thali here cost ₹290 and was enough for two.
Jaws Bakery
This cute little bakery close to Jungle Hostel is run by one of the nicest couples I've ever met. Their baked goods are so good I went back about five times in six days! A chicken or beef puff here costs ₹20 and three of these are enough for a light lunch. A brownie was ₹60, and a pack of amazing shortbread biscuits ₹100. Don't miss this bakery!
Mango Tree
A popular, and fairly cheap, tourist restaurant right next to Jungle Hostel serving Goan, Indian and Western food. A burger costs ₹170 (+ ₹20 for cheese), while a ccurry will cost you around ₹180 (rice is extra).
Blue Bird
Definitely my favourite restaurant in Vagator and the best place to try traditional Goan food, Blue Bird should not be missed. Especially because the family that run it are absolutely lovely. I had a pork vindaloo with rice for ₹360 and a coconut shake for ₹80. Both were delicious and I definitely recommend the vindaloo, which is a local speciality.
Thalassa
Generally considered the best restaurant in Vagator, this amazing cliff-top Greek restaurant is pretty expensive but very, very good. It's also a classy place, with white tablecloths and everything, so try not to rock up in scruffy shorts! My friend and I paid ₹2680 for two glasses of Indian wine (surprisingly good), a feta dip starter, a huge mixed grill, and garlic prawns with potato wedges.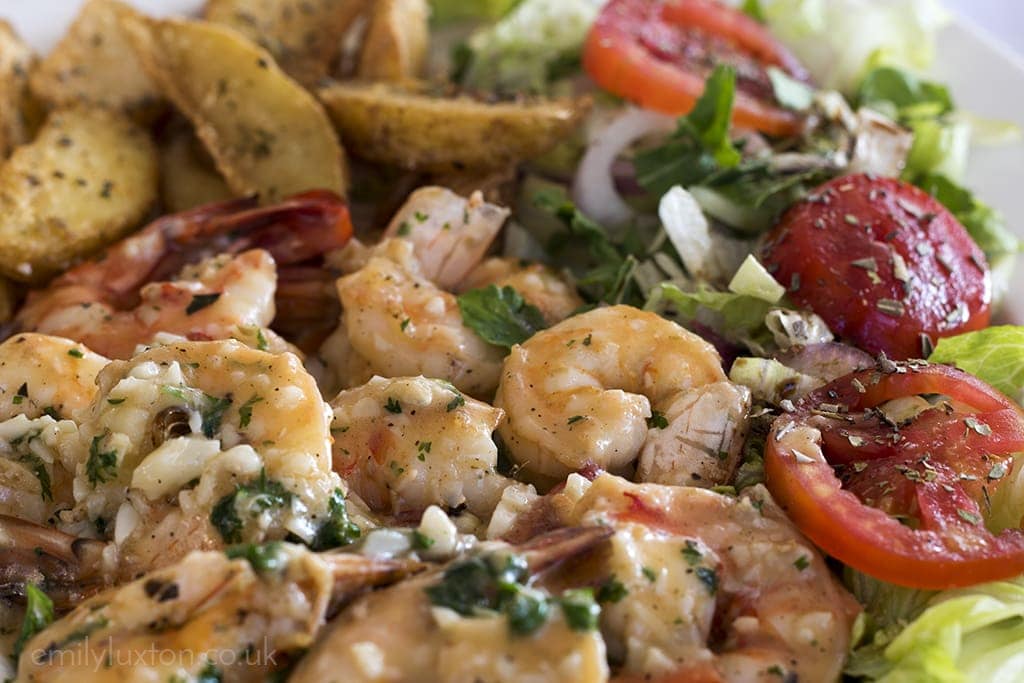 Drinking
Liquor prices in Goa are pretty low, making this a popular party area. In restaurants, a glass of rum and coke or a beer will probably set you back about ₹100-200. At one of the beachside clubs I paid  ₹550 for a glass of rum and coke (but I think I was overcharged thanks to being a tad tipsy). 
It's much more economical to buy yourself a bottle of something and drink it at your hostel, especially in Jungle Hostel where everyone sits around in the garden at night. At the liquor store next to the supermarket in Vagator, I bought a bottle of imported brand-name rum for ₹550. A bottle of the local favourite, Old Monk, is just ₹170.
Water – Bottled water in Goa costs around ₹30. Jungle Hostel, as with a few hostels in India, had filtered water dispensers on site where you can fill up your bottle for free.
Coffee – Coffee in India tends to be pretty expensive compared to the food prices. At Jungle Hostel's coffee bar an iced latte was ₹100, and most other restaurants in Vagator were similar.
Practical Stuff
Laundry – ₹100 for a basket at Jungle Hostel.
Indian Sim Card – This made life so much easier! Being able to use 3G on my phone instead of relying on patchy hostel WiFi gave me so much freedom and meant I could use Google Maps to get around. I headed to the Post Office in Anjuna to get mine and the process was surprisingly easy. You'll need your passport, but the guy there can take photocopies and get the sim set up for you. A one month Vodaphone tourist sim with 1GB data (plus some minutes and texts) cost ₹800. And once I'd used the 1GB I bought a top-up package for ₹947 with 5GB data.
Toiletries – Need to restock? Beauty products were fairly reasonable in Goa. To give you an idea, a bottle of Palmolive shower gel cost ₹80 from a small local pharmacy, and nail polish remover was about ₹25.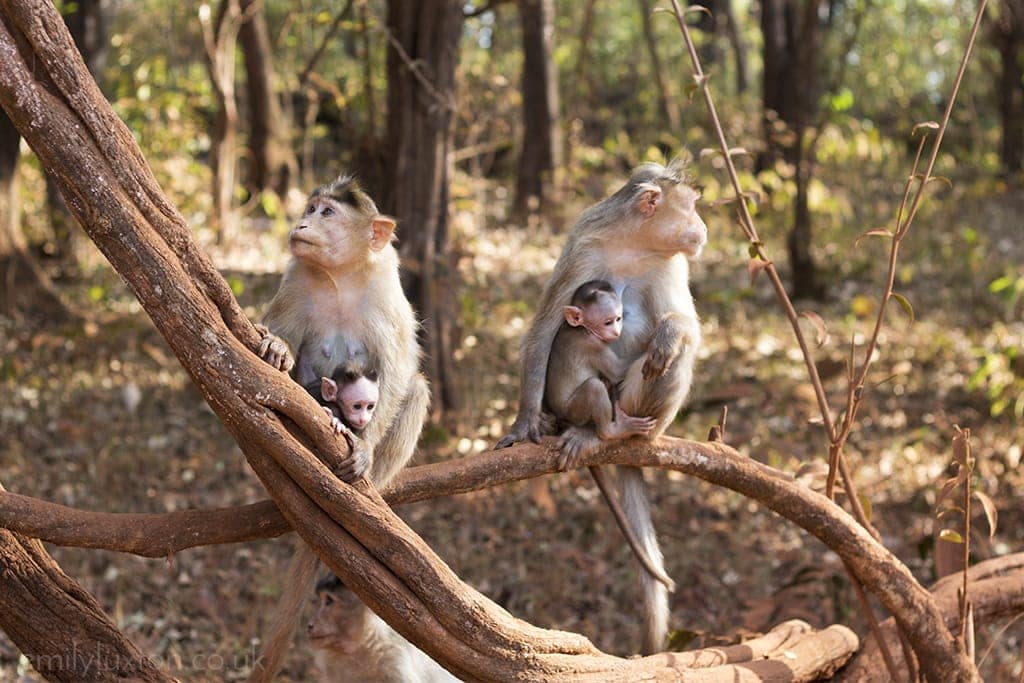 Shopping in Goa
Goa Haggling Tips
Ah, the great mystery of haggling in Asia! Haggling in India is a little tougher than Southeast Asia, in my experience. Vendors here are tougher and will try every trick in the book. They'll act out exaggerated shock and dismay at whatever price you quote ("madam, you are trying to kill me"). They'll tell you it's "pure silk" or "of the highest quality" (usually untrue). And they'll generally drag the whole thing out into a long drama that can be tricky to negotiate.
In Goa – unlike other places in India – the starting prices tended to be vastly inflated. As in ₹2500, or £25, for a cheap pair of cotton trousers! So you WILL need to haggle. Be prepared to play the game, pretend to walk away if necessary, and stay friendly but firm. Oh, and don't insult the vendor by saying that the item you want to buy is no good or low quality. That won't work, and they may refuse to sell to you!
One other trick to watch out for in Goa is when a vendor from a neighbouring stall pops in and "helps out". They might hold a bag for you, help you haggle, or offer advice. Initially, I thought this was someone else working at the same stall and simply helping. But once you've finally finished haggling and bought what you want this person will drag you to their own stall, "just to look". Unless you're very strong-willed (or totally out of cash and can show them an empty wallet) it can be hard to escape! Stay firm, apologise, and just walk away.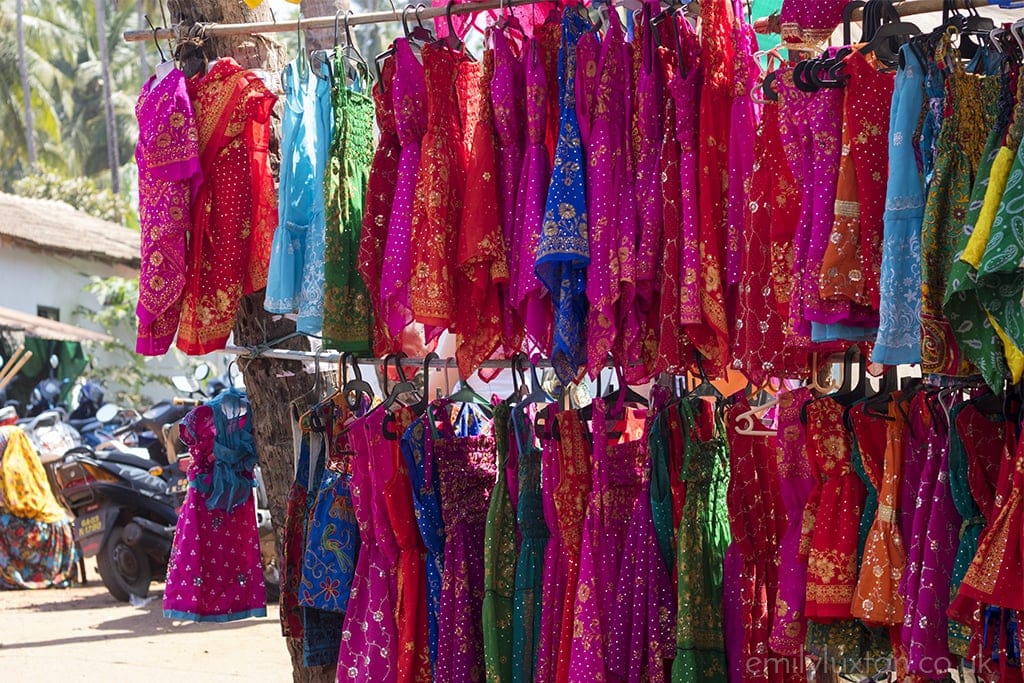 Anjuna Flea Market
The weekly Wednesday flea market in Anjuna is enormous and a great place to pick up some new or second-hand clothes or some awesome souvenirs. It is not a flea market like you'd expect, as many stalls are selling factory-made tourist tat. But there are some really cool things on sale here and it's worth a look even if you don't want to buy anything. I'm getting reasonably good at haggling, but I'm sure I was still very ripped off. Here's how I did:
Two long-sleeved cotton tops with embroidered detail, plus a "silver" anklet and bracelet, for ₹1000. The haggling process goes a lot smoother if you buy in bulk. Originally the lady wanted ₹1500 for one top, so I felt I got a pretty good bargain for my haul, but who knows!
One pair of light cotton wrap-around trousers – ₹600 haggled down from ₹2500. ("In high season I sell these for ₹4500" – yeah, right!).
Stalls near Vagator beach
My friend paid ₹300 each for some Indian-style cotton shirts, although I felt this was poorly haggled and wouldn't have paid more than ₹100 per top myself!
So, that's how much things cost in Goa! Hopefully, this will help give you an idea of prices to help you plan your India travel budget. If you have any questions feel free to ask in the comments below.