Some posts on this site contain affiliate links. If you book or buy something through these links, I earn a small commission (at no extra cost to you). Take a look at my privacy policy for more information.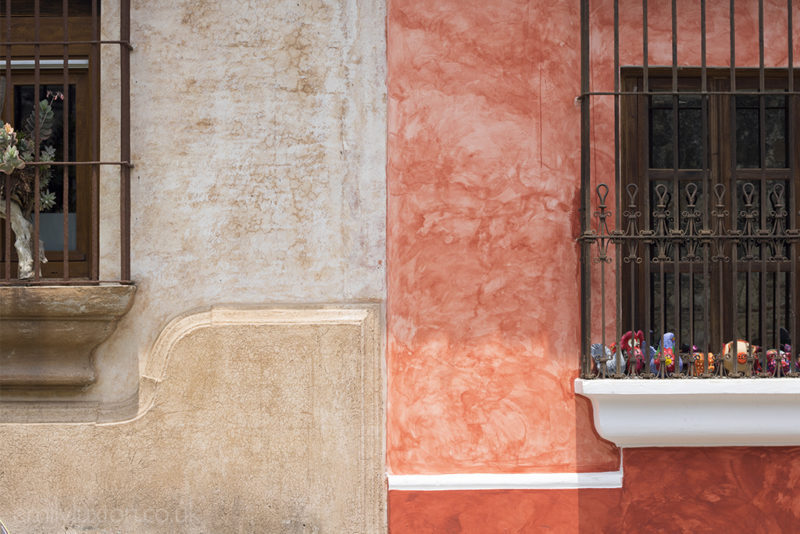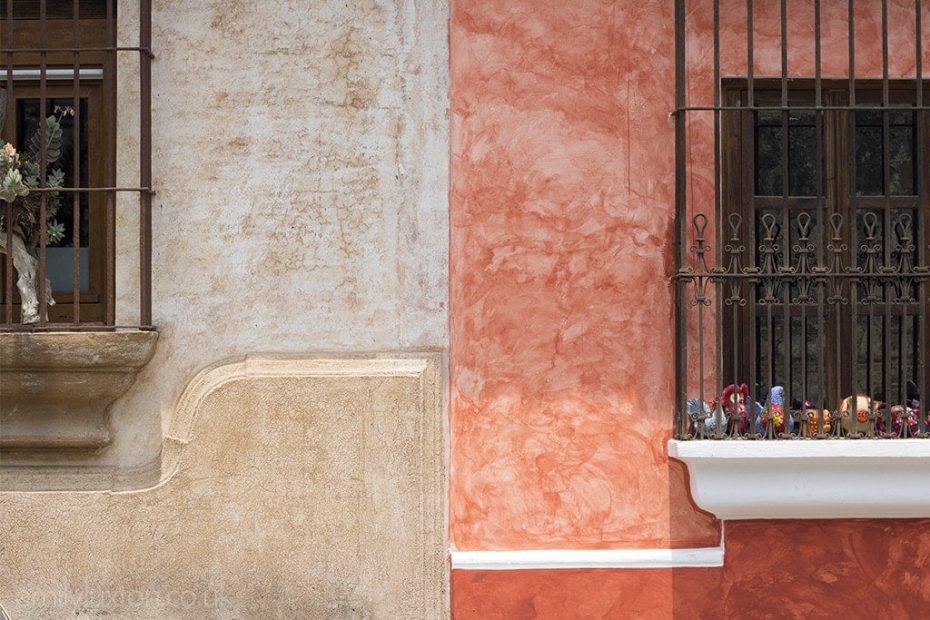 Welcome to my guide to traditional Guatemalan food – covering absolutely everything you need to eat when you visit!
At the end of last month, I headed to Central America to explore Guatemala and Belize with the team behind Visit Centro America* and an awesome group of fellow bloggers. It was a really fun trip packed full of adventure, and as always, I ate just a bit too much (it was research, I swear)!
The food in Guatemala is really good, but there's a strong chance you've never heard of most of it. So, with the help of our awesome guide Melvin from Martsam Travel, as well as my own experiences, I've put together this guide to Guatemalan cuisine, covering some of the must-try dishes…
Guatemala Food Guide: What to Expect
The food in Guatemala has both Spanish and Mayan influences, and many of the traditional dishes are a fusion of these two cultures. You'll also spot some familiar Mexican dishes, like quesadillas and burritos, which have made it over the border; although the Guatemalan versions can differ slightly.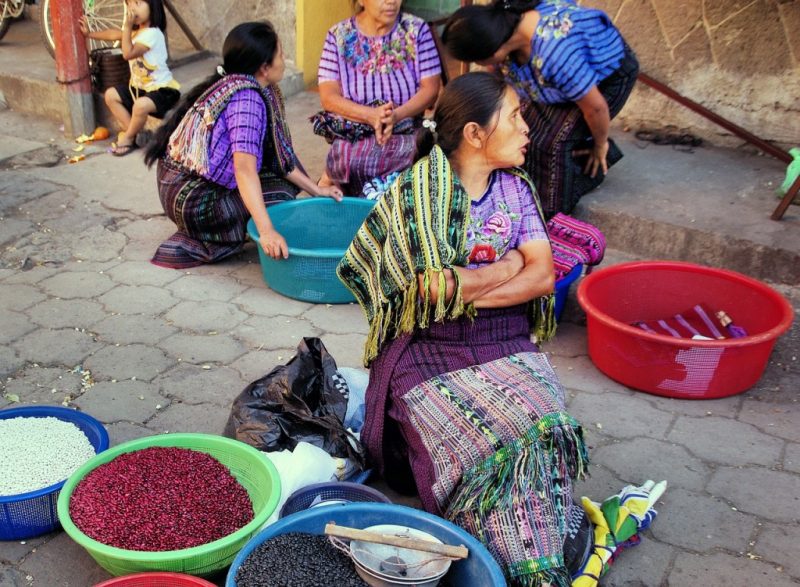 Guatemalan cuisine is heavily spiced, although it's not usually too spicy. Dishes are about flavour rather than heat, but if you're unsure then you can always ask for a milder version. The staple crops in Guatemala are corn, chillies, and beans, so expect a lot of them – especially corn, which forms the basis of much traditional Guatemalan food. Meals tend to be quite heavy: soups and stews are common, usually served up with both tortillas and rice in mammoth portions. It's not easy to watch your figure whilst travelling in Guatemala!
Traditional Guatemalan Food You Need to Try
Pepián
One of the oldest dishes in Guatemalan cuisine, Pepián is considered the country's national dish and is an absolute must-try when you visit. A fusion of Spanish and Mayan culture, it's part stew, part curry, usually served with rice and corn tortillas. The sauce is a rich, thick blend of tomatoes and roasted spices, and usually contains meat (either chicken, beef, or pork). This is the quintessential Guatemalan dish, so don't miss it!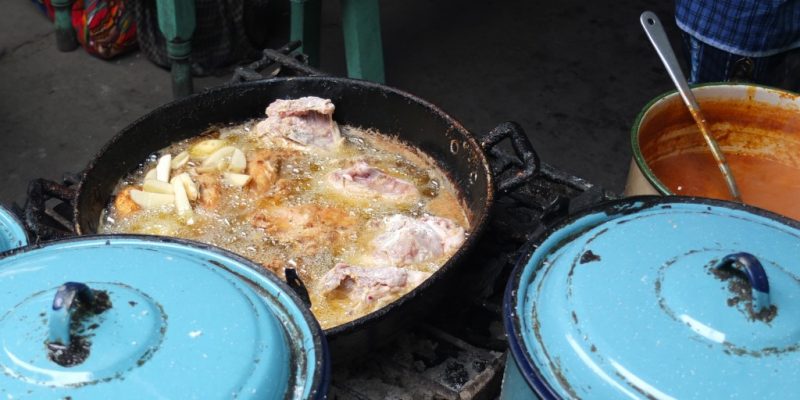 Kakik
Another staple of the Guatemalan diet, Kakik is a turkey stew made from tomatoes, garlic, onions, mint, and coriander. I didn't actually get to try this dish myself, but it was one of Melvin's recommendations for must-try traditional Guatemalan food, so I had to include it here. I'd love to hear from anyone who's tried kakik!
Chiles Rellenos
The popular meat-stuffed peppers chiles rellenos are commonly associated with Mexican cuisine, but they're just as popular in Guatemala. Here, they generally use the pimiento pepper, which is stuffed with minced meat, veg and spices, coated in an egg batter, and fried. The traditional Guatemalan Chile Relleno is slightly different to the Mexican, and is usually served smothered in tomato sauce – or sometimes in a sandwich at street stalls.
Sides
Most mains in Guatemala are served with rice and/or tortillas. Traditional Guatemalan rice is often prepared with chopped carrots and bell peppers, while Guatemalan tortillas are made from corn and are usually a bit thicker than the ones we get from supermarkets back home. Also popular are the oddly coloured blue corn tortillas, which look suspiciously inedible but taste great.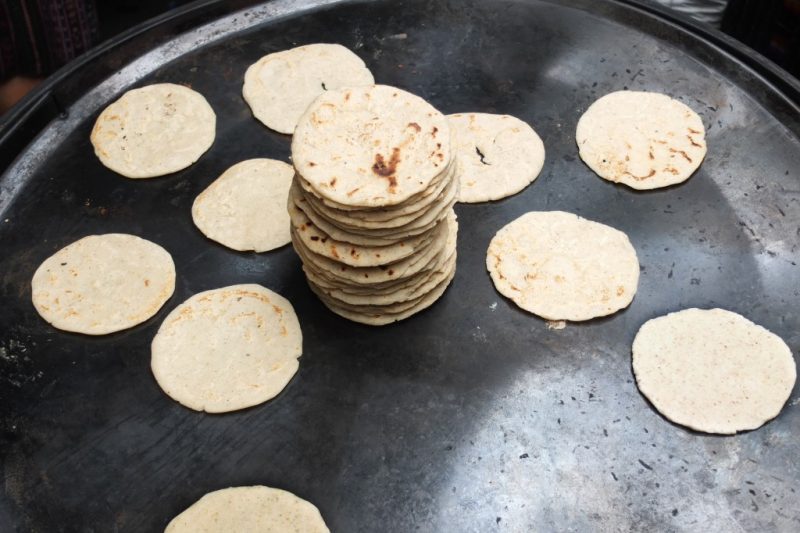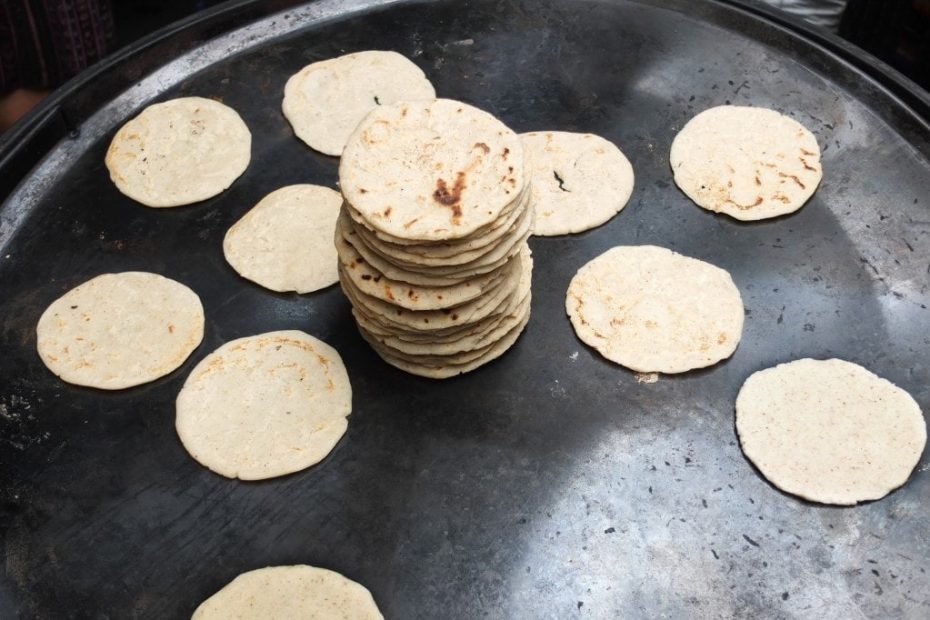 Another common side is Frijoles Volteados. These are the Guatemalan version of refried beans; a thick paste made using local black beans. Then there are Tamalitos, which are sometimes served as a side in place of tortillas. These are made from cooked corn dough wrapped in green maize leaves, and often have other ingredients (like fried beans) mixed into the dough.
Coffee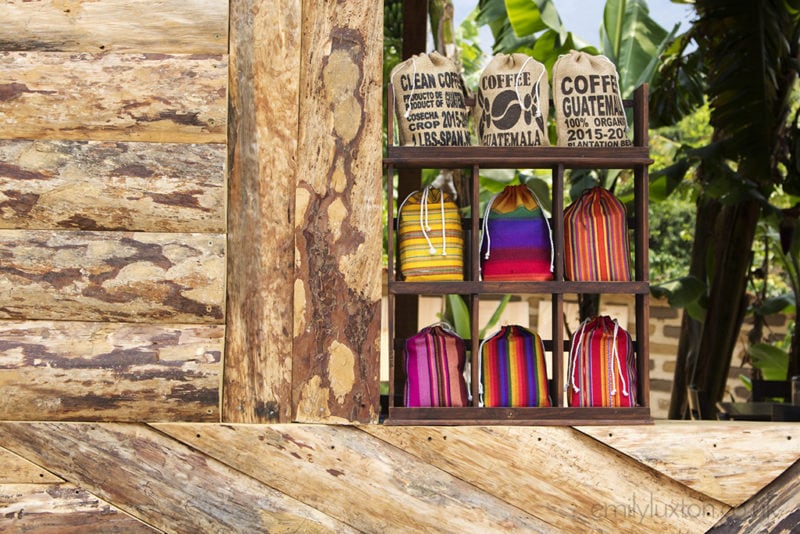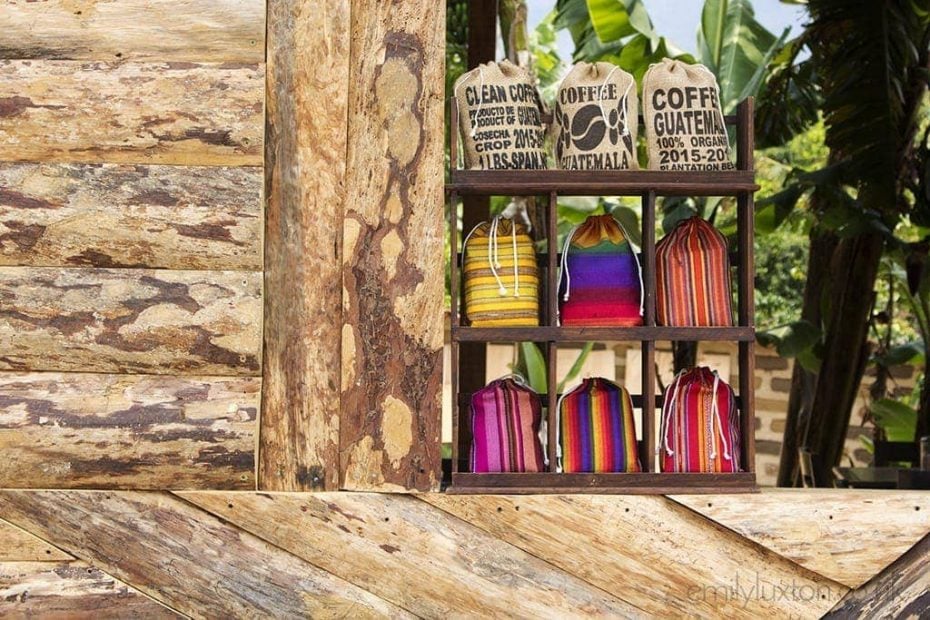 Guatamala has some of the best coffee in the world. In fact, the coffee I brought back from my trip is the first I've ever been able to drink without sugar. That's either down to the flavour of the coffee, or to my tastebuds finally growing up. Either way, the coffee is awesome, so make sure to try it. I especially liked the coffee shop by the dock in San Juan la Laguna on Lake Atitlan – the lovely lady who runs it makes a mean frappuccino!
Guacamole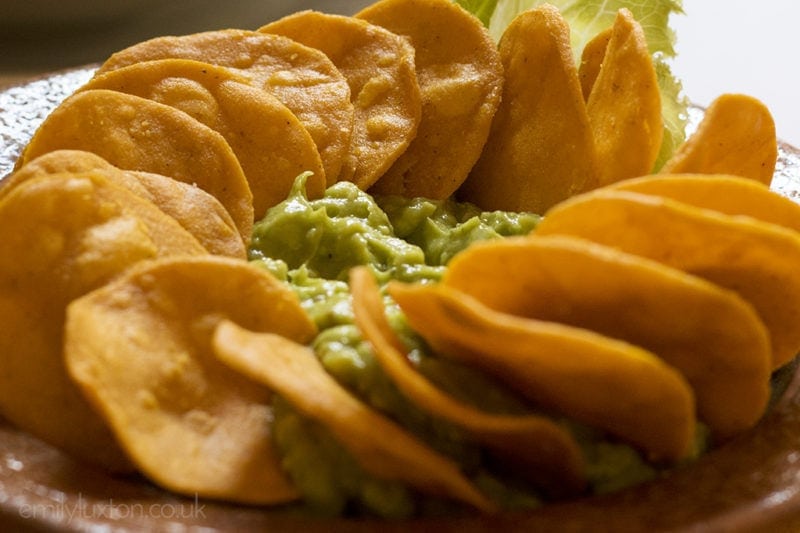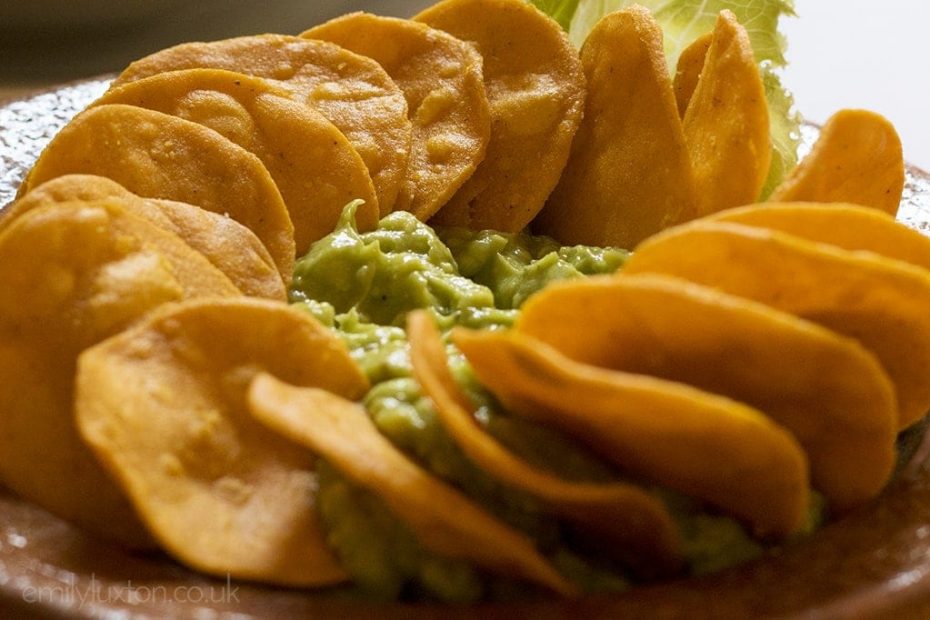 It's thanks to all that great coffee that Guatemala also has an abundance of fresh avocados. Farmers plant avocado trees to provide shade for their coffee plants, so there are plenty of lovely local aguacates around. Guacemole can be found on most menus – hooray! Guatemalan guacamole is prepared with onions, lime, salt, and oregano – and it's amazing!
Elotes Locos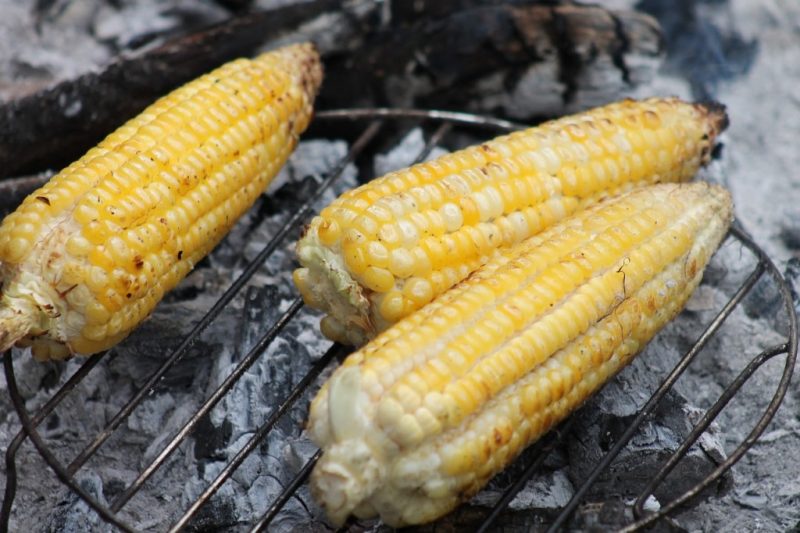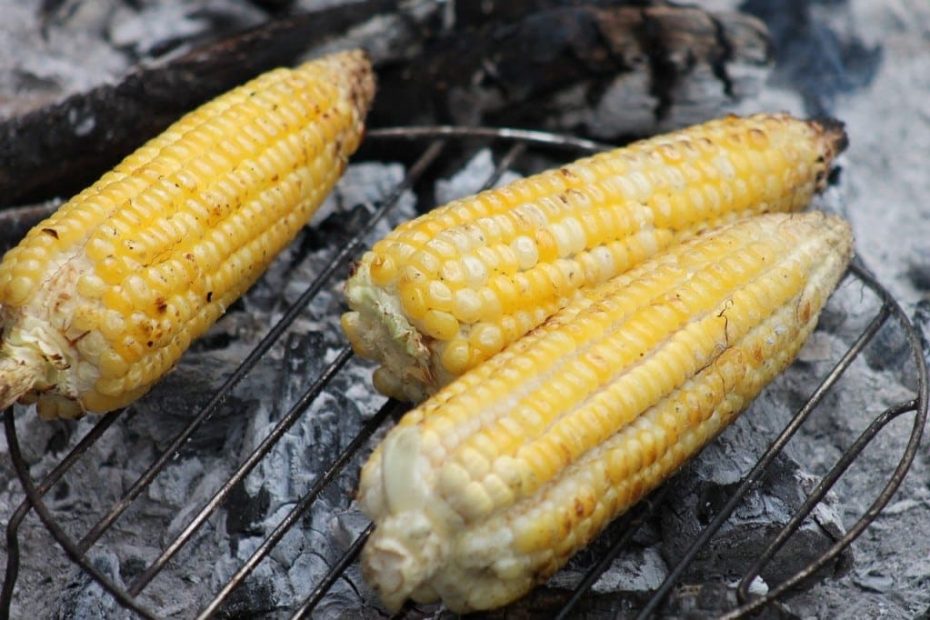 Elotes are corn on the cob served either barbecued (asado) or boiled (cocido). The're a food staple in Guatemala and can be found at street-side stalls all over.
It was a group of travellers I met in Guatemala City who told me about Elotes Locos, a must-try street snack. Essentially, it's a barbecued corn on the cob, piled high with ketchup, mayonnaise, and cheese. It sounds bizarre, but it works!
Breakfast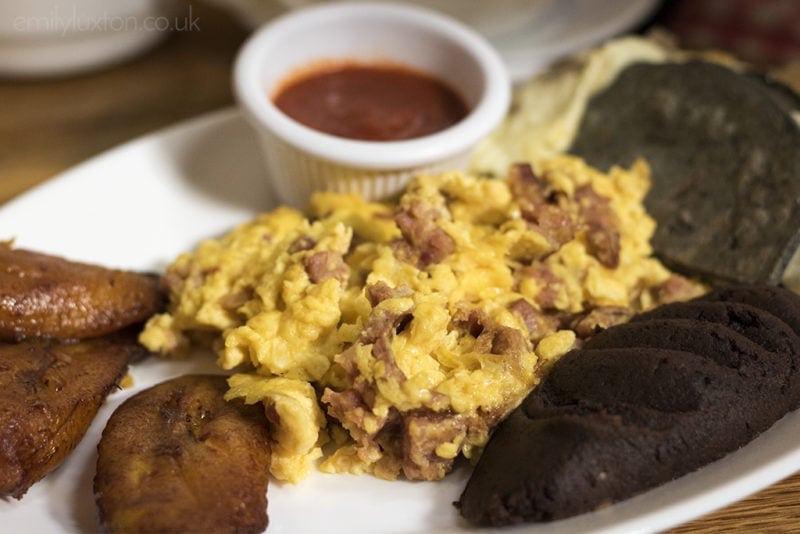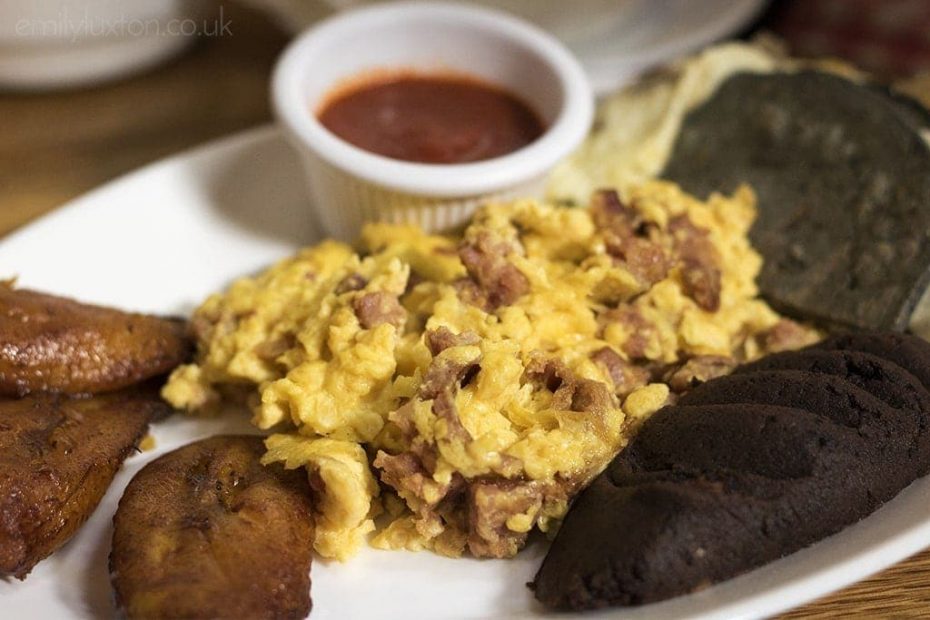 Most Guatemalan breakfasts start with a bowl of avena (oats), an extra-creamy porridge flavoured with cinnamon and honey. It's delicious, so be sure to try!
A traditional Guatemalan breakfast generally involves black beans, fried plantain, fresh cheese, eggs, and tortillas – with variations involving chorizo, sausage, or different sauces.
Also hugely popular is the Mexican dish Huevos Rancheros; fried eggs smothered in a spicy tomato sauce. For a great local breakfast, be sure to stop by the Restaurante Rincon Suizo. It's our guide Melvin's favourite pit-stop on the Pan-American Highway.
Rum
Finally, rum lovers won't want to miss the local rums in Guatemala, which are amazing. Guatemalan rum is produced from sugar cane syrup (rather than molasses), and the most famous name is Ron Zacapa. Apparently, the 23-year-aged rum is the best (thanks to Wanderlust Chloe for the tip).
Guatemala Food Tours
If you really want to learn about a country's cuisine, nothing beats a food tour or cooking class.
I've rounded up a few of the top-rated food tours in Antigua and Guatemala City from my preferred company, Get Your Guide. These are affiliate links, so if you book anything I recommend in this section, I'll make a small commission. This doesn't affect the price you pay at all.
More Information
Need a great Guatemala guide book? I recommend the Lonely Planet Guatemala Guide.
Will at the Broke Backpacker has a great Guatemala travel guide covering all the must-visit stops in this amazing country!
Read more about my own week in Central America here to see everything I managed to squeeze into just seven days in Guatemala and Belize.
This was just a quick guide to traditional Guatemalan food, so I'm sorry if I missed anything. There are variations and local specialities all over, like seafood by the coast or freshwater fish from the lakes. So ask locals or restaurant staff for tips, head to markets for street food, and explore!
Do you have any great tips on how to eat like a local in Guatemala? Keep scrolling down to share them in the comments!
If you loved this post then please pin it for others to find: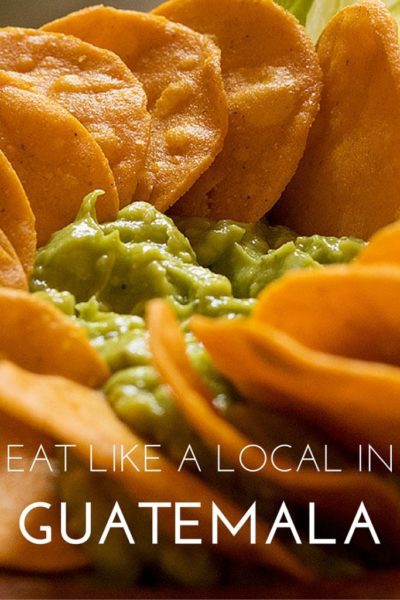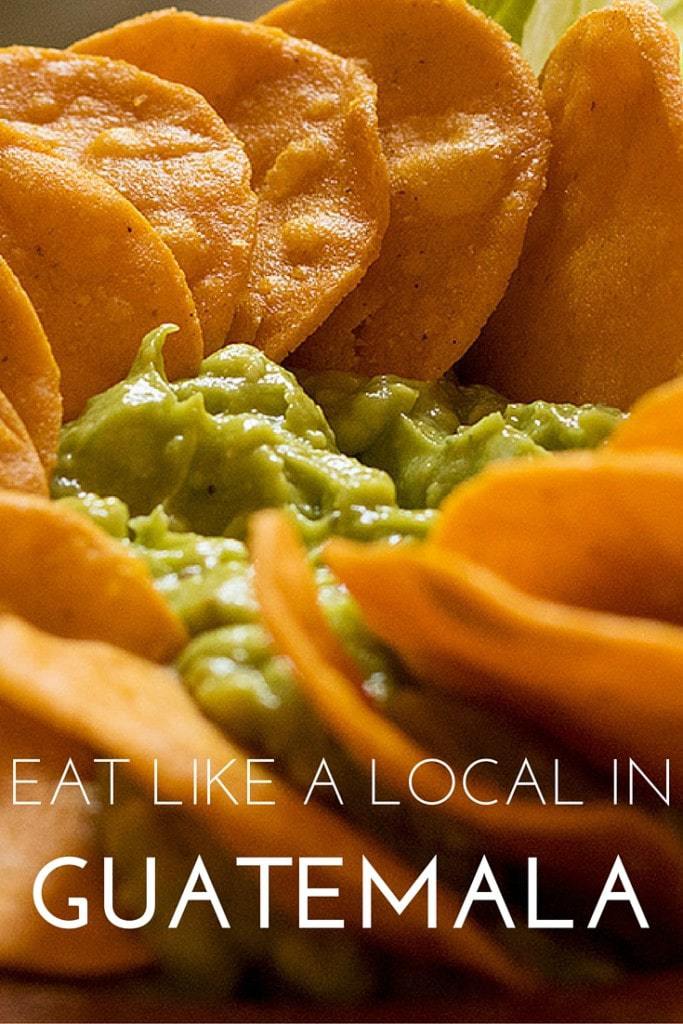 *This trip was a press trip organised by the Tourism Promotion Agency of Central America (CATA). All words and opinions are my own.