Some posts on this site contain affiliate links. If you book or buy something through these links, I earn a small commission (at no extra cost to you). Take a look at my privacy policy for more information.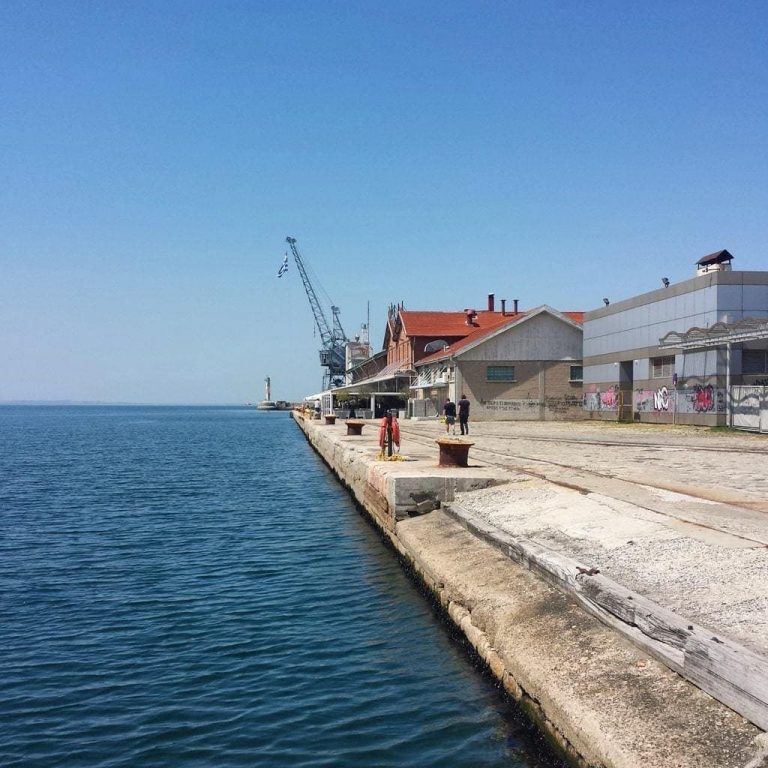 Greece isn't a country well known for city breaks, especially not at the moment, with the current crisis and rumours of riots dominating the news headlines. While the islands have the market on summer holidays sewn up, cities in mainland Greece such as Athens and Thessaloniki actually make perfect city breaks year-round; close enough to the UK to make a short trip viable, but far enough to have much nicer weather. The media may be full of tales of woe, but as Alex Andreou put it in his insightful article for the Guardian this week, the best way we can help Greece right now is with our tourism. There's been no violence so far, and even on the night of the rival rallies for Yes and Oxi there was no trouble at all; in fact the country seems as safe as ever. To my mind, the advice from some companies to boycott Greece as a tourist destination, at a time when the country's economy is in need of its biggest industry more than ever, seems completely bonkers.
A couple of weeks ago, I headed out to Thessaloniki with Blogtrotters Greece, a group of more than forty bloggers from across thirteen countries, organised by Discover Greece, to find out more about the country as a city break destination. If I hadn't been following the story of the crisis on the news, I would never have noticed anything going on. The shops were still open, the taverns busy, and the Friday night parties were as lively and joyous as ever. And, as I explored the city with local tour company Handpeak Tours, I came face to face with a striking amount of new, independent businesses. Artists, designers, non-profits, musicians, furniture makers and more, all flying in the face of the current media portrayal of a broken Greece and creating the eclectic, quirky and creative scene that makes this fascinating city a dream to explore.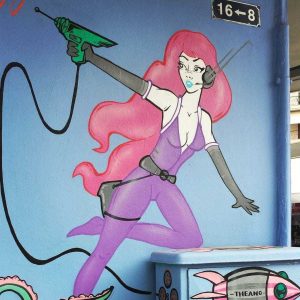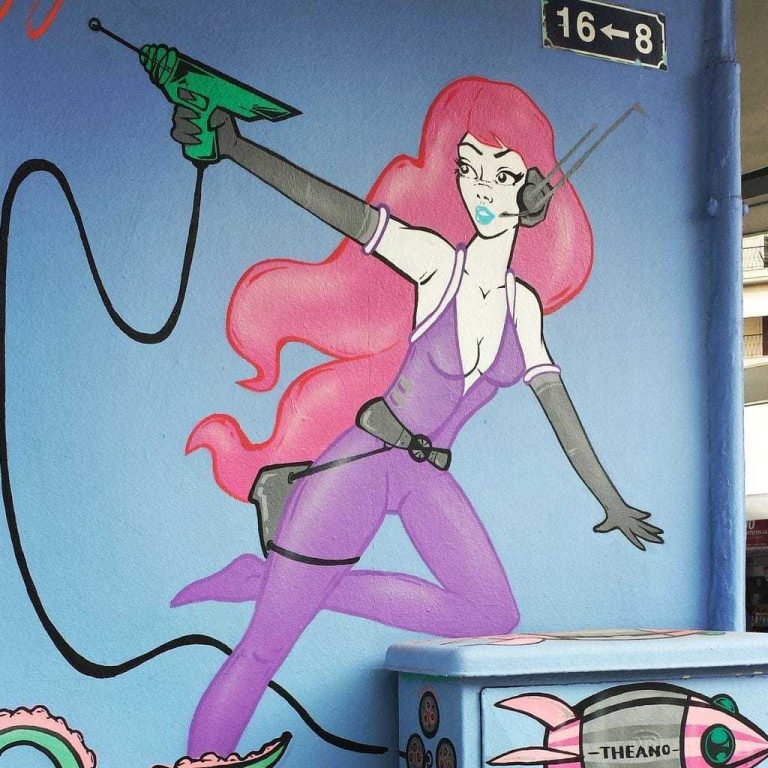 Thessaloniki may be ancient, with Roman, Byzantine, and Ottoman ruins still standing between the ugly sixties and seventies buildings that dominate the centre, but this city is very much young at heart, with two of the country's biggest universities and an 80,000+ strong community of students. Richly multicultural, academic, creative, and young, it's easy to see why Thessaloniki was named European Youth Capital in 2014. Cobbled pedestrian sidestreets are lined with quirky independent boutiques heaving with vintage clothes or handmade jewellery, street art and graffiti tags burst out from the cream-coloured buildings, and there are bars and cafés everywhere.
Although the street art was less prolific and more spread out than the scene I'd discovered in Athens, there was still plenty to be found; including the huge multi-story mural by DAL and Faith47 which towers over Ladadika district, an area where street parties, festivals and street performances are common. This was where I had my first taste of Thessaloniki's incredible party scene, when local dance school Lindy Hop Greece performed variations of the classic swing dance for our group with an almost magical passion, while we dined outside Kouzina Bar. A sudden and utterly unexpected slice of 20's Americana in a tiny Greek plaza, with damp flagstones glistening in the coloured lights from a spectacular central fountain: it was just one of any number of random encounters possible in a city ranked among the top ten in the world for nightlife.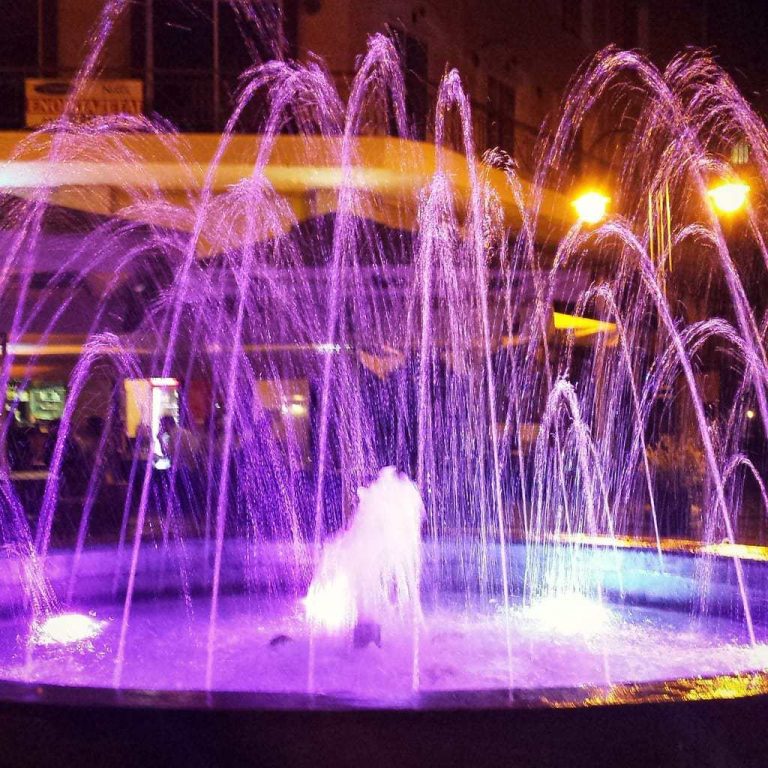 Partying by night and browsing artist's studios and cute boutique stores by day, all the while making the most of an eclectically multicultural food scene with a heavy Ottoman influence; this really is an ideal spot for a city break. And Greece, as a whole, is significantly cheaper than usual – particularly if you patronise the locally-owned business that so need your support – so it's the perfect time to make the most of this country's surprising city break scene. And it's not all about the parties; ancient Thessaloniki full of fascinating history. We headed out to the crumbling City Walls with a local guide to get the full lesson, one which starts in 315 BC when Thessaloniki was founded by King Cassander of Macedonia and named for his wife, and travels through the various layers of occupation which have all left their indelible mark on the Greece's culture. In spite of the rain, catching the golden hues of approaching sunset from the stunning Trigonion Tower in the North-Eastern corner of the walls was an incredible moment, while the views from the wind-swept White Tower on the seafront were spectacular.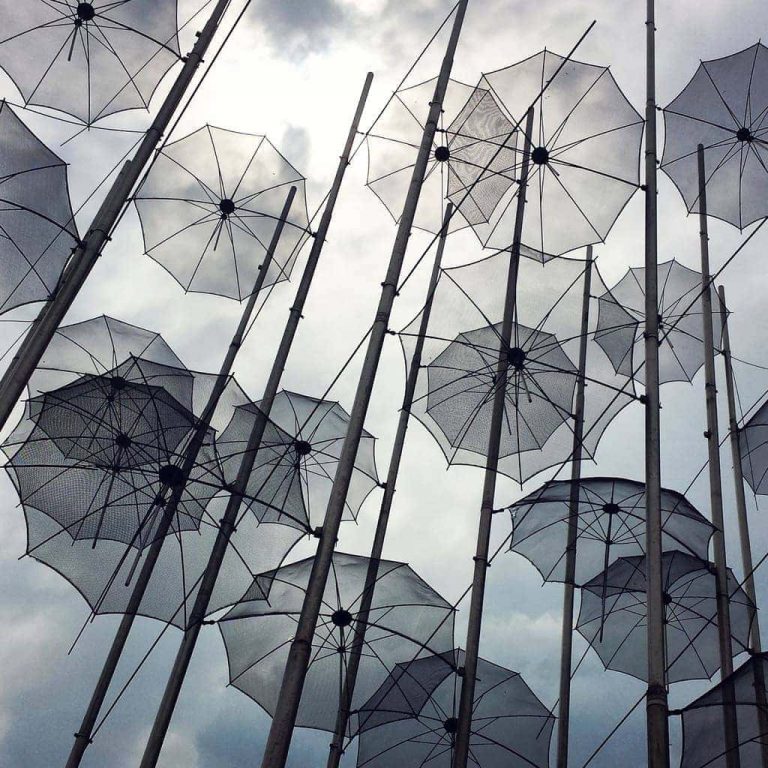 Not far from the White Tower – an Ottoman relic no longer painted white but remarkably well-restored – is another of Thessaloniki's most iconic sites, the umbrella sculpture by Georgios Zongolopoulos. A bizarre, towering structure of grey metal umbrellas looking particularly apt against the gloomy sky on my second day in the city, these lend themselves fantastically to photographs, perhaps the reason behind their surprising success as a tourist attraction. The day had begun with a fantastic food tour from Thessaloniki Walking Tours, followed by a much-needed coffee at a café overlooking the impressive Roman forum. Sufficiently fuelled up by super strong iced Greek frappé and ignoring the obvious threat of rain, I struck out for an afternoon of dodging downpours in search of street art, and was rewarded with some great finds. My highlight was a metal fence that had been decked out with brightly painted trainers that had been converted into cute flowerpots; as quirky and bizarre as everything else I came across in the city.
Finally, the unseasonable rain vanished on the third day, and the June sun came out in full force to welcome our group to dazzling Halkidiki – one of the best day trips from Thessaloniki. This is the other thing that makes Thessaloniki an ideal city break; just a couple of hour's drive away are some of the paradisiacal beaches Greece is known for. We headed to Kassandra, the first of three peninsulas known as Poseidon's Trident, where – much like in neighbouring Thessaloniki – the party atmosphere was inescapable, with luxurious beach bars like Lefki Ammos where we found ourselves welcomed by a beach of exceptional beauty. White sands and clear turquoise waters lifted straight from a glossy magazine, ice cold cocktails from the bar, and a live performance from a local band… it was an afternoon from a dream, and the perfect end to an insightful Greek city break.
The political mood in the country may seem bleak, but the impression I got from the people I met, especially the local business owners, was one of determination, full of fiery Greek passion. The parties haven't stopped yet, and if the fast changing city centres of Athens and Thessaloniki are anything to go by, this is a seriously adaptable country which will, I hope, get through anything. The situation is hopeful, things seem perfectly safe, it's cheaper than usual and you'll be sharing the country with far fewer tourists than normal, plus they really do need the tourism. So go to Greece, I say, and enjoy. You won't regret it.
What do you think – would you go to Greece right now or are people right to be cancelling their holidays? Share your thoughts in the comments.
PS – Many thanks to Discover Greece and Aegean Airlines for arranging the Blogtrotters Greece 2015 trip and hosting my stay in Thessaloniki.