Some posts on this site contain affiliate links. If you book or buy something through these links, I earn a small commission (at no extra cost to you). Take a look at my privacy policy for more information.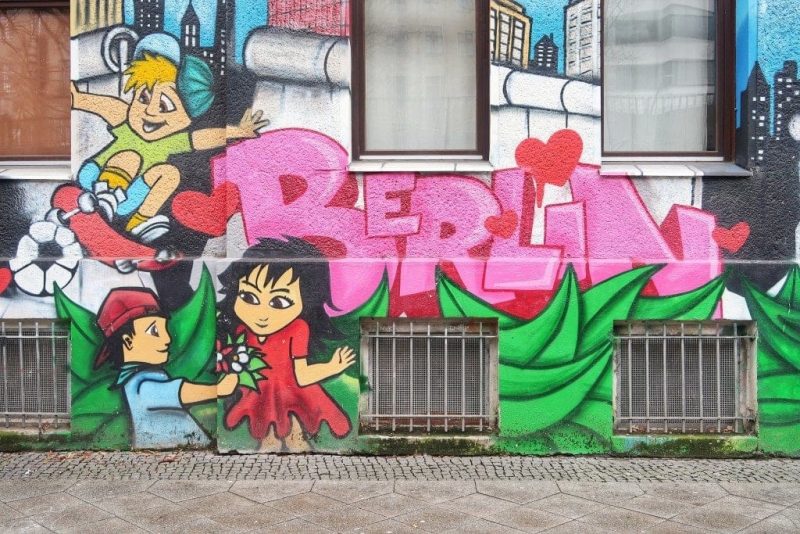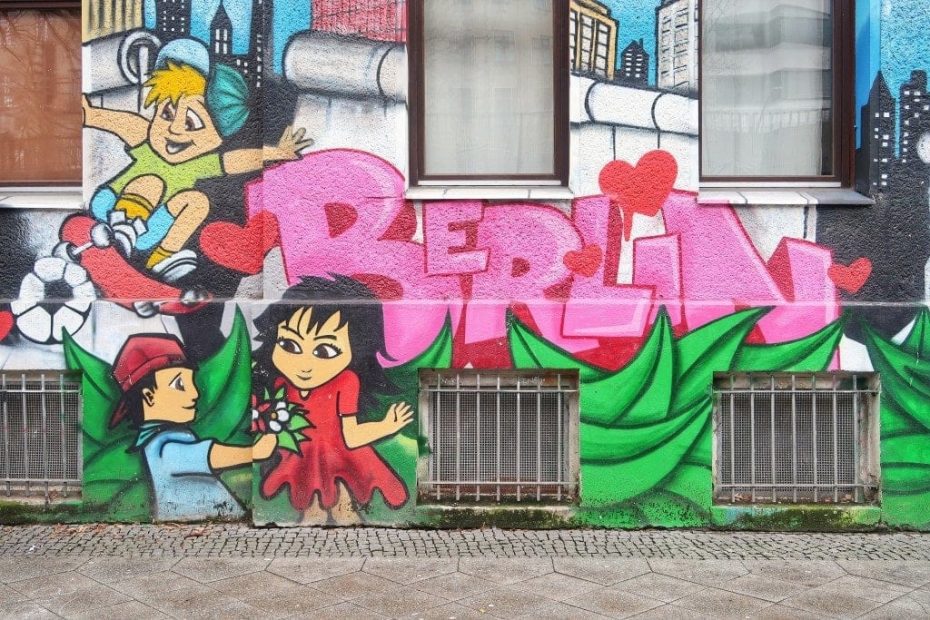 If you're planning a Berlin weekend or a short city break, you might be wondering just how expensive the German capital is. The city has a reputation for being pricey, and after ranking 25th out of 36 cities in the Post Office's City Costs Barometer recently, it seems that's pretty accurate. But can you have an awesome weekend in Berlin on a budget?
I've created the ultimate fun and foodie guide to Berlin to help you have an amazing trip no matter what your budget. This guide isn't going to cover the historic and cultural sites, because plenty of other, better guides have those covered already. Instead, my Berlin weekend guide focuses on food, contemporary culture like street art, and all the most fun things to do in Berlin. Enjoy!
Is Berlin Expensive?
Money Saving Tips for Berlin
Fun Things to do
Budget Berlin Food Guide
Disclaimer – My trip to Berlin was supported by the Post Office, but all the discoveries are mine. All the words and opinions in this post are 100% my own and honest!
Is Berlin Expensive?
It can be! As the travel costs barometer found, Berlin came 25th for the cost of food & beverage, sightseeing, tourist attractions and travel.
Berlin was 24th most expensive city to visit a top art gallery – cost: £9.06 to visit the Alte Nationalgalerie. However, there are also several fee art galleries in the city.
For a 48-hour travel card, Berlin placed 23rd most expensive – cost: £12.68
Berlin was 30th most expensive for a 3-course dinner for two with bottle of house wine – cost: £95.10
BUT – a Berlin weekend doesn't have to break the bank! There are also loads of free things to do in Berlin, as I'll show you below, and plenty of cheap eats across the city to help you keep your costs down. Keep reading for my ultimate fun, foodie guide to the perfect weekend break in Berlin…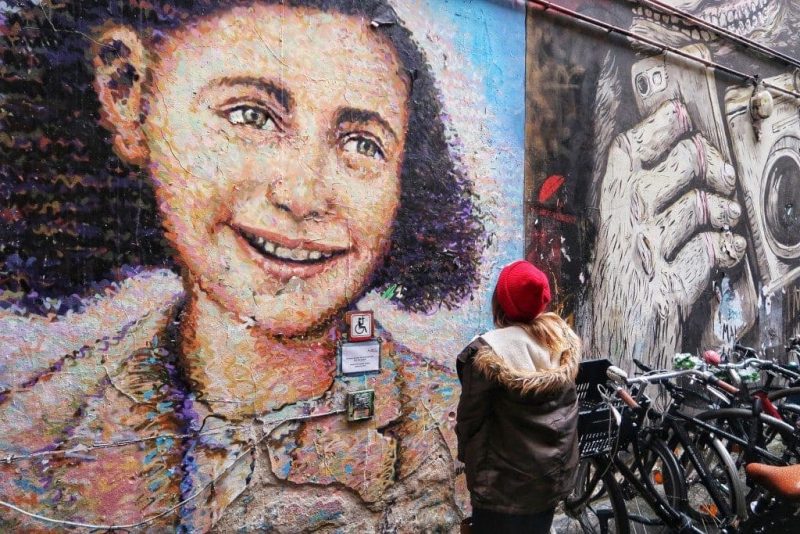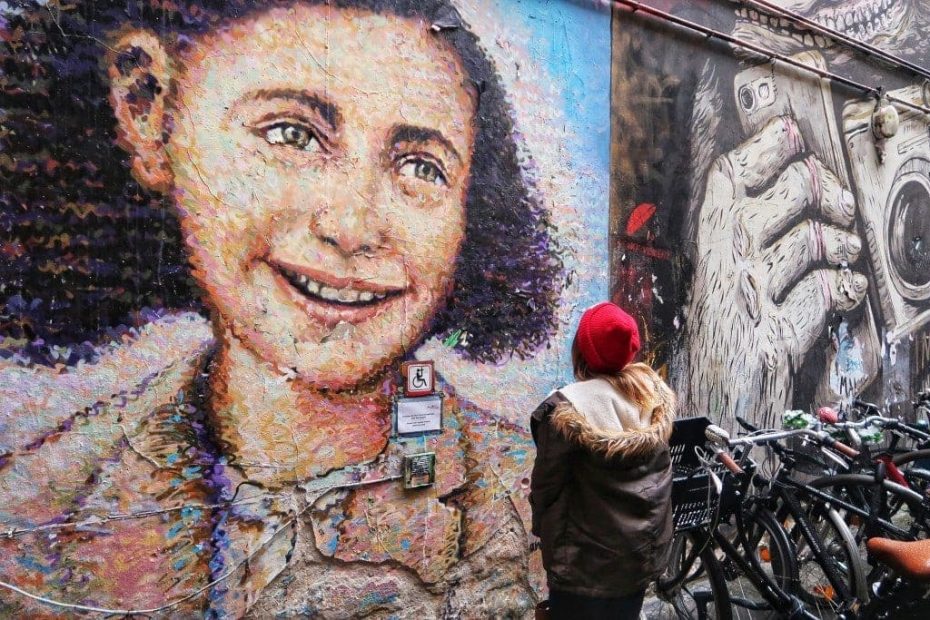 Money Saving Tips for a Berlin Weekend Break
One of my top tips for saving money in Berlin is to get a travel card straight away. If you're taking the S-Bahn from the airport to the city centre (super convenient and much cheaper than a taxi), you can buy your travel card from the machine there. Every journey costs around €3 so that adds up fast.
If you're doing a Berlin weekend trip, you may find that buying a day ticket (Tageskarte) every day works out cheapest – it's €7 for the AB zones or €7.70 for the ABC zones (includes the airport). If you're in Berlin for longer than three days, a €30 seven day ticket is the more economical option.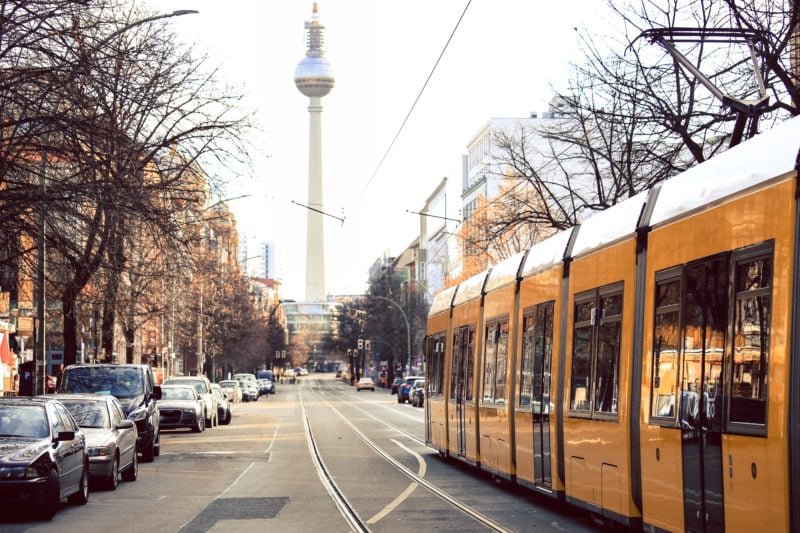 Is the Berlin Welcome Card worth it?
If you plan to use public transport a lot and want to visit quite a few museums and attractions, you could grab a Berlin Welcome Card. I'm still torn on whether it's worth it, but I did like the ease of having mine. And at €30.90 for a 72 hour card, it was the cost of 10 journeys on the metro – and I easily did more than that!
Alongside unlimited travel on all public transport across Berlin, you get discounted entry to most of the major museums and tourist attractions. After a couple of discounts it has pretty much paid for itself! But if you don't plan on doing much touristy stuff the card might not be worth it.
Travel Money Card
You can also save money on currency conversions and withdrawals with a Post Office Travel Money Card. I pre-loaded mine with euros before the trip, and used it to pay for everything while I was away. It was super easy to set up and really took away the hassle of changing money etc.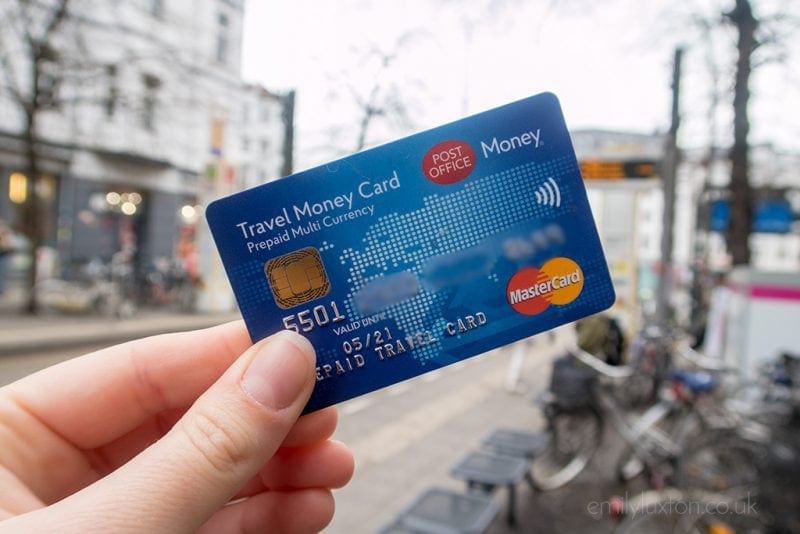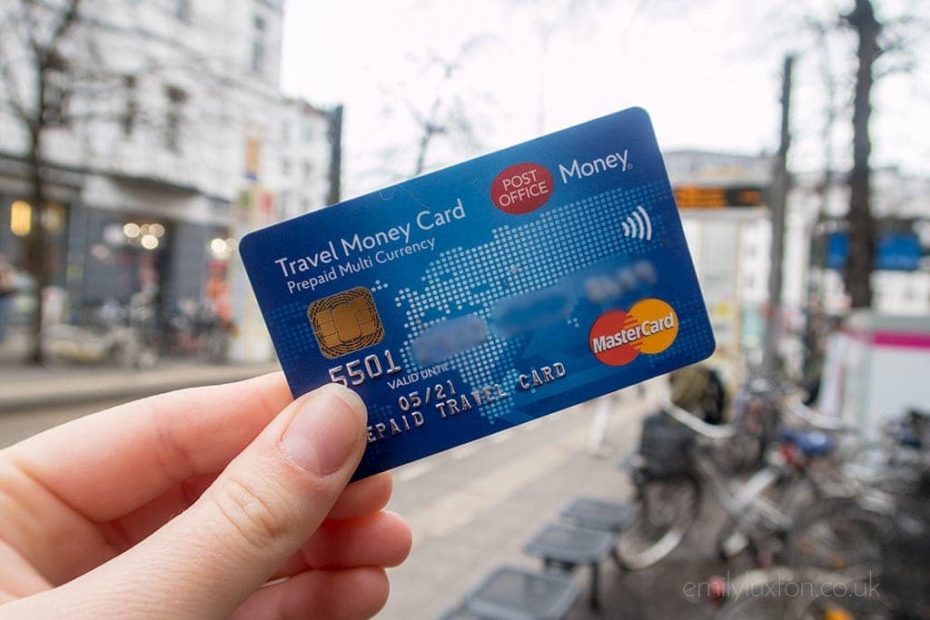 Hotels
For me, accommodation in Berlin seemed surprisingly expensive. I liked my hotel a lot, but I didn't think it was worth the almost £100 a night rate, which seemed to be fairly standard for the Mitte area. Shop around for discounts, or consider booking an apartment on AirBnb. These often work out much cheaper than hotels and come with the added bonus of having a kitchen – which means you can have the odd dinner at home.
PSST! Click here to get £25 free credit for your first AirBnb booking!
Fun Things to do in Berlin
Fill your Berlin weekend break with a few of my favourite cheap and free fun things to do in the city! Make sure you check out some of the important historical sites and museums, too – Berlin's history is pretty fascinating. But when it's time for fun, I've got you covered with tons of street art, a public sauna, and some amazing city views…
READ MORE: 36 Hour Guide for Berlin
Berlin Street Art – Free
While it's not the prettiest city at first glance, up close Berlin is filled with colour and personality. There's awesome Berlin street art everywhere, so the whole city can feel like an open-air gallery which is great fun (and totally free) to explore. Head to the railway arches along Dircksenstrasse for a few iconic pieces.
The famous Anne Frank mural by Jimmy C can be found in the little Haus Schwarzenberg courtyard, along with numerous other pieces by other artists. That courtyard is a definite must-visit for Berlin street art! The neighbourhood of Kreuzberg is another great spot, and it's home to some of the city's larger-scale pieces. And the abandoned area of Teufelsberg is another famous spot for street art and graffiti in Berlin – don't miss it.
I followed this fab free walking tour guide while I was there and it's pretty accurate. There are lots of street art tours but if you'd rather go it alone this is the perfect DIY tour!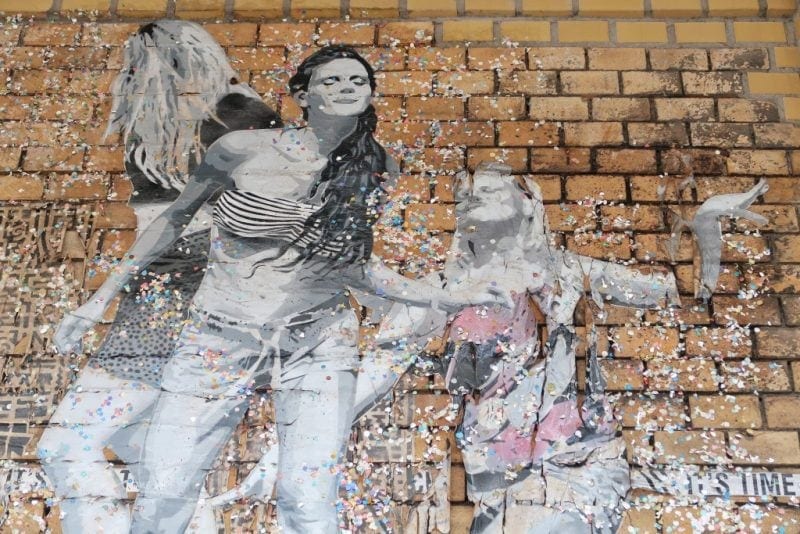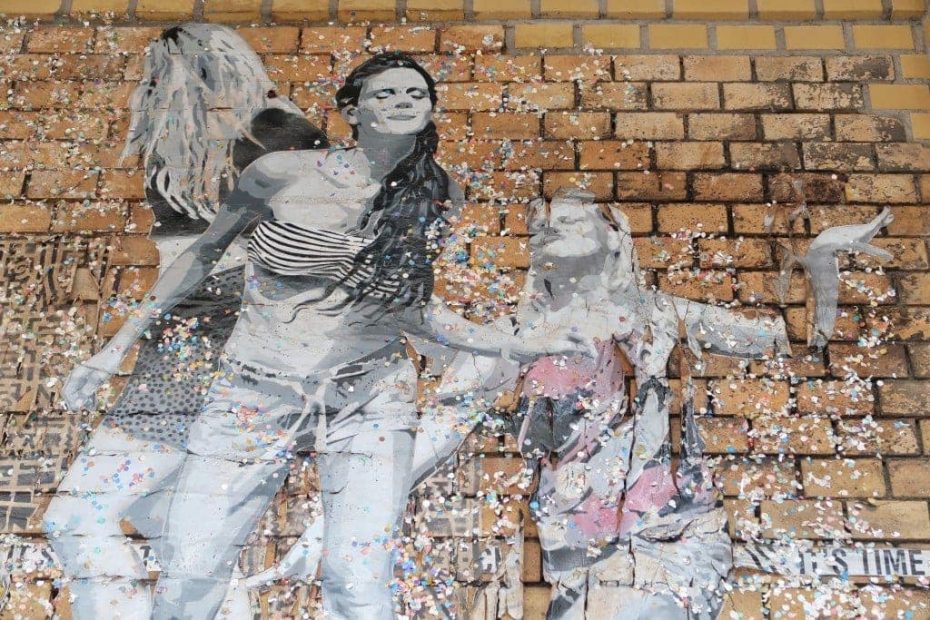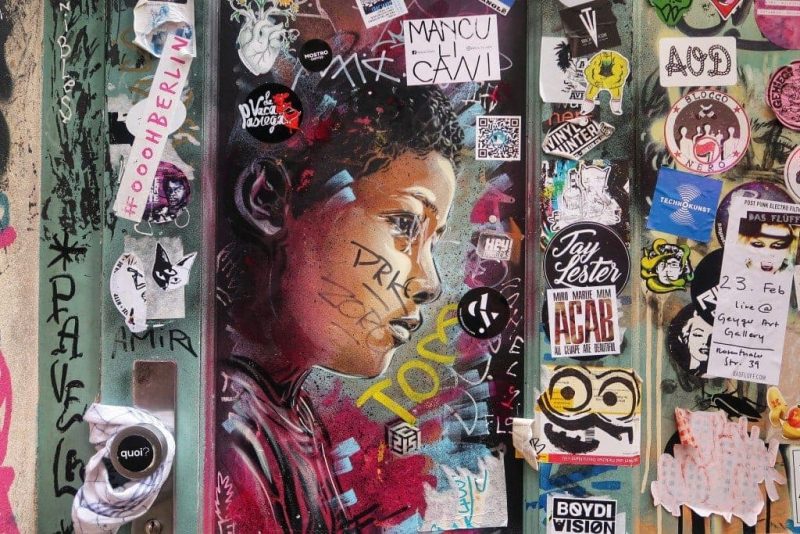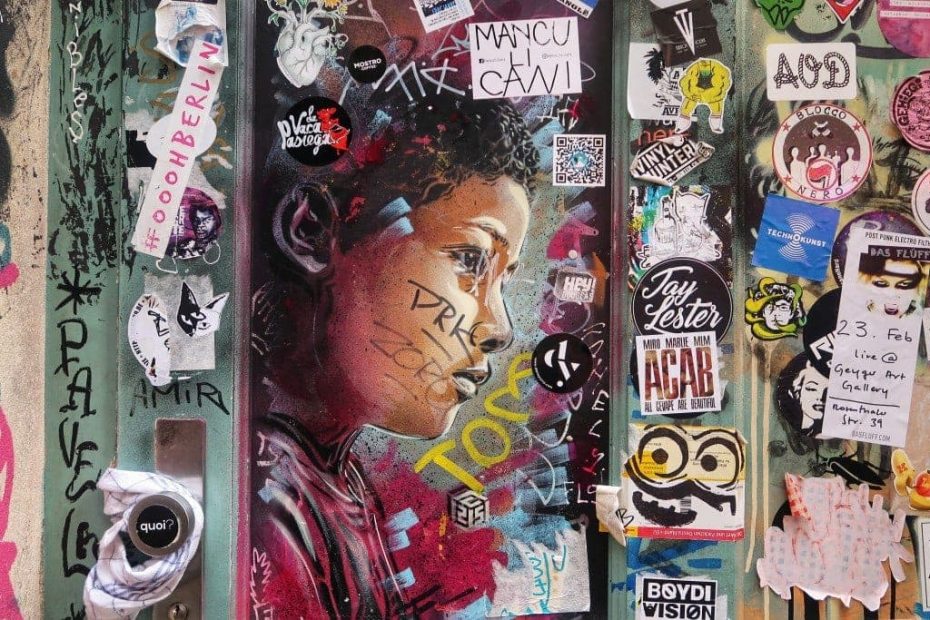 Urban Nation – Free
Berlin has such a strong street art scene that the city even has an urban art gallery. Urban Nation is a large gallery space with one of the most colourful staircases you'll ever see, and a huge collection of amazing art – including several pieces by pretty well-known artists. It's also completely free, making it great for those taking a Berlin weekend break on a budget. Random tip but don't miss the loos in this art gallery – and take a pen with you!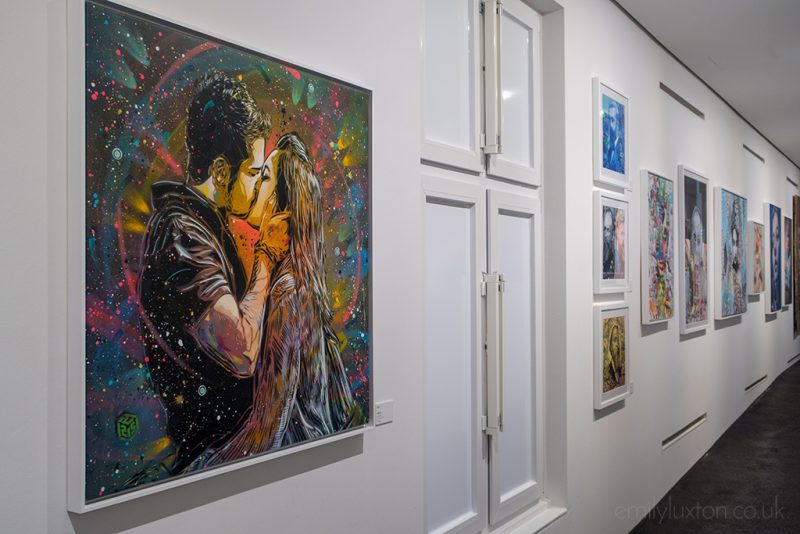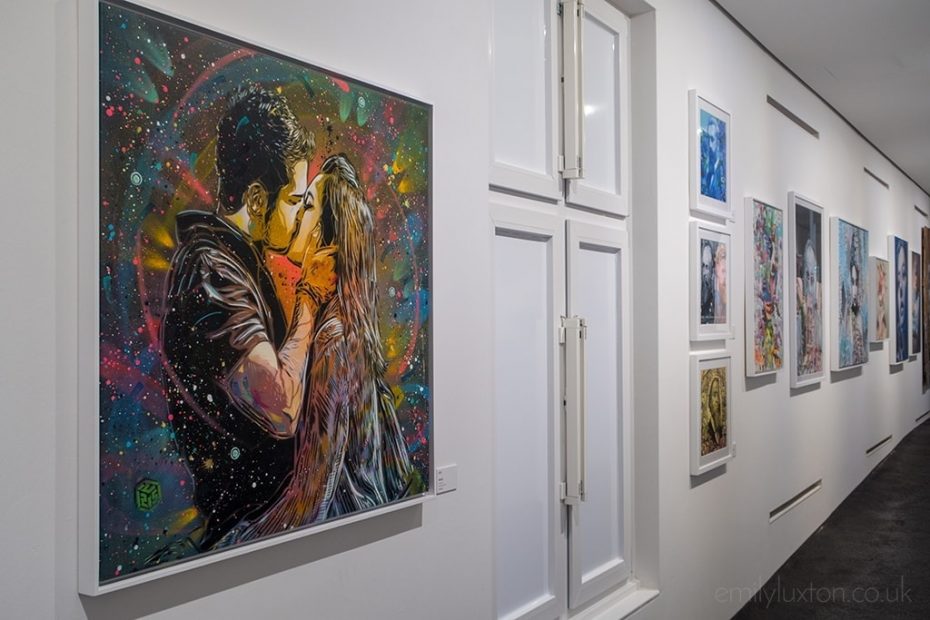 East Side Gallery – Free
I'm a bit reluctant to call this "fun", as it relates to the city's darker history, but the East Side Gallery is definitely one of the best free things to do in Berlin. It's an old section of the Berlin Wall that's been completely covered in murals, turning it into an amazing open air art gallery. There are lot's of anti-war messages and expressions of hope, and a lot of the images are as relevant as ever.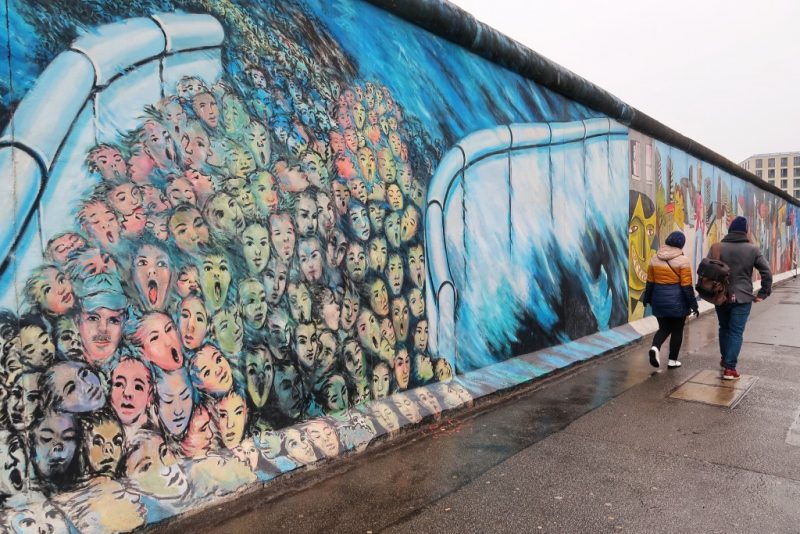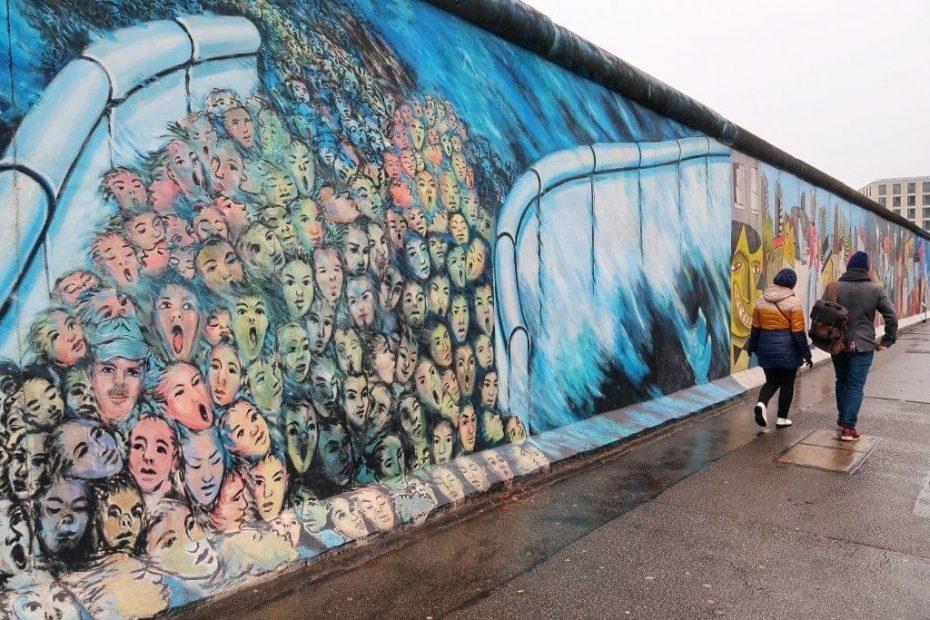 Berlin Views – Cheap and free alternatives to the TV Tower
Berlin's Television Tower, the Fernsehturm, is the tallest in the city, but at €15.50 it's pretty pricey. If you're trying to save euros on your Berlin weekend, try one of these cheaper (or free) alternatives instead.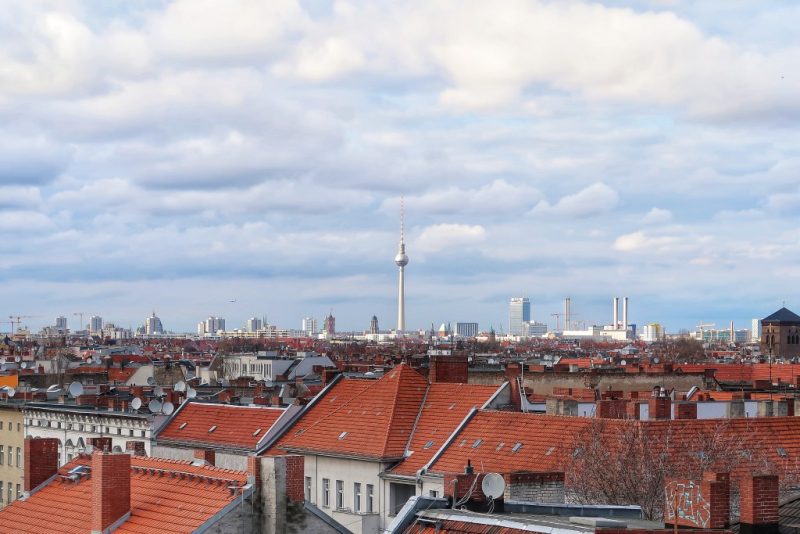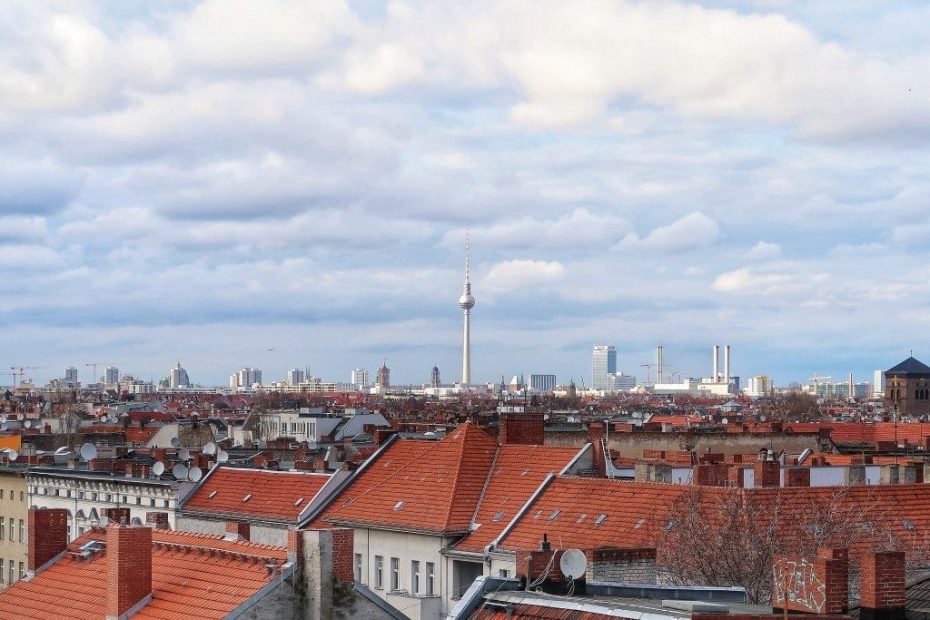 Park Inn Hotel – The Park Inn Hotel is opposite the Television Tower, so if you head up to it's observation deck you get a similar view for less than a third of the price. AND that view also includes the TV Tower itself. No queues and cheap entry make this a fab alternative to the TV Tower. (Entry €4).
Klunkerkranich – This is a "secret" rooftop bar on top of the Neukölln Arcaden shopping centre. If it's closed, or you don't fancy a drink, you can still head up to the 5th floor of the shopping centre car park for some nice city vies. (Free / cost of a beer).
Panoramapunkt – Head to one of the tallest buildings in Potsdamer Platz for views of nearby attractions including the Brandenburg Gate. You also get to enjoy using Europe's faster elevator at the Panoramapunkt – which reaches the 24th floor in 20 seconds! (Entry €7.50).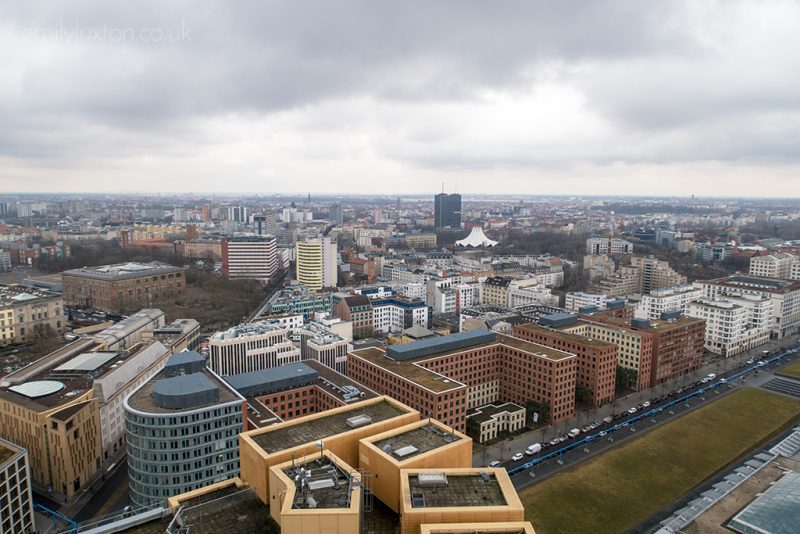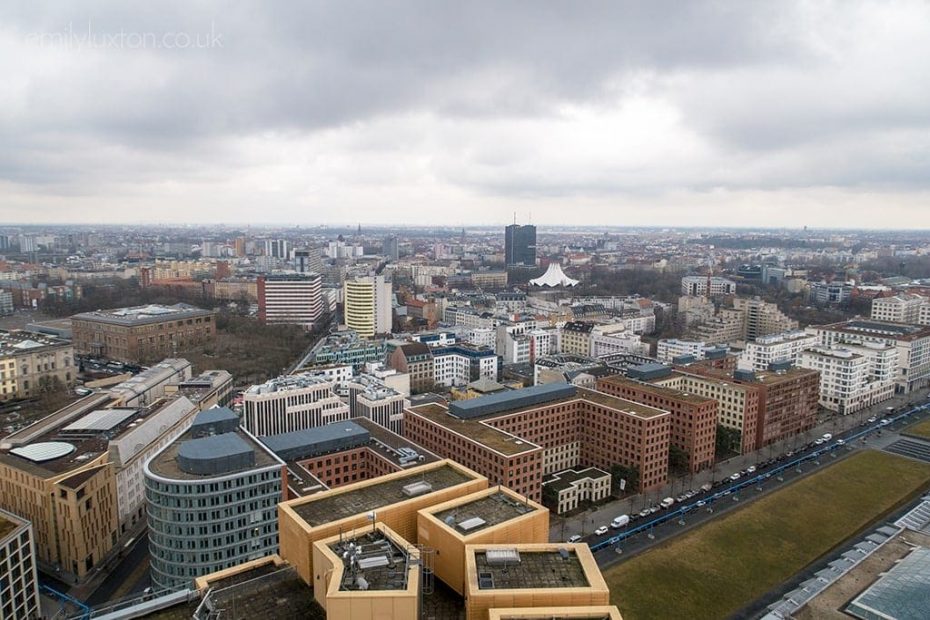 Liquidrom – Berlin's Budget Spa – £19.50 for 2 Hours
If you need to relax after all that sightseeing, you need to head to the Liquidrom! A super cool sauna and thermal pool complex beneath a circus-tent-like dome, a couple of hours here is surprisingly reasonable considering how nice the spa is.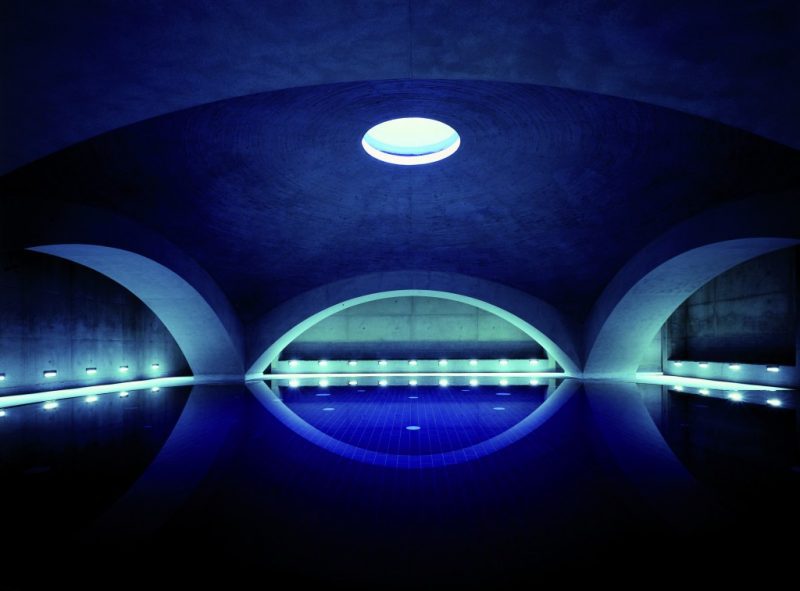 The highlight is the thermal pool, beneath the dome of the "tent". As you float in the darkly lit salt water pool, music is played underneath the water – it's such a cool experience. They even have club nights and other events!
As well as the pool and a few saunas and steam rooms, there's also a really nice bar – so you can easily spend a couple of hours here. Fair warning for the British prudes (like me) in the audience: Berliners do their sauna-ing fully nude. Swimwear is for the pool only, everywhere else folks are naked. It takes some getting used to, but please swallow your giggles and act casual!
Berlin Weekend – Food Guide!
And now, it's time to eat! Berlin has a fantastic foodie scene and tons of amazing coffee shops. From towering burgers to incredible Vietnamese food, there's so much to try. And of course there's all the best currywurst in Berlin! Keep reading for my favourite foodie discoveries to fill your Berlin weekend…
Brunch and Breakfast in Berlin
Because every awesome Berlin weekend has to include an amazing breakfast! These were a few of the best places I found…
Commonground at Circus Hotel – Chic coffee shop and bar serving decadent breakfasts all day long. Popular hangout with coworking vibes – but a laptop ban on weekends. (Set breakfast €12)
Distrikt Coffee – Trendy expat haven with great coffee and a locally sourced menu. Exposed brick walls and big windows for a light-filled space with contemporary hipster tones. (Breakfast €5 – €8)
Cafe Fleury – Cute French cafe with sleepy old school vibes and yummy pastries. Possibly the least hipster place in Berlin Mitte. Or maybe it's hipster for being so un-hipster. I don't know – but the French bread is amazing! (Breakfasts around €5)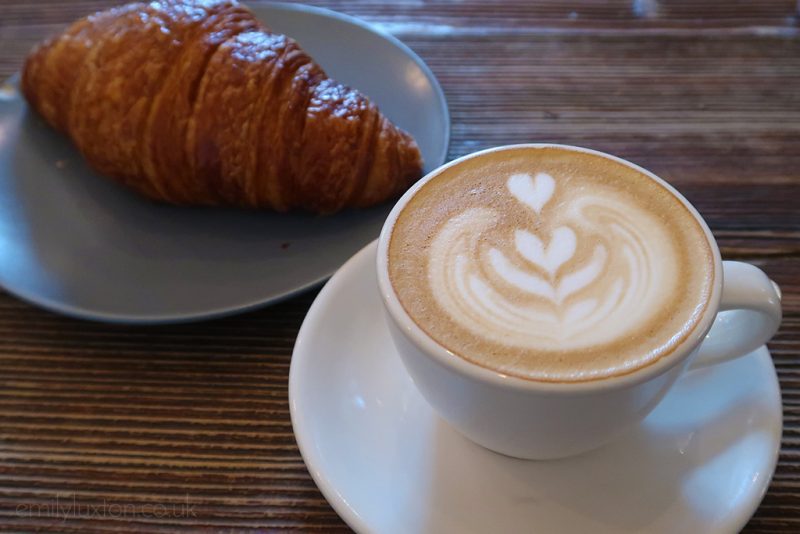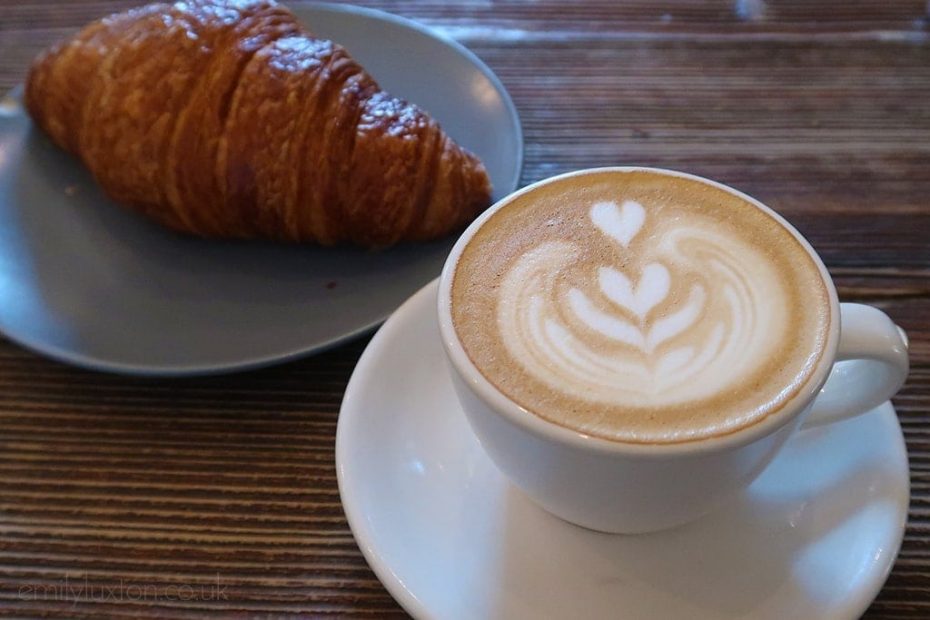 Best Coffee Shops in Berlin
There are so many amazing cafes and coffee shops in Berlin to choose from! Besides the places mentioned above, these are a couple more fab places I found to grab a quick pick-me-up.
Cafe Cinema – Bar-come-coffee-shop with shabby furniture and walls lined with old movie posters. Candles, jazz, and late night vibes at all times of the day. Feels like the kind of place Hemmingway would have hung out. (Latte €2.80)
Brammibal's Donuts – Cute, tiny coffee shop with pastel pink trim and the best vegan doughnuts in Berlin! Seriously, don't miss these doughnuts! (Flat white €3, donuts €2.50)
READ MORE: check out this round-up of the best vegan restaurants in Berlin for more fab recommendations.
Two and Two – Home of what my friend Marcela called "the best chocolate cake in Berlin" (a bold statement but one I'm inclined to agree with – it was epic). Feels like sitting in someone's living room eating homemade cake – if that someone has a really cool apartment. Don't miss it! (Flat white €3).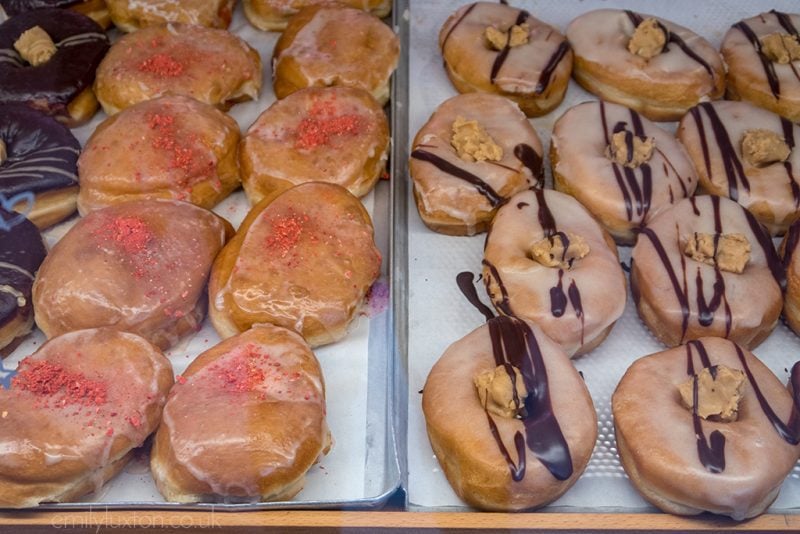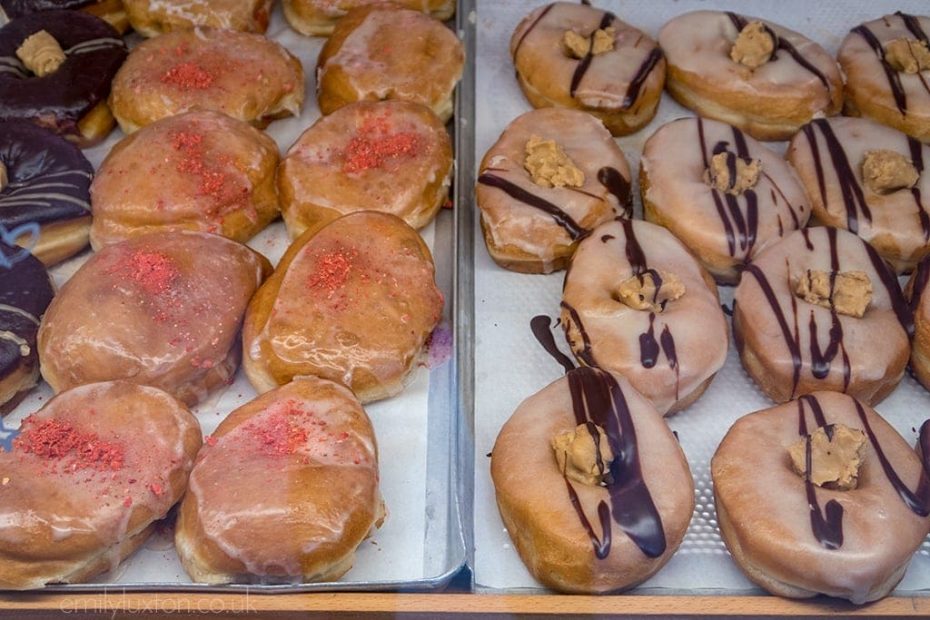 Best Currywurst in Berlin
You can't visit Berlin and not try currywurst. It's a super simple street food dish of spicy tomato ketchup slathered onto sliced wurst (sausage) and dusted with curry-powder. It's also a very cheap and speedy lunchtime option. The tasty snack was born after the war as a way to spice up dull rations. If you want it Berlin-style, opt for a wurst with the skin-off.
Currywurst Museum – UPDATE – the Currywurst museum sadly closed in 2018.
Konoppke's Imbiss – This retro stand tucked under a railway bridge is apparently the site of the original currywurst in Berlin. Definitely a must-try, and at €1.90 it's a bargain on-the-go snack!
Curry 61 – Often called the best currywurst in Berlin – by bloggers, food tours, and locals. Modern stand with an indoor area to eat. I can't promise it's the best, but it is very, very good! (€2.40 or €3.90 with fries).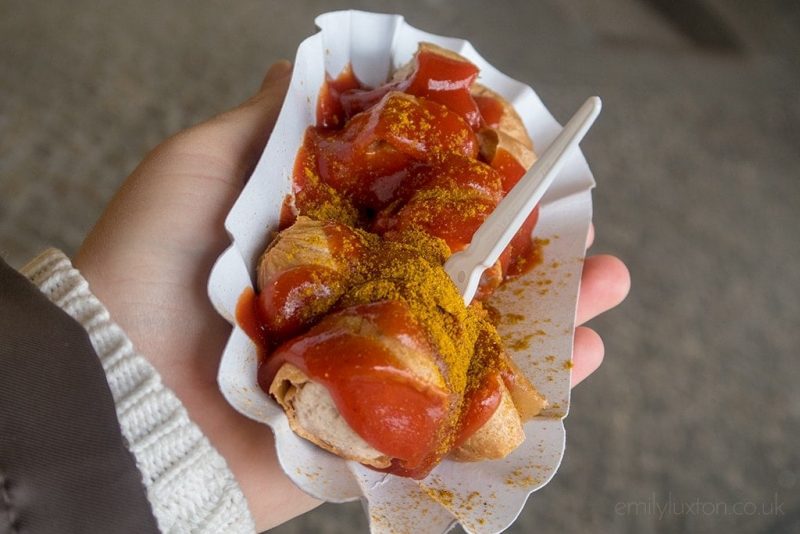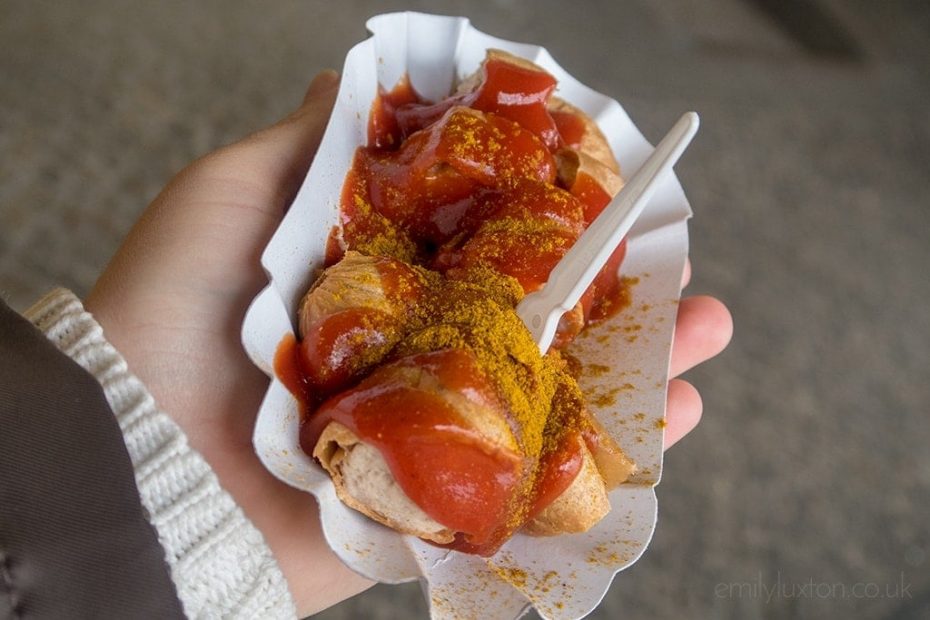 Berlin Cheap Eats
According to the Post Office City Costs Barometer, a three course dinner for two can set you back around £95 in Berlin! Luckily, there ARE plenty of cheap eats to be found if you want a tasty meal that won't break the bank! Humongous thanks to Marcela from Fotostrasse for introducing me to all these places. She's lived in Berlin for six years and took me to all her favourite places – so you know these are some of the best restaurants in Berlin. Enjoy…
Thüringer Stuben – Super traditional German restaurant, but not in a gimmicky "for tourists" way. The decor is fabulously eclectic, so expect to dine surrounded by stuffed birds and odd squirrel statues! This is the perfect place to try authentic German cuisine like schnitzel, sausages, and sauerkraut. If you're looking for the most traditional Berlin dish order eisbein, a boiled and cured pork knuckle which is absolutely delicious. (Mains from €11.80)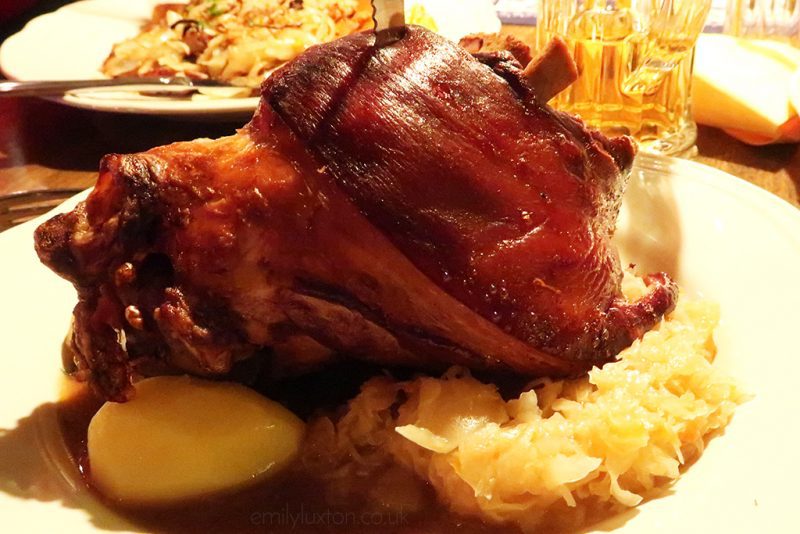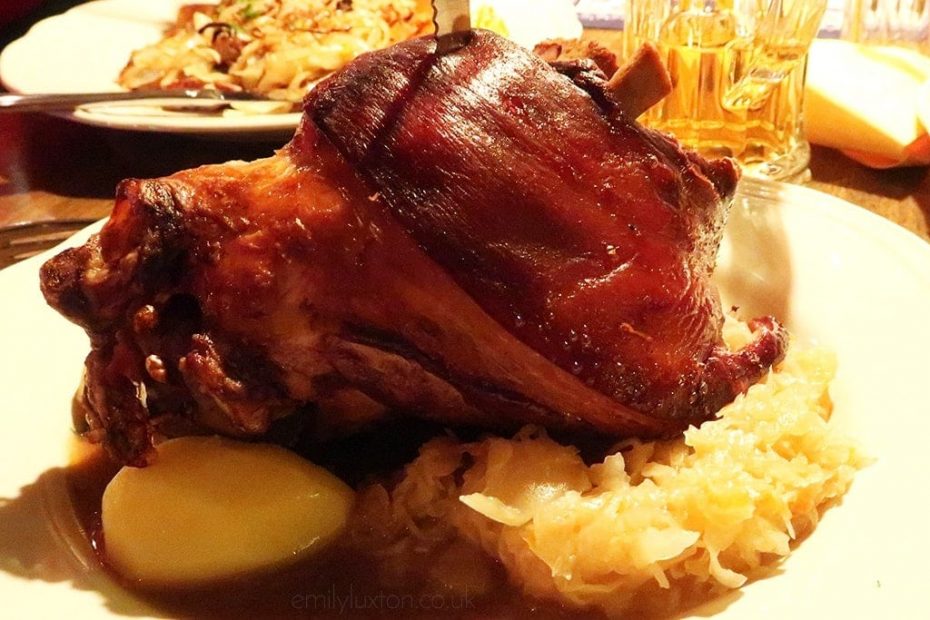 Turtle Pizza – Informal little pizza place with a fun Mutant Ninja Turtles theme and a seriously good menu. Pizzas are big, tasty, and surprisingly well priced, making this a great pit-stop for a quick dinner. (Pizzas €5 – €9)
Berlin Burger International – Home of the best burgers in Berlin (according to everyone I asked). Possibly the best burgers I've ever tasted. Tiny hole-in-the-wall serving up towering monster burgers. Go for El Gordonita if you like guacamole – you won't be sorry! (Burgers €4.70 – €7.50)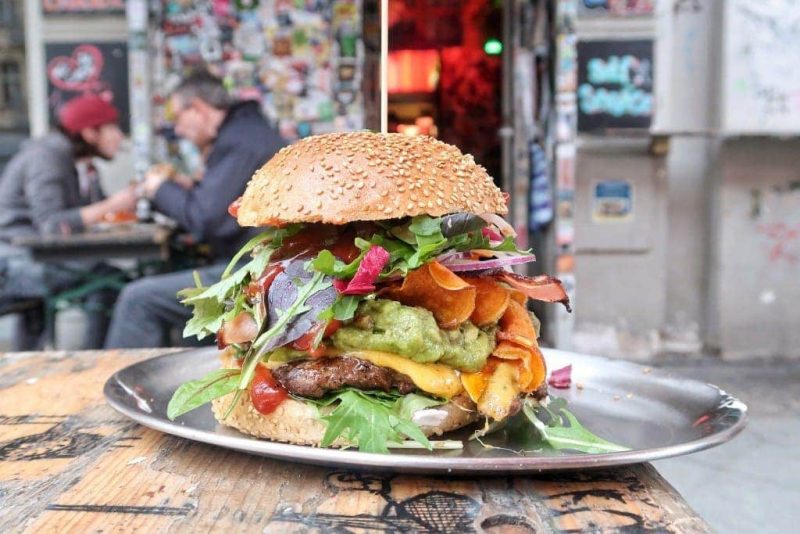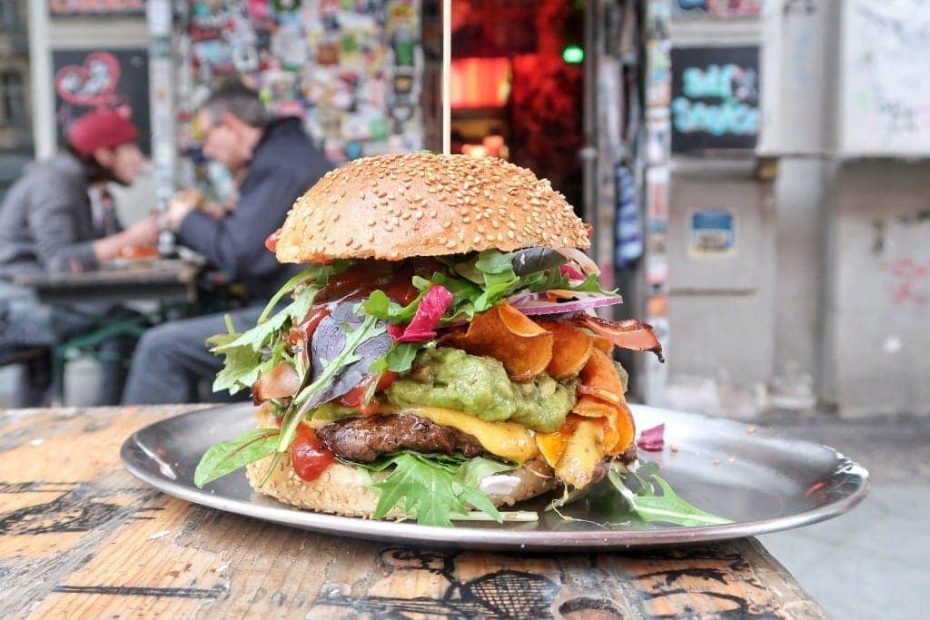 Vietnamese food in East Berlin
Did you know East Berlin has a large Vietnamese community – and therefore LOTS of Vietnamese restaurants? During the eighties, the East German government needed cheap labour, and struck a deal with the communist Vietnamese government to offer temporary visas to contract workers from Vietnam. Many of them never left, and began to open small businesses around East Berlin after the Wall came down. So today you'll find amazing some Vietnamese food around Berlin!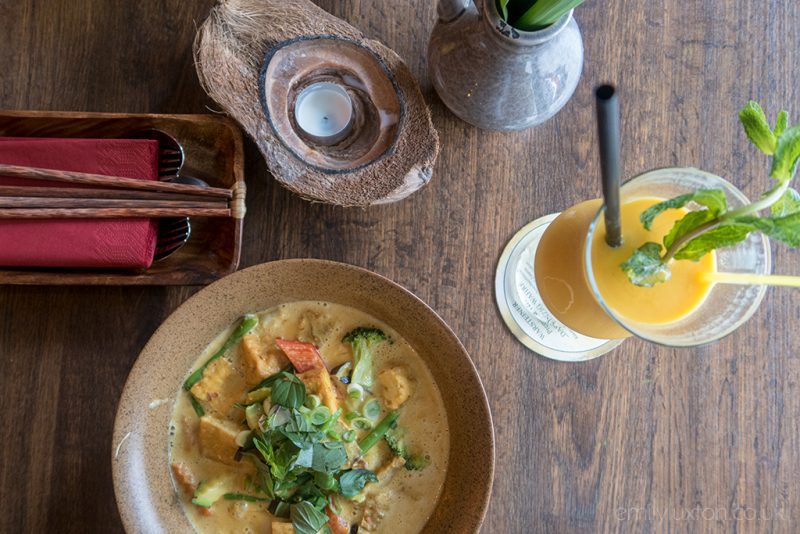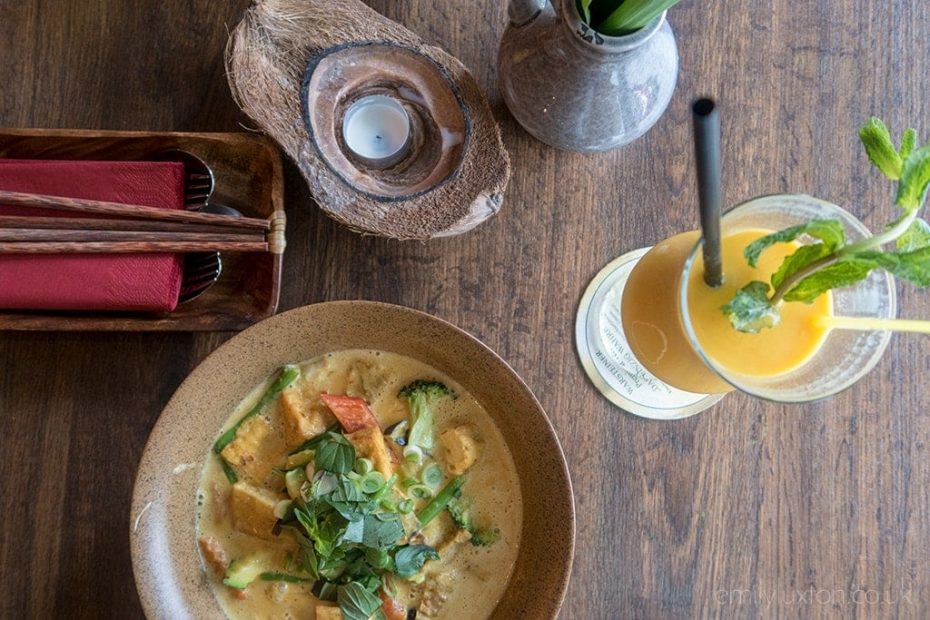 Huong Sen (Vegetarian) – Unassuming little Vietnamese restaurant with seriously good food and an entirely vegetarian menu. Get the curry pho – a sort of Berlin-Vietnamese fusion dish that is easily the best lunch I had in the city. (Mains from €6.90)
Cô Cô – If you want some meat in your pho, you can also head to Cô Cô on Rosenthaler Street. Their Bành Mí is the best I've had outside of Vietnam. And the take-out prices are great! (From €5.50)
Pin my Berlin Weekend Guide for Later: