Some posts on this site contain affiliate links. If you book or buy something through these links, I earn a small commission (at no extra cost to you). Take a look at my privacy policy for more information.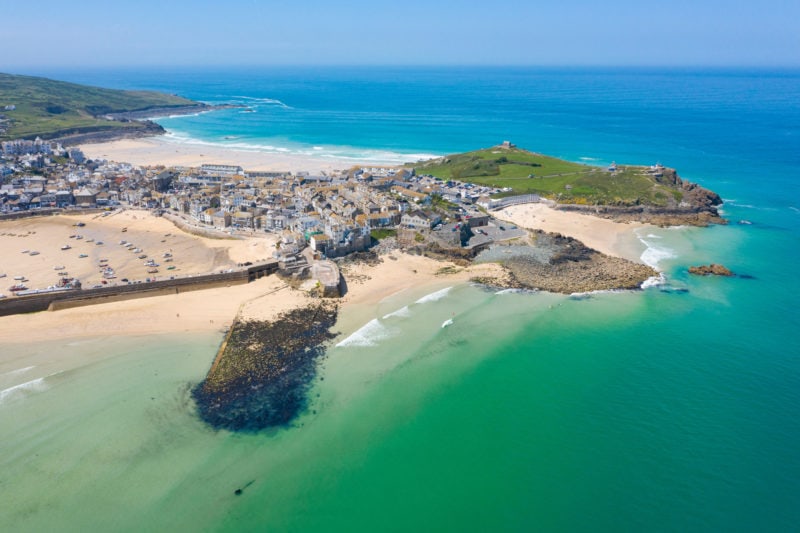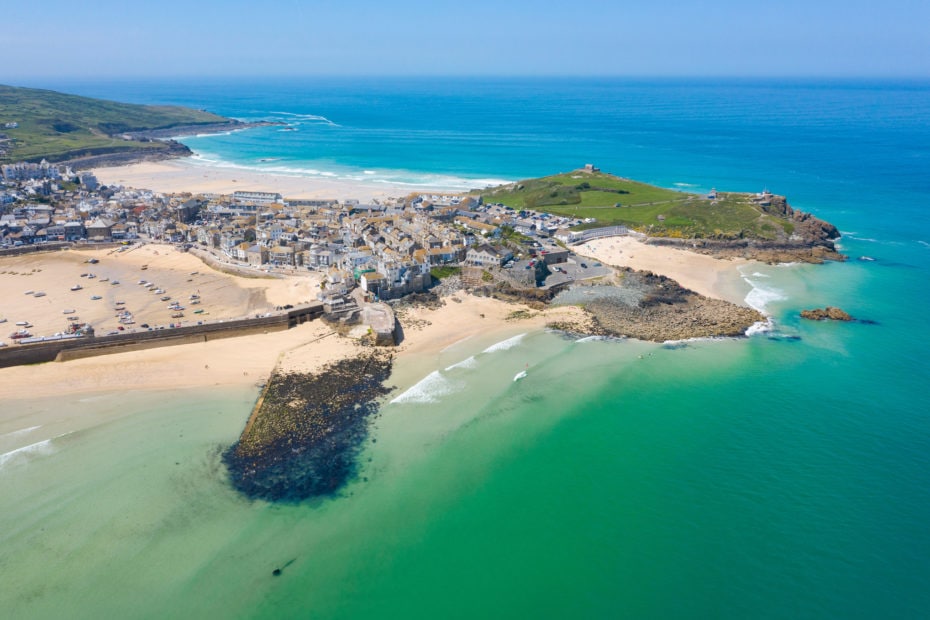 Wondering what to do in St Ives, Cornwall? Here's my in-depth travel guide to the quirky, artistic, and extremely picturesque seaside town…
Sitting at the entrance to the Penwith Heritage Coastline, St Ives is a charming little town with lots to entice. Known for its quaint harbour and gorgeous beaches, St Ives is perfect for a seaside holiday. It's also the ideal base for exploring West Cornwall.
Throw in a thriving art scene – including a beachside branch of the prestigious Tate Gallery – and a fantastic food scene… and you have a bustling cultural hub with plenty to keep visitors busy.
Living in Southwest England has its perks. I may be a looooong train ride away from London (and the airports), but I'm within easy driving distance of some of the very best parts of England. Like Cornwall – one of my very favourite spots for a beachy British holiday!
As soon as spring hit this year, I got myself down to St Ives for a lovely, long weekend of windswept cliff walks, art galleries, and fish n chips in the sunshine!
I was staying at Bay Hill Cottage, an Aspects Holidays property with quite possibly the BEST view in town! More on that later in this post.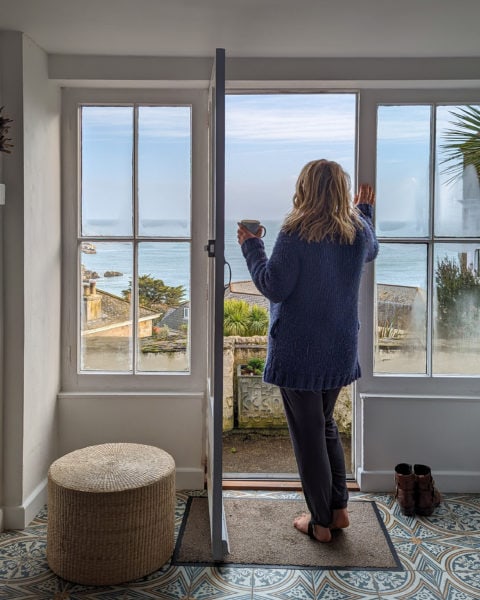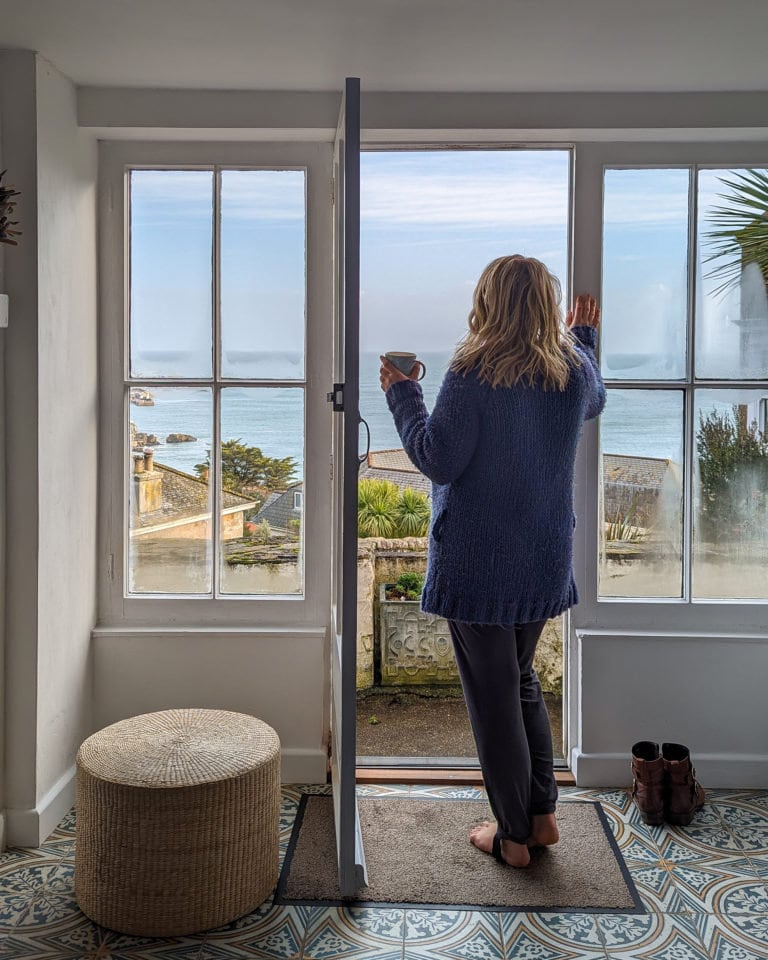 It was a perfect weekend. There's so much to do in St Ives, from art galleries and boutique shops to glorious beaches and dramatic coast walks! Plus, there are plenty of great day trips to discover the highlights of western Cornwall.
Based on numerous trips to west Cornwall, here's my guide to what to do on your holiday in St Ives…
My trip to St Ives was supported by Aspects Holidays. But all words and opinions in this post are my own.
What to do in St Ives if you Only Have One Day
Short on time, or visiting St Ives as a day trip? Below is a quick shortlist of the can't-miss attractions and activities. More info on each one in the next section…
Explore the Harbour and walk through the Downalong to the Island.
Visit the Tate St Ives to soak up the town's famous art scene. If you have time, pop into some of the town's other galleries, too.
Take a boat tour to seal island (if you have time), or get active with a coast walk.
Hit the beach!
13 Things to do in St Ives
1. Enjoy the St Ives Beaches
For most people heading to St Ives, spending a day at the beach is top of the list! Whether you want to surf, swim, or simply relax on a tranquil sandy beach, St Ives has you covered…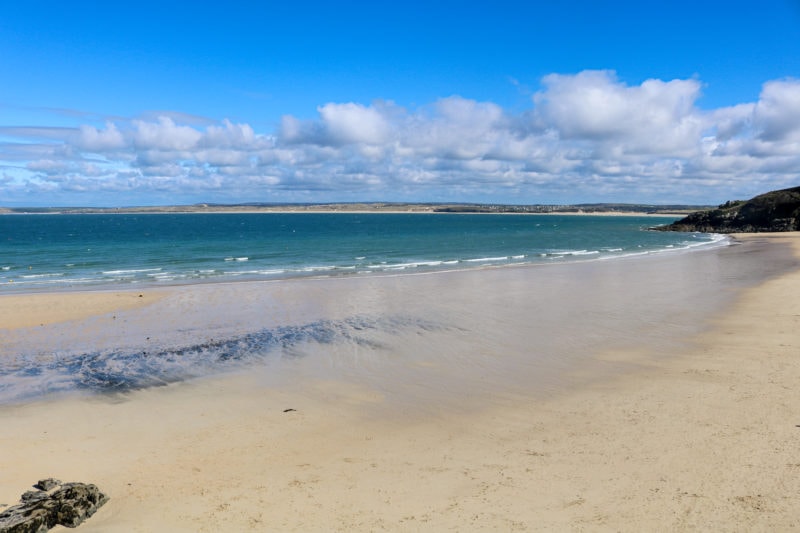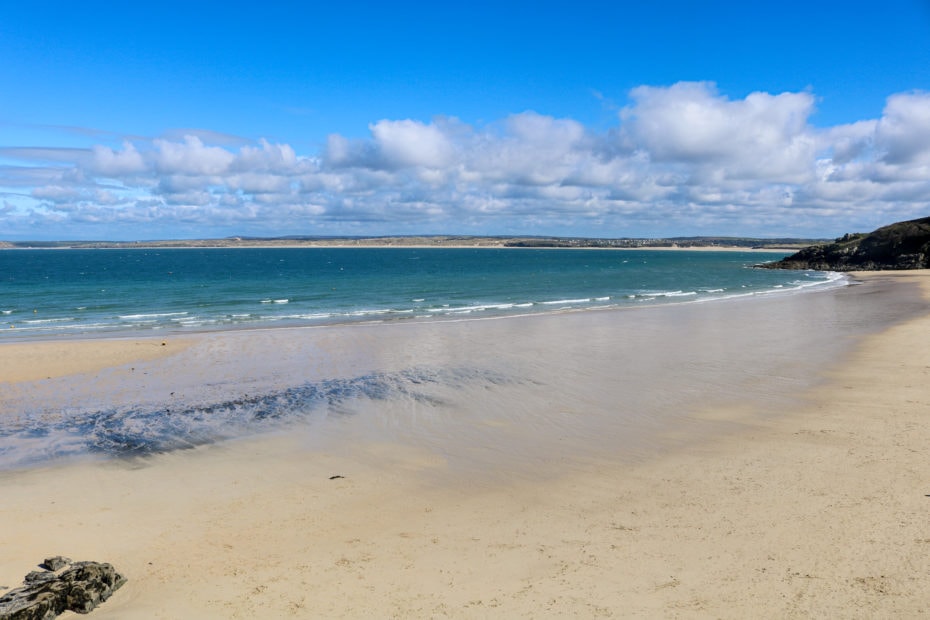 Porthmeor Beach – a wide sweep of sand overlooked by Tate St Ives and the hunched figure of The Island (see entry number 3). Also a popular surf spot.
Porthgwidden Beach – a small, sandy cove tucked into the base of The Island.
Porthminster Beach – a wide, sheltered crescent of sand with calm swimming waters and a scattering of colourful beach huts. Popular with families.
Carbis Bay – just along the coast from St Ives (but still within walking distance), this is a beautiful sheltered bay with pale golden sands backed by grass-topped dunes. Also a popular kayaking and paddleboarding spot.
2. Explore the Harbour and the Downalong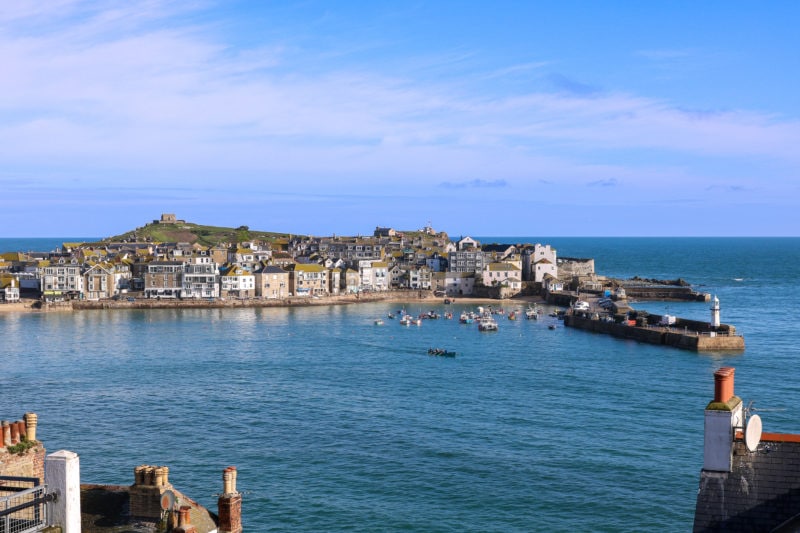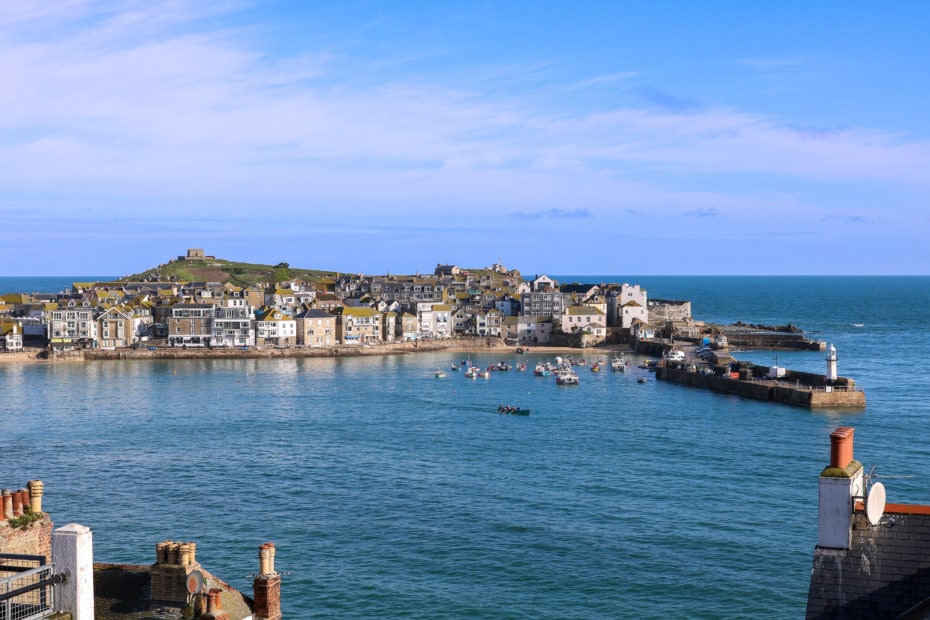 Backed by the sloping headland known as The Island (see below) and filled with colourful boats, St Ives Harbour is one of the most picturesque in Cornwall.
The small, picturesque harbour has always been the beating heart of St Ives. Pilchard fishing was once a huge industry here, and the quayside is full of old pilchard curing and pressing houses. Today, many of these have been converted into galleries and boutique shops. Check out the Aspects Holidays' office webcam for a live view of the harbourside!
St Ives Harbour is surrounded by some great restaurants, bars, and cafes. Grab a takeaway from Harbour Fish & Chips and take a seat on the harbourside for an al fresco dinner with a view!
Behind the harbour, along the ridge that leads towards The Island, is a maze of jumbled, tightly-packed cobbled streets with names like The Digey and Teetotal Street. Known as The Downalong, or Down-a-Long, this cluttered little neighbourhood is filled with historic buildings and pretty whitewashed cottages. It's cute, photogenic, and full of character – don't miss it.
3. Walk to The Island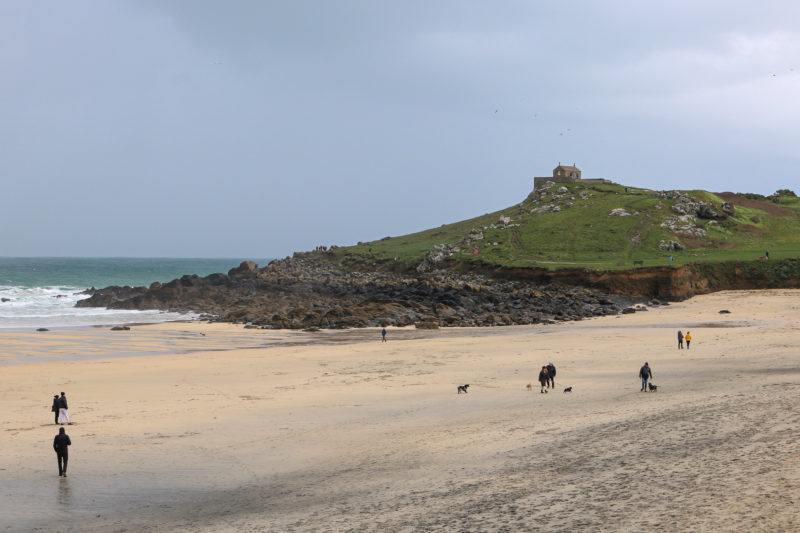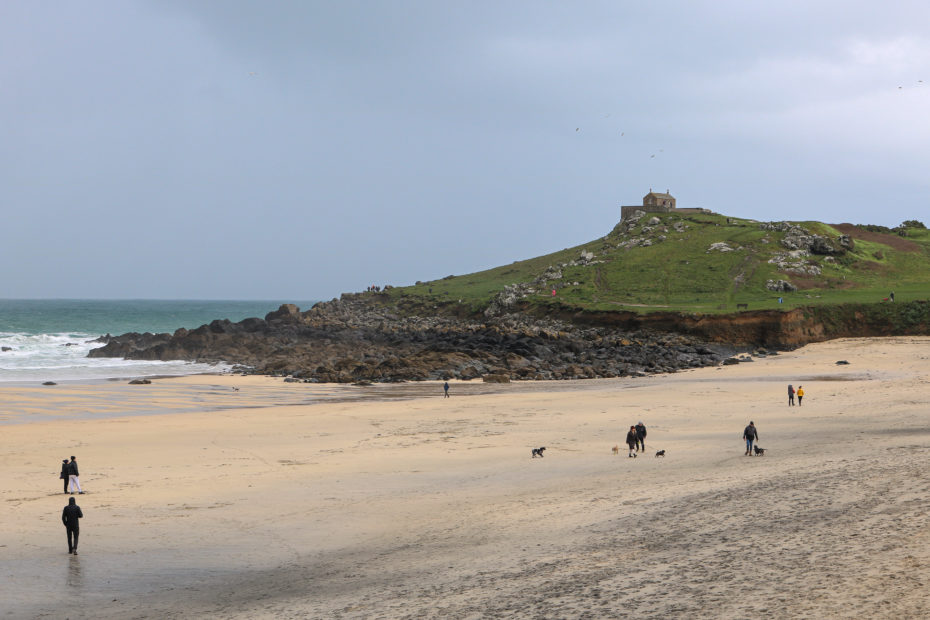 Overlooking the harbour and the Downalong, The Island isn't really an island at all but a small headland separating the harbour from Porthmeor beach.
Skirted by jagged rocks, the top of this grassy headland affords some fantastic views across St Ives to the Bay. No surprise, then, that this was once home to an ancient promontory fort.
Today, there's a coastguard lookout at the top, along with a tiny chapel of St Nicholas. Dating from at least the 15th century, this simple, one-room granite chapel is thought to have been used in the 18th century as a lookout by revenue officers keeping watch for smugglers.
4. Take a Boat Tour to Seal Island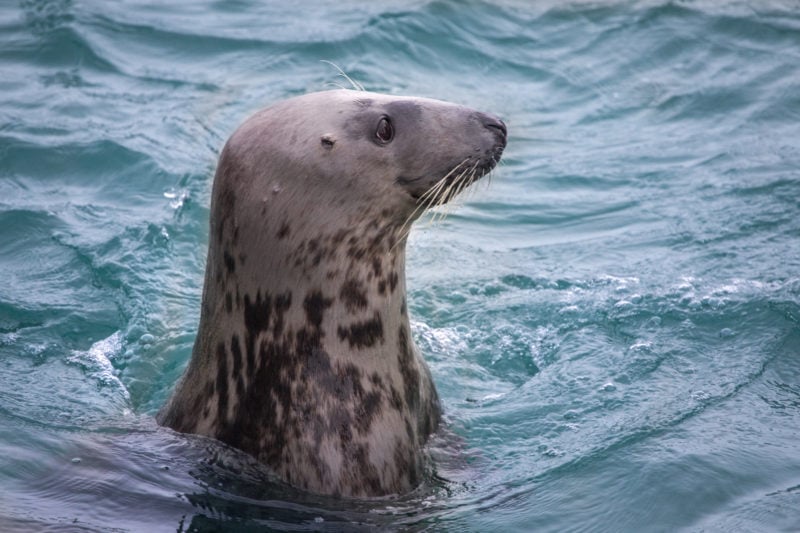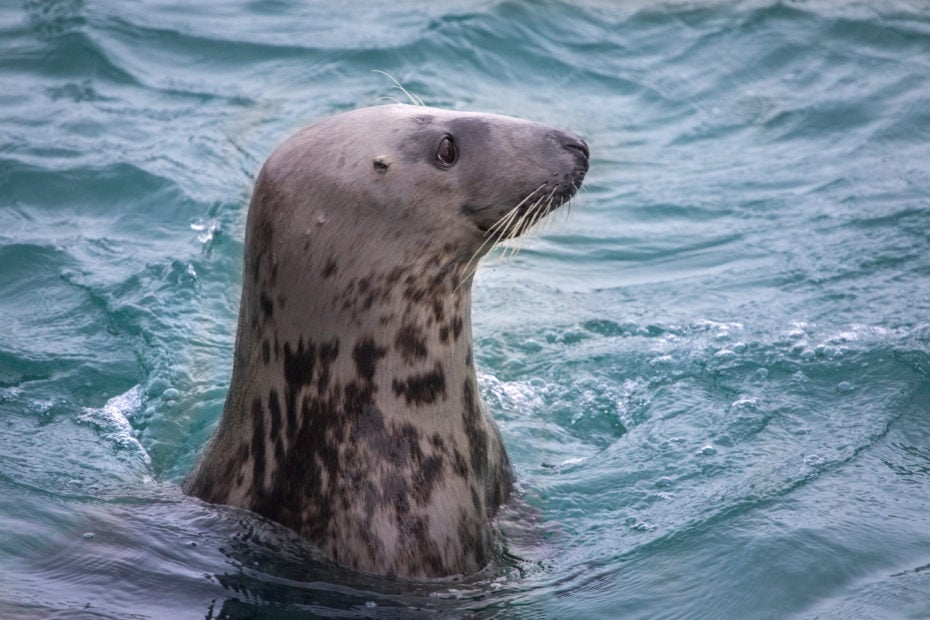 West along the coast from St Ives is a tiny, rocky island – just off the coast – which is home to a colony of Atlantic grey seals.
You can actually spot them from the coast path, especially if you bring binoculars – though the walk is a tough one (see entry 13). But the best way to see the seals is from the water!
You can take a boat tour from St Ives on a "sea safari" to spot seals either at Seal Island or Godrevy Island. There are a couple of tour companies leaving from the Harbour: the "Dolly P" Boat Trips run by St Ives Boats are one of the highest rated, or there are the glass bottom boat trips on board the Nemo.
These boat tours run from Easter to October. I was gutted that I couldn't do it on my most recent trip there, in March. Next time!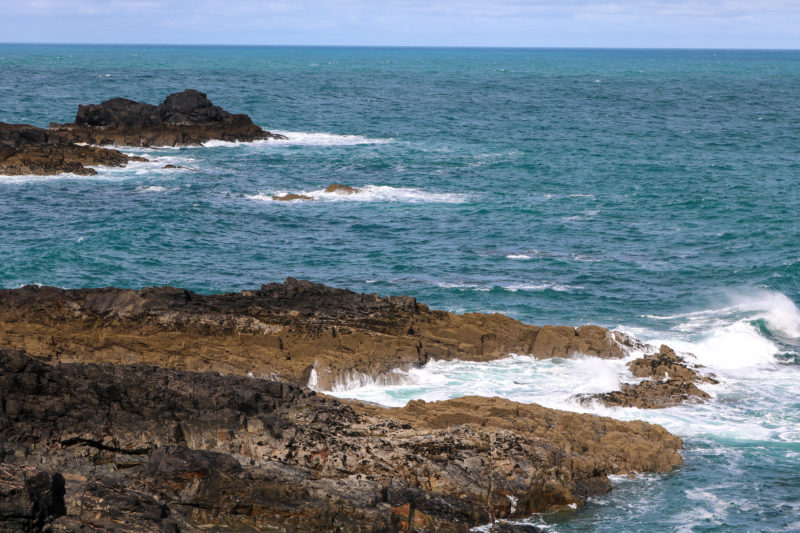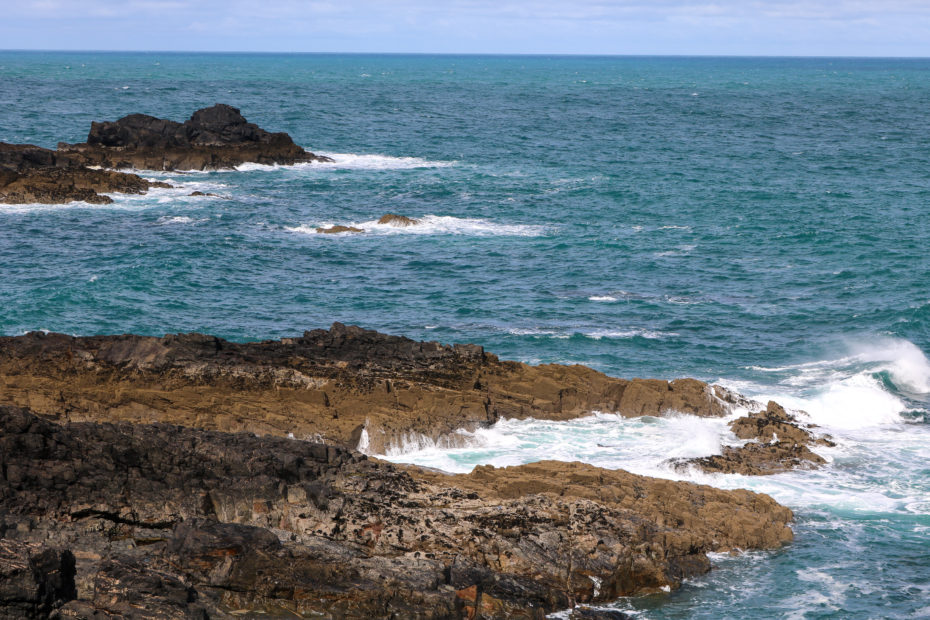 5. Visit the Tate St Ives
Did you know that St Ives has a long heritage as an artistic retreat? The clear light and breathtaking natural beauty of the surrounding coastline have long attracted artists to the town.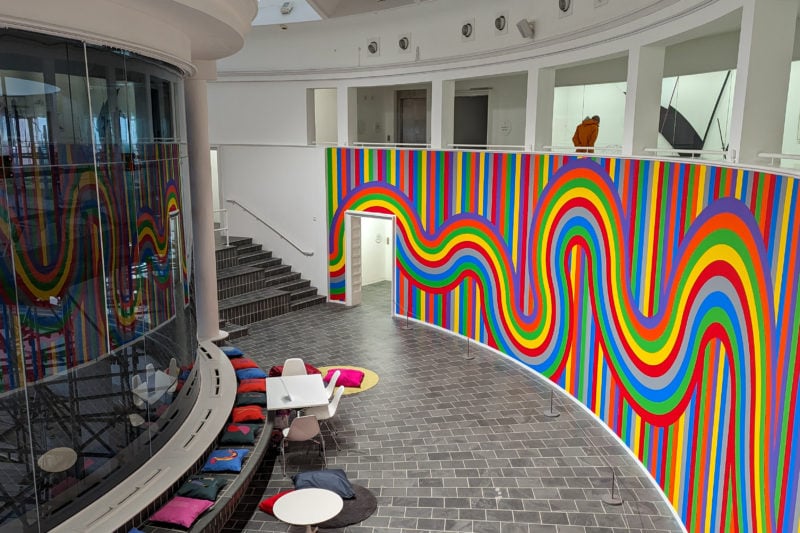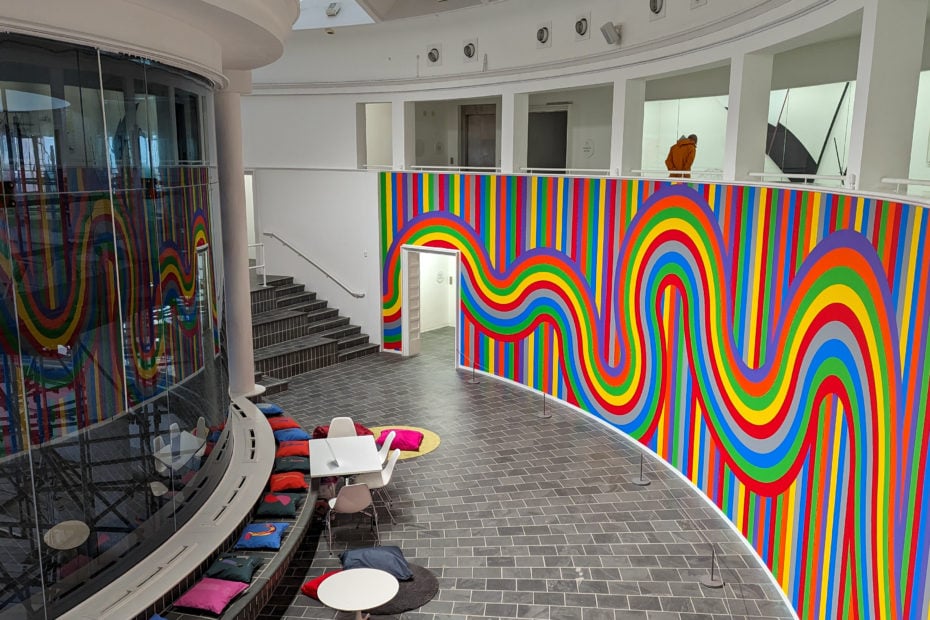 This surprising artistic side to the small seaside town is best explored at the Tate St Ives. Overlooking the sands of Porthmeor Beach, the Cornish outpost of one of Britain's most prestigious art institutions is a must-visit while exploring St Ives… even if it's just to enjoy the stunning views from the exhibit halls and fourth-floor cafe!
Learn more about the artists and movements that lived, worked and were inspired by St Ives. There were the impressionists of the Newlyn School of the 1880s, and later, the abstract artists of the St Ives School in the 1940s and 50s.
DON'T MISS
Two names to look out for are Barbara Hepworth and Alfred Wallis. Dame Jocelyn Barbara Hepworth (1903-1975) was a famed modernist sculptor and a leading figure in the St Ives School of Art. Wallis (1855-1942), a fisherman turned self-taught artist, began painting in the 1920s using marine paints on cardboard – and his naïve style is thought to have influenced the St Ives School.
6. Discover an Iconic Artist at the Barbara Hepworth Museum
Dame Jocelyn Barbara Hepworth DBE (1903-1975) was one of the leaders of the colony of artists who became known as the St Ives School. A modernist sculptor of huge influence, she moved to St Ives at the beginning of WWII – and stayed there for the rest of her life.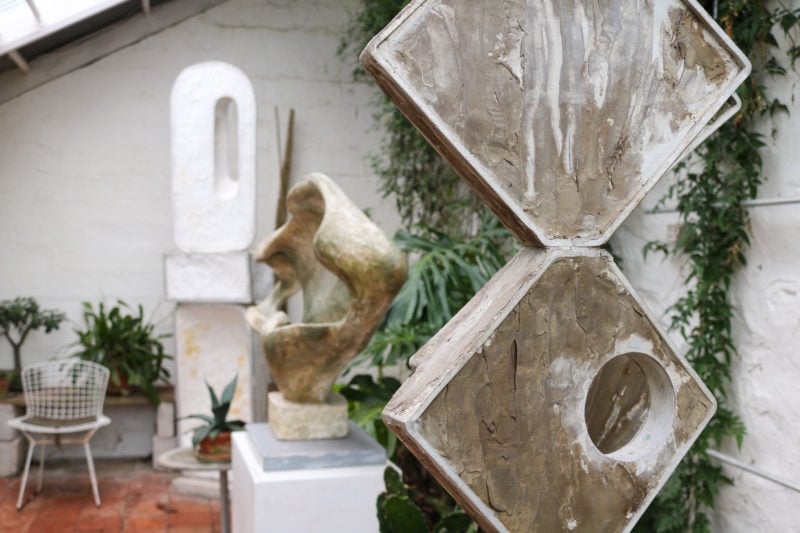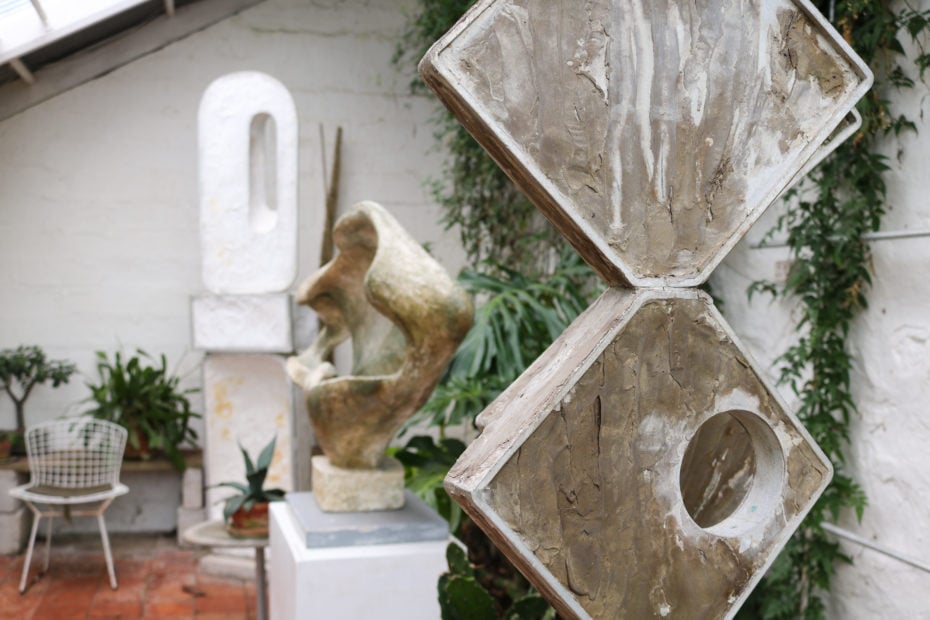 Visit the Barbara Hepworth Museum and Sculpture Garden in her former home and studio to learn more about Hepworth's life, work, and modernist style.
Outside is a beautiful garden, laid out by Hepworth and filled with her sculptures – many of which were created right here in her studio. It's a beautiful, tranquil space where art and nature combine – don't miss it!
7. Visit more of St Ives' Galleries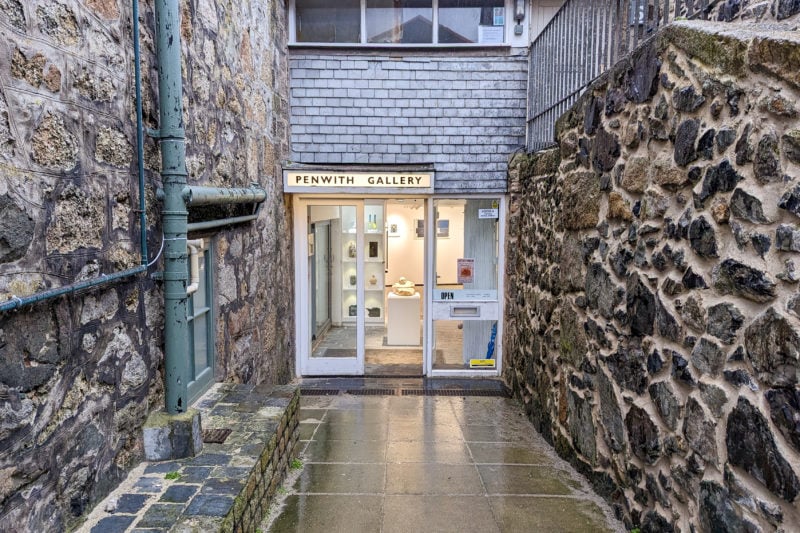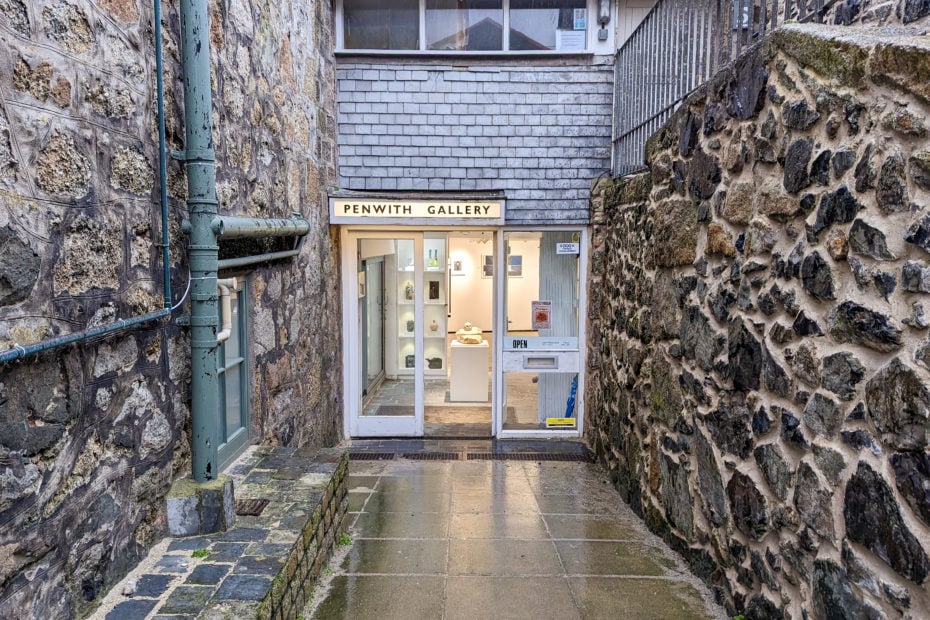 The Tate and Barbara Hepworth Museum are the two "main" art galleries in St Ives, but there's a lot more to the local art scene. Be sure to visit a few of these other galleries while you're in town.
Even if you only have a passing interest in art, these spaces offer a good chance to explore an integral part of St Ives' personality…
8. Walk the St Ives Bay Coast Path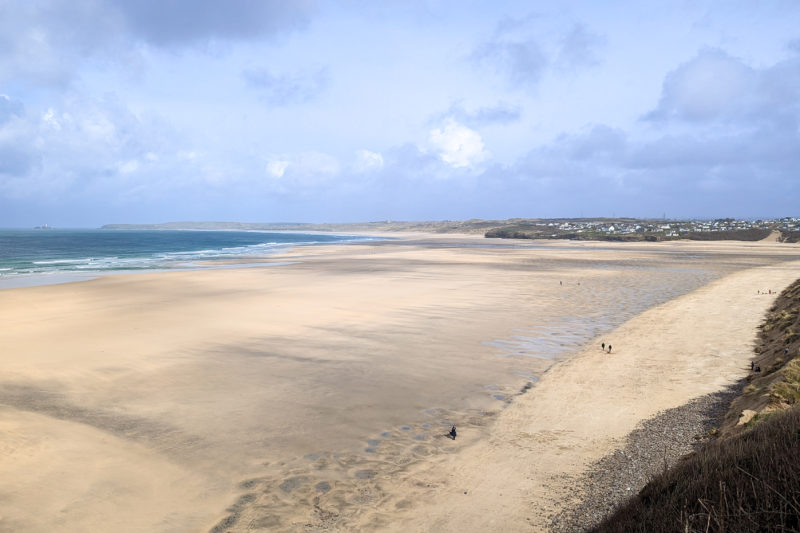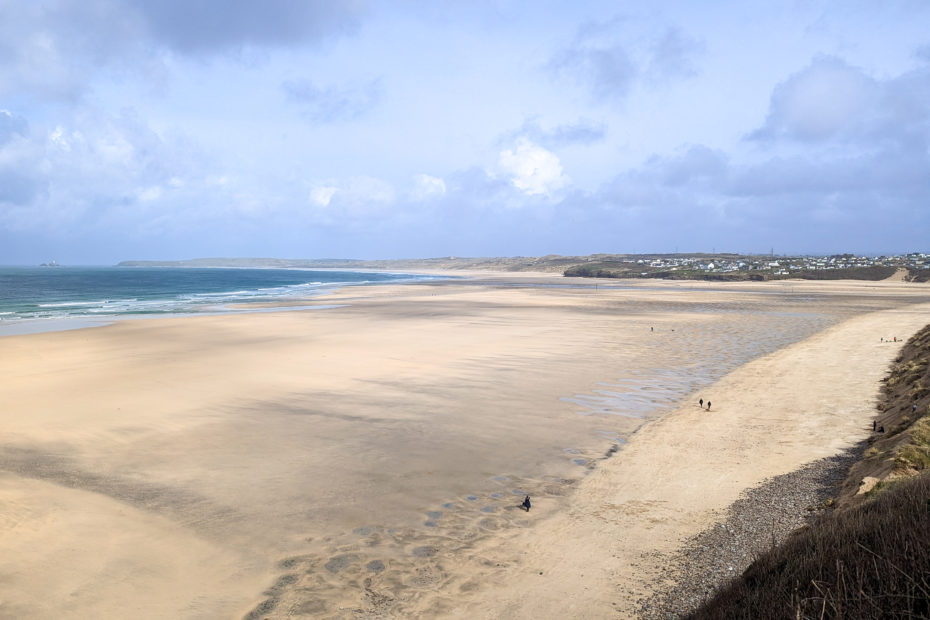 St Ives sits at the westernmost end of St Ives Bay; a wide, sweeping curve lined with beautiful sandy beaches, with the wildlife-rich Hayle Estuary at its centre.
Follow the South West Coast Path from St Ives to Hayle (about 6 miles) over grass-topped sand dunes with gorgeous views of the bay. At Hayle Estuary, cross a historic swing bridge, relax on the sands at Hayle Beach, and spot wetland birds in the RSPB Nature Reserve.
Further along the bay, Godrevy Head and the iconic lighthouse is another great spot for a walk. At 10 miles or so, the walk there from St Ives is a bit of a mission – but you could take the bus or drive, then enjoy the much shorter walk around Godrevy Head.
9. Enjoy the Views on Cornwall's Most Scenic Railway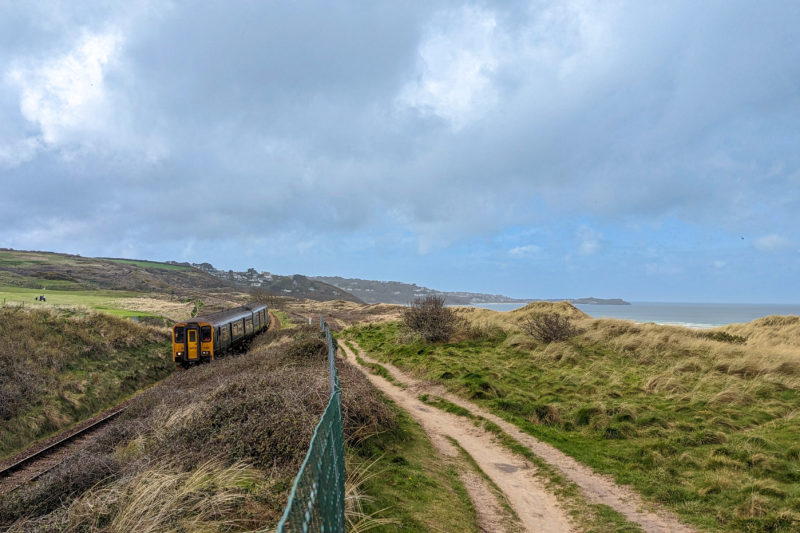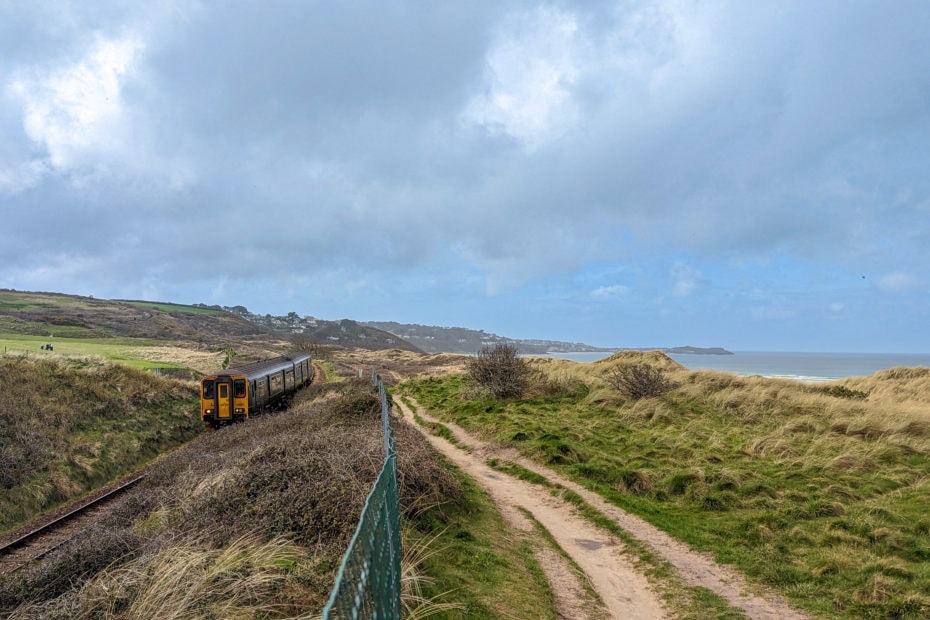 St Ives Bay is also home to one of Cornwall's Great Scenic Railways. The branch line from St Ives to St Erth runs right along the bay, with incredible views of the glittering ocean, before following the Hayle Estuary down towards St Erth.
The journey is only around 10-15 minutes and costs £4 return (off-peak). So you could simply spend half an hour riding the railway there and back to enjoy the views. Or, if you want to make a day of it, you could take the train to St Erth, then walk back along the coast path (or vice versa).
Top tip: for the best views, sit on the left-hand side of the train as you leave St Ives, and the right-hand side for the return journey from St Erth.
10. Learn to Surf
Like much of the Cornish coast, St Ives is a prime surfing destination. There are several surf spots nearby, including Sennen Cove and Gwithian Beach.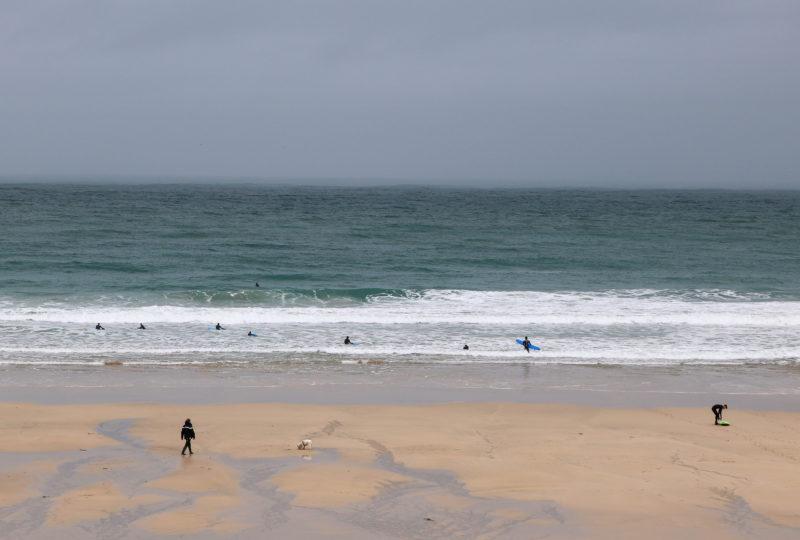 Porthmeor Beach, on the west-facing side of the town, is perfect for beginners. The beach gets consistent Atlantic swells – but also enjoys protection from the wind thanks to the shelter of The Island. This is where you'll find the St Ives Surf School – which offers group and private lessons for beginners, improvers, and more advanced surfers.
11. Kayak and Paddleboard in St Ives Bay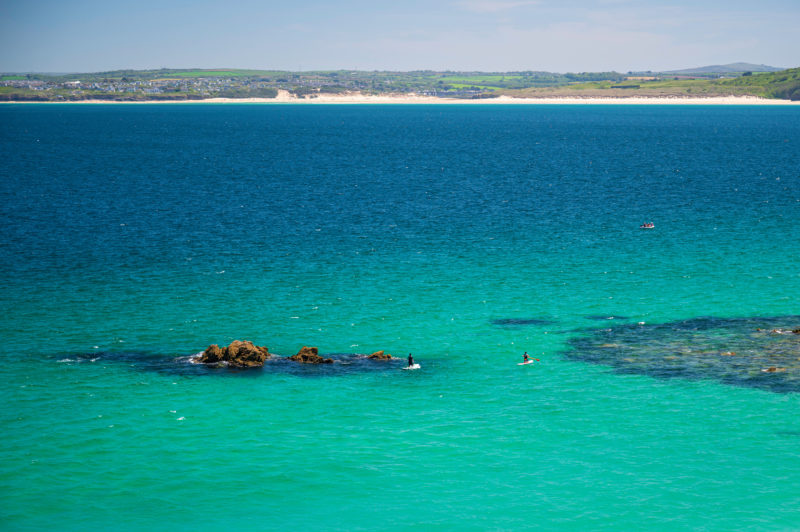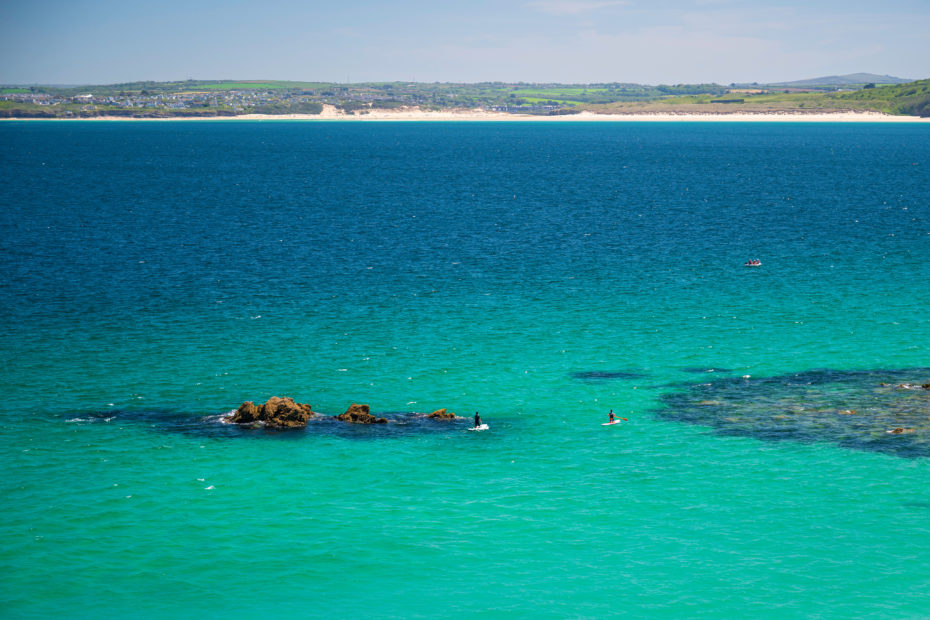 The more sheltered waters in St Ives Bay may not be suited to surfing, but they're an ideal place to enjoy some gentler watersports such as kayaking and stand-up paddleboarding.
Two of the best spots are Carbis Bay, with its wide sandy beaches, and the Hayle Estuary, where the surrounding marshes are rich with birdlife.
Rent a kayak or paddleboard and hit the bay for a relaxing paddle. You can hire equipment and book tours and lessons at Ocean Sports Centre in Carbis Bay.
12. Pop into St Ives Museum for Some Local History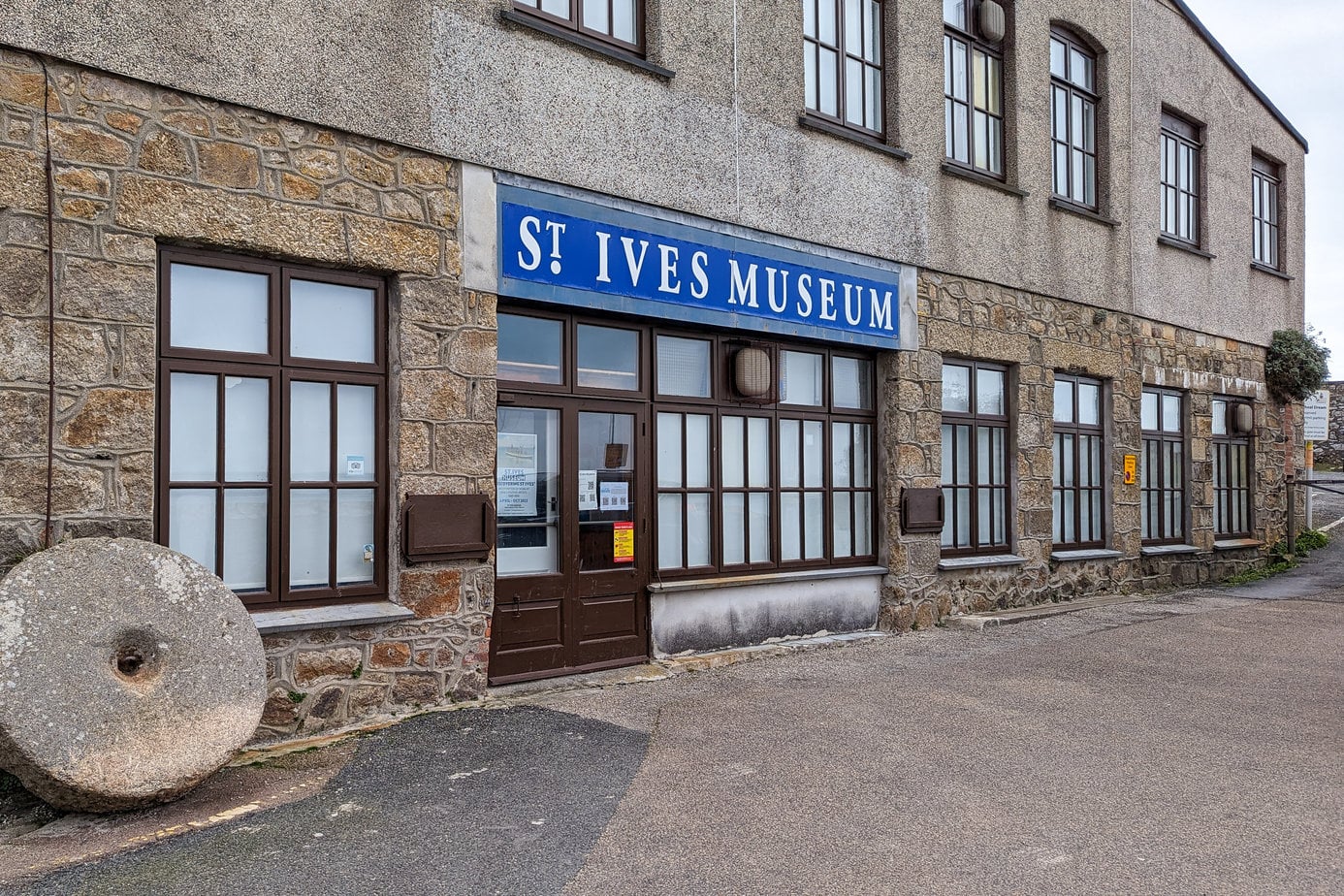 If you want to learn a little more about the area's history, head to the St Ives Museum at the heart of the Downalong. Discover an intriguing collection of artefacts relating to the industries that have fueled St Ives over the years: pilchard fishing and curing, mining, and boat building.
Sadly, the museum wasn't open when I visited. Like many tourist attractions in Cornwall, the St Ives Museum only opens from Easter to October. But this volunteer-run museum looks like a great place to spend an hour or two browsing the eclectic collection.
13. Hike to Zennor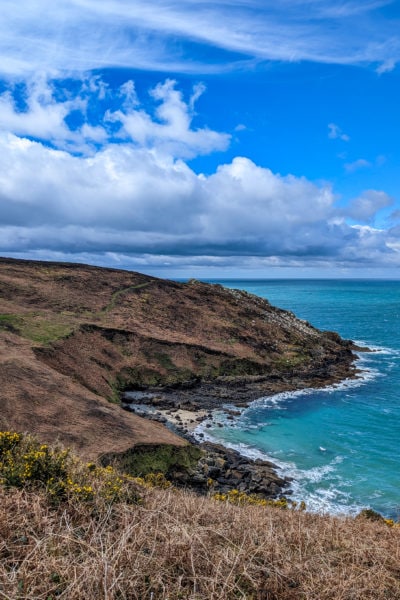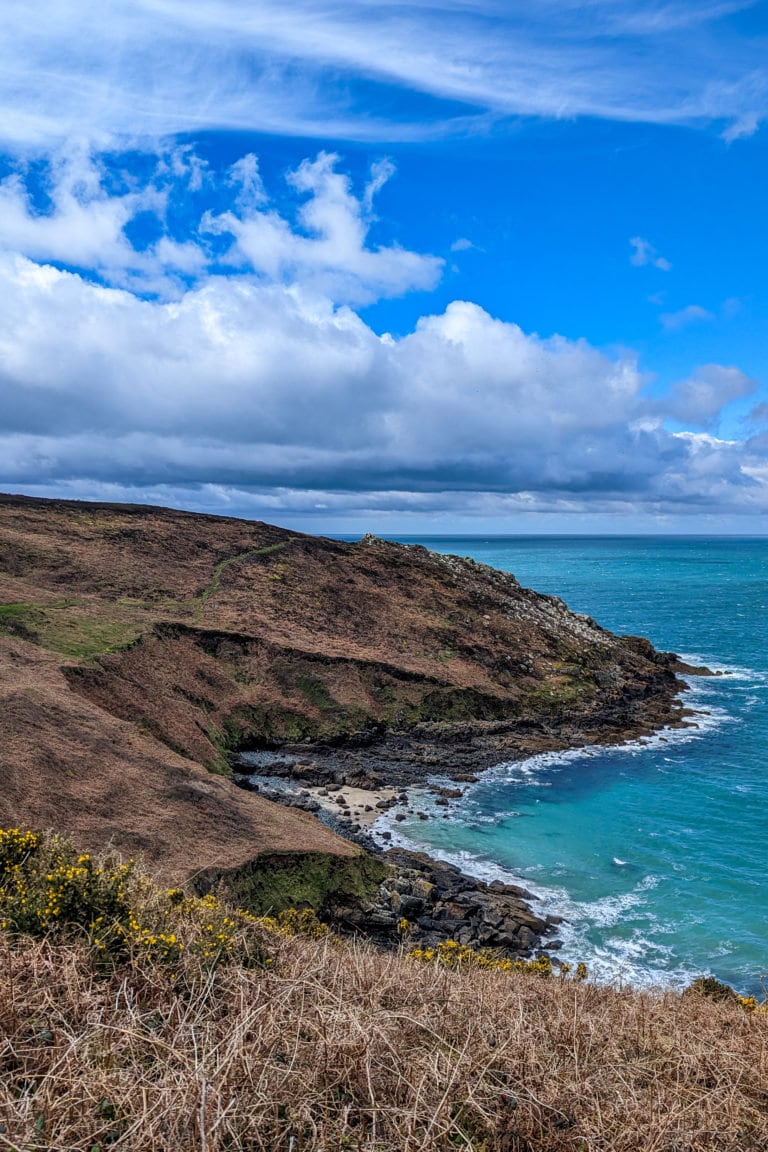 Surrounded on three sides by the epic, long-distance South West Coast Path (SWCP), Cornwall is FULL of great coastal hikes to suit all abilities. Starting right from St Ives, the hike to Zennor Head takes in some dramatic (and steep) cliffs with incredible views – and the chance to spot seals!
This is a tricky, but rewarding 6-mile hike following the SWCP (signposted with an acorn waymarker. You can return along the gentler inland route for a 12-mile round trip, or come back by bus (these are infrequent so check timetables before setting out).
As you pass the headland in front of Seal Island, you may well spot a few grey seals swimming in the bay or basking on the beach just below you. But please don't walk onto the beach itself – disturbing the seals could lead to mothers abandoning their pups.
A warning!
This hike is not for the faint-hearted. I'm used to the SWCP and found it a struggle! There are several sections where you'll need to scramble over boulders, as well as some pretty steep climbs up and down. I strongly recommend hiking boots, and possibly some hiking poles too (my knees wished I had some!). If you don't think the full hike is for you, you can drive or take the bus to Zennor and do a shorter circular route around Zennor Head instead.
Things to do Near St Ives
14. Take a Day Trip to Land's End
One of Cornwall's most famous landmarks is within easy reach of St Ives. Land's End – mainland Britain's most southwesterly point – is just 30 minutes drive from the seaside town, so it makes a brilliant little day trip.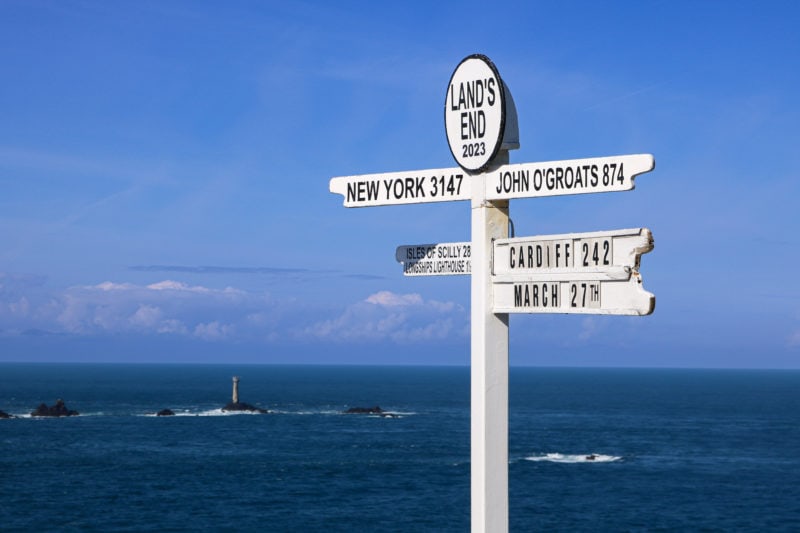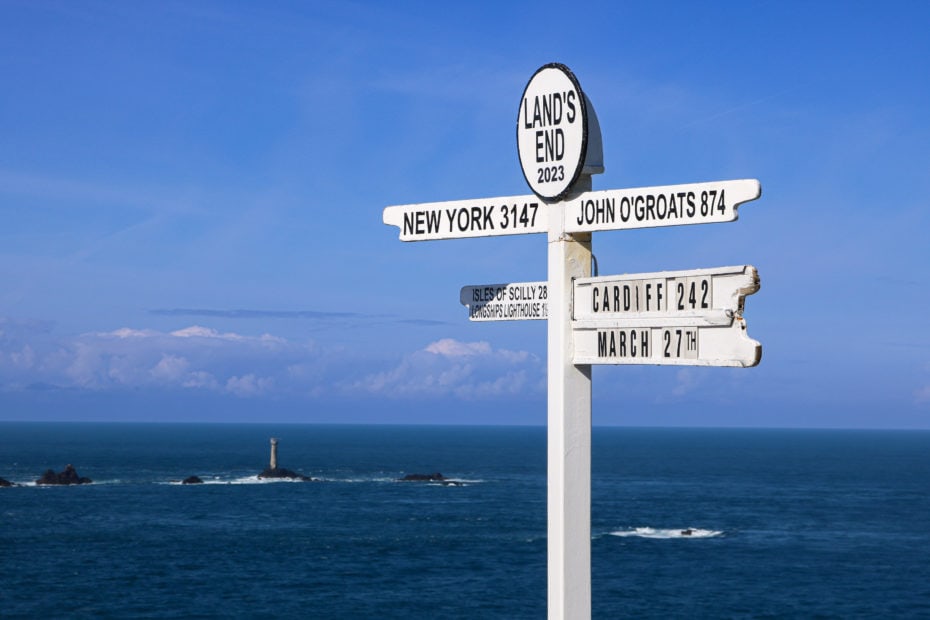 You don't need long to explore Land's End. Take a photo with the iconic signpost, have a wander around the shops, and send a postcard from the 1st & Last Post Box. There's a restaurant and several attractions, including indoor crazy golf, a 4D Film, and the interactive Aardman presents: A Grand Experience.
If you want to make a day of it, be sure to go for a cliff walk. Following the South West Coast Path in either direction will take you along stunning clifftops. You can even discover a shipwreck: the MV RMS Mulheim, which was wrecked at Gamper Bay in 2003.
Top tip: the carpark costs £7:50. A cheaper alternative is to park at nearby Sennen Harbour Car Park and walk the coast path (about 30 minutes) to Land's End.
15. Explore the Penwith Heritage Coastline
Land's End is just one of the many attractions along the Penwith Heritage Coastline, the westernmost part of the Cornwall Area of Outstanding Natural Beauty.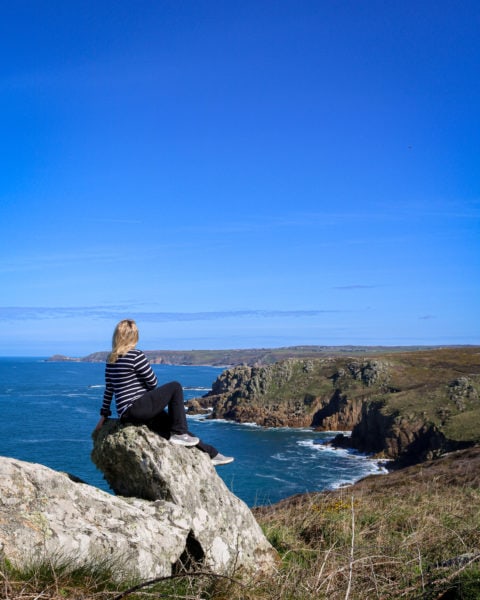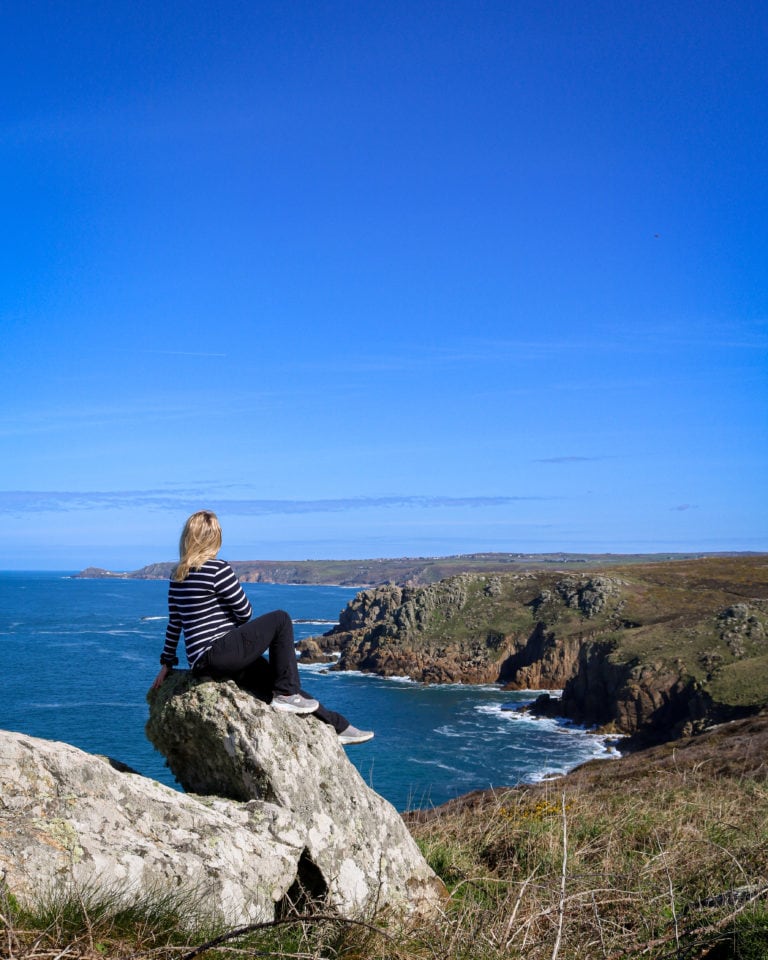 This stunning, sparsely populated coastline starts just west of St Ives and skirts the peninsula all the way towards Penzance on the southern coast.
There are remote beaches, rugged cliffs, granite moorland hills, and tiny fishing villages to discover. Take a hike along the South West Coast Path, or head inland do explore the peninsula's ancient remains like the Carn Euny Ancient Village and the Merry Maidens Stone Circle.
Don't miss the Minack Theatre on the southern coast, in Porthcurno. Carved into a clifftop, this outdoor theatre hosts regular shows and events throughout the year.
16. Hop on and Off the Land's End Coaster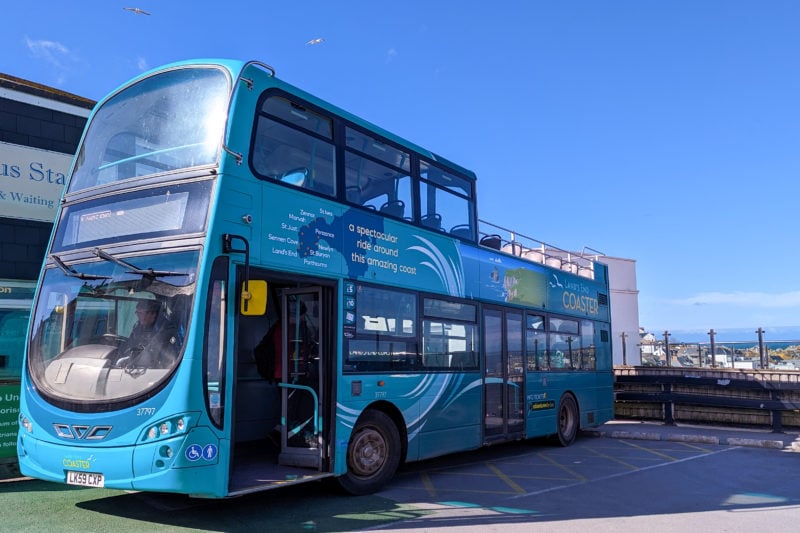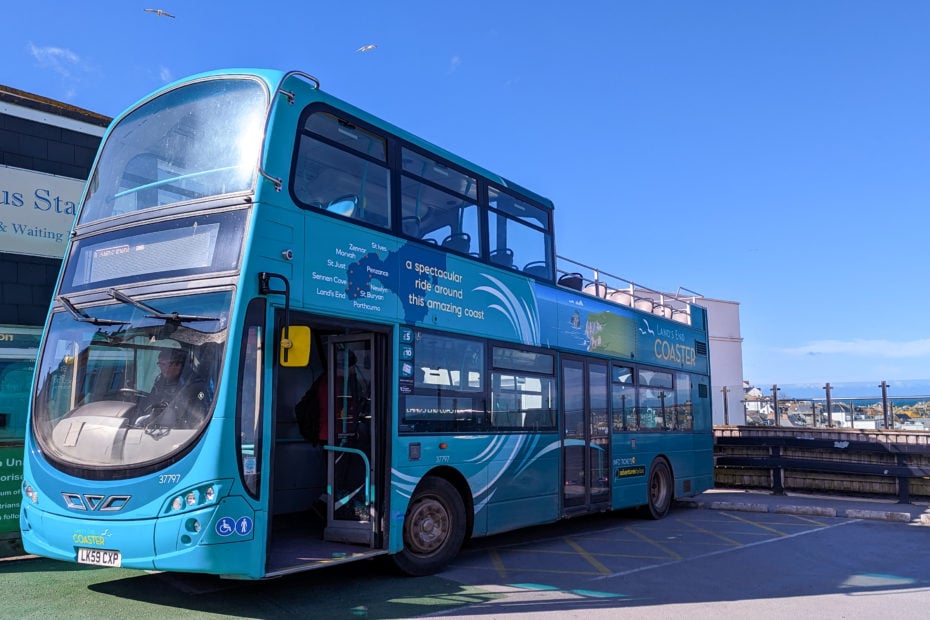 The Penwith Heritage Coastline can be a great spot for a road trip. But if you can't – or simply don't want to – drive, there's a fantastic alternative.
Land's End Coaster is a hop-on, hop-off, open-top double decker bus service which circuits the Penwith peninsula. Running in a wide circle between St Ives, Penzance, Land's End, and St Just – with several more stops in between – this is a great way to get around the peninsula.
In fact, it can simply be a fun activity all on its own: sit on the top deck and watch the countryside and coastline roll by! Popular stops include Geevor Tin Mine, the Minack Theatre, and Maraizon (for St Michael's Mount).
17. Visit Godrevy Point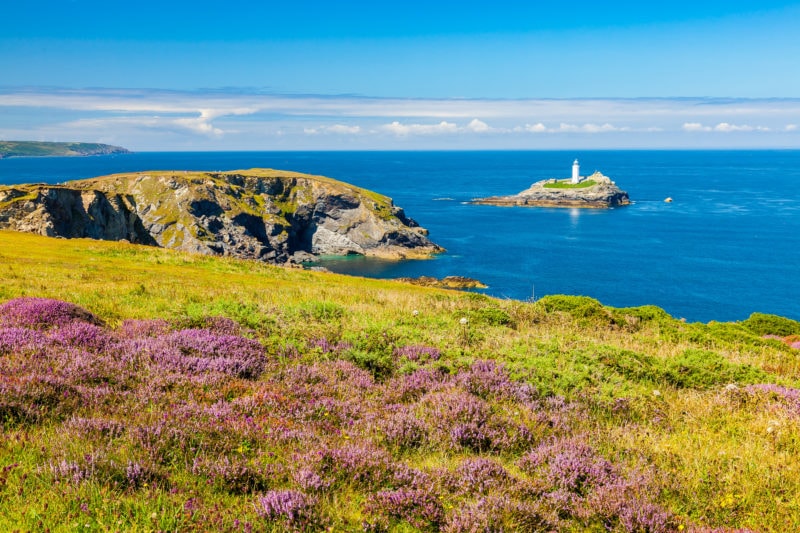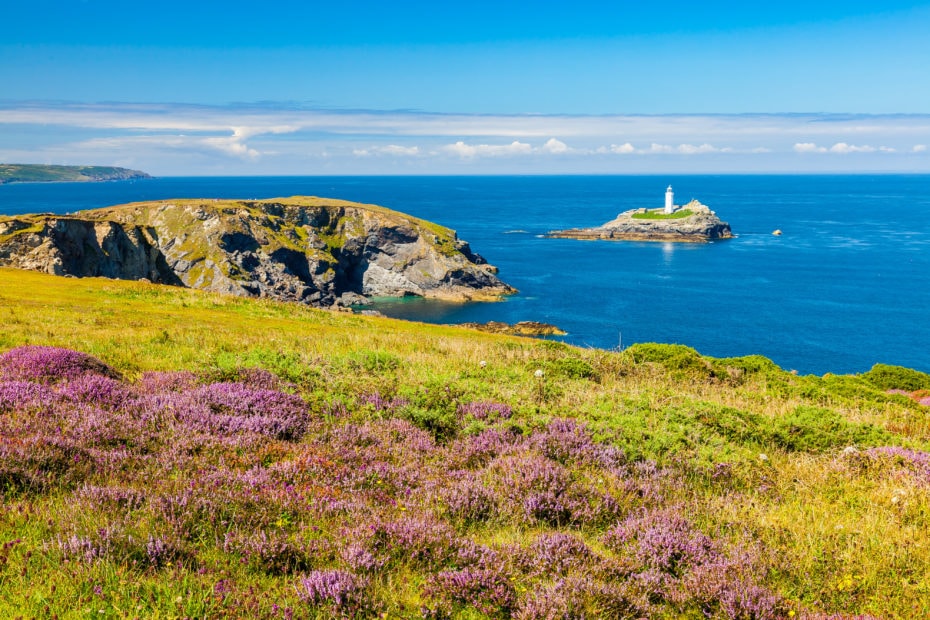 On the eastern side of St Ives Bay, Godrevy Point is another fantastic day trip. With miles of golden sands, clifftop walks, and lots of wildlife, there's something for everyone here.
The towering headland is coated in wildflowers in spring, especially purple Phacelia. In summer, the heathlands are full of butterflies, including the super rare silver-studded blue butterflies. Godrevy is also home to grey seals, which can often be spotted swimming off the headland or resting on the beach. On top of all that, this is a birdwatching paradise, with something to see all year round.
Just off the headland stands Godrevy Lighthouse: built in 1859 to mark a dangerous reef. Literature fans won't want to miss it: Godrevy was the inspiration for Virginia Woolf's To The Lighthouse. Although the novel was set on the Isle of Skye, the landscapes were based on Godrevy, as Woolf's parents owned a house in St Ives and the author spent her childhood summers there.
What to do in St Ives in the Rain
Unfortunately, this being England, sunshine and beach weather isn't always guaranteed in Cornwall! Thankfully, a lot of the activities and attractions mentioned above are great in any weather. But here's a quick shortlist of the best things to do in St Ives when it rains…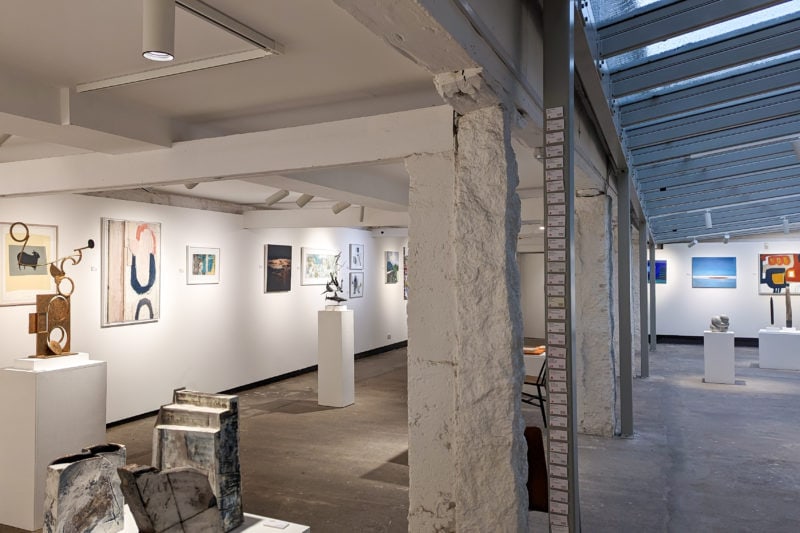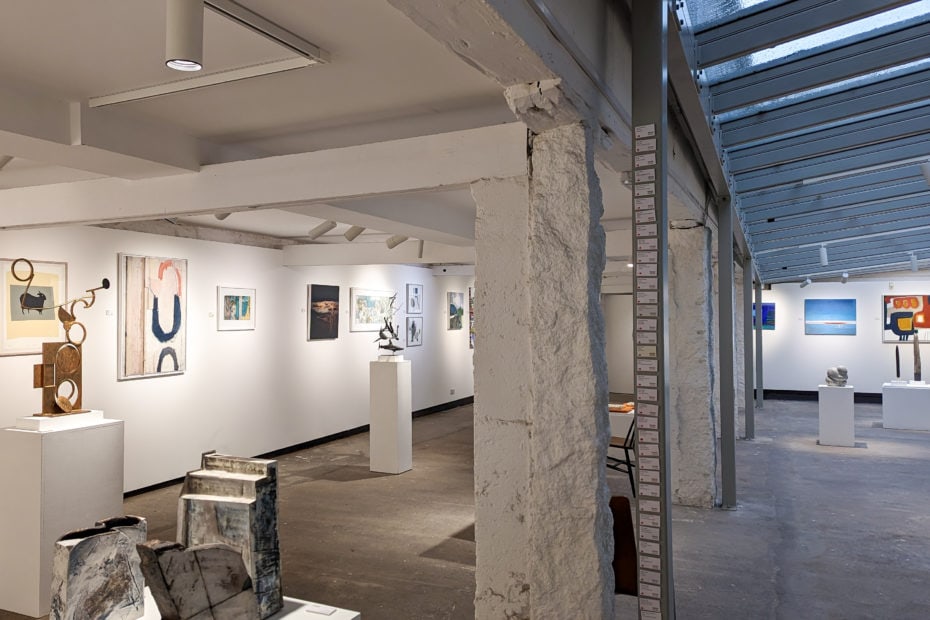 Explore the Tate St Ives. There's a lot to see so you can easily while away a few hours here – and the views from the galleries and upstairs cafe are fantastic!
Take shelter in the other St Ives galleries, especially the Penwith and the Barbara Hepworth Museum. Don't forget the others mentioned above, too!
Enjoy a classic cream tea in one of the numerous cafes. The Porthmeor Beach Cafe has a conservatory with great views in any weather.
Head to the indoor St Ives Farmer's Market on a rainy Thursday morning to browse local produce. The market is held in The Guildhall every Thursday from 9:30 to 2pm.
Relax with a spa day at one of the local hotels. Try St Ives Harbour Hotel, Una Hotel, and Carbis Bay Hotel.
Learn something new! There are lots of fun classes in St Ives, including art classes at Barnoon Workshop and Porthmeor Studios, chocolate-making workshops at I Should Coco, and yoga classes with St Ives Yoga.
Where to Stay in St Ives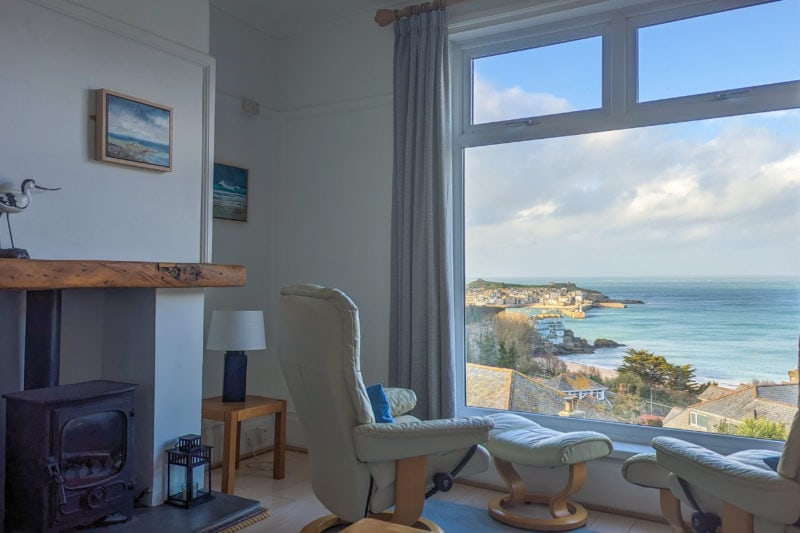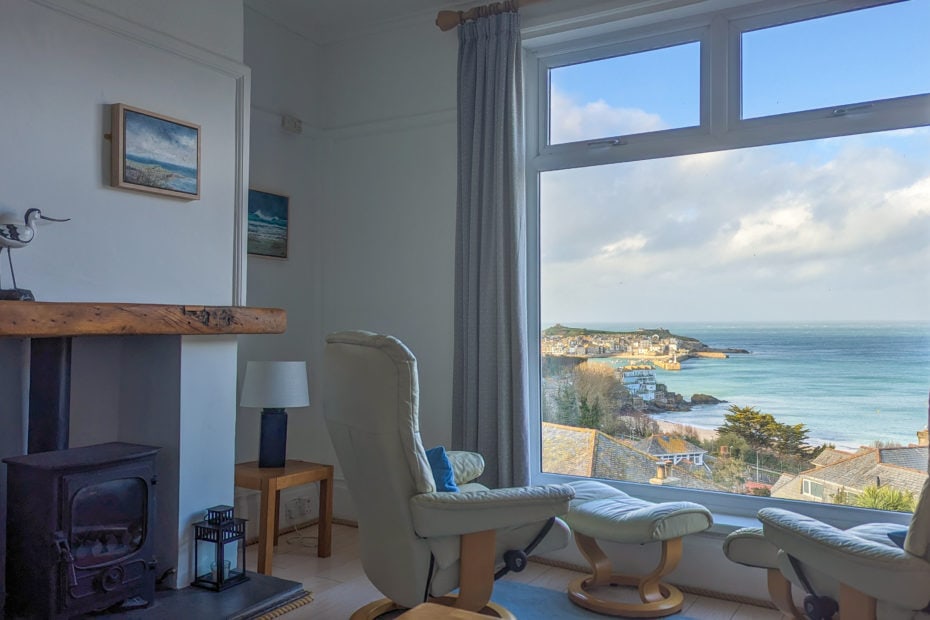 There are a few hotels and B&Bs in St Ives – but personally, I'd recommend booking one of the many self-catering cottages found throughout the town.
These are a great option, as they afford more space and feel much more homely! Self-catering helps cut costs, too, as you don't have to eat out for every meal. And staying in a little "home away from home" comes with some handy conveniences – like having access to a washing machine after a long day at the beach!
On my holiday in St Ives, I stayed at a stunning self-catering holiday cottage from Aspects Holidays. They have hundreds of cottages all across Cornwall, including lots of really lovely ones in St Ives.
Aspects Holidays are a small, local company based in Cornwall, with a huge portfolio of beautiful holiday cottages across the county. Being a local company means a great, friendly team of staff who you can trust to give you all the best information.
Bay Hill Cottage St Ives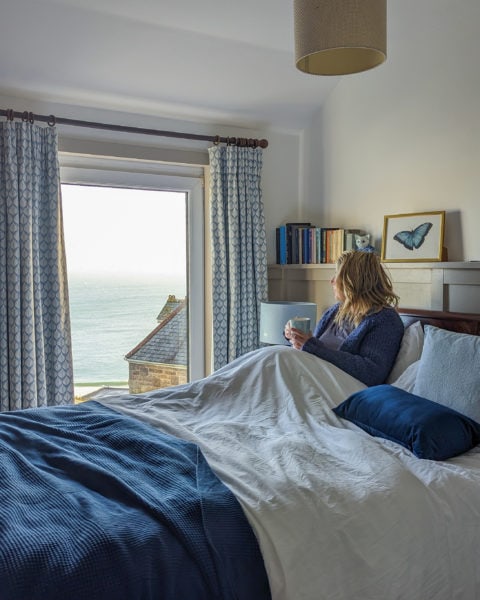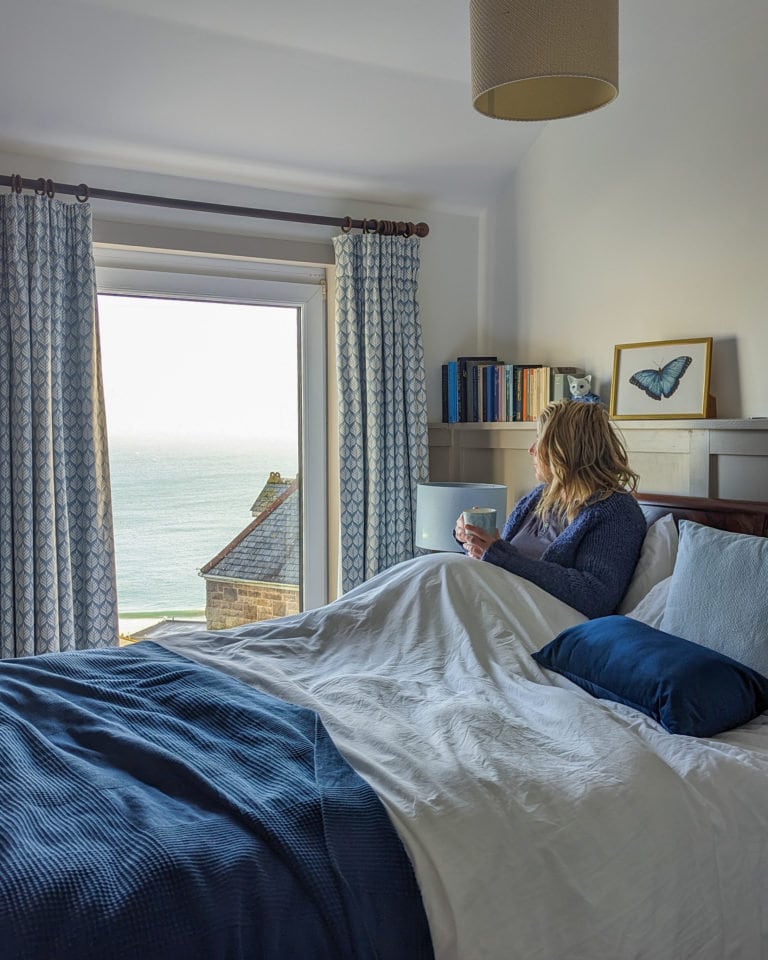 I stayed at Bay Hill Cottage: a gorgeous, white-washed cottage on a quiet lane on the hill above Porthminster Beach. Spread across three floors, this cosy, characterful cottage had the most incredible views across the beach and harbour towards St Ives.
It's been a long time since I was that blown away by a view from a holiday home! Away from the windows, though, the whole property was beautifully decorated. There was a perfect mix of fresh, contemporary feels and cute, cosy cottage vibes. Plus lots of ocean-blue hues and seaside nods here and there!
Despite looking quite small from the outside, the property was incredibly spacious. The middle floor is at street level on the front, with a small twin room and a cosy lounge – complete with a cosy gas fire and two reclining chairs positioned in front of the enormous window.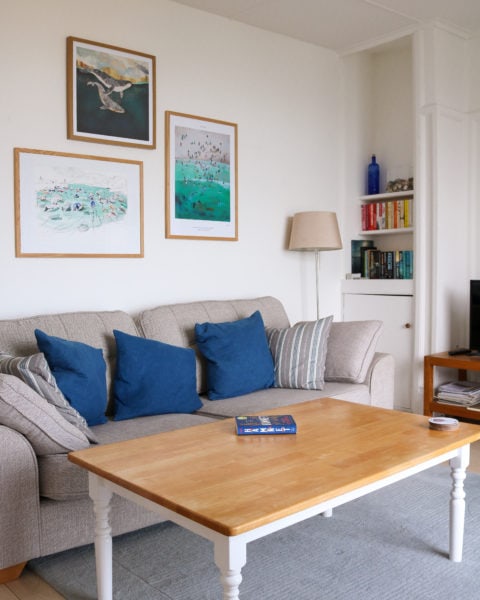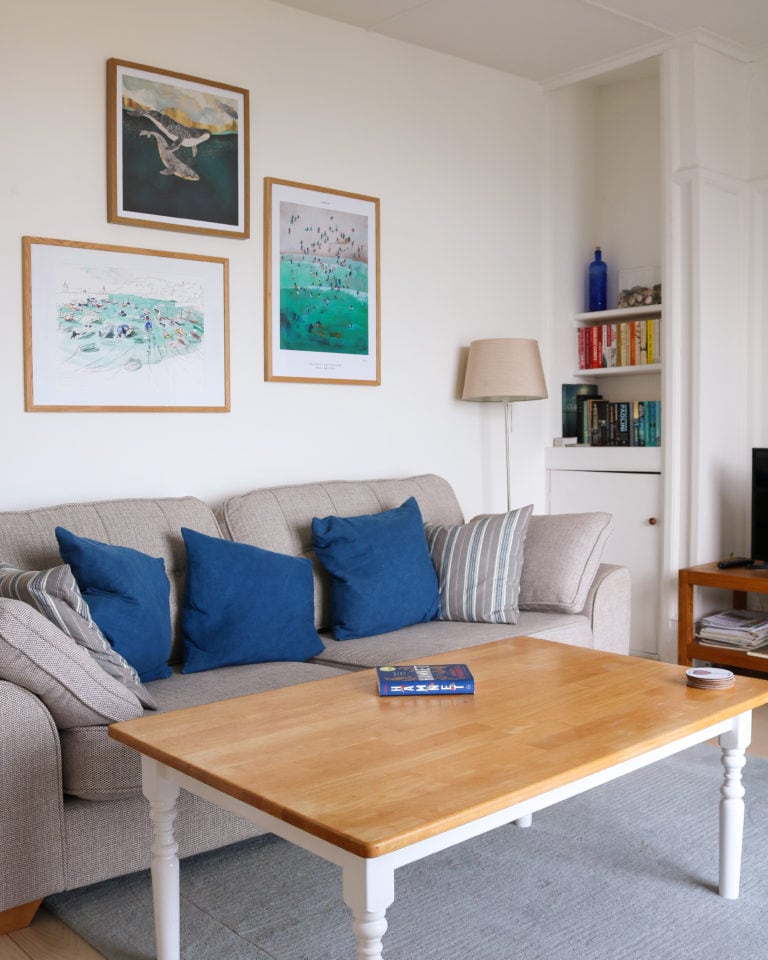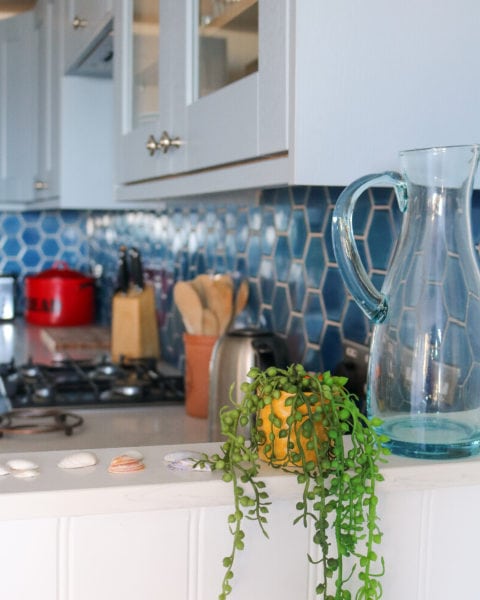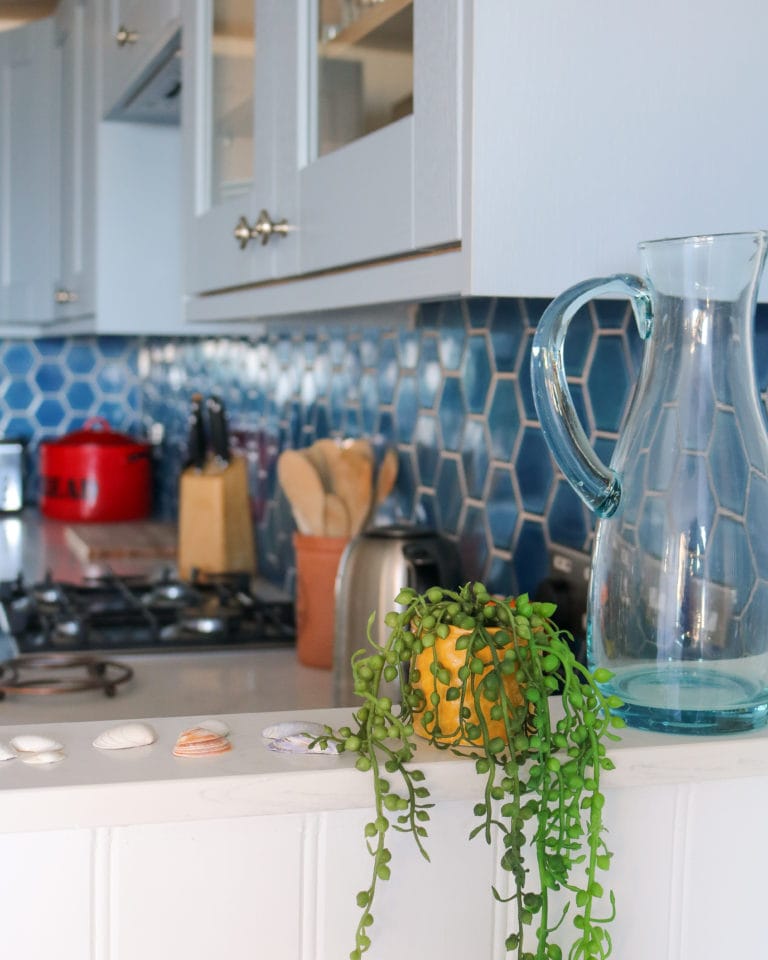 Because the property is on a hill, the downstairs kitchen and dining room – gorgeously decorated with blue tiles and lots of colourful local artwork – opens out into the back street. There are big French doors to make the most of that incredible view. I loved throwing these open in the morning to sip my coffee in the sunshine whilst watching the waves crashing on the beach below!
Upstairs is the bathroom (small but very well laid out) and two double bedrooms. Both were lovely, with calming colours and cosy double beds. But the master bedroom, at the back of the house, has the view! There's nothing quite like waking up to a sea view – it was very hard to drag myself out of bed in the mornings!
Bay Hill Cottage genuinely blew me away! I'd happily recommend it to anyone looking for a holiday cottage in St Ives.
Best Time to Visit St Ives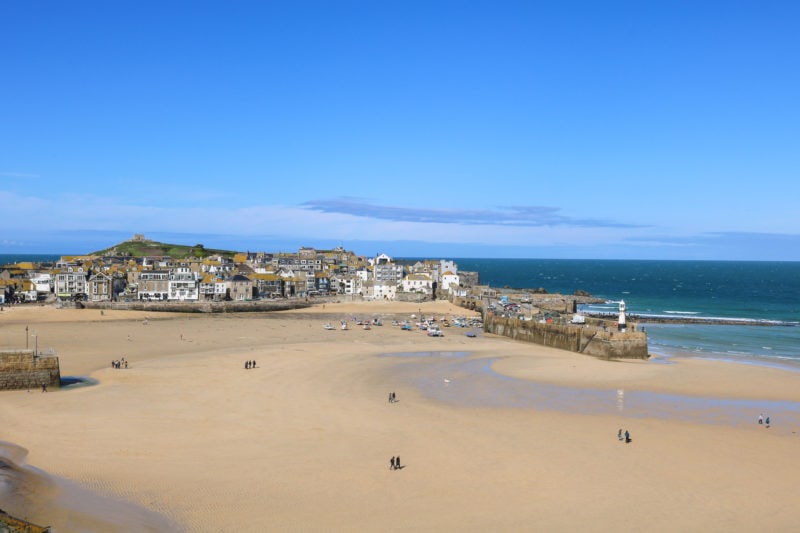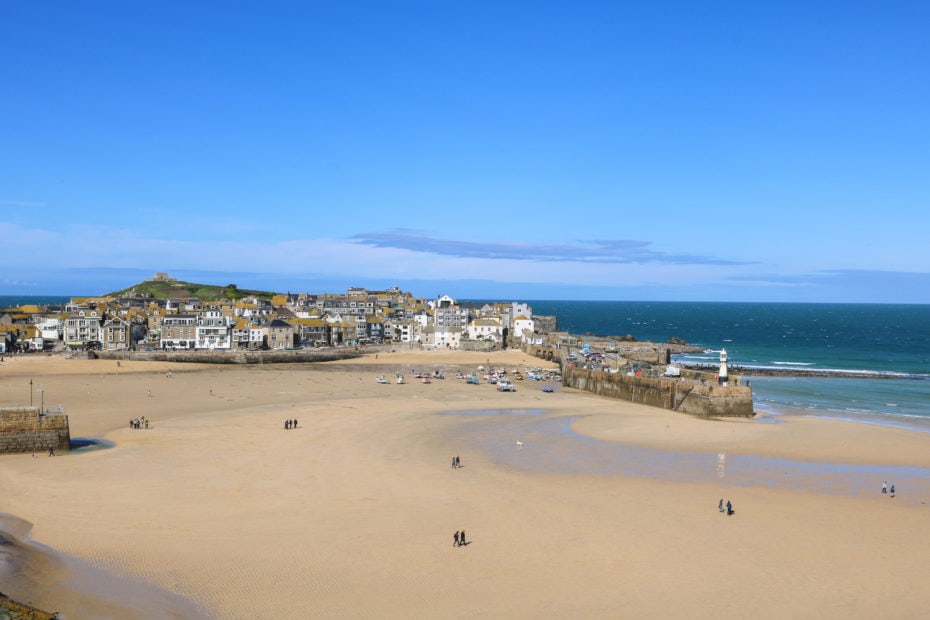 For the strongest chance of good weather and sunshine, summer is the best time to visit St Ives. However, summer is also peak season, which means higher prices, busy beaches, and more bookings.
If you are visiting in summer, try to book as far in advance as possible, because accommodation can get booked up pretty quickly! This also applies to British bank holidays, school half terms, and the Easter holidays.
If you prefer a quieter trip, the shoulder seasons of Spring and Autumn can also be a great time to visit St Ives. Prices are generally lower and you'll find the town less crowded – with the exception of the Easter Holidays. Plus, the cooler temperatures are ideal for hiking the South West Coast Path.
How to Get to St Ives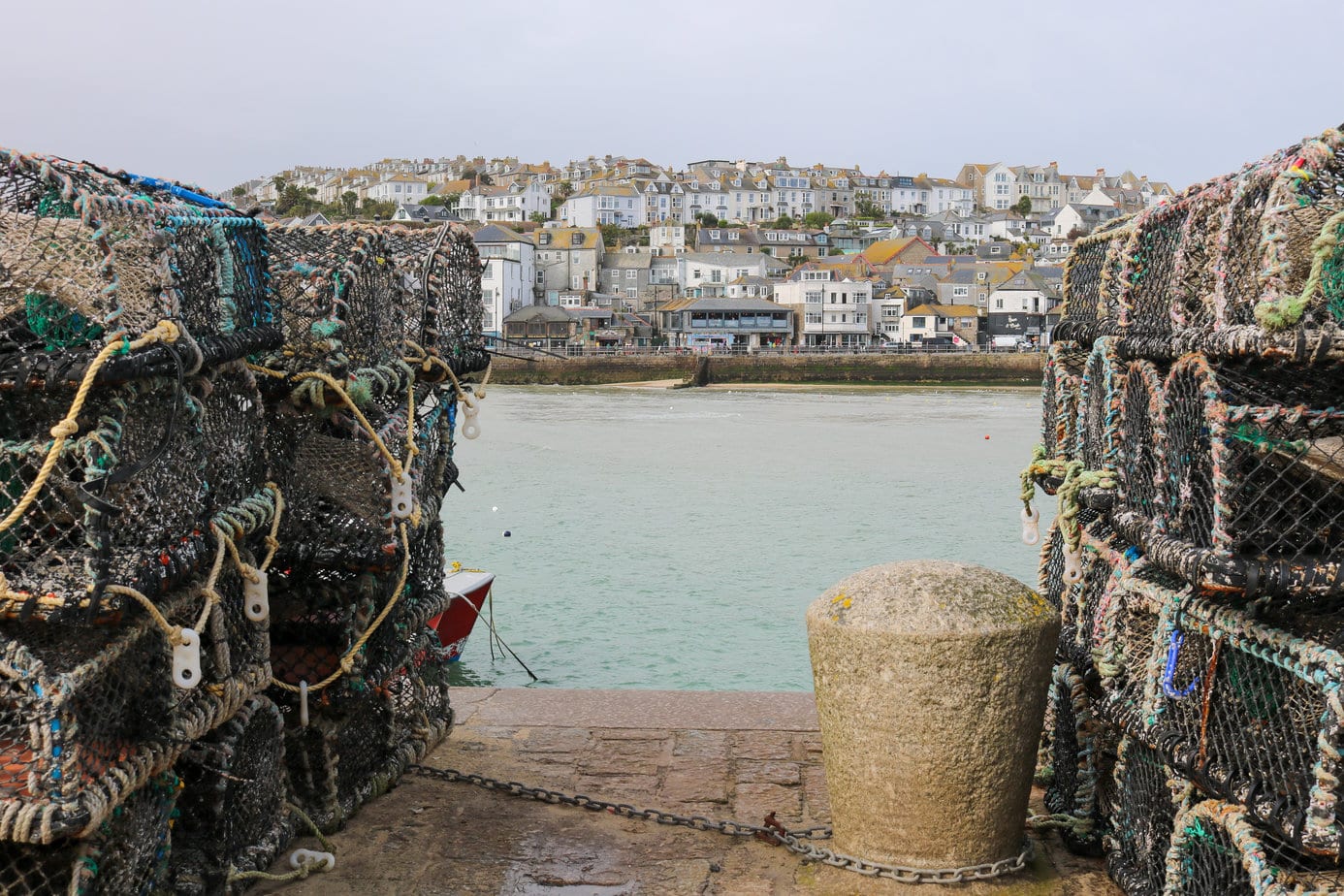 How to get to St Ives really depends on where you're coming from. Below are the best ways to reach the town from London – but you can pick these services up at various spots – including Exeter and Plymouth – along the way.
Train:
Trains from London Paddington take around 5.5 to 6 hours, changing at St Erth for the scenic branch line (see entry number 9 above).
Alternatively, you can take the Night Riviera Sleeper – one of just two sleeper trains in the UK. It leaves London Paddington at 23:45 and arrives into St Erth at 07:46, just in time for you to catch the first branch line service to St Ives.
Bus:
This is generally the most cost-effective way to reach St Ives. National Express operate a long-distance bus service from London Victoria Coach Station to Cornwall. However, they don't call at St Ives, so you'll need to take a bus to St Erth or Hayle, then change for a local bus (or take the train from St Erth). The fastest is a direct overnight bus (8 hours 20 minutes to St Erth). Daytime services require a change at Plymouth Coach Station.
Car:
Take either the M4 then M5 from London towards Exeter (or the A303 is a good alternative if there are traffic issues on the motorway). Leave the M5 motorway just after Exeter at Junction 31 and join the A30, which you'll follow all the way to the Hayle Bypass – where you'll pick up road signs for St Ives.
Traffic
Most visitors to Cornwall tend to come by car. While this is probably the easiest and quickest way to reach St Ives, traffic across the county can be a nightmare in peak season! All that congestion causes issues for both the locals and the environment – so if you can, travel at quieter times of the day, or come by public transport instead.
St Ives Road Trip Route
For a slower, more scenic driving route – and one of the UK's best road trips – head to Bath and pick up the A39.
Nicknamed the Atlantic Highway, this winding road will take you through the beautiful Exmoor National Park, then on to the stunning bays and beaches lining the coast from Barnstaple to Bude.
Newquay Airport to St Ives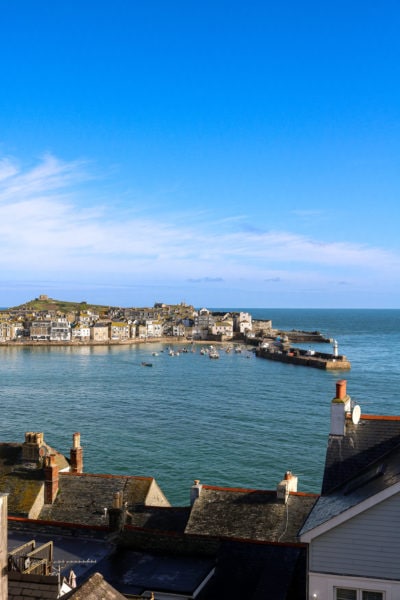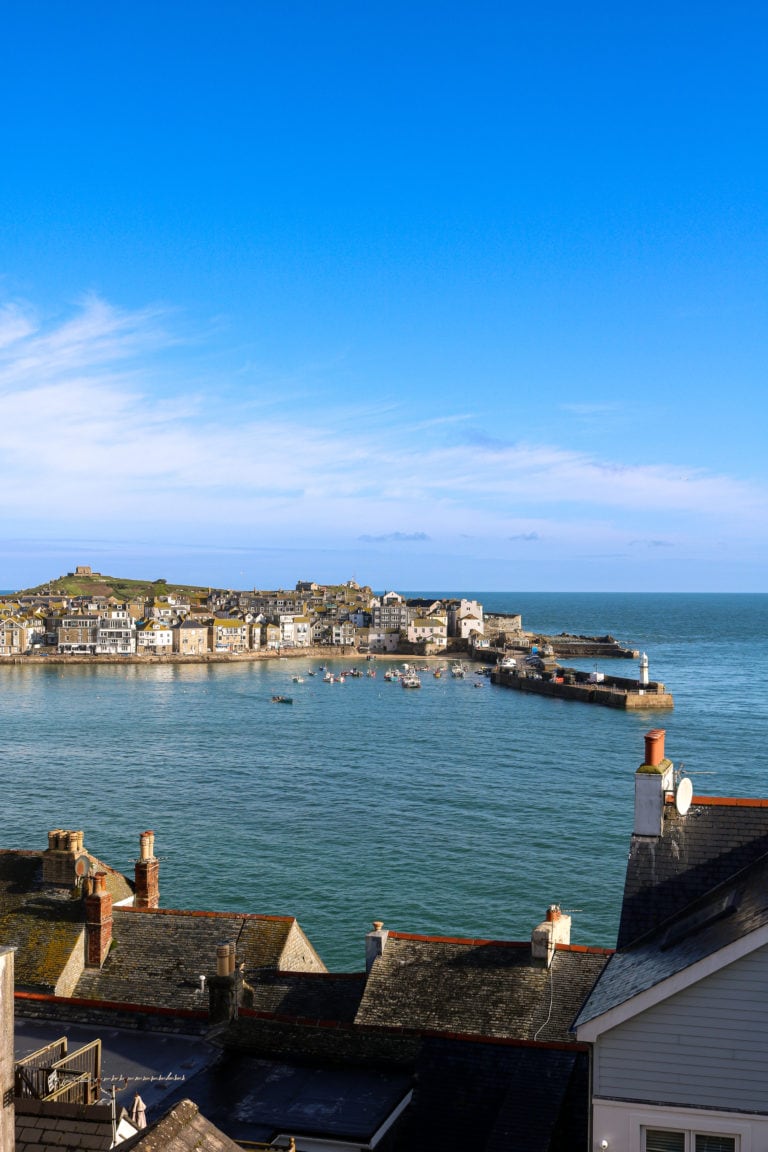 If you're coming from further afield, the easiest way to reach St Ives might be to fly into Newquay Airport – then pick up a rental car or take public transport to your final destination.
Newquay Airport is around an hour's drive to St Ives (depending on traffic conditions). There's no direct public transport, unfortunately, so you'd need to take a bus into Newquay, then take the train (via Par) to St Erth, and finally the scenic Branch Line to St Ives (see entry number 9 for more info on that). Alternatively, you can pre-book a taxi transfer: the official airport taxi company is Coastline Travel.
Newquay Airport has links with numerous destinations within the UK (as well as a few European cities). These include London Gatwick and Stanstead, Dublin, Edinburgh, Manchester, Belfast, and several more.
More on Cornwall and Nearby
I hope you found this guide to St Ives and what to do while you're visiting helpful! If you have longer to spend in Cornwall and South West England, you might enjoy some of my other blog posts:
25 Places to Visit on the South Coast of England
St Agnes & North Cornwall Travel Guide
Best Places to Visit in South Devon
Got a question or a recommendation of your own? Scroll down to leave a comment…