Some posts on this site contain affiliate links. If you book or buy something through these links, I earn a small commission (at no extra cost to you). Take a look at my privacy policy for more information.

This in-depth travel guide to the best things to do in Canterbury England is brought to you by local blogger Ann, as part of my UK travel guides series.
The picturesque streets of Canterbury are steeped in history dating as far back as the Roman times. Situated in the heart of Kent, the city is known for its beautifully preserved medieval architecture.
The streets are lined with half-timbered buildings and beautiful historic pubs; it's easy to see why this is one of the most visited towns in the south of England.
Conveniently located only an hour from London by train, a visit to Canterbury makes the perfect day out in Kent. Whether you're only visiting for the day or choose to spend a bit more time, this guide will take you through the top things to do in Canterbury, as well as some lesser-known gems that cannot be missed.
Although I'm originally from Vancouver, Canada, I've spent the past 2.5 years living in the town of Ashford, Kent. It's only 15 minutes away by train, so I've spent my fair share of time exploring the ins and outs of this beautiful town. I've fallen for Canterbury's charm and I love discovering new and exciting things to do on each visit.
Top Things to do in Canterbury
Unusual/Alternative Things to do
Places to Eat in Canterbury
Things to do in Canterbury at Night
Festivals and Events
Where to Stay in Canterbury
Top Things to do in Canterbury
Canterbury River Cruise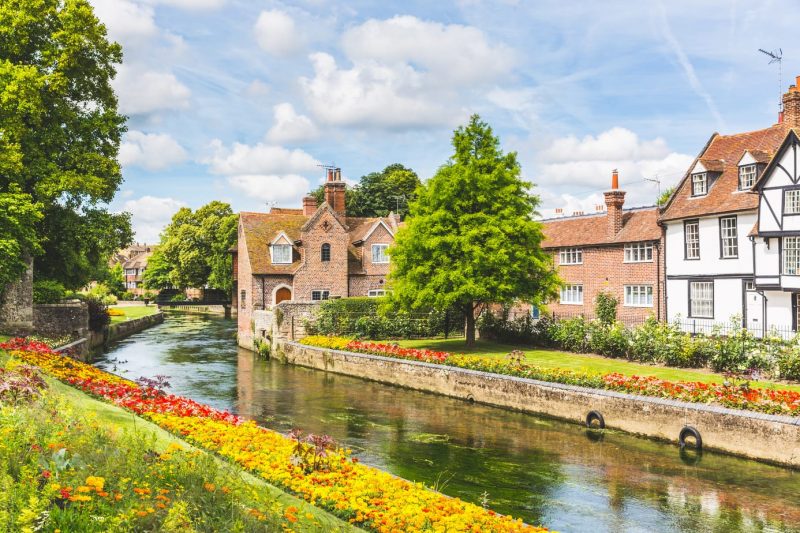 By far one of the most popular things to do in Canterbury is to take a scenic river cruise along the River Stour. Floating along the pretty river channels in traditional punting style is the perfect way to escape the bustle of the High Street – as well as get a unique perspective of some the city's finest medieval architecture.
Top Tip: The River Cruises operate during high season only, from 1st March to 31st October. There is no need to pre-book, because you can find the staff on Kings Bridge on the High Street from 10am to 5pm daily.
Canterbury Cathedral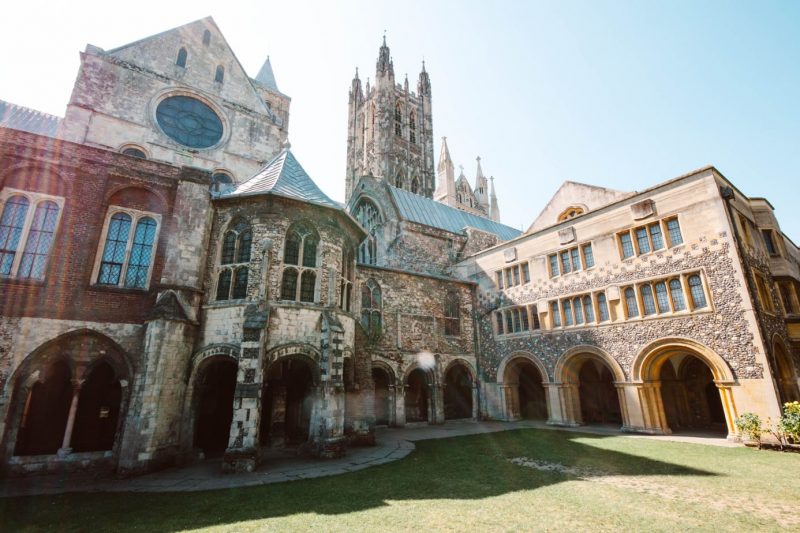 Take in over 1,400 years of English history when you visit the world-famous Canterbury Cathedral. The original church dates back to the year 597 when St. Augustine first landed on the shores of Kent as a missionary and became the very first Archbishop of Canterbury.
Throughout the medieval years, the Cathedral became an important pilgrimage site. Pilgrims from all over Europe travelled here to pay their respects to Saint Thomas Becket, who was murdered inside the Cathedral in 1170.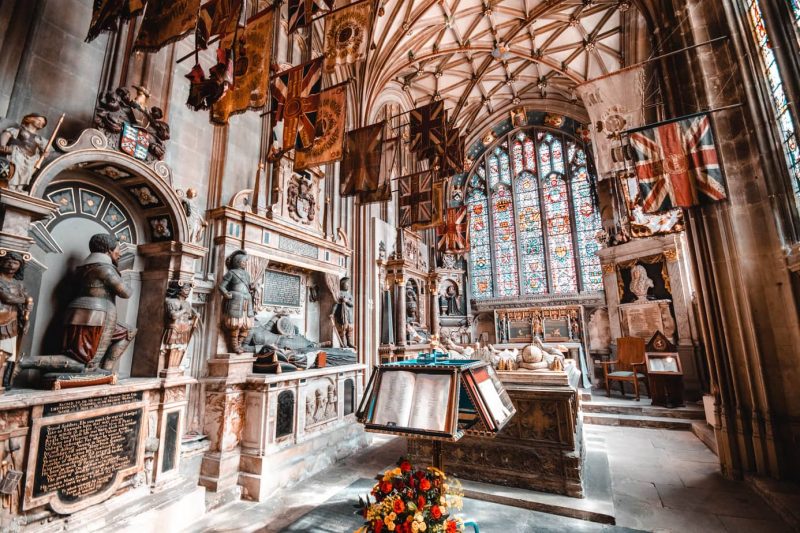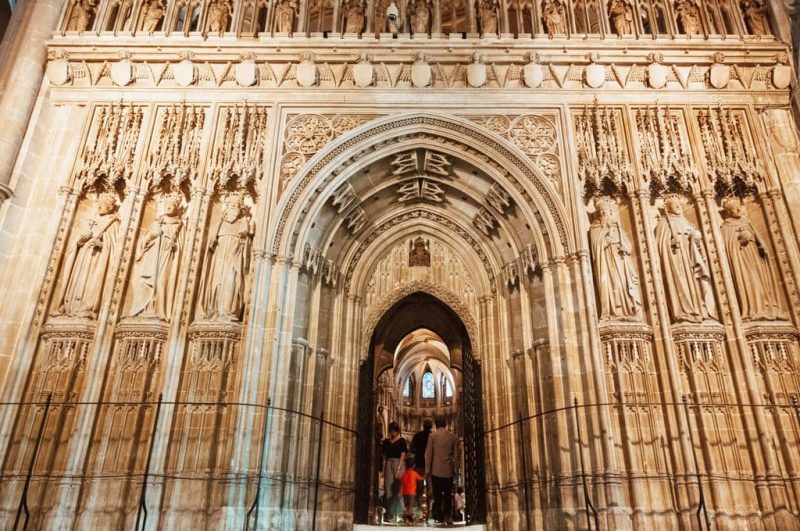 Nowadays, the Cathedral has been listed as a UNESCO World Heritage Sites and welcomes nearly one million visitors per year making it one of the top attractions in Kent. This comes as no surprise once you set foot inside and admire its magnificent interiors.
Explore the Town Centre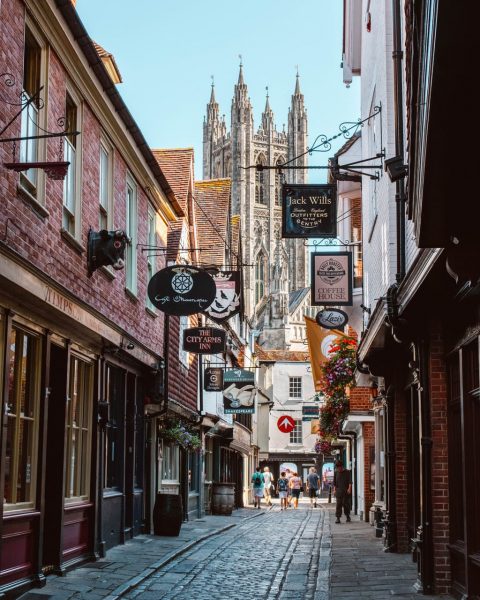 As you make your way through the town centre, don't be afraid to get lost down the little alleys that extend off the High Street. This is where you'll stumble upon the prettiest buildings and endless photo opportunities hidden around each corner.
You can't miss a quick stop at the famous Old Weaver's House on the High Street. Take a look down the river next to it for the most beautiful scene in the whole city!
Top Tip: Look out for Butchery Lane as you walk along the High Street. Take a peek down the alley to find a postcard-perfect view of the Cathedral.
Visit the Oldest Church in England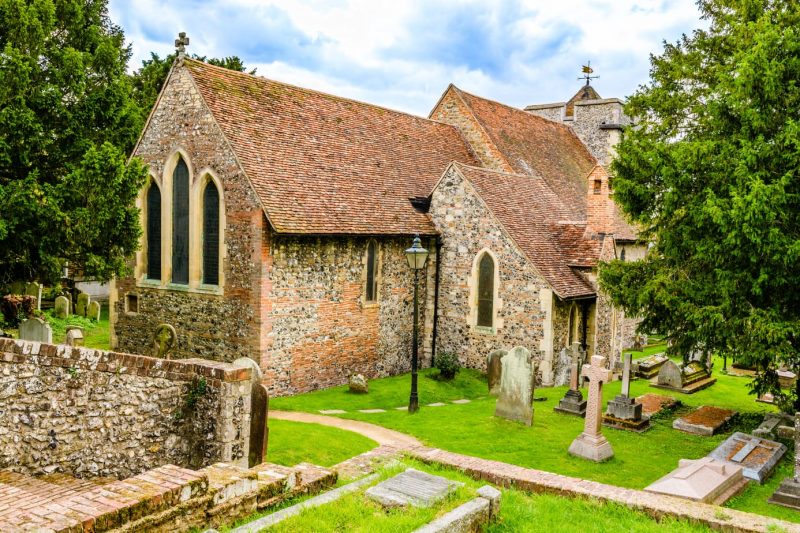 A 10-minute walk from the town centre will take you to the oldest church on record in the English-speaking world. St. Martin's Church has been in continuous use since the early 6th century and is listed as a UNESCO World Heritage site.
Although it is out of the way from the other attractions of Canterbury, it is well worth a visit for any history lovers. A quick tour of the church provides an insightful look into England's fascinating history dating back to Saxon times!
Roman Museum
During the 1st century AD, Romans invaded Britain and established a town where Canterbury exists today. The town had streets laid out in a grid pattern, public bathhouses, temples, and it was fortified with a wall and 7 gates.
Take a step back in time by visiting the Roman Museum for a unique glimpse into life during Roman Britain. The museum showcases Roman artefacts such as jewellery, weapons and even an ancient Roman heating system which is surprisingly well preserved.
Unusual/Alternative Things to do
The Crooked House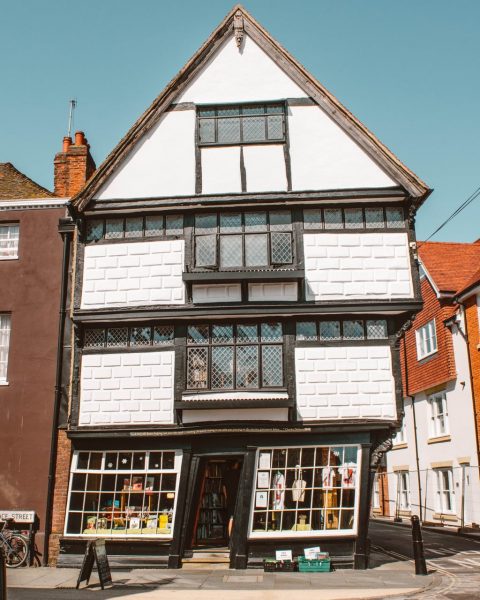 This wonky-shaped bookshop is tucked away in the backstreets, and can be easily overlooked if you weren't aware of its existence. The quirky building looks like it could topple over at any given moment but rest assured, it is now held firmly in place by a steel frame.
The Crooked House dates back to the 16th century when it is said that chimney alterations didn't go as planned and caused the building to slip sideways. Stop here briefly for a fun photo opportunity and stick your head inside the book store to admire an extremely skewed interior.
Canterbury Tales Tour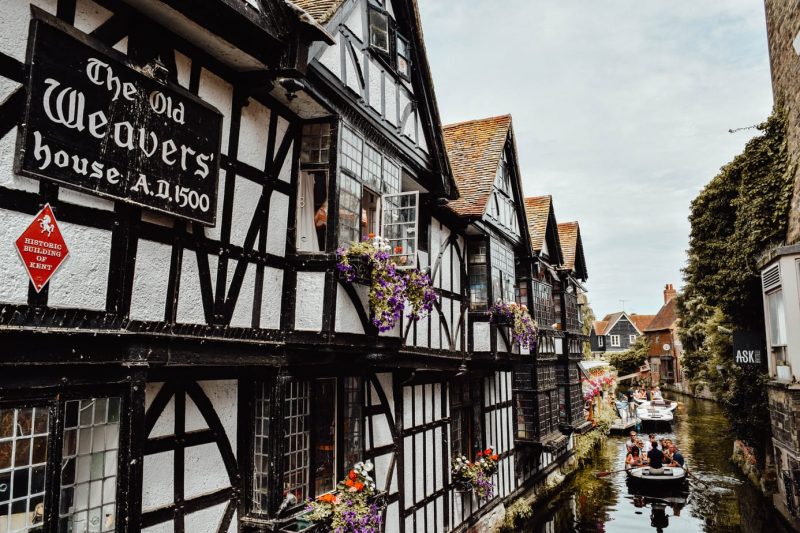 The history of this city is famously tied to the work of Geoffrey Chaucer of the 14th century. Watch as his Canterbury Tales are brought to life in an animated tour led by costumed guides. Take a journey through the medieval streets of the city on this 40-minute interactive tour.
The Canterbury Tales Tour is fun for all ages and a unique way to learn about the town's colourful history. The tour runs daily and tickets can be purchased on site which is located on St. Margaret's Street near the town centre.
Editor's Update: this attraction appears to have closed since the post was written. I will try to get more info and update this post asap.
Places to eat in Canterbury
Parrot Pub
There really is no shortage of beautiful old pubs in Canterbury. If you're looking for a pub that's full of character and also happens to be THE oldest pub in the entire town, look no further than The Parrot. You can't go wrong with one of their gourmet sandwiches for lunch!
The Bishop's Finger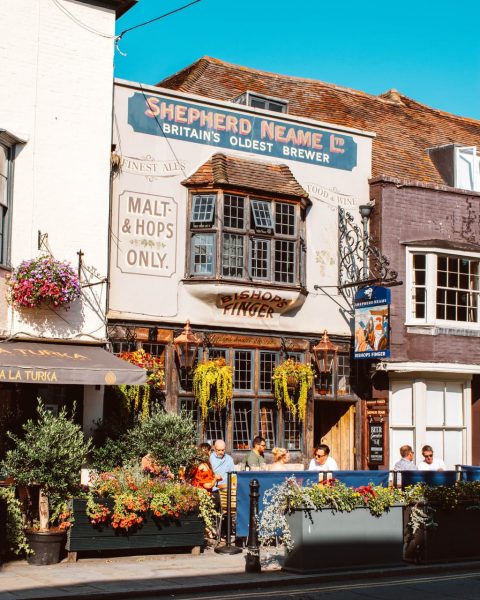 This quintessential English pub is only a short walk from the town centre. Stop at the Bishop's Finger to fuel up with a classic pub lunch or relax in their large beer garden which is the perfect spot to soak up some sun during the summer.
The Dolphin
Tucked away in the quiet backstreets of the town is the popular Dolphin bar and restaurant. You'll find a cosy atmosphere inside and you can expect to be served high-quality food with generous portions. The Dolphin makes a good choice for lunch or dinner.
The Old Buttermarket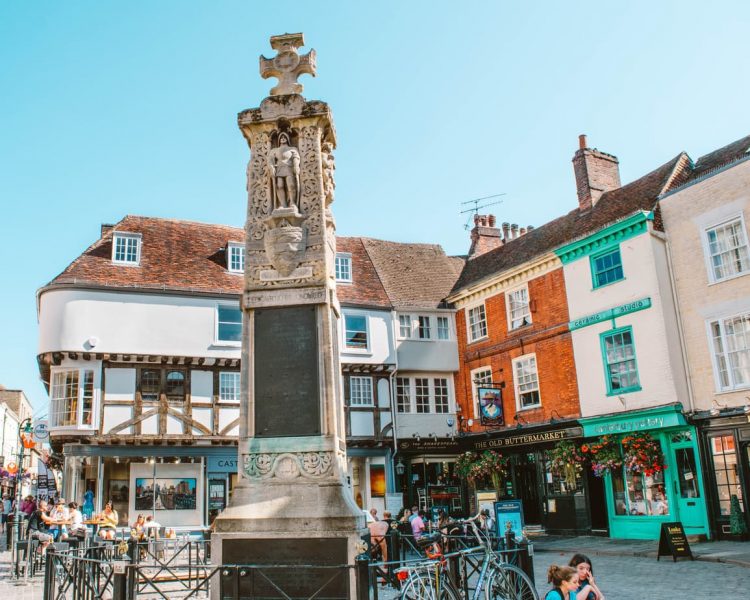 Located in the bustling square outside of the Cathedral, The Old Buttermarket is a great place to pop in for lunch to break up a day of sightseeing or just grab a pint and people-watch in their outdoor seating area.
The Old Weaver's House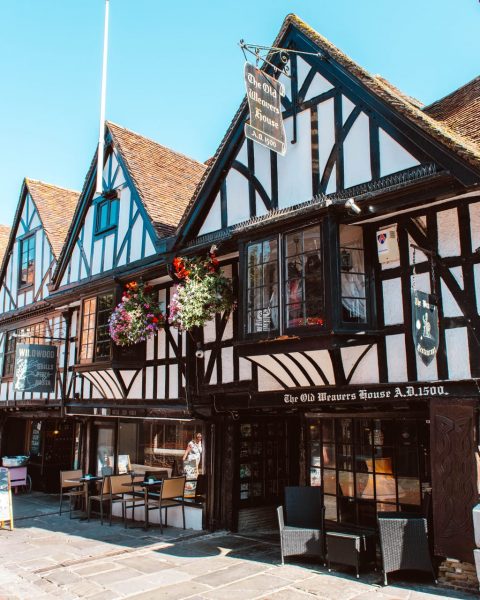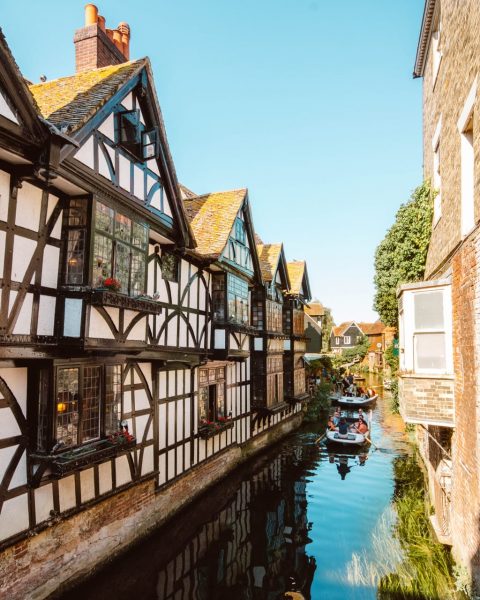 The Old Weaver's House is a charming 16th-century building – and is also one of the most photographed attractions in Canterbury. It's now a popular restaurant serving delicious homemade pies and classic British cuisine.
During the summer months, you can dine on their outdoor patio next to the river. You also have the option to include a 40-minute river cruise with the purchase of your meal.
Things To Do in Canterbury at Night
Experience Canterbury's Vibrant Nightlife Scene
Canterbury is known for its buzzing nightlife scene and has plenty of fun bars and clubs for those interested in a night on the town. Whether you're after a trendy cocktail bar or a boozy night on the dance floor, there's something that appeals to everyone.
The Pound is a popular bar that usually fills up on the weekend. It has a lively atmosphere and is known for its huge range of delicious cocktails. The Pound is always my go-to when it comes to an evening out with friends.
If you're looking to get your dancing shoes on, head on over to The Cuban. It's a restaurant by day and a club by night with a fun dance floor that keeps going until 3am on weekends.
Escape in The Towers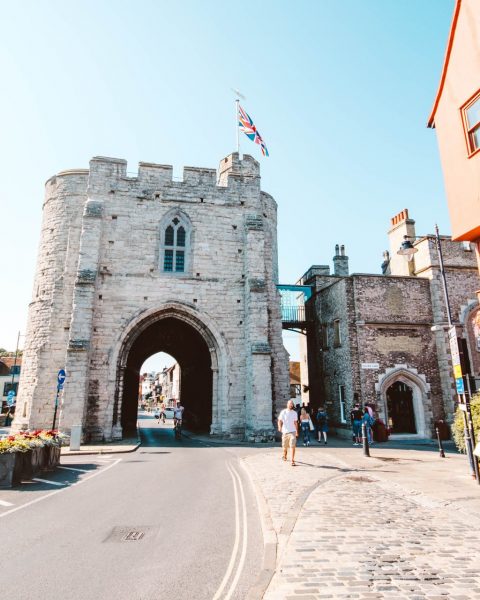 This thrilling escape room experience takes place within Canterbury's Westgate Towers – which also happen to be the largest surviving gateway towers in England. With a choice of 3 different rooms, this highly-rated experience is an awesome thing to do on an evening out with friends.
The ticket also includes entry to the Westgate Towers Museum and Viewpoint where you'll find a lovely view over the city.
Festivals and Events
Canterbury Food and Drink Festival
For a fun day out, The Canterbury Food and Drink Festival takes place annually on the last weekend of September. Sample delicious locally produced food and drinks from the many food stalls while listening to live music in the park. The best thing about it? It's free to attend!
Where to Stay in Canterbury
This section contains affiliate links, so if you book something, I'll make a small commission – without affecting the price you pay.
Cathedral Gate Hotel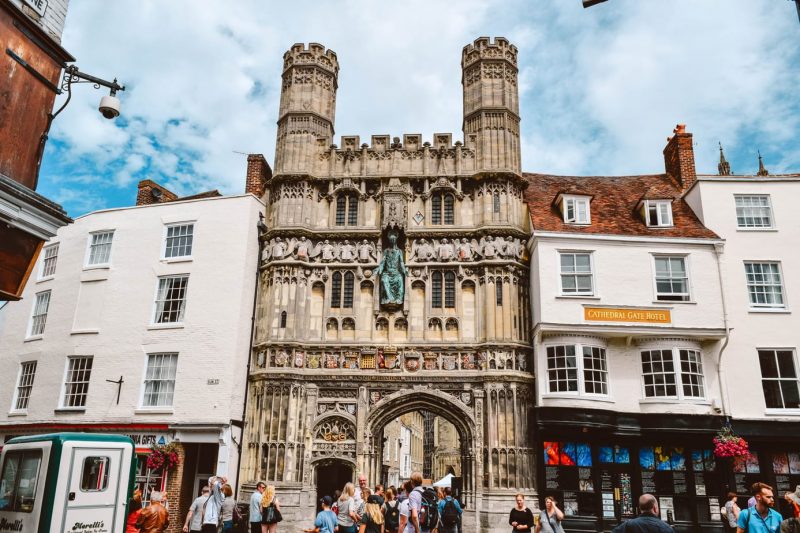 Centrally located and loaded with history is the Cathedral Gate Hotel. It dates to the 15th century when pilgrims stayed there on their travels to Canterbury. As the name suggests, the hotel is right next to the Cathedral, so it's the perfect location to base yourself for easy access to all of Canterbury's attractions.
CHECK PRICES: Booking.com | Hotels.com
Kipps Hostel
Editor's note: If you're on a budget or travelling solo, there are a couple of hostels which might make a better base. Kipps Hostel has one of the highest ratings on Hostelworld and seems to get consistently good reviews. So this could be an ideal option for backpackers. 
MORE OPTIONS: Search all Canterbury Hostels here
Further Info
If you have more time in the UK, or want to extend your trip, check out some of these fab recommendations…
Things to do in Ramsgate (just down the road on the Kent coast)
7 Reasons to Visit Dreamland Margate
11 Fun Things to do in Southampton, Hampshire
This post was part of a series of "locals guides" to British cities. The goal is to help people discover the best of the UK with the help of genuine locals. If you'd like to take part with a post all about your own town, please get in touch.
Author Bio
Ann is the other half of The Road Is Life where she blogs with her partner Rick about travel and living a minimalist lifestyle. Originally from Vancouver, Canada, she is now living in the UK where you can often find her exploring Europe and sharing her travel stories on her blog and social media.
Pin This Post!