Some posts on this site contain affiliate links. If you book or buy something through these links, I earn a small commission (at no extra cost to you). Take a look at my privacy policy for more information.

Escape the Everyday with a weekend away in Gloucester and Cheltenham this summer!
Looking for a getaway in England that offers a wider range of things to do? One with culture, history, countryside, and tons of fun activities to try?
Then a weekend away exploring the neighbouring towns of Gloucester and Cheltenham could be ideal!
Enjoy the Regency-era grandeur of Cheltenham, with its huge parks and packed schedule of events. There's a reason they call this "The Festival Town"!
Over in historic Gloucester, discover centuries of history in the Cathedral, along the redeveloped Dockside, and in the now-abandoned Prison.
Both are right on the edge of The Cotswolds, one of the most idyllic areas of England known for its rolling countryside and quaint villages. So you can easily combine town and countryside on a holiday here.
In fact, one of the best ways to enjoy the area is to book a hotel on the edge of the Cotswolds AONB, between both towns. Preferably a hotel with a spa! That way, you can wake up to fresh country air and views of rolling green hills, then head into either Gloucester or Cheltenham for a day of sightseeing, shopping, dining, history, and culture! The best of both worlds.
My trip to Gloucester and Cheltenham was run in collaboration with Visit Cheltenham and Visit Gloucester as part of Visit England's Escape the Everyday campaign. All words and opinions are my own.
Gloucester or Cheltenham?
Wondering if you should visit Gloucester or Cheltenham? The easy answer is: both! The two towns are close together and can easily be visited for a day each over one weekend.
If you really want to narrow it down, the question of whether to visit Cheltenham or Gloucester depends on what you're looking for!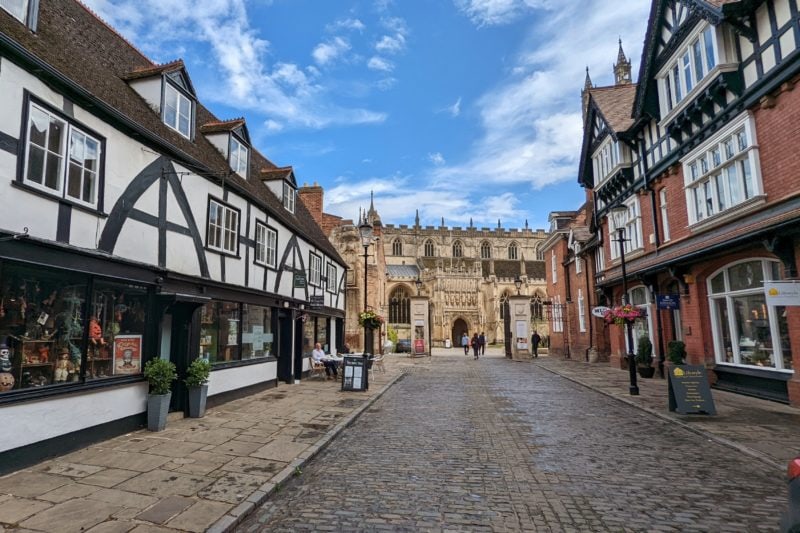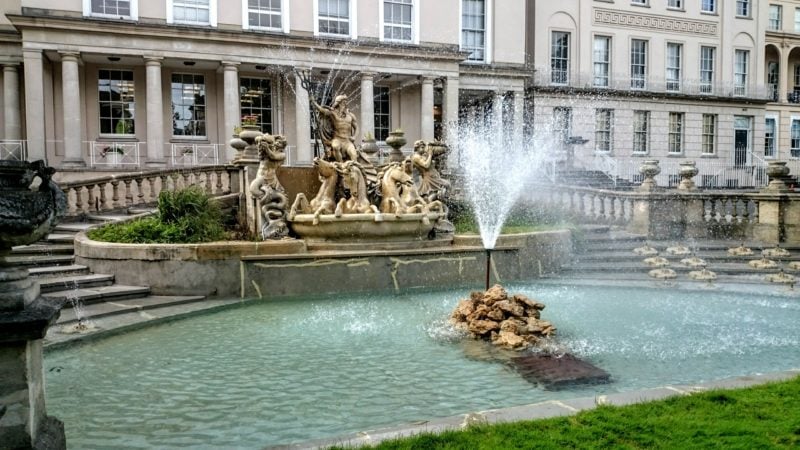 Cheltenham is a spa town full of grand Regency-era architecture, as well as lots of parks and green spaces. It's known as a bit of a shopping destination, and also has lots of fab bars and restaurants to enjoy. And, of course, being a spa town makes Cheltenham a perfect destination for a spa weekend.
Gloucester, on the other hand, has more attractions and historic sights, most notably its incredible cathedral. The city's Historic Docks had a redevelopment in recent years, creating an attractive riverside area where the red-brick warehouse buildings now contain modern flats. This area also has many bars, restaurants, as well as the popular Gloucester Quays outlet shopping mall.
Things to do in Cheltenham and Gloucester
Gloucester Cathedral
One of the most famous attractions in Gloucester and Cheltenham is the stunning Gloucester Cathedral, originally founded as an Abbey in 1089.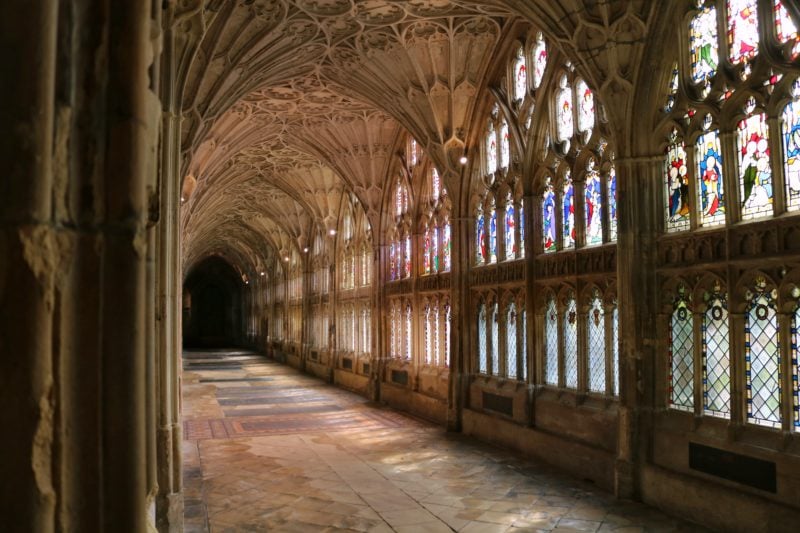 The incredible architecture of the building oozes history, much of it tying in with several big events in England's history. In fact, the cathedral is even home to the tomb of King Edward II.
I highly recommend taking the guided tour (around 50 minutes) to learn a little more about the cathedral's history and find out some of the more intriguing details of its architecture and stained glass windows. Tours are just £5.50 for adults and £2 for children, so they're very affordable – and genuinely very interesting.
Even if you skip the tour, don't miss the beautiful cloisters of the cathedral. Especially if you're a Harry Potter fan. Several scenes from the movies were filmed within these exquisitely carved walkways.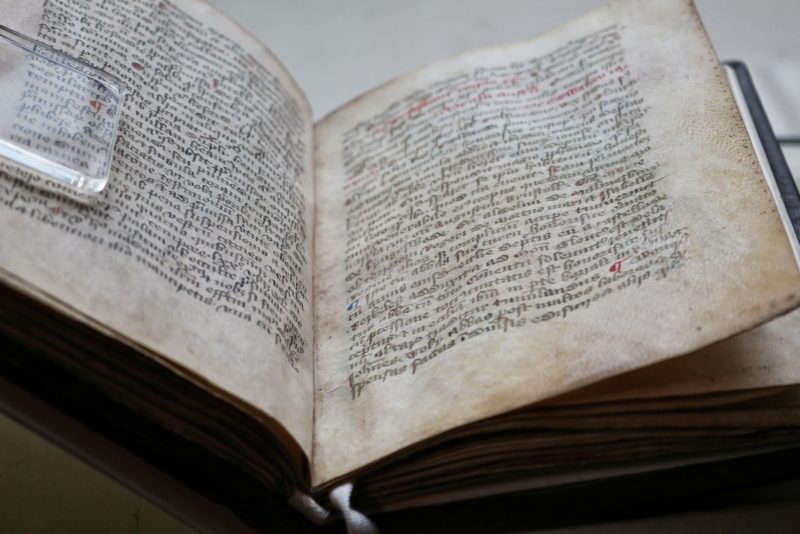 TOP TIP: Try to time your visit with one of the rare, but fantastic, library open days. Dating from the early 1400s, this incredible space is home to over 6,000 books and manuscripts. They host special guided tours roughly every two months, always themed around a different topic.
Tour of Gloucester Prison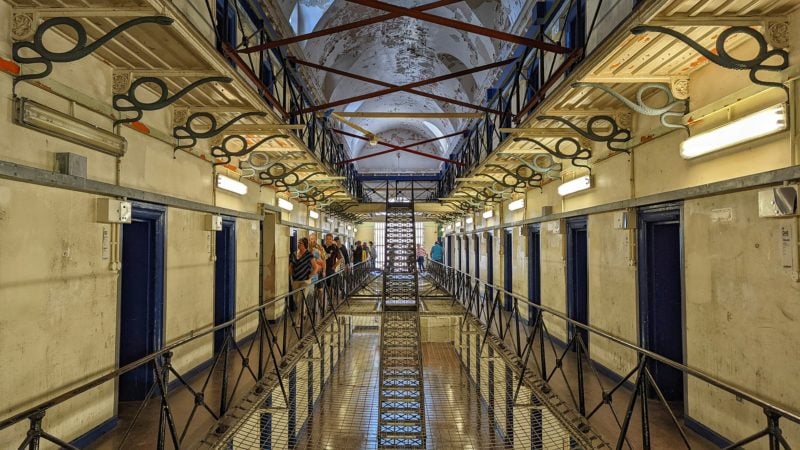 One thing I did not expect to be doing on my weekend in Gloucester and Cheltenham was visiting a prison. Nor did I expect to enjoy it so much!
Gloucester Prison run regular guided tours through the now-empty penetentiary, to learn about its fascinating (and at times somewhat grizzly) history.
Built on the site of an earlier Norman castle, the Gloucester County Goal and Penitentiary was opened in 1791, and was rebuilt and expanded several times over the centuries, until it was closed in 2013. Over the years, it's hosted public executions and hangings, so there are quite a few gruesome stories to hear as you explore the eery, abandoned space.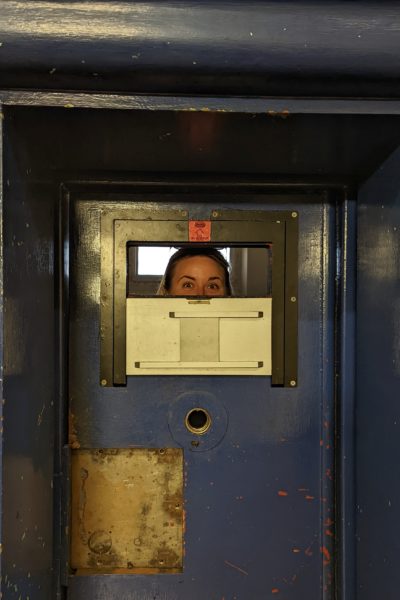 You'll also hear a few ghost stories. Our guide seemed pretty genuine in telling us the unexplainable things he's seen and heard, and a Most Haunted Christmas special was filmed here. You'll get more of these details on the more adult 5:30pm tour, so choose that one if that kind of things sounds up your street!
Independent Shops to Explore in Gloucester
I loved exploring the independent shops dotted around the streets near the Cathedral – and beyond. Here are a few you shouldn't miss…
Historic Docks and Gloucester Quays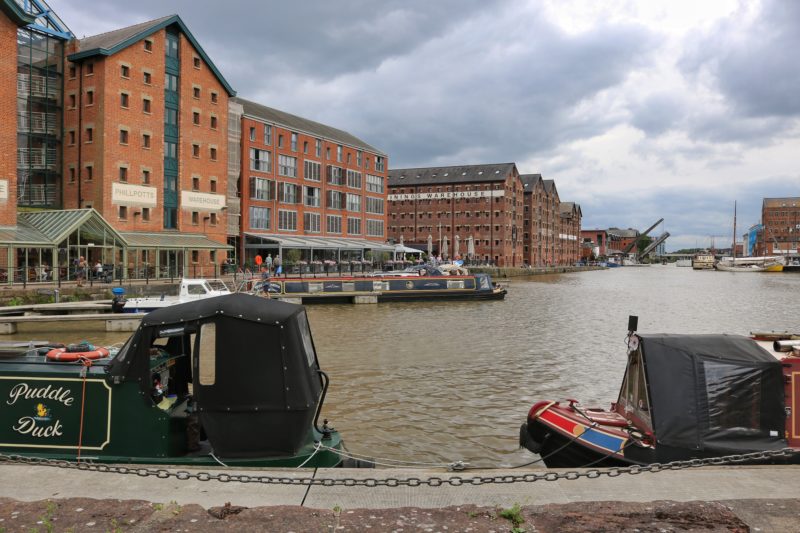 One of the main areas to explore in Gloucester is the historic Gloucester Docks. The most inland port in the country, this was once a bustling trades area that's been in use for centuries.
Today, it's had a major redevelopment to create a trendy space that's full of eateries, bars, and shops. The old red-brick warehouses have been turned into modern apartments, and there's a great buzz to the area, especially on sunny days.
Head to the National Waterways Museum to learn more about the history of the docks and canal, or simply wander the dockside, looking out for picturesque canal boats.
Shoppers will also love the Gloucester Quays designer outlet shopping mall – the perfect place to bargain hunt!
DON'T MISS: Gloucester Brewery for craft beers, artisan gins, and a cute dockside beer garden!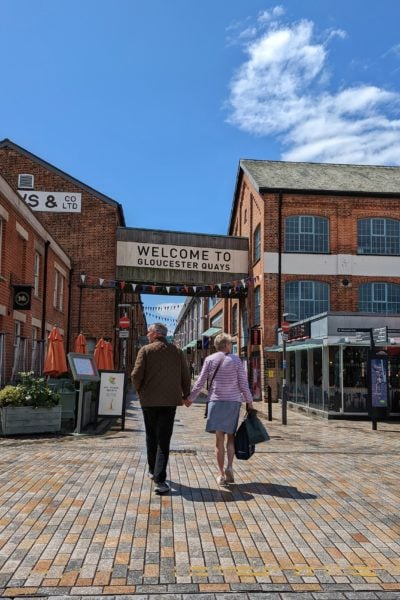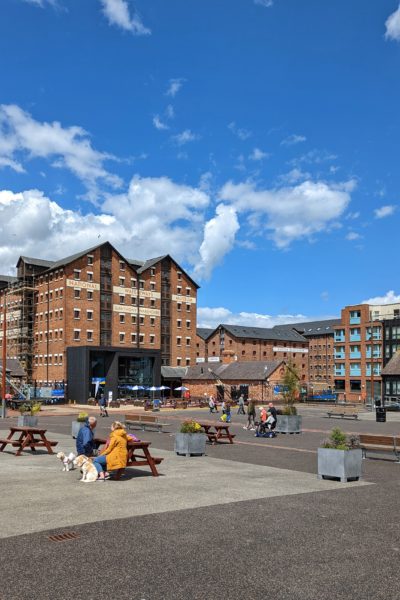 Gloucester Guildhall
Looking for some evening activities in Gloucester? Check what's on at Gloucester Guildhall during your visit.
Right in the heart of the city centre, this charming building dates from 1890, and once housed various council offices, the mayor's parlour, and a public hall. Today, it's a major arts centre, and forms Gloucester's cultural hub.
From live music and theatre in the main hall, to film screenings in the small but beautiful cinema, to exhibitions, events and classes… there's always something fun going on at the Guildhall . Perfect to add a unique twist to your weekend in Gloucester and Cheltenham.
Hire Bikes to Explore Cheltenham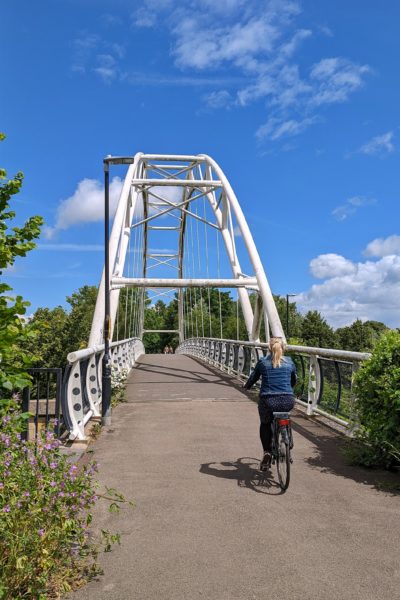 Next up: the beautiful Regency town of Cheltenham. It's a charming town with lots of parks and gardens, so one of the best ways to get around is by bike.
Hire a set of wheels from The Bicycle Hub and set off to discover the grand Georgian architecture of the town. They even have a mobile app which contains detailed route guides with maps. I loved cycling along the Honeybourne Line, an old railway track converted into a bike path, dotted with street art and murals leftover from the Cheltenham Paint Festival. This festival is an annual event, so the murals you see will change every year.
If you have a bit more time on your hands, you could hire some electric bikes and cycle the country lanes into the nearby Cotswolds.
Discover What's On in The Festival Town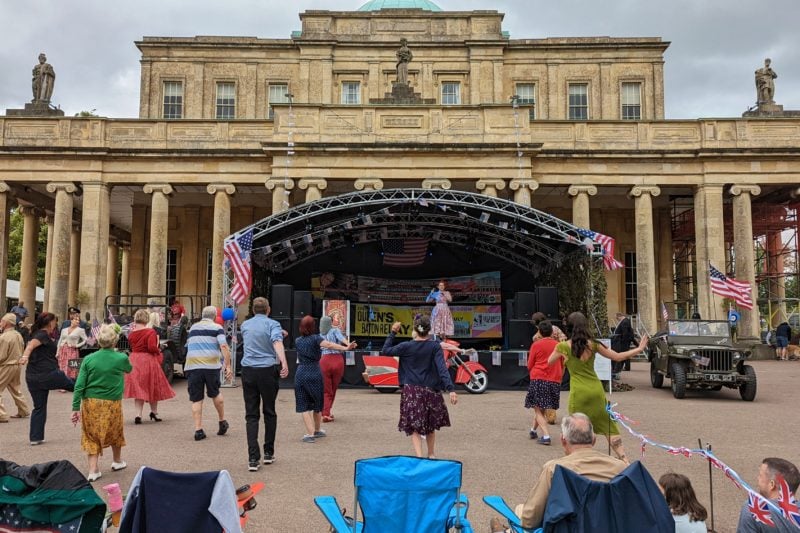 Did you know that Cheltenham is nicknamed The Festival Town? Despite its relatively small size, the town plays host to a huge calendar of festivals and events throughout the year, many of them world-leading.
The most famous, of course, is The Festival (aka Cheltenham Festival) – a four-day horse racing event held in March at Cheltenham Racecourse.
But there's SO much more beyond horse racing. Cheltenham hosts numerous arts, music, and cultural festivals, including the world's oldest Literature Festival.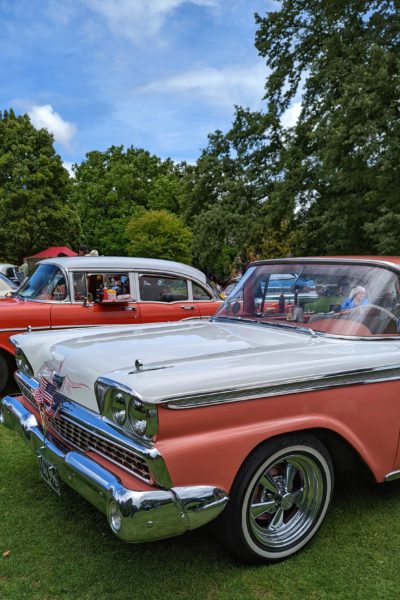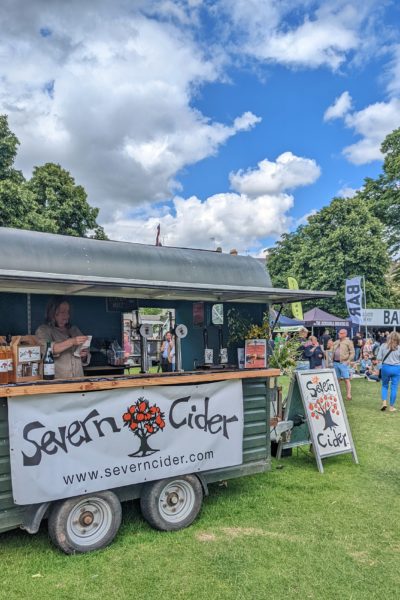 Plus there are tons of smaller festivals and events. When I visited, both the Cheltenham Food and Drink Festival and the brand-new Retro Americana Festival at Pittville Pump Rooms were taking place.
Both were fantastic events, held in two of Cheltenham's numerous parks, with a great atmosphere and lots of live entertainment. And both will be back next year, so be sure to check them out!
Check Visit Cheltenham's What's On Listings to see what's happening when you visit, or plan your trip to coincide with one of the bigger festivals for a fantastic ambience while you're exploring the town.
Explore Cheltenham's Historic Regency Buildings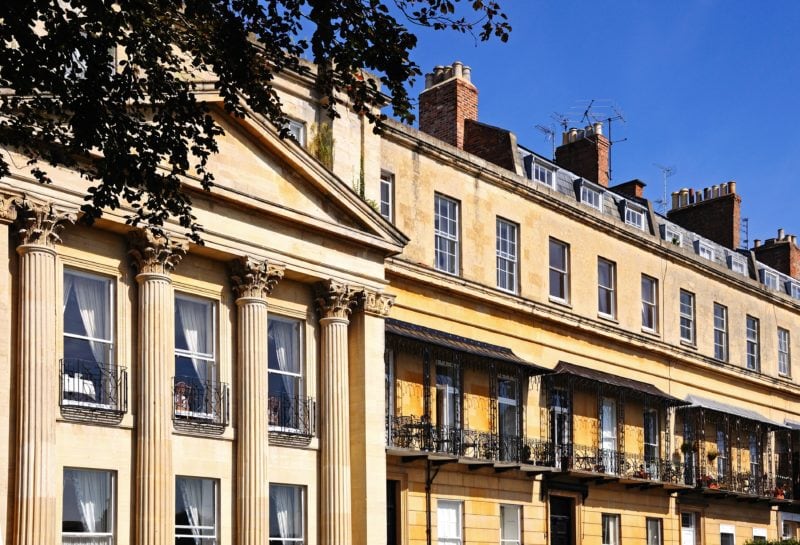 Cheltenham rose to prominence as a spa town during the Georgian period, when the aristocracy began flocking to spa cities like Bath and Tunbridge Wells to spend a season "taking the waters".
That popularity led to a boom in visitors and a rapid expansion, with much of the town centre rebuilt in the classical Regency architectural style.
Head to the grand Pittville Pump Room, set within a pretty park with lawns leading down to a lake. Or you could visit the Holst Birthplace Museum to see a perfectly preserved Regency living room.
Although it's not Georgian, you also shouldn't miss The Queens Hotel, a stunning Victorian hotel built in the same year as Queen Victoria's coronation. The main staircase still features the original wallpaper from 1838 – which just so happens to be the same as the wallpaper used in the Houses of Parliament in Westminster! For something a bit special, you can book an afternoon tea in the Dukes Tea Room at the hotel.
Unwind at a Spa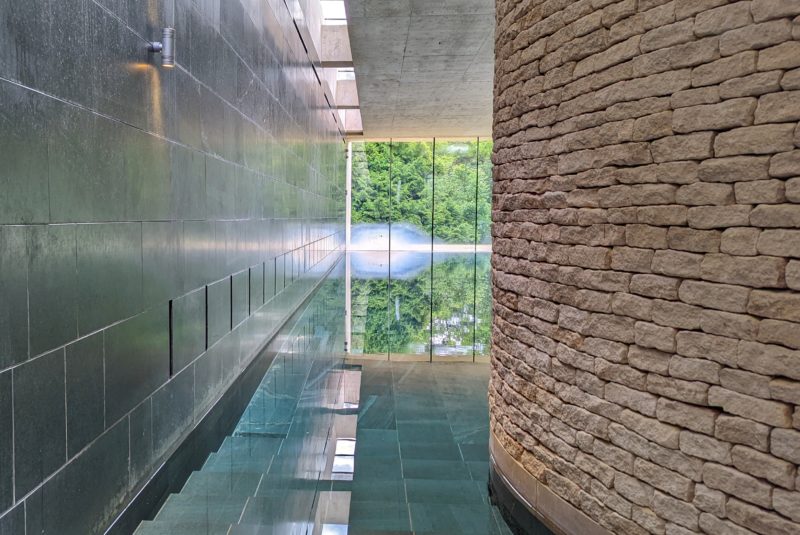 You can't visit a spa town like Cheltenham and not visit a spa! In fact, I recommend booking a spa hotel in between Gloucester and Cheltenham so that you can easily explore both cities. That way, you can enjoy the spa after a long day's sightseeing!
I stayed at Cowley Manor, on the edge of the Cotswolds, which has a beautiful spa. I'd highly recommend this stunning hotel for a spa weekend in Cheltenham and Gloucester. But if you prefer to stay in the town centre, there are several day spas you can visit – I've recommended a few in the next section.
Weekend Itinerary for Gloucester and Cheltenham (Short Version)
To make things easier, I've broken down the following Gloucester and Cheltenham weekend itinerary into three days, allowing for a full day in each, plus a day at a spa.
You don't have to follow this exactly, but the below should give you an idea of how to make the most of your time in the two towns.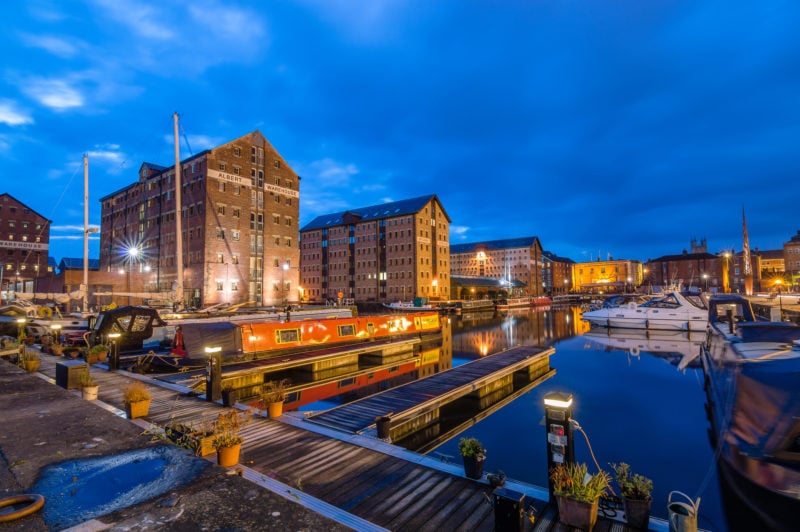 Day One: Exploring Gloucester
Arrive in Gloucester – head for the Cathedral and take a tour.
Browse the independent shops around the cathedral and historic city centre.
Head down to the Historic Docks for a wander – visit the National Waterways Museum, shop and dine at Gloucester Quays, or swing by Gloucester Brewery for a pint of craft beer.
Take a tour of Gloucester Prison – the 5pm one
After dinner – see what's on at the Grade-II-listed Gloucester Guildhall.
Food recommendations
Vietyummy: casual eatery with authentic Vietnamese food.
Greek on the Docks: contemporary restaurant with lovely dockside views, serving up hearty Greek and Mediterranean dishes made using only local ingredients.
Hubble Bubble Coffee House: quirky, family-run coffee shop and cafe.
Day Two: Exploring Cheltenham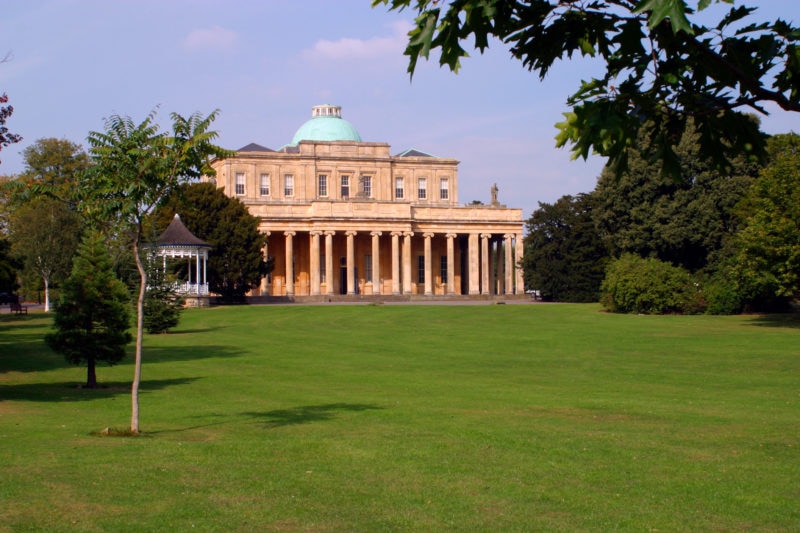 Hire bikes to explore the town – take the Honeybourne Line to Pittville Park and visit the Pittville Pump Rooms.
Head to a festival or event in Cheltenham – there's something on almost every weekend!
Soak up the Regency architecture and grand old houses around Cheltenham.
Dinner recommendation: Victoria restaurant at the stunning Queen's Hotel.
After dinner: explore the Brewery Quarter for drinks, or visit Gin & Juice at No131, which was named 'The Best Hotel Gin Bar' in the world by Gin Magazine.
Day Three: Spa Day
If you've booked a hotel with a spa, like the stunning Cowley Manor near Cheltenham, you'll definitely want to spend at least half a day enjoying it before you head home. If not, book into one of the following day spas in Cheltenham to unwind…
Chapel Spa
Hatherley Manor
Ellenborough Park
Margaret Dabbs London (treatment clinic – no wet spa)
Where to Stay near Cheltenham and Gloucester
Cowley Manor
If you're looking for a spa hotel that gives you easy access to Cheltenham, Gloucester, and the countryside of the Cotswolds, Cowley Manor Hotel & Spa is perfect.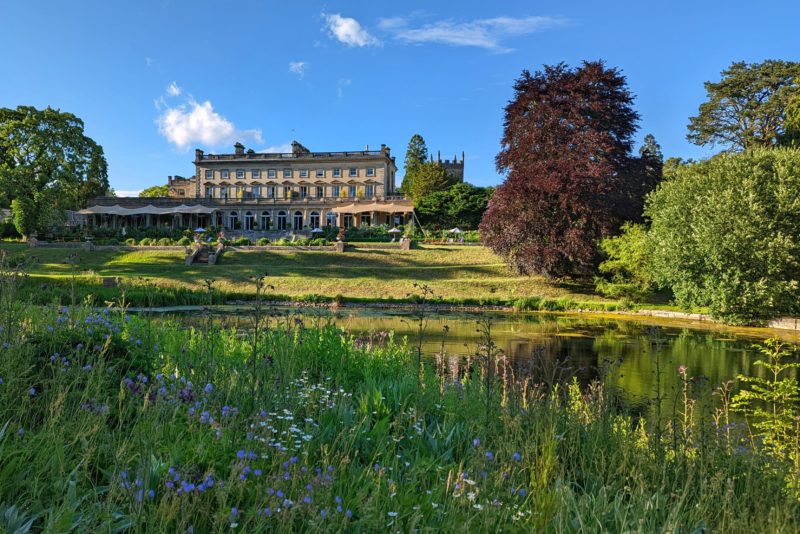 I spent one night here and it's one of the best hotel experiences I've had in a while!
Set within a historic country manor with a grand Italianate exterior and sweeping landscaped grounds, this beautiful boutique hotel feels like something out of a period drama. The interiors are gorgeous too; a perfect blend of traditional and contemporary, with lots of bright colours.
But it's the spa that steals the show. There's both an indoor pool and heated outdoor pool, as well as sauna and steam room, a gym, and a great menu of treatments. It's housed in a new complex opposite the manor, surrounded by trees, so it feels ultra tranquil – you'll struggle to tear yourself away!
Hatton Court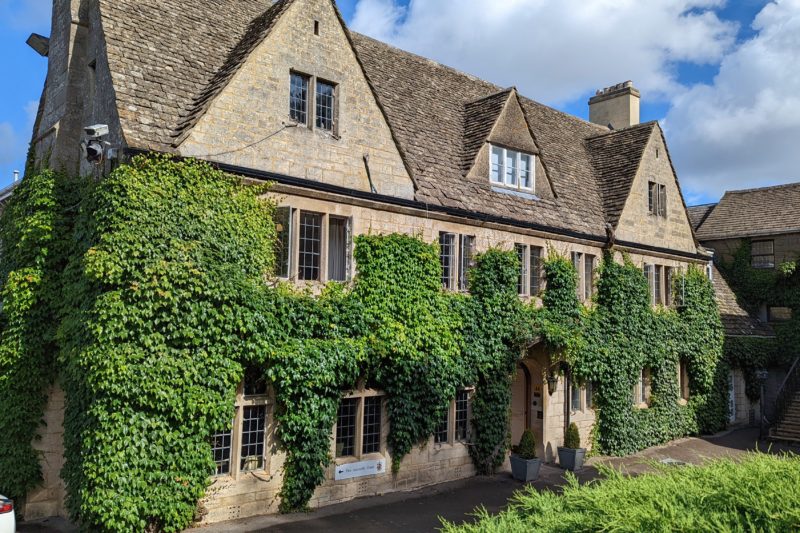 Just on the edge of Gloucester, where the Cotswolds AONB begins, lies the charming, ivy-clad Hatton Court Hotel. I also spent a night at this lovely country house hotel and it's a great place to stay if you want to blend countryside and city on your holiday.
The views from this picturesque hotel are stunning – especially from the dining room. Eating breakfast whilst enjoying the views of rolling countryside is a gorgeous way to start the day.
If you're looking for a comfortable place to stay with ultra-friendly service and cosy, country-house vibes, this could be perfect for your trip to Gloucester and Cheltenham.
How to Get from Gloucester to Cheltenham (and Vice Versa)
Gloucester and Cheltenham are only a few miles apart, so getting from one to the other is incredibly easy. In fact, you could almost walk it (though I don't recommend it!).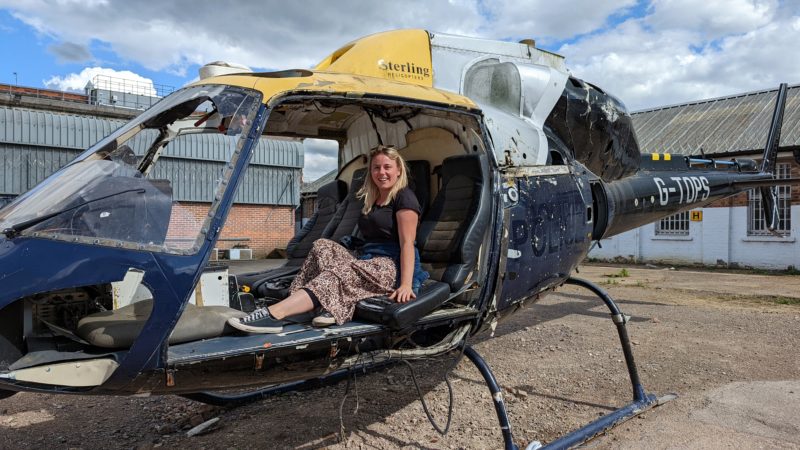 By Car: It takes around 20 minutes to drive from one city centre to the other. Of course, the exact driving time depends on your departure and arrival points.
In Gloucester, St Michael's Square Car Park is near the town centre, while Gloucester Quays is in the best location for visiting the Docks. Cheltenham's Town Centre Car Park and the Regent Arcade shopping mall's car park are both close to the high street and shopping area.
By Train: On average, it takes about 10 minutes to travel from Gloucester to Cheltenham or vice versa by train. According to thetrainline.com, there are normally 59 trains a day, and the journey starts from just £3.80.
The downside is that neither train station is bang in the centre. Gloucester Station is about a 10-minute walk from the centre, while Cheltenham Spa Station is around 15-25 minutes walk from the town centre. Alternatively, you can hire bikes from The Bicycle Hub right next door to the train station. You can also rent electric scooters from the train station via Zwings.
By Bus: Stagecoach Buses run from Gloucester to Cheltenham and back fairly regularly, and take around 25 minutes. See Stagecoach for timetables and more info.
I hope you've found this weekend itinerary and guide for Gloucester and Cheltenham helpful! Scroll down to leave a comment if you have any questions!
Read More
Best Places to Visit in the South of England