Some posts on this site contain affiliate links. If you book or buy something through these links, I earn a small commission (at no extra cost to you). Take a look at my privacy policy for more information.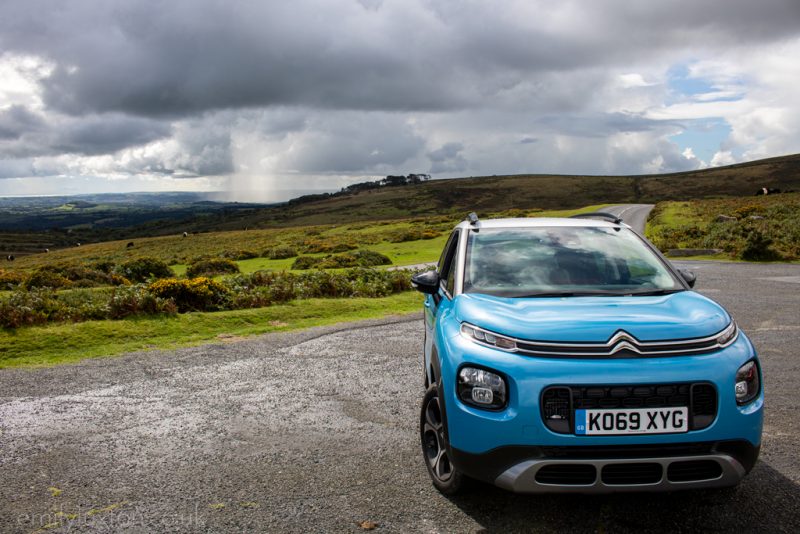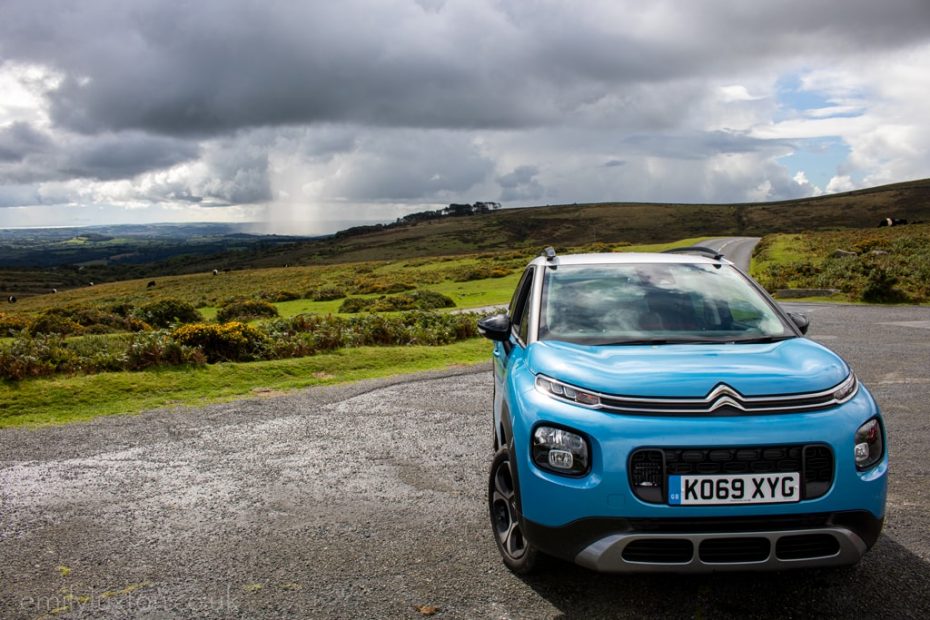 Dartmoor was just as I remembered it: wild, green, and wet. The rain was relentless. Even after it stopped, it was still there. Dampness lingering in everything: in the soft moss clinging to ancient stone walls, the mulch of leaves underfoot, the sodden outer-sheet of my tent back at the campsite, the heavy grey of the sky.
I should have been miserable. My shoes and clothes were sopping, my tent leaked at night, half of my pillow was soggy, and the sporadic flashes of torrential rain put paid to the two days of hiking I'd planned. If I was at home, the weather would have got me down. But on Dartmoor, rain felt right.
And the simple joys of camping, of sipping hot coffee in the entrance of my tent, of watching rain drip from pine needles and run down shivering ferns, of walking through dense forests and across hilltops where the tail-ends of clouds snagged on the tumbled piles of ancient rocks… it gave me something I didn't know I needed, something the rain couldn't take away.
I'd been loaned the Citroën C3 Aircross and wanted to give it a proper test. The C3 Aircross is a compact SUV, so I figured the winding country lanes and unpredictable weather of Dartmoor would be the perfect place to see it in action. So, I loaded up the boot with camping supplies, grabbed all the waterproofs I could find, and hit the road. 
Post sponsored by Citroën, but all travel was planned and paid for by me.
Dartmoor Camping Trip
Dartmoor National Park is the place where my sense of adventure was born, really. I visited over and over on camping trips with school, and this was where I first learned the value of pushing yourself out of your comfort zone and trying new things. It seemed, then, like the perfect place to come for my second ever solo camping trip.
I arrived the day after a storm to soaked ground and inescapable mud. My campsite was on a farm near the edge of the park, tucked into a sheltered valley with a rushing stream winding through it beneath sweet-scented pine trees.
It was simple and rustic and absolutely perfect. I put my tent up in a bog and went for a walk up a muddy track to the top of the nearest hill. Views of soggy cows and rolling hills greeted me, and it felt so much like a homecoming I actually felt a bit emotional.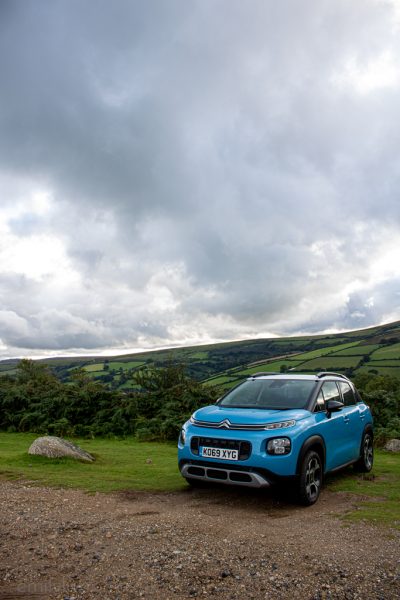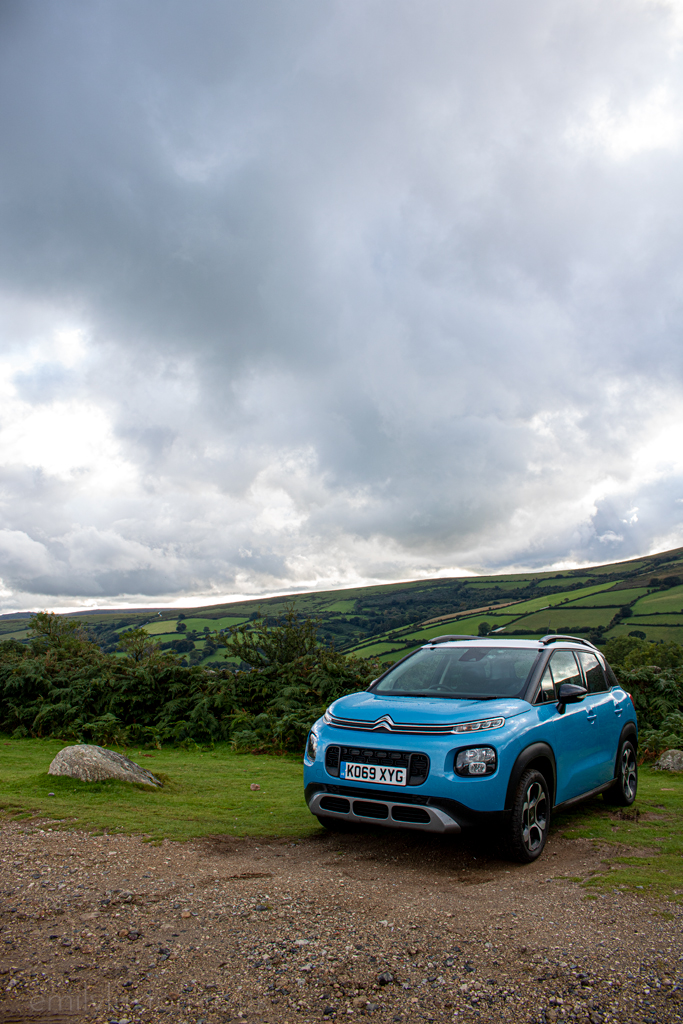 There was something there – in the smell of ferns and mud and damp earth, in the mossy rocks and sturdy pines – something I couldn't capture in photographs or words but that felt like stepping back in time, to when I was young and this landscape bubbled with the promise of adventure.
This is a hard blog post to write, because truth be told I didn't actually do a whole lot on my 48 hours camping in Dartmoor. That evening I used my new camping stove to cook a dinner of soup and pesto-pasta, squatting over the damp ground, fighting a losing battle trying to light wet logs in a soggy firepit. I drank red wine from an enamel mug and watched the rising moon cast a halo in the haze of drizzle above the treeline. I went to bed early for lack of anything better to do, and woke up to a grey dawn heavy with the scent of an oncoming storm.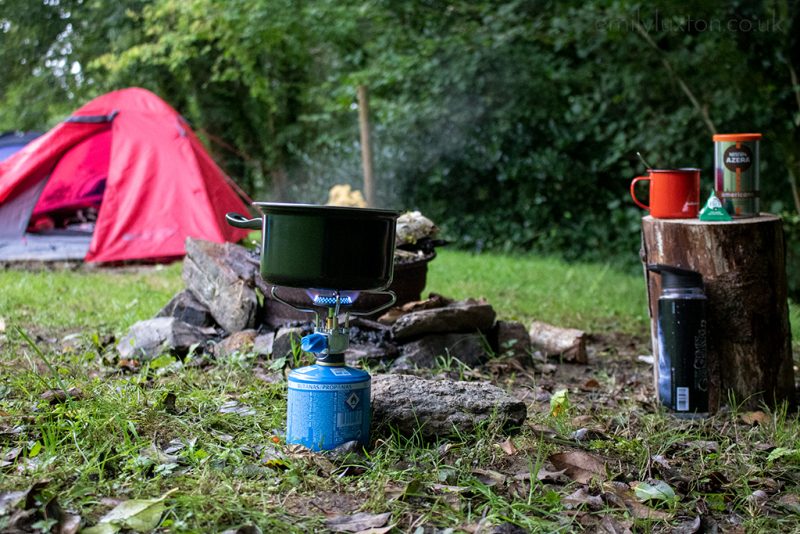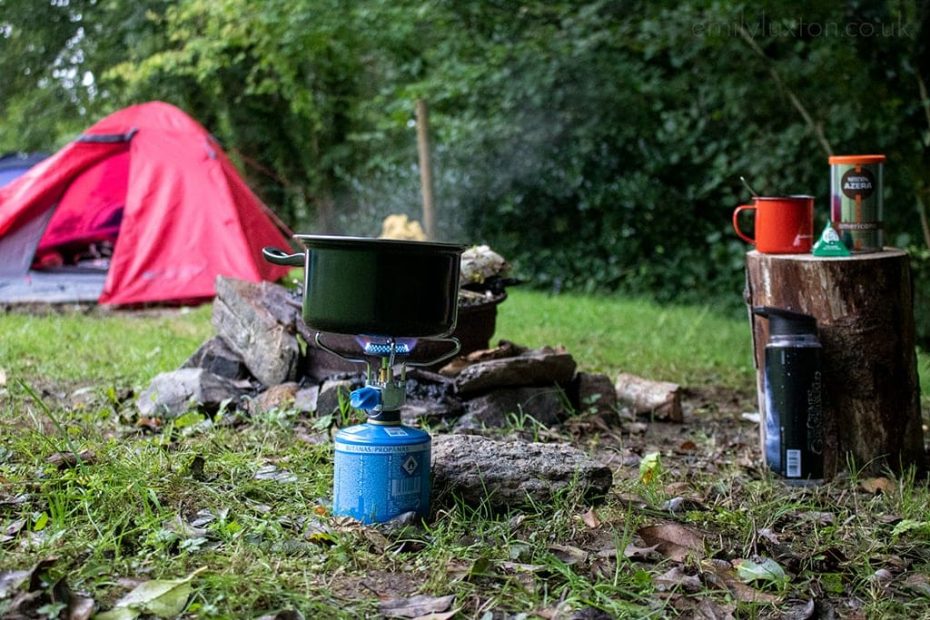 A Wet Road Trip
The sky tore apart as I was making breakfast, so I swapped the full day hike I'd planned for a road trip in the rain. Normally, country lanes terrify me, especially in the rain. But the Citroën was an automatic, which made life easier, and a seriously powerful car that seemed ready to take on anything. So I felt a lot more confident, even when the storm flooded the roads and turned a hill into a waterfall.
I stopped at Combestone Tor, a face in the rocks grimacing against a white-out sky. Then through Princetown, past the pub and campsite where I'd spent all those school trips. By the time I reached Burrator Reservoir, the storm had gotten so bad I had to park up and wait it out. When it showed no signs of ever ending, I admitted defeat and drove to a village in search of a pub.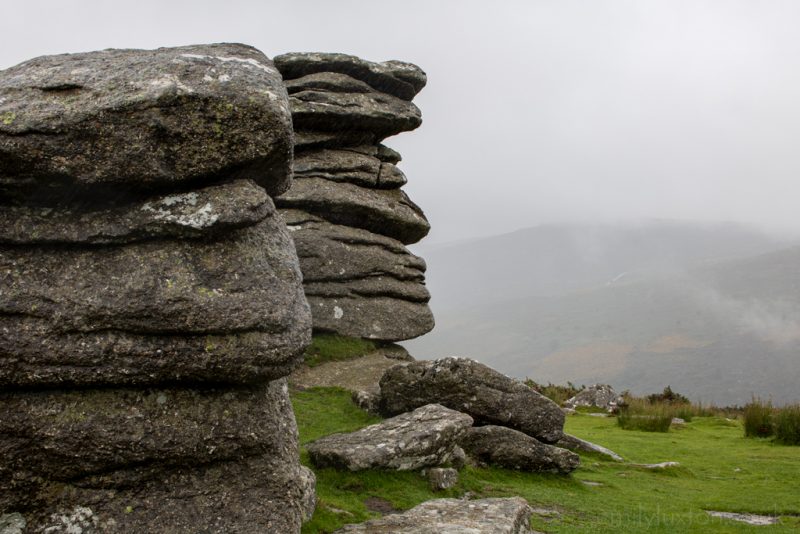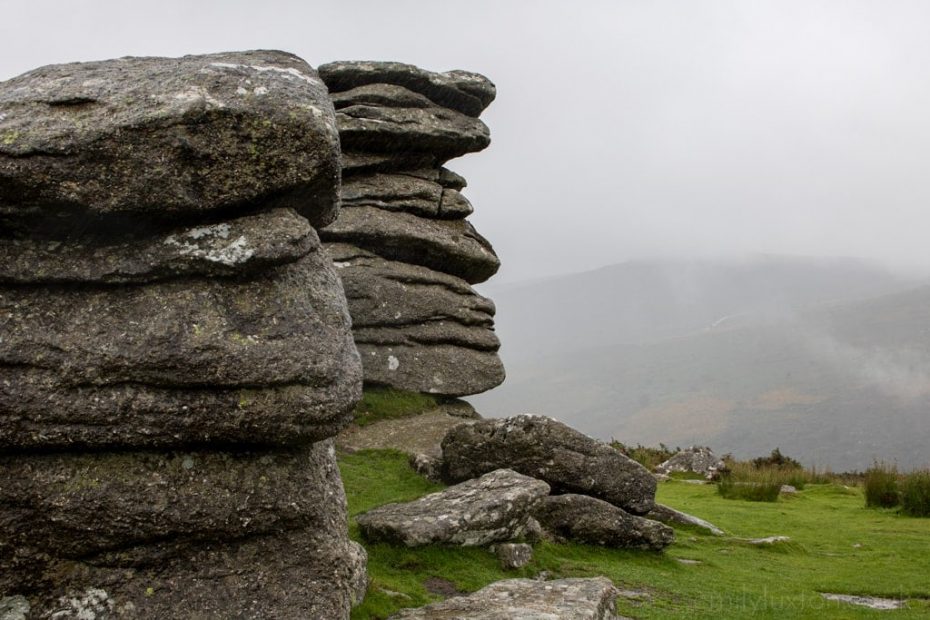 Widecombe-in-the-Moor
After a massive pub lunch at the Old Inn, the rain had finally blown off, leaving behind beaming blue skies over a stunning landscape. Crooked stone buildings and windswept moorlands filled with purple heather.
The walk to the nearest tors, Bonehill Rocks and Honeybag Tor, was mostly on country lanes and gravel paths, so it wasn't quite the wilderness hike I'd had in mind. But just getting out after the rain felt glorious!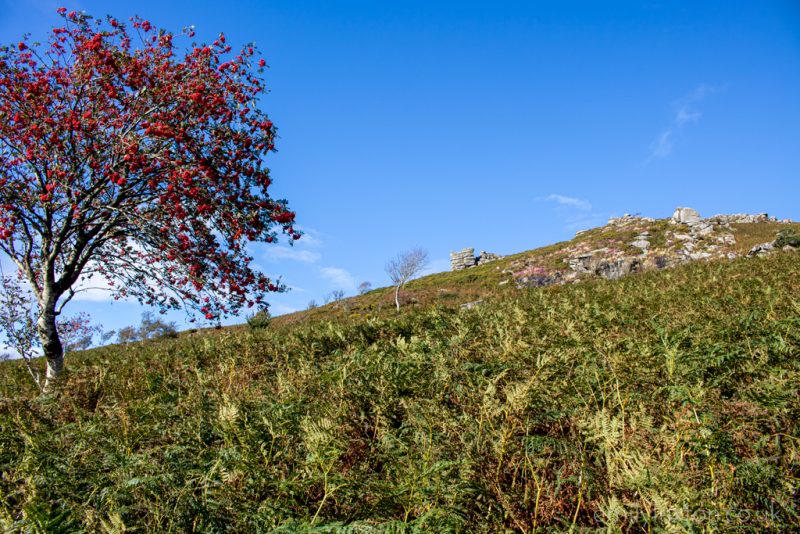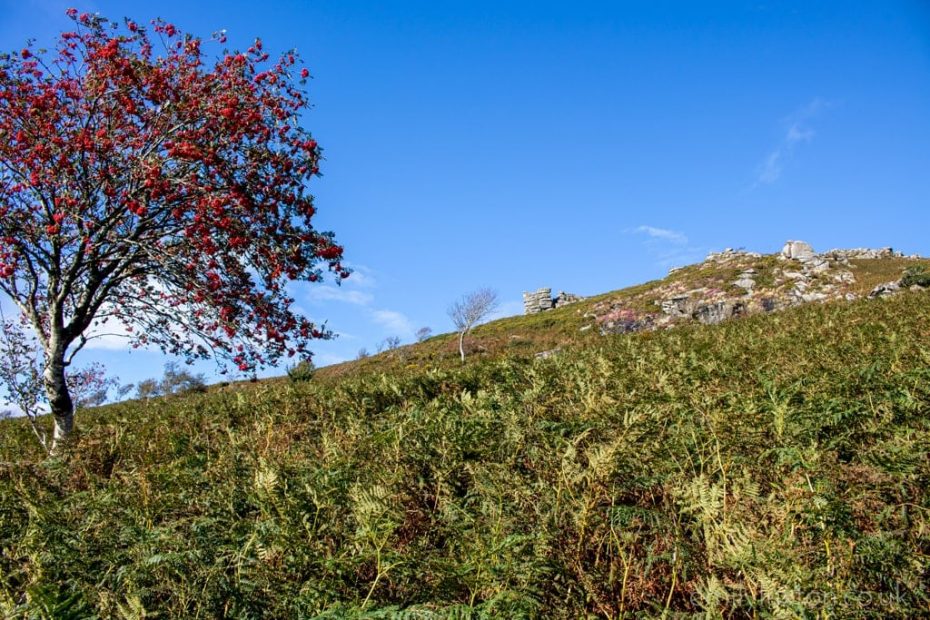 Until I found the path blocked by an angry bull. He followed me, horns lowered menacingly, as I backed away. When he seemed unlikely to leave me alone, I dived off the path and followed a narrow track through the undergrowth. This stopped being a track pretty quickly, and twenty minutes later I was neck-deep in ferns on a hillside, fighting my way through a tangle of bushes in search of the path.
Despite detours and moody cattle, and the return of the rain as I made the descent back to the village, I loved that walk. Every step I took on Dartmoor felt like being a kid again, when a camping trip with school was the biggest adventure in the world.
Making the Best of Things
In the end, my Dartmoor road trip wasn't quite what I'd planned. Camping was soggy, I couldn't light my fire, everything was wet through and caked in mud. The storm stopped me from hiking, and chased me out early on my last day.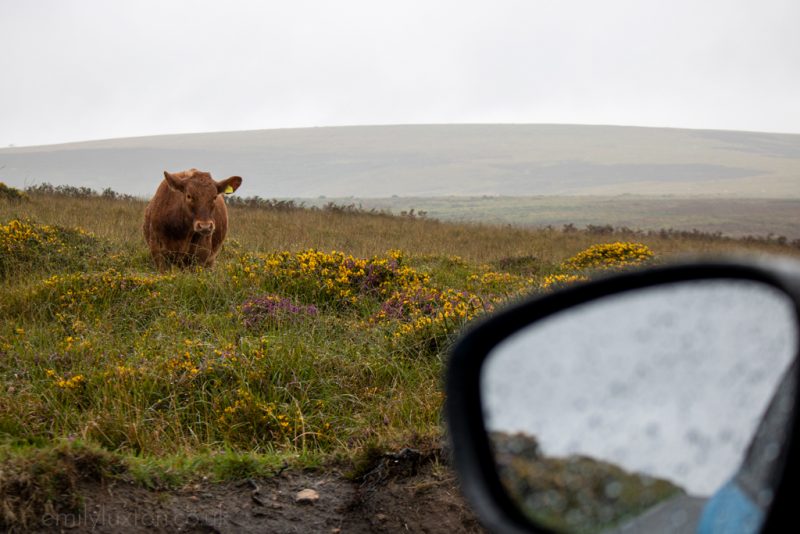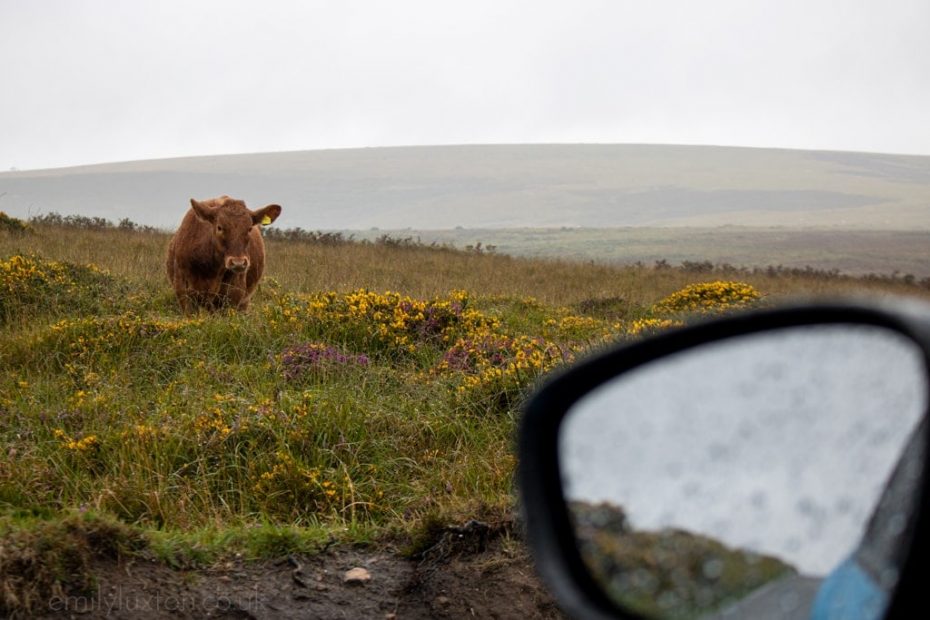 But I loved every moment. Just hanging out at my tent, making damp al fresco meals on my little gas stove, feeling "at one" with nature.
Spiritually and emotionally, it was exactly what I needed. To break myself out of that comfortable rut of Netflix evenings and hunching over my laptop all day. Getting back into the outdoors, feeling the rain on my face, remembering how to deal with difficult travel stuff without grumbling… it was restorative.
Solo camping really fills the gap left behind by travel at the moment, and I've definitely discovered a new hobby. Now I just need to invest in a better tent before Autumn hits England!
Where I Stayed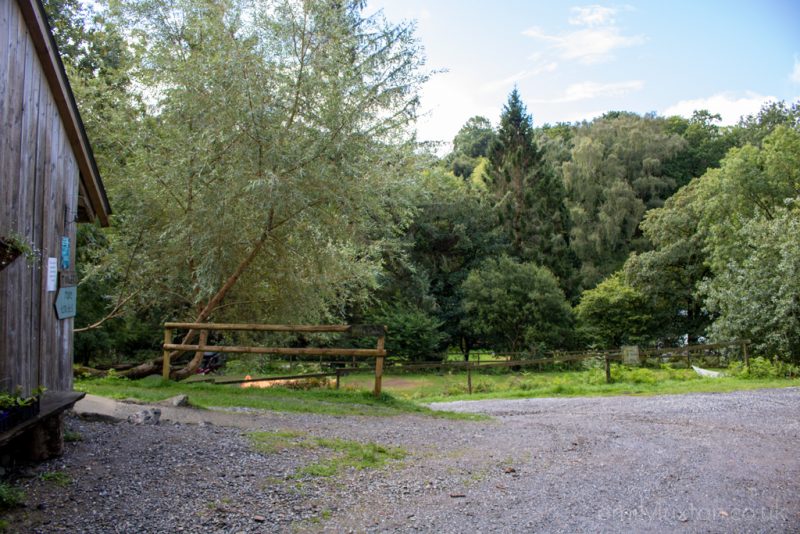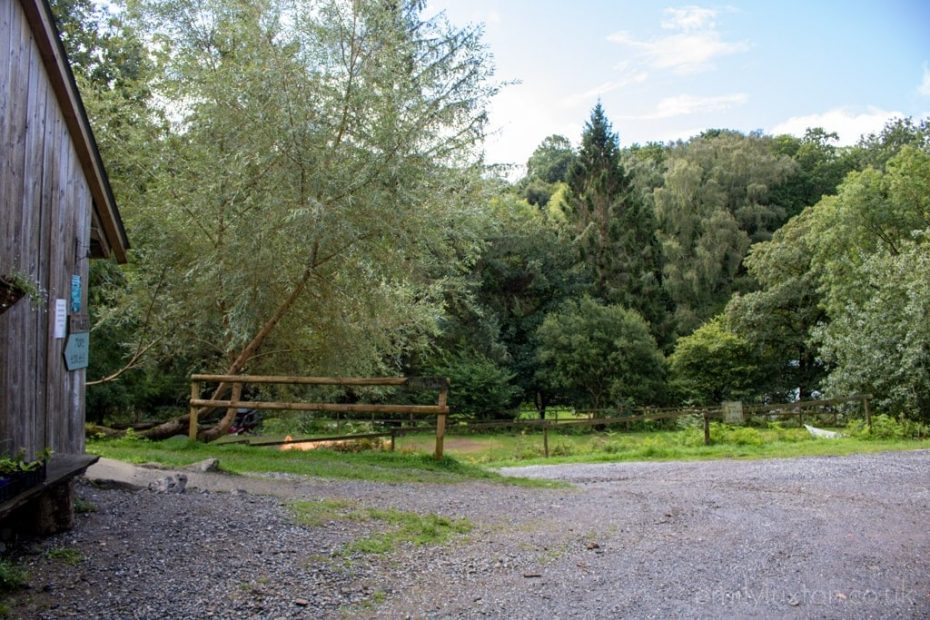 I stayed on a grass tent pitch at Dartmoor Shepherd's Huts campsite. If you're looking for a decent, affordable campsite in Dartmoor, this is it. It was quiet and family-friendly, with rope swings over the river and a lovely, tranquil setting. The toilet blocks were basic but clean, and the hot showers were a godsend after the rain!
This is the perfect campsite for a solo trip, as there were no rowdy groups and everyone is encouraged to keep noise down. All the pitches had firepits, and you could buy a massive bag of logs for £5 – even though I couldn't actually get my fire lit!
The Citroën C3 Aircross (AD)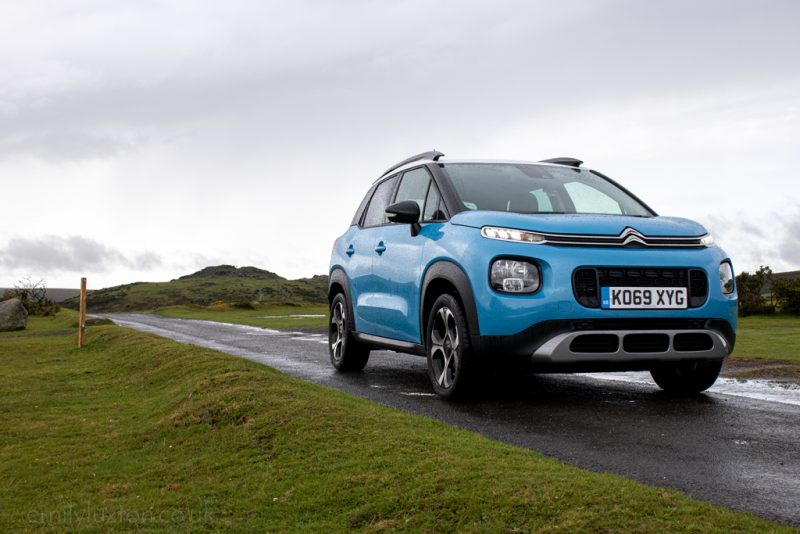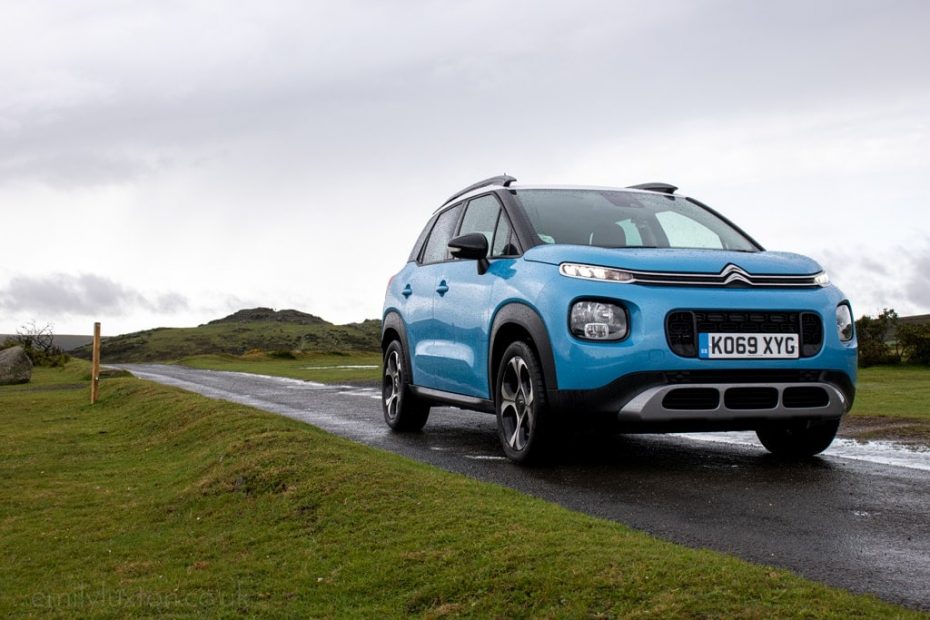 I LOVED driving the Citroën C3 Aircross last week. I was worried it would feel too big, but I got used to it really quickly, and it felt amazing to be so high up compared to my little car!
More importantly, the car handled really well – even on those wet and winding lanes. I drove through a couple of spots where streams had broken their banks and flooded the roads, and stopped in lots of off-road car parks. The car drove fine on uneven ground, on wet dirt tracks, through bogs, and over rocks!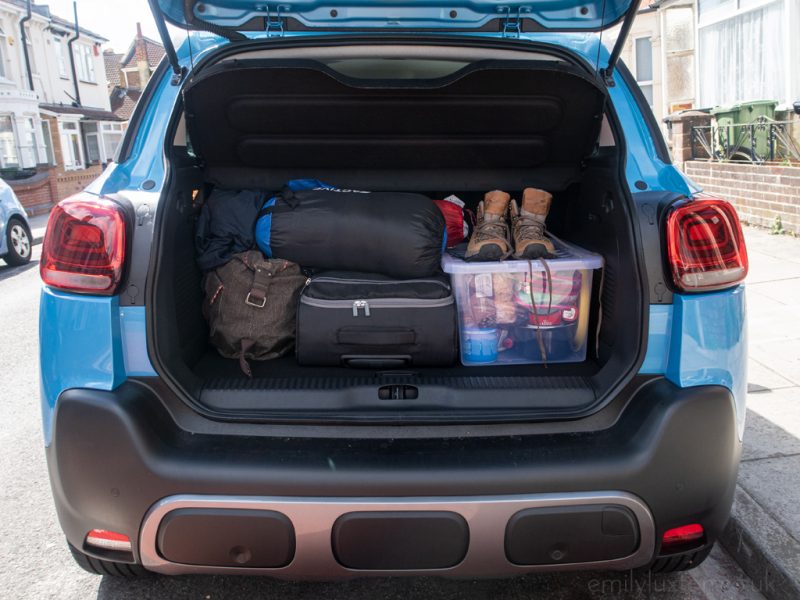 Plus the boot was massive – a standard volume of 410 litres which can be increased to 520 litres – perfect for camping trips. I loved the high-tech sound system and screen for using Android Auto for things like Google Maps. And then there were all the driving aids… the C3 Aircross beeped at me when I drifted over the white lines, and when another car got too close. It also came with park assist and a reversing cam, and I now honestly don't think I can go back to not having them!
This is an ideal car for outdoor adventures like camping or exploring the great British countryside – no matter what the weather is doing.
When was the last time you had an adventure in the great outdoors? Don't forget to leave me a comment!
Pin this Post