Some posts on this site contain affiliate links. If you book or buy something through these links, I earn a small commission (at no extra cost to you). Take a look at my privacy policy for more information.

From seaside hotspots and bougie harbour towns to historic cities and rolling rural landscapes, these are some of the very best places to visit in South Devon…
Southwest England is easily one of the best, and most popular, holiday destinations in the country. And Devon has it all! Beaches to suit all possible tastes, an epic foodie scene, gorgeous little villages, and one of England's greatest wildernesses.
Neighbouring Cornwall might be better known as a beach holiday destination, but personally, I think I prefer Devon. I live just next-door in Dorset, so I know the whole southwest very well. And after spending the last couple of months visting nearly every corner of Devon while researching for a guidebook, I know the county better than ever!
So, I've popped together this guide to the most beautiful towns, greatest beaches and best places to visit on your trip to south Devon.
Get ready for beach days, cliff walks, quaint harbours, river journeys, glorious wildlife, and SO much more…
Map: Best Places to Visit in South Devon
For tthis post, I'm focusing on the most southern section of the county rather than the whole southern half of Devon. Exeter, Exmouth and beyond fall into 'East Devon' and won't be covered here – but they're well worth visiting too!
12 Best Places to Visit in South Devon
1. Dartmouth
Spread along the west bank of the wide Dart Estuary, Dartmouth has long been a significant port. There's a prestigious naval college, a swanky yacht marina, and a historic harbour area to discover.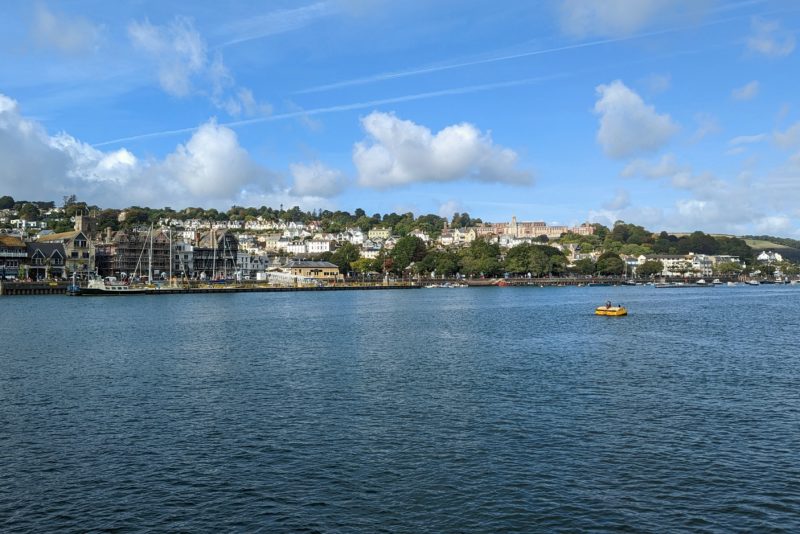 Today, the town's crooked streets and stunning old buildings house posh restaurants, cosy bars, swish art galleries, and cool boutiques. Oh, and a lot of nautical clothing shops – there's no escaping the maritime vibes here!
One of the best things about Dartmouth is exploring by river. Take the ferry downriver to visit Dartmouth Castle, the oldest parts of which date from 1388. Next, take a leisurely cruise upriver to spot the wildlife including seals, kingfishers, wading birds and (sometimes) otters. Finally, take the ferry to Greenway, Agatha Chistie's former holiday home, now a National Trust property.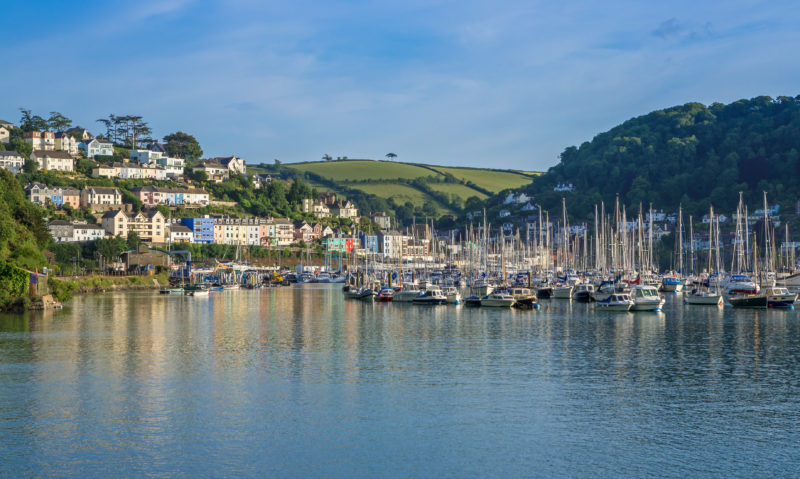 2. Plymouth
Devon's largest city, Plymouth has a rich maritime heritage, earning it the nickname 'Ocean City'. Some of history's most famous voyages set sail from the port here: including the Mayflower Pilgrims, Captain James Cook and Francis Drake.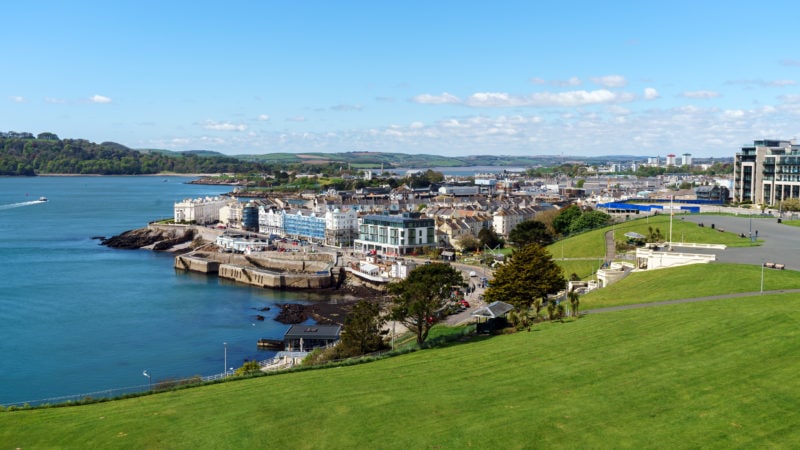 More recently, Plymouth has been undergoing a dramatic transformation. The city was heavily bombed during WWII due to its role as a key naval port, and the hasty rebuilding left behind a city centre that tended to favour functionality over style.
But that's all changing – thanks to trendy new waterfront revelopments around Sutton Harbour and Royal William Yard, plus an exciting new Arts Quarter. This last one is around the University area, with galleries, funky new architecture, and the lively Tavistock Place.
Top things to do in Plymouth
Visit The Box – a fantastic new museum showcasing Plymouth's maritime history.
Explore the historic harbourside Barbican area and visit the Mayflower Steps, where the Pilgrims sailed from.
Tour Black Friar's Distillery – the home of Plymouth Gin and England's oldest working gin distillery.
Visit the National Marine Aquarium – the UK's largest aquarium.
Find out more in my guide to the BEST things to do in Plymouth.
3. Burgh Island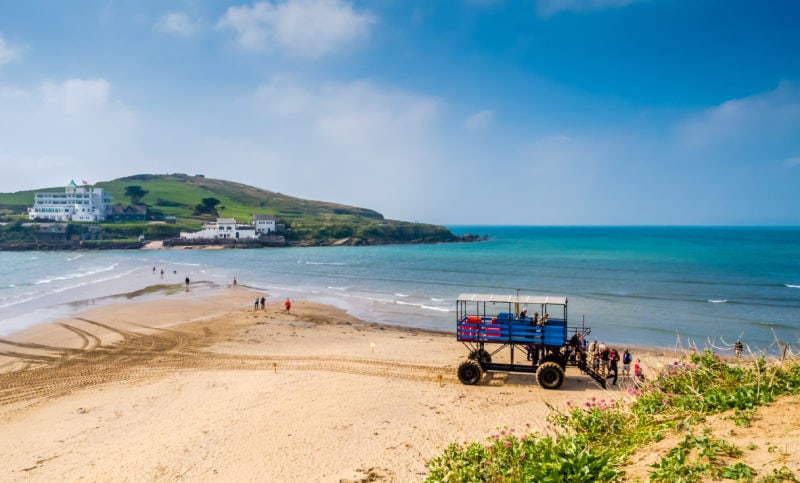 You can't skip Burgh Island when you visit south Devon – this iconic landmark is one of the best places for a mini adventure! It's a tidal island, connected to the mainland by a strip of beach that completely dissappears at high tide.
At low tide, you can walk to Burgh Island from Bigbury-on-Sea. Or, at high tide, there's the Sea Tractor. This unique, bizarre-looking contraption is is operated by Burgh Island Hotel; you'll find timetables posted at the beach carpark in Bigbury-on-Sea and at the entrance to the island.
There are only a handful of buildings on Burgh Island, and no roads to speak of. This is a place to get away from it all: walk the coast path, spot wildlife, and climb the hill for views of the coast. To eat, there's the swanky art deco Burgh Island Hotel or the 14th-century Pilchard Inn – one of England's oldest taverns and apparently haunted by a smuggler's ghost.
4. Salcombe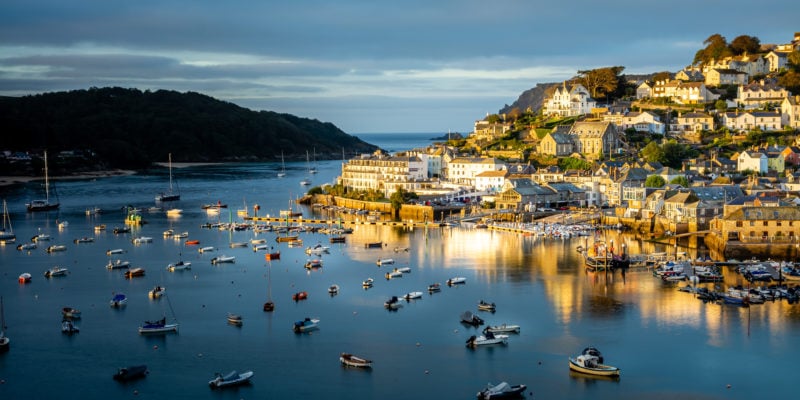 Just along the coast from Dartmouth you'll find another sailing mecca to explore. Siting at the mouth of the serene Kingsbridge Estuary, Salcombe is one of south Devon's most upmarket destinations.
This bougie little town – with its sheltered moorings, white sandy beaches, and fancy food scene – attracts a bit of a yachtie crowd. But there's plenty here for everyone to enjoy.
Get ready for incredible seafood (don't miss the Crab Shack), epic cliff walks, and gorgeous beaches. South Sands and North Sands are closest, or take the ferry to explore the idyllic beaches around East Portlemouth on the opposite bank. You can also take a ferry upriver to the historic market town of Kingsbridge.
5. Torquay & The English Riviera

The three towns clustered around the wide spread of Tor Bay earned themselves the nickname of 'The English Riviera' around the time of the Napoleonic Wars (1803-1815). With the French Riviera off limits, wealthy Georgians turned to the calm, sheltered waters of Tor Bay instead. After all, this gorgeous turquoise bay is one of the most beautiful places in Devon!
Torquay and Paignton are the two largest towns. Both have some lovely beaches and lots of nostalgic seaside vibes. If you're looking for the classic English seaside experience, this is the place to come!
Torquay is a little more upscale, with lots of grand Victorian villas and parks. Paignton is a little more 'cheap and cheerful' and feels a bit run down in spots. But it has some lovely beaches (Goodrington and Broadsands in particular), plus a retro Victorian pier lined with funfair rides and arcades.
Best Things to do in the English Riviera
Go Underground at Kents Cavern, a network of caves directly beneath Torquay.
Take the steam train to Dartmouth.
Walk the Agatha Christie Trail – the world-famous crime fiction writer was born in Torquay and lots of locations here appear in her novels. Or take a guided tour (from £28pp) – click here for more info.
Hop aboard the Babbacombe Cliff Railway, a 1920s furnicular down to the red sands of Oddicombe Beach.
6. Brixham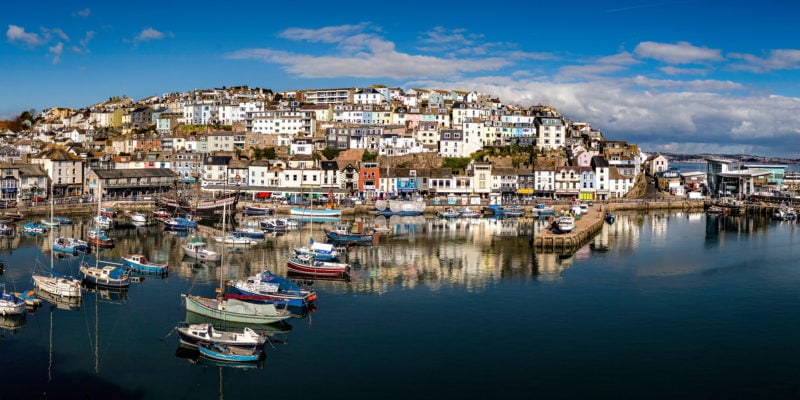 Brixham is also on the English Riviera, but has a very different vibe to Torquay and Paington. Colourful fishermen's cottages are clustered onto the hillside above Brixham's busy working harbour. This is home to one of the largest fishing fleets in the UK, so the seafood scene in Brixham is unbeatable!
You can take fishing trips and boat tours from the harbour, or take a tour of the harbourside Fish Market with a fish breakfast at the excellent Rockfish restaurant. Don't miss the lifesize replica of the Golden Hind, Fransic Drake's ship!
7. Dartmoor National Park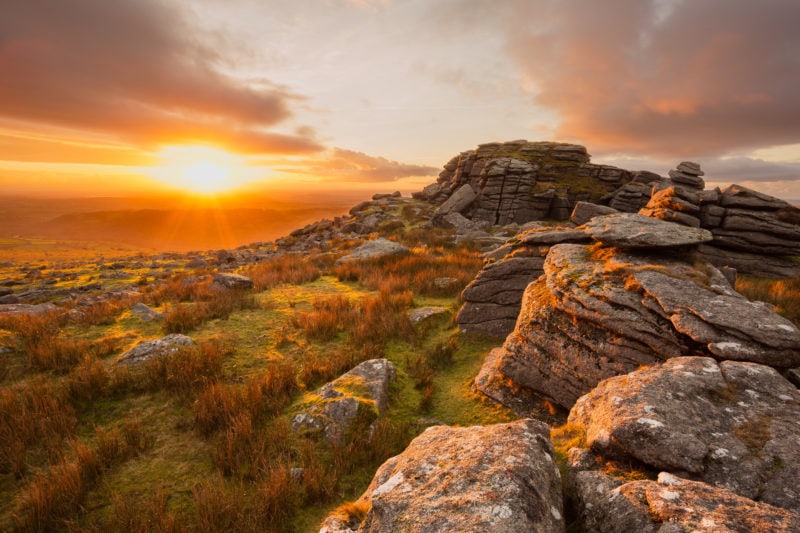 It's not all about the south coast in Devon – there are plenty of amazing places to visit in the county's gorgeous rural interior, too. And one of my personal favourites is Dartmoor National Park.
Honestly, I could wax lyrical about this place – but I'll try to contain myself! It's one of England's last true wildernesses: a vast area of heather-strewn moors, towering granite tors (hilltop boulders) and dense forests. And mystery! Legends, folklore and ghost stories abound on Dartmoor, and amidst these dramatic landscapes its easy to start believing them.
Don't miss the impossibly cute village of Widecombe-in-the-Moor, the ancient Bronze Age settlement at Grimspound, or the iconic Haytor Rocks – a great spot for a walk. I also love the walk along the old Princetown Railway out to King's Tor and the historic Foggintor Quarry.
8. Totnes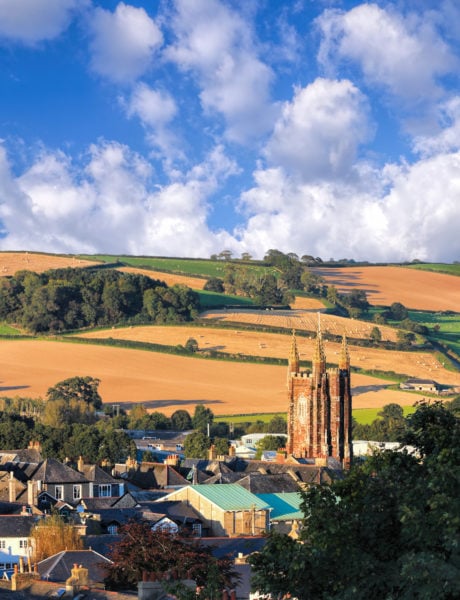 Right in the heart of rural south Devon sits Totnes, the UK's first Transition Town and probably the most ethical town in England! It was one of the very first towns in The Transition Network, a worldwide movement through which communities aim to tackle global crises at a local level.
The result is a creative, community-minded town with one of the most independent high streets you'll ever find. The veggie/vegan food scene is STRONG here. Don't miss Riverford Field Kitchen for a seasonal, farm-to-fork dining experience.
There's also a lot of history to discover – particularly the anceint Totnes Castle – as well as the serene, wildlife-rich River Dart. Totnes sits at the head of the Dart Estuary; you can take ferry rides and boat tours to Dartmouth, or hop on a kayak/SUP to explore.
9. Start Bay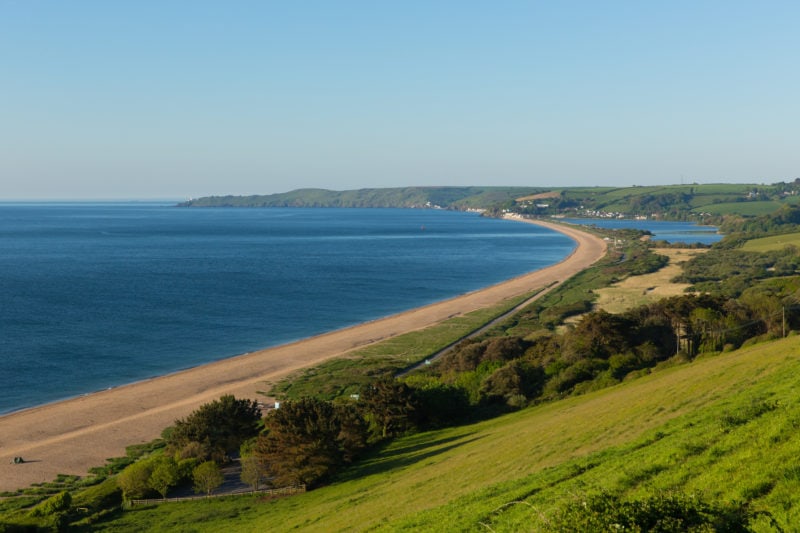 Just west of Dartmouth, the wide sweep of Start Bay is one of the most beautiful spots along this stretch of coast.
Slapton Sands sits at the centre of the bay: a narrow strip of shingle beach between the sea on one side and a huge lake on the other. The lake, Slapton Ley, is surrounded by a wildlife-rich nature reserve and makes an excellent spot for a walk. You can get a fantastic view of it all from on high as you drive out of the village of Strete. Driving across the thin strip of Slapton Sands is a fun experience, too.
At the southwestern end of the bay, Start Point is a great area for hiking and adventures. Hit the coast path to glimpse the remains of South Hallsands village, washed away by a terrible storm in 1917, and to visit Start Point Lighthouse. Follow the path around the headland to reach the remote, crescent-shaped beach at Mattiscombe Sands. Chances are, you'll have the place to yourself!
10. Teignmouth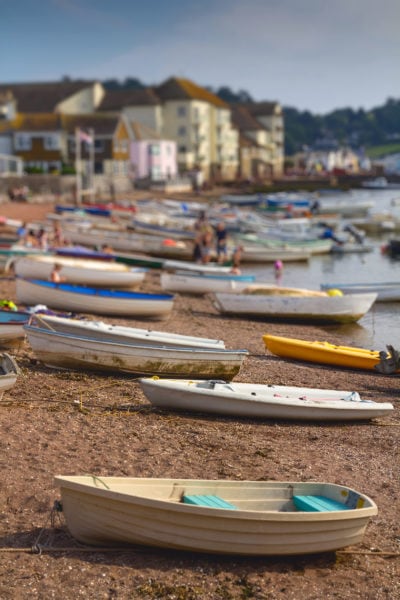 Just northeast from Torquay sits another historic seaside town: Teignmouth. There's a grand Victorian pier, a pretty Georgian seafront, and a striking rust-coloured sandy beach.
Beyond the nostalgic beach vibes, Teignmouth also has an excellent food scene. It sits at the mouth of the River Teign (hence the imaginative name!), so is surrounded by excellent produce. There are mussel and oyster beds on the river, lots of fertile farmland, and a fantastic local fishing industry.
11. Dawlish Warren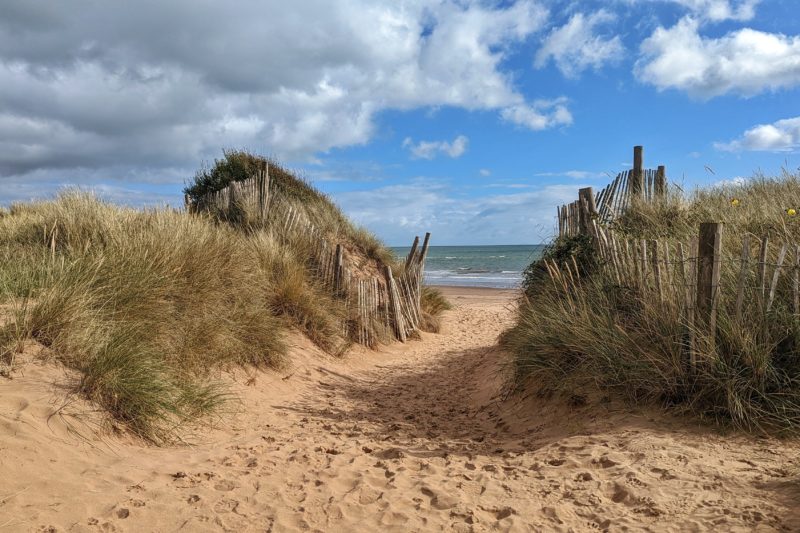 Just along the coast from Teignmouth, Dawlish Warren is home to one of the most beautiful beaches in south Devon.
Dwalish Warren itself is a small village known for its cheap-and-cheerful holiday parks and retro amusement park. But just outside of the town sits Dawlish Warren Nature Reserve – the perfect place to get away from it all.
The reserve is right on the mouth of the Exe Estuary, one of the most important locations for migrating birds known for its rich and varied wildlife thorughout the year. And skirting this nature reserve is an idyllic – and often almost empty – white-sand beach backed by grass-topped dunes.
12. Tamar Valley AONB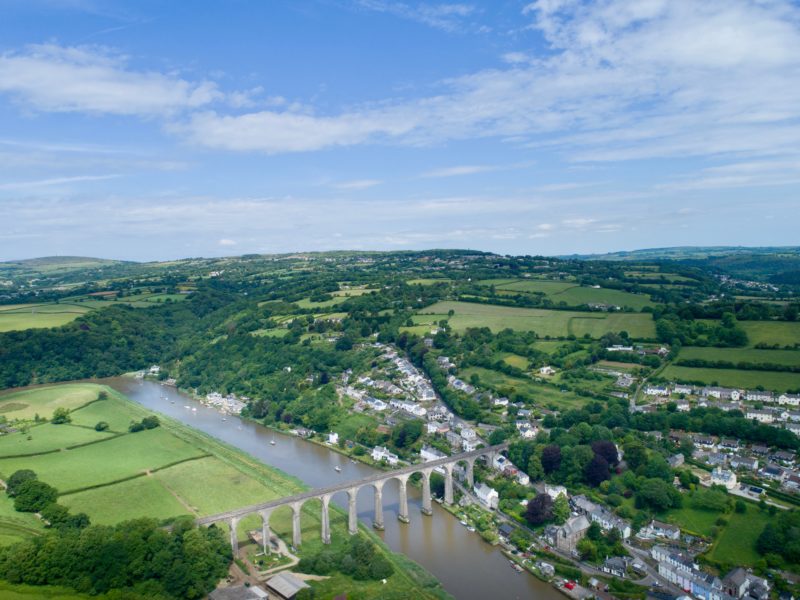 Last, but definitely not least, on this list of the best places to visit in South Devon, we have the Tamar Valley Area of Natural Beauty. Just north of Plymouth, this is a rich rural landscape full of rolling valleys and picturesque woodland.
Here, history and nature collide. Though Cornwall is more famous for its mining heritage, West Devon had its share of mines – particularly around the Tamar Valley. Don't miss the ancient stannary town of Tavistock, a beautiful little place with a great independent shopping scene, or Morewellham Quay, a living museum where you can take a ride on an underground mine train!
The Tamar Valley is also a great place for walking and biking. Try Drake's Trail, a 21-mile cycling and walking route between Tavistock and Plymouth. You can do the whole thing, or just a section!
Top Attractions in South Devon – A Quick List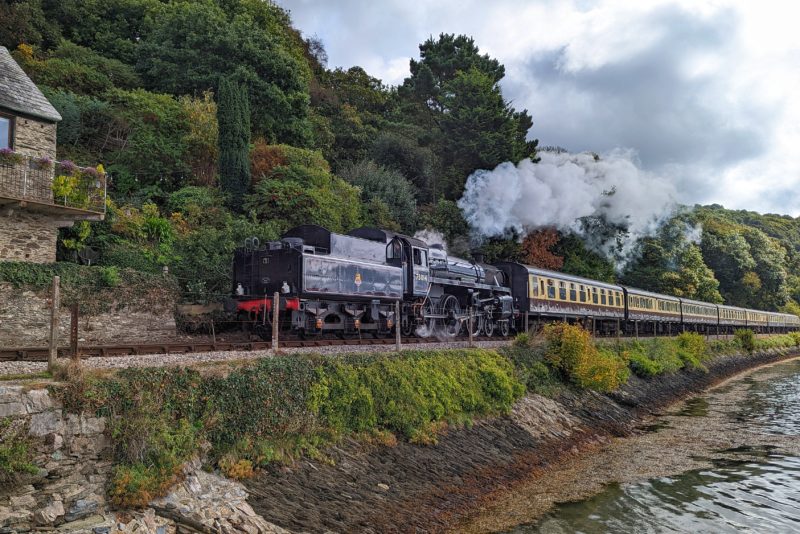 Below, I've listed a few of the top attractions dotted around South Devon. These aren't quite 'places to visit' but they're all great additions to any holiday.
Dartmouth Steam Railway and Riverboat Company – take a steam train from Paignton to Dartmouth, river cruise to Totnes, then a bus back to Paignton. You can do this 'Round Robin' trip in any order.
Greenway – a grand white country manor once owned by Agatha Christie.
Buckland Abbey – a manor house built from a 700-year-old Cistercian monastery, once home to Francis Drake.
Saltram House – historic property near Plymouth used as a filming location for Sense and Sensibility.
Overbeck's Garden – beautiful clifftop gardens near Salcombe.
The Miniature Pony Centre to meet Dartmoor's most famous residents!
Salcbome Gin School – distill your own bottle of gin!
The Shops at Dartington – posh boutique shops on the Dartington Estate.
Sandridge Barton – a vineyard near Dartmouth and the home of Sharpham Wine.
Best Beaches in South Devon
A quick round up of the best beaches to visit when you hit the south Devon coast!
South Milton Sands
Hope Cove
Dawlish Warren
Bantham Beach, near Bigbury-on-Sea (one of the south coast's best surfing beaches)
Blackpool Sands, near Dartmouth
South Sands and North Sands , Salcombe
Anstey's Cove, Torquay
Goodrington Beach, Paignton
Broadsands Beach, Paignton
Torre Abbey Sands, Torquay
Mattiscombe Sands, Start Point (can only be reached by walking)
Ness Cove Beach, Teignmouth
Wembury Beach, near Plymouth
Read More
50 Unique Things to do in Dorset
Best Places to Visit on the South Coast of England
Best Places to Vist in South England
Are there any more great places to visit in South Devon that I've missed? Let me know in the comments!