Some posts on this site contain affiliate links. If you book or buy something through these links, I earn a small commission (at no extra cost to you). Take a look at my privacy policy for more information.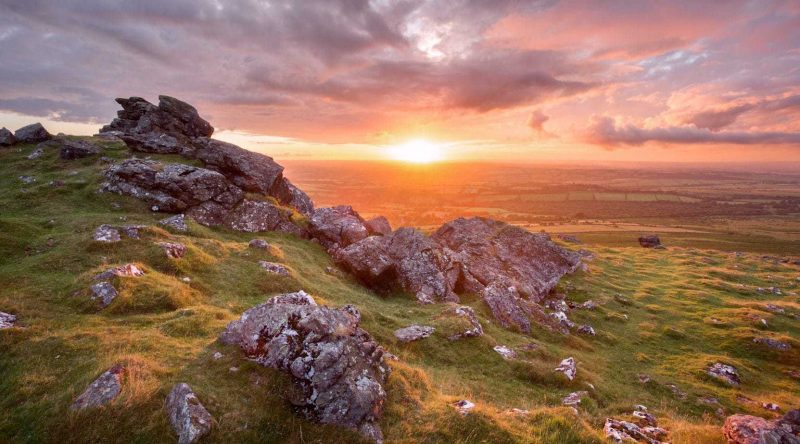 A round-up of all the best and most beautiful places you need to visit in Devon – get these on your UK bucket list!
While next-door Cornwall might be just a tiiiiny bit better known, the stunning county of Devon is one of Southwest England's top holiday hotspots.
There's everything you could want here: lively seaside towns, tranquil countryside, two gloriously wild national parks, cute and quirky villages, diverse wildlife, an epic foodie scene, and so much more!
And with two coastlines – north and south – there's plenty of coastal action, from watersports and rugged cliff walks to beautiful beaches to suit every taste going.
Last year, I co-wrote a published guidebook all about Devon & Cornwall – which meant I got to spend several weeks exploring all the best places to visit in Devon. Of course, growing up right next door in Dorset means I'd already been to most of them – so by now I truly am an expert on the area!
Below, you'll find my list of the very best places to visit around Devon. It's organised into three sections – north, south, and east – so use the contents menu to skip ahead, or read through the whole post for some inspiration. There's also a map and a short version of the list at the end of this post. Enjoy…
Best Places to Visit in Devon
The below list is divided into three sections: South Devon, East Devon, and North Devon – just to make planning easier.
In a hurry? There's a map and a short version of the list at the bottom of this page! Use the contents menu above to skip ahead if you need to.
Best Places to Visit in South Devon
There's more detail – and a few more places – covered in my full guide to the best places to visit in South Devon. But for an overview of the top destinations, read on…
1. Dartmouth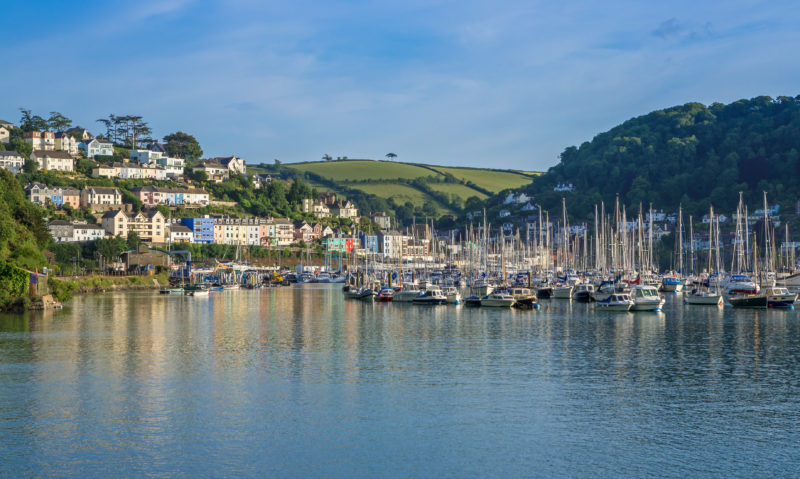 Spread along the west bank of the wide Dart Estuary, Dartmouth has long been a significant port on England's south coast. There's a prestigious naval college, a swanky yacht marina, and a historic harbour area to discover.
Today, the town's crooked streets and stunning old buildings house posh restaurants, cosy bars, swish art galleries, and cool boutiques. Oh, and a lot of nautical clothing shops – there's no escaping the maritime vibes here!
One of the best things about Dartmouth is exploring by river. Take the ferry downriver to visit Dartmouth Castle, the oldest parts of which date from 1388. Next, take a leisurely cruise upriver to spot the wildlife including seals, kingfishers, wading birds and (sometimes) otters.
2. Plymouth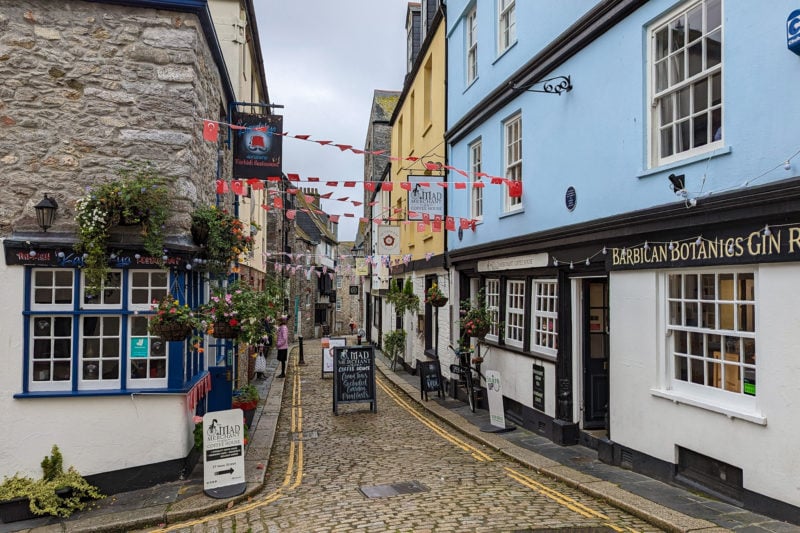 Devon's largest city, Plymouth has a rich maritime heritage, earning it the nickname 'Ocean City'. Some of history's most famous voyages set sail from the port here: including the Mayflower Pilgrims, Captain James Cook and Francis Drake.
More recently, Plymouth has been undergoing a dramatic transformation. The city was heavily bombed during WWII due to its role as a key naval port, and the hasty rebuilding left behind a city centre that tended to favour functionality over style.
But that's all changing – thanks to trendy new waterfront developments around Sutton Harbour and Royal William Yard, plus an exciting new Arts Quarter. Find out more in my guide to the BEST things to do in Plymouth.
3. Burgh Island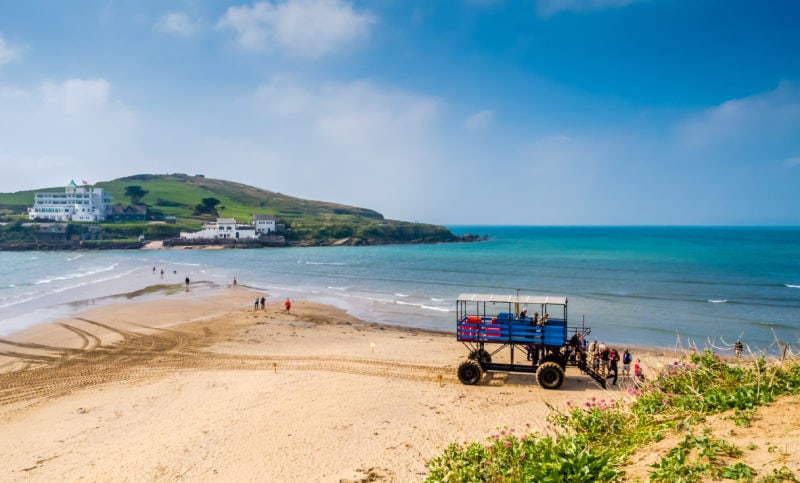 You can't skip Burgh Island when you visit south Devon – this iconic landmark is one of the best places for a mini adventure! It's a tidal island, connected to the mainland by a strip of beach that completely disappears at high tide.
At low tide, you can walk to Burgh Island from Bigbury-on-Sea. Or, at high tide, there's the Sea Tractor. This unique, bizarre-looking contraption is operated by Burgh Island Hotel: timetables are posted at the beach carpark in Bigbury-on-Sea and at the entrance to the island.
There are only a handful of buildings on Burgh Island, and no roads to speak of. This is a place to get away from it all: walk the coast path, spot wildlife, and climb the hill for views of the coast. For food, there's the swanky art deco Burgh Island Hotel or the 14th-century Pilchard Inn – one of England's oldest taverns, said to be haunted by a smuggler's ghost.
4. Salcombe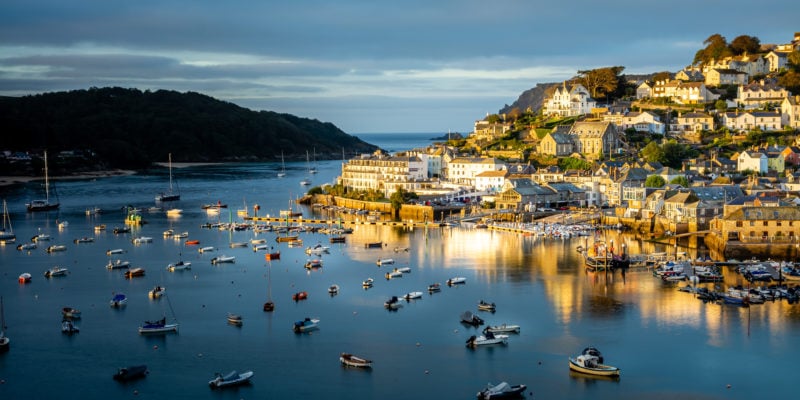 Just along the coast from Dartmouth, you'll find another sailing mecca to explore. Sitting at the mouth of the serene Kingsbridge Estuary, Salcombe is one of South Devon's most upmarket destinations.
This bougie little town – with its sheltered moorings, white sandy beaches, and fancy food scene – attracts a bit of a yachtie crowd. But there's plenty here for everyone to enjoy.
Get ready for incredible seafood (don't miss the Crab Shed), epic cliff walks, and gorgeous beaches. South Sands and North Sands are closest – or take the ferry to explore the idyllic beaches around East Portlemouth on the opposite bank. Check out these fun things to do in Salcombe for more inspiration.
5. Torquay & The English Riviera

The three towns clustered around the huge and beautiful Tor Bay earned themselves the nickname of 'The English Riviera' around the time of the Napoleonic Wars (1803-1815). With the French Riviera off limits, wealthy Georgians turned to the calm, sheltered waters of Tor Bay instead.
Torquay and Paignton are the two largest towns. Both have some lovely beaches and lots of nostalgic seaside vibes. If you're looking for a classic English seaside experience, this is the place to come!
Torquay is a little more upscale, with lots of grand Victorian villas and parks. Paignton is a little more "cheap and cheerful" and feels a bit run down in spots. But it has some lovely beaches (Goodrington and Broadsands in particular), plus a retro Victorian pier lined with funfair rides and arcades.
6. Brixham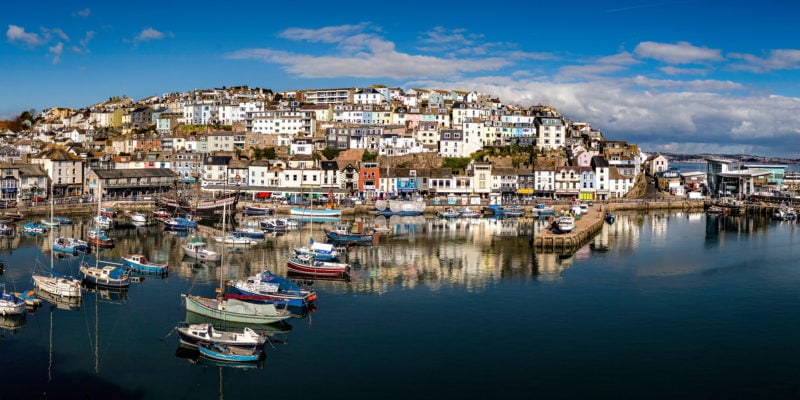 Brixham is also on the English Riviera, but this cute fishing village has a very different vibe to Torquay and Paignton.
Here, you'll find colourful fishermen's cottages clustered onto a hillside above a busy working harbour. This harbour is home to one of the largest fishing fleets in the UK, so the seafood scene in Brixham is unbeatable! Don't miss Rockfish for some of the best sustainable seafood in the area!
7. Dartmoor National Park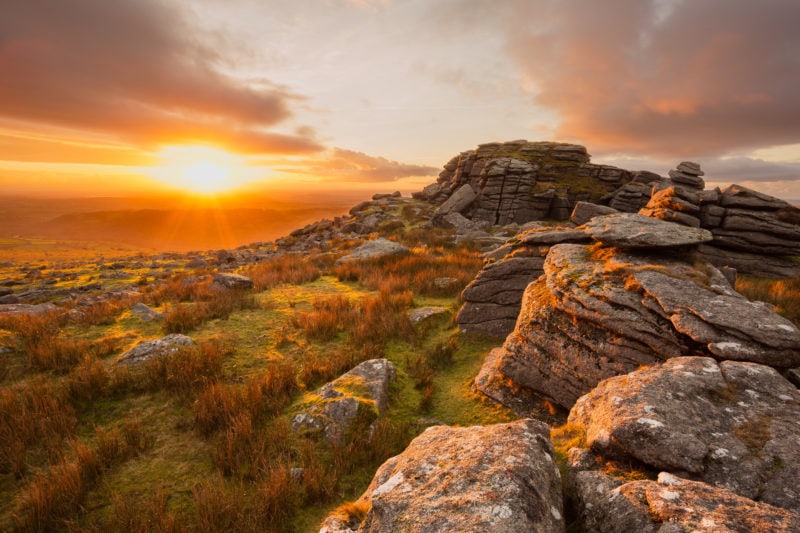 It's not all about the south coast in Devon – there are plenty of amazing places to visit in the county's gorgeous rural interior, too. And one of my personal favourites is Dartmoor National Park.
It's a vast wilderness area boasting heather-strewn moors and dramatic-looking tors: hilltop granite boulders. There are ancient woodlands, dense pine forests, and deep gorges to explore – the perfect setting for adventures like hiking, biking, horse riding, rock climbing, and caving.
Don't miss the impossibly cute village of Widecombe-in-the-Moor, the ancient Bronze Age settlement at Grimspound, or the iconic Haytor Rocks – a great spot for a walk. I also love the walk along the old Princetown Railway out to King's Tor and the historic Foggintor Quarry.
8. Totnes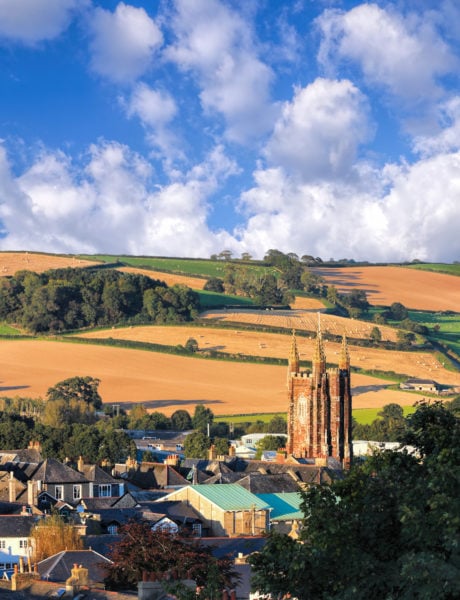 Totnes, in the heart of rural south Devon, was the UK's first Transition Town and is probably the most ethical town in England! It was one of the very first towns in The Transition Network, a worldwide movement through which communities aim to tackle global crises at a local level.
The result is a creative, community-minded town with one of the most independent high streets you'll find. The veggie/vegan food scene is STRONG here. Don't miss Riverford Field Kitchen for a seasonal, farm-to-fork dining experience.
There's also a lot of history to discover – particularly the ancient Totnes Castle – as well as the serene, wildlife-rich River Dart. Totnes sits at the head of the Dart Estuary; you can take ferry rides and boat tours to Dartmouth, or hop on a kayak/SUP to explore.
Best Places to Visit in East Devon
9. Exeter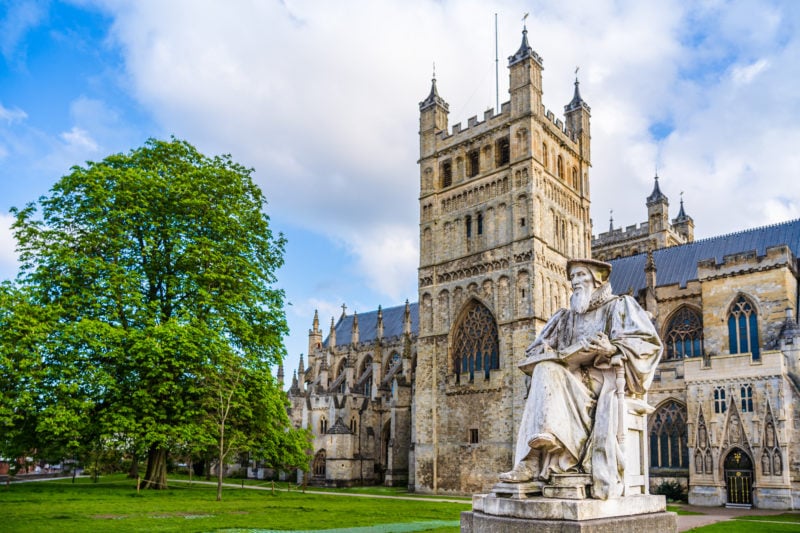 Devon's capital, Exeter, is an attractive, riverside city full of fascinating history. It was founded by the Romans, and you can still see traces of the original Roman city walls around the town centre, alongside Norman, Medieval, and Tudor gabled architecture.
Don't miss the stunning Exeter Cathedral. This eclectic piece of architecture was first built in 1114 and rebuilt throughout the 13th and 14th centuries. The highlight is the elaborate medieval image screen on the cathedral's facade, covered with carved figures.
Life in the capital has always centred around the River Exe, and still does. While Exeter Quay was once a busy trade port, shipping goods down the river to the sea at Exmouth, today it's a riverside leisure destination with restaurants, bars, and independent shops tucked into the old warehouse cellars.
10. Exmouth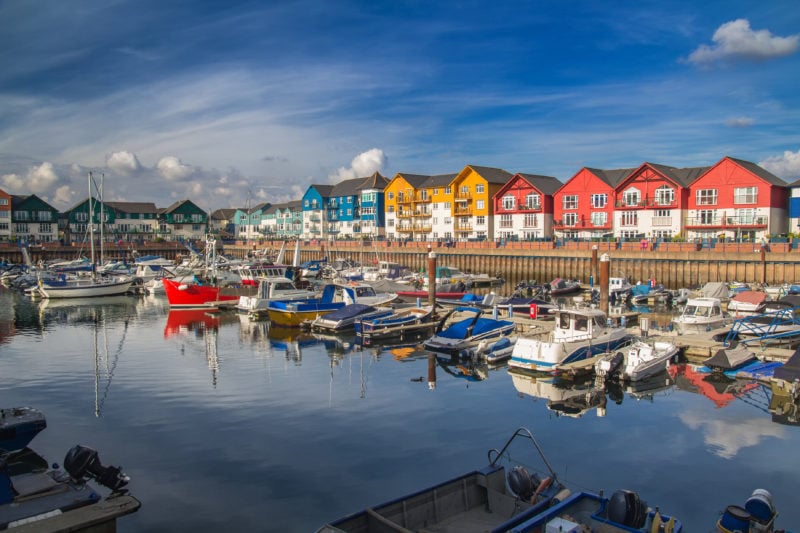 Just downriver from Exeter is the cute and colourful seaside town of Exmouth, the starting point of the famous Jurassic Coast (see below).
Exmouth is best known for its long sandy beach, swanky new marina, excellent watersports conditions, and rugged coastline. But the peaceful river valley also means gorgeous countryside scenery to explore – with plenty of walking and biking trails in the area.
Plus, the Exe Estuary is a haven for wildlife. Look out for grey seals, otters, and wading birds such as oystercatchers lapwings and avocets.
11. Jurassic Coast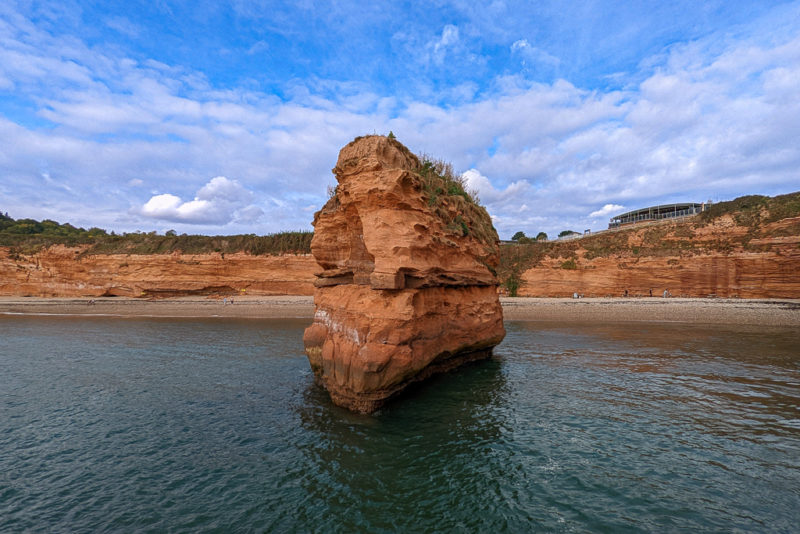 The Jurassic Coast is a 95-mile stretch of coastline in Devon and Dorset known for its unique geology and geography, rich with prehistoric rocks and fossils. East Devon's red sandstone cliffs were formed during the Triassic period (252-200 million years ago), so it's the oldest section of the coastline.
A Geoneedle at Orcombe Point marks the official start of the coastline, which runs from Exmouth to Studland Bay in Dorset. Devon's stretch of the coastline ends at Lyme Regis – highlights between there and Exmouth include:
Ladram Bay – a sheltered bay filled with several tall, rust-coloured rock stacks, overlooked by an enormous cliff called High Peak.
Straight Point – a small headland known where numerous seabirds nest, including a vast colony of kittiwakes.
Beer Quarry Caves – tours are available of this 2,000-year-old quarry, which was founded by the Romans and remained active right up until the 1920s. You can see pick axe marks on almost every surface because the huge quarry was cut almost entirely by hand.
12. Seaton and Beer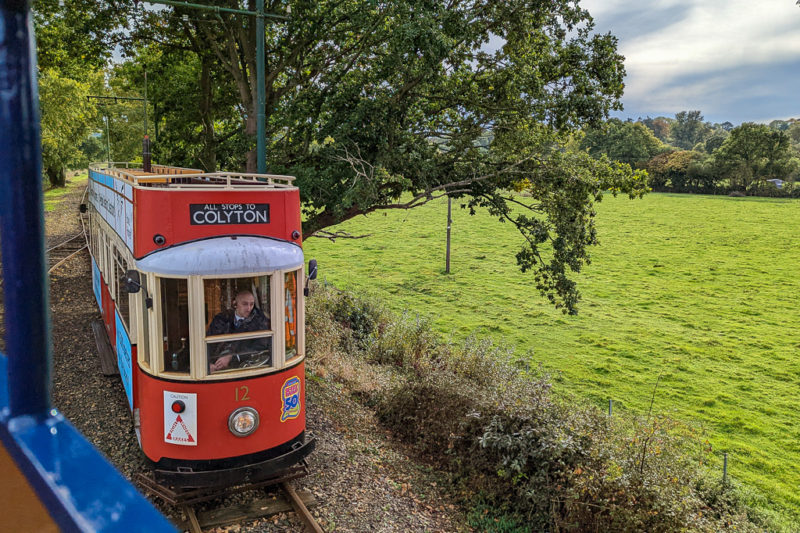 The small seaside town of Seaton boasts a lovely, long pebble beach, some beautiful historic buildings, and the wildlife-filled Seaton Wetlands Nature Reserve.
But what makes this one of the best places to visit in Devon is the historic Seaton Tramway: a fleet of restored electric trams (dating from the 1940s-1960s). These run along the old Seaton branch line which once brought Victorian tourists to the seaside. Sit on the top deck of the tiny trams for fabulous views of the Wetlands on the short ride to Colyton.
Right next door, the quaint, hillside village of Beer has another pretty pebble beach backed by high white cliffs. Famous for the Quarry Caves mentioned above, Beer also has a rich fishing heritage. Buy fresh fish and Beer crab from local fishermen, or take a fishing trip to catch your own!
13. Sidmouth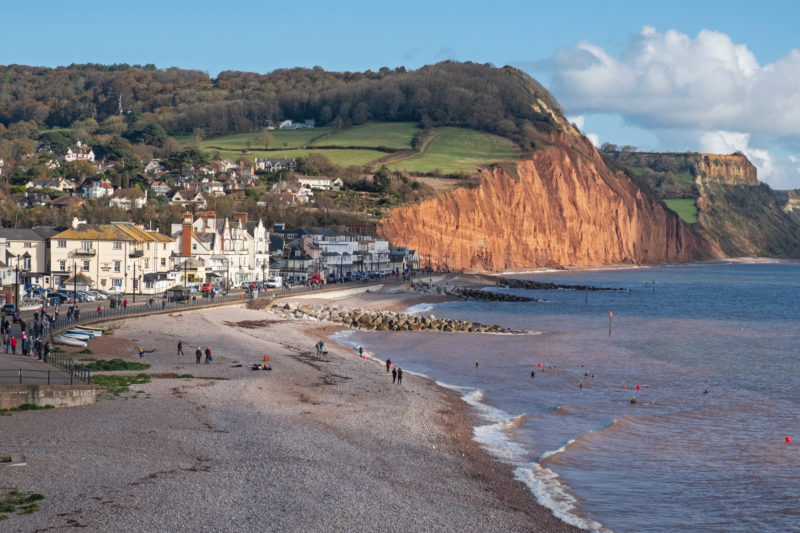 Sidmouth is another historic seaside resort filled with Regency and Victorian-era architecture. Take the Blue Plaque Trail to discover over 60 heritage buildings – including the iconic Royal York Hotel (built 1807) and the castle-esque clock tower in Connaught Gardens.
The best beach around here is Jacob's Ladder, named for the historic wooden staircase leading down to the beach from the top of the cliff.
Best Places to Visit in North Devon
14. Exmoor National Park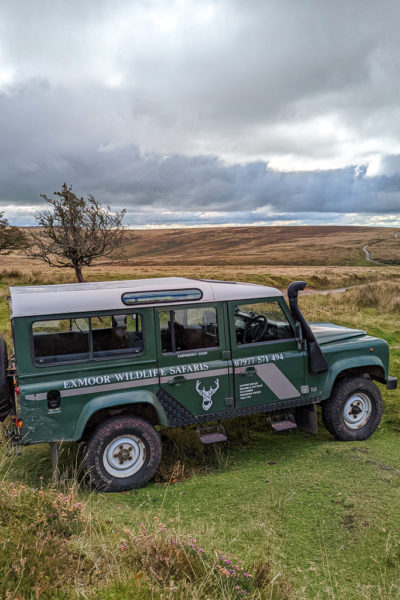 One of England's smallest national parks, Exmoor is much less known than the likes of Dartmoor – and a bit of a hidden gem! There's a lot packed into the park's 267sq miles: dramatically rugged coastline, windswept moors, picturesque countryside, and woodland-filled river valleys.
There are adventures aplenty here. Mountain biking, hiking, horse riding, wild swimming, stargazing… the list goes on! For the best chance to see Exmoor's wildlife, I highly recommend a jeep tour with Exmoor Wildlife Safaris. It's a fantastic experience and a great way to explore the park with a local guide.
Don't miss Tarr Steps, a simple, stone "clapper bridge" which is the longest of its kind in Britain. There's a lovely, signposted walk along the surrounding nature reserve.
15. Ilfracombe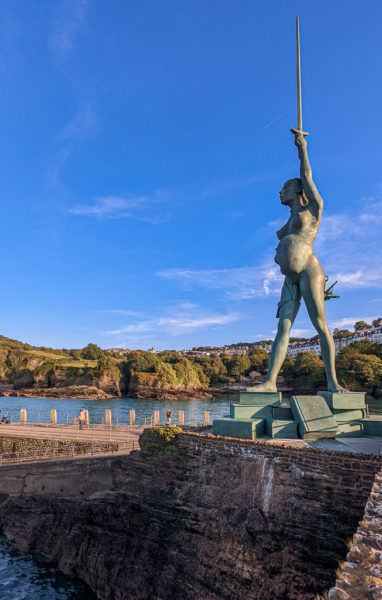 Ilfracombe is the biggest seaside town on North Devon's coast and makes a great base for exploring the area. The town was founded around a sheltered natural harbour and still has a thriving fishing scene today. As a result, there are some truly fantastic seafood restaurants in town!
Take a boat tour to spot seals and seabirds – and learn a little more about the area's coastline. I loved the fast-paced RIB ride with Ilfracombe Sea Safari, while the bright yellow Ilfracombe Princess is a calmer option with fantastic views from the top deck.
Don't miss the unique Tunnels Beaches. These small coves – home to some Victorian bathing pools – are accessed by walking through a stone tunnel through the cliffs which was hand-carved in 1823. You can still see pickaxe marks on the walls!
16. Lundy Island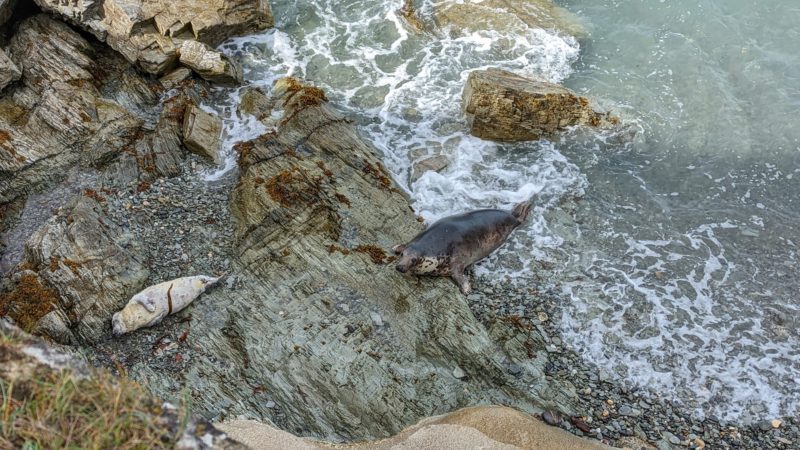 Lundy Island is a remote, windswept little island in the Bristol Channel with a thriving colony of Atlantic grey seals. There are very few buildings, less than 30 full-time residents, and lots of wildlife. Spot seals on the beaches, puffins and other seabirds on the cliffs, and stout Lundy ponies and feral goats on the clifftop paths.
You can visit Lundy for a day trip, or stay a few nights for an adventurous, get-away-from-it-all getaway! There's a campsite and a few self-catering properties, all run by the Landmark Trust.
To get there, take the MS Oldenburg; a 1950s ferry which runs from March to November. Timetables vary depending on the tide – as does the departure point, which can be Ilfracombe or Bideford. So check the timetable here before making plans. The crossing takes around 2 hours and can be VERY choppy – they often give out sick bags as you board! But it's worth it, I promise!
17. Hartland Peninsula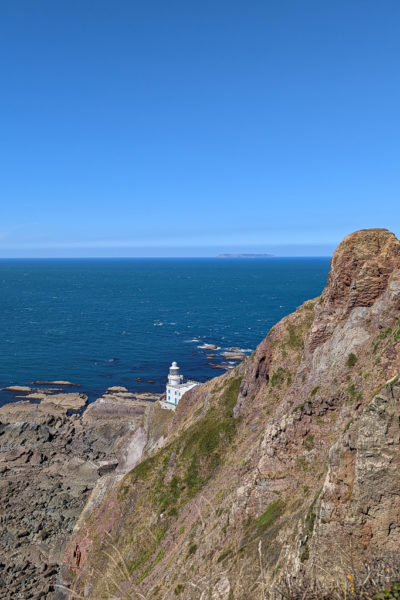 More seal colonies and rugged cliff paths can be found on the Hartland Peninsula – the westerly endpoint of North Devon's coastline.
This small peninsula, dotted with picturesque villages and small woodlands, often goes overlooked. But it's home to some of the best coast walks in Devon – and some of the toughest parts of the South West Coast Path. Spot seals on the beaches around Hartland Point – bring binoculars to view them from the cliff paths.
18. Clovelly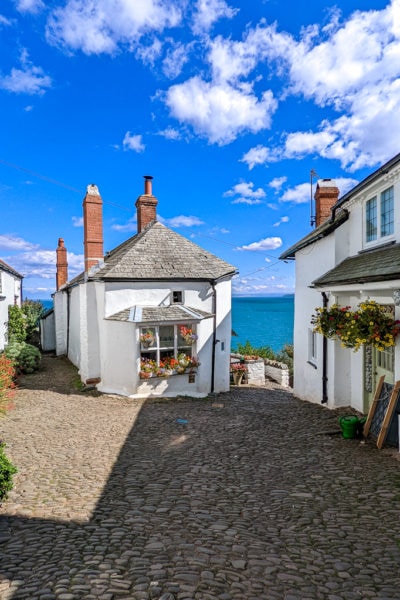 Clovelly Historic Village might just be the prettiest village in Devon – if not all of Southwest England! This small, hillside village of white-washed cottages above a sheltered harbour is breathtakingly beautiful.
The whole village is something of a tourist attraction. You have to pay to visit, but ticket prices include parking, entry to the two museums, and the nearby Court Gardens.
Steep, cobbled roads meander downhill, lined with cute cottages and small craft shops. They're too narrow and steep for cars, so this is a pedestrian-only village – which makes it all the more peaceful.
19. Croyde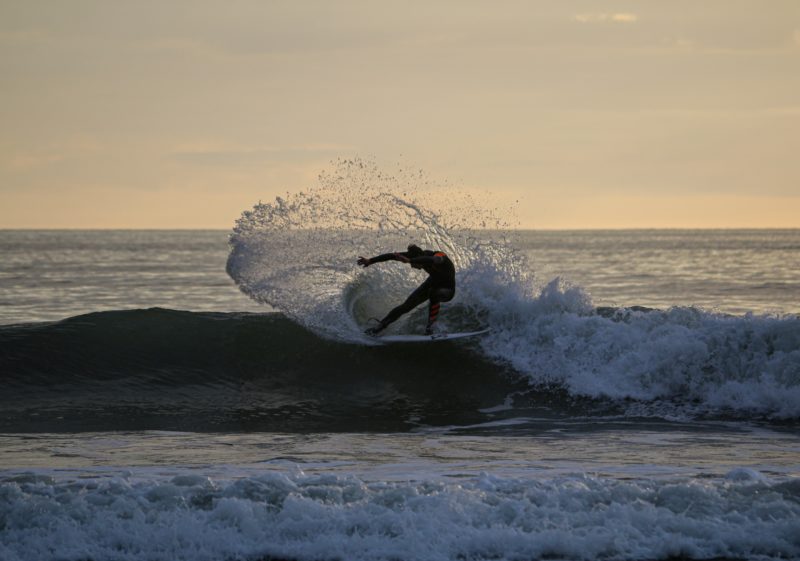 Croyde is North Devon's surfing hub. The bay here is known for its excellent surfing conditions, and there are several surf schools and rental shops in the village. Nearby Saunton Sands, Woolacombe Beach, Putsborough, and Barricane Beach are also popular surf spots.
It's not JUST about surfing, though. Clovelly is a lovely seaside village with one of the most beautiful beaches in Devon – a small, crescent-shaped bay with golden sand backed by grassy dunes. The independent food scene is strong here, too, with lots of food trucks and pop-ups around the beach in summer.
20. Lynton and Lynmouth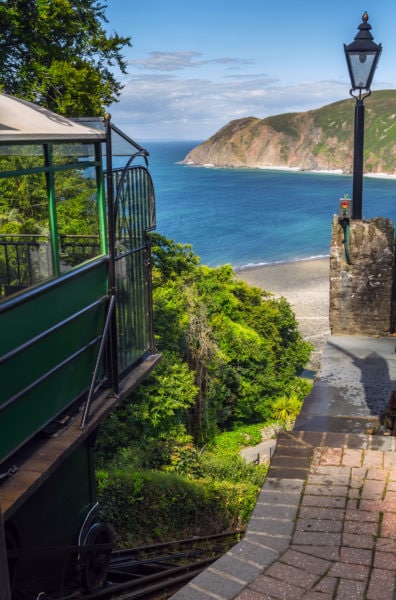 The twinned villages of Lynton and Lynmouth, on the coast of Exmoor National Park, are connected via a Victorian-era Cliff Railway. Apparently, it's the world's highest and steepest fully water-powered funicular. The ride is surprisingly fast and affords spectacular coastal views.
Lynton sits at the top of the cliff – packed with independent shops, galleries, and several museums. At the foot of the gorge some 500ft below, Lynmouth has a cute harbour, some fab seafood restaurants, and Britain's first tidal current turbine at Glen Lyn Gorge.
21. Taw-Torridge Estuary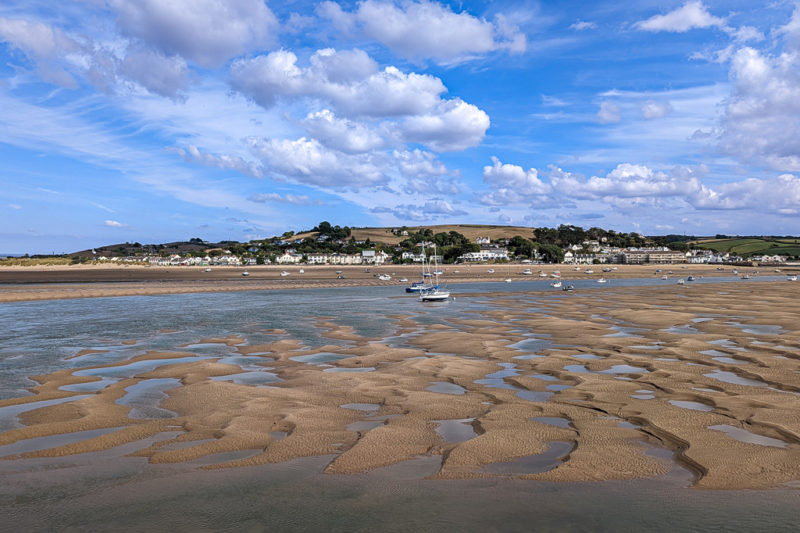 On the coast between Saunton Sands and the popular seaside resort of Westward Ho!, lies a wide estuary where the River Taw and River Torridge meet before emptying into the ocean. This is a beautiful, nature-rich area and a bit of a hidden gem in North Devon, so don't miss it.
There are two huge systems of sand dunes on either side of the estuary: Braunton Burrows and Northam Burrows. Both are prime birdwatching locations and filled with local wildlife, including orchids, butterflies, and bright green sand lizards.
There are some great river walks in the area, as well as the start of the 180-mile Tarka Trail for a lovely, traffic-free cycle route. Don't miss the colourful fishing village of Appledore for Instagram-tastic streets lined with pastel-painted cottages.
Map of the Best Places to Visit in Devon
Quick List: Best Places to Visit in Devon
Dartmouth – upscale sailing town
Plymouth – maritime history in Devon's biggest city
Burgh Island – walk to a tidal island
Salcombe – bougie seaside sailing town.
Torquay and the English Riviera – retro seaside resorts on a tranquil bay
Brixham – fishing village with a fab seafood scene
Dartmoor National Park – adventure-filled wilderness
Totnes – sustainability-focused Transition Town with quirky culture
Exeter – historic architecture, independent shopping, and river walks in Devon's capital.
Exmouth – beach town with great watersports conditions
Jurassic Coast – fossils, cliff walks, and unique rock formations
Seaton and Beer – two cute seaside villages with beaches and vintage tram rides
Sidmouth – classic seaside resort with heritage architecture
Exmoor National Park – rich wildlife and a diverse mix of landscapes
Ilfracombe – seaside town with a lively harbour
Lundy Island – remote island wilderness with a thriving seal population
Hartland Peninsula – heritage coastline with cute villages and spectacular views
Clovelly – probably the prettiest village in Devon
Croyde – beach town known for sand dunes and surfing
Lynton and Lynmouth – twinned coastal towns with an iconic cliff railway
Taw-Torridge Estuary – sand dunes, colourful villages, and river walks
Read More
Best Places to Visit in South Devon
50 Unique Things to do in Dorset
Are there any more great places to visit in Devon that I've missed? Let me know in the comments!