Some posts on this site contain affiliate links. If you book or buy something through these links, I earn a small commission (at no extra cost to you). Take a look at my privacy policy for more information.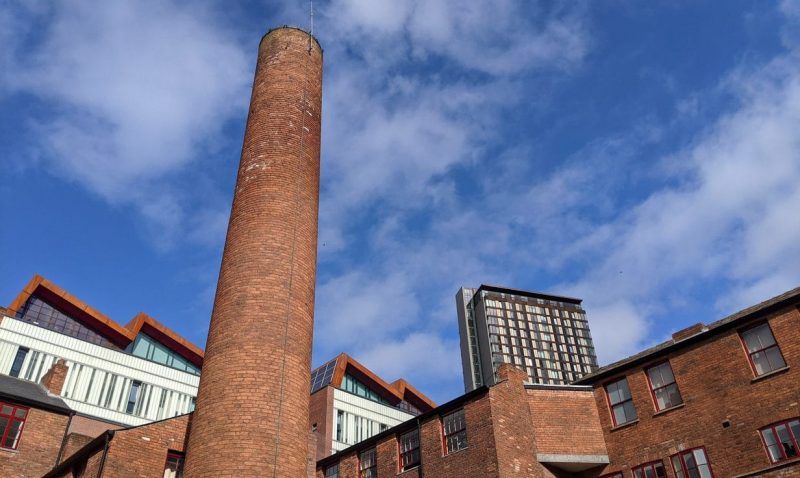 Delve into the diverse art scene in Sheffield with my guide to the best galleries, shops, and street art locations.
Sheffield feels like a city undergoing a constant transformation. Once the heart of the British steel industry, the city has rebranded numerous times since the industrial revolution. Today, the former industrial powerhouse is becoming known as a rising star of the UK's arts and culture scene.
I have to confess, I was a bit surprised by the city's art scene on my recent visit. I just wasn't expecting such a rich and vibrant city, so full of contemporary culture. Think art galleries, cool independent coffee shops, enough vintage shops to give Shoreditch a run for its money, and street art. So much street art!
There are two universities in the city, so there's a very young and contemporary feel. Which I think is what feeds this exciting emerging art scene.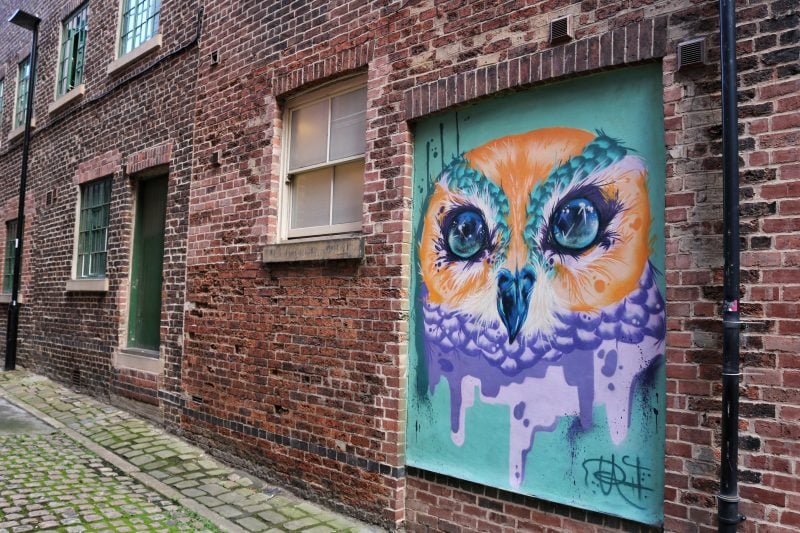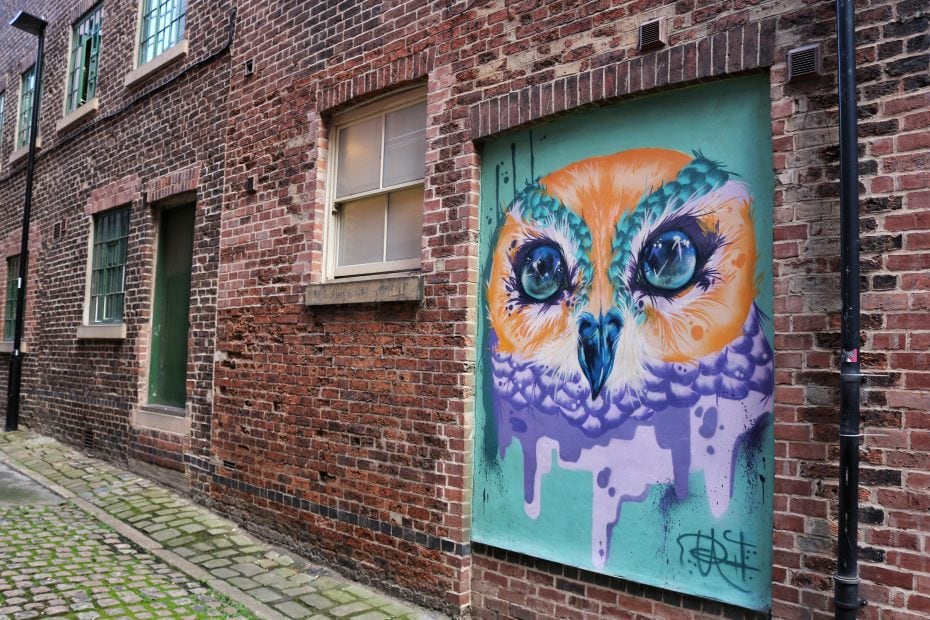 There's also the Cultural Industries Quarter – a conservation area in the city centre. It was once an important metal trades area of Sheffield, so it's full of historic workshops and industrial chimneys. Many of these old industrial buildings have been converted into art galleries and unique venues. So you can go "gallery-hopping" and visit several different venues in one afternoon.
I really enjoyed exploring the art in Sheffield, so I've popped together this guide to help you pack your visit to the city with culture!
My trip was supported by both Visit Sheffield and The Outdoor City. But, as always, all words and opinions are my own.
Art Galleries in Sheffield
Millenium Gallery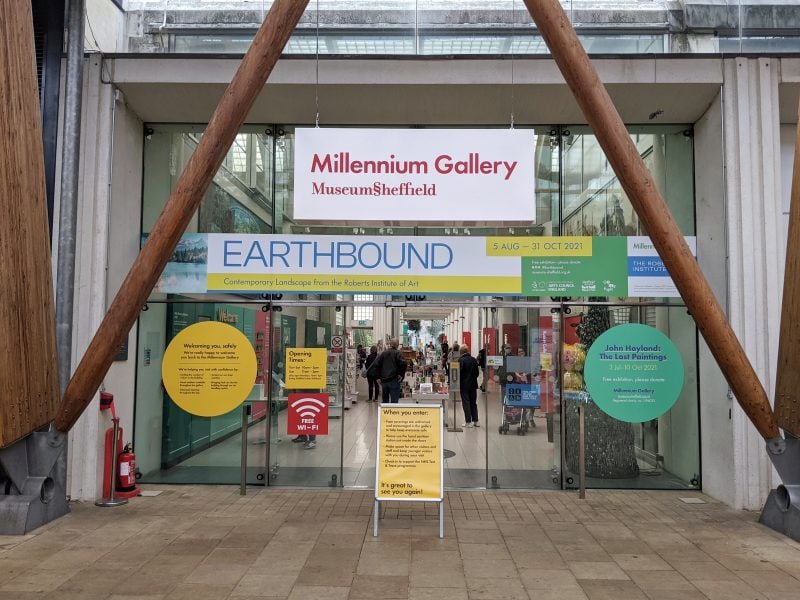 Situated in the heart of the city, the Millenium Gallery is perhaps the best-known art gallery in Sheffield. It's a vast, light space – attached to the popular indoor Winter Gardens, which are also worth a visit.
The gallery is free to enter and has two temporary exhibition spaces, a fab cafe, and an extensive permanent collection. One of these is the Metalwork Collection, which showcases the cutlery, flatware and tableware that made Sheffield famous.
On right now: John Hoyland: The Last Paintings Exhibition, 3rd July – 10th October 2021. Sheffield-born artist John Hoyland was one of Britain's leading abstract painters. This summer's exhibition at the Millenium Gallery showcases some of the very last works he created.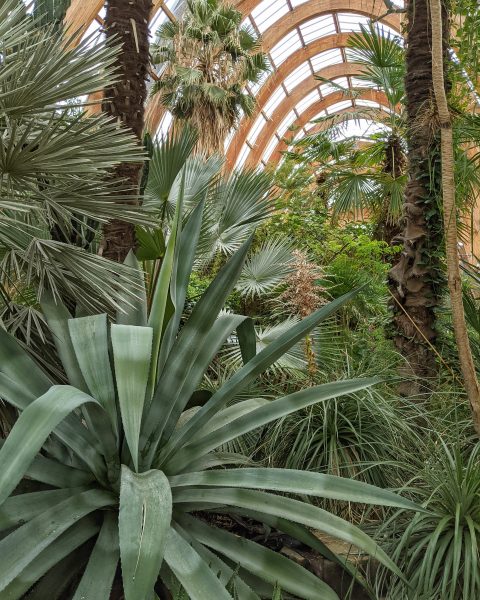 Graves Gallery
Located above the Central Library in an impressive art deco building, the Graves Gallery is the home of Sheffield's visual art collection.
The gallery recently underwent an extensive refurbishment so has a new, fresh feel. All of the exhibition spaces are laid out in a circuit, so that each one flows into the next. The permanent collections run the gamut from historic portraiture, right through to contemporary art. Recognisable names include JMW Turner, Cezanne, Mark Quinn, Grayson Perry, and Damien Hirst.
One of my favourites was a multicoloured skull painting, which was done by Damien Hirst for musician Jarvis Cocker.
On right now: Pandemic Diary by Phlegm, 3rd September – 31st December 2022. Phlegm is one of the best known local street artists in Sheffield. This new exhibition at the Graves Gallery is a collection of pen and ink drawings chronicling the artist's experience of lockdown. It's a relatable and humorous exhibition – especially given that we've all shared some similar experiences over the last two years!
Site Gallery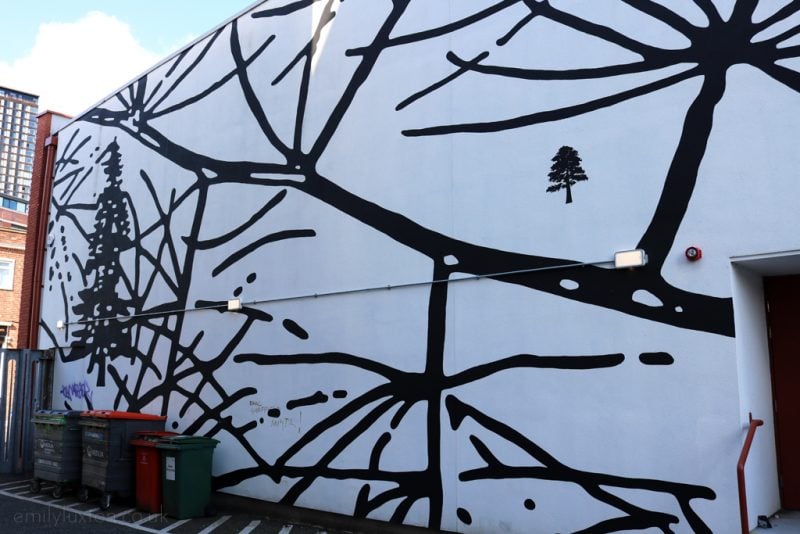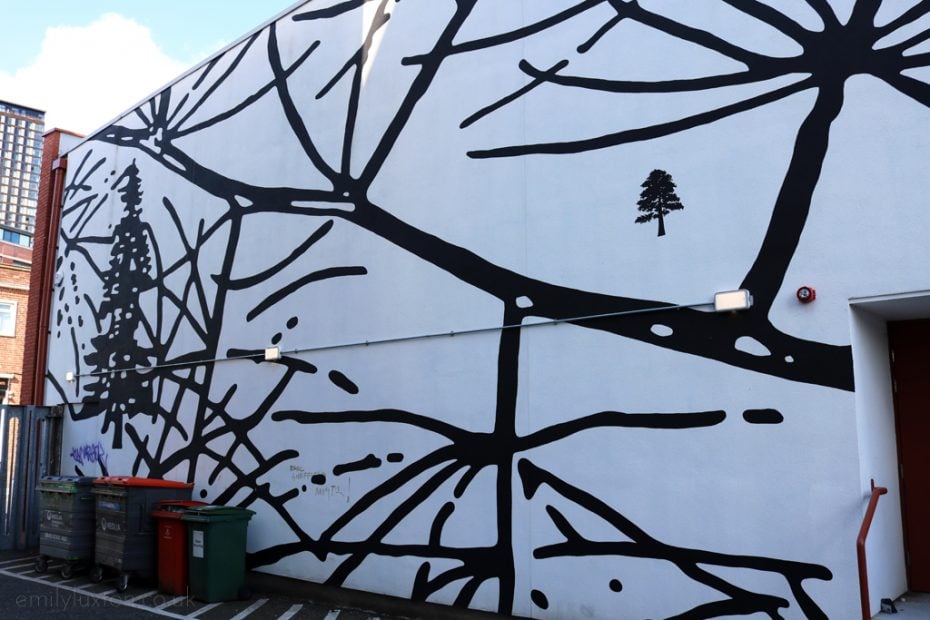 One of several galleries found in Sheffield's historic Cultural Industries Quarter, Site Gallery is a vast contemporary art space. The gallery specialises in moving image, new media, and performance art.
Even the outside of Site Gallery is home to art! One of the exterior walls is covered in a huge monochrome mural by British artist Paul Morisson. Inside, you'll find a large-scale gallery and a dedicated projects space, as well as a café and shop. There's a diverse programme of exhibitions and events, so check their website to see what's on.
APG Works
A few blocks away from Site Gallery, you'll find APG Works. Housed in an old cutlery factory, this unique space is an independent framing works, screen printing studio, and occasional gallery.
"Our small team take pride in bringing fresh new work to the public through our collaborations with artists from Sheffield, the UK and beyond, emphasising authentic products made with care and an eye for good design."

APG Works
Bloc Projects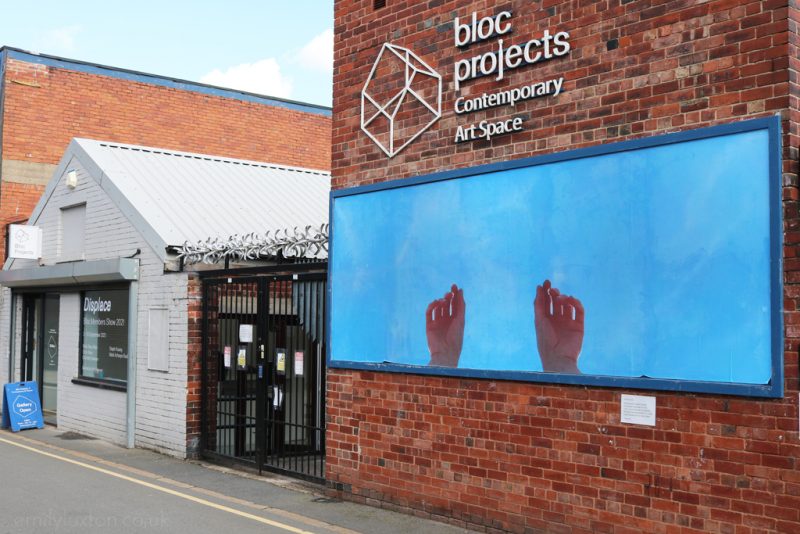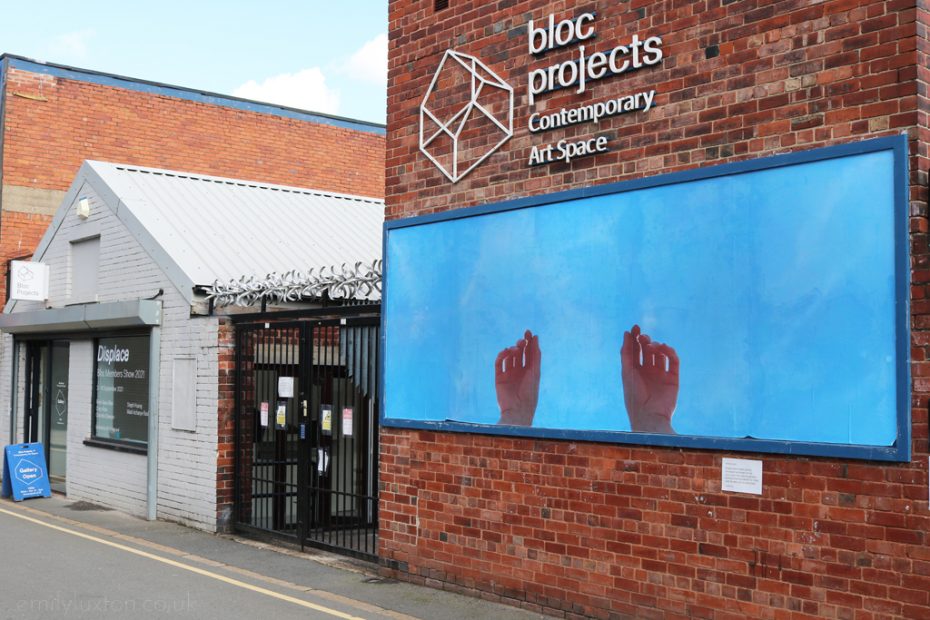 Another art gallery found in the Sheffield Cultural Industries Quarter is Bloc Projects. Their exhibitions and events programme focuses on "supporting emerging artists at key stages in their careers".
Bloc Projects works closely with local arts organisations and universities, so there's a very contemporary feel. They also run a great programme of screenings, performances, talks, and educational activities. Don't miss the Bloc Billboard on the outside of the gallery, a free public art installation which hosts a new piece from a different artist every few months.
Sidney and Matilda Gallery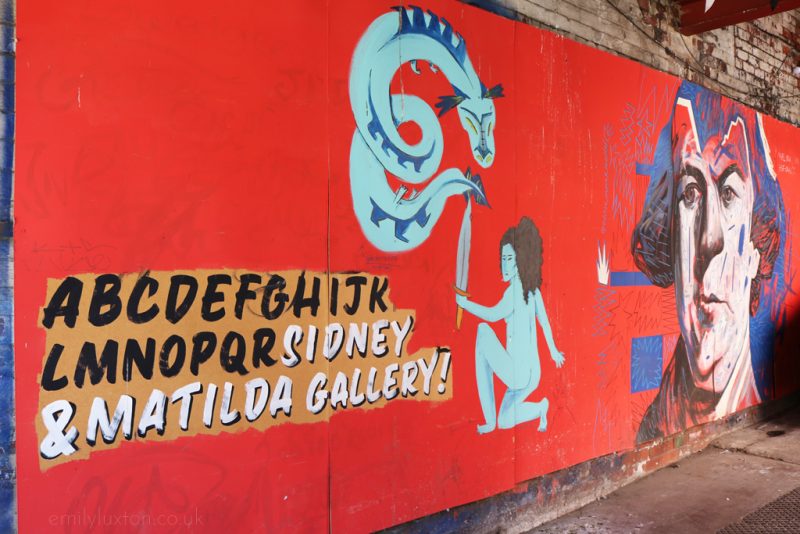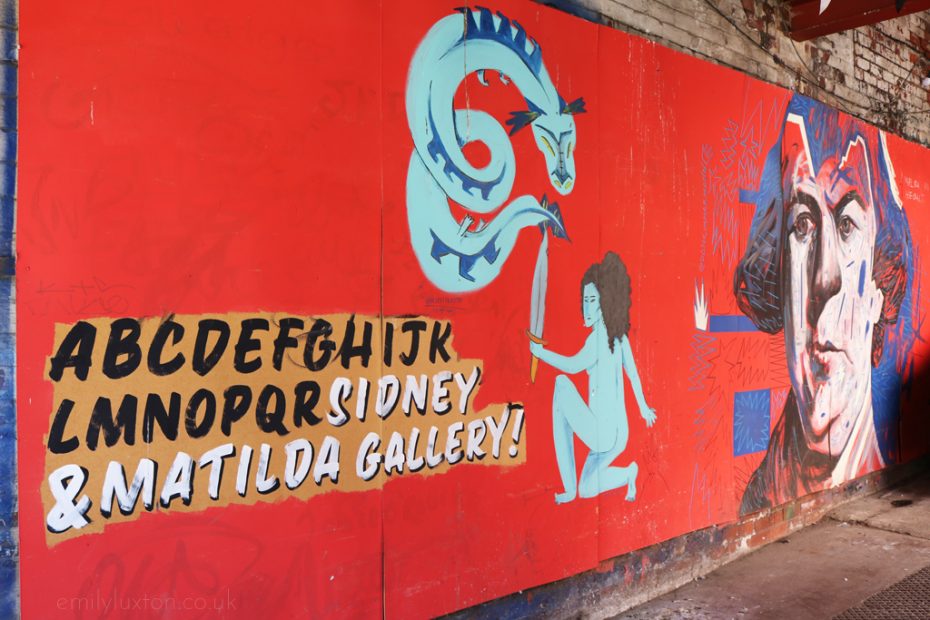 I stumbled across this Shoreditch-esque gallery whilst out hunting for street art in Sheffield! A former paper factory sitting on the corners of Sidney Street and Matilda Street, Sidney & Matilda is a multi-disciplinary arts project space and social club.
It's perhaps best known for its bar, live music events and club nights. But this cool, industrial-chic space also hosts regular exhibitions – as well as some awesome street art installations.
Sheffield Institute of Arts Gallery
"Sheffield is home to the UK's largest practising community of artists and designers outside London, bringing a constant flow of creative energy and activity. Our institute is an integral part of this vibrant and creative city."

Sally Wade, director
Now part of Sheffield Hallam University, Sheffield Institue of Arts has been around for over 175 years. Their gallery showcases art, design, and creative media by staff and students, as well as touring exhibitions from the UK and abroad.
Sheffield Street Art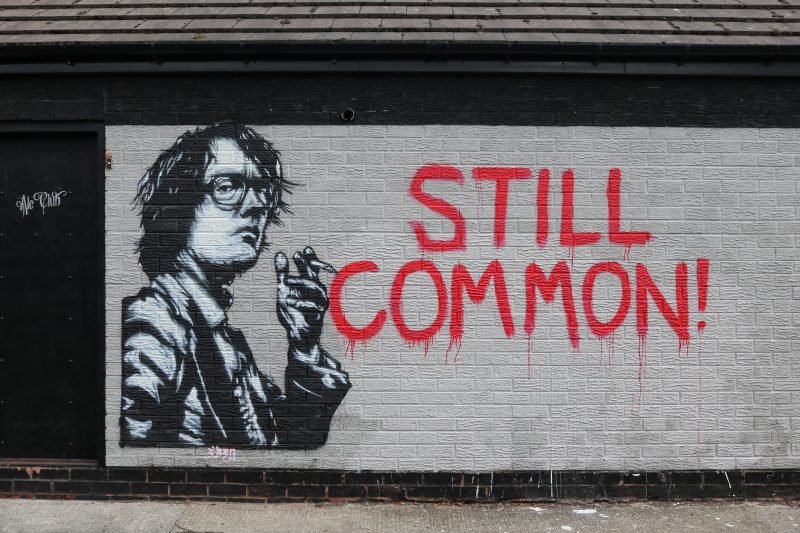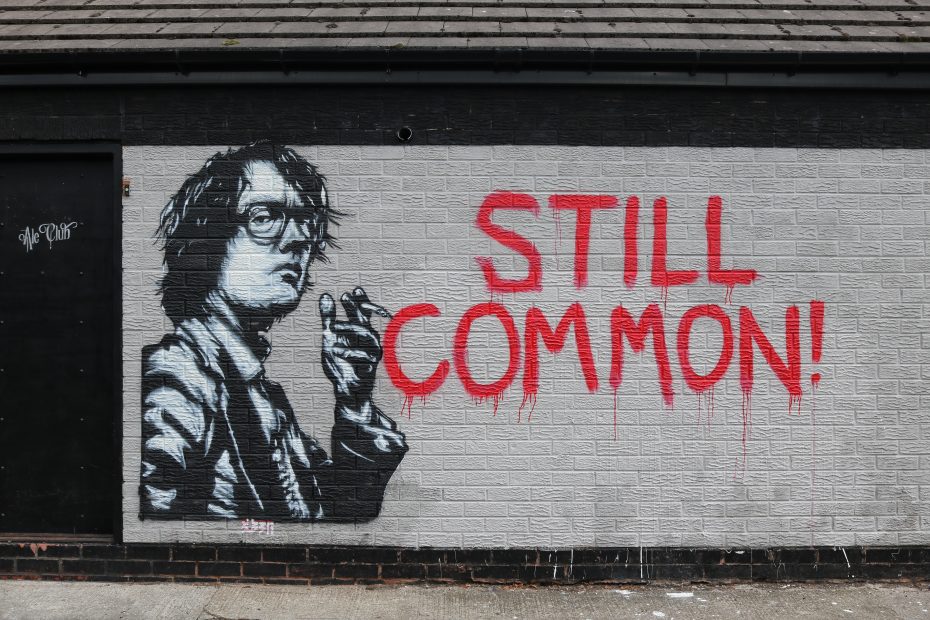 Sheffield is known as "The Outdoor City", so it makes sense that some of the city's best artworks can be found outdoors! I was blown away by the Sheffield street art scene, which has turned the city streets into a living outdoor gallery, always changing and evolving.
Just wandering around the city centre you're sure to spot a few brilliant pieces. Especially if you venture into some of the more independent and quirkier neighbourhoods. But I found the interactive map and information on the Street Art Sheffield website beyond helpful as I explored the city! This website was the starting point of all my research, so it's a great tool if you're looking for street art in Sheffield.
They also have an extensive gallery capturing most of the best-known pieces across Sheffield. All the images are labelled with the name of the artist and the street where you can find them. If you see a piece you like, you can use the website to figure out who it's by!
Best Areas for Street Art in Sheffield
Cultural Industries Quarter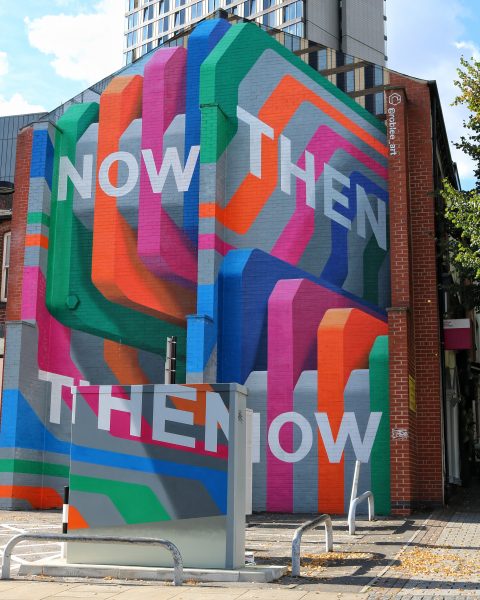 The conservation area between the city centre and the Midland train station is one of the best areas for street art in Sheffield. Many of the historic red brick buildings and old factories provide a canvas for colourful street art.
While you're in the area, be sure to visit Tamper Sellers Wheel. Amazing coffee, really good breakfasts, and some incredible cakes!
The Devonshire Quarter
The area around Division Street and Devonshire Street in the city centre is another great street art hunting ground. It's also a really cool area, known for its independent shops, bars and cafes. While you're there, head to Steam Yard for incredible coffee and cakes!
Sharrow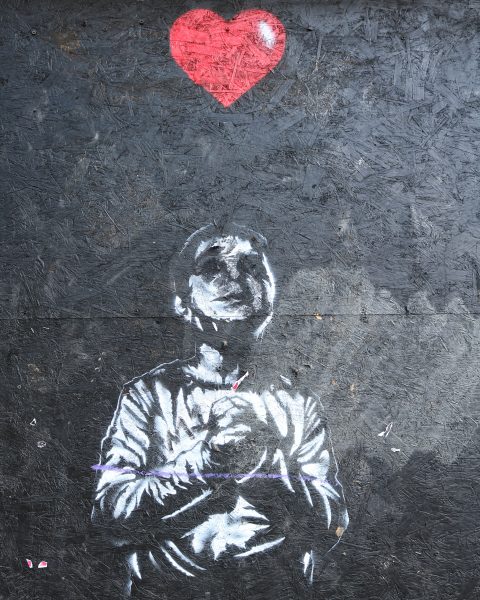 Sharrow was one of the best areas for street art that I found in Sheffield. It's another really cool part of the city full of indie boutiques and eateries. Both Sharrowvale and Ecclesall Roads are packed with unique stores to explore, including a few art shops. Look out for a huge, colourful mural by Phlegm on the side of Porter Pets on Sharrow Vale Road. There's also a brilliant portrait of local lad Jarvis Cocker by Bubba 2000 on Snuff Mill Lane.
The courtyard around the new Dyson Place is also well worth a visit here (I loved the Vietnamese place Nǎm Sông).
Kelham Island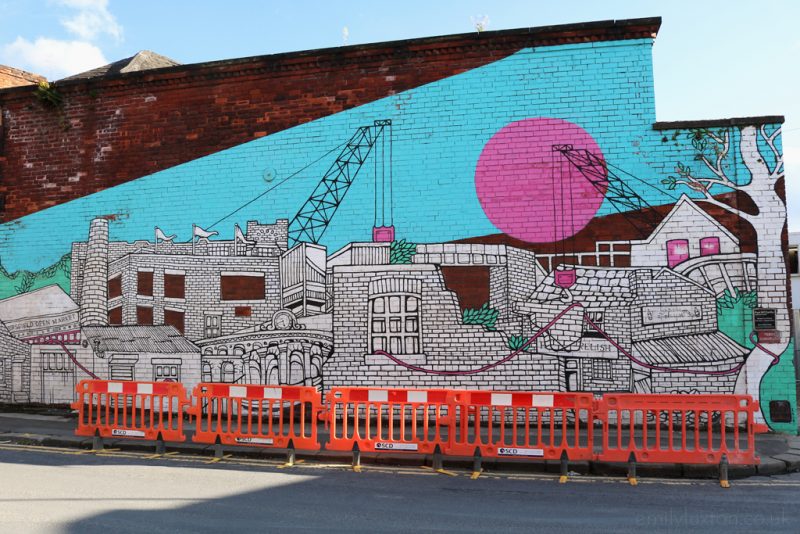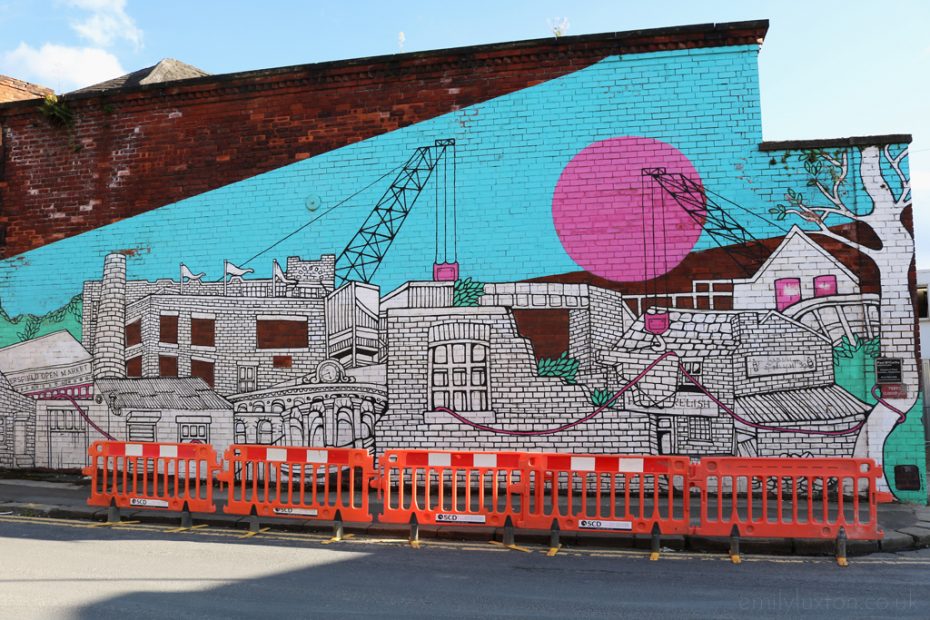 Home to the fantastic Kelham Island Museum (a great place to learn more about Sheffield's industrial heritage), Kelham Island isn't really an island at all. It's actually a manmade spot of land in the River Don, and was once a busy industrial area. Today there are trendy apartment buildings and a few great pubs and restaurants, as well as a scattering of street art pieces.
Look out for Jo Peel's Alma Street Mural, an enormous riverside mural by Phlegm, and numerous colourfully painted electricity boxes.
Some Other Great Sheffield Street Art Areas
Antiques Quarter – home to several large murals by some of the city's biggest street artists.
Heeley
Highfield – especially around London Road.
Gallery Town in Rotherham – the UK's only permanent open-air art gallery, featuring over 100 pieces of artwork.
St George's Quarter – the area around St George's Church in the north-west of the city centre.
Phlegm Sheffield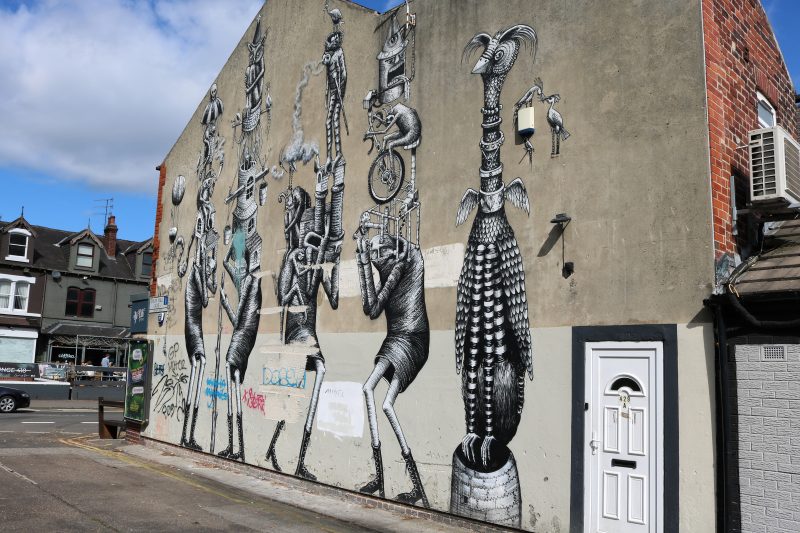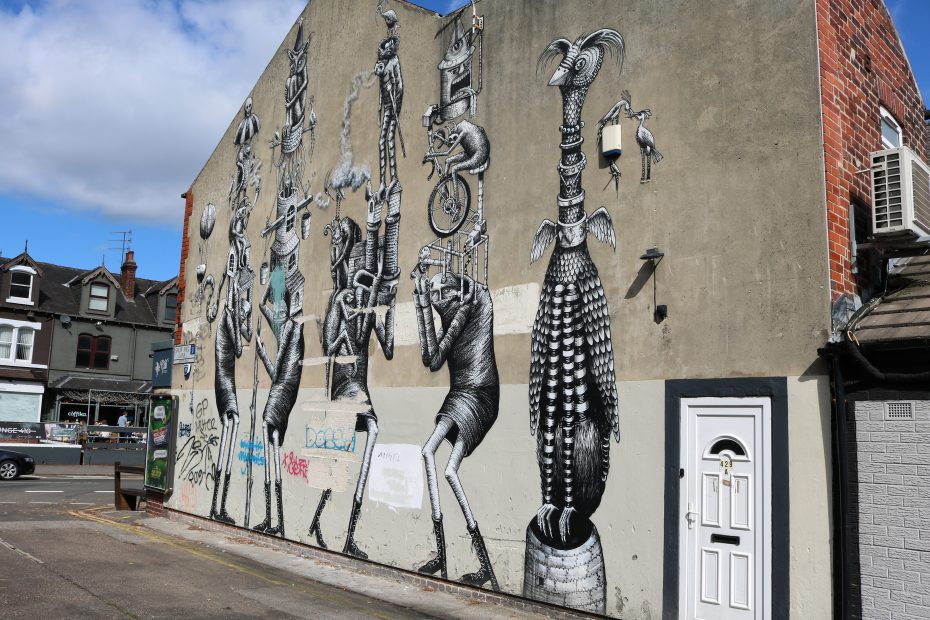 Phlegm is one of the most famous local street artists in Sheffield. Often nicknamed "Sheffield's Banksy", Phlegm is a muralist and artist with a distinctive surrealist illustrational style. His murals are almost exclusively monochrome, and usually depict dream-like fantasy scenes.
Look out for the huge mural on Snuff Mill Lane, part of the 2016 Feature Walls street art festival. There's also a brilliant mural outside the Rutland Arms on Brown Street.
At the moment, you can also see more work from Phlegm at the Graves Gallery. The 'Pandemic Diary' exhibition (3rd September – 31st December 2022) is a collection of pen and ink drawings depicting the artist's (very relatable) experience of lockdown.
Other Notable Street Artists in Sheffield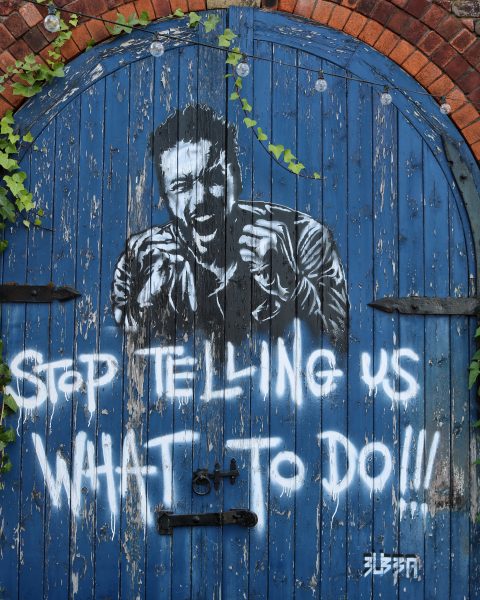 Is there a Banksy in Sheffield?
There are currently no street art pieces by Banksy in Sheffield. There are a few copycats in the city, and a couple of local artists have clearly been influenced by Banksy's style. Until recently, there was a Banksy piece in nearby Nottingham, but this was removed in February 2021.
Sheffield Bears
Speaking of street art in Sheffield, one of my favourite discoveries was the Bears of Sheffield trail. Created to raise money for the Children's Hospital Charity, this was a city-wide public art exhibition that ran from 12th July – 29th September 2021.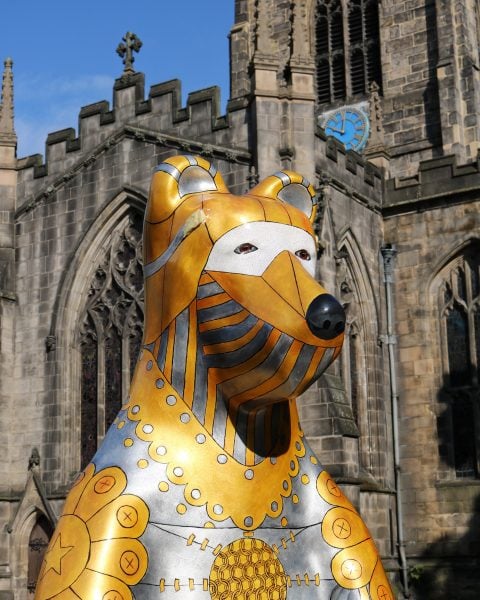 There were 100 little bears and 60 big bears, modelled on the famous bear sculpture found in the old bear pit at the Sheffield Botanical Gardens. The big bears were designed by both local and international professional artists, while the small bears were designed and painted by local school children.
Although the trail has now come to an end, there's still a chance to see the bears before they go to auction. From 14th-17th October 2021, all the bears will be on display together for a Farewell exhibition at Meadowhall.
Art Shops in Sheffield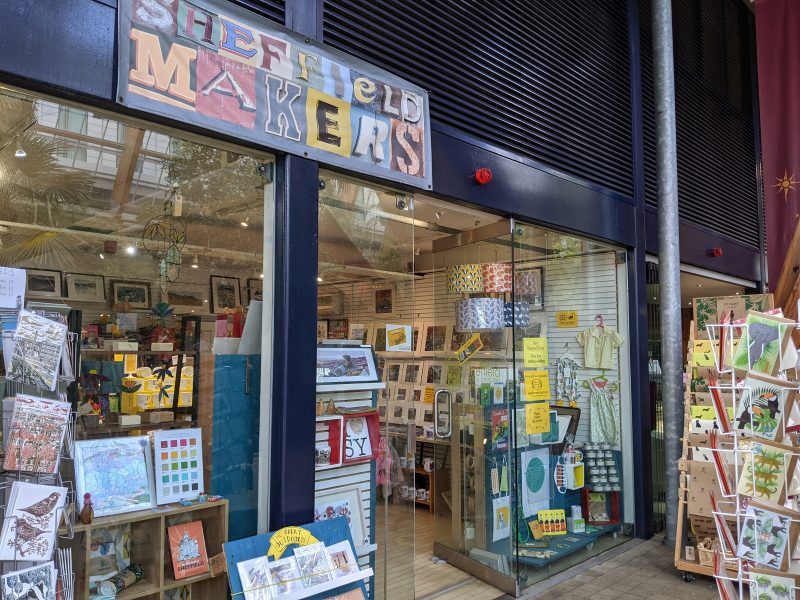 You'll find plenty of art shops and independent galleries as you explore Sheffield. Below are a couple of brilliant ones I stumbled upon, but there are many others as well.
Sheffield Makers – "lovely stuff made by Sheffield folk" – perfect for picking up unique souvenirs and gifts. They have a small shop in the Winter Garden in the city centre, and another at Hunters Bar (667 Ecclesall Road).
Millennium Gallery Gift Shop – I loved the range of local goods and art prints on sale in the museum gift shop. Plus, Sheffield Museums is an independent charity and all profits from the shop go towards supporting their charitable work.
All Good Stuff at Butcher Works (72 Arundel Street) – a lovely, cosy gallery shop packed with locally made arts and handicrafts.
Pin this Post