Some posts on this site contain affiliate links. If you book or buy something through these links, I earn a small commission (at no extra cost to you). Take a look at my privacy policy for more information.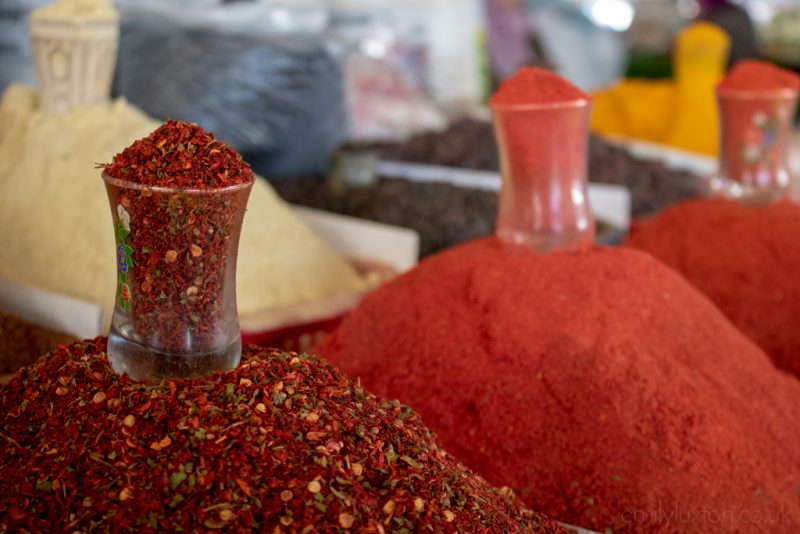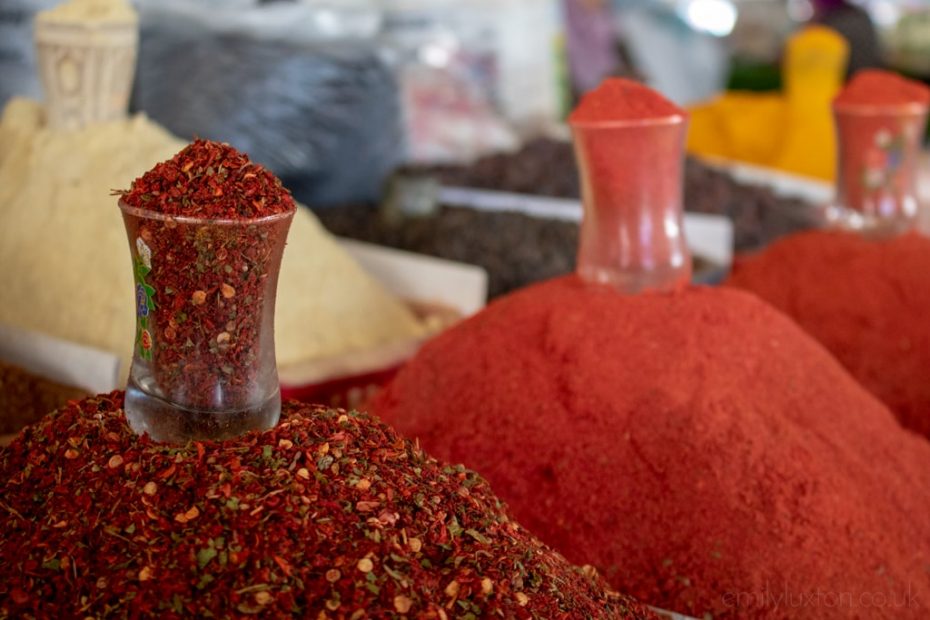 If you want to discover the best Uzbekistan food, this is the guide for you. I always think that one of the best ways to get to know a new culture is through food. So whenever I travel, I try to eat my way through as much of the local cuisine as possible!
When I spent a week exploring Uzbekistan earlier this year, I went out of my way to try as many traditional Uzbek dishes as I could – and pestered locals for their recommendations. The result is this bumper blog post all about the food in Uzbekistan, from what to expect in terms of flavours and ingredients, to a breakdown of all the dishes you need to try! I hope you enjoy discovering them all as much as I did…
Uzbekistan Food Guide
RELATED POST: My Uzbekistan Travel Guide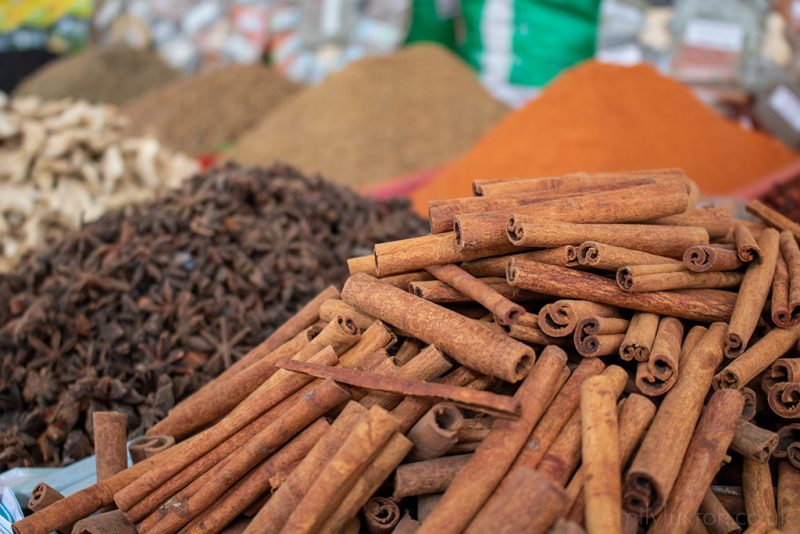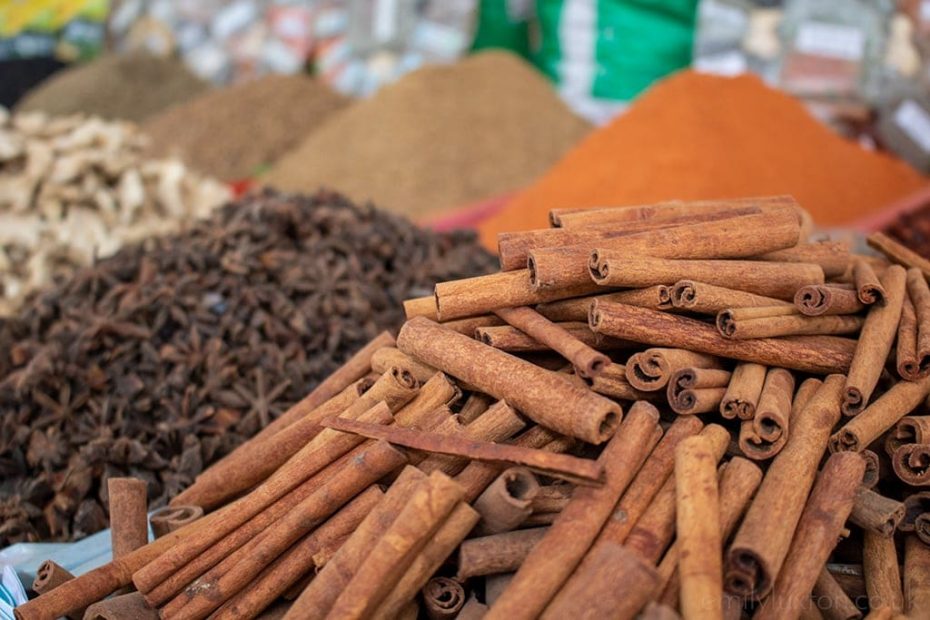 Uzbekistan Food: What to Expect
Uzbek cuisine shares a lot with the neighbouring countries of Central Asia, as well as with Turkey, China, and Nepal. However, there are often local twists.
Grain farming is common in Uzbekistan, so the food involves a lot of bread and noodles. Here's an idea of what to expect in terms of ingredients and food styles…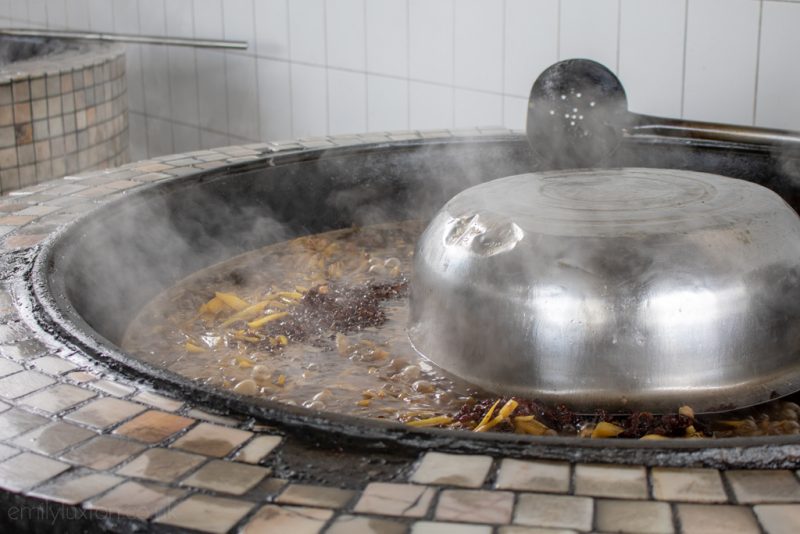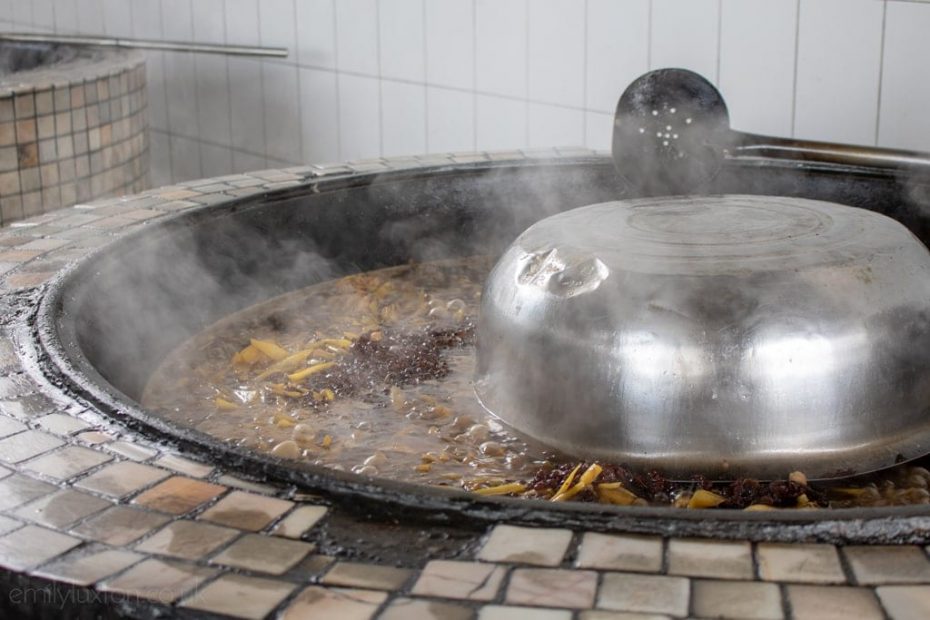 Hearty, heavy dishes
Much of the food in Uzbekistan is pretty heavy going. Be prepared for lots of potatoes, bread, and rice, as well as big hearty warming dishes like stews. If you're visiting in summer these might seem a bit much, but on cold nights the Uzbek cuisine is utterly perfect!
Meat
A LOT of Uzbek dishes involve meat. Although it's definitely possible to find vegetarian options, meat is pretty prominent in the local cuisine. The most common meats in Uzbekistan are mutton and beef.
Horsemeat is also popular in Uzbekistan, so if you've never tried it before now's the time. It's similar to beef, but with a more gamey flavour. I like it, although it's not for everyone!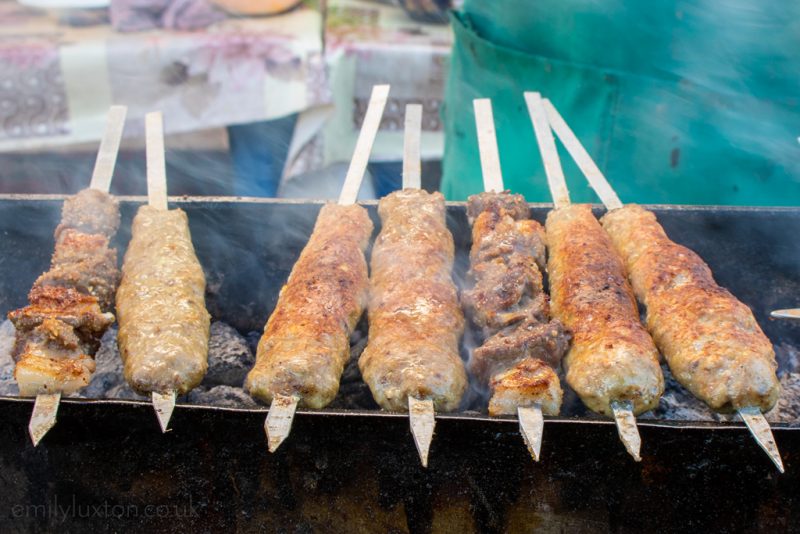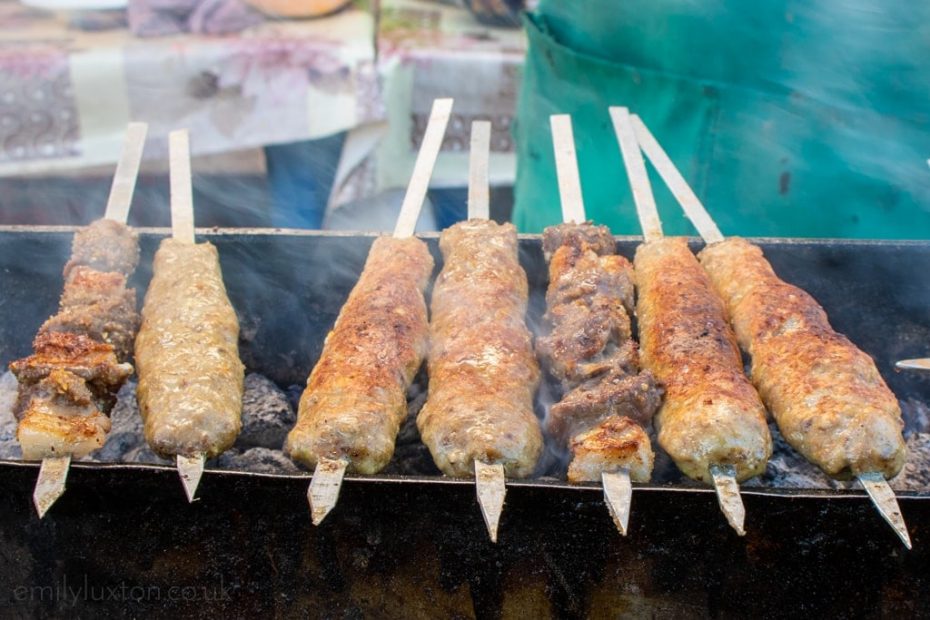 Bread
Bread is a really big part of the Uzbekistan food scene. It's also REALLY good!
Uzbek Flavours
Dishes in Uzbekistan are generally flavourful and lightly spiced, but not particularly spicy or hot. The most common spices are black pepper, cumin, cayenne, cinnamon, coriander seeds, saffron, and sesame seeds. Garlic, onion, coriander, barberries, and radish are used frequently to give flavour. Other common herbs include dill, parsley, celery, mint, basil, and thyme.
Dried fruits are very common in Uzbekistan, and often make their way into the popular dishes. Quince, pomegranate seeds, plums, raisins, apricots may all be found adding flavour to various dishes.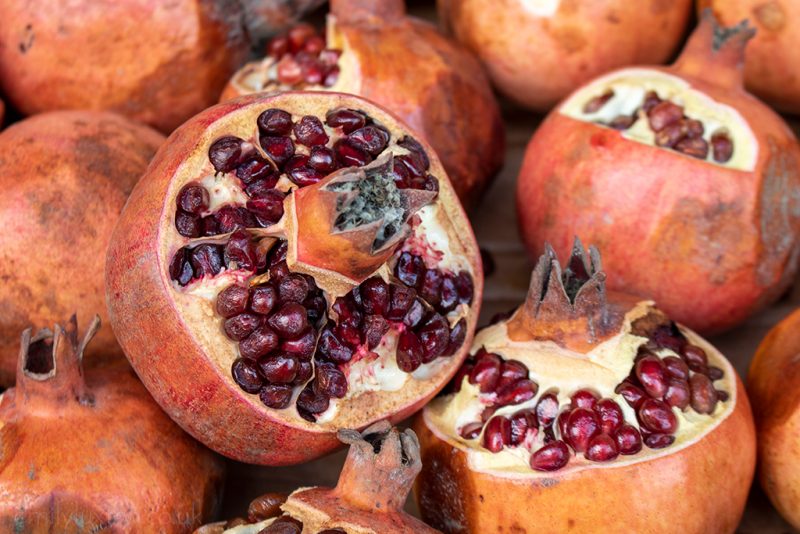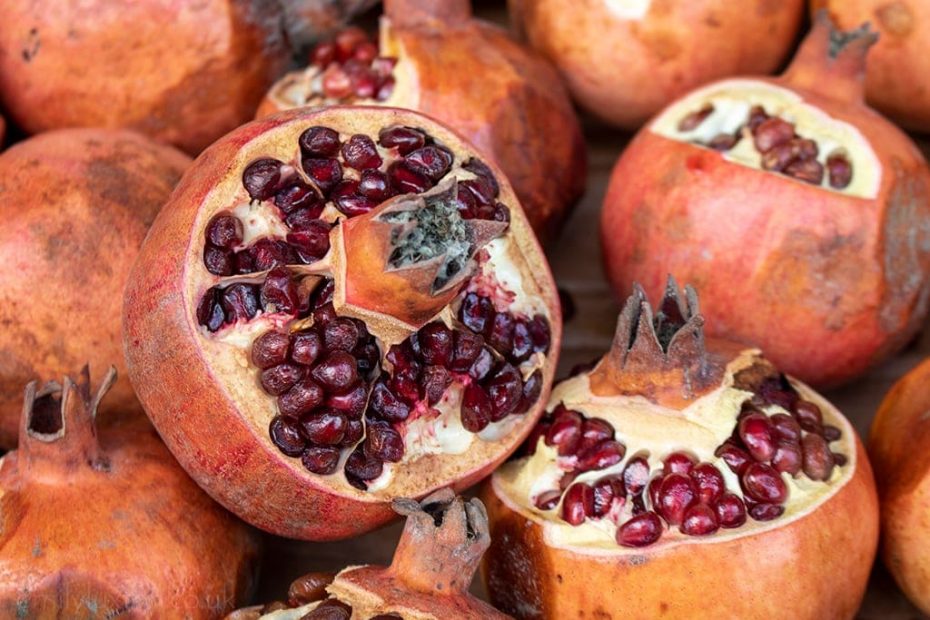 Traditional Uzbek Cuisine: Mains
Plov
The signature dish in Uzbekistan is plov – also called palov or pilaf. Plov is so integral to Uzbek cuisine that it's been featured by UNESCO on their list of Intangible Cultural Heritage of Humanity.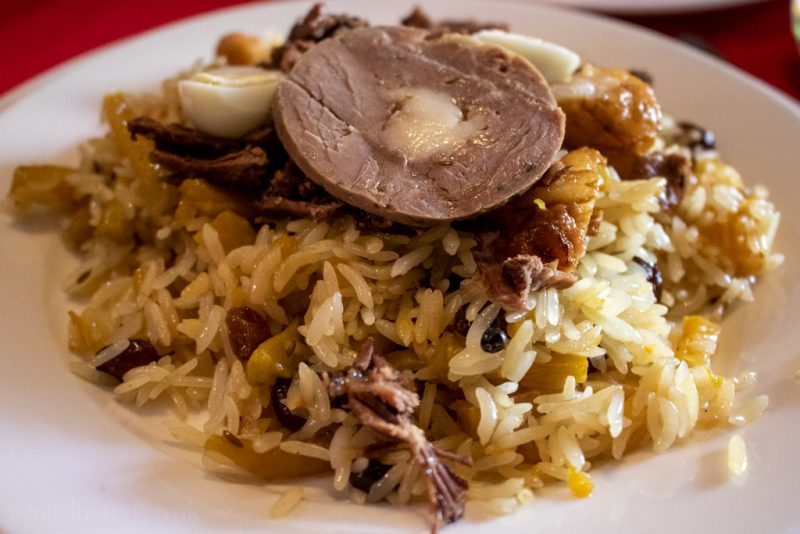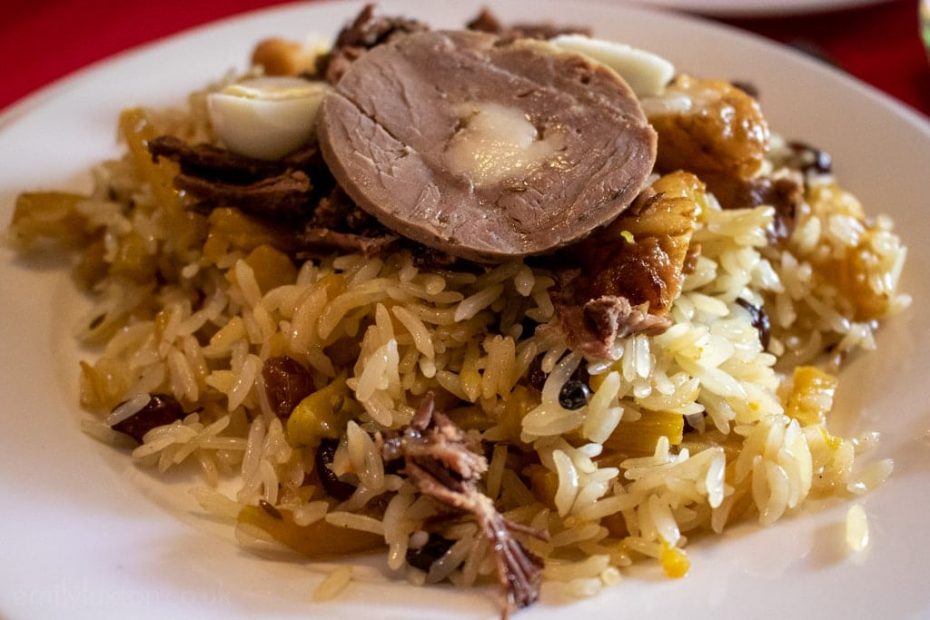 Essentially, plov is a dish of rice, meat, onions, carrots boiled in a light broth inside a kazan (cauldron). Depending who you ask, there are anything up to 200 versions of the dish, but my guide said that there were around 35 Uzbek variations. You'll often find it served with sausage, eggs, raisins, or with various other additions. So you can never really have too much plov as there's always something new to try!
In Tashkent, take a trip to the Plov Centre to see this typical Uzbek dish being prepared in huge cauldrons. Some 700,000 kg of plov is prepared in that centre every day, so it's a pretty impressive sight!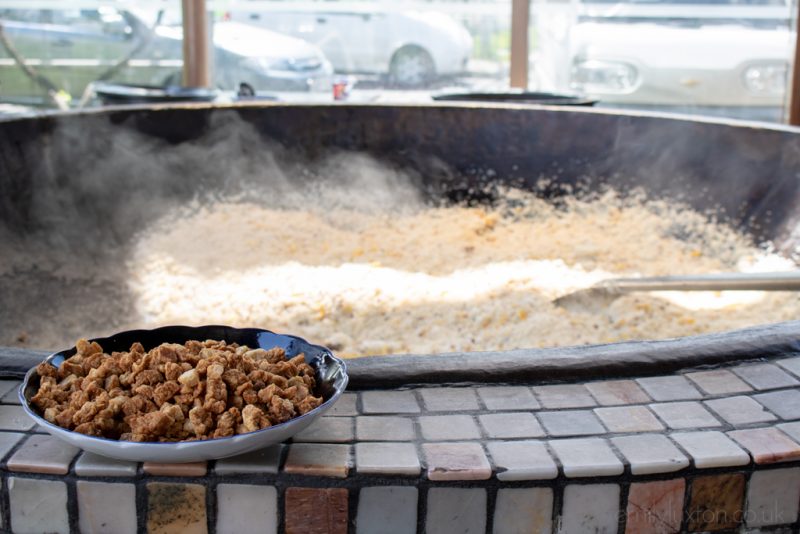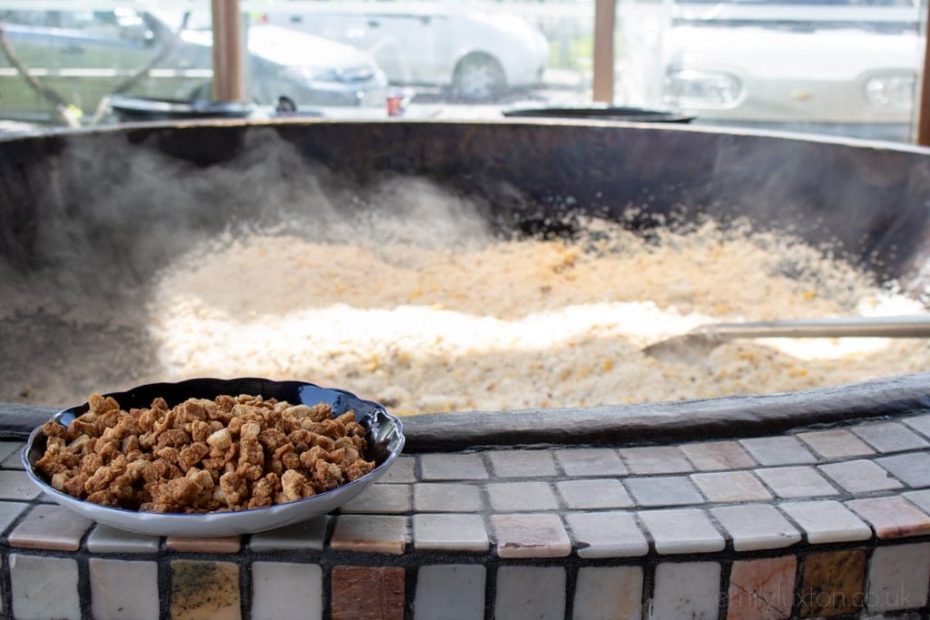 Lagman
Lagman (or lag'mon) is a dish consisting of noodles with meat and veg, either served as a soup in a light broth, or fried in a sticky sauce (qavurma lagman). Normally made with beef or lamb, and with hand-pulled noodles, this dish is a must-try in Uzbekistan.
Like many dishes in Uzbekistan, lagman is popular throughout Central Asia. In fact, the word itself – like the noodles – are thought to have been borrowed from China. However, the flavours and preparation of the dish are distinctively Turkic.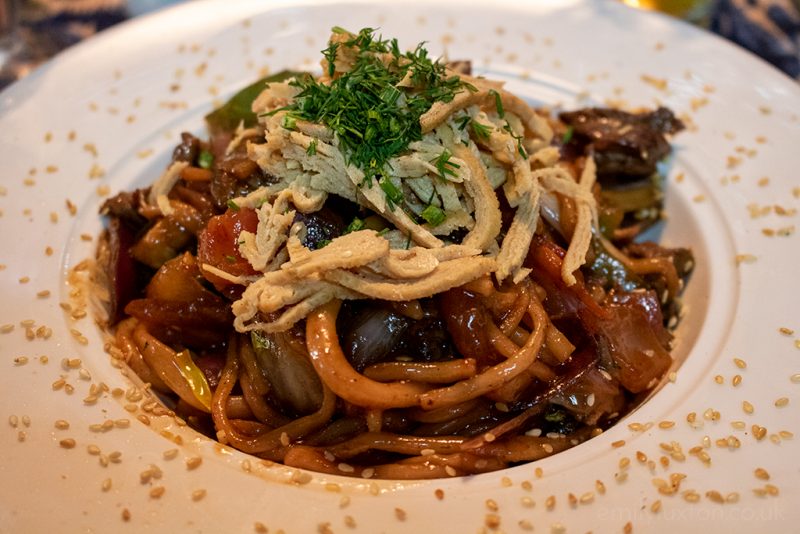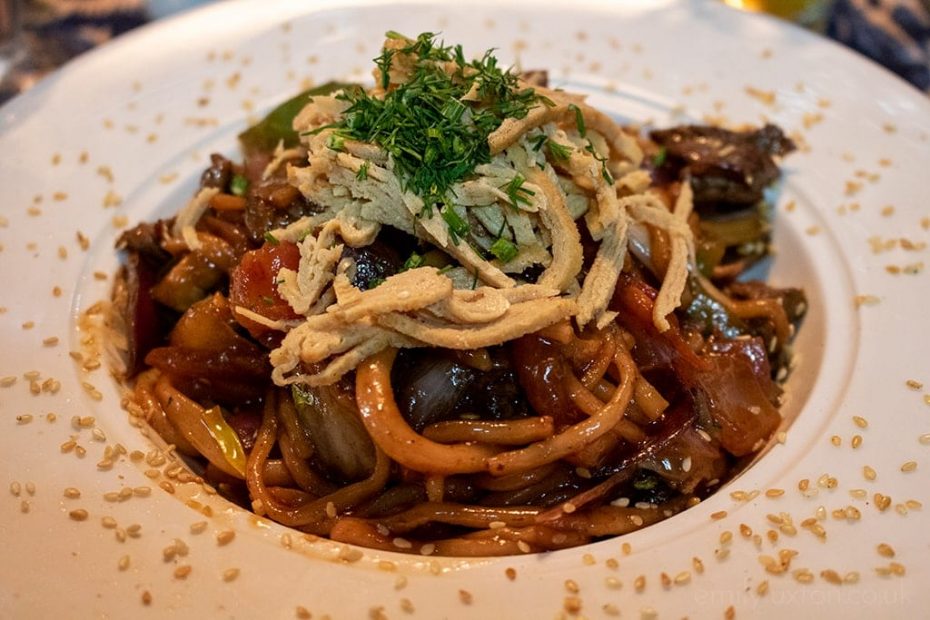 Kebobs
Kebabs are a very common dish within the Uzbekistan food scene, and there are several styles. Two of the most common are shashlyk and kazan kabobs, and both are well worth trying!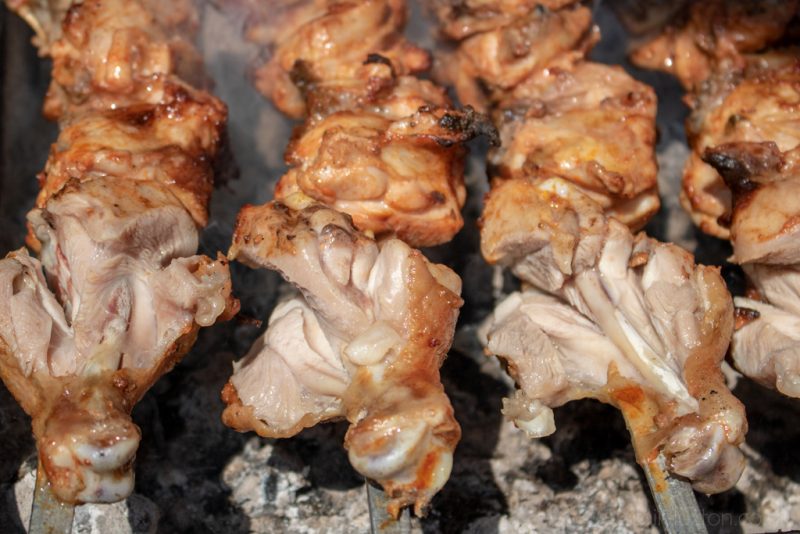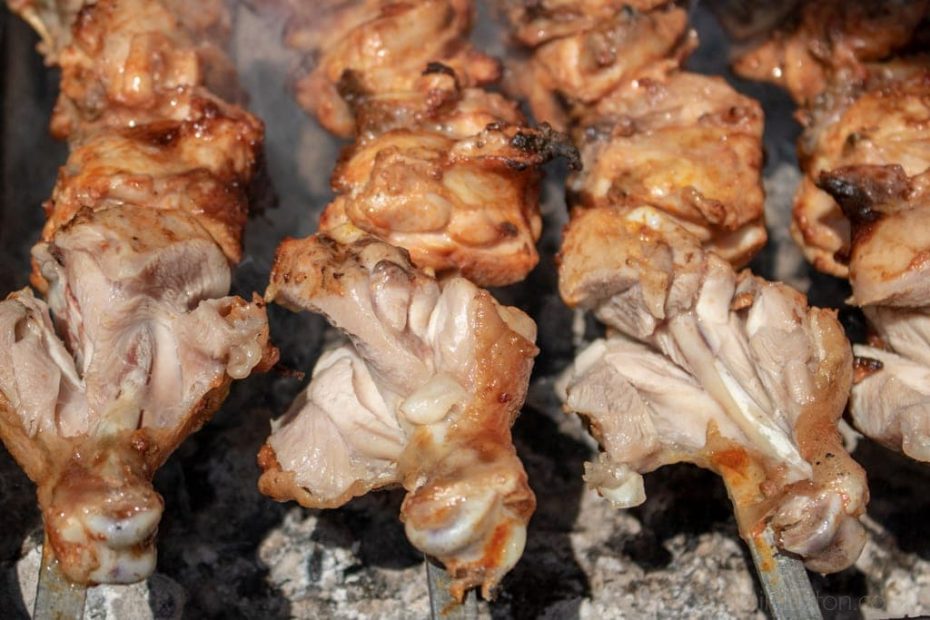 Shashlik
Shashlik, also known as shish kebab, is a very popular dish that is by no means limited to only Uzbekistan. In fact, you'll find it all the way from Asia to the Meditteranean. But shashlik originated in Central Asia, so is another must-try in Uzbek cuisine.
Basically, shashlik kebabs involve cubes of meat threaded onto skewers, sometimes alternating with vegetables such as peppers, onions, and tomatoes. These skewers are grilled, usually over wood or coal, which makes them a perfect street food snack. You'll often find them at markets and roadsides throughout Uzbekistan.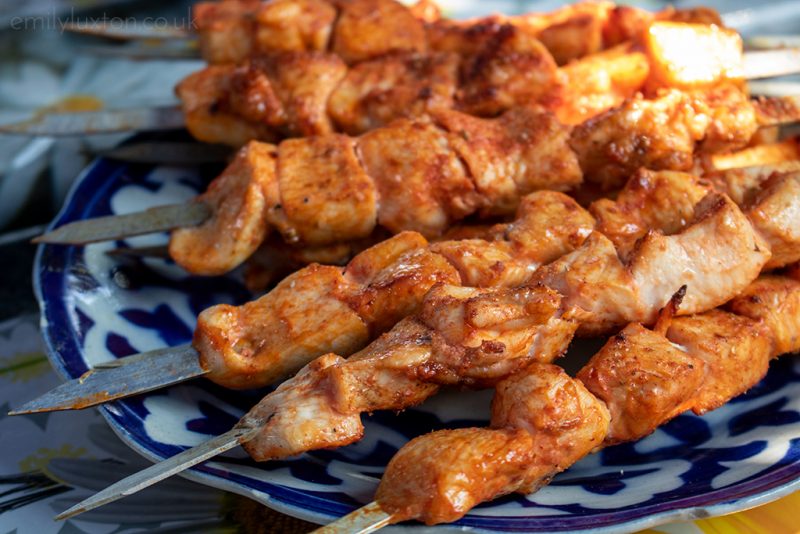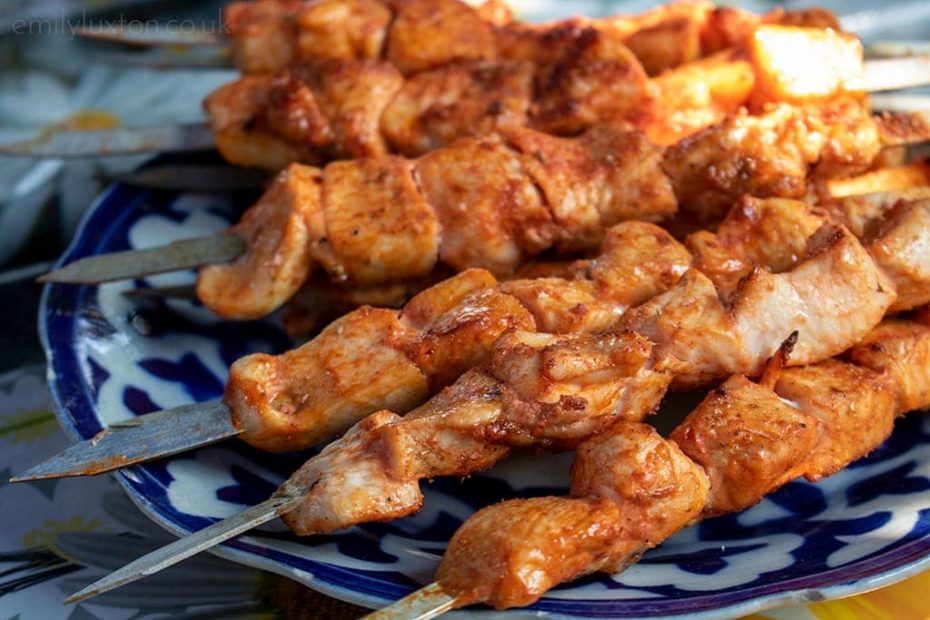 Kazan Kabob
A kazan is a cast-iron casserole dish, so a kazan-kabob is a typical Uzbek dish made by slow-cooking meat and potatoes in a casserole. The dish is usually made from meat on the bone, but the name "kabob" comes from the fact that the meat is cut to (sort of) resemble a kebab. Although boiled in a broth in the kazan, it's cooked until the dish is almost dry.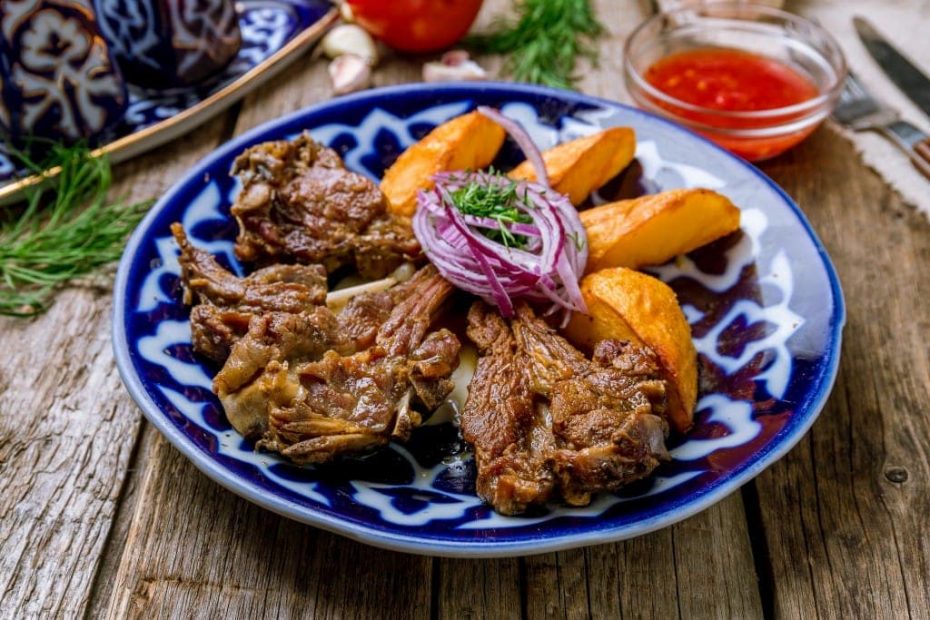 Dimlama
Dimlama is a type of Uzbek stew made with mutton or beef, potatoes, onions, and vegetables. You may also sometimes find it containing fruits, such as raisins or apricots. The meat and veg are cut into large pieces and placed in layers in a tightly sealed pot, which simmers so that the ingredients cook in their own juices.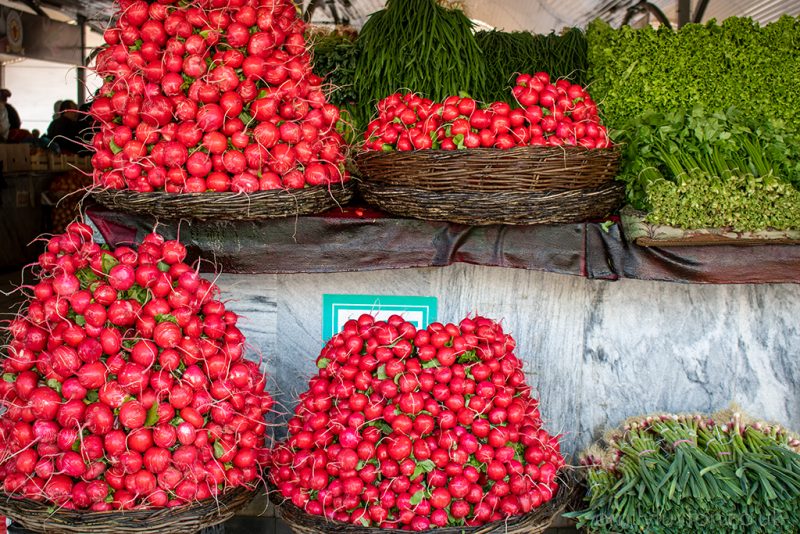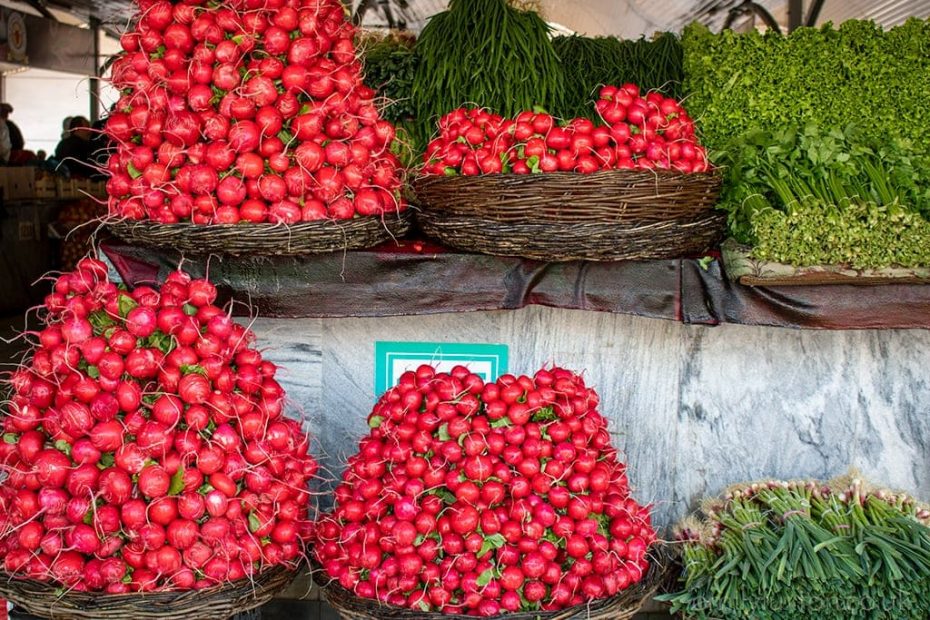 Starters / Small Dishes
Somsa
Somsas, or samsas, were one of my favourite foods in Uzbekistan! They reminded me of mini Cornish pasties – and were utterly delicious. Put simply, these are small pastry dumplings filled with meat and potatoes. You can also get veggie ones made with vegetables and/or cheese.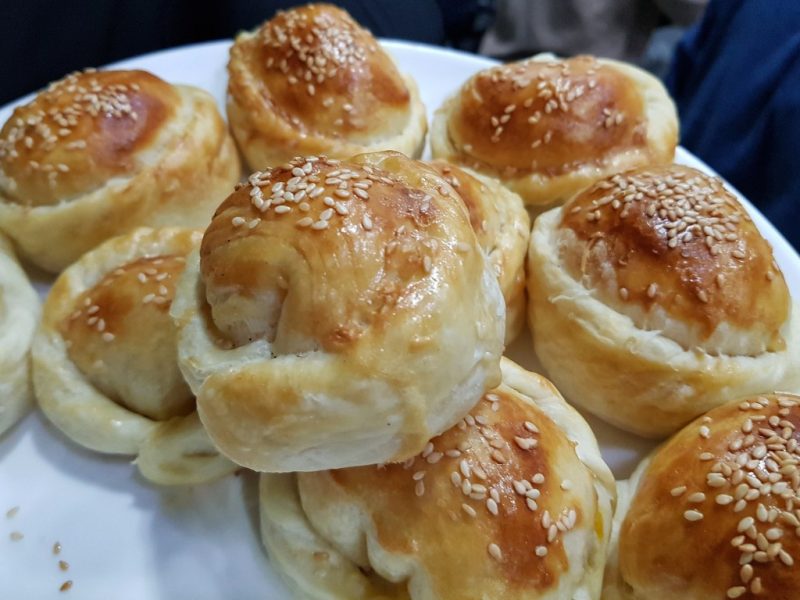 Manti
Another of my favourite smaller Uzbek dishes, manti are steamed dumplings filled with ground meat and onions. They reminded me of momos from Nepal, but manti are slightly heavier – and distinctively Uzbeki. You can also find vegetarian versions in some restaurants, usually made with pumpkin.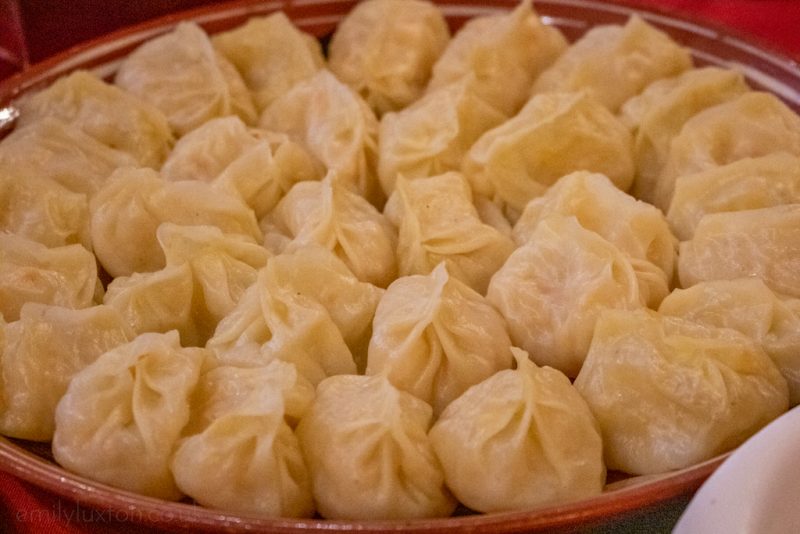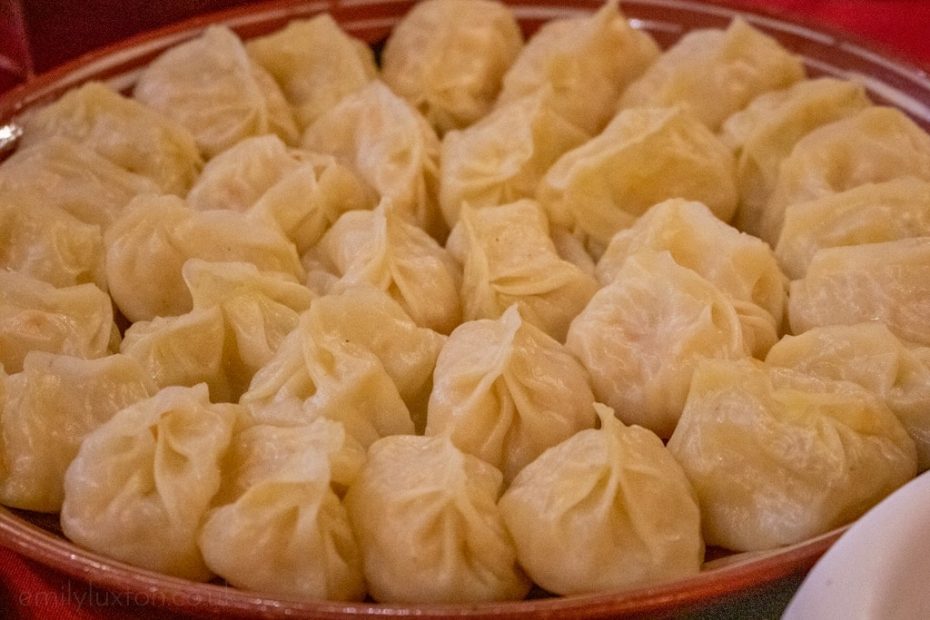 Manti are often served with sour cream, and make an excellent side dish or starter. Because they're a little heavy, you might want to share them as a starter – or you could order them on their own as a snack between meals!
Shurpa Soup
Soup is a very popular dish in Uzbekistan, despite the heat of summer! One of the most common ones is Shurpa Soup, often just called shurpa. It's actually an Uzbek variation of chorba soup, which is eaten in various cuisines around Central Asia, the Balkans, and the Middle East.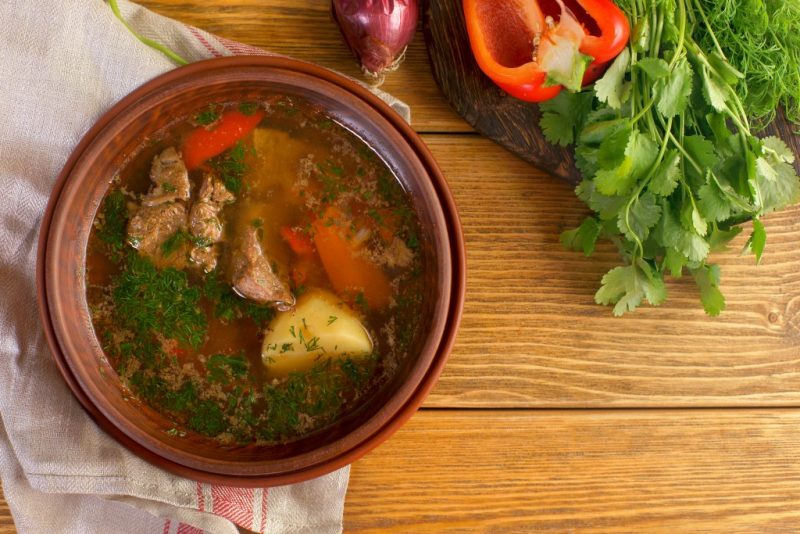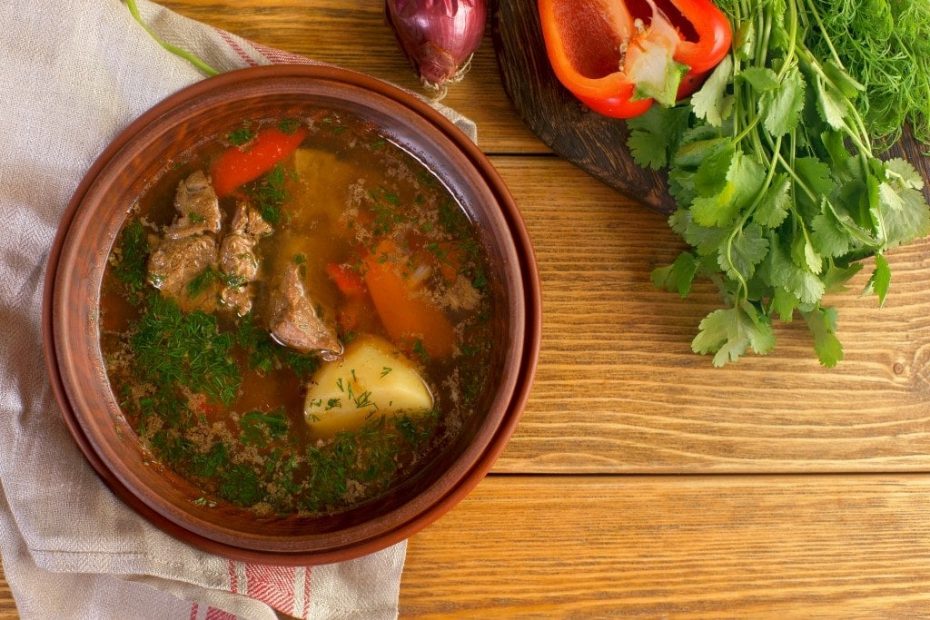 Shurpa soup is a light broth made with potatoes, vegetables, and meat. Usually, the meat is fatty mutton or lamb.
Lentil Soup
Another common soup that makes a great vegetarian alternative is a creamy lentil soup. You can find it in many restaurants, although it seems to vary a lot from place to place.
Shakarap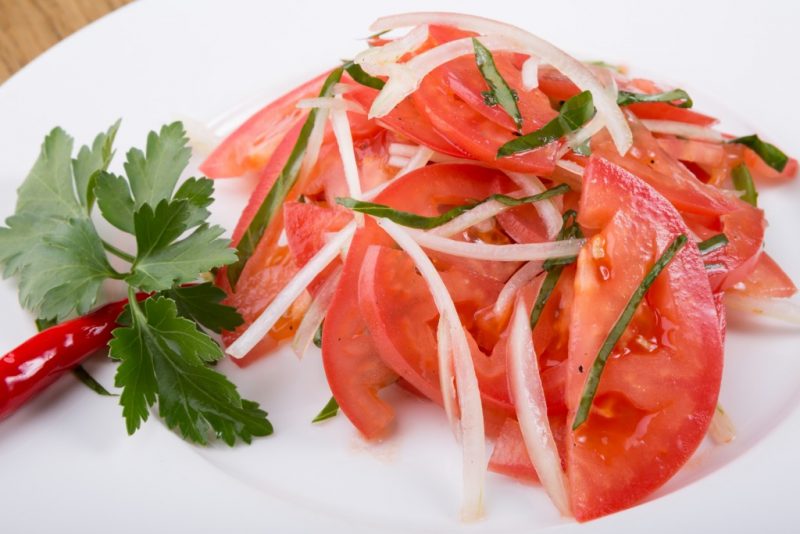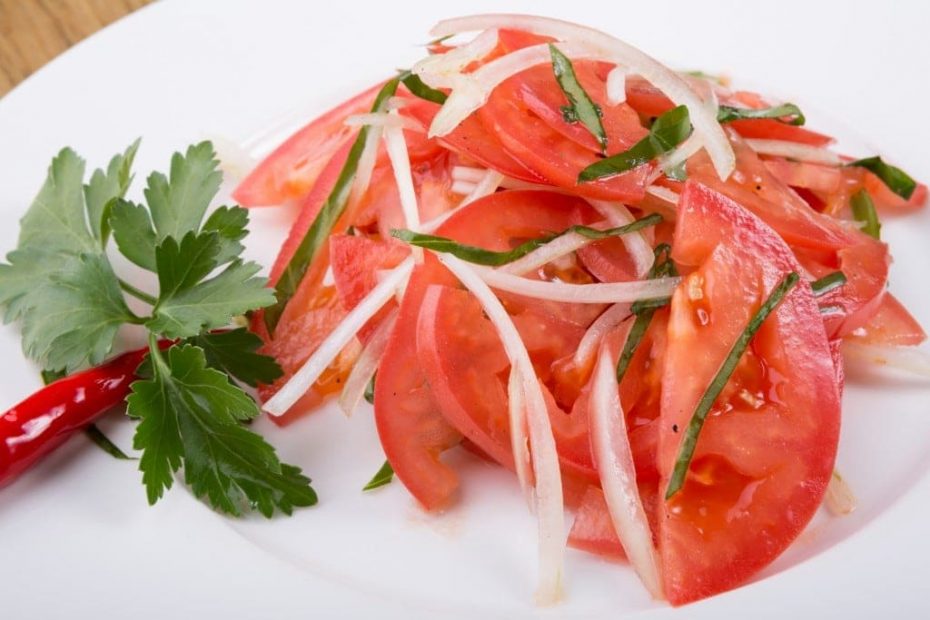 One of the most common starters you'll find served in Uzbekistan is a very simple salad known as shakarap. It's made from tomatoes and onions, sprinkled with salt and pepper. Sometimes it will also contain cucumber, and/or be served with a dressing. But often, it's just two ingredients!
Guzlama
Guzlama are another kind of dumplings in Uzbekistan. These ones are folded, pressed flat, and then deep-fried. Fillings vary, but I particularly enjoyed the lamb, spinach and cheese ones I had at Caravan in Tashkent. Yum!
Tandyr Non and Obi Non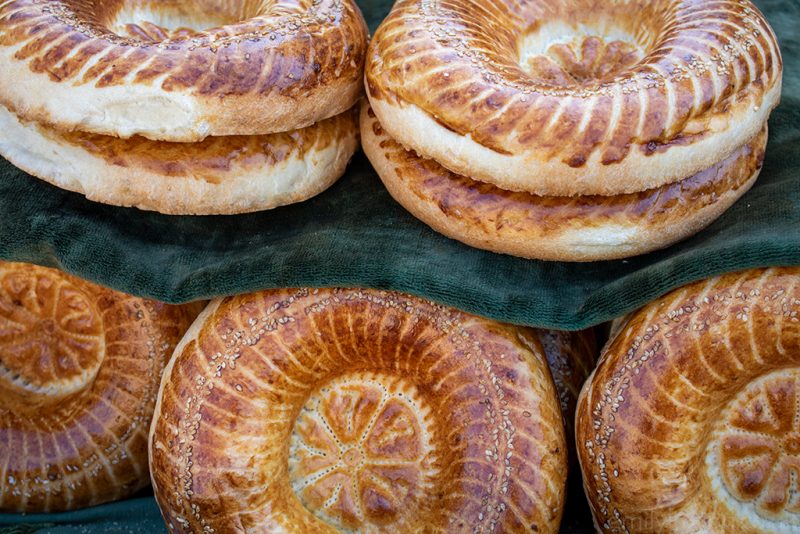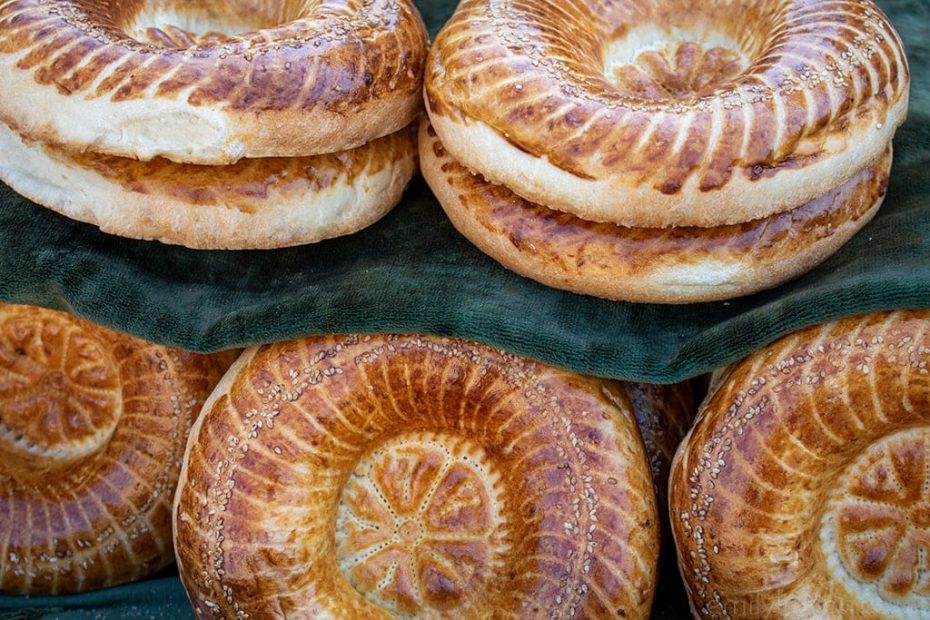 As mentioned earlier, bread is a pretty big deal in Uzbek cuisine. Tandyr non is a staple and you'll see it everywhere. The bread is formed into large discs with a depressed centre, which is often stamped with a design. It's then cooked in a tandoor oven, so that it looks like a wheel once it's cooked.
Obi non is a flatter Uzbek variation of the bread, which is very much a staple in the local cuisine. It comes with pretty much every meal, but the best is when you buy it fresh at the market!
Uzbek Desserts and Sweets
In Uzbekistan, dessert didn't seem to be quite so common. When it was served, it was often a Western offering. BUT there are loads of sweet treats in Uzbek cuisine, especially at markets. Dried fruit, nuts, and candied nuts are all particularly common. Below are a few of best Uzbek sweets to add to your must-try list!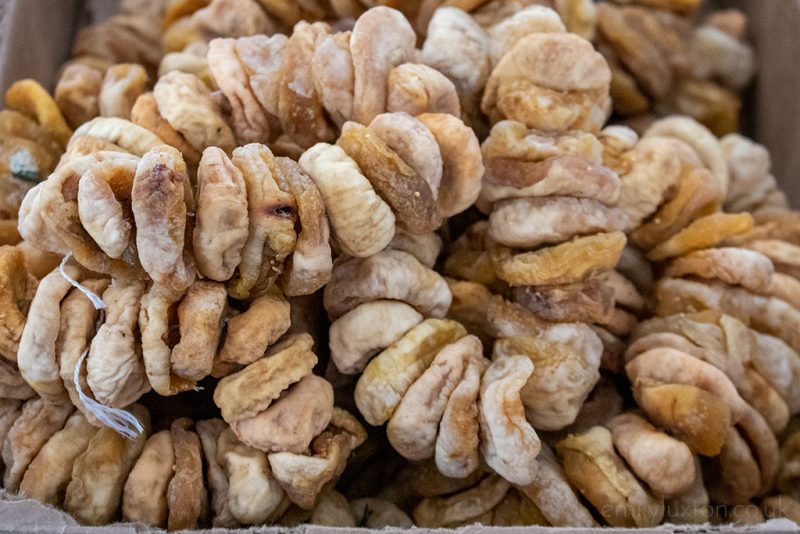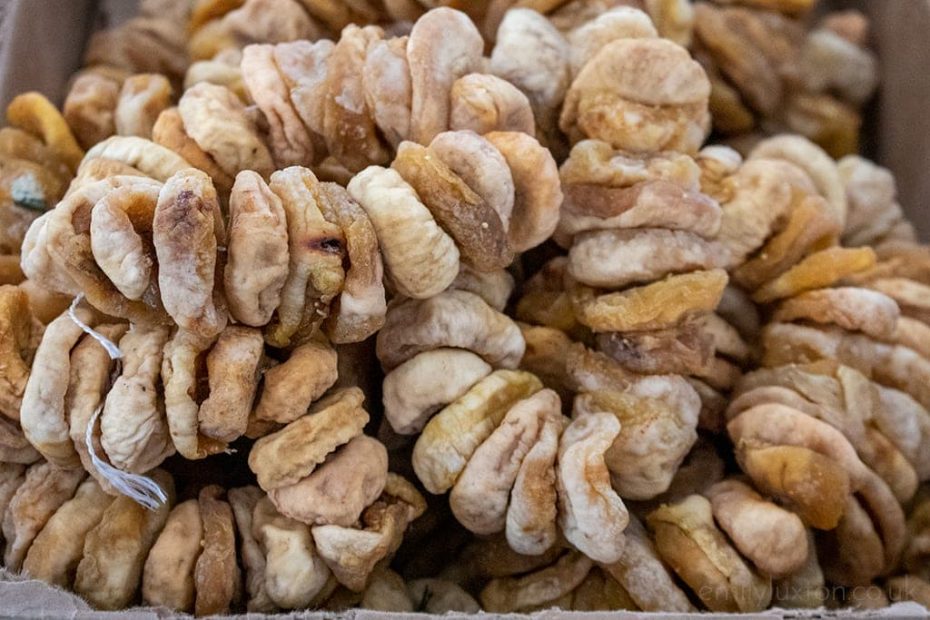 Baklava
Baklava, also known as pakhlava, is a sweet pastry made from chopped nuts sandwiched between layers of filo and held together with honey or syrup.
It's generally thought to have originated in the Ottoman Empire – and chances are you think of it as a Turkish or Greek dessert. But some say baklava has Turkic, Mongolian, or Persian origins. Wherever it came from, baklava is very popular throughout Central Asia, where it's commonly made from walnuts or almonds and cut into a distinctive rhombus shape.
Halva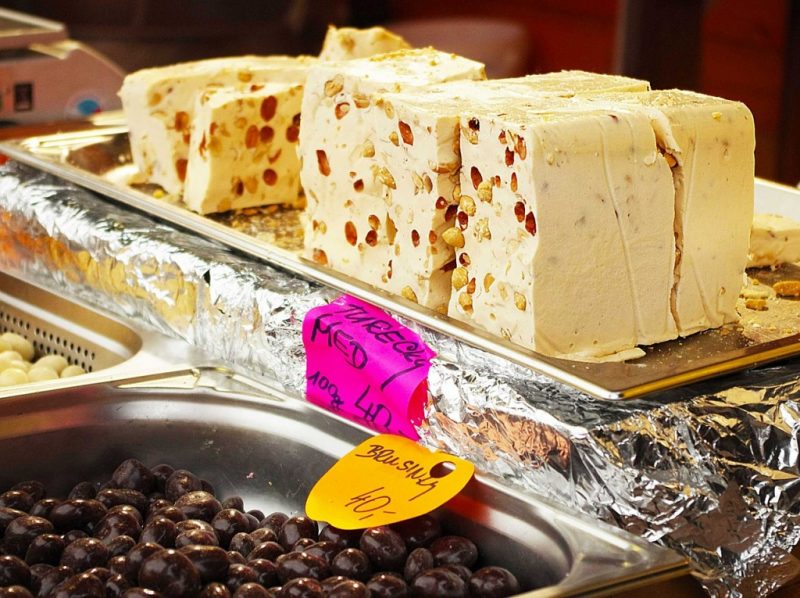 Halva is probably the most popular sweet in Uzbekistan, and one of my favourites from my trip! I bought a pretty big box of the stuff. Although the name literally translates as "sweets", in Uzbekistan and the rest of Central Asia the common style of halva is nut-butter based. It's made by grinding oily seeds, such as sesame or sunflower seeds, to a paste and mixing with sugar.
The result is a brick-like slab of a crumbly, sweet substance that is pretty hard to describe. You'll just have to try it for yourself! There are many recipes and local variations, and you'll sometimes see cocoa, egg white, fruits, or pistachios added.
Nawat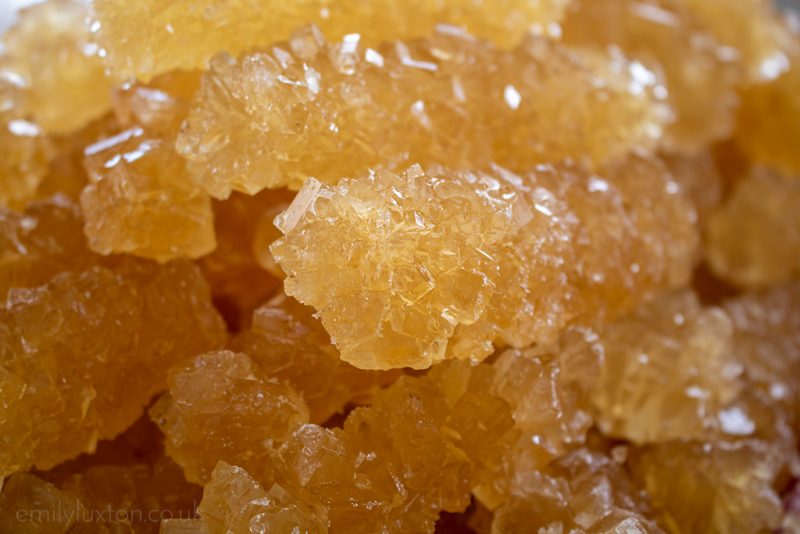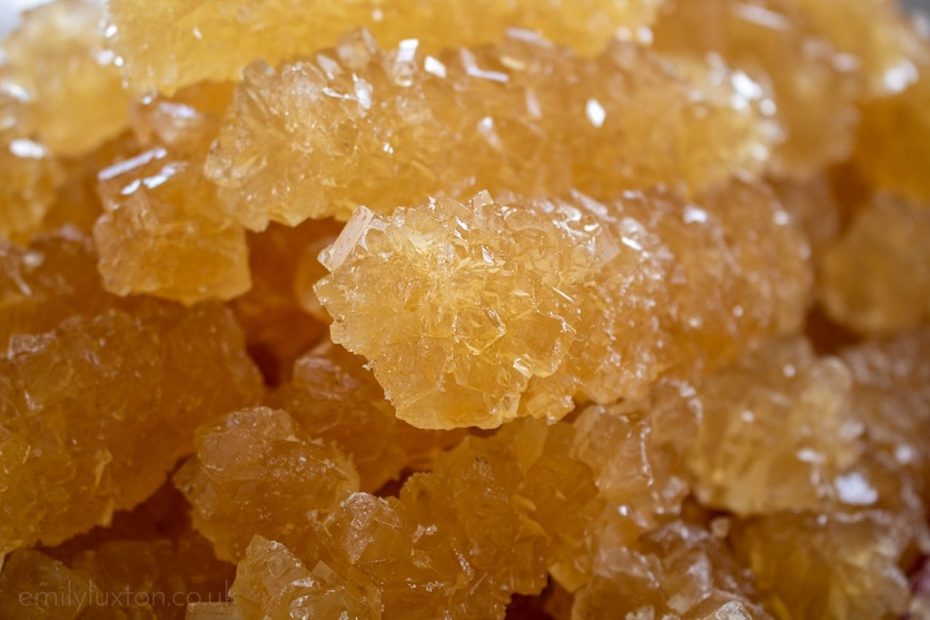 Nawat, or navat, is another traditional Uzbek sweet. Basically, it's crystallised sugar, usually made from sugar syrup or grape juice.
Parvada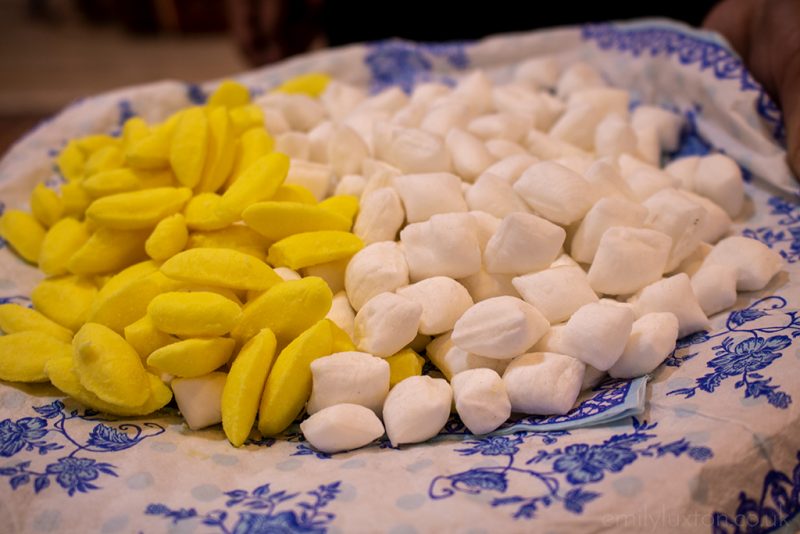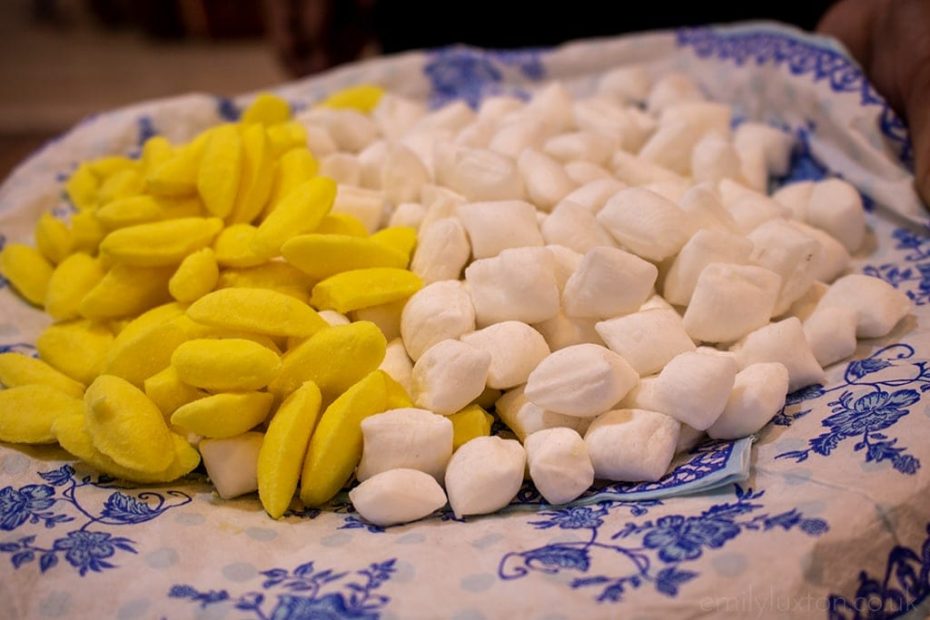 This was my favourite Uzbek sweet treat – I bought a gigantic bag home with me and ate them for weeks! Parvada are small white sweets made from only sugar, flour, and lemon juice or citric acid. No added chemicals or flavours – so they're basically healthy! Parvada are hard, but slightly crumbly, with a flavour that kind of reminds me of candy sticks from the UK.
Uzbek Drinks
Tea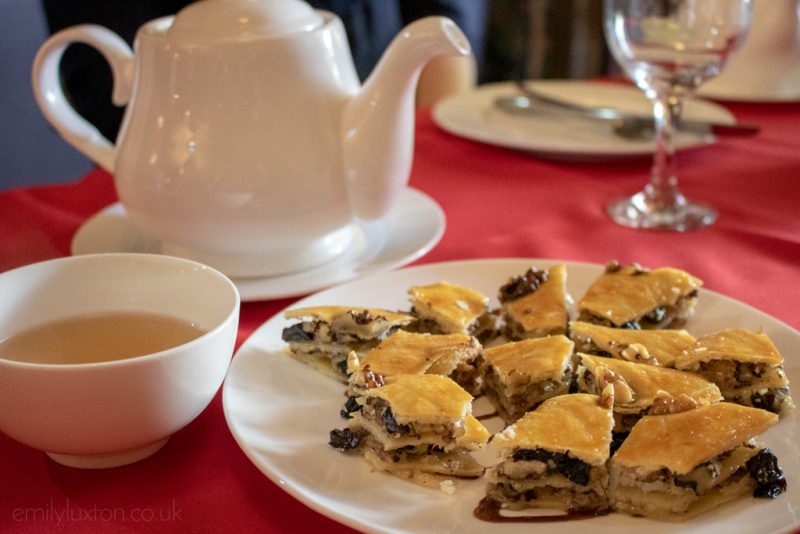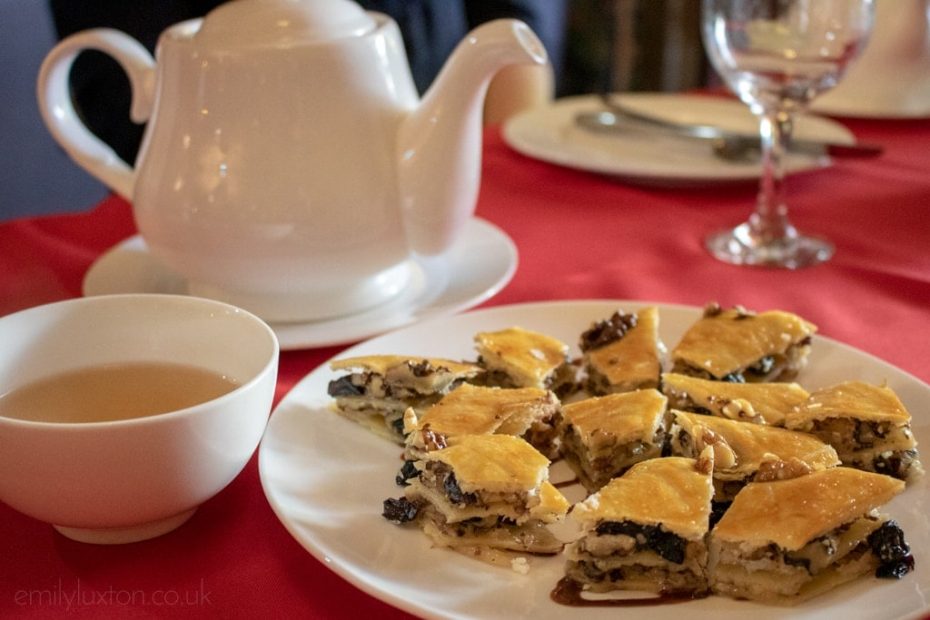 Tea is a pretty big deal in Uzbekistan, as it is across most of Asia. Green or black tea are served with every meal, but they're also given to guests as a sign of hospitality. You may even find yourself offered tea whilst browsing in a shop – it's all part of the experience.
Local beer
There are several breweries in Uzbekistan so you can always find local beer. Prices are decent and the beer is pretty good! Pulsar seemed to be the most common brand; it comes from the Samarkand-Praga Brewery.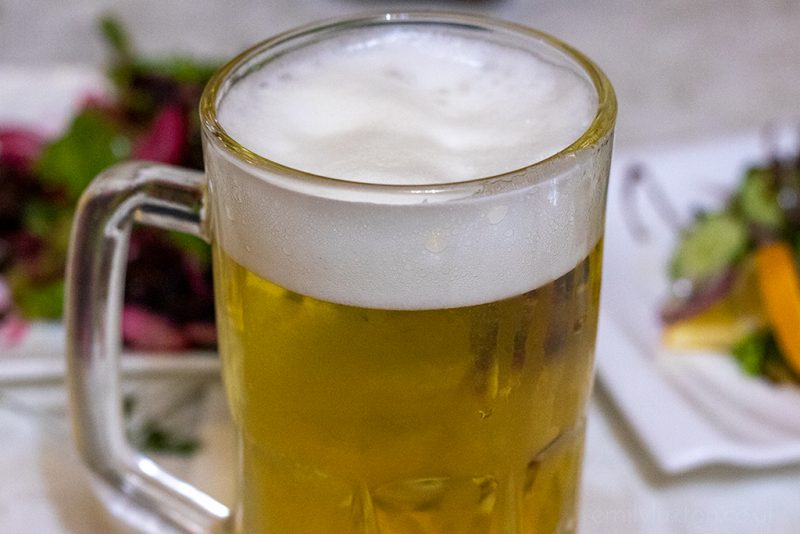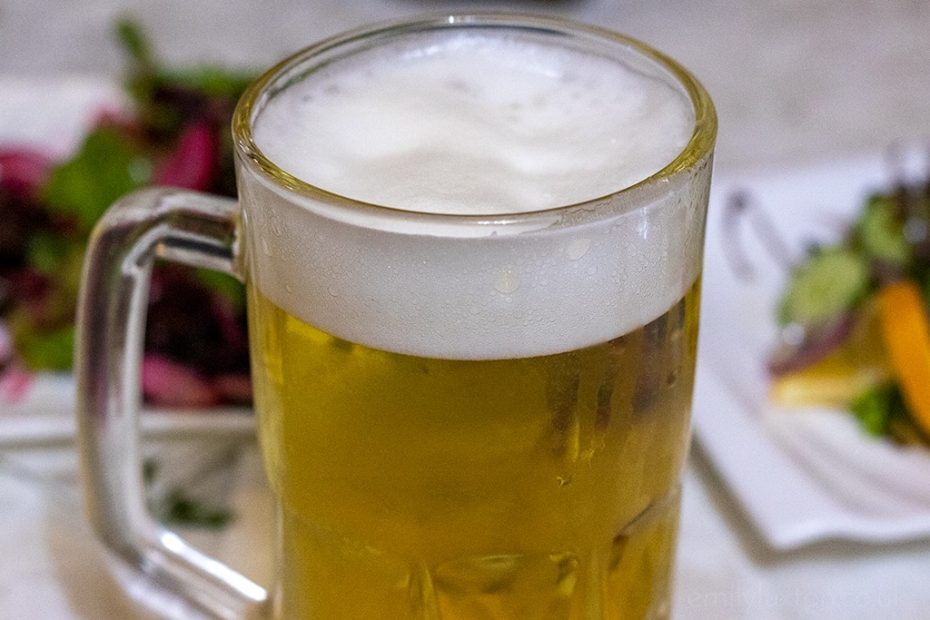 Vodka
Imposing architecture isn't the only legacy the Soviets left in Uzbekistan; they also left behind a nation of vodka drinkers. A lot of the vodka and beer in Uzbekistan is imported from Russia, but there are plenty of local distilleries if you want to try Uzbek vodka. Samarqand, O'zbekiston Vodka, and Royal Elite seemed to be the most popular.
Ayran
This last one isn't something I got to try on my trip, but it does seem to be a pretty prominent part of Uzbek cuisine. Ayran is a cold drink made from sour milk or yoghurt, which is mixed with water and herbs.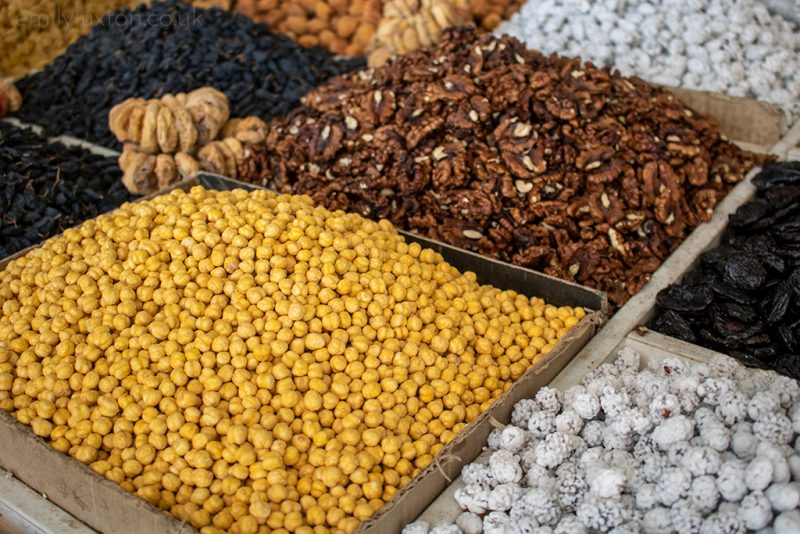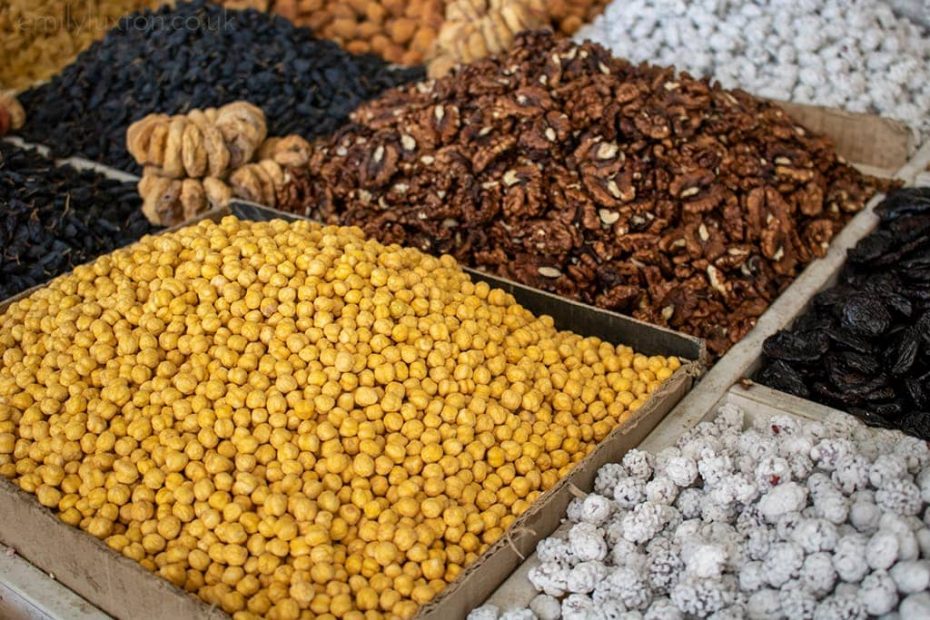 Uzbekistan Food Tours
One of the best ways to learn about a country's food is by taking a food tour or cooking class. Meet locals, chat about all things food, and learn local traditions. You can also ask for restaurant recommendations to help you fill the rest of your trip. Below I've listed a few of the top Uzbekistan food tours and experiences. These are affiliate links, so I might make a small commission if you book something (without affecting the price you pay).
Read More
Uzbekistan Travel Guide: Everything You Need to Know!
A Cowboy, a Shepherd, and a Proposal
So that's it for my Uzbekistan food guide! Have I missed anything? Please scroll down and let me know in the comments!
Pin This Post