Some posts on this site contain affiliate links. If you book or buy something through these links, I earn a small commission (at no extra cost to you). Take a look at my privacy policy for more information.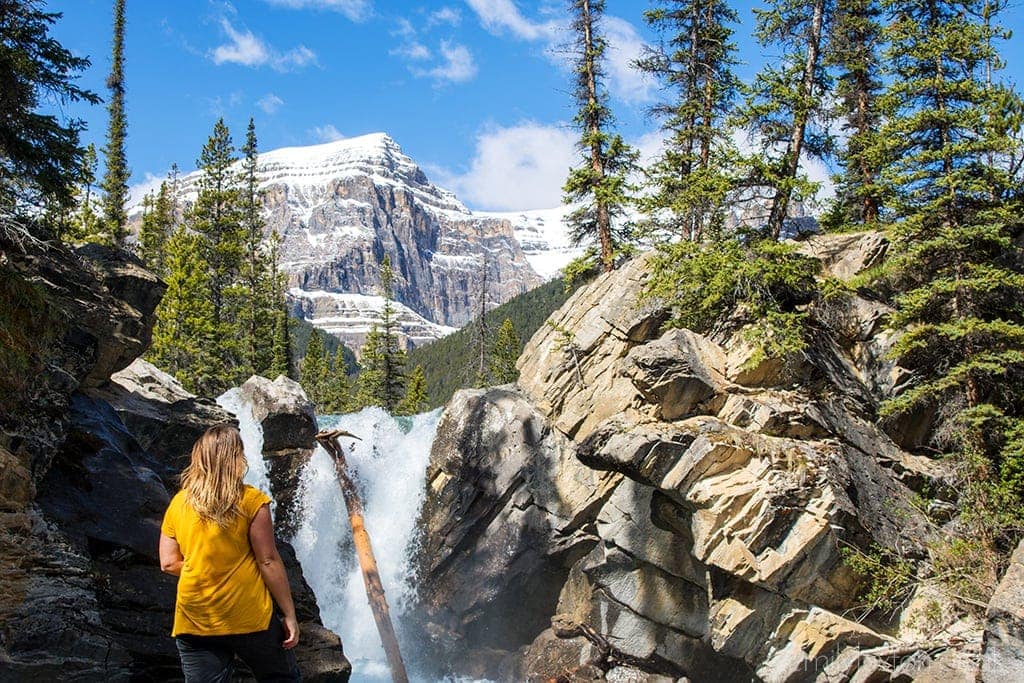 How do you condense ten days of pure, unadulterated adventure into one article without resorting to lazy adjectives like "amazing" and "epic"? Because our ten-day Mountie trip through Canada with Trek America was well and truly, unabashedly EPIC. So this post might be a challenge.
This is partly a Trek America review, but it's really more of a breakdown of the Mountie trip and all of my favourite things from our adventure. I wanted to tell you absolutely everything you need to know about the Trek America Mountie tour! So here goes…
Trek America Mountie Itinerary
Typically, the Trek America Mountie route runs from Vancouver to Calgary by way of Whistler, Wells Gray, Jasper, Yoho, and Banff, calling at some of the most iconic attractions in Alberta and British Columbia. My blogger group actually did the route in reverse – but we still hit all the highlights of the actual tour. Below, I've shared the standard Trek America Mountie itinerary to give you an idea of where you'll head.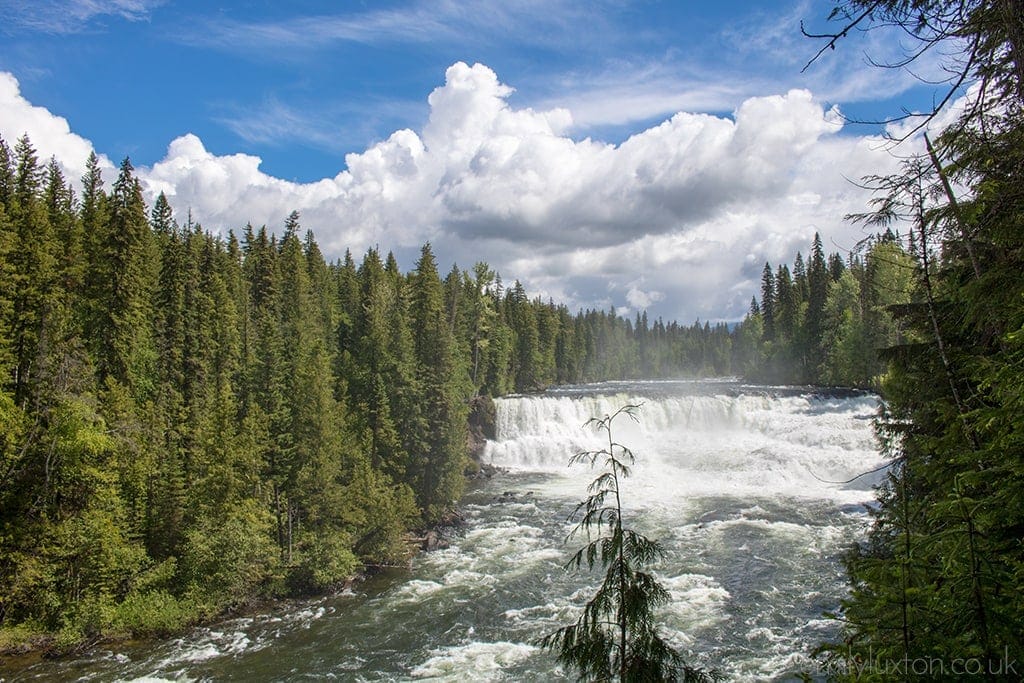 Days 1-2: Vancouver – Whistler
3-4: Wells Gray Provincial Park
5-6: Jasper National Park
7-8: Icefields Parkway – Yoho National Park
9-10: Lake Louise – Banff National Park
11: Banff National Park – Calgary
What's fun about Trek America is that every trip is different (read my review of the Trek America Freedom Trail for proof of that!). Guides will take you to their favourite spots or make itinerary changes if required by season or for other reasons.
Meet our Guides!
Our guides really made the trip for me. I'm not just saying this, but after years of travel Will and Heather are definitely the best guides I've ever had. Not only were they crazy fun and really friendly – instantly becoming part of the group as well as leaders – but they were also insanely, catchingly passionate. About Canada, about the landscapes, about Trek America, about everything.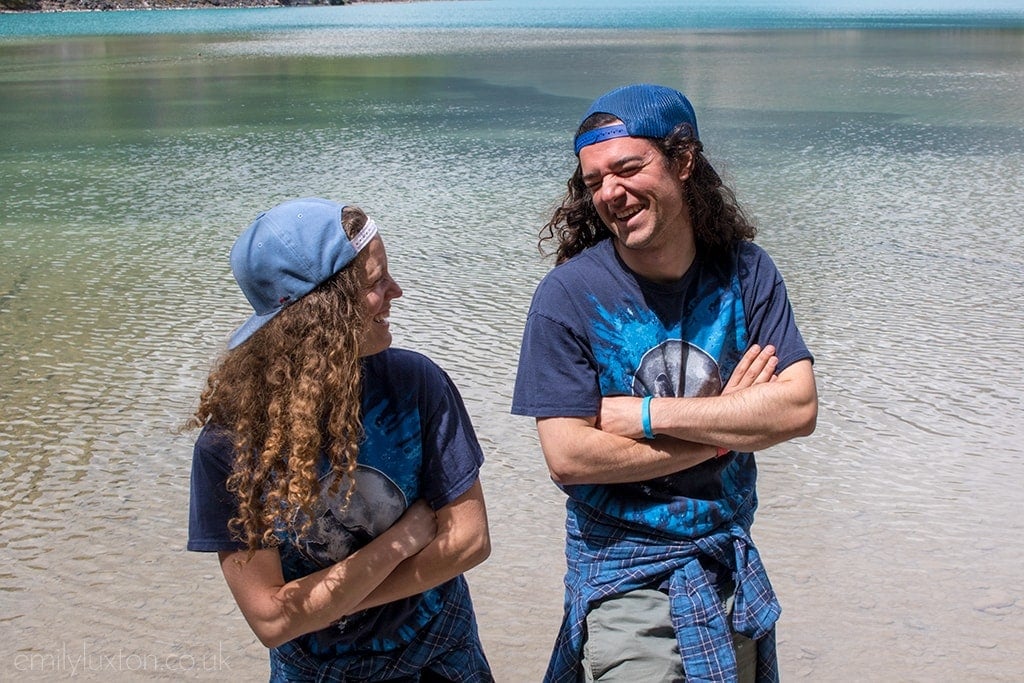 Meet Heather! Canada-born-and-bred, outdoor enthusiast, expert woodcutter, longest-serving guide on the Trek America Canada team, and all-around superwoman. She LOVES her country and it really shows – in an infectious, joyous sort of way. Heather is definitely the most enthusiastic guide I've ever had on a trip. Except for maybe Will…
Meet Will! Australian, hilarious, owner of the coolest socks I've ever seen, top potato masher, and one of Trek America's newest guides. He was on the tour to shadow Heather before getting started as an official guide, but seemed like he'd been doing it forever. Again, super passionate about Canada and full of interesting facts. Just don't ask him why there are fish in glacier lakes!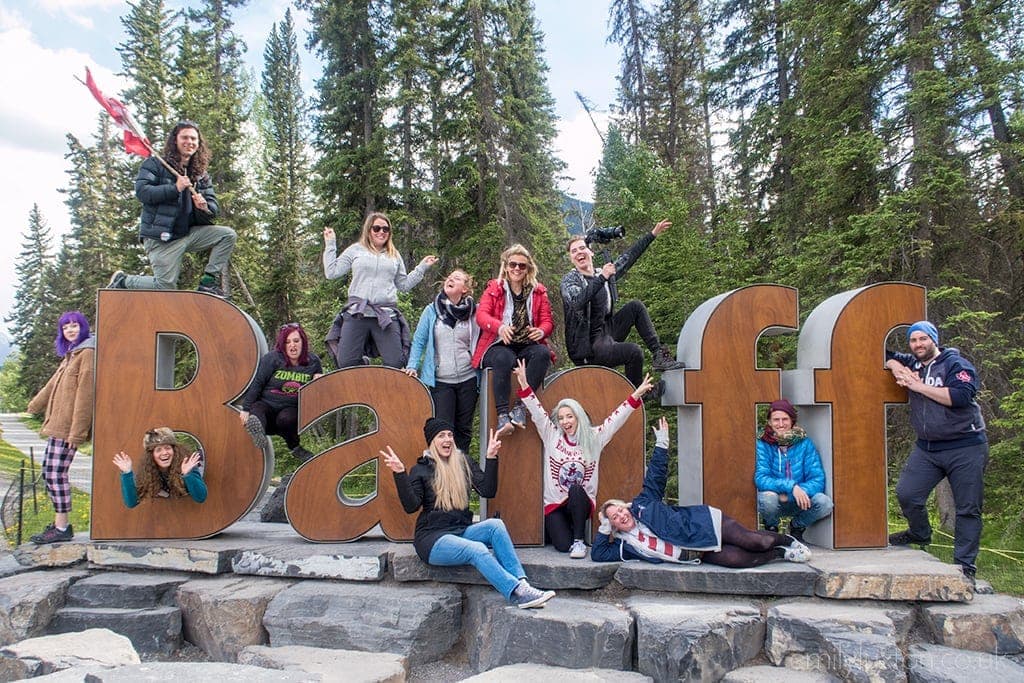 Vanlife – Road-tripping Canada on the Trek America Mountie
Get ready to spend a LOT of time in your Trek America minivan. Canada is a big old country and there were a lot of driving hours.
But before you let out a big sigh of dread let me say that the driving hours were some of my favourite bits of the Mountie tour. This is a road trip in Alberta, and what's a road trip without some epic driving views? Canada is honestly one of the most consistently beautiful countries I've ever visited, and there was never a time I felt bored with the view outside the window. We stopped for gorgeous views or mini hikes to break up long journeys. We saw BEARS! It never felt boring.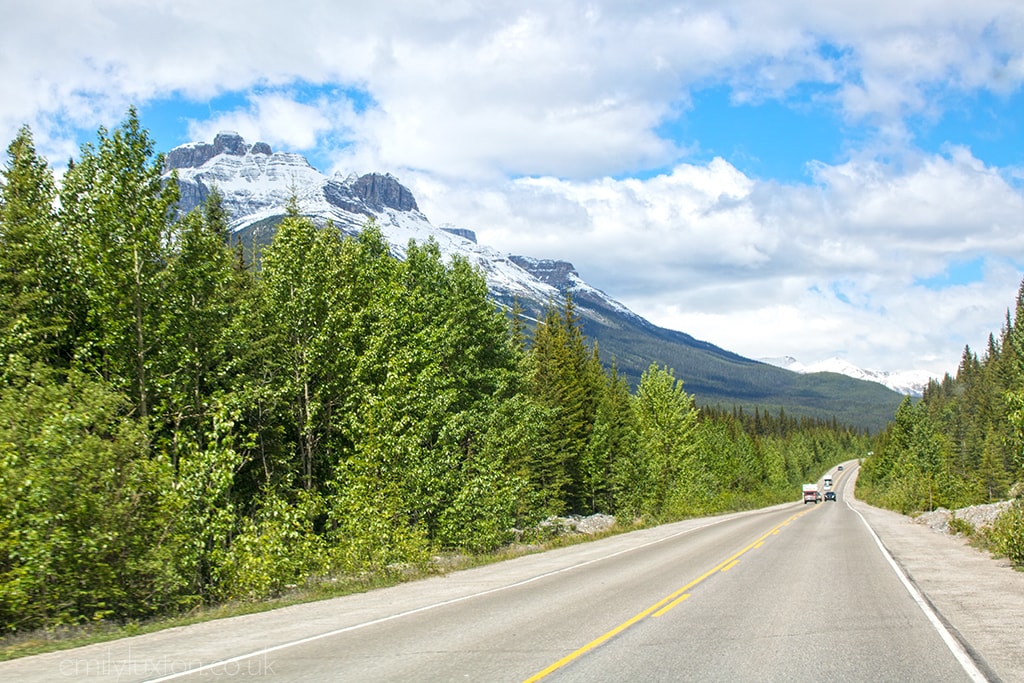 One thing I liked is that the guides made us switch up places every time we got in the van. That meant we all chatted to each other instead of forming cliques, and as a result, we had such a great team spirit by the end of the week. If we weren't chatting or listening to the guides' stories, we were having a good old-fashioned road trip singalong. Sometimes wearing hats. It was so much fun, and for as long as I live, every time I hear Africa by Toto I will think of the Canadian Rockies.
We drove through the Rockies, along the famously stunning Icefields Parkway, through the grassy plains of BC, along the edge of Fraser Canyon, and all the way to Vancouver. From our starting point in Calgary, we covered around 1500km. The Trek America Mountie is one HELL of a road trip!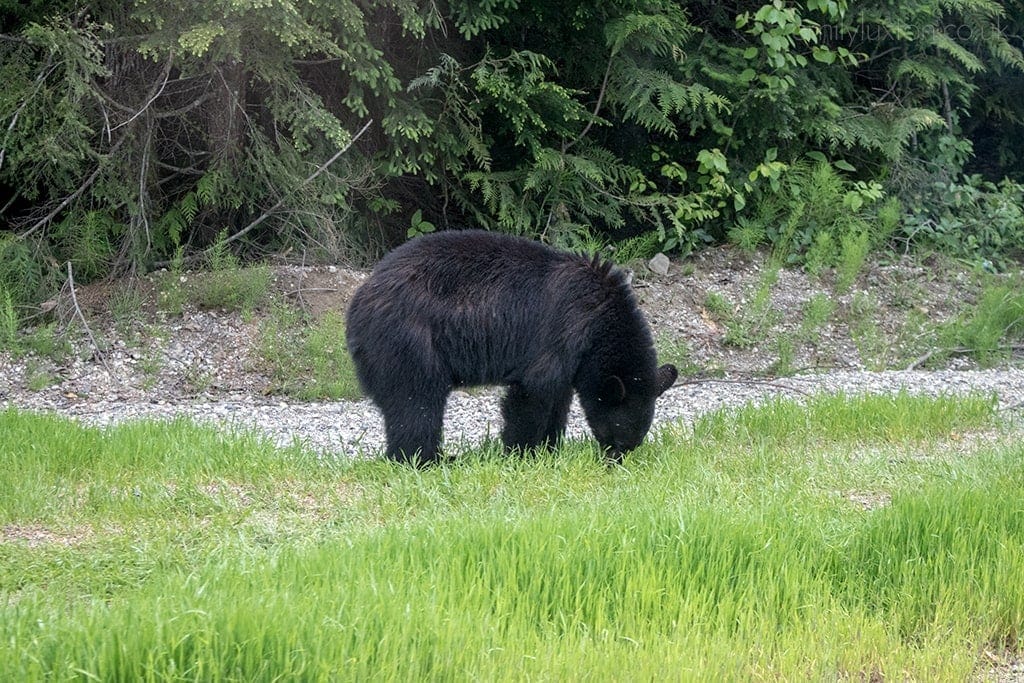 Camplife – What it's Like Camping on a Trek America Canada Trip
The Mountie is one of Trek America's Original Tours, which means small group road trips with camping or budget accommodation. We camped every single night of the trip at four different campsites, and it was so much fun. This is a real outdoorsy adventure and camping felt like the perfect way to explore Canada in summer.
There's also a real group spirit which is what's so great about Trek America tours. Our group was split into teams and we each had a different duty every day – cooking dinner, washing up, or cleaning out the van. We all pitched in and helped set up camp or pack up when it was time to move on.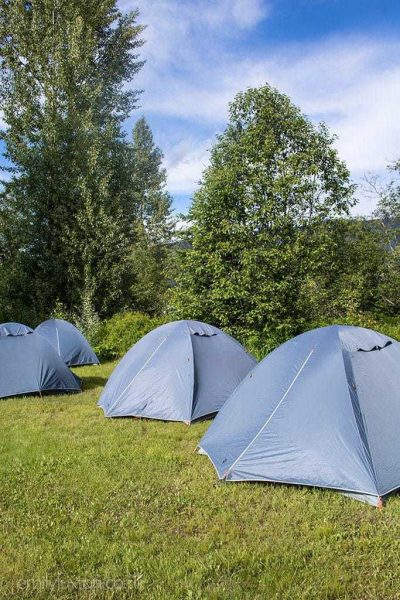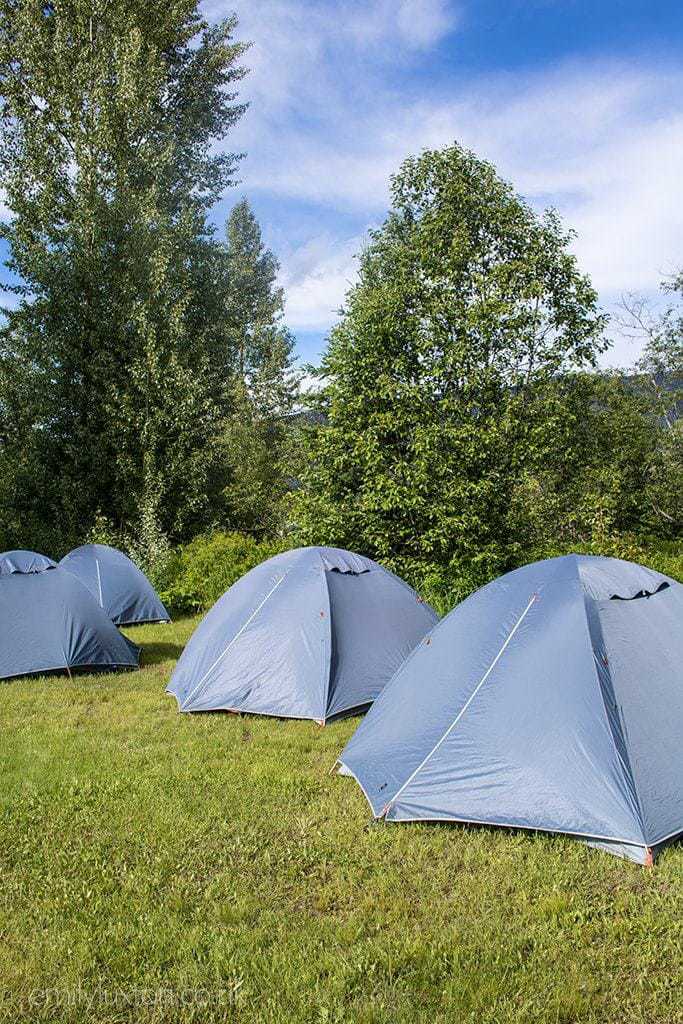 On the Trek America camping trips, you'll be sharing a tent with another person. I was in with Vicky Flip Flop, and by the end of the trip we were definitely pros at putting up our tent. Which was a really decent one and super easy to assemble!
READ MORE: Check out Vicky's post all about camping in Canada for info on the tents, campsites, and some tip tips!
Our very first night camping in Banff was particularly cold, and I don't think we'd brought enough stuff with us so we were pretty chilly. The next day we popped into a thrift store and picked up a duvet to act as a groundsheet, as well as some extra layers (and an amazing pair of rainbow sunglasses for me). After that, we were always toasty!
Canada has really good campsites, so camping with Trek America was pretty comfy. Forget cold drippy showers and long walks to the loos in the dark! Everywhere we stayed had decent bathrooms, hot showers, great pitches, and – of course – gorgeous scenery. The Wells Gray Guest Ranch campground was my favourite by far. It has a bit of a Wild West theme, with teepees and a real-life saloon. So much fun!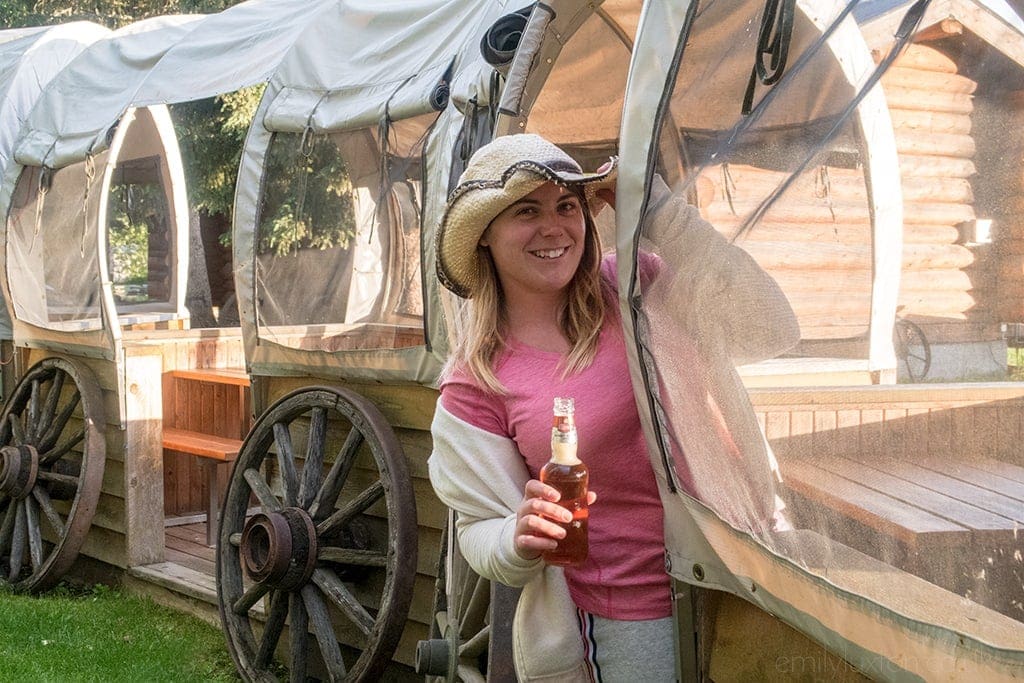 What's the Food Like on a Trek America Tour?
If there was one thing I was kind of nervous about before the trip, it was the food. When I used to go on camping trips with school the food was mostly stodge. I was expecting a lot of bread, pasta, and baked beans.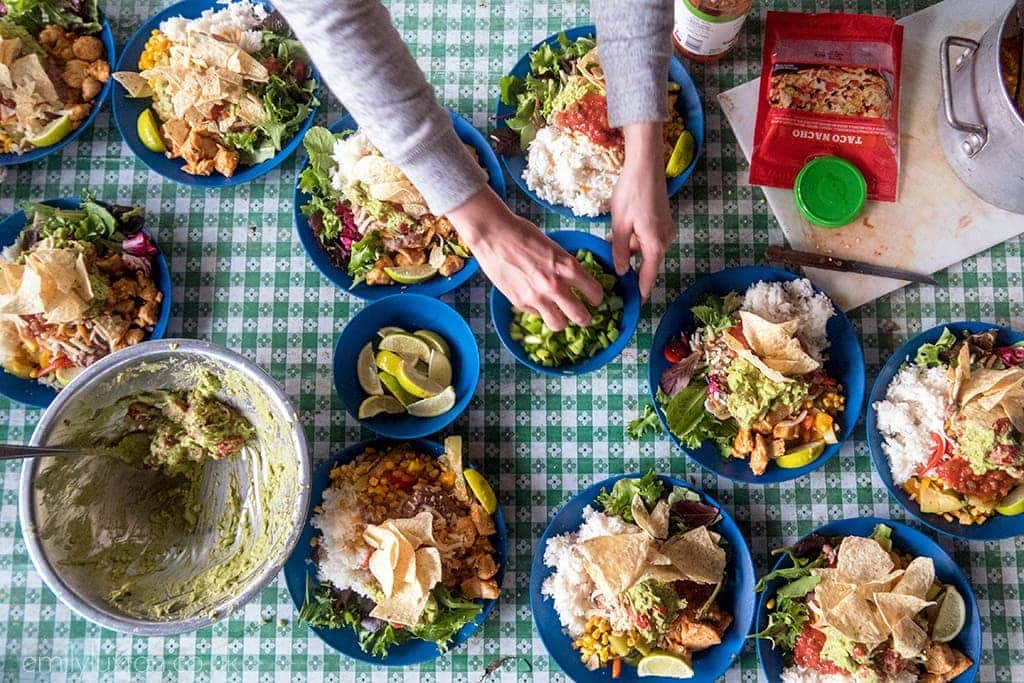 But I needn't have worried. We ate so well on our Trek America Mountie tour! Breakfast was usually pretty simple but with lots of choice – bagels, toast, loads of different spreads, cereal, and even proper coffee. Quick shoutout here to Phoebe (Little Grey Box) for making my bagel most days – I don't function well in the mornings! Lunches were either picnics (wraps!) with amazing views, or we'd have free days and could buy whatever we fancied in town (poutine!!).
Dinner time was where it was at, though. Every night a different team cooked for the group, and we had some amazing meals. Burrito bowls, barbecue, chicken curry… all made over a camping stove! One of my trip highlights was cooking stir fry for fourteen people over a camping stove. Whilst wearing a cowboy hat and singing into a spatula. Shout-out to my fellow chefs Backpacking Simon and Who is Millie – we smashed it!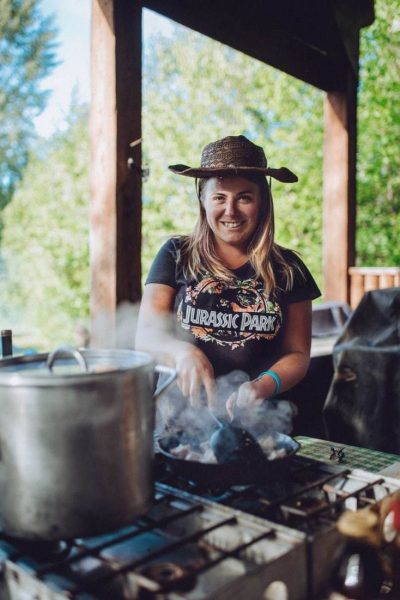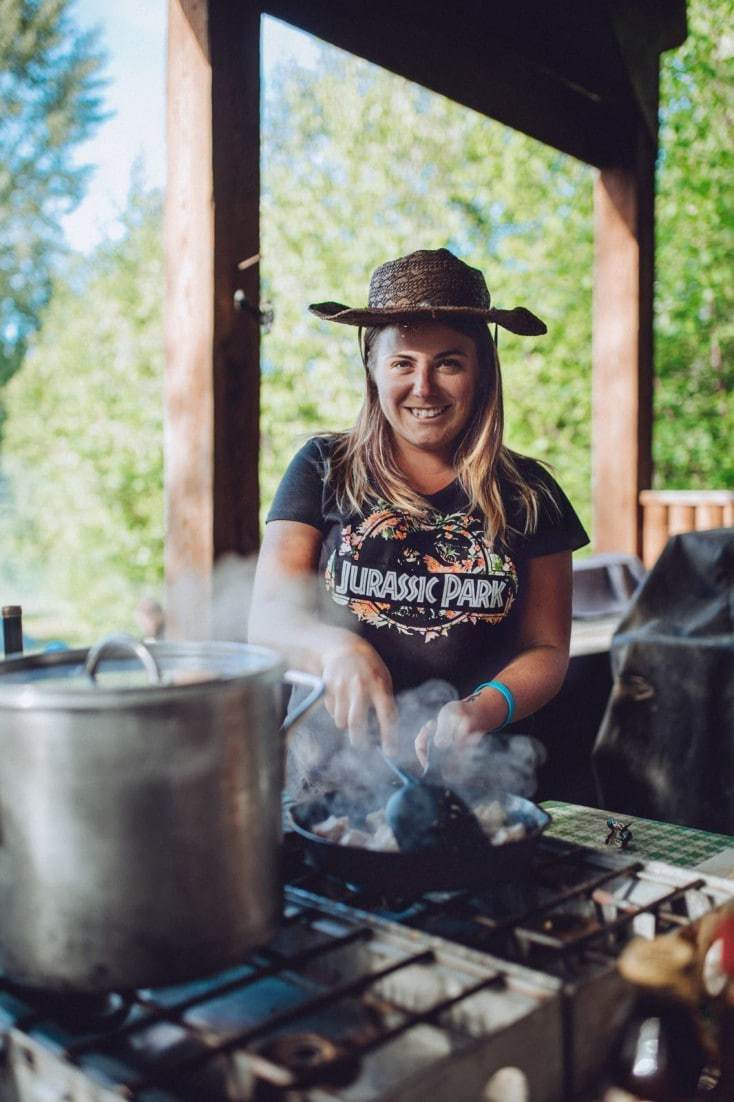 Adventure Time – Trek America Mountie Included Activities
The whole point of this Trek America Canada tour is to have an adventure. Alberta and BC are the perfect settings for incredible adventures, so there were loads of awesome included activities to choose from. We did so much in the ten days that I'm going to have to write a separate post just covering all the stuff we got up to. But here are the included highlights in nice, lazy bullet points…
Entry to the National and Provincial Parks
Hiking
Hot Springs
Guided walk on the Athabasca Glacier (more in a mo)
Emerald Lake
Lake Louise
Exploring waterfalls in Wells Gray Provincial Park
And more!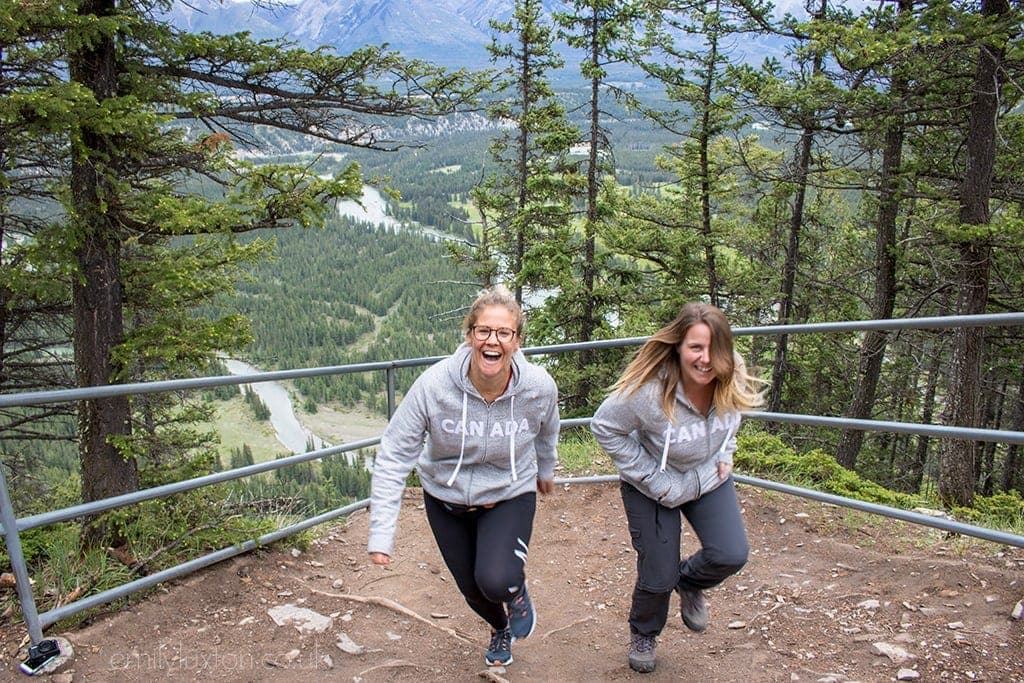 The absolute highlight of the included activities on the Trek America Mountie is the Athabasca Glacier Hike. We layered up, strapped on the crampons, and set off to climb an actual glacier in Jasper National Park.
We drank ice cold glacier water from a stream, poked our noses into crevices, and crunched on thousand-year-old ice cubes fresh from the glacier. Guide Dylan was full of interesting facts, and the whole experience was great fun and really eye-opening. This is real bucket-list stuff, and definitely one of the best bits of the whole trip!
READ MORE: Get the lowdown on the Athabasca Glacier hike in this post: one day in the life of a Trek America Canada tour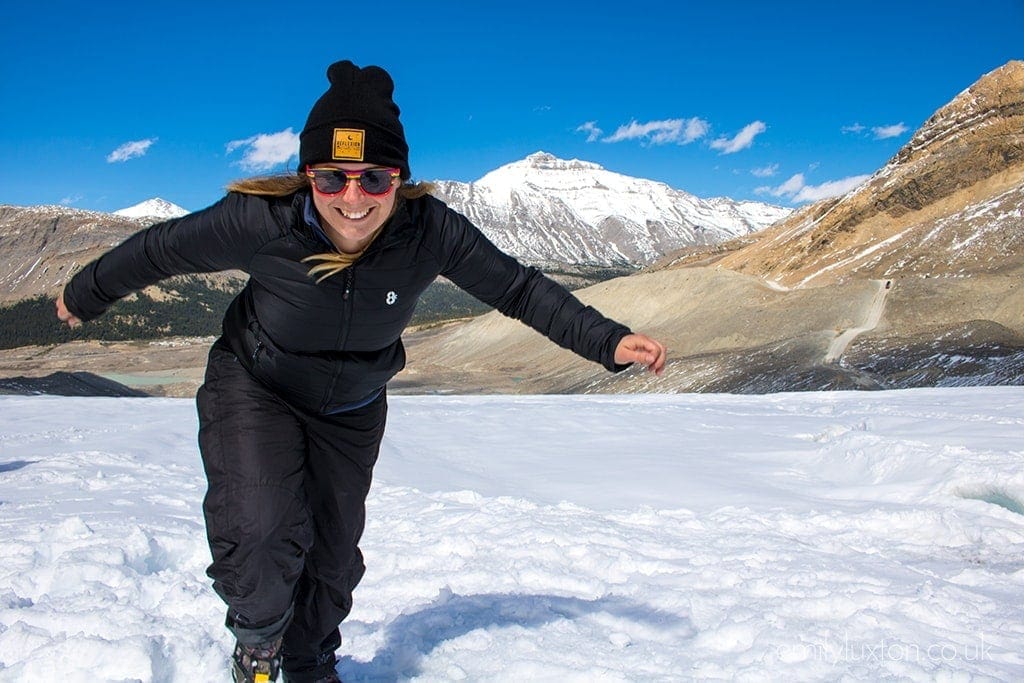 More Adventure – Optional Activities
If all that isn't enough for you, there are optional activities you can add-on most days of the trip. Things like mountain biking, horseback riding, and white water rafting can be added on for an additional fee. Trek America source their most trusted tour operators in each destination to provide the extra activities, and in my experience, these were all fab.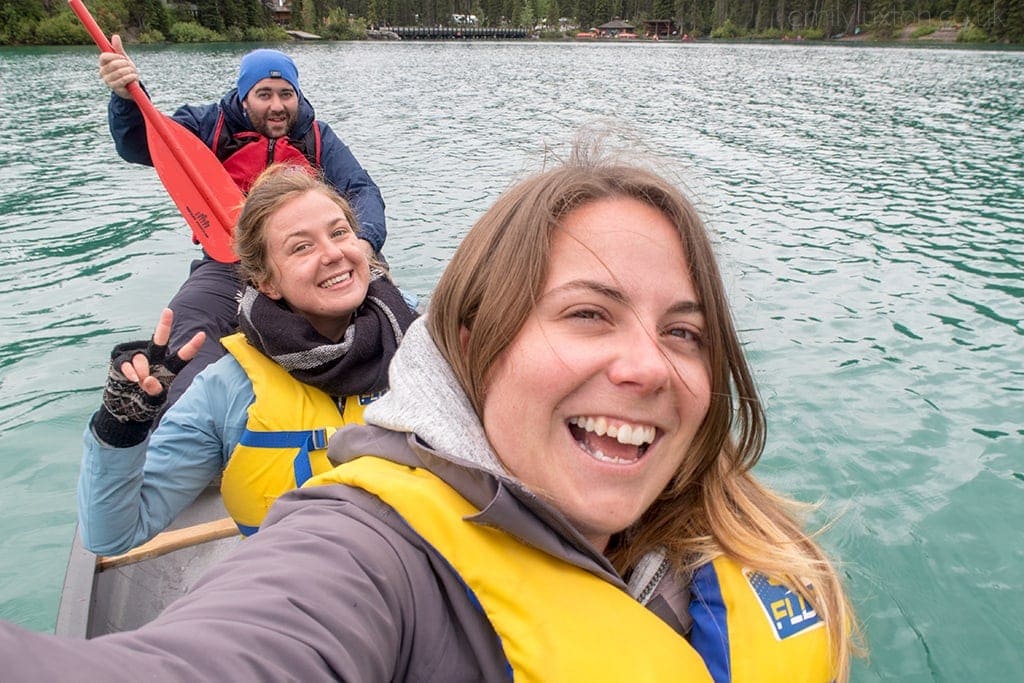 I paid for the Heli-Hiking tour of the Cline River Valley with Rockies Heli Canada and it was so worth it. A helicopter flight has been on my wish-list for years and as soon as I saw that this was an option I said yes. We flew over pristine snowy mountains, landed in a clearing next to a river, hiked to a waterfall, and toasted the adventure with a glass of champagne – before flying back down again.
It was such an amazing moment that it deserves its very own post. But Rockies Heli Canada were such an amazing company, and seeing the Rockies from above was so beautiful, that it really was the perfect combination for my dream-come-true bucket list item. Thanks Trek America!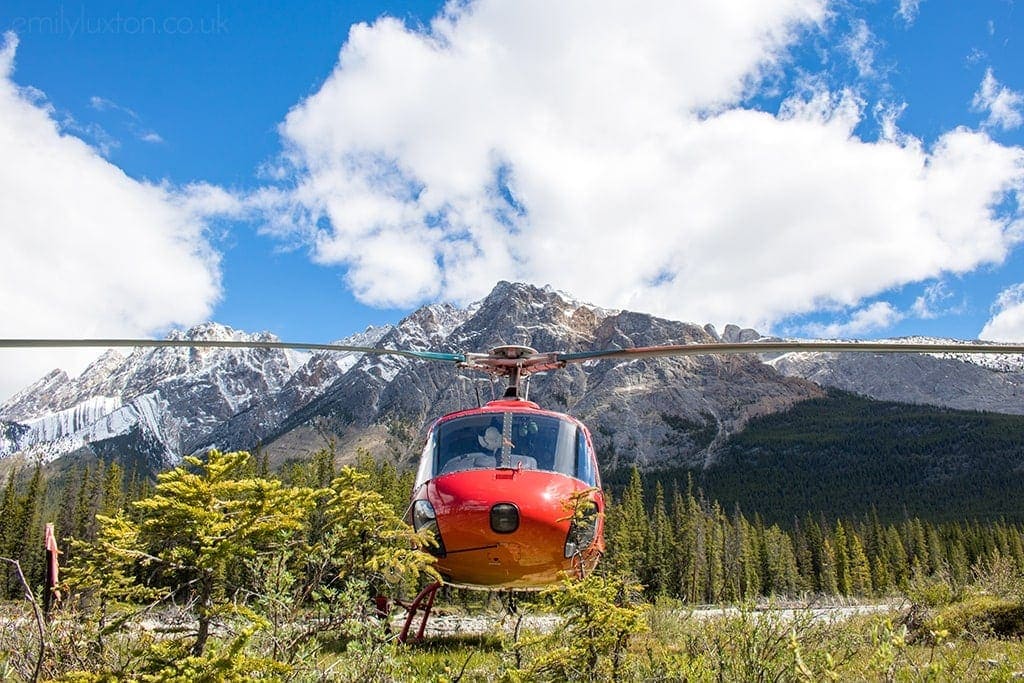 Who is Trek America For?
I'm normally an advocate for independent travel, so a trip like this one may seem out-of-place. But there are a lot of merits to an organised tour like this one.
If you're new to travel and you're still finding your feet, a small group tour like the Trek America Mountie is ideal. You'll be looked after, but still given lots of independence (like putting your own tent up). And that's enough to teach you just how capable you are and give you the confidence for independent travel next time.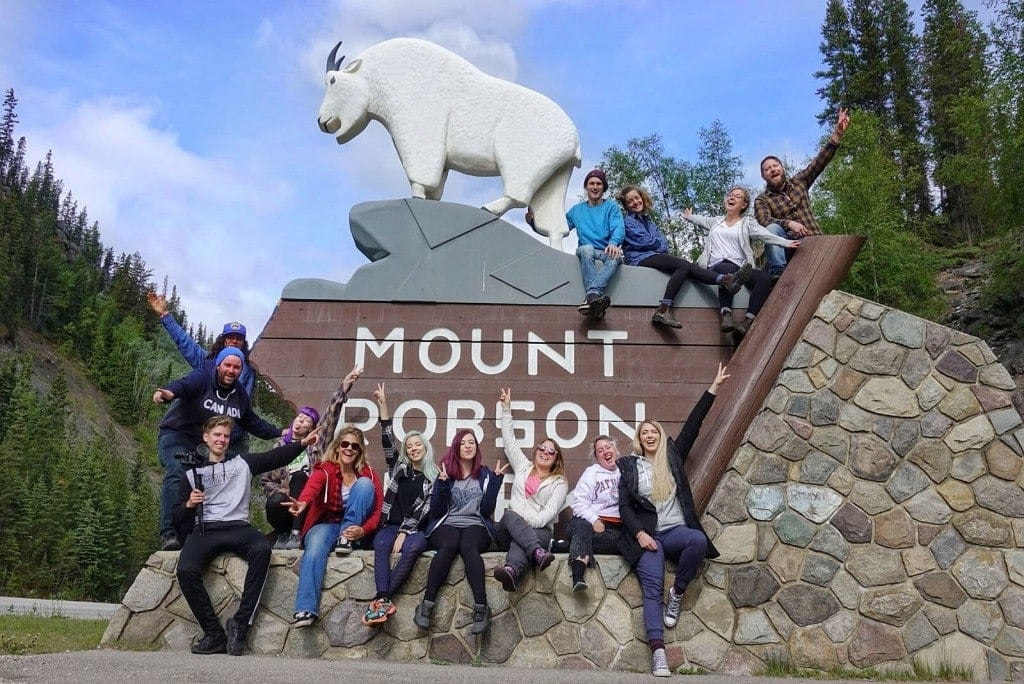 If you want to travel solo, but you're shy like me and not sure about how to meet people – this tour is perfect. It's a small group of people and the guides make sure that everyone gets included. There are bus singalongs, campfire games, and you'll be sharing so many adventures it's impossible not to make friends. A tour like this one is such a great way to meet new people and this is perfect for beginner solo travellers.
READ MORE: Shy Girl's Guide to Solo Travel
Finally, this is simply a great way to see the best of Alberta and BC in a short space of time. You'll have expert guides for info and insider tips, and you'll be stopping at all the most popular tourist hotspots. It's a great way to get a taster for Canada and plan all the places you want to come back to. Because without a doubt, Canada will leave you wanting more!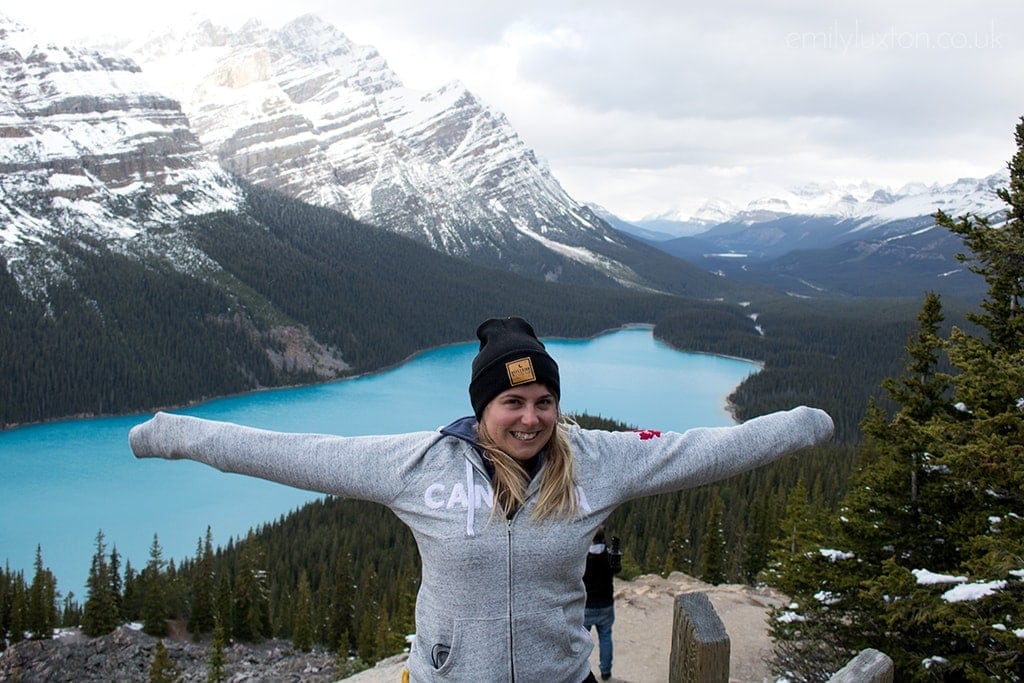 My Take-Away
If you can forgive me being gushy for a minute, I just want to talk about what was amazing about the Trek America trip. I've mentioned it before, but one of the reasons I love to travel so much is the feeling of pride that comes with trying something new, stepping outside of your comfort zone, or just saying yes to something you might normally say no to. Travel can be such a rewarding experience in that way.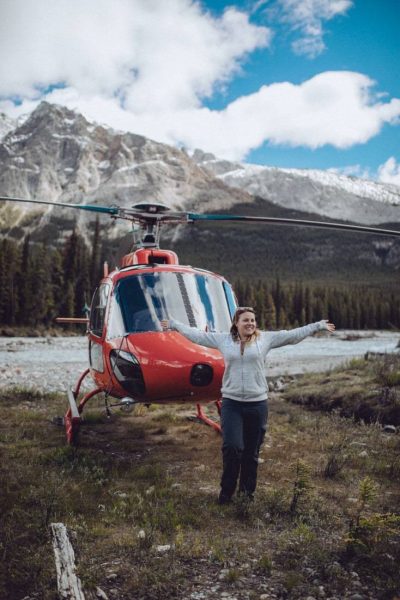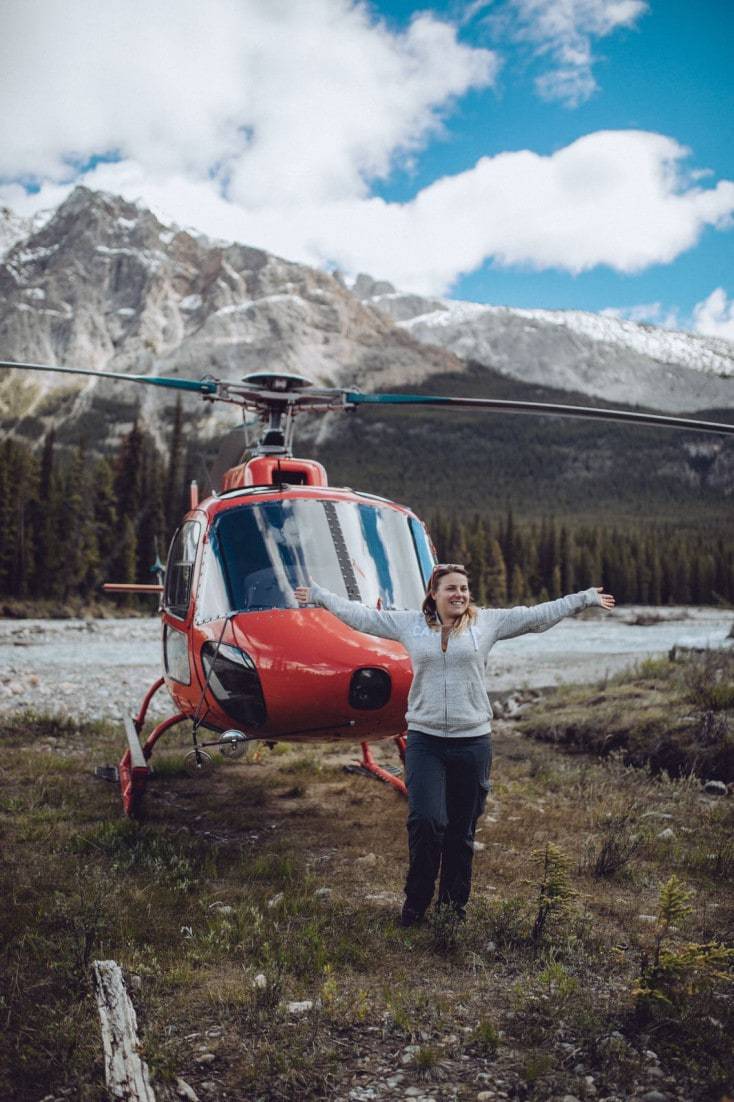 That was exactly what this Trek America Mountie trip gave me. From the small things – like putting up a tent by ourselves, or cooking a meal for fourteen people – to the bigger stuff like hiking up a glacier or being one of the only people to blindly follow our guide into an ice-cold river fully clothed (turns out there was another way around)… there were just so many moments on this trip where I had that rare, wonderful feeling of being proud of myself.
In an interview for the Trek video, Greg asked me why we form deeper connections with people on tours like this. And I think it's because we share a side of ourselves that people don't always see in everyday life. We see each other scared, or challenged, or excited, or so overwhelmingly happy that we cry – and those are emotions that we don't always share with people other than our closest loved ones. It's impossible not to connect over that. Plus, once someone's seen you badly half-rap along to Despacito there's really just no coming back from it!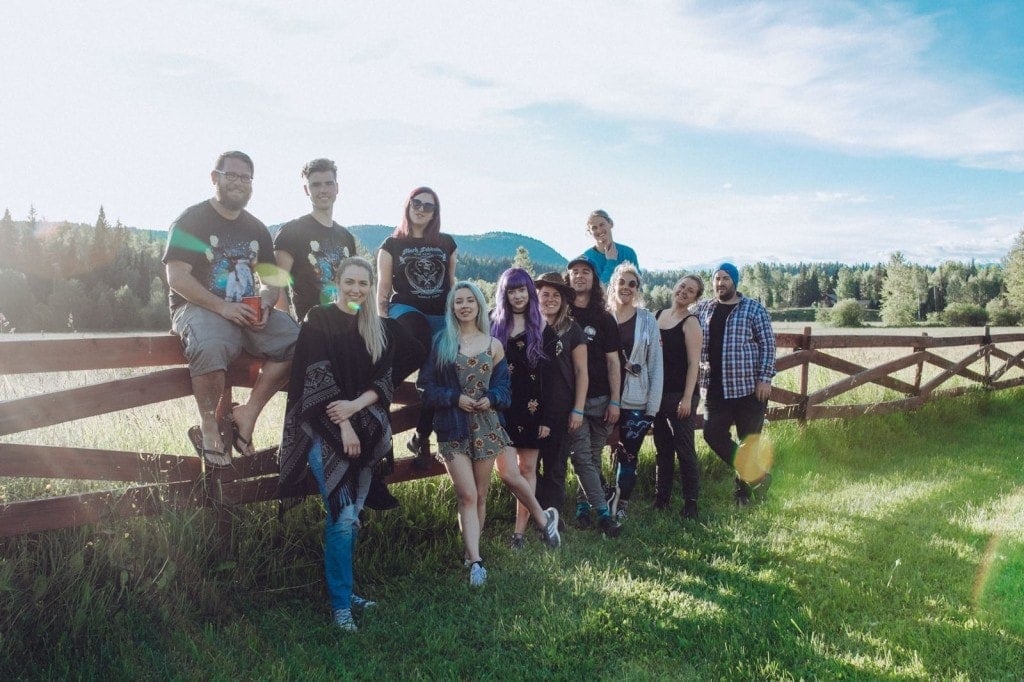 Trek America Mountie: The Details
Tour Code: #MO
Trip Length: 11 Days / 10 Nights
Begins in: Vancouver
Ends in: Calgary
How much does it cost? The Trek America Mountie starts from £1259. You also need to contribute CA$15 (about £8.60) per day towards the camping food kitty. Plus any additional activities, as well as accommodation before and after the trip. Prices don't include flights.
Read More
Southern Alberta Road Trip Itinerary
14 Fun Things to do in Calgary
Pin this Post!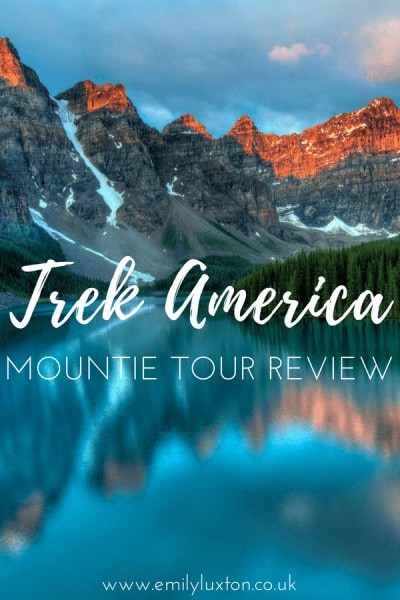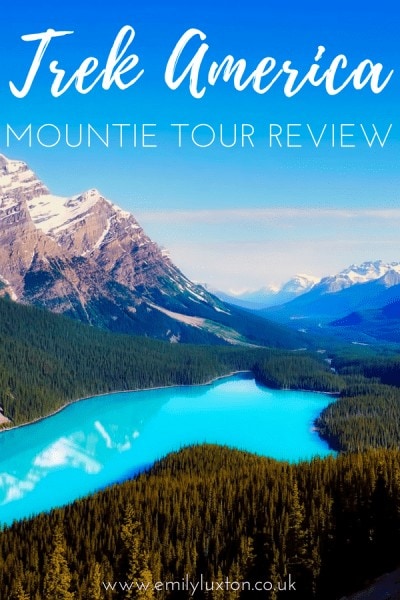 I was a guest of Trek America and Explore Canada on this trip. But, as always, all words and opinions are my own and unbiased.