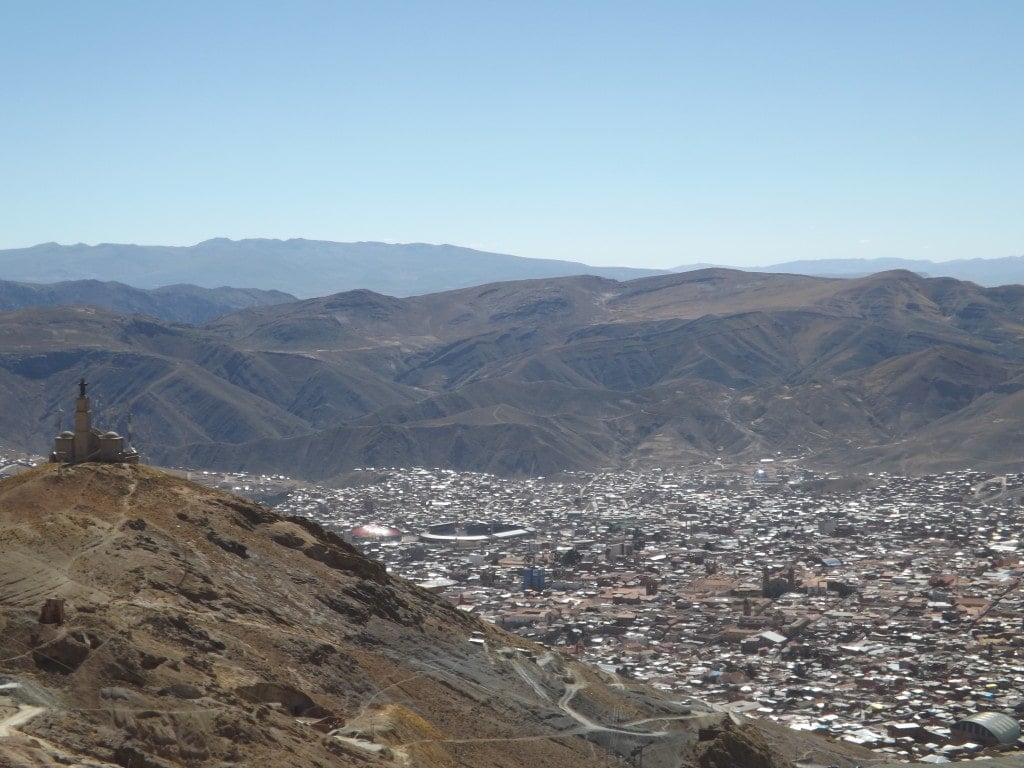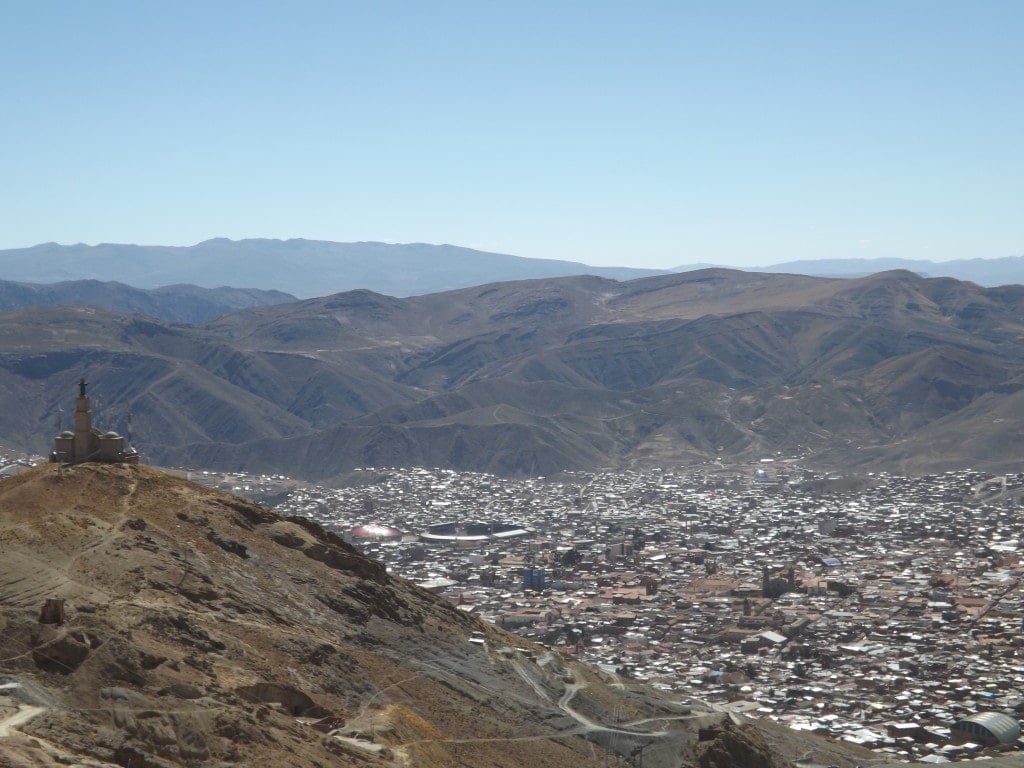 From Sucre, we began our journey south by travelling down to Potosí. At 4090m above sea level, it's one of the highest cities in the world, so after the warm sunshine of Sucre the colder air and freezing nights were a bit of a shock. The site of an enormous and once-prosperous silver
mine, the city has an air of decaying grandeur which I found strangely beautiful. I loved the fading, colourful paint of colonial buildings, the ornate church façades tucked between markets and ugly buildings, and the hidden notes of beauty almost lost behind tangles of telephone wires and ugly, traffic-strewn streets.
Like all travellers, we were in Potosí for one thing only, the mine tour. Although there's n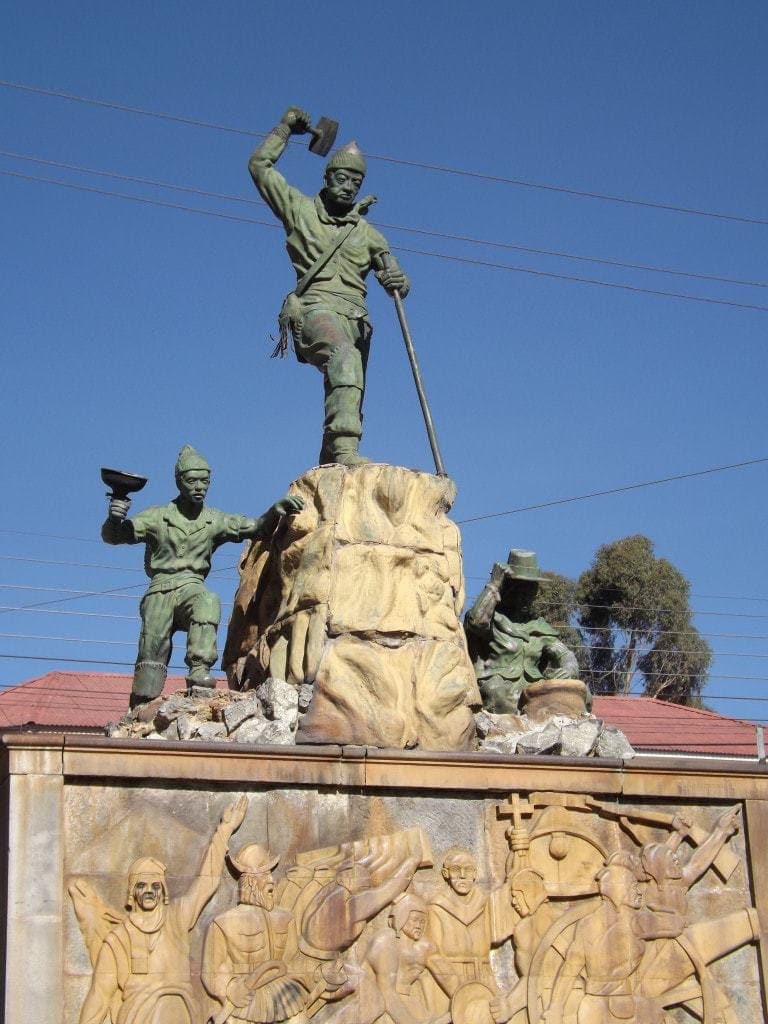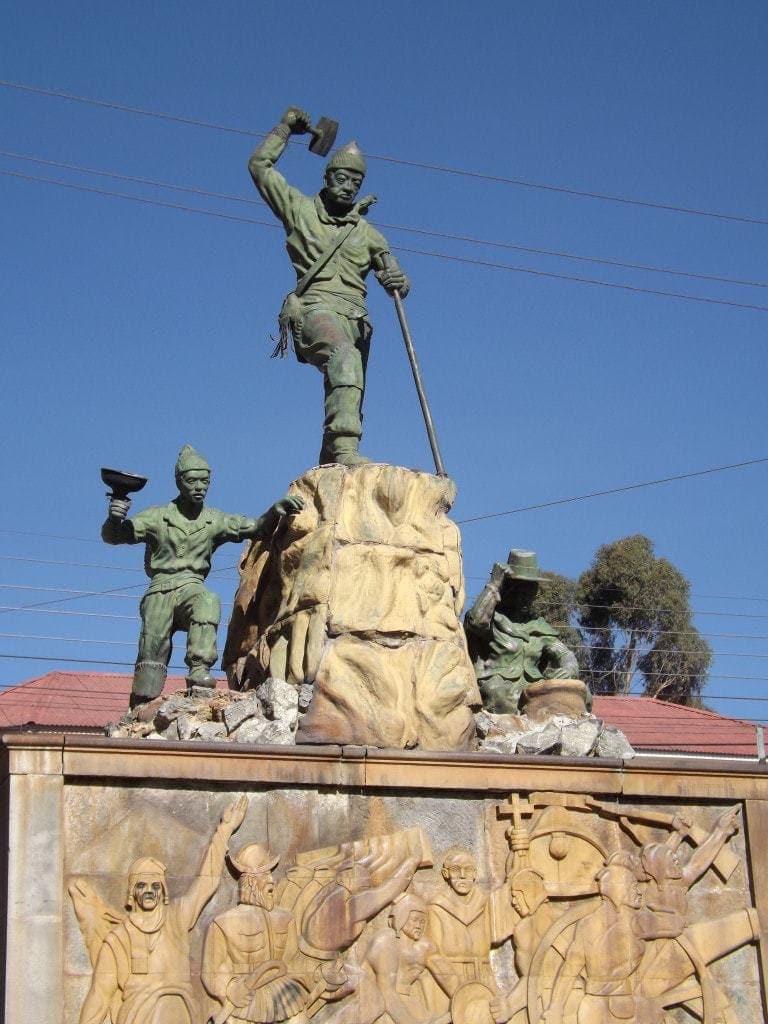 o silver left, the mine is still very much active, with miners hauling out tons of mineral-rich rock everyday. We signed up for a tour with Koala Tours, which cost just 100Bs for a half-day tour, and – like all tours in town – has ex-miners as guides.
The company picked us up bright and early at 8:30am and drove us to the office, where we were kitted up for our mine tour. This involved huge, one-size-fits-all plastic trousers and jackets to protect out clothes, which were ridiculously baggy on me, and thick, rubber boots – as well as bright red Koala Tours bandannas which we bought for 10Bs to tie over our mouth and nose in the mine. Once I was dressed, one of the guides strapped me into a battery pack and helmet with headlamp, complimenting me on the finished look: "very miner".
We started at the Miners' Market, a series of small shops and a strip of market stalls towards the edge of town where miners – who all work for themselves – come to buy everything they need. To keep costs down, there aren't really any modern technologies being used in the mine: the min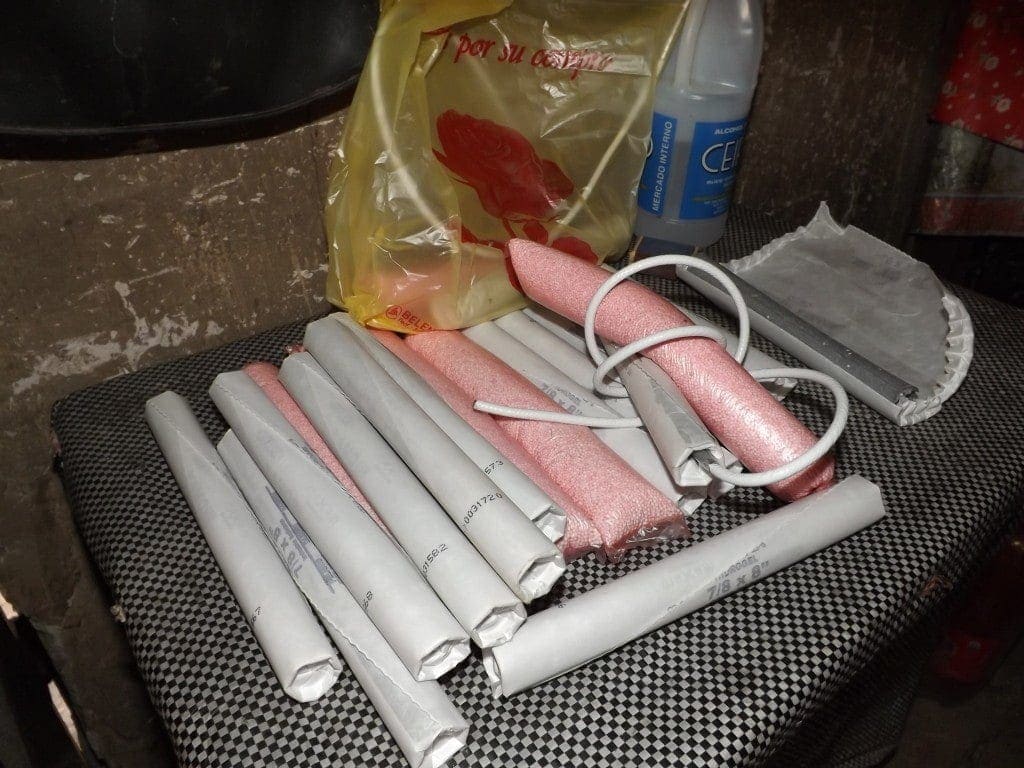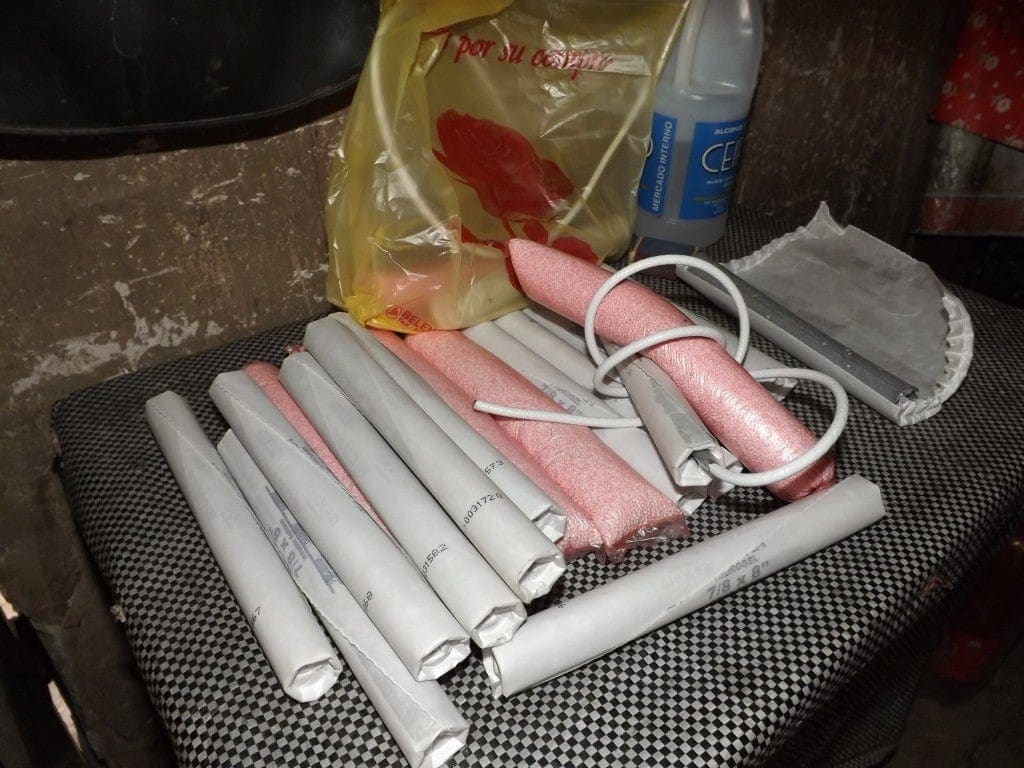 ers are still using old-fashioned tools like hammers, chisels, and dynamite. That's right, dynamite, which you (as in, anyone) can buy at the market for just 20Bs from shops which also sell 96% pure alcohol. Potosí is a pretty dangerous place! Our guide, Ronald, gave a really funny and very well-rehearsed demonstration of everything on sale, which ended with him holding a lighted match to the detonator of a stick of dynamite, then blowing it swiftly out. Like a said, a dangerous city. We picked up a stick, along with some big bottles of juice drink and a bag of coca leaves, to give to the miners as gifts as we looked around.
Next stop was a processing plant, where miners take the minerals they've extracted to be processed and sold. The plant was very ramshackle, more of a wooden shed perched on the side of a hill, filled with whirring metal equipment and a heavy smell of chemicals and rock dust. The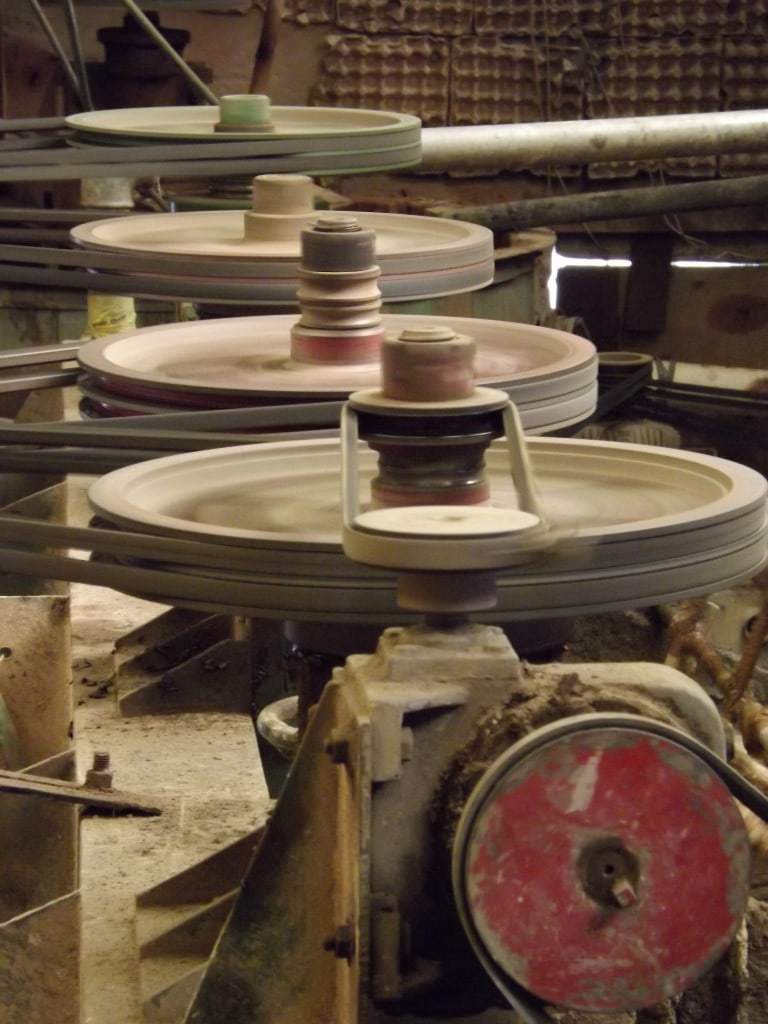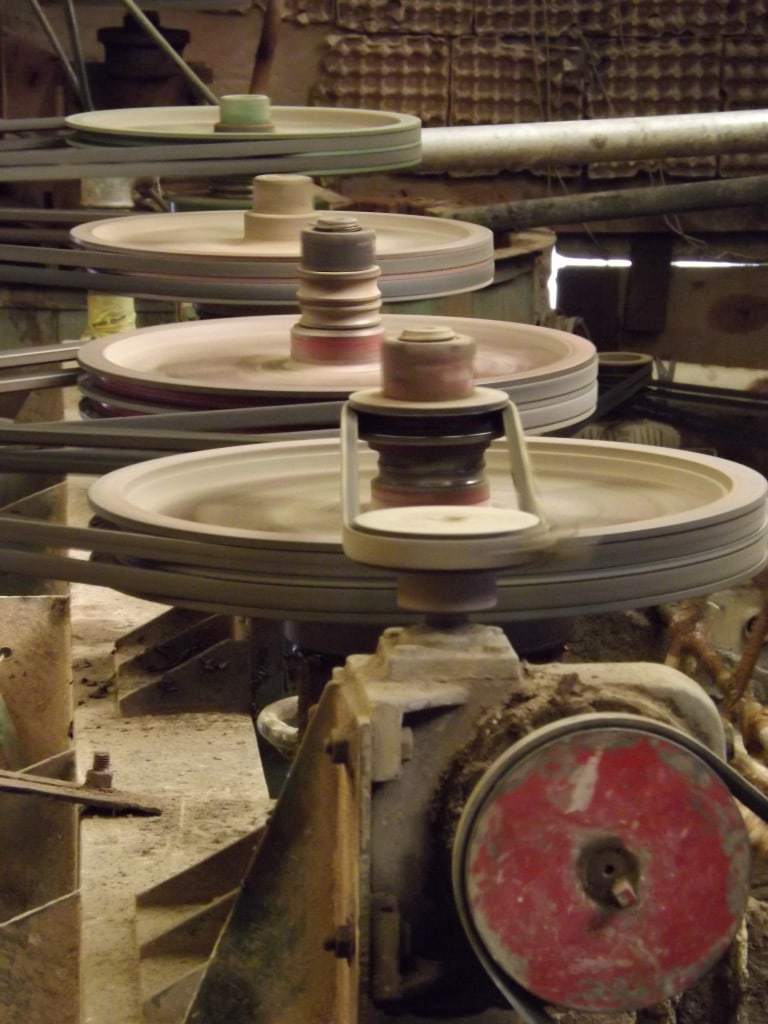 rocks are pulverised, then washed, and finally bathed in chemicals so that the minerals rise. From there, the minerals are shipped abroad to other companies who process them further and sell them on at a vast price mark-up, while the miners are paid a pittance for a horribly tough day's work.
Ronald had worked in the mines for two years with his father, when he was eighteen, but then got the opportunity to start working with a tour company instead. "I was lucky." he said, going on to describe the terrible working conditions of the miners, whose average life expectancy is just 40-50. Many start at age 16, even as young as 13, often taking over from fathers too sick to work, or who have died. As the m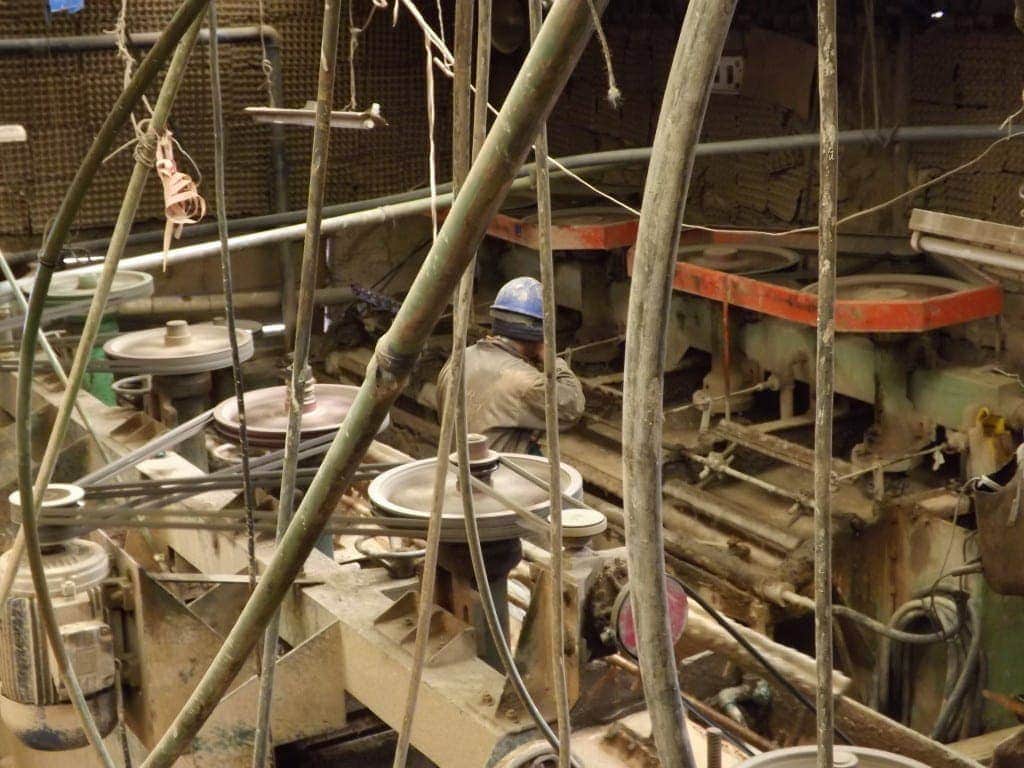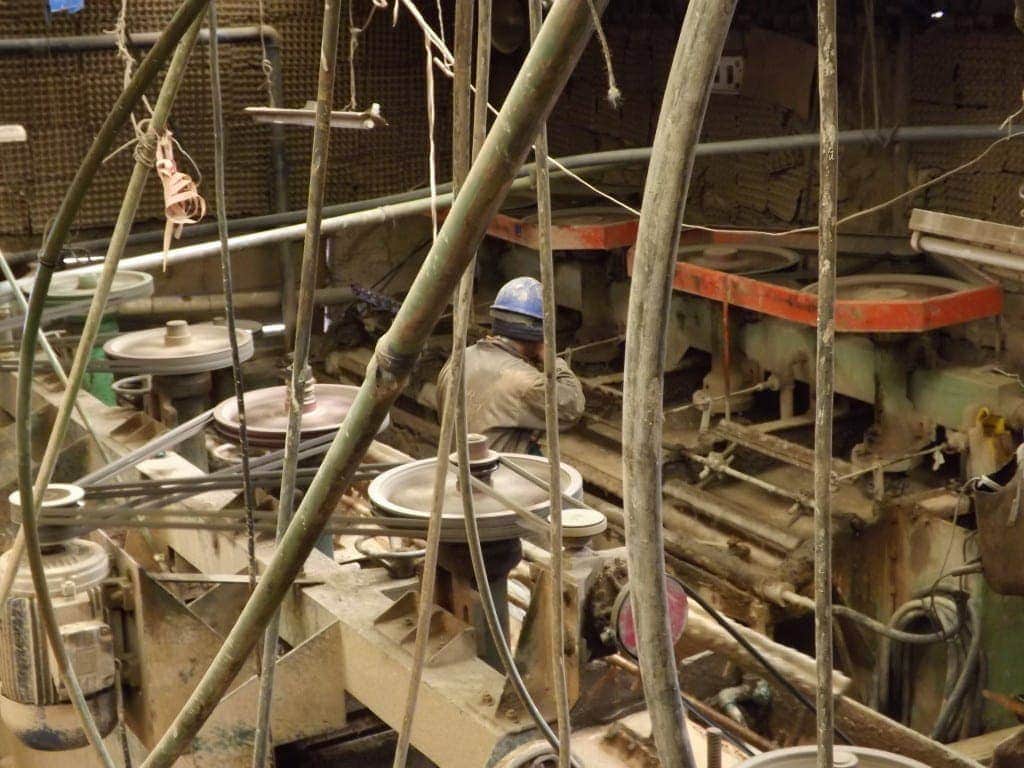 iners work for themselves, they can choose their hours, but that usually means working ten or twelve hour days, sometimes six or seven days a week, to get enough money to support their family. They can't eat inside the mines, so most miners go all day without a meal, instead chewing coca leaves to give energy and quell their appetite. Work involves chiselling the rock by hand, sorting mineral-rich rock pieces from worthless rubble, and pus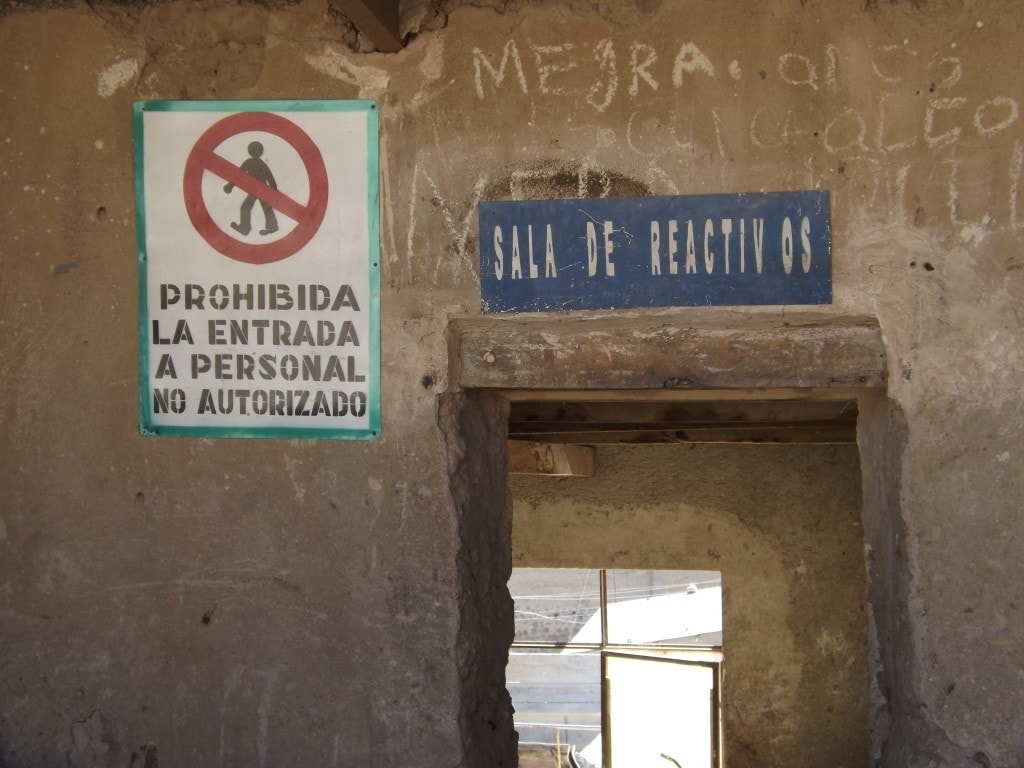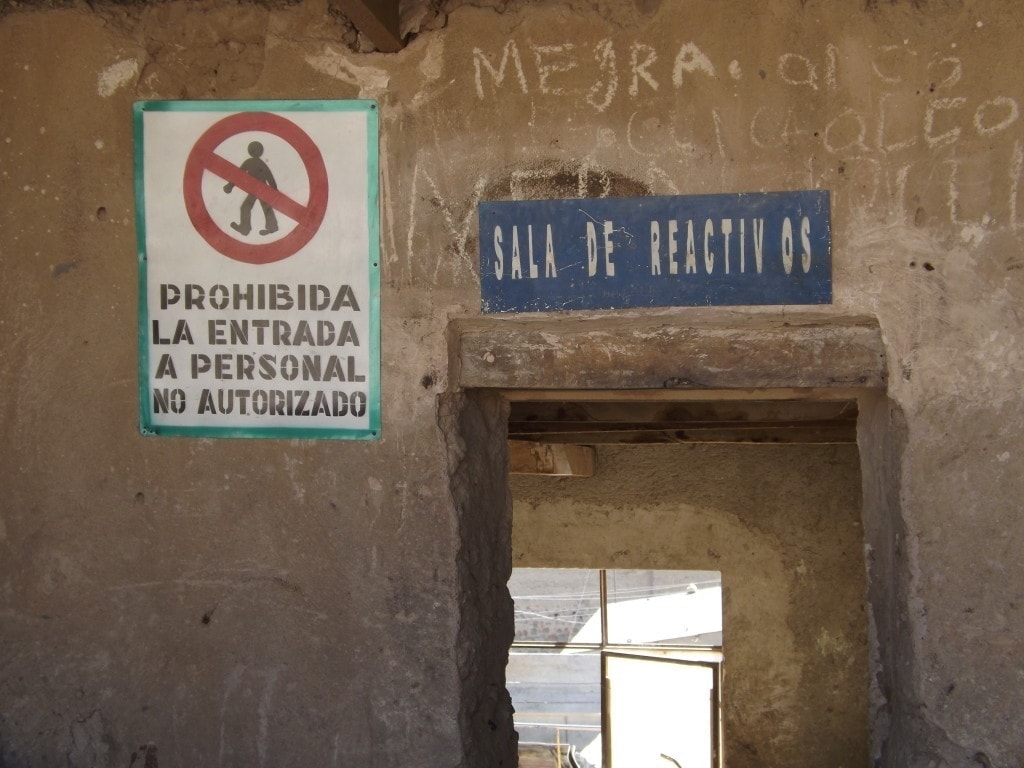 hing huge carts filled with rocks out of the mine by hand, uphill all the way. With all the dust in the air, illness and poisonings are a real risk, as are cave-ins and other accidents, especially with all that dynamite around. The work is horrifically hard, and the risk of death is hugely real, but according to Ronald the men are very proud of their work: they have to be strong to work the mines, and a miner earns between 2000 – 6000 Bolivianos a month, in comparison to the 1000Bs average wage in Potosí.
The mine itself was a pretty horrible experience, and while I found it really interesting I can't say that I really enjoyed it. We drove about halfway up the mountain, huge and burning orange against the blue sky, and stopped at the entrance to a fourth level mine with an incredible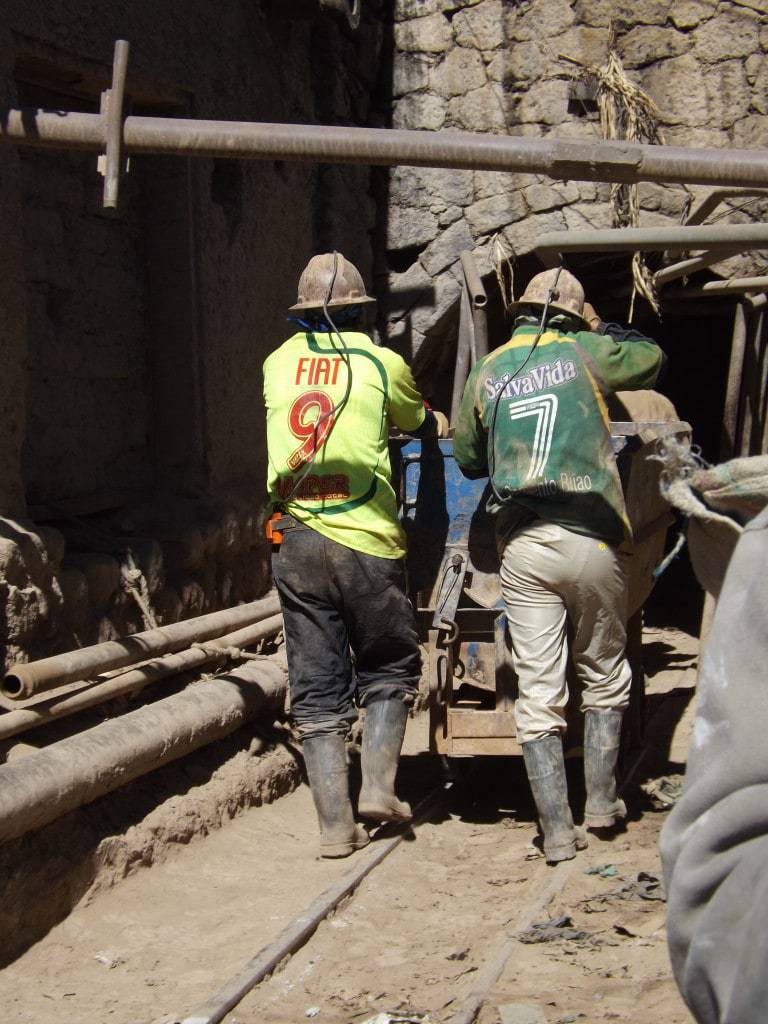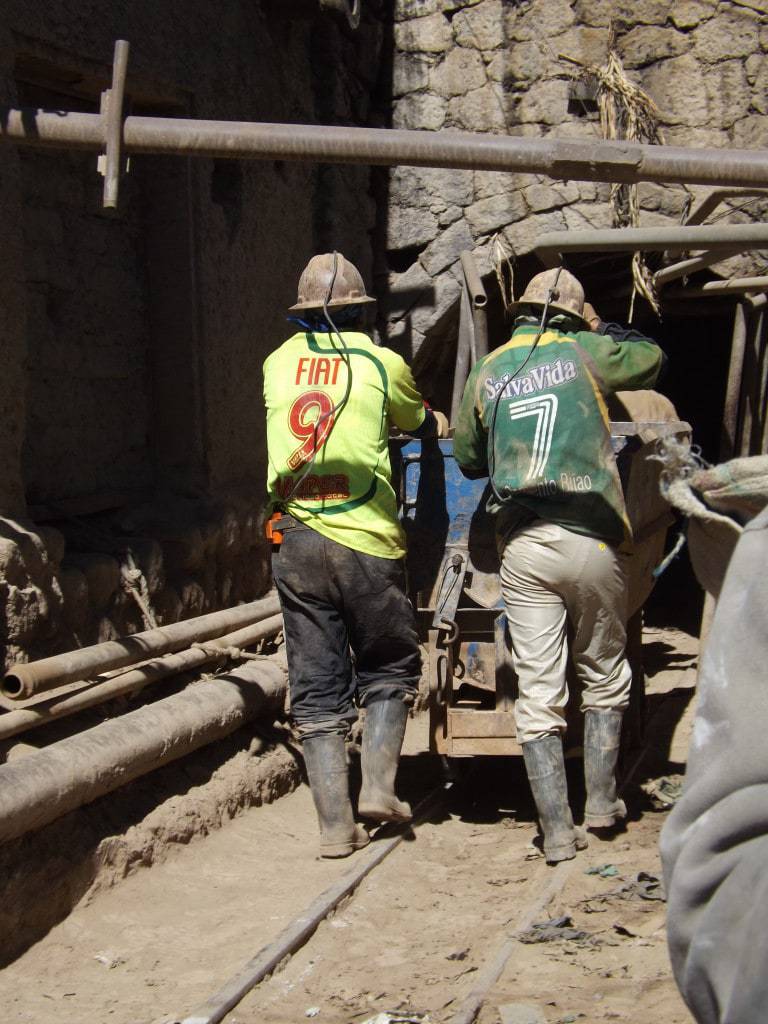 view over the city; metal roofs twinkling in the sunlight between brown and orange hills.
Inside the mine, we found ourselves in a low-ceilinged, clumsy tunnel filled with the hissing noise of pipes, which pump oxygen into the deeper parts of the mine, and the low, metallic thunder of distant wagons rolling along the tracks. We constantly had to race out of the way of these wagons, hurtled through the tunnels filled with rocks, weighing up to three tons and pushed out of the mine by just two or three teenaged boys. We stopped to talk to different miners as we toured the dark, dusty tunnels, all of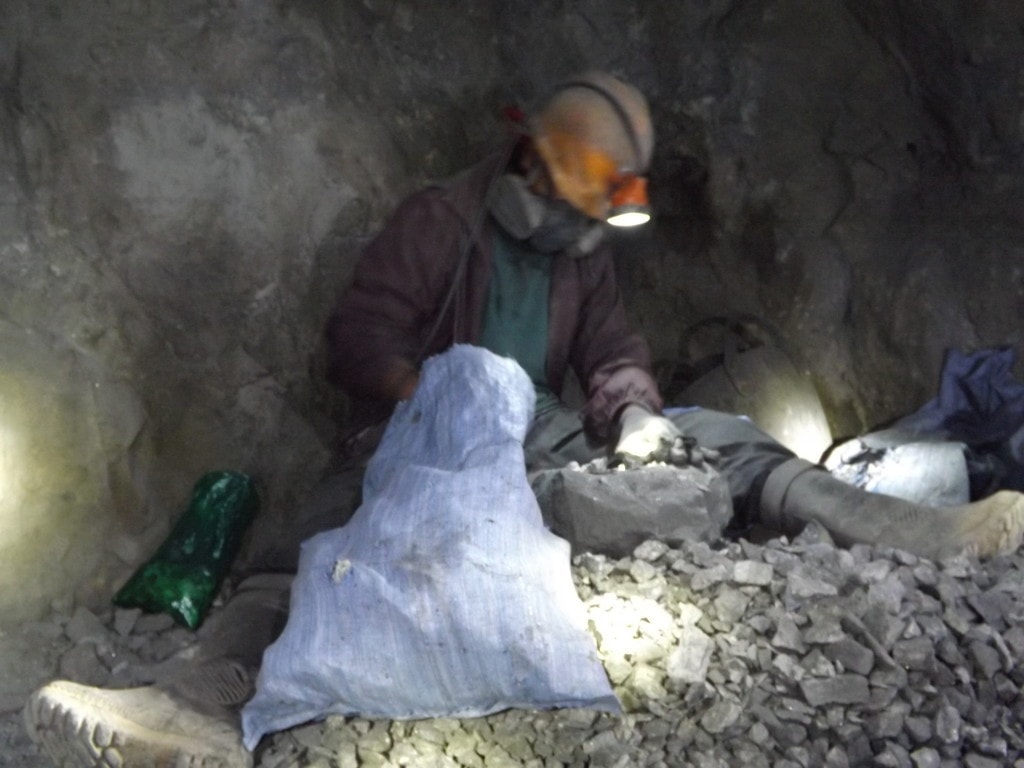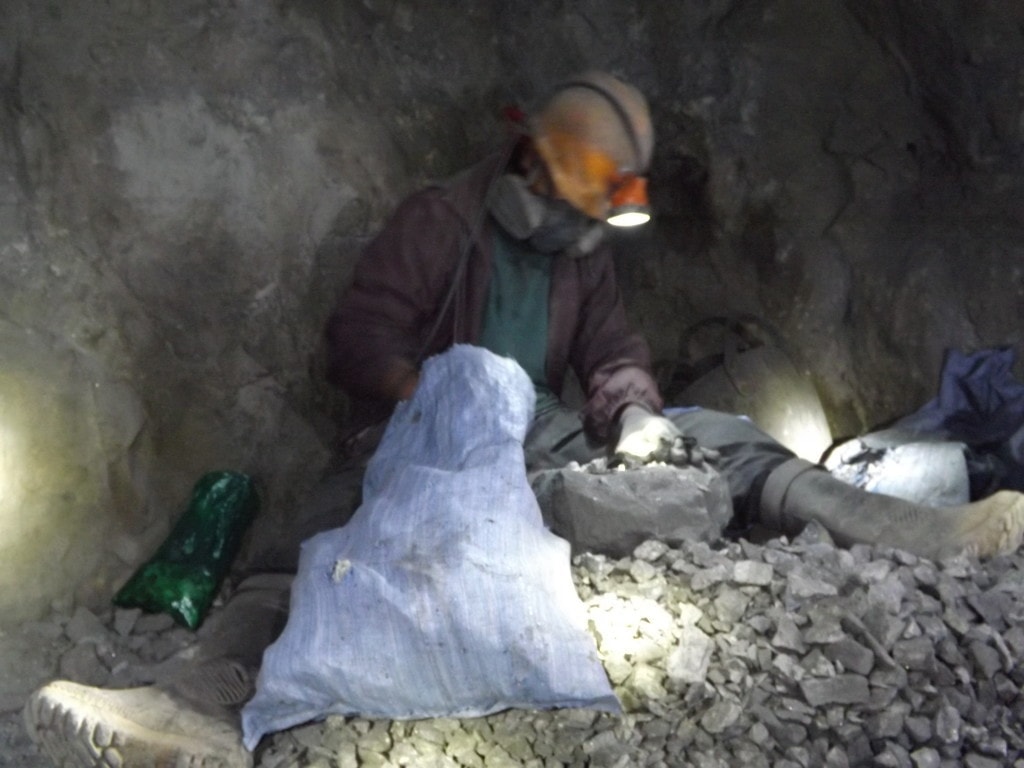 whom seemed bored and maybe a little unhappy to be watched by curious tourists, but who were all grateful for the drinks and gifts we gave them. Being able to give them gifts only made me feel worse about the rich-poor divide; here we are, having flown halfway round the world for a holiday, able to hand out gifts, while these guys work hard all day to earn a fraction of what I do at home. It was a horrible feeling.
We thought we might be shown the sugar-coated, tourist version of a working mine, but if we wer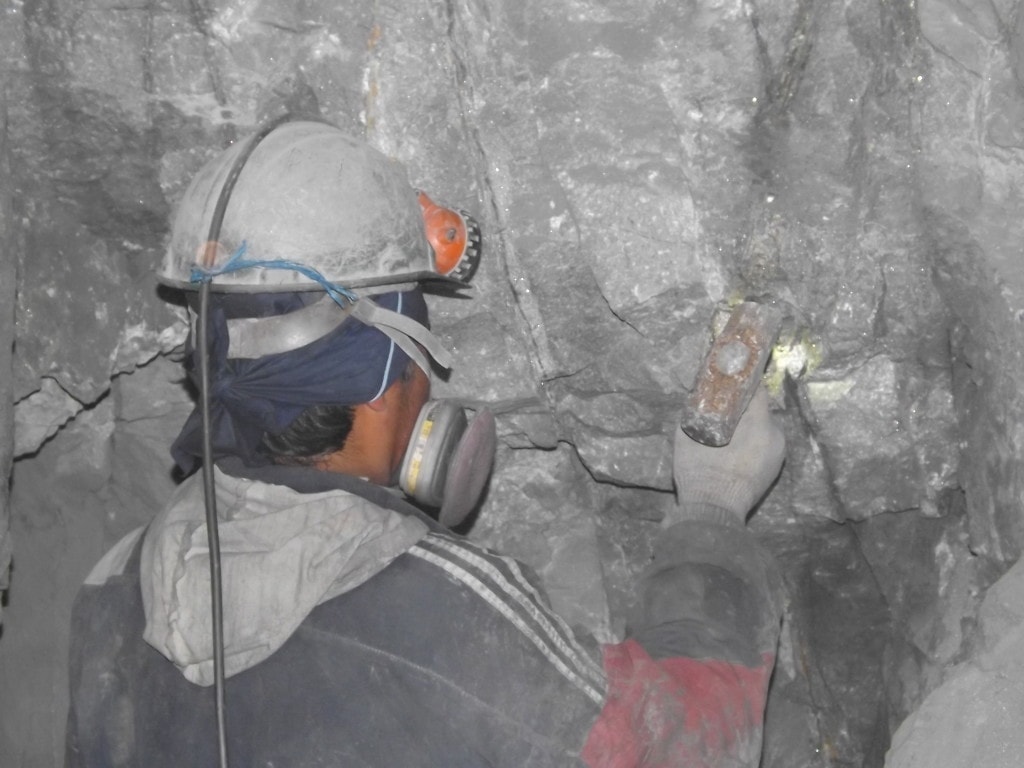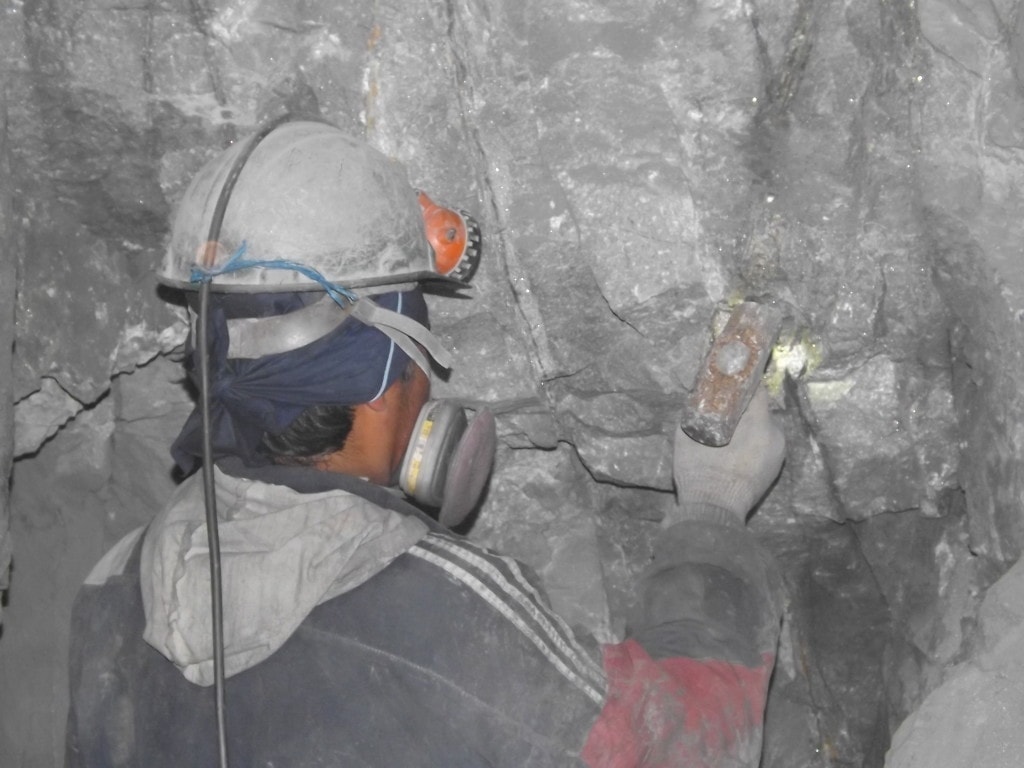 e I don't want to see a real mine. There were sections where we had to cross huge, black drops on just a thin plank of wood, or climb up a four-foot clump of rock into a tiny gap, surrounded by sharp bits of rusty metal and jagged rock corners. There was so little air, and so much dust, that my throat was burning with chemicals and I was finding it hard to breathe, so when Ronald announced that it was time to leave I was completely relieved.
It was a really interesting experience, and I'm glad I went because I think it's important to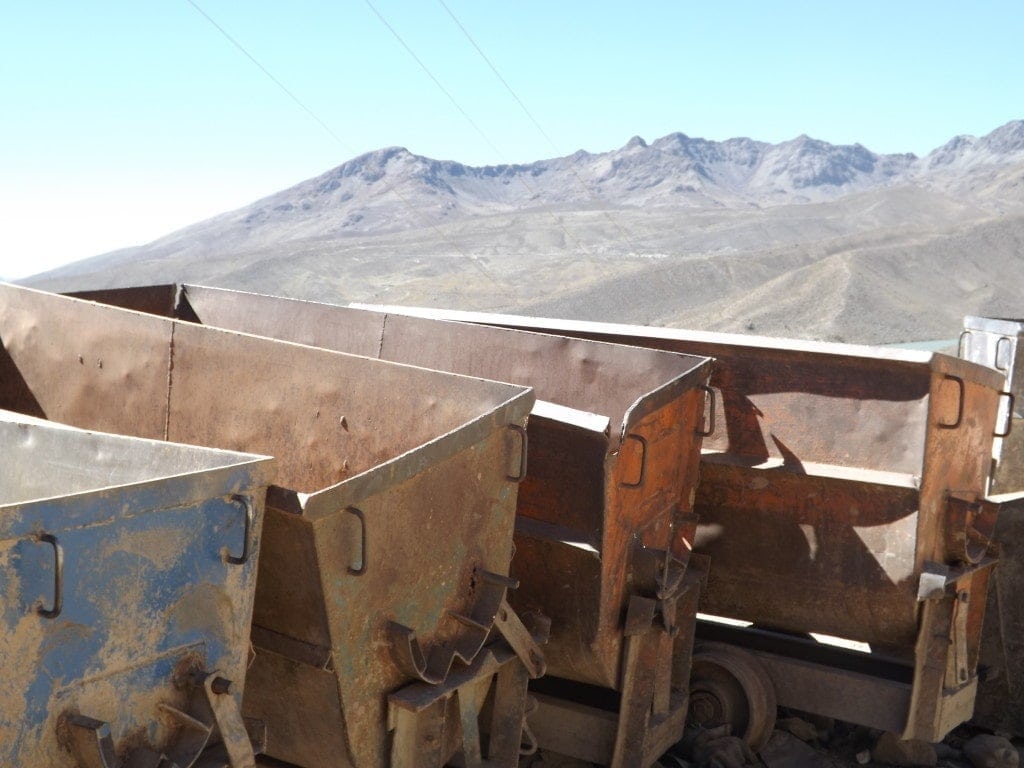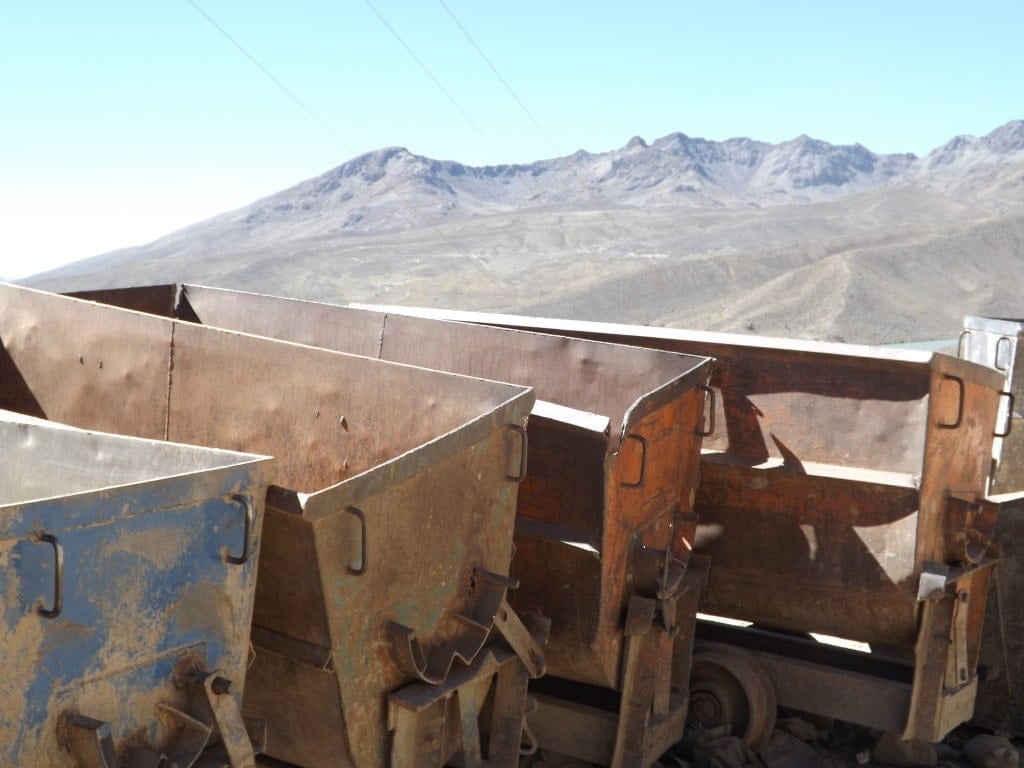 be more aware about poverty and poor conditions in the world. But, sadly, I can't say that I enjoyed the Potosí mine tour.
Information
Koala Tours cost 100Bs. There are two tours daily, 8:30am and 1:30am, and tours last around four-five hours.
This tour is not recommended for anyone who suffers from claustrophobia, or who feels uncomfortable in small spaces, in the dark, climbing up rocks, or who is easily upset by poverty.
If you can't make it to Bolivia, but want to know more, watch The Devil's Miner, a documentary film about a young boy working in the minds.
Charity Kinder Not Life is working to help prevent child labour in the mines.