Some posts on this site contain affiliate links. If you book or buy something through these links, I earn a small commission (at no extra cost to you). Take a look at my privacy policy for more information.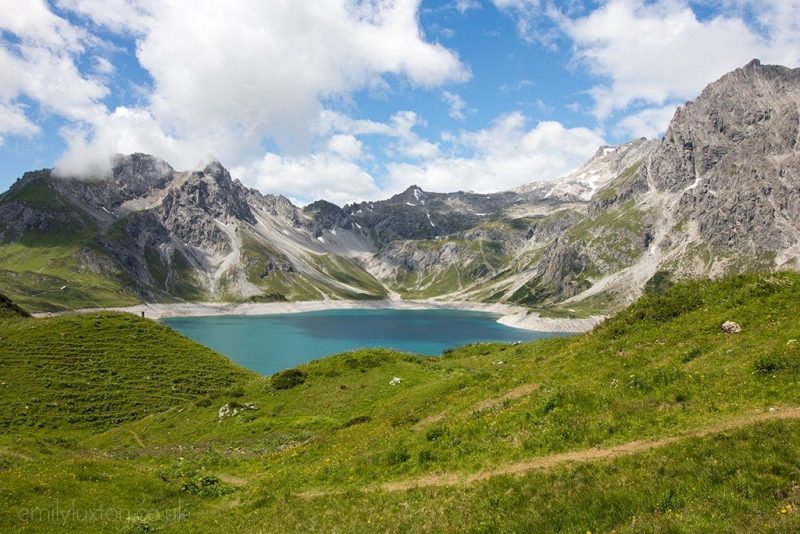 When I think of Austria, I generally think of snowy mountains, ski slopes, and pretty cities. Oh, and strudel (of course)! So on my recent summer trip to Vorarlberg, a mountainous region in the Alps, I was pretty blown away. Green mountains, fast-flowing rivers, and flower-filled valleys… and not a ski in sight!
Once the snow melts, the nature left behind is pretty spectacular. Better still, the climate is warm and quite mild – perfect conditions for getting active. Hiking, biking, climbing… even paragliding. The mountains are teeming with opportunities to get out and enjoy nature. Throw in lots of culture – especially architecture – and some amazing food, and you have some pretty strong reasons to visit Vorarlberg in summer. Here's a mini guide on what to see and do while you're there…
Some of the links in this post are are affiliate links. If you click them you'll be supporting my site, without effecting the price you pay at all – read more.
Where is Vorarlberg?
Vorarlberg is a region in the far west of Austria, at the edge of Lake Constance. It's bordered by Lichntenstein Germany, and Switzerland. The region is in the alps and quite mountainous.
If you're flying in from the UK, it's worth nothing that Zurich airport in Switzerland may be far more convenient than Vienna. Austria's capital is completely on the other side of the country, and Zurich airport at 1.5 hours drive makes a good alternative.
Vorarlberg Summer: Weather and What to Pack
Summer in the mountains can be a little unpredictable. The wind moves quickly in Vorarlberg (though it's usually warm wind) and it's entirely possible to experience multiple weather fronts in one day. But although rain is not uncommon, the weather is generally very nice, and the climate is mild. Perfect conditions for a more active trip.
Temperature-wise, I found it similar to spring time in England, so pack accordingly. Jeans and t-shirts, shorts for particularly sunny days, and some good outdoor gear. I generally just hiked in leggings and a sports top with a light shirt over the top and that was fine. If you want to take some more intense hikes, a decent pair of walking shoes or boots are a must. But for the gentle trails like the ones I was doing, my multi-sport shoes were perfect. It pays to have a decent raincoat on you at all times, and a backpack with a rain cover.
Oh, and don't forget your camera!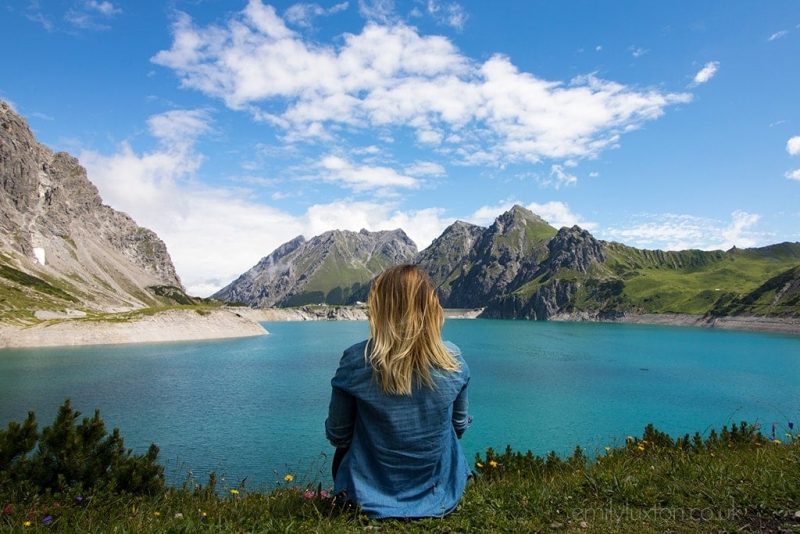 Getting Around Vorarlberg
If you want to visit multiple places within the region, the easiest way to get around is to rent a car. Roads are generally quite easy to navigate – even the winding mountain ones – and it's a great way to explore at your own pace. Prices start from around £230 a week for a small car. Check the latest prices here.
Public Transport Vorarlberg
If you don't want to drive, it's still pretty easy to get around the region. Public transport in Vorarlberg is a dream! Busses and trains are frequent, well connected, and fairly inexpensive (by European standards). You don't need to be fluent in German to navigate it all, either, since most stations have really decent signs and route maps etc. So easy!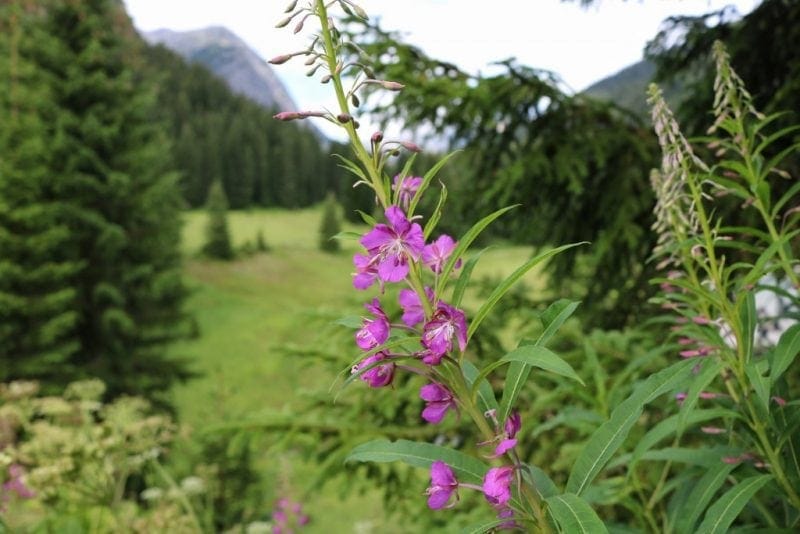 Vorarlberg Summer Festivals
As summer hits, the hills around this corner of Austria really are alive with the sound of music*. Outside of snow season, Vorarlberg goes crazy for festivals. Presumably, as a way to fill the time now that skiing is no longer an option!
These are a few of my top picks, but there are loads more – check out the local tourist offices for the place you're visiting for a full events list.
(*couldn't resist, sorry!)
Poolbar Festival, Feldkirch
7th July – 14th August 2022, various dates
One of the coolest festivals of the summer in Austria, Poolbar Festival in Feldkirch runs all summer long and has a really eclectic lineup. Various gigs are taking place over the summer in the Poolbar, a seriously cool venue that used to be a public swimming pool. There are dozens of artists performing over the summer so you're bound to find something you like.
Bregenz Opera Festival, Bregenz
20th July – 21st August 2022
Even if you don't think opera is your cup of tea, the Bregenz Opera Festival is sure to appeal. This world-famous festival involves an outdoor theatre with a custom-built stage sat right on Lake Constance. As the sun begins to set over the lake, you can watch an opera in one of the most spectacular settings imaginable.
The stage changes every two years, along with the opera, and it's always something pretty unique. When I visited, the opera was Carmen – and the stage for it was astounding: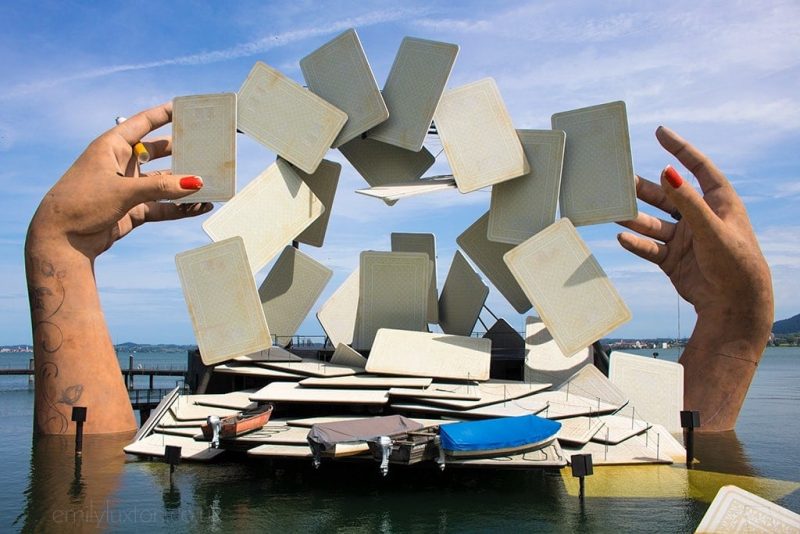 Arlberg Classic Car Rally
30th June – 2nd July 2022
Car fans will love the Arlberg classic car rally, which takes place on the winding mountain roads around Lech in the picturesque Arlberg region.
Bezau Beats, Bezau
4th – 7th August 2022
Covering the spectrum from pop to jazz to classical, Bezau Beats is a small and eclectic music festival taking place is the pretty village square at the heart of Bezau in Bregenzerwald.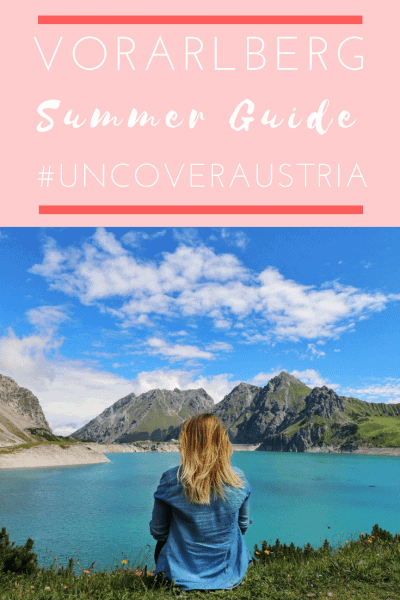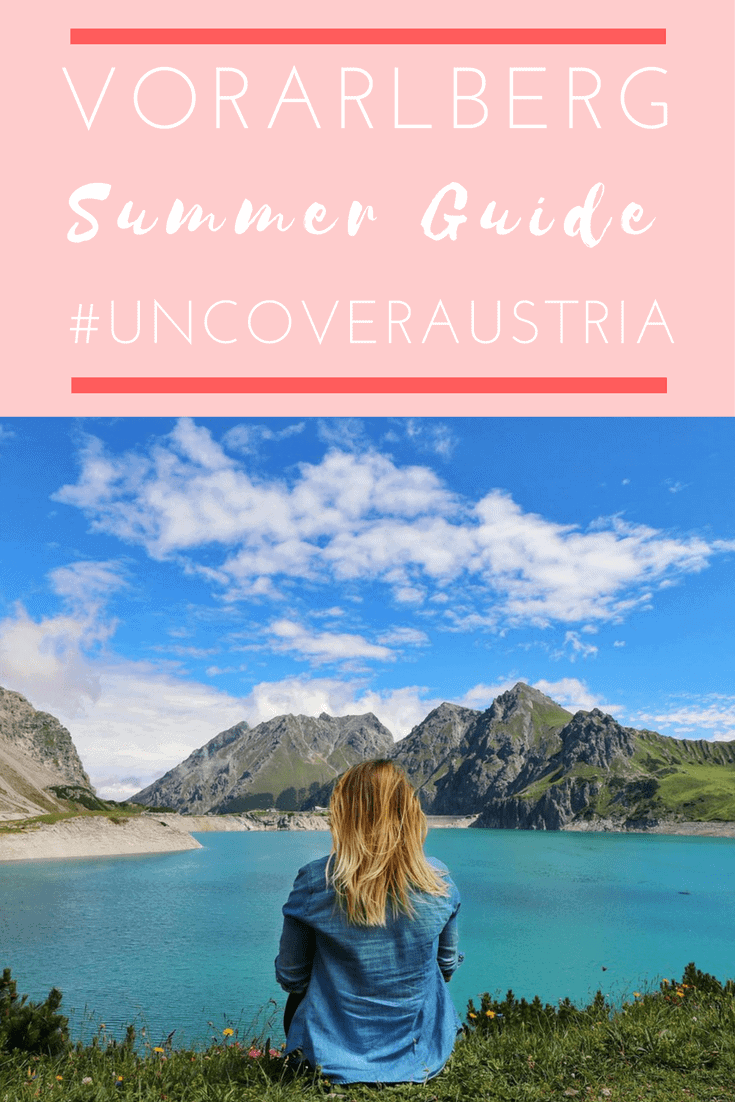 Vorarlberg Points of Interest
A few things I really think you shouldn't miss on a summer trip in Vorarlberg…
Lünersee
This stunning lake lies up above the small town of Brand. It's 1970m above sea level and surrounded by towering mountains, and it's absolutely gorgeous. Take the Lünerseebahn cable car up (€8.30 one way, €12.20 return) or hike if you don't mind steep mountain paths. At the top, you can hike around the edge of the lake, which takes about two hours (or three if you stop to take nearly 300 photos and video clips like I did!). Or you can swing by the Douglashütte restaurant for lunch and a big old slice of strudel overlooking the lakeLun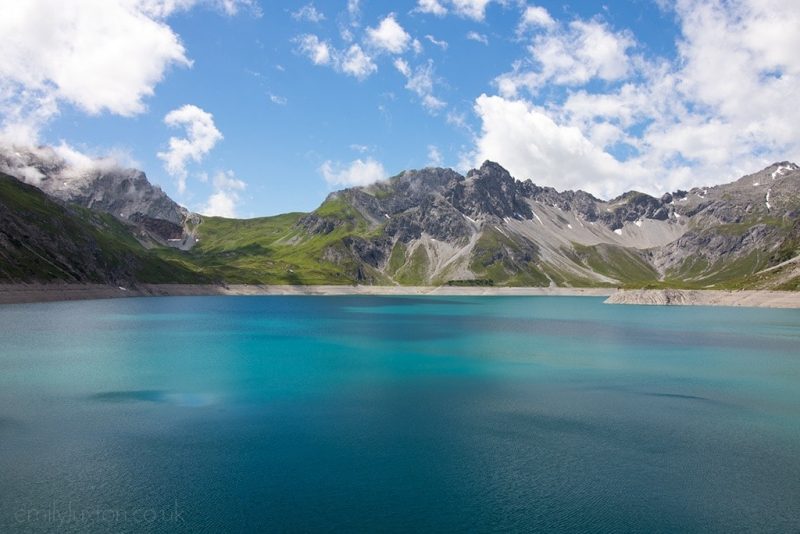 Lake Constance
Lake Constance is a huge, 63km long lake sat right across the three borders of Germany, Switzerland, and Austria. If you hop on the ferries, you can visit all three countries in one day! Or rent a bike in Bregenz and set off around the lake. There's a 260km long cylce path that circles the whole lake and passes through all three countries. If that's a bit of a stretch for you, a small section like the route from Bregenz to nearby Hard is a lovely way to spend a sunny afternoon.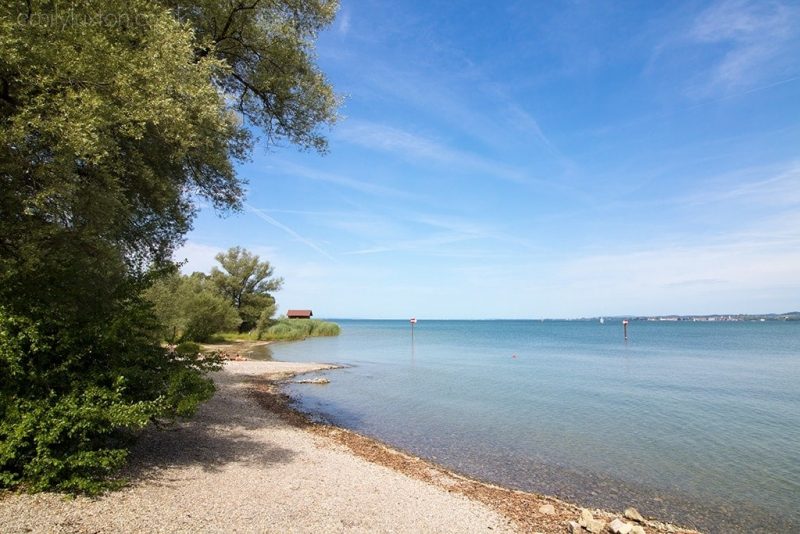 Lech
For summertime alps, look no further than the idyllic town of Lech in the Arlberg region. It's well known as a ski resort, but in summertime, the town looks beautiful, surrounded by forested mountains and flower-filled meadows. Try a mountain yoga trail, take the cable car up to Rüfikopf* for spectacular views, or just head into the valleys and mountains for a spot of hiking. There's so much to see and do in Lech in summer!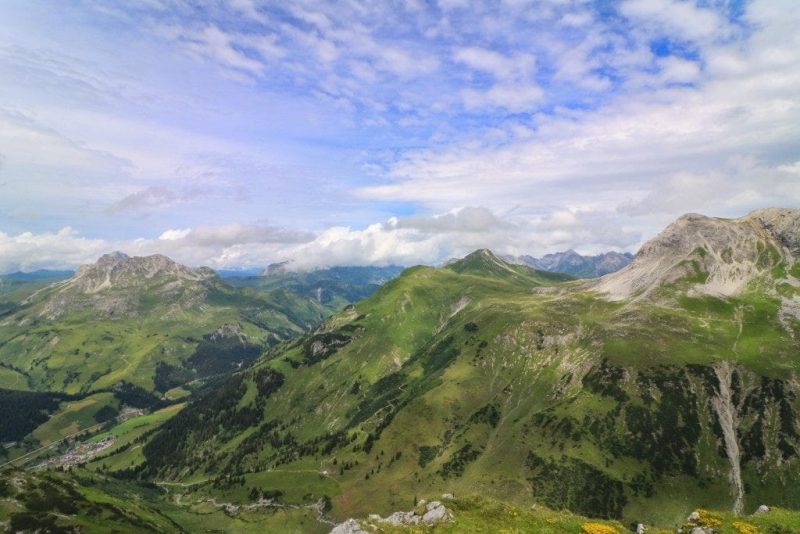 *All cable cars and local buses are free with the summertime Lech Card, as well as many local experiences and guided tours.
Read More: Top things to do in Lech during Summer.
Krumbach BUS:STOP
A region of mostly small towns and no big cities, it's quite surprising to hear that Vorarlberg has a huge passion for architecture – both new and old. Contemporary architecture can be found in the unlikeliest of places – like in the tiny town of Krumbach, which has around 1000 inhabitants. This is where you'll find the BUS:STOP project; seven very different bus stops designed by seven architects from around the world. Some are quirky, some are downright outlandish, but all of them are way cooler than any other bus stop I've ever seen!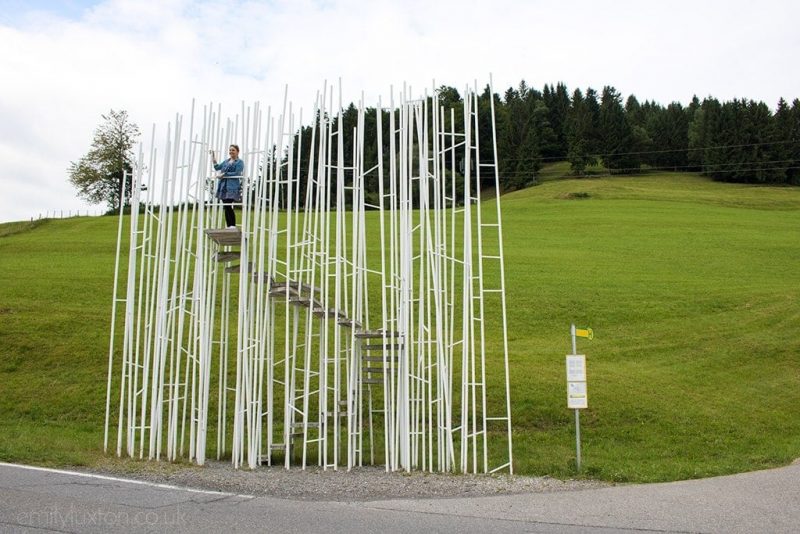 Bregenzerwald Umgang Routes
Speaking of architecture, you can discover more of it with the Bregenzerwald Umgang. These are 12 self-guided walking tours through villages around the Bregenzerwald region. You can pick up a little map with information about the stops, and the routes are marked out with informational posts. The routes feature highlights of architecture, culture, or history and are a really nice way to discover the smaller villages of the region.
Brand
Another fab mountain town that's perfect for hiking and getting active is Brand. Nearby there's even a mountain bike path, with ski lifts so you and your BMX can get to the top of the mountain! Horse riding trails, gorgeous mountain-top cafes like Palüdhütte (don't miss their dessert-lasagna!), and hiking routes galore. This town just has so much to discover.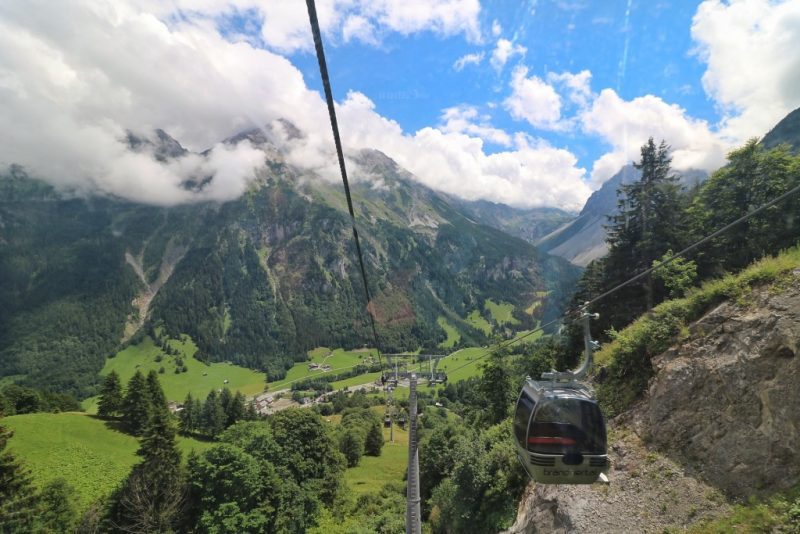 What to Eat in Vorarlberg
A couple of the region's foodie highlights…
Alpine cheese – Supposedly, it's the cows' diet of fresh alpine grass that makes the dairy from Vorarlberg so good. And it really is good! Don't miss the chance to visit a dairy or a cheese-makers to try some.
Käsknöpfle – Cheese plays a big role in the traditional dishes of Vorarlberg. Especially in Käsknöpfle – cheese noodles. A hearty dish of egg pasta in a thick cheese sauce, flavoured with spices. Seriously filling absolutely delicious, definitely unmissable!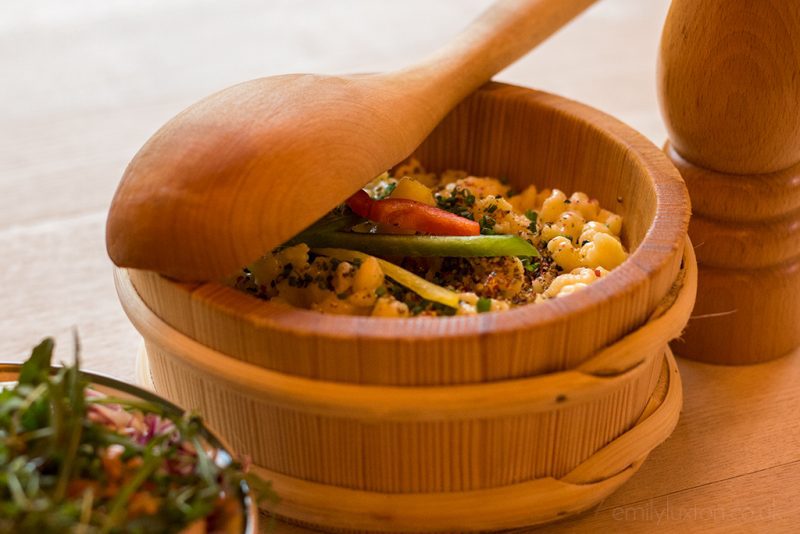 Frittatensuppe – Beef soup filled with slices of pancake (of course!). Very filling, very tasty – perfect for a chilly day!
Apfelstrudel – Not at all exclusive to the Vorarlberg region, but you just can't go to Austria and not eat strudel. Besides, there's nothing better after a hike in the mountains than a nice hot slice of strudel!
Kaluko – A small company founded by a trio of local guys, Kaluko make a really unique, all-natural iced tea drink which is really refreshing. The drink is a blend of alpine water, herbal teas and fruit juices. Delicious on its own, or as a mixer for gin!
Where to Stay
Obviously, where you choose to stay depends on which town/s and areas you'll be visiting. And, of course, on your budget. There are loads of great accommodation options around Vorarlberg, and in summer chances are you'll be able to pick up a bit of a bargain at some of the ski resorts! Here are a couple of hotels I'm happy to recommend…
Hotel Bären, Mellau – Want to base yourself reasonably centrally in Vorarlberg and take day trips to explore the region? The small town of Mellau is ideal, and the gorgeous Hotel Bären is a perfect choice. Contemporary, cool, and with absolutely stunning mountain views from the wide balconies – plus one of the best breakfasts in the region!
CHECK PRICES: Hotels.com  |  Booking.com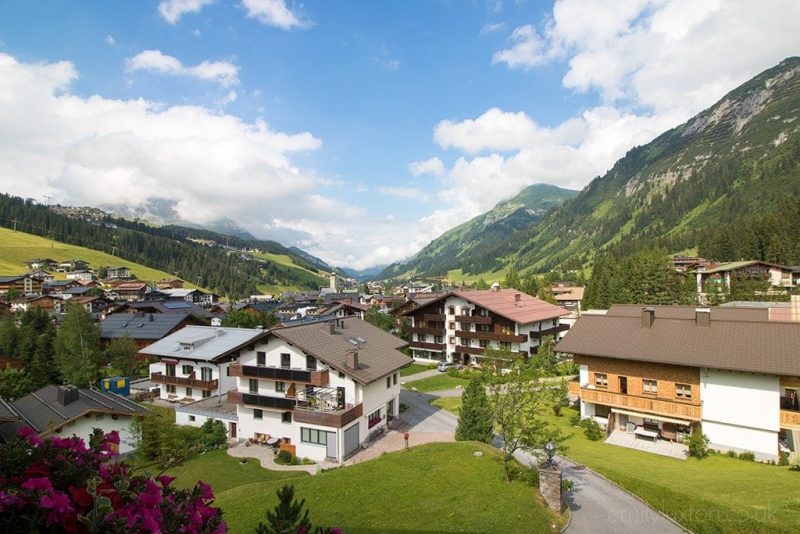 Hotel Omesberg, Lech – If you'd rather be based up in the mountains, head to Lech and stay at the truly lovely Hotel Omesberg. Great service, good food, huge rooms – and one of the most amazing balcony views I've ever seen.
CHECK PRICES: Hotels.com  |  Booking.com
Sporthotel Beck, Brand – Perfect for outdoorsy types, Sporthotel Beck is surrounded by mountains and hiking trails. The hotel has a stable with horses, which can be used for horse trekking in the mountains. Plus, there's an amazing sauna a spa area to relax after an action packed day!
CHECK PRICES: Hotels.com  |  Booking.com
Read More
Summer in Verbier, Switzerland
Top Things to do in Lech in Summer
Pin this Post!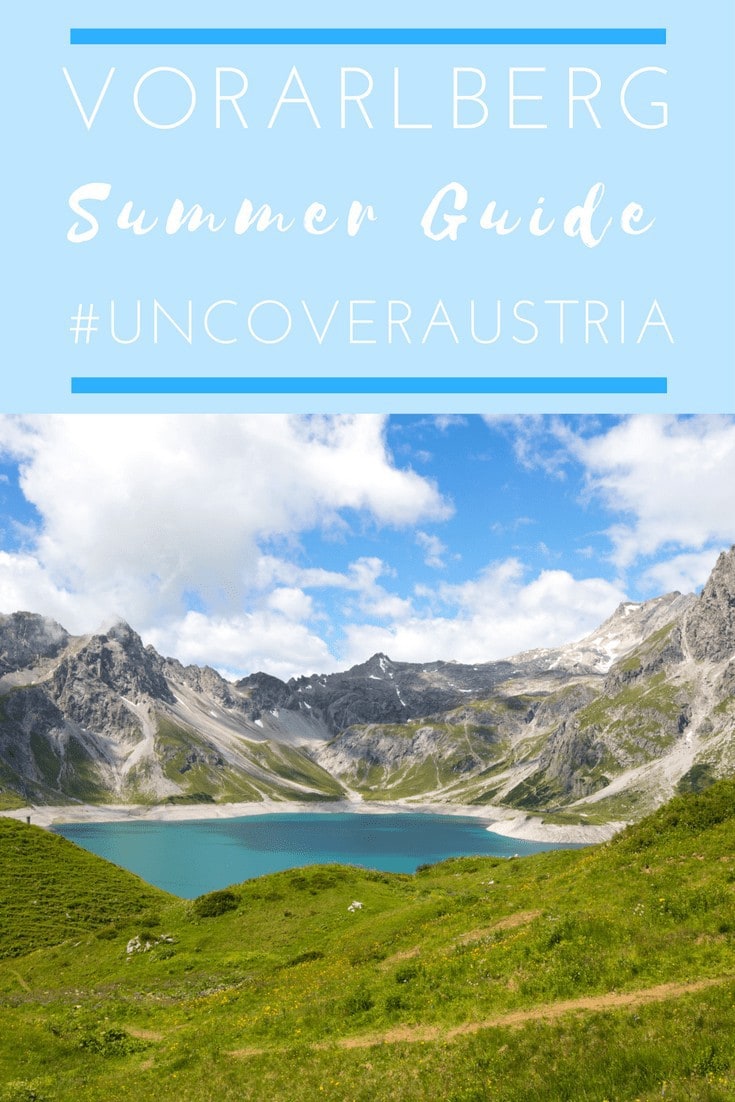 Got any more tips for visiting Vorarlberg in summer? Scroll down and share in the comments!
My trip to Vorarlberg was part of a press trip organised by Visit Austria and Vorarlberg State Tourist Board. As always, all words and opinions are mine and unbiased.