Some posts on this site contain affiliate links. If you book or buy something through these links, I earn a small commission (at no extra cost to you). Take a look at my privacy policy for more information.
When I visited Austria last year, one of the things I fell most in love with was the Austrian cuisine. And in the mountain regions like Vorarlberg, where I was last summer, food is particularly good. Think heavy, hearty dishes with plenty of cheese, meat, and potatoes. I've been dreaming of a return trip to Austria ever since, and one of my dream destinations is Innsbruck in the mountainous region of Tyrol. Like Vorarlberg, Tyrol has its own distinct culture and some totally unique dishes – which I'd love to try. These are some of the top dishes you have to try in Innsbruck and its surrounds.
Traditional Tyrolean Foods
Marend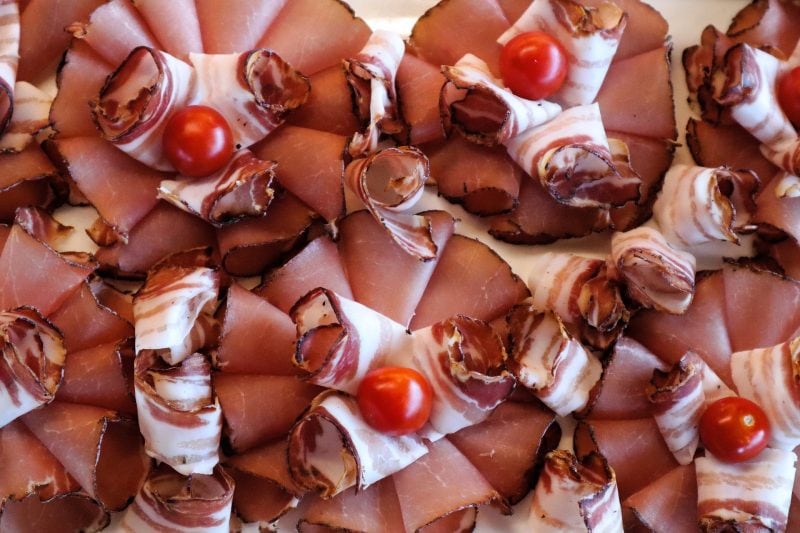 Tyrolian cuisine draws on its rich alpine setting – where the dairy cows are considered among the best in the world. One dish that truly celebrates the rich produce of the region is Marend – a simple platter of dry-cured and smoked meats and sausages, alpine cheese, and tasty bread.
Kasspatzln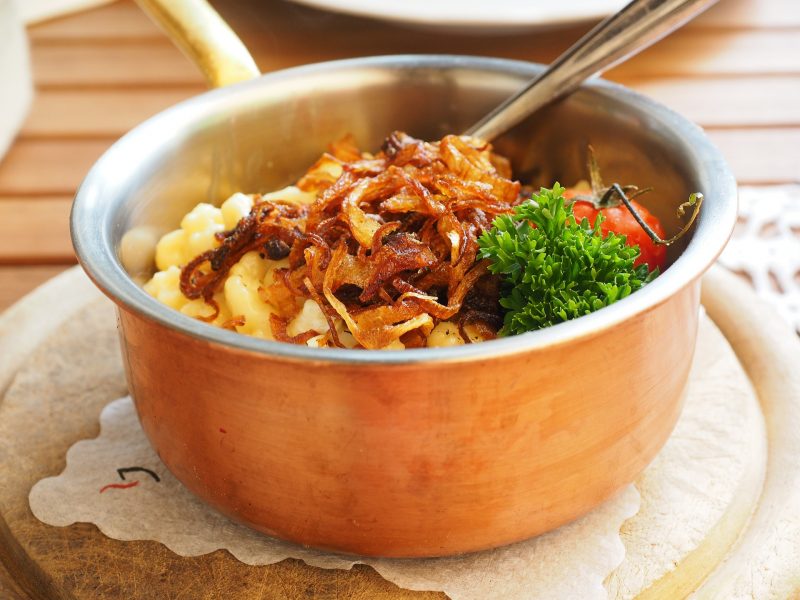 Similar to the delicious Käsknöpfle I fell in love with in Vorarlberg, Tyrol's Kasspatzln are soft egg noodles or dumplings coated in cheese and baked. Served with a sprinkling of fried onion, it's a simple but hearty Tyrolean dish that's perfect for winter.
Zillertaler Krapfen
If you're looking for day trips from Innsbruck with a culinary twist, a visit to the Zillertal Valley is a great idea. Known for its incredible cuisine and award-winning restaurants. Zillertal has some unique dishes of its own – like Zillertaler Krapfen. These are crispy fried rye pastries in a half-moon shape with a filling made from Tyrolean grey cheese, aka Graukäse, combined with chives and potatoes.
Speckknödel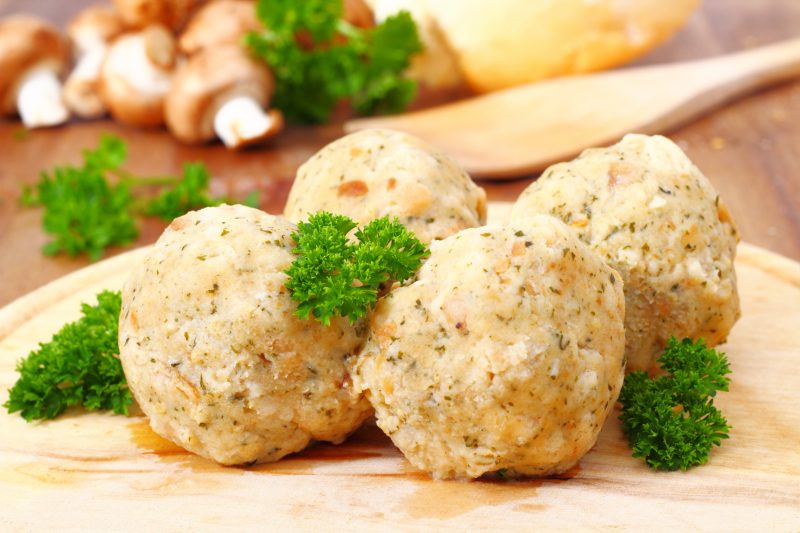 One of the best-known Tyrolean foods is speckknödel – aka Austrian bacon dumplings. These large bread-based, bacon-filled round dumplings are usually served in a broth, or with a hearty portion of saurkraut.
Gröstl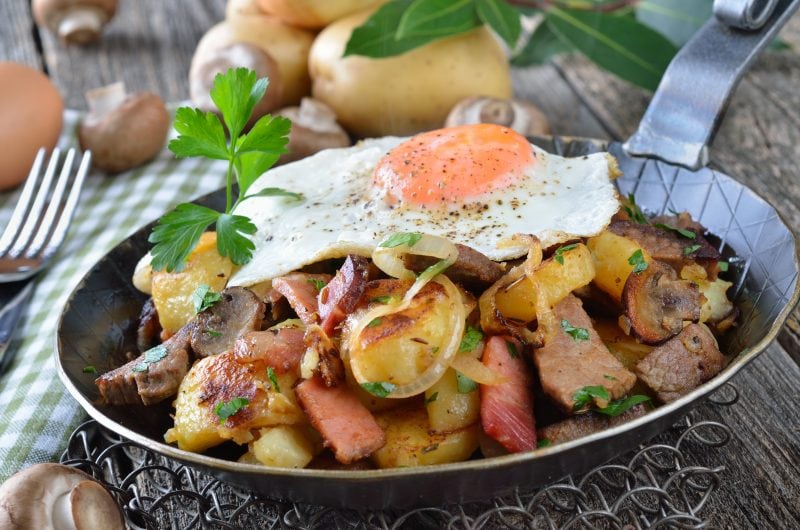 Gröstl is the Austrian version of a fry up and makes a perfect mountain lunch. Bacon, onion, and potatoes are fried up together and served with an egg on top. Simple, filling, and delicious!
Kaspressknödel
Another Tyrolean dumpling and an absolute must-eat food in Innsbruck is Kaspressknödel. These are flat, cheesy potato dumplings which sound absolutely amazing. Like speckknödel, kaspressknödel are usually served in a broth for a warming dish that's ideal comfort food.
Tyrolean Desserts to Try
Apfel Knödel
Vienna has apple strudel, but Innsbruck and the rest of Tyrol have Apfel Knödel – apple dumplings. A traditional dish originating from South Tyrol, these sweet apple dumplings are deep fried and served with ice cream.
Apfelradln
South Tyrol is the largest apple-producing region in the EU so it's no surprise that many of the traditional Tyrolean foods involve apples. As well as apple dumplings, be sure to try apfelradln – which translates to "apple wheels". These are batter-coated apple slices which are fried till they're crispy then dusted with cinnamon and sugar… sounds like the perfect way to serve an apple to me!
Kiachl
One of the best desserts in Tyrol is the popular kiachl. A heavy yeast pastry is fried in boiling lard to create a sort of flat Austrian doughnut which can be served sweet or savoury. For a dessert kiachl, it's normally filled with jam and dusted in powdered sugar – dreamy.
Strauben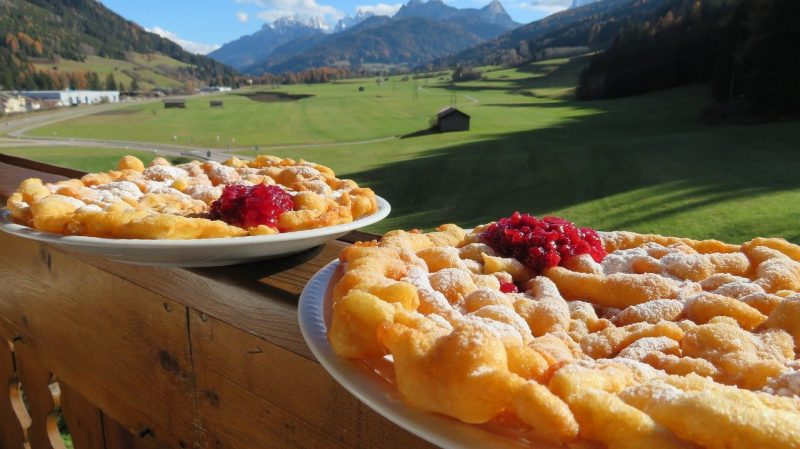 Finally, one dish that you can't miss in Tyrol is strauben, which translates to "ruffles". This Tyrolean pancake is the dish that gave birth to the USA's famous Funnel Cake. The batter is poured through a funnel into hot fat to create crispy-fried curls or spirals. Often served with lingonberry or cranberry jam, strauben are definitely a must try.
If you're from Tyrol or you've travelled there – I'd love to hear what your favourite Tyrolean dishes are! Scroll down to leave a comment.