Some posts on this site contain affiliate links. If you book or buy something through these links, I earn a small commission (at no extra cost to you). Take a look at my privacy policy for more information.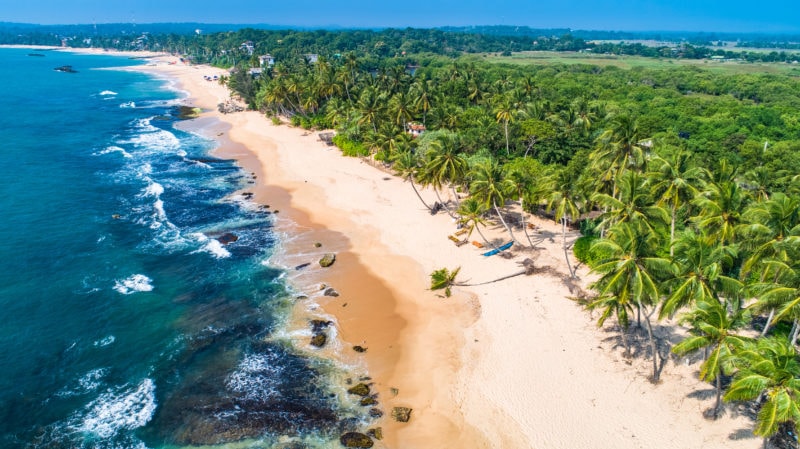 If you want to see as much of Sri Lanka as possible in 2 weeks, this itinerary has you covered…
Sri Lanka has been on my travel "bucket list" for years. On my very first trip to Asia, I had a one-night layover in Colombo on my return from Malaysia, and ended up in a beachfront hotel for almost 24 hours thanks to a delay. Walking on the golden sands of an unknown beach near Negombo in the early morning, I promised myself I'd come back someday.
It took over a decade, but I finally made it back to Sri Lanka to discover the country that had seemed so enticing all those years ago.
Nicknamed the "Pearl of the Indian Ocean", Sri Lanka is a tiny, tear-dropped shaped island just off the southeast coast of India. It's a destination packed with beautiful landscapes, tropical beaches, a dazzling culture, and incredible experiences!
This itinerary is designed to give you the ultimate overview of Sri Lanka in 2 weeks (or longer). Encompassing cities, culture, elephants, mountains, tea plantations, whales, wildlife, and beaches… this is a little bit of everything that makes Sri Lanka special! Enjoy…
My trip to Sri Lanka was supported by the tourist board (with a few exceptions). As always, all words and opinions are my own!
How to See Sri Lanka in 2 Weeks?
In no way am I suggesting you can cover ALL of Sri Lanka in 2 weeks – not even the most action-packed itinerary can do that! It may be small (a tiny bit smaller than Ireland), but this stunning island nation has a lot on offer.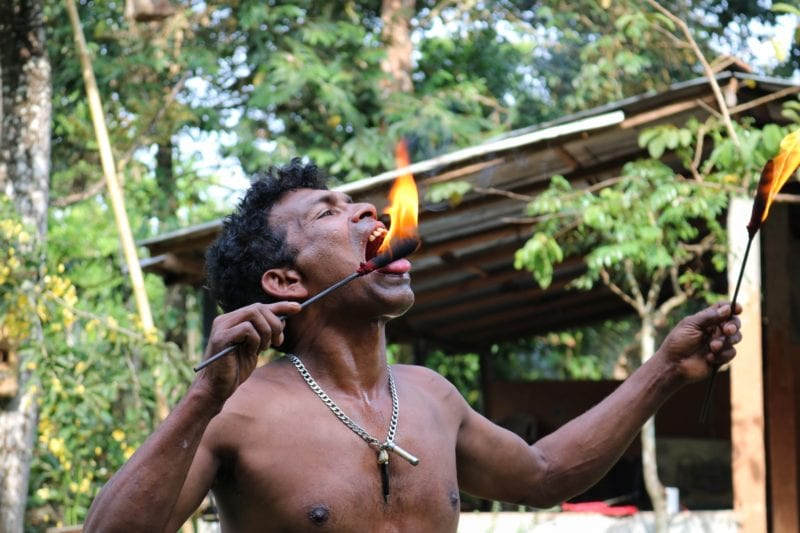 There's also a surprising variety of landscapes for what seems like a relatively small country. From lush tropical wetlands, to rugged mountain ranges with misty pine forests, to palm-lined golden beaches… there's far more to Sri Lanka than a glance at the map first suggests.
The following itinerary is designed to give an overview of Sri Lanka, covering as many of these different landscapes as possible, and encompassing all the "must-see" attractions, experiences and adventures in Sri Lanka.
I've left it as flexible as possible, so you can tailor your trip to suit your travel style. Skip the things you don't fancy, and spend longer in the places that appeal more. The idea of this post is to show you exactly how much you can fit into 14 days in Sri Lanka!
Sri Lanka 2 Weeks Itinerary – Map and Breakdown
Arrive in Colombo
Explore Colombo
Transfer to Habanara + Elephant Safari.
Anuradhapura Day Trip
Sigrya + Transfer to Knuckles
Knuckles Mountain Range
Transfer to Kandy + Explore Kandy
Transfer to Nuwara Eliya (visit a tea plantation visit en route)
Train from Nuwara Eliya to Ella.
Transfer to Mirissa + Hit the beach!
Whale Watching Mirissa + Ayurveda
Chill Day
Transfer to Bentota + River Cruise Bentota
Relax in Bentota + Transfer to airport.
This might seem like a lot of transfers for a 2 weeks itinerary, but Sri Lanka is a relatively small country so most of the drives are less than 2 or 3 hours (public transport may take longer). Which means you'll still have most of the day to explore – and still have time to cool off in the pool at the end of the day!
Detailed Sri Lanka 2 Weeks Itinerary
Day 1 – Arrive in Colombo
Transfer: approx 40mins by car or 1.5 hours by bus.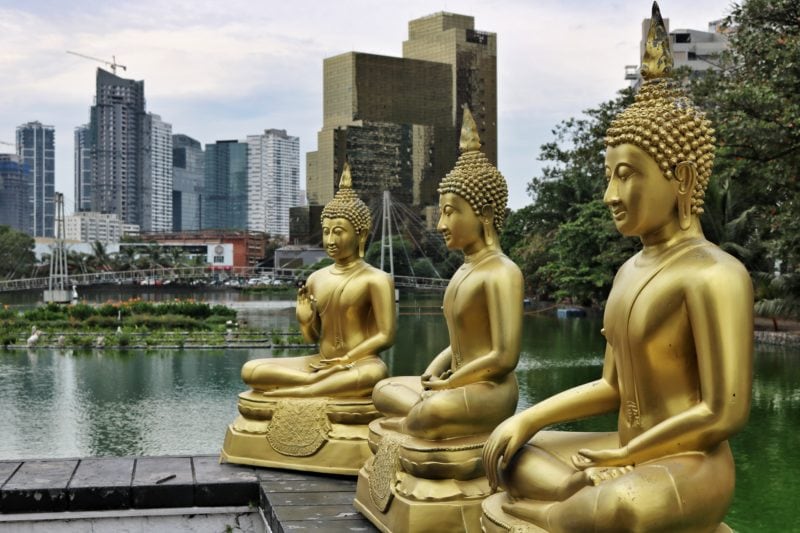 If you're flying into Sri Lanka, chances are you'll be arriving into Colombo – the commercial capital and the biggest city in the country. So this is the perfect place to start your two weeks in Sri Lanka.
To get into the city centre from Colombo Airport, you can pre-book an airport transfer (from £19.08 for two). Alternatively, you can take a taxi or an Uber once you arrive, or take the Colombo Express Bus, which departs every 30 minutes.
It's a long old flight to Sri Lanka, so you'll probably just want to relax and unwind at your hotel once you've checked in. If you do fancy exploring, you could book a half-day city tour (from £35.30pp) or an evening street food tour (from £64.87pp).
Or, you could head straight out to enjoy Colombo's nightlife. Many of the best bars and nightclubs can be found in the city's larger hotels – like the incredible rooftop bar at the Kingsbury for dazzling views of the city, or the seafront Firebeach Bar at the Galle Face Hotel.
Where to Stay in Colombo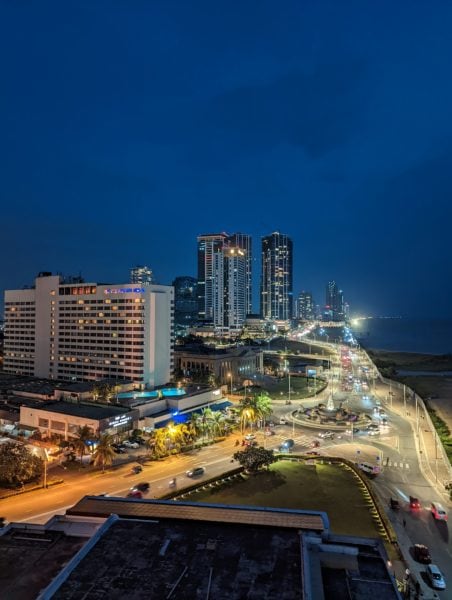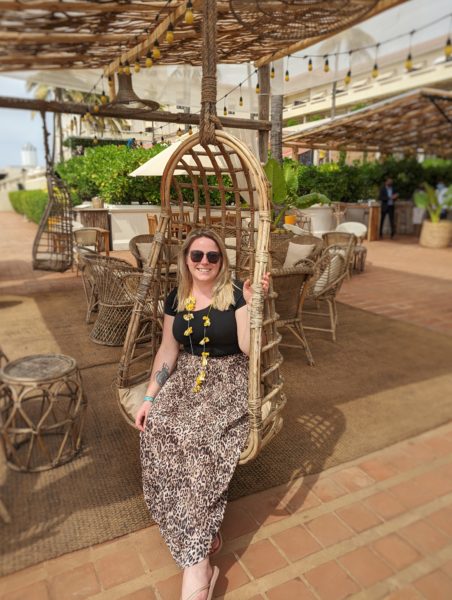 I stayed at The Kingsbury Colombo, a luxurious nine-storey hotel with views of the Indian Ocean. It's in an ideal location, with some fab restaurants and excellent service. I loved the outdoor pool and poolside bar – ideal for cooling off after a day exploring Sri Lanka!
There's also the famous Galle Face Hotel. This is a beautiful, historic building from the Colonial era which feels almost like a living museum – I highly recommend visiting for a meal or drinks, even if you're not starting here! They even have Prince Phillip's first car on display in the gallery! There's also a lovely saltwater pool overlooking the ocean and a really cool beach bar.
---
Day 2 – Explore Colombo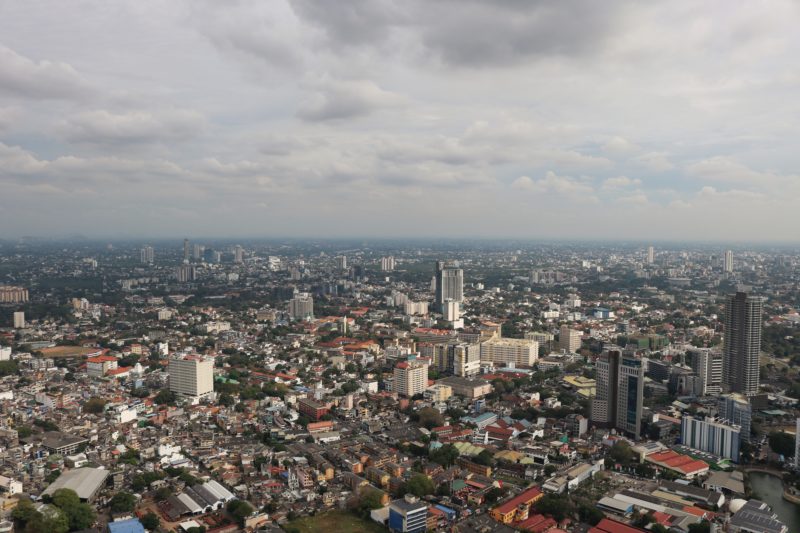 Now that you've had time to settle in, and hopefully beat the jetlag a little, get ready for a day exploring Sri Lanka's largest city.
Many travellers skip Colombo, thinking of it more as a place to pass through on the way to Sri Lanka's natural gems. But it's a fascinating city with a rich culture to explore, so you can easily spend a day or two soaking up the sights.
To get your bearings, start your day with one of the open-top bus tours from Colombo City Tour. This is a great way to see a lot of the city in a short space of time, and the tour was really interesting – without overloading us with information. And since Colombo can be pretty hot and humid, the "natural AC" of the top deck is ideal!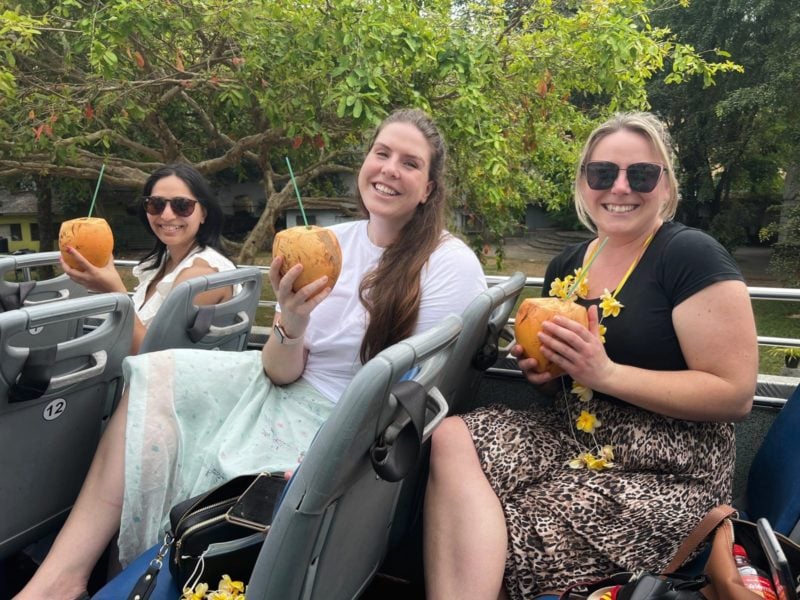 Spend the afternoon exploring at your own pace. I recommend using tuk-tuks to get around – they're cheap, convenient, and great fun. I've listed a few of the major sights below, or you could book a food tour and get stuck into the brilliant street food scene.
On my visit to Colombo, we also had a preview visit to the viewing platform of the new Lotus Tower. This 350m pink tower is the tallest self-supported structure in South Asia, offering some incredible views across the city. Once it's open to the public be sure to include a visit on your Sri Lanka itinerary.
Top Things to do in Colombo
Day 3 – Elephant Safari, Habarana
Morning: Transfer to Habarana (approx 4 hours)
Afternoon: Elephant Safari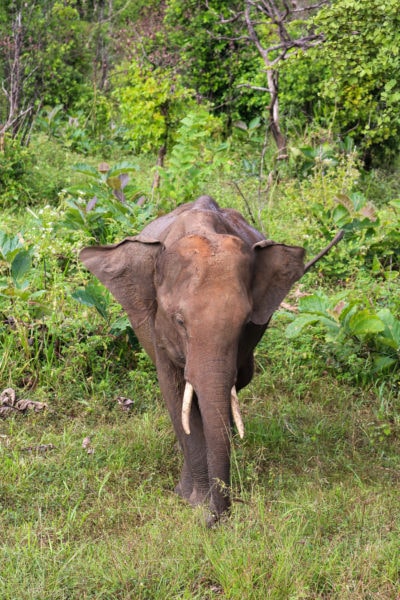 Leave as early as possible this morning and head northeast to Habarana. This small city puts you within easy reach of 3 of this region's biggest attractions: Anuradhapura, Sigirya, and several wildlife reserves.
This is a great place for one of Sri Lanka's biggest bucket list experiences: an elephant safari. We did ours in Hurulu Eco Park when we visited in February, but the elephants migrate between three local forests depending on the season. Your best bet is to ask the locals, or at your hotel, where the elephants are at the moment. Here's a rough outline to help: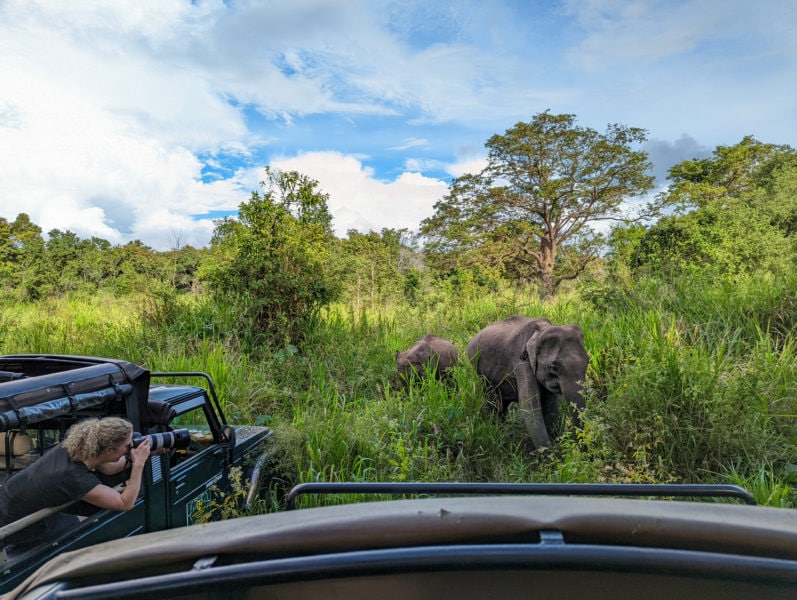 Hop in a jeep for an afternoon elephant safari and head into Hurulu Eco Park for a 4-hour adventure, getting close-up views of the elephants and other wildlife.
You can arrange an elephant safari through your hotel, or simply head to the park entrance where there are generally jeeps waiting. Or, you can book online – it's much more convenient and not that much more expensive. At Hurulu Eco Park, the set rate is 5000rs for a jeep (can seat 4-5 people) plus $18 USD (around 4,000rs) per person for entry to the park.
Tipping: A local recommended about 1000rs per person to tip your driver after the safari.
If you have more time:
If you have longer than two weeks in Sri Lanka, I recommend spending an extra night or two in Habarana as there's loads to do in the area. You could do a longer safari in Minneriya National Park (from £29.77pp with pickup in Habarana), where you have a chance to see other wildlife as well as elephants, including rare species like leopards, sloth bears, and the slender loris.
For another big bucket list item, you can also do a sunrise hot air balloon flight from nearby Dambulla (from £258pp). My friends did this on their honeymoon recently and said it was one of their favourite days!
Where to Stay in Habanara
I stayed at Cinnamon Lodge in Habarana. It's a safari-lodge style hotel in a fabulous setting, full of wildlife. The rooms could do with a bit of an update, but the large outdoor pool – surrounded by palm trees – is dreamy. I loved that the hotel grounds are full of nature and wildlife, with birds, butterflies, and monkeys everywhere.
Day 4 – Day Trip to Anuradhapura
Transfer Time: About 1 hour each way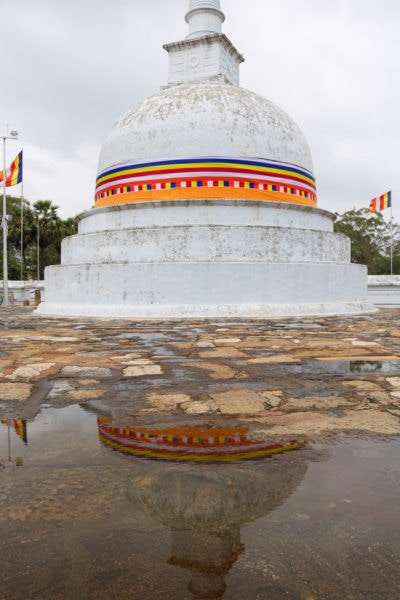 From Habarana, you can take a day trip to another of Sri Lanka's most famous attractions. Anuradhapura is one of the ancient capitals of Sri Lanka, famous for its well-preserved ruins of an ancient Sinhala civilization.
You could easily spend a couple of days exploring this sprawling UNESCO site, which is home to dozens of important historic monuments and temples. I recommend arranging a guided tour of Anuradhapura (from £58.01pp), because many of the sites are quite spread out. Plus a guide can share some of the fascinating history of the area.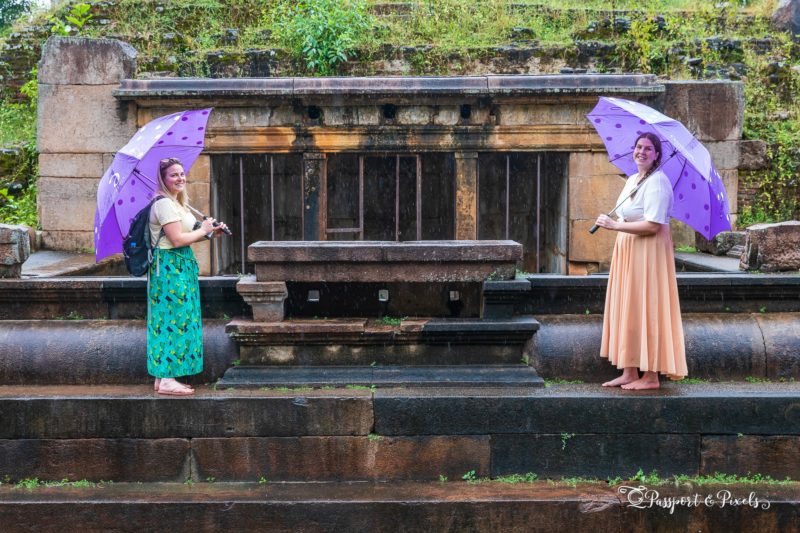 Top Things to See in Anuradhapura
Jaya Siri Maha Bodhi – a temple housing an ancient bodhi tree which was brought to Sri Lanka as a sapling from India in the 3rd century BC. The sapling is said to be grown from the original Bodhi tree under which the Buddha attained Enlightenment.
Isurumuniya Viharaya – a section of the Wessagiri Monastery where monks lived in rock caves in the 3rd century BC.
Ruwanveliseya Stupa – an enormous white stupa orinally built by the "warrior king" Dutugemunu around 140BC, now one of the most sacred Buddhist sites in the world and the most iconic temple in Sri Lanka.
Jetavanarama stupa – said to be the largest stupa in the world, this towering brick monument was built by King Mahasena of Anuradhapura (276–303 BC).
Read this guide to Anuradhapura for more details about what to visit there.
Day 5 – Day trip to Sigiriya
Morning: Visit Sigirya
Afternoon: Transfer to Knuckles Mountain Range (approx 2-4 hours, depending on final destination)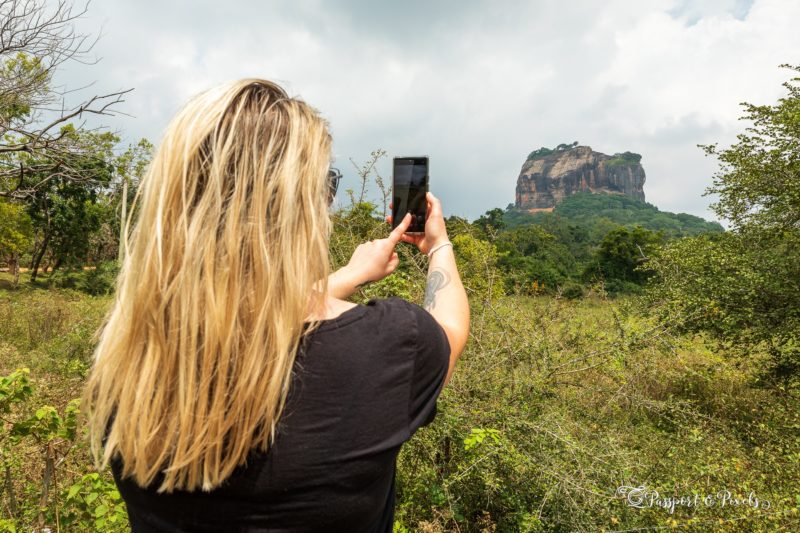 Another of Sri Lanka's eight UNESCO World Heritage Sites is within easy reach of Habarana – Sigirya, aka the Lion Rock.
This was an ancient fortress built on top of a towering rock column in the 5th century BC. Once you've tackled the 1270 steps to the top*, it's really interesting to explore the traces of the old palace and fortress – and to marvel at how they transported all the building materials to the top of the 600ft high rock monolith!
*(It's not as bad as it sounds – or looks! The walk up took us about 35 minutes with lots of stopping for photos).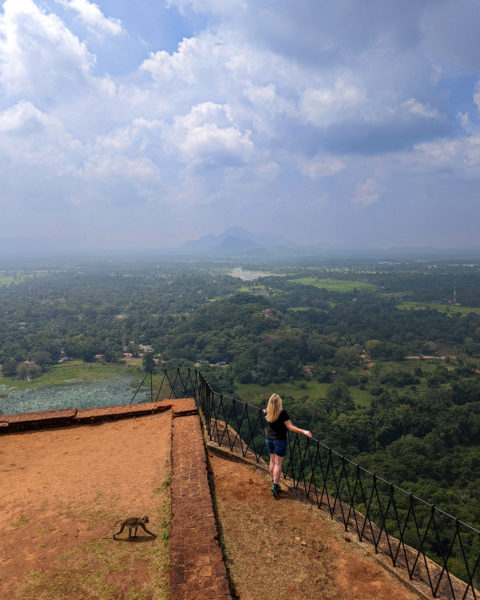 Sigiriya has a pretty fascinating – if dark – history, so I recommend visiting with a guide, or at least reading up in the museum on site.
It was built by the Sinhalese King Kashyapa I (reigned 477–495) after he murdered his father and usurped the throne. Fearing attack from his brother, the rightful heir, Kashyap moved the capital to Sigiriya and built his fortress – but it wasn't enough, and Kashyap was overthrown in 495BC.
If you have a bit longer than two weeks in Sri Lanka, I'd recommend an extra night in this region so you can do a full day exploring Sigiriya. That way, you can also climb Pidurangala Rock, which affords a spectacular view of Lion's Rock. It's meant to be particularly lovely at sunrise.
Transfer to Knuckles Mountain Range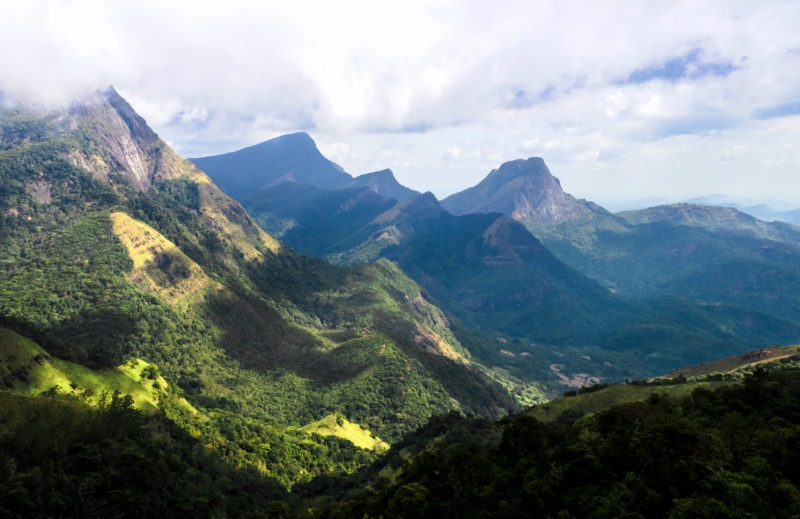 Otherwise, time to transfer to the mountainous centre of the island. Named because they look like the knuckles of a clenched fist, The Knuckles Mountain Range is one of the more unusual places to visit in Sri Lanka – but well worth including in your itinerary. Especially if you love adventure!
I'd recommend heading to either Riverston or Rangala when you visit The Knuckles. Rangala is where I went, a remote village that felt truly "off the beaten path" – more on that below. Riverston is probably more popular with tourists, a mountain area known for its paddy fields, waterfalls, and the famous "Mini World's End" viewpoint.
Glamping in The Knuckles
For something a little different, try glamping in the Knuckles Mountain Range. This is what I did on my Sri Lanka itinerary and it was SUCH a fantastic experience.
We headed to Wild Glamping Knuckles in Rangala, which is a little further from Sigiriya than Riverston, but a little closer to Kandy (our next stop).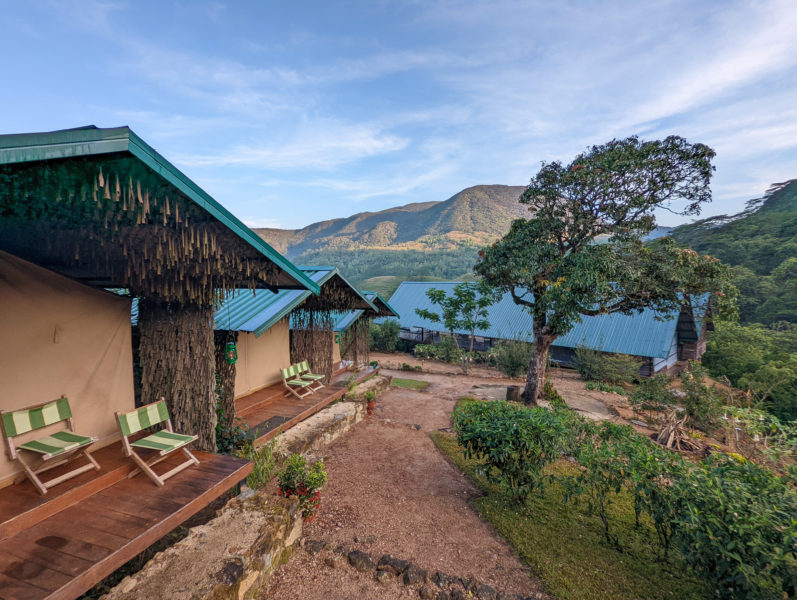 It's a beautiful, small glamping site with a handful of luxury safari tents surrounded by greenery and mountains. The site is very remote – about 20 minutes by jeep from the nearest main road – so there's no light pollution or noise at night.
The food was fantastic, too; a huge spread of local dishes for breakfast, and a hearty barbecue for dinner. I recommend taking a bottle of wine or some beers with you, as the restaurant doesn't serve alcohol!
There are several hikes you can do in the area, and by night you can unwind to the peaceful sounds of nature. The site runs solely on solar power, and the generators only run for a few hours in the morning and evening – after 10pm its torches only! Perfect for a proper adventure!
Day 6 – Hiking in Knuckles Mountain Range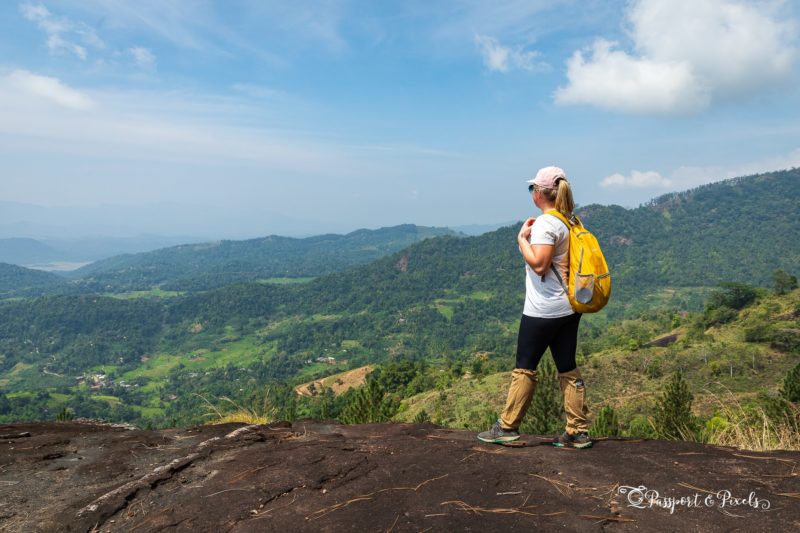 Hiking is definitely the best thing to do in the Knuckles Mountain Range. Terraced paddy fields, lush forests, tea plantations, cascading waterfalls, and cooler mountain air mean this region is one of the most pleasant for hiking in the whole country.
Top Tip: Wear leech socks for hiking in the Knuckles. Our glamping site provided them for us and they were invaluable – we saw two other tourists who'd been bitten and the bleeding was gruesome!
Heel Oya Trek, Rangala
If you're in the Rangala area, like I was, you should tackle the Heel Oya trek. This 12km hike from Rangala to the secluded village of Heel Oya is mainly downhill, but it's still a moderately difficult hike with some uphill sections and tricky terrain.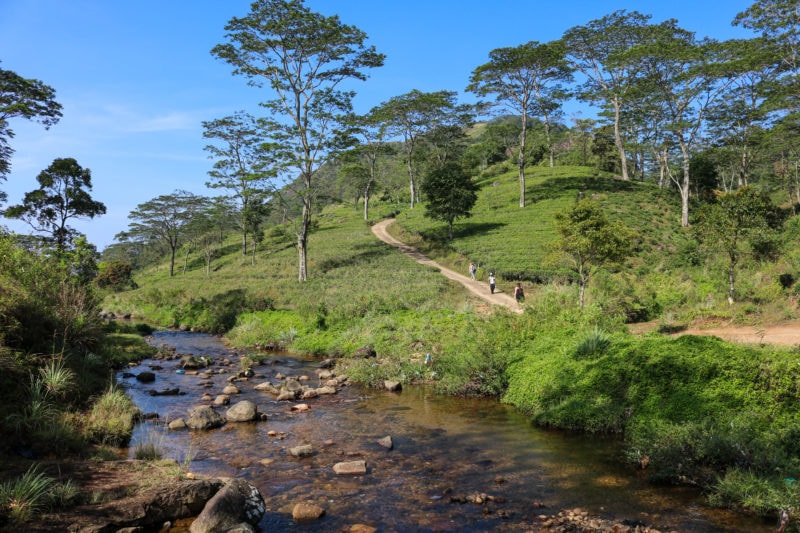 However, it's also a really beautiful hike that takes you through several different landscapes, including pine forests, tea plantations, eucalyptus forests, and rice terraces.
You'll also pass the Heel Oya Waterfall, a beautiful spot with a small natural pool. I highly recommend bringing a towel and some swimwear so you can jump in – it's a great way to cool off!
We did the hike with a fantastic guide, Janaka from Nipuna Knuckles Trekking, and finished with lunch and a cooking class at a local's home in the Heel Oya village.
Mini World's End Hike, Riverston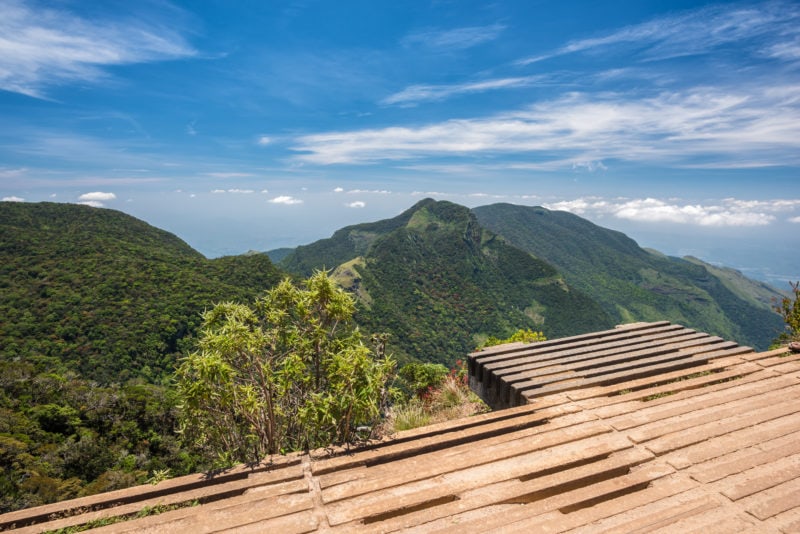 If you headed to Riverston instead of Rangala, today is the day to do the Mini World's End hike in Horton Plains National Park. Since I haven't done this myself, I'll direct you to this detailed guide by outdoorsy blogger Sophie's Suitcase. This is one of the most famous hikes in Sri Lanka, ending at a drop off point 4,000ft above the Thelgamuwa Valley.
Day 7 – Explore Kandy
Morning: Transfer to Kandy (approx 2-3 hours)
Afternoon: Explore Kandy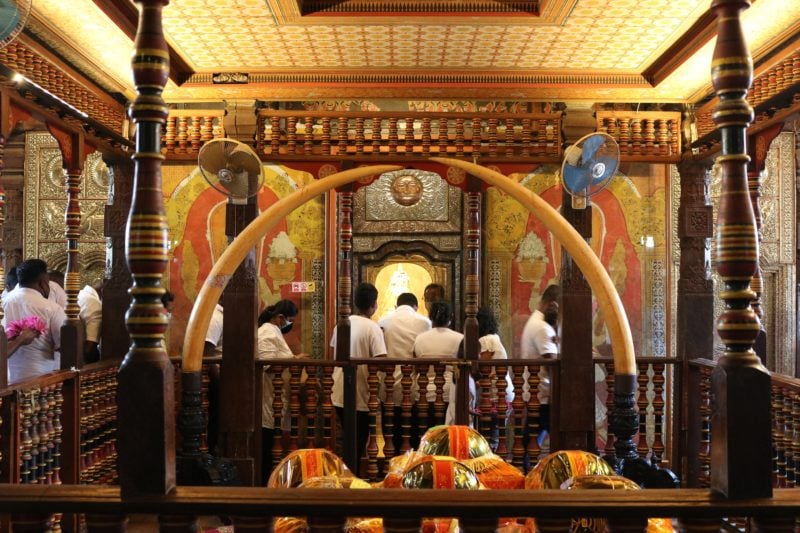 Come down from the mountains and head to Kandy next, a large city on a plateau surrounded by mountains.
Kandy is known for its rich culture, traditional dances, and important temples – particularly the Temple of the Sacred Tooth Relic. This is a large Buddhist temple complex within the royal palace of the former Kingdom of Kandy, which is famous for housing the relic of Lord Buddha's tooth. This is kept in a special golden casket, so you never actually see the tooth, but it's a very sacred site for Buddhists.
If, like me, you only have a day to explore Kandy, I recommend booking a guided tour. This Temples, Gardens & Cultural Show City Highlights Tour (from £43.97pp) takes in all the main attractions – and includes an example of traditional Kandyan dancing.
This was the unexpected highlight of my visit to Kandy, so I strongly recommend that you take the time to watch some traditional local dancing. Such a unique experience!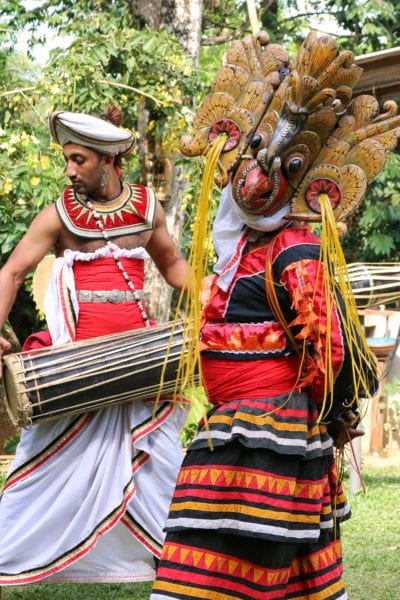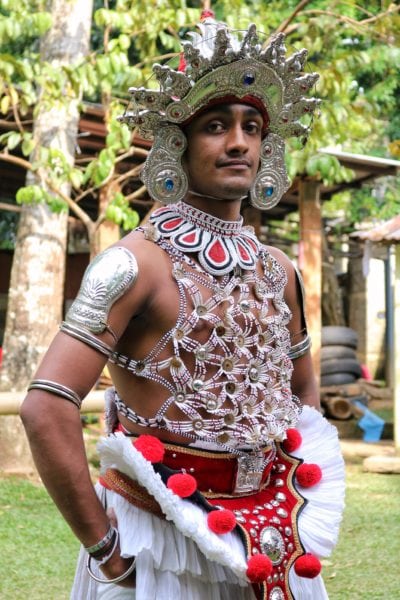 Top Things to do in Kandy
Where to Stay in Kandy
We stayed at Amaya Hills Kandy. It's in a stunning hilltop location above the city, with fantastic views from the rooms at the front of the property, and from the lovely outdoor pool. The downside is that you're quite far from Kandy's main attractions, but the stunning sunset view makes up for that.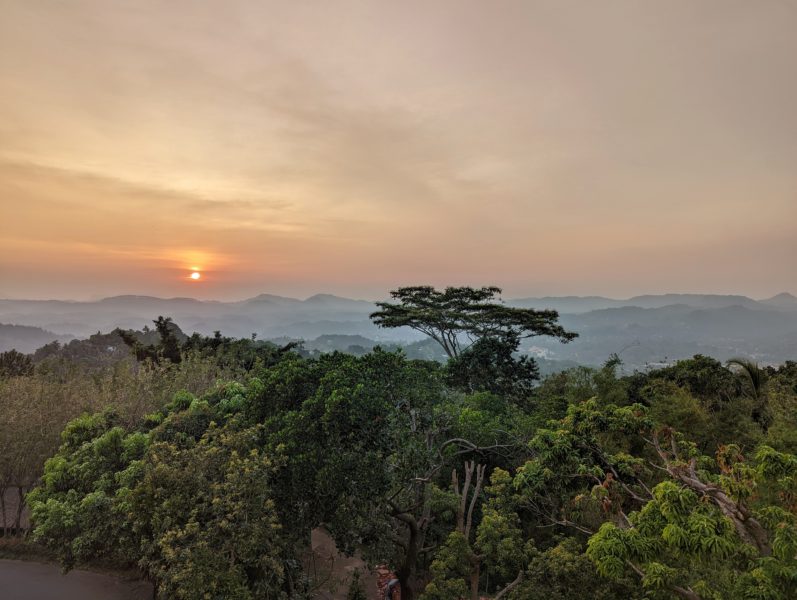 Day 8 – Tea Plantation and Nuwara Eliya
Morning: Transfer to Nuwara Eliya (approx 2.5-3 hours)
Afternoon: Explore Nuwara Eliya
Today we're heading to Nuwara Eliya, nicknamed "Little England". Situated some 6,000ft above sea level, the region has a cool, crisp climate which attracted many British colonists in the 1800s – resulting in a large number of English-style buildings.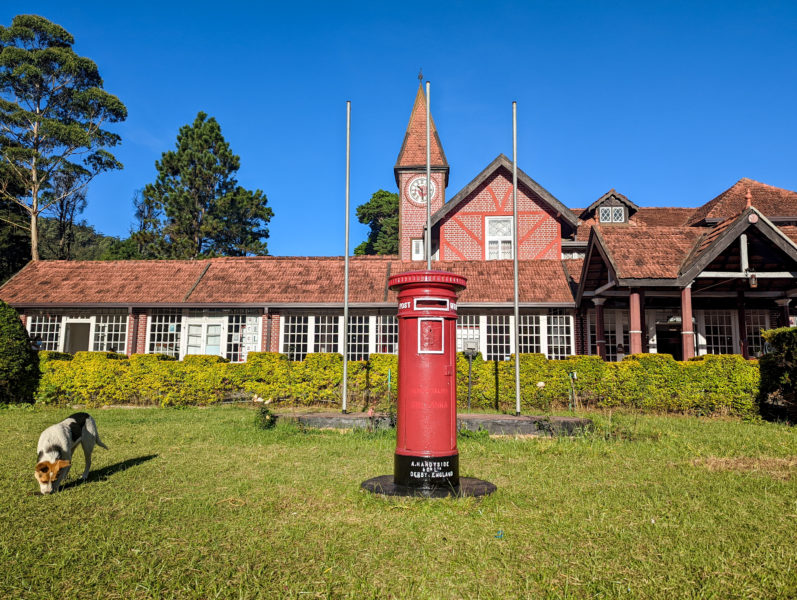 This is tea plantation country, so be sure to visit one on the way to Nuwara Eliya. At the risk of being evicted from Britain, I have to confess I don't really like tea. But it's still really interesting to tour a plantation and learn a little more about where my country's favourite drink comes from!
We headed to the Damro Labookellie Tea Estate for a tour of the factory and a pot of tea. Established 150 years ago, this is thought to be the second oldest tea plantation in Sri Lanka.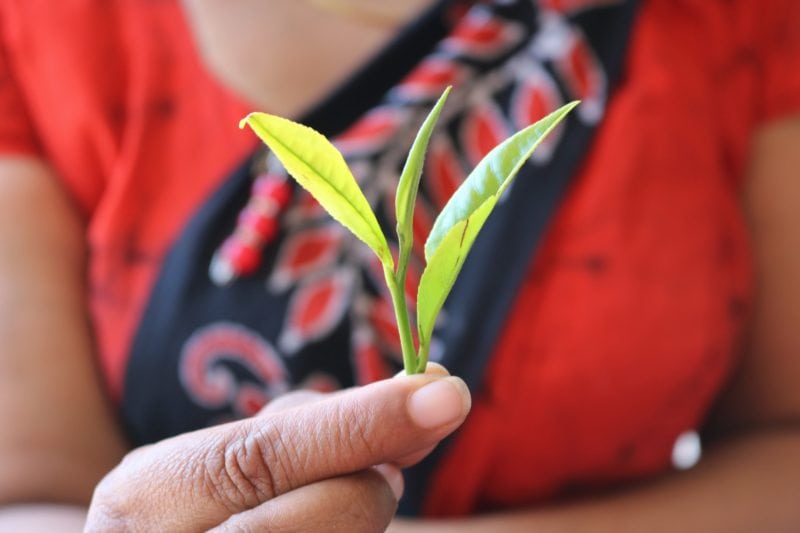 From there, head into Nuwara Eliya. You can go hiking in the hills surrounding the town to explore the region's incredible landscapes and unique nature, or head straight into the town itself to visit some of the historic colonial buildings. We only spent one night in Nuwara Eliya, but if you have a little longer than 2 weeks in Sri Lanka I'd suggest adding an extra night here to your itinerary, as it's a beautiful town with quite a lot to see and do.
Top Things to do in Nuwara Eliya
Visit a Tea Plantation
Waterfalls – including Lovers Leap, Devon Falls, and St Clair's Falls
Explore the colonial buildings in the city centre – including The Hill Club, St Xavier's Church, and the iconic red-brick Post Office.
Explore the Haputale Highlands (8 hour day tour from £63.35pp)
Adam's Peak Overnight Trek (from £114.50pp)
Where to Stay in Nuwara Eliya
I LOVED St. Andrew's Hotel – a historic county mansion dating from 1875 with real "old world" charm. Walking through its beautifully restored halls and rooms really felt like stepping back in time! My favourite aspect was the extensive garden which surrounds the hotel, including a protected wetland area that's home to several endemic and critically endangered amphibians.
Day 9 – Train from Nuwara Eliya to Ella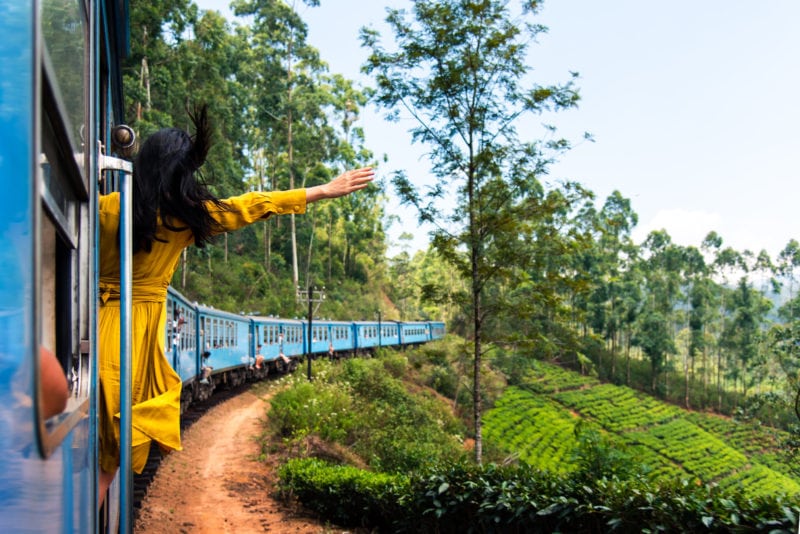 One of the most popular things to do in Sri Lanka, and a great addition to your 2 weeks itinerary, is to take the train from Nuwara Eliya to Ella.
This is a section of the famous Kandy to Ella train, considered to be one of the most scenic train rides in the world. The section from Nuwara Eliya to Ella is meant to be the most picturesque part of the journey, taking around 3-4 hours. Check out this fantastic guide from the Nomadic Boys to help you plan the trip.
Timings (and covid concerns) meant that I wasn't able to take this incredible train ride on my recent Sri Lanka trip – so it remains on my bucket list. Hopefully, I'll be back again soon to try it.
If you're not fussed about taking the train, the drive from Nuwara Eliya to Ella takes about 2 hours, and allows for more time in Ella itself. The town is beloved by backpackers and known for its boutique shops, cafes, and lively (by Sri Lankan standards) party scene! Again, if you have a bit more time it could be worth an extra night or two in Ella.
Top Things to do in Ella
As I didn't spend any time in Ella on my recent visit, I recommend checking out this guide to Ella from the Common Wanderer.
Day 10 – Mirissa
Morning: Transfer to Mirissa (approx 3 hours)
Afternoon: Relax and explore Mirissa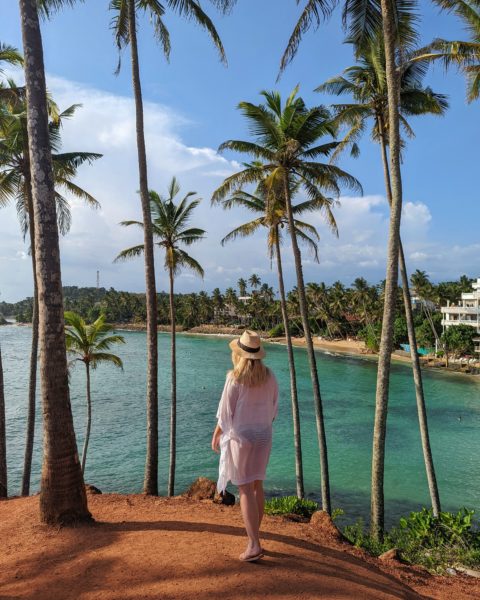 It's time to head down to Sri Lanka's incredible southwest coast to spend your last few days by the sea. I've intentionally kept my Sri Lanka itinerary a little emptier for the last few days, so that you can start to wind down and switch on that "holiday mode".
Mirissa is a lovely little beach town with backpacker vibes, lots of beach bars, and a nice chilled out atmosphere. It's known as a surfing destination, and is also THE place in Sri Lanka for whale watching (that's on the agenda for tomorrow morning). So there's plenty to keep you busy… or you can just flop yourself down on the beach and RELAX!
Top Thing to do in Mirissa
Whale Watching
Take a Surfing lesson
Visit "Secret Beach"
Head to Instagram hotspot Coconut Tree Hill
Party at the beach bars (or head to Doctor's House in neighbouring Matara)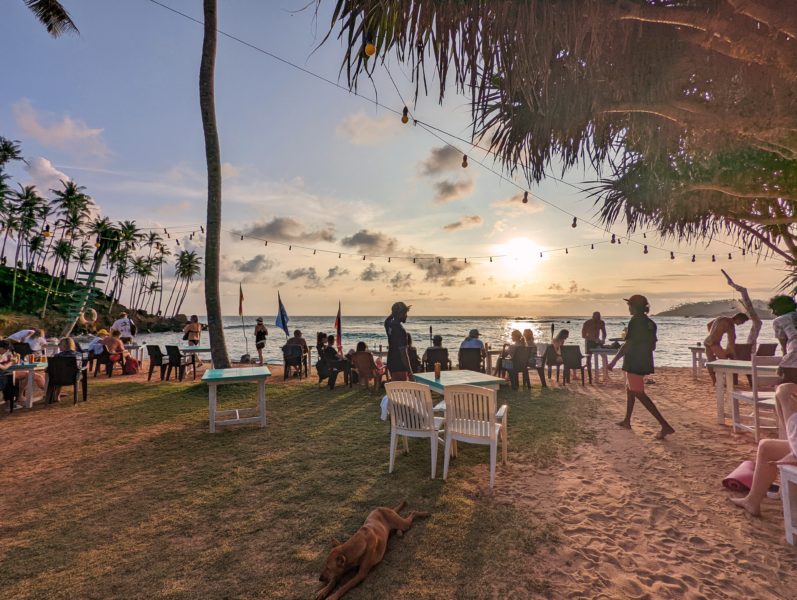 Where to Stay in Mirissa
I spent one night in Mandara Resort, which is on the outskirts of Mirissa over in Weligama Bay. It's a little way from town and on a much quieter strip of beach than the bar-lined Mirissa Beach, which is great if you prefer a bit of peace and quiet. The resort itself was really lovely, with a nice big pool and a very tranquil atmosphere.
After my press trip ended, I stuck around for a few extra days and headed back to Mirissa for some relaxing beach time. Paying for myself now, I stayed in town at Beach Mirissa, which was absolutely perfect. A small pool overlooking the sea, a private section of beach, and gorgeous ocean views from my big, airy bedroom. The owners were so lovely and friendly, too.
Day 11 – Whale Watching and Ayurveda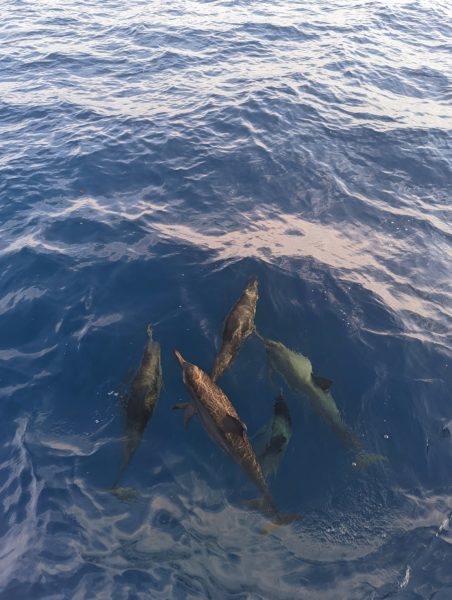 You can't visit Mirissa without taking a whale watching tour! This was one of the absolute highlights of my two weeks in Sri Lanka – such a brilliant experience. Read my travel buddy Bella's brilliant guide to whale watching in Mirissa for lots more info – and some fantastic photos of the whale we spotted!
Whale watching season is from November to April, with blue whales spotted most commonly, as well as sperm whales, Bryde's whales, short-finned whales, killer whales, and dolphins. You'll need to get up early, as most tours leave around 6:30 or 7am… but it's worth it!
We did our whale watching tour with Sail Lanka – and I HIGHLY recommend this company. Their 7-hour cruise ($100 USD per adult, $60 per child) is on board a luxurious catamaran, with far fewer people on board than some of the other whale watching tours. The day also includes breakfast, lunch and a stop for swimming and paddleboarding in Weligama Bay – so be sure to take your swimming stuff.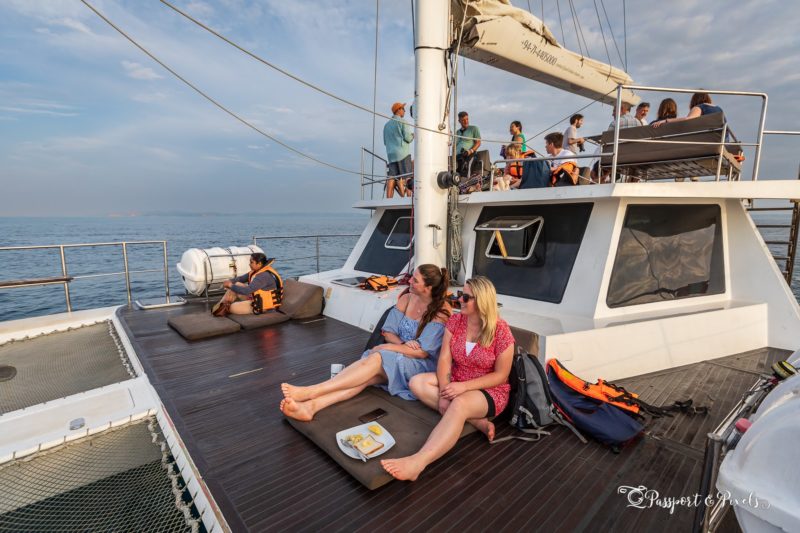 Although it was a whale watching tour, my personal highlight was watching a pod of dolphins frolic in the wake around our boat. We did also spot one whale, a "baby" blue whale (it looked pretty massive to me) which breached a number of times right in front of our boat! Pretty special to get a close up view of the biggest animal ever to have lived!
Ayurveda Afternoon
After your early start, I recommend a relaxing afternoon of Ayurveda. This is an ancient system of natural medicine that originated in India over 3,000 years ago.
Head to Ayurvie Weligama, an eco-friendly wellness retreat on the beach. It's a stunning hotel with gorgeous views, and would be a fantastic place to stay if you have a couple of spare days and want to relax.
Or, you can do what we did and simply pop in for an ayurvedic lunch – all cooked with home-grown organic vegetables – and a treatment or two. Bliss!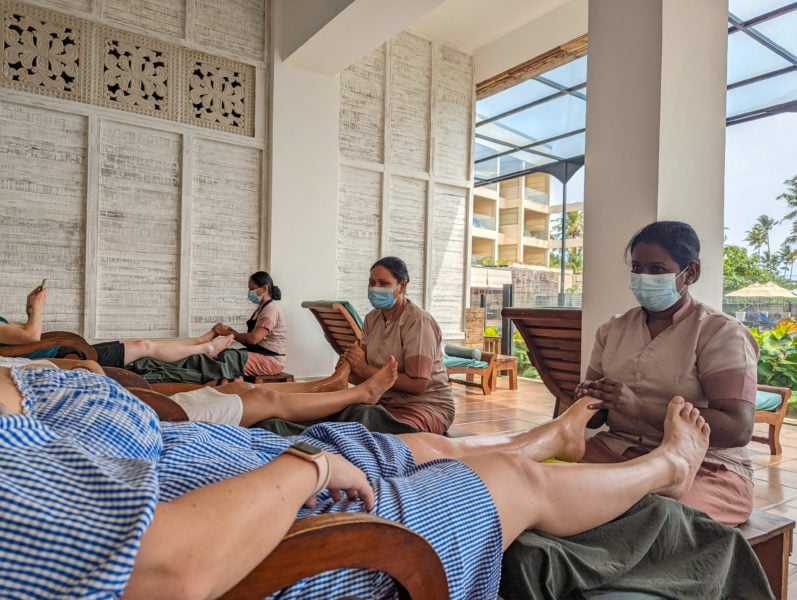 Day 12 – Mirissa (OR Galle / Weligama / Bentota)
Time for a day off! This has been a pretty busy 2 weeks in Sri Lanka so far, so I've left the last couple of days of this itinerary as empty as possible.
Today, you could simply spend a full day relaxing on the beach in Mirissa or pottering around the sights there. Coconut Tree Hill is a great spot for sunset (or the beach bar right next to it).
If you still feel like exploring, you could visit the coastal city of Galle with its historic Dutch Fort, beautiful colonial buildings, and rambling lanes. Or you could head to the beach town of Weligama, the surf capital of Sri Lanka. This is a great place to take surf lessons or try some other watersports.
Alternatively, you could head to Bentota today instead of tomorrow, and have an extra night at the beach there. It really depends on what kind of beach town appeals most to you!
Day 13 – Bentota
Morning: Transfer to Bentota (approx 1 hour 40 mins)
Afternoon: Bentota river safari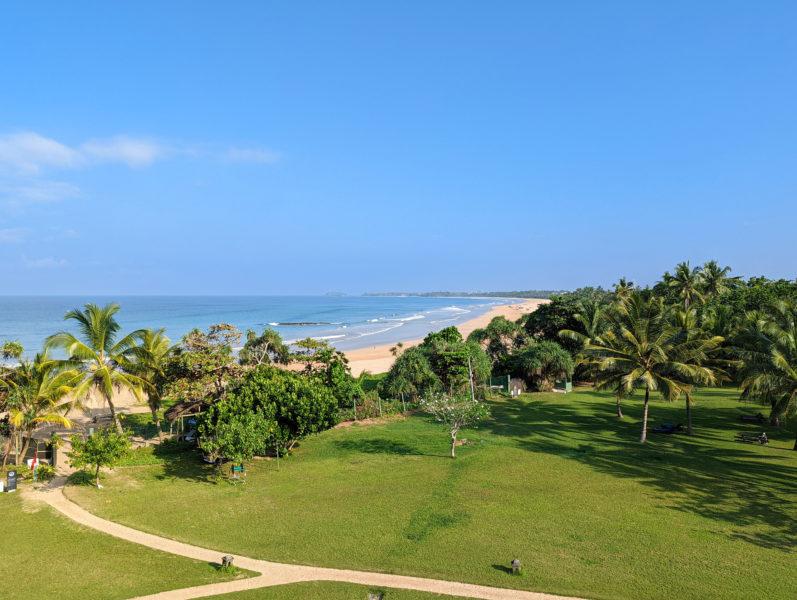 Bentota is the last stop on my Sri Lanka itinerary. This is another beach town on the southwest coast, known for its long stretches of golden sand.
It's quieter than Mirissa, with no beach bars, and is more of a "resort town". So Bentota is ideal for a couple of days chilling out at the end of your trip. But if you'd prefer to be somewhere more lively, you could stay longer in Mirissa or Weligama instead. It really depends on what kind of beach town you're after!
The main thing to do in Bentota – besides the beach – is to take a river safari on either the Bentota River or the Madu River.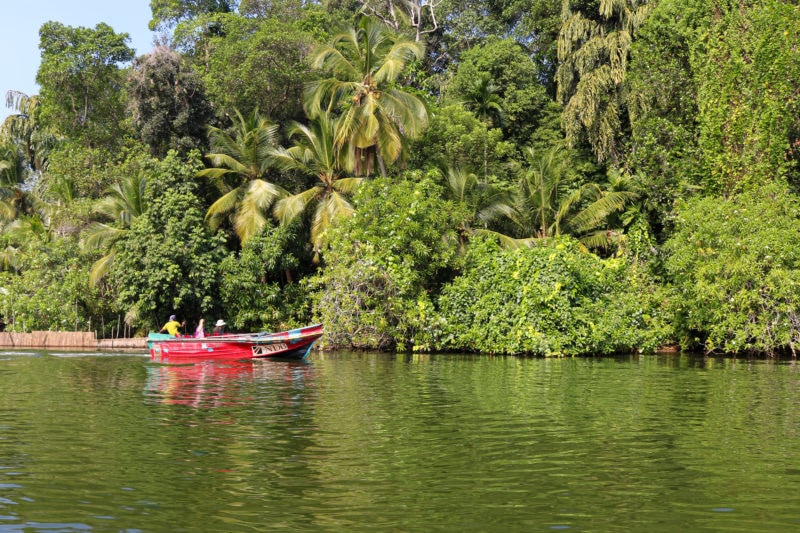 Take a motorboat cruise through the mangrove tunnels to spot the local wildlife. You'll see water monitor lizards, monkeys, fruit bats, and a rich array of river birds including kingfishers, egrets, and eagles. You might even spot a crocodile – although they're quite rare!
We visited the Madu River estuary, which is on the way to Bentota from Mirissa. On our two-hour cruise, we saw river jellyfish, lizards, monkeys, and colourful birdlife. No crocs though!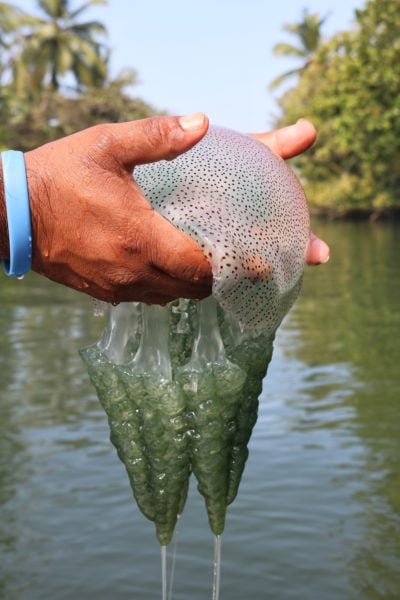 The estuary is home to a number of small islands, so we visited "Cinnamon Island" to see how the spice is grown and prepared. Head to the Gangabada Asiriya Boat House (Captain's Boat House) for a Madu River Cruise. You should be able to simply turn up and go, but you could give them a call in advance if you want to pre-book.
The Bentota River Cruise is closer to Bentota, and the river is wider. I haven't been so can't say which is the best, but both rivers are home to similar wildlife. So both should be an excellent experience!
Top things to do in Bentota
Where to Stay in Bentota
We stayed at The Taj Bentota Resort & Spa, which was by far my favourite hotel in Sri Lanka and well worth a bit of a splurge if you want somewhere special for your last couple of nights. It's a large resort overlooking the ocean, with fantastic views from the dreamy pool and from the beach-facing rooms.
It's also a two-minute walk from a quiet stretch of beautiful beach. The bars and restaurants are brilliant: I particularly recommend booking a meal at the open-air seafood restaurant S.H.A.C.K.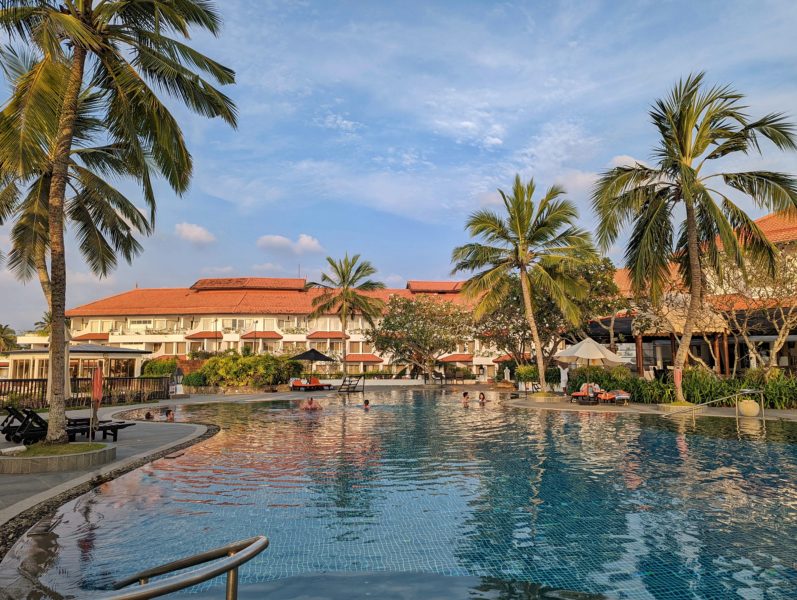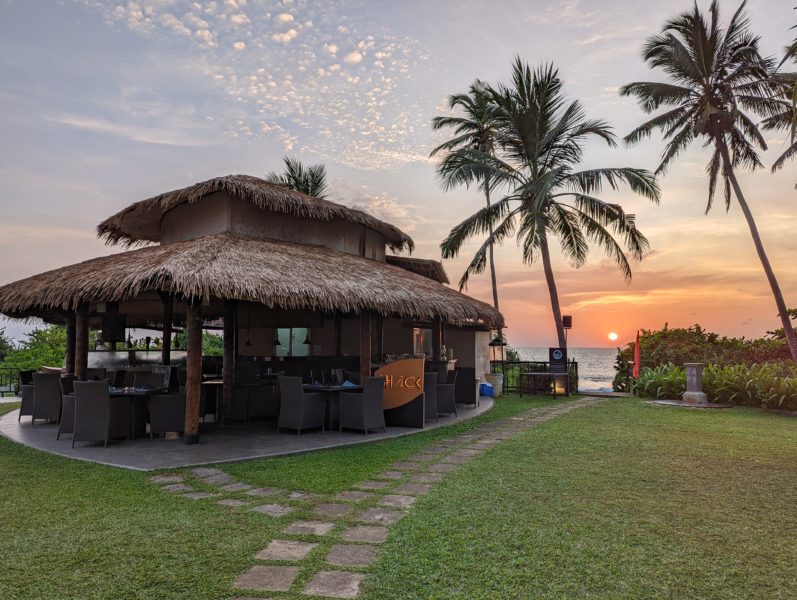 Day 14 – Bentota and Transfer to Colombo Airport
Transfer Time: (1.5 – 2 hours). You can book a taxi to the airport through your hotel or a local taxi company for around £30-£40, or pre-book a transfer online for ease (from £37.17pp).
Time to make the most of your last few hours in the sunshine. I don't recommend planning anything for your last day except some pool/beach time – and maybe one last cocktail!
FYI – when I visited Sri Lanka, a lot of the flights home were in the very early hours of the morning. Mine was at 1am! If that's the case, try to fly home on day 15 instead and take a taxi to the airport on the evening of day 14. That way you won't lose a whole day of your two weeks in Sri Lanka.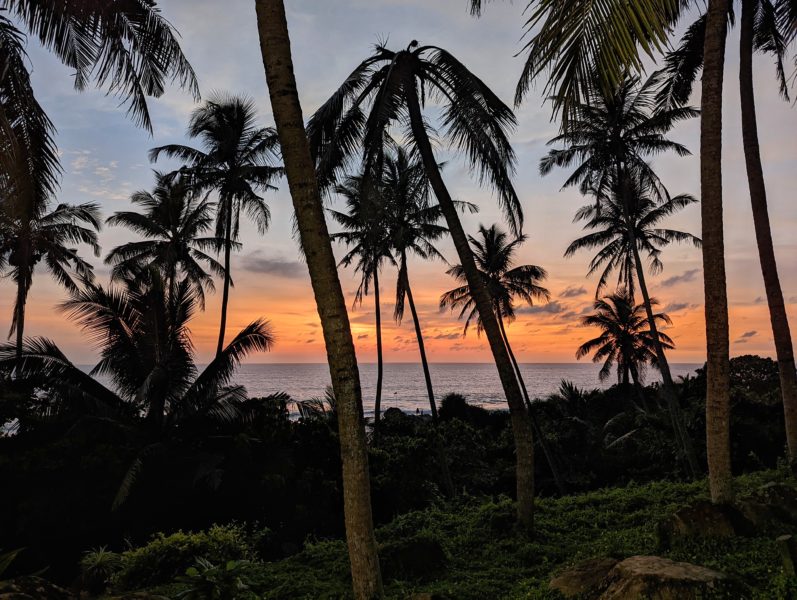 Essential Info for your 2 Weeks in Sri Lanka Itinerary
How to Get Around
Sri Lanka is a relatively small country, so getting around is fairly easy. The distances between most of these destinations aren't too long, and there have been some new highways built which have made travel easier.
Driving is generally the quickest way to get between destinations. So, if you're trying to make the most of your two weeks in Sri Lanka without losing all your time to travel, the best option is to use private transfers. These are more expensive but much faster and more convenient.
You can also hire a private driver for the duration of your trip. It might work out more expensive, but it'll offer the most convenience and flexibility. Click here to compare drivers and prices (and check their reviews).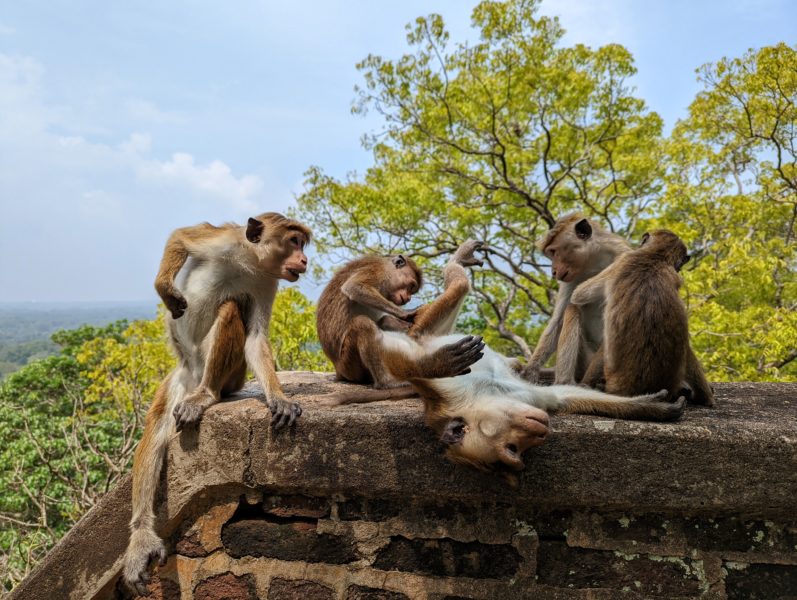 If you're travelling on a budget, you'll probably be limited to public transport. Buses and trains are a cheap way to get around, and the country is pretty well connected. But these services can be slow and delays are not uncommon. You can book train tickets in advance with 12Go – a super convenient online booking tool which I've used many times.
Best Time to do this Sri Lanka Itinerary
Sri Lanka has a tropical climate which means it's pretty great all year round. There are two monsoon seasons to bear in mind, though (see below). For maximum sunshine and the chance to see whales, November to April is probably the best time to take on this Sri Lanka itinerary.
The Yala monsoon season from April /May to September brings rain to the west and southwest coasts and the hill country, so you'll want to avoid that time of year if you're following my Sri Lanka route.
There's also the Maha monsoon on the east coast from November to March, but that shouldn't affect this itinerary much.
And don't forget that some of the animal experiences are seasonal too. The elephants migrate throughout the year, and whale watching only runs from November to April.
Sri Lanka Travel Visa
Don't forget you need a tourist visa to visit Sri Lanka. Most visitors simply need an ETA visa, which you can apply for online – this is the official Sri Lanka ETA visa website. It costs $36 USD and is valid for 30 days from the date you arrive in Sri Lanka – although, once there, you can extend the ETA for up to 6 months.
Always check the latest travel requirements with your government's embassy when planning any travel. You can find the UK Government's official Sri Lanka page here.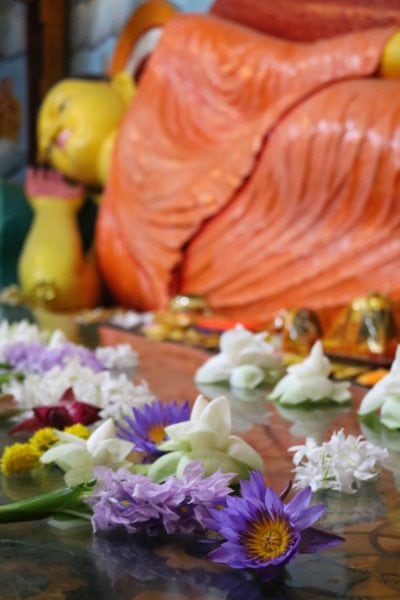 Latest Travel Info + Covid Rules
Currently, fully Vaccinated travellers to Sri Lanka are exempted from pre-departure COVID-19 PCR/ Rapid Antigen tests (valid since 1st March 2022). No quarantine is required on arrival.
You MUST purchase the mandatory COVID 19 Insurance from the Sri Lankan government, which costs $12 USD and provides one month's cover of $75,000 USD. This is a requirement for all travellers (whether fully vaccinated or not vaccinated). UPDATE (Feb 2023) this is no longer a requirement, however I recommend you take out comprehensive travel insurance before your trip.
The Sri Lankan Tourist Board have a brilliant online guide which is kept up-to-date with all travel requirements and information. You can find it here. I recommend checking all the latest details when you book, and again a few days before your trip to make sure nothing has changed.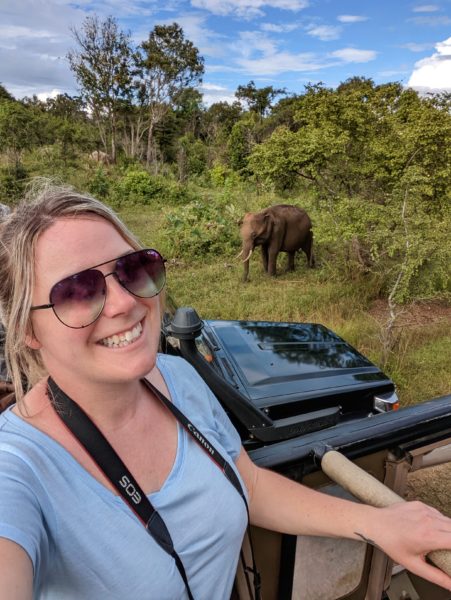 Final Thoughts
This itinerary has been designed to give you a complete overview of Sri Lanka in just 2 weeks. Of course, there is SO MUCH more to see!
The point isn't to follow this itinerary to the letter, but to tailor it to suit the kind of trip you want! If there's anything you don't fancy, skip it and spend longer in one of the other destinations.
If you have longer, I've included tips for extending your time in some of the destinations mentioned. Or you could spend an extra week relaxing at the beach, or visiting even more of Sri Lanka's incredible attractions. There's so much more to discover!
More in and Around Sri Lanka
Do you have any questions about my Sri Lanka 2 weeks itinerary?
Scroll down to leave a comment!
13 Unmissable Adventures in Sri Lanka
Best Places to Stay in Sri Lanka
Best Destinations in India for Solo Female Travellers