Some posts on this site contain affiliate links. If you book or buy something through these links, I earn a small commission (at no extra cost to you). Take a look at my privacy policy for more information.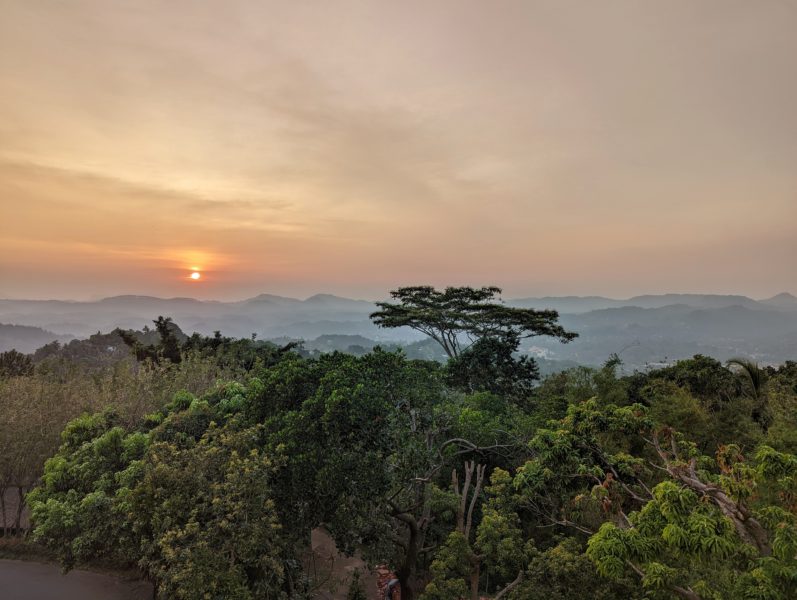 Get ready to fill your bucket list with these epic adventures in Sri Lanka! This small and stunning island in the Indian Ocean is the perfect setting for adventure.
What makes Sri Lanka so special is its diverse mix of landscapes. From the wild and rugged mountains, to the misty hills and plunging waterfalls of the central highlands, to the tropical coastline with its awesome surf and exceptional dive sites… there are so many places to explore for such a small country.
Get ready for amazing mountain hikes, scenic train rides, and some adrenaline-rush activities perfect for thrill-seekers.
Sri Lanka is also packed with bucket-list wildlife encounters. Get up close to gentle giants like elephants and blue whales, or zoom in on smaller species like the colourful local birdlife.
Check out my 2 Week Sri Lanka Itinerary for some ideas of how to add these awesome adventures to your trip. Or simply browse through and add your favourites to your travel bucket list! Enjoy…
My trip to Sri Lanka was supported by the tourist board (with a few exceptions). As always, all words and opinions are my own!
Adventures in Sri Lanka
1. Elephant Safari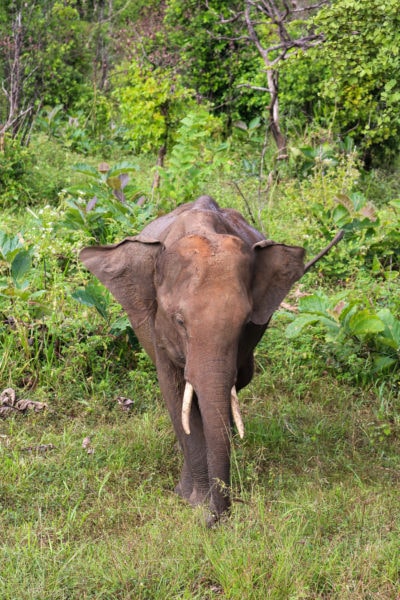 Hands-down one of the highlight adventures from my recent Sri Lanka trip was our elephant safari in Hurulu Eco Park.
Sri Lanka is home to a number of endemic species which you won't find anywhere else in the world, and the Sri Lankan elephant is probably the most famous! Head to one of the wildlife parks listed below for a jeep safari to get some incredible up-close encounters with these gorgeous animals.
It's not all about elephants, either. Depending on the park, the time of year, and how lucky you get, there's a diverse range of wildlife to spot – including leopards (very rare), crocodiles, the Sri Lankan sloth bear, water buffalo, deer, birds, and monkeys.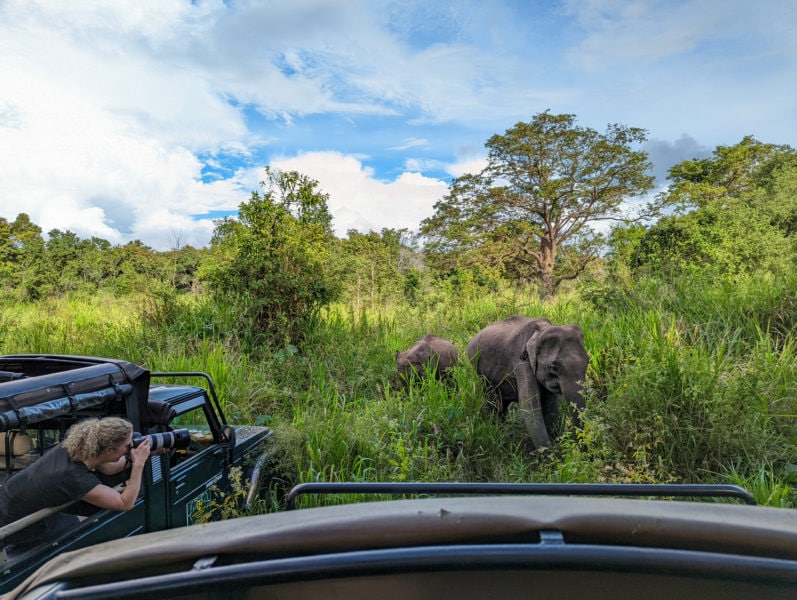 Top Tip: The elephants migrate between the last three parks throughout the year, so I've also mentioned the best time to visit. Double-check where the elephants are before booking your safari!
2. Whale Watching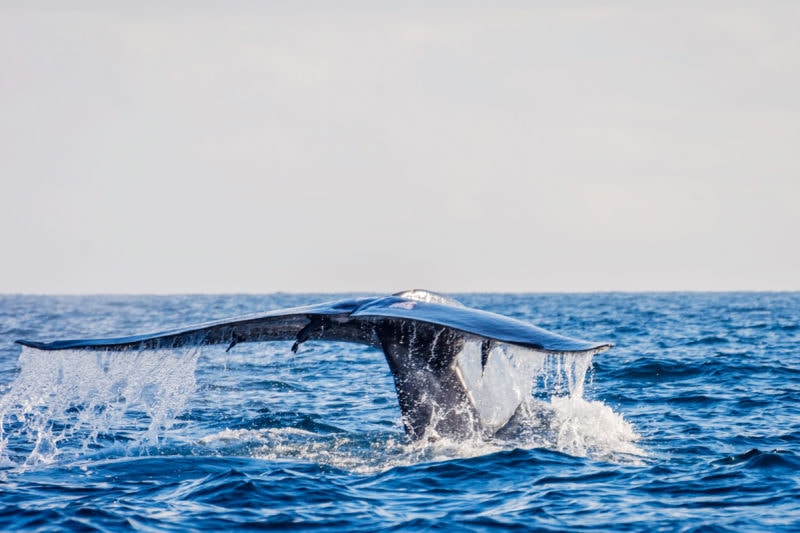 You can tick off another bucket list wildlife experience in Sri Lanka: whale watching! Head to Mirissa on the southwest coast of the island for a whale-watching cruise.
During the right season, it's possible to see blue whales – the largest animals EVER to have lived on earth – as well as sperm whales, Bryde's whales, short-finned whales, and, rarely, killer whales. You can also see pods of dolphins, which will often come pretty close to the boats and play in the wake!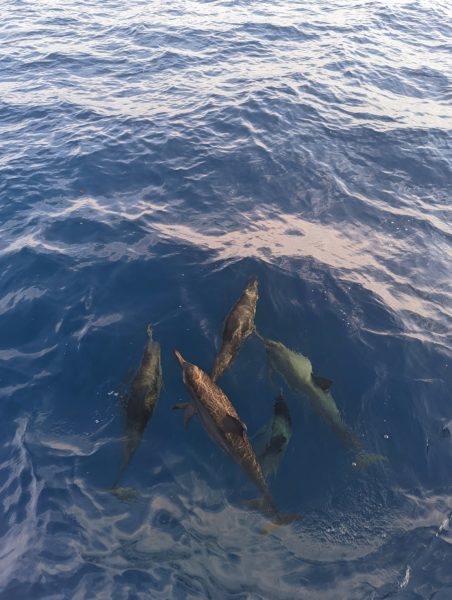 There are lots of cruise companies offering whale watching tours in Mirissa. I did mine with Sail Lanka and they were BRILLIANT. It was a little more expensive than some of the other options: $100 USD per adult and $60 per child for a 7-hour cruise.
But the cruise is on board a luxurious catamaran, with far fewer people on board than some of the other whale-watching tours – which are usually on double-decker ferry-style boats. The day with Sail Lanka also includes breakfast, lunch, and a stop for swimming and paddleboarding in Weligama Bay. This tour would be perfect if you're visiting Sri Lanka with kids as it's much more comfortable than some of the cheaper options.
3. Climb Sigiriya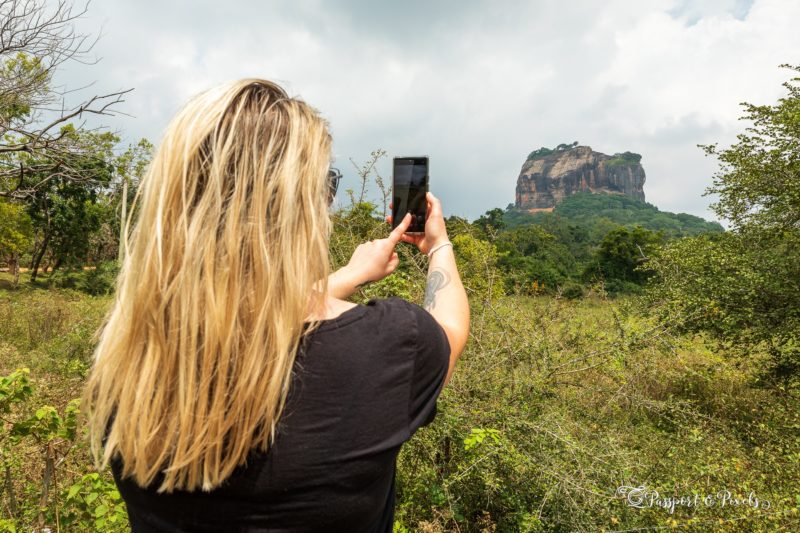 One of the adventures you can't miss in Sri Lanka is climbing Sigiriya Rock, aka Lion Rock.
This is one of Sri Lanka's eight UNESCO World Heritage Sites, and one of the country's must-see attractions. The 600ft high monolithic rock was once home to an ancient fortress in the 5th century BC – over 2,500 years ago!
The climb up isn't as difficult as it looks when you're standing at the bottom of the 1,200 steps. It took me about 35 minutes to reach the top, with stops for photos and monkey-watching! But near the top, the path is via a metal staircase attached to the side of the sheer rock face, so it might feel a little tricky if you're scared of heights (I was more afraid of the big yellow signs warning about wasps!).
At the top, you can explore the ruins of the fortress and palace complex, and soak up some pretty amazing views from the incredible vantage point.
I recommend hiring a guide, or at least reading up on the story of Sigiriya before you go, as the history is pretty fascinating!
RECOMMENDED TOUR: Sigiriya and Dambulla day trip from Colombo (from £46.02pp)
4. Hiking in the Knuckles Mountain Range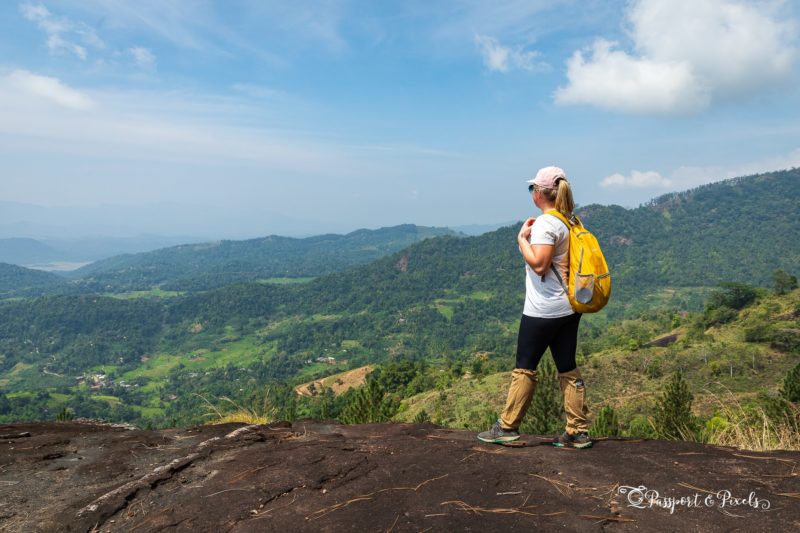 Get a little "off the beaten path" with a trip into the Knuckles Mountain Range in central Sri Lanka. Named because it looks like the knuckles of a clenched fist, this stunning mountain range is the perfect setting for adventure!
There are some brilliant hiking adventures to be found throughout this region, taking you through the mountain's richly varied landscapes, with lush forests, terraced paddy fields, tea plantations, and cascading waterfalls.
On my trip to Sri Lanka, I took on the Heel Oya trek in Rangala. This remote region is a less-visited part of the country and feels like a true escape from the norm.
The Heel Oya trek is a beautiful, moderately difficult hike that takes you through several mountain landscapes, including pine forests, tea plantations, eucalyptus forests, and rice terraces.
You'll also pass the Heel Oya Waterfall, a beautiful spot with a small natural pool. I highly recommend bringing a towel and some swimwear so you can jump in – it's a great way to cool off!
Top Tip: Wear leech socks for hiking in the Knuckles. Our glamping site provided them for us and they were invaluable – we saw two other tourists who'd been bitten and the bleeding was gruesome!
5. Try Glamping in Sri Lanka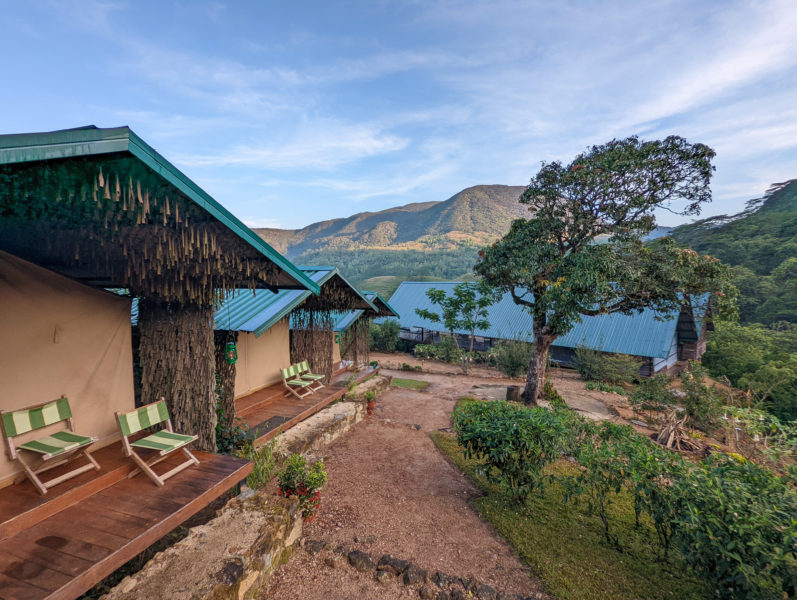 There are lots of glamping adventures to enjoy in Sri Lanka. You can find glamping sites in several of the national parks, including Wilpattu and Yala, so you can extend your safari experience with a night or two glamping in luxurious safari tents.
RECOMMENDED TOUR: Luxury Camping and Safari Experience in Yala National Park
For something a little different, I can HIGHLY recommend Wild Glamping Knuckles. This is a brilliantly remote glamping site in the mountains beyond the village of Rangala, with absolutely no light or noise pollution at night.
The site runs solely on solar power, and the generators only run for a few hours in the morning and evening – after 10pm its torches only! Sitting in the complete darkness in your tent, listening to the sounds of frogs, bird calls, and the wind whistling down the forested mountainside, feels like a true adventure!
6. Horton Plains National Park and World's End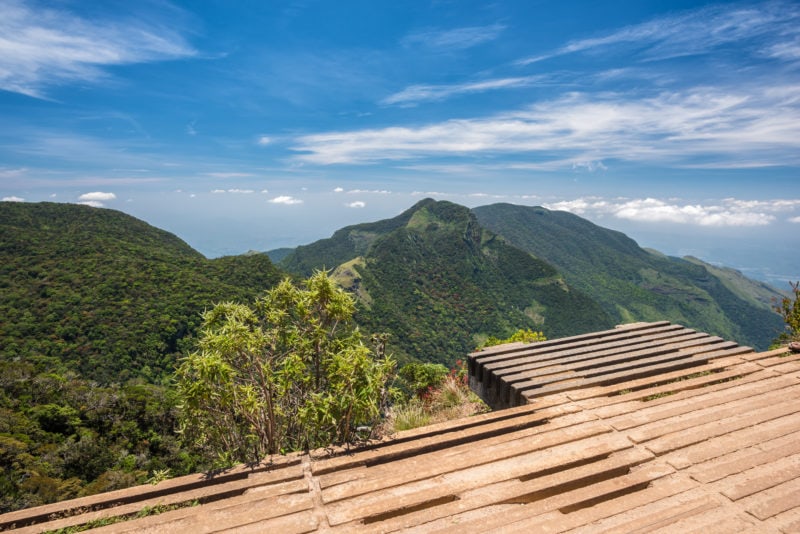 Horton Plains National Park is an undulating plateau in the central highlands between two of Sri Lanka's highest mountains. The Park is known for its wild grasslands, rocky outcrops, cascading waterfalls, and biodiverse cloud forest – which are home to several endemic species, including some which ONLY occur in Horton Plains.
At the end of the plateau, the famous "World's End" viewpoint is a sheer drop-off 880m above the Thelgamuwa Valley.
You can visit Horton Plans from the nearby town of Matale, but it can also be done as a day trip from Kandy.
RECOMMENDED TOUR: Horton Plains National Park All-Inclusive Full-Day Tour
7. River Safari in Bentota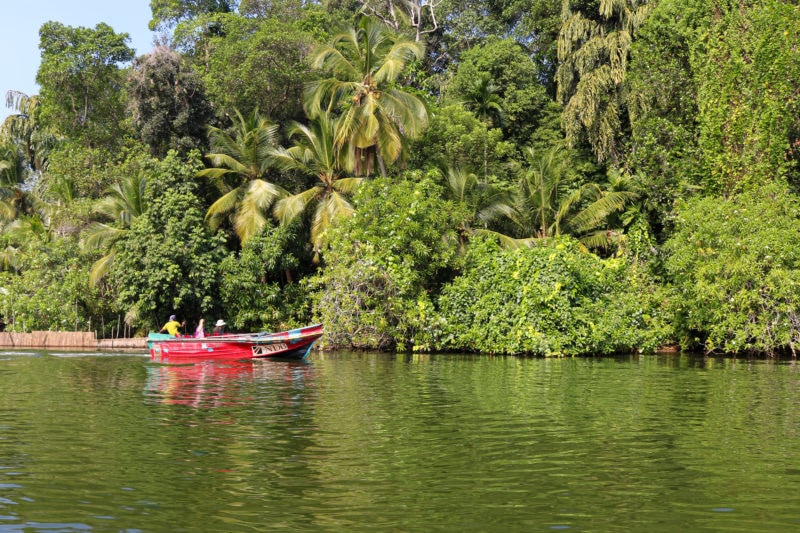 For more wildlife experiences in Sri Lanka, head to the gorgeous beach-side town of Bentota on the country's southwest coast.
Here, you can take a River Safari on either the meandering Madu River estuary or the wider Bentota River. You can also do this as a day trip from Colombo.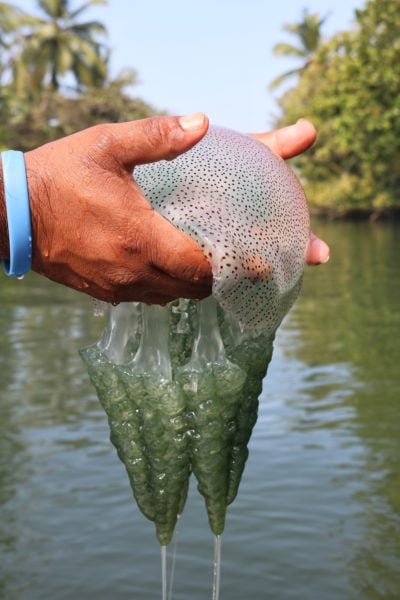 On a motorboat cruise along these rivers, you'll sail through mangrove tunnels and along thickly forested banks, spotting wildlife. You can see water monitor lizards, monkeys, fruit bats, river jellyfish, and a rich array of river birds including kingfishers, egrets, and eagles. You might even spot a crocodile – although they're quite rare!
The Madu Estuary is also home to several small islands, including Cinnamon Island, where you can hop off the boat to see how cinnamon is grown and prepared.
RECOMMENDED TOUR: Bentota Mangrove Lagoon and River Cruise (from £29.14 per group of 2)
8. Hot Air Balloon in Dambulla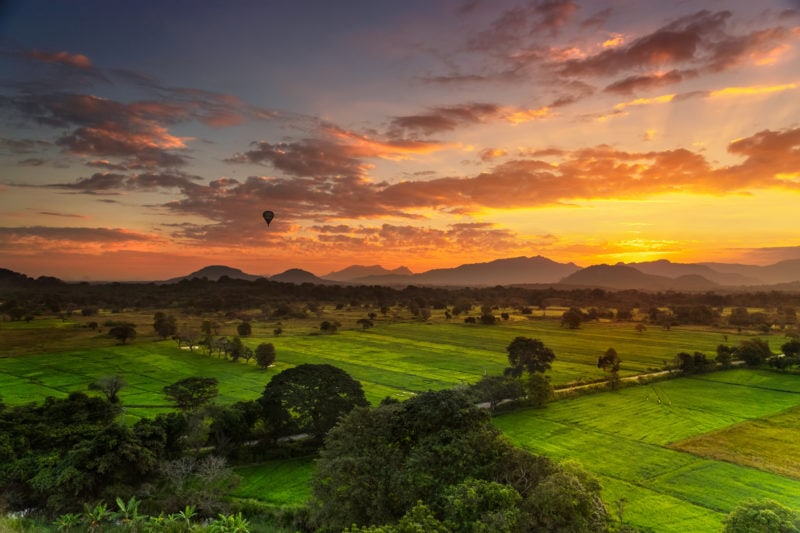 For another big bucket list tick in Sri Lanka, you can also take a sunrise hot air balloon flight in Dambulla (from £258pp). It's a bit of a splurge, but worth it if you want to do something truly special on your trip.
My friends Chloe and Macca did this on their honeymoon recently and said it was absolutely spectacular.
Dambulla is a town in the Matale District, quite close to Habaran and Sigiriya. So you'll be able to see the famous Lion Rock and several other local landmarks from the air. This is also the region where some of Sri Lanka's national parks are located, including Hurulu Eco Park in Habarana. Just imagine the views of lush forests and misty morning mountains as you sail gently over the landscapes at sunrise!
9. Kandy to Ella Train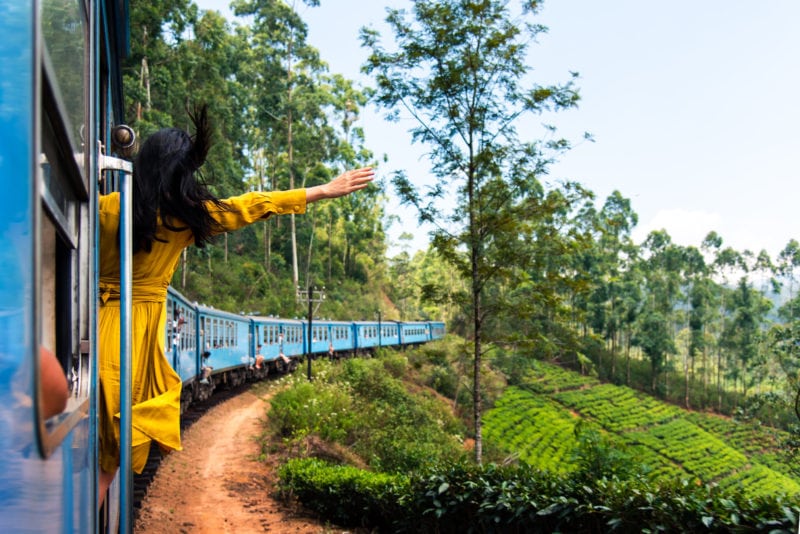 One of the most popular adventures in Sri Lanka, especially with backpackers, is to take the train from Kandy to Ella. You can search ticket prices and check train times here.
This epic train ride is considered to be one of the most scenic train rides in the world. The blue train curving through lush green landscapes has become an iconic image of Sri Lanka. Especially that Instagram-famous shot of travellers leaning out the open door as the train passes tea plantations and misty mountains.
It's a journey of around 7 hours, and the train can be quite crowded and a little uncomfortable (depending on what class carriage you're travelling in). But that's all part of the adventure!
If you don't have time for the full journey, the section from Nuwara Eliya to Ella takes around 3-4 hours. This is meant to be the most picturesque part of the journey, so it's a good compromise.
10. Ella Zip Line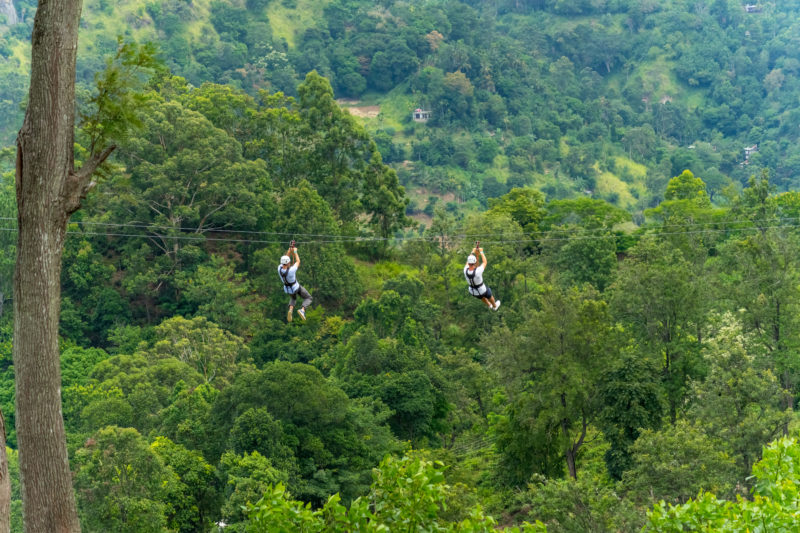 Flying Ravana is Sri Lanka's first-ever mega dual zip-line, perfect for anyone looking for fun adventures in Ella. Click here to check the latest prices.
Stretching for just over half a kilometre, the zip line reaches speeds of 80km an hour. Board at Adam's Peak and fly above the rolling hills and green tea estates of the Ella Gap.
The zipline is found in an adventure park where you can also try things like mountain biking, abseiling, archery, and quad biking.
11. Surfing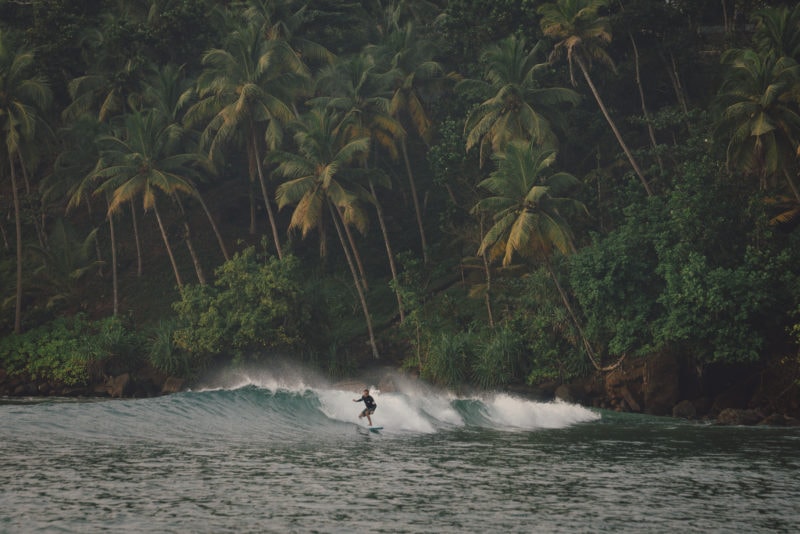 Sri Lanka is famous for surfing, and boasts surf spots suitable for all levels. So if you're a complete beginner, the warm waters and gentle surf off both the southeast and southwest coasts are ideal places to take classes.
The most popular surf destinations – for all levels – are Mirissa and Weligama on the southwest coast, and Arugam Bay on the southeast coast. Beginners can sign up to a surf school, or experienced surfers can rent equipment and hit the waves!
12. Diving in Sri Lanka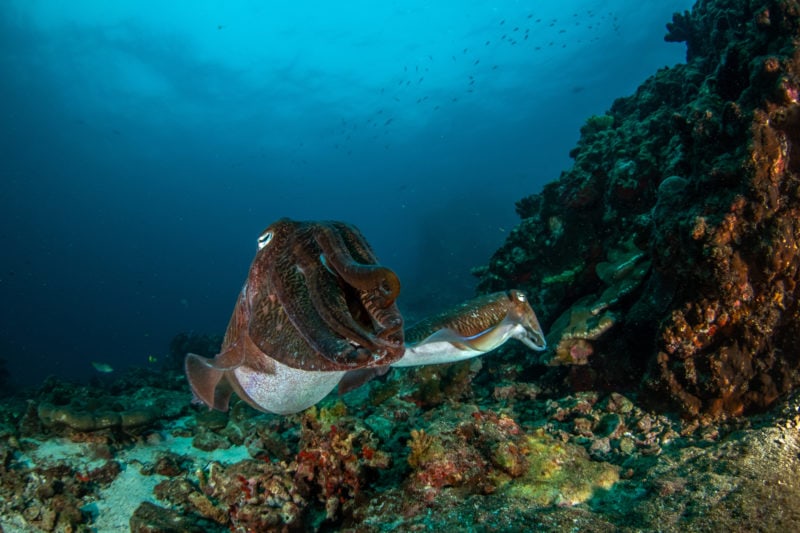 If you're into scuba diving, Sri Lanka is a dream destination! There's almost 830 miles of coastline to explore, with dozens of incredible diving opportunities.
Explore intriguing shipwrecks and colourful coral reefs for the chance to spot a rich array of marine life – including whales, dolphins, sharks, turtles, and octopuses, as well as all kinds of smaller sea critters.
One of the most popular areas for scuba diving adventures in Sri Lanka is the area around Trincomalee on the northeast coast. In particular Swami Rock – which is apparently one of the most photographed dive sites in the world – as well as Navy Island and Pigeon Island National Park.
13. Rent a Tuk Tuk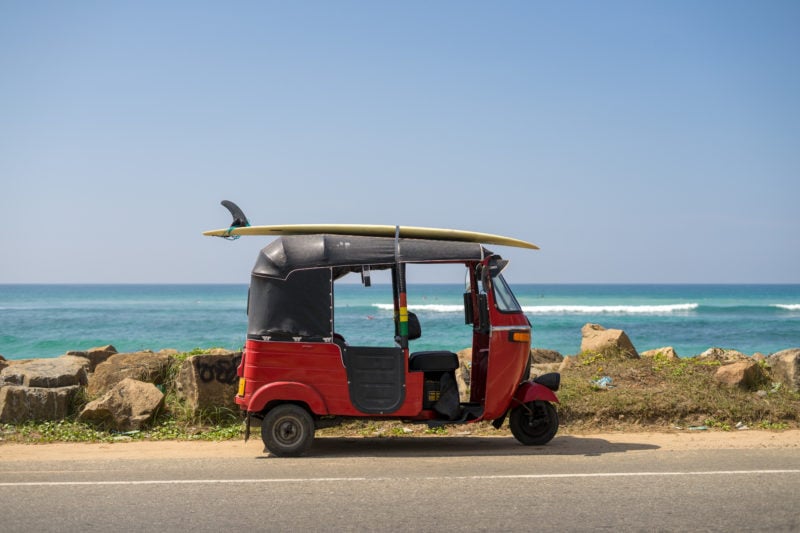 Tuk tuks are always one of the most fun ways to travel in Asian countries, and Sri Lanka is no exception. For a real adventure, you can actually rent your own tuk tuk to explore the island at your own pace!
This is a great way to get off the beaten track and travel around Sri Lanka like a local. Read this fab guide to renting a tuk tuk in Sri Lanka for more info and some important safety tips!
Tuk tuk rental starts from $14 a day, so it's also a very affordable way to get around freely if you're on a budget.
Read More
Sri Lanka Itinerary – A Two-Week Overview of the Country
I hope you enjoyed my list of the best adventures in Sri Lanka – how many are on your bucket list now?! Scroll down to leave a comment!