Some posts on this site contain affiliate links. If you book or buy something through these links, I earn a small commission (at no extra cost to you). Take a look at my privacy policy for more information.
If you're looking for a summer holiday destination that's safe, sunny and easily accessible from the UK, then it's likely you're eyeing up prospects like Spain.
However, choosing a specific destination in Spain can be tricky as large parts are crowded with tourists and pricey, too. In this article, we look at why Alicante could be the perfect destination for your next solo travel trip and the must-see attractions that should definitely make it onto your itinerary.
Why take a solo trip to Alicante?
Alicante is regarded as one of the safest cities in Spain. Even more impressively, it's actually renowned as one of the safest cities in the whole of Europe. In fact, comparatively, Alicante is safer than Barcelona, London, Rome, Brussels, and Lisbon, and on par with safe cities like Copenhagen, according to the Numbeo safety index. Naturally, this safety factor makes Alicante a great location for women travelling alone.
Getting to Alicante
Just because Alicante is a popular destination for tourists doesn't mean you should have to pay extortionate fees for travel. Luckily, with the advancement of technology, you're privy to sophisticated tools. For example, Opodo's flights to Alicante can be tailored to your preferences. With a few clicks and input in the form of basic details like how many passengers you're booking for and which airport you're intending to depart from, their AI-powered search engine does the brunt of the work for you.
All you have to do then is comb through all the results relevant to your search filters and take your pick. Just like that, you're finalising the booking stages of your dream trip to the sun, sea and sand of Alicante, and all for a bargain.
It's worth keeping in mind that you can save money on flights by travelling at off-peak times of the day, but there's a trade-off here for female solo travellers as it's normally safer to arrive somewhere during the daytime rather than in the middle of the night.
If you do find yourself arriving in Alicante after dark, your safest option is to have transfers pre-booked. Alternatively, make sure to research your public transport route beforehand and have a backup plan should your flight be delayed, such as the number for a well-reviewed local taxi firm stored in your phone. Be sure to let a trusted friend or family member have your itinerary in advance so that they can check in with you throughout your trip.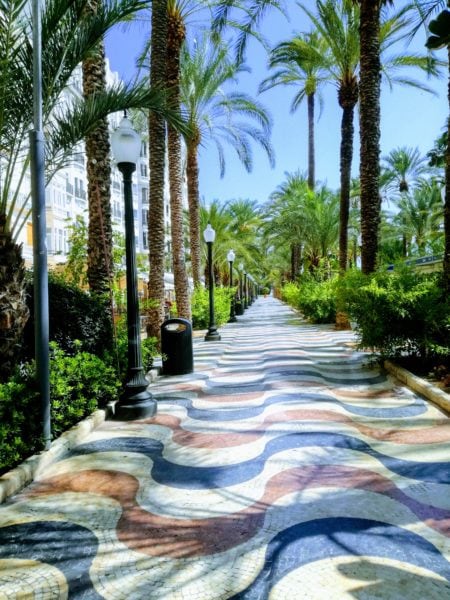 Things to do in Alicante
Alicante is a beautiful spot on the coast, so if all you want to do is lie on the beach and listen to the gentle lapping of the waves then you're literally in the best place for it. As someone who has been writing a travel blog for over 10 years now, I'd also suggest making the most of the opportunity to eat as much Spanish food as possible! Solo dining is very common in Alicante, so you won't feel out of place taking dinner for one in any of the local restaurants.
If you want to take in some local history, though, or learn more about the culture and architecture of Alicante, then here are a few must-see attractions:
Archaeological Museum of Alicante
The Museo Arqueológico de Alicante (MARQ) should be the first stop for anyone wanting to learn about the rich archaeological heritage of the area. The MARQ is one of the most important archaeological museums in Spain and its collection spans various periods of history, from prehistoric times to the medieval period.
If you want to get more hands-on with your history, the MARQ organises workshops where you can take part in a wide range of archaeology-related activities. The museum is located near the base of Santa Barbara Castle – another must-visit destination in Alicante.
Santa Barbara Castle
If you want an authentic tourist castle experience, head to Santa Barbara Castle (Castillo de Santa Bárbara), a historic fortress perched at the top of Mount Benacantil. To say that it has 'good views' would be a massive understatement – not only do you get stunning panoramic views of the city, but you can see all the way out over the Mediterranean Sea and the surrounding landscape. From a defensive point of view, it's easy to see why the castle was built where it was.
The castle is named after Saint Barbara, a Christian martyr who is said to have protected the city during the Siege of Alicante in the 17th century. It features a mix of architectural styles due to the different cultures that occupied it over the centuries. You can find Roman remains, medieval structures, and Moorish influences in its design.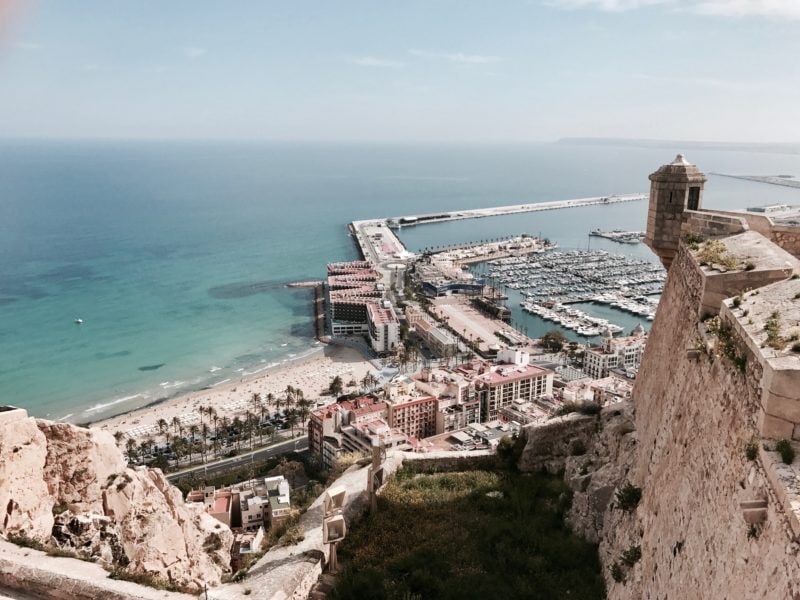 Take a walking tour of the city
One of the best ways to experience a new city is on foot, but doing this as a solo traveller can sometimes feel a little daunting if you don't know the area. Joining a walking tour is a good way to get the best of both worlds – not only do you get to learn details about the city from a local, but you also get the added safety of being part of a bigger group.
If you search online for walking tours in Alicante, you can often find free tours. These are a good option if you're on a budget, but keep in mind that most aren't really free, they will normally operate on an informal 'pay what you can afford' structure, so have some cash handy for your guide at the end of the tour.
Take the Alicante tram
When you get tired of walking, take the Alicante tram around the city instead – it's low-cost and a great way to get around. It's not just practical though, the tram is very scenic too, following a route along the coast and going through tunnels in the hills. The tram is a safe and affordable way to travel if you want to head out of Alicante and see more of the surrounding area as it goes out to other towns along the coast like Benidorm.
I hope that this round-up of some of the best bits of Alicante has given you a few ideas for your next solo trip to Spain. Wherever you end up I hope you have a fabulous time, meet interesting people and, of course, stay safe!