15th April 2014
For more info on what the Inca Jungle Trek actually is, this post on Backpack South America: What to Expect from the Inca Jungle Trek. There's also a very handy packing list.
If the first two days of the Inca Jungle Trek had been an assault on my fear of heights and a serious challenge for my fitness and inner strength, that was nothing compared to the first activity of Day Three. Bright and early, we munched down a big breakfast and headed to the zip lining office to get fitted up with harnesses, helmets and thick, leathery gardening style gloves. From there, we bundled into minivans with several other Inca Jungle groups from other companies, and drove ten minutes outside of town to the canyon for zip lining.
After a quick safety briefing, teaching us how to break using our gloved hands on the wire, we were off. A few people from another group went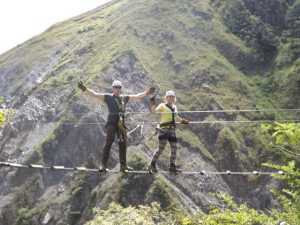 first, giving us an agonising wait to build up our nerves, so that my heart was racing by the time Sam and I stepped up. The guides fixed out harnesses to the wire, counted to three, and shoved us out over the canyon.
It was amazing! We flew across the cavernous valley, surrounded by breathtaking mountain scenery, and all my fear seemed to instantly evaporate, with a rushing sensation of joy taking its place! Of course, it being me I had to have a slight hiccup on my first go, and when I saw the signal to start breaking I shoved my hand down way too hard on the cable, meaning I stopped too early and had to pull myself the rest of the way.
Fears conquered, the lines got easier and easier, and on my second go I let go of the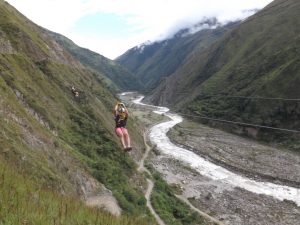 harness and leant back in a sitting position as we zipped across the canyon. Below was a racing white river lining a deep, rocky valley, above was bright sunshine and blue skies, and in between was a landscape of green forested mountains disappearing into white clouds. It was spectacular.
By the last line, I was feeling particularly brave, and volunteered to go across in a new position. Heberth, our guide, helped me turn my harness round so that the clip was on my back, then hooked us both up to the cable so that I was hanging from my back, facing the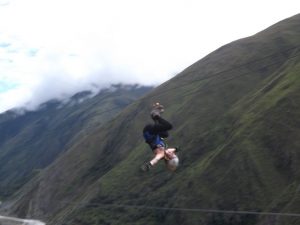 ground, and he was behind me ready to break for both of us. We swung out over the valley, my face pointing straight down at the ground and the tops of trees, my eyes stinging from the wind, and one of my arms pointed out in front of me, fist clenched, in the Superman pose. It was the biggest rush, even more fun than the other zip lines and much faster, and I leapt off at the end full of excitement and energy.
After the zip lines came something far more challenging and no where near as fun. Most people really enjoyed the super bouncy, 200m suspended bridge, but even with my h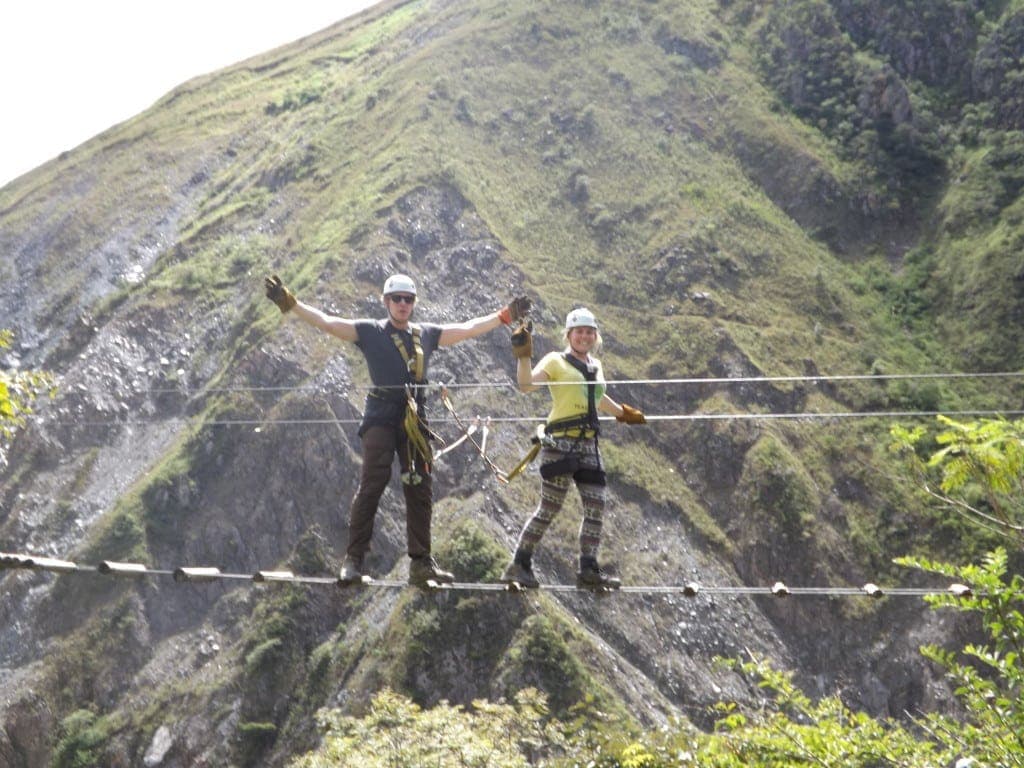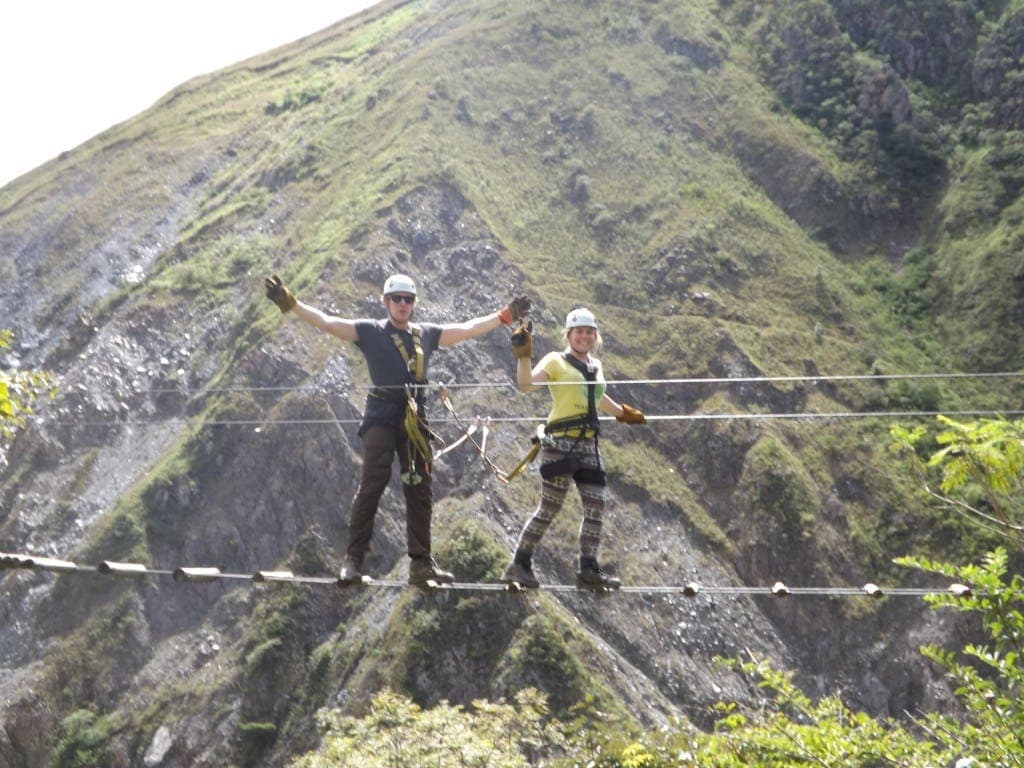 arness clipped firmly to the cables on either side I was still close to being petrified by fear. Every fifteen meters or so, we reached the suspension cables of the bridge and had to unclip the harness, step through, and reclip on the other side. Unclipping required both hands, and standing on the thin wooden board above the staggering drop I found it impossible to let go of the reassuringly thick metal cable even for a few seconds. Luckily, Sam was on hand to save the day and unclipped my harness for me, meaning I made it to the other side, which for me was the best part of the bridge!
From the zip lining session, we drove in minivans to the Hydro Electrico, and after another ridiculously hearty lunch (fresh trout this time) and an hour lazing in h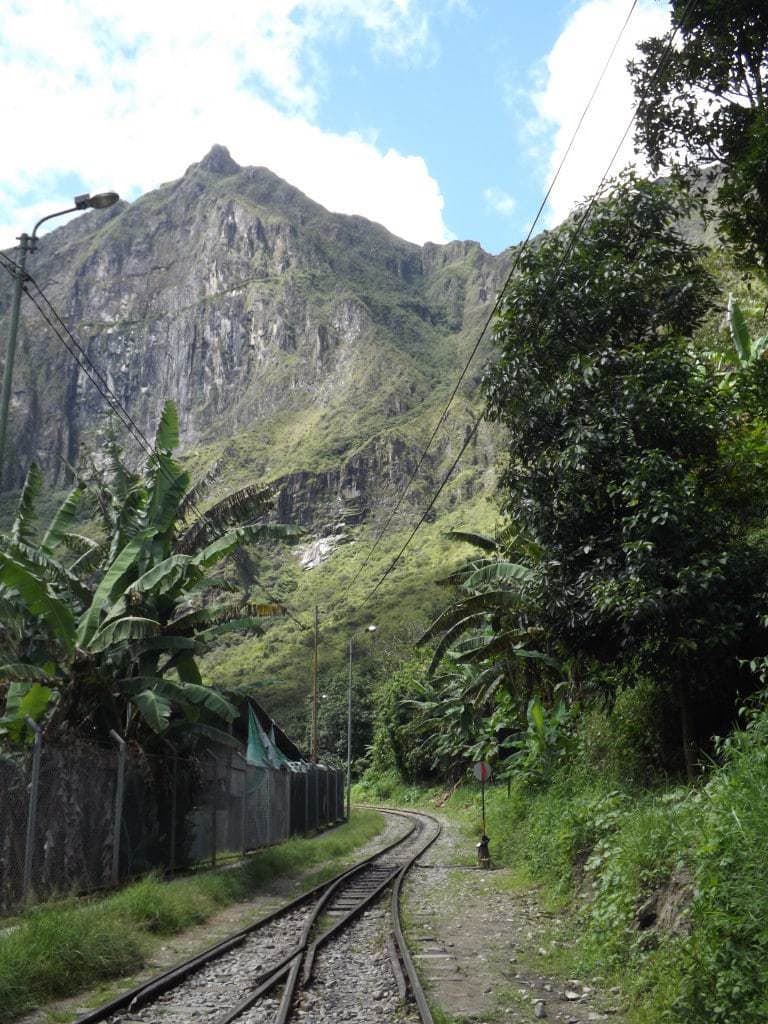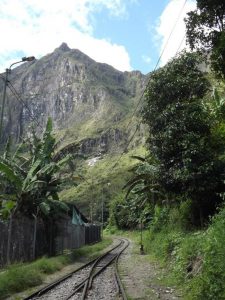 ammocks in the jungle, we set off on the traditional route from the hydro electric plant to Aguas Calientes. The hike follows the railway lines, so it was flat all the way, and surrounded by incredible mountains, not least of which was the ominous looking Machu Picchu Mountain which shelters the Inca city. The walk took around three hours, alongside a river through some beautiful, jungle scenery, passing occasional bright blue and yellow Peru Rail trains, and we managed to get good weather the whole way, except for a light bit of rain for the final twenty minutes, so it was a really pleasant hike.
The hardest part came when we reached Aguas Calientes and had to walk uphill to reach our hostel, all completely shattered after three very full days! We had hot showers (finally), ate a big, carb-heavy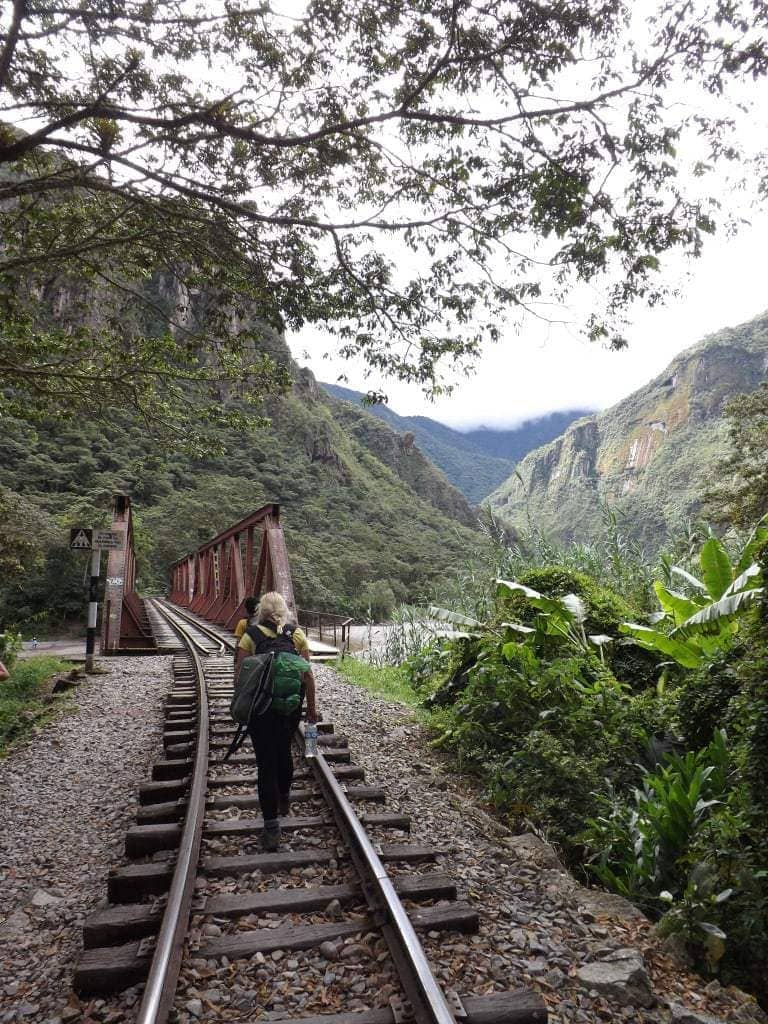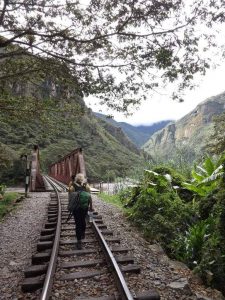 dinner nice and early, received our tickets, briefing and packed lunch for the next day from our lovely guide, Heberth, and went straight to bed at 8pm, falling asleep immediately. With an alarm set for 4am, I was grateful to be so tired out that I fell straight asleep and didn't wake up once in the night.
The action packed three days that led us to Machu Pichu were among the best we had in Peru. I faced numerous fears and conquered them (if a little noisily) every time, tired myself out, and tried loads of new experiences, all the time surrounded by incredible scenery. Although it would have been nice to complete a 'serious' challenge like the Inca Trail or Salkantay trek, I'm pretty sure it would have been too much for me, whereas the Inca Jungle Trek was still a huge challenge for unfit, scaredy-cat me and was the perfect route to reach Machu Picchu!
Don't miss this post on Backpack South America: What to Expect from the Inca Jungle Trek for tips, information and a very handy packing list.