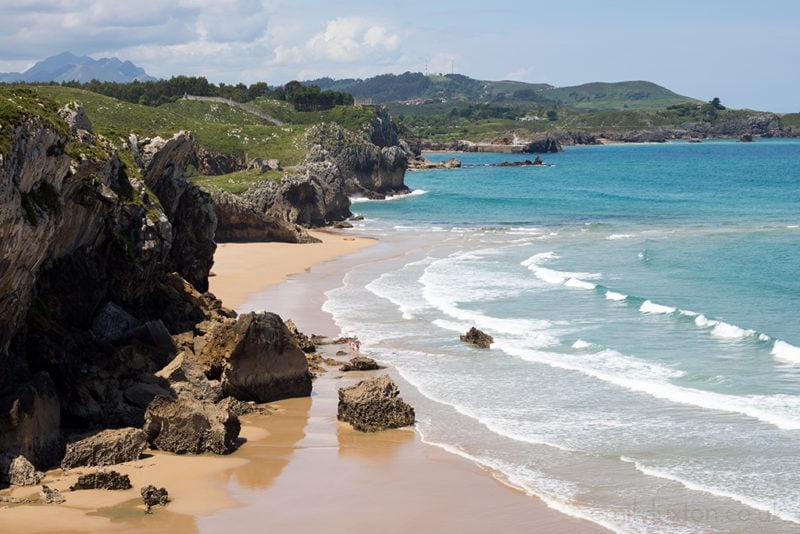 Looking to get off the beaten path? If you need some travel inspiration for the year ahead, I've got you sorted!
I've rounded up some of my favourite beach discoveries from the past few years of travel. Not the major beach holiday destinations or the places that everyone already knows about, but some of the ones you might never have heard of – or simply never thought of as a beach destination. From Mexico to Vietnam to Finland, these are a few of my favourite alternative beach destinations…
Mazunte, Mexico
Cancun and the Mayan Riviera along Mexico's Caribbean side tends to get all the love as the best beach destination in Mexico. But if you're looking for somewhere a bit quieter and just as beautiful – head to the Atlantic coast. Specifically, to Oaxaca state. Puerto Escondido and the surrounding towns have some beautiful little beaches and rocky coves. My favourite was the sleepy, hippy town of Mazunte – one of the few places I've visited where I've been able to watch the sun both set and rise over the sea.
Åland Islands, Finland
Beaches probably aren't the first thing you think of when you picture Finland. But the idyllic Åland archipelago, an autonomous region between Finland and Sweden, is full of them. The archipelago has a unique culture that's a distinct blend of the two countries, but the main draw is the area's natural beauty. I fell in love with the rocky, pine-covered islands when I visited. The beaches are small and the water is chilly, but this is the perfect place for watersports like kayaking, SUP, and sailing. And it's definitely a destination to consider.
Asturias, Spain
When it comes to Spain, the south coast has all the glory as a beach destination. But along the north coast you'll find plenty of untouched coastal towns and near-deserted beaches. The region of Asturias is full of historic fishing villages, rocky coves, and serene beaches. I rented a bike and cycled from Llanes to Niembro along some of the area's most beautiful coastline. Along the way, we stumbled across plenty of beaches that were totally empty, like this one…
Nusa Penida, Indonesia
Off the coast of Bali, the islands of Nusa Lemongan and Nusa Penida were two of my favourite discoveries in Indonesia. Both are still fairly off the beaten track, but Nusa Lemongan is growing and plenty of tourists make their way there. During the day I spent zipping around Nusa Penida on a moped with my Alabama-bestie Pam, however, we only met one other foreigner. The rocky cliffs and amazing natural highlights of the island are not to be missed – and off the coast you can snorkel with manta rays or watch dolphins leaping in the waves.
Scilly Isles, UK
Want a beautiful beach destination without having to leave the UK? Off the coast of Cornwall in England, the picturesque Scilly Isles have seas so clear and beaches so pretty you'd be forgiven for thinking you were much further abroad. I visited Tresco and Bryher a couple of years ago and was absolutely spellbound. The islands have a very small amount of accommodation so they never feel too crowded or full of tourists. And not only are the beaches stunning and the nature incredible, but the local food scene was absolutely delicious. Easily one of my favourite places in the British Isles.
Read more: check out my Tresco food guide for some tip tips on what and where to eat when you visit!
Porto Seguro, Brazil
The Colonial town of Porto Seguro in Brazil is really popular with local tourists, but when I visited it was still very much off the gringo trail in South America. All we had to do was hop on a bus heading north and wait until we spotted a beach with no one on it. Mutarí beach was my favourite; I spent a full day there with not a single other human in sight.
Phu Quoc, Vietnam
Thailand tends to get all the credit for dreamy beach getaways in South East Asia. But the often overlooked island of Phu Quoc in Vietnam is a great choice for a slightly more off the beaten path island retreat. The main area around Long Beach feels pretty touristy and the strip is lined with resorts, but head to the north of the island and you'll find plenty of deserted beaches. I loved the eco-resort Bamboo Cottages in a small bay on the west coast, which was perfect if you really want to switch off and get away from it all.
Read more: see my backpacking tips for Vietnam for all the practical information you need.