One of the greatest things about travelling in the UK is the opportunity to stay in adorable country cottages, a la The Holiday. Staying in a self-catering cottage allows you to really dive into the experience and live as a local would. Whether you're visiting the UK for the first time or a seasoned UK traveller looking for a different experience, self-catering cottages are the way to go. So, when Cornish Horizons invited my husband and I to try a self-catering cottage in Cornwall, we were thrilled!
About Cornish Horizons
Cornish Horizons is a family-run business based in Cornwall. They represent & market nearly 500 self-catering cottages in Cornwall and also promote local businesses through their loyalty card programme. The cottages range from countryside to seaside and include luxury stays, pet-friendly stays, and stays in every part of Cornwall. They also have cottages available at just about every price level. Just browsing their site, it's so easy to fall in love with one of their warm, inviting cottages. And then start planning a road trip to Cornwall!
Prior to our stay, the Cornish Horizons team made sure we had all of the information we needed and made sure that we knew they'd be available if we needed them at all during the stay.
Our Self-Catering Cottage in Cornwall
It was my first time visiting Cornwall and I was so eager to finally explore the little corner of the UK that I hear so much about. We were put up in the dog-friendly Sparrow Cottage in St. Newlyn East which served as the perfect base for seeing as much of Cornwall as possible. St. Newlyn East is about 5 miles inland, meaning our self-catering cottage stay was more of a countryside retreat than a seaside getaway, which was perfect for our early March visit.  The central location allowed us to get pretty much anywhere we wanted to get within a 45 minute drive, so we were able to cover a lot of Cornwall during our short stay.
Arriving at Sparrow Cottage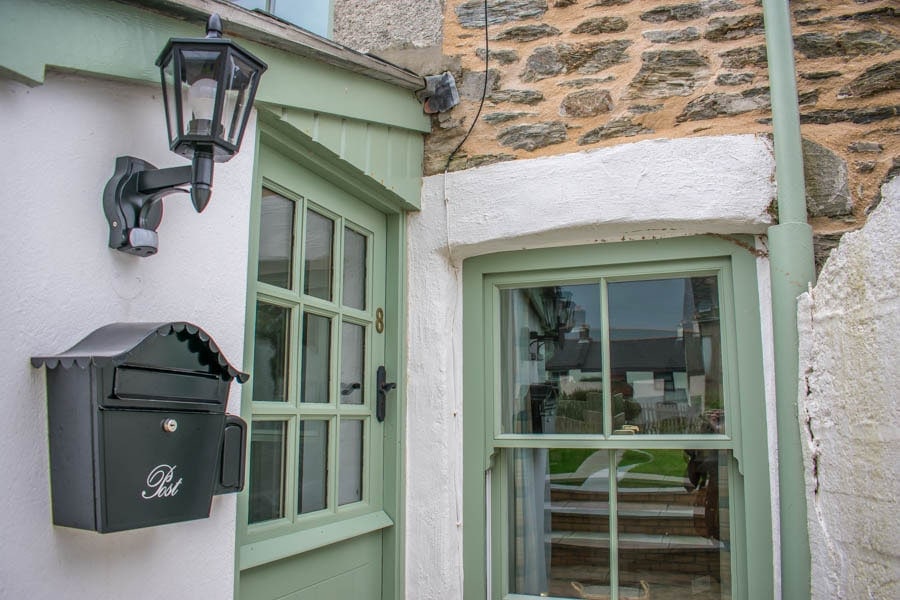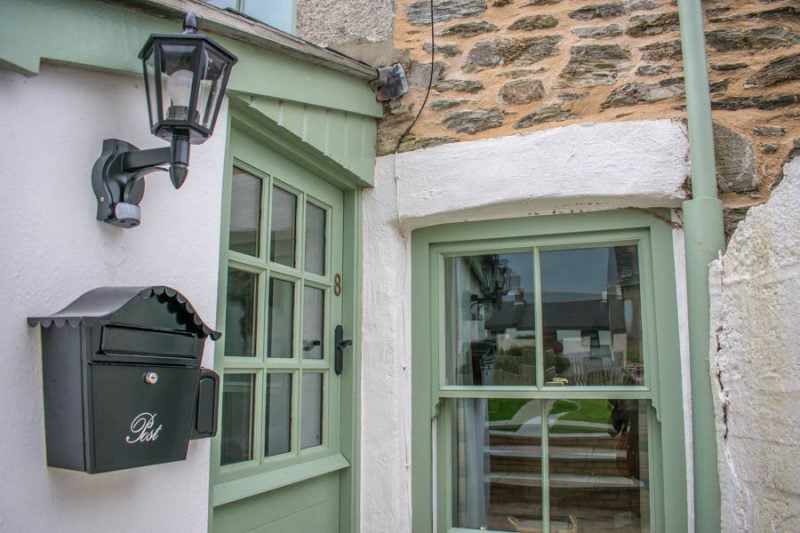 We are huge advocates of using AirBnb to get a locals experience while travelling; however, coordinating with the host to pick up and drop off the keys is always a bit of a pain. I was nervous about the same thing happening with our trip to Sparrow Cottage because I knew we'd be getting in late. However, when I reread the email I was sent about the cottage, I realised that there was no need to worry – Cornish Horizons makes the arrival and departure process so easy!
We arrived at Sparrow Cottage just after 9pm, found a parking spot nearby, and wandered up to the cottage. Right next to the door was a key safe – we just had to punch in the code we were given and voila! the key was ours. Upon departure, we put the key back in the box and locked it up and headed on our way. The fact that we didn't have to work around their opening times or call the host to try to organise a time to meet up made our entire arrival and departure process fuss-free, which is a huge bonus in my book!
Upon entering the cottage, we noticed that everything was extremely clean and ready for new guests. A basket of towels was available, as well as wood and kindling for the fire. We were even provided with some treats in the kitchen – doggy treats for Giorgio and the most delicious shortbread cookies for us! Even though we weren't greeted by an actual person, it was still the warmest welcome, helping us feel right at home from the moment we set foot in Sparrow Cottage.
Staying at Sparrow Cottage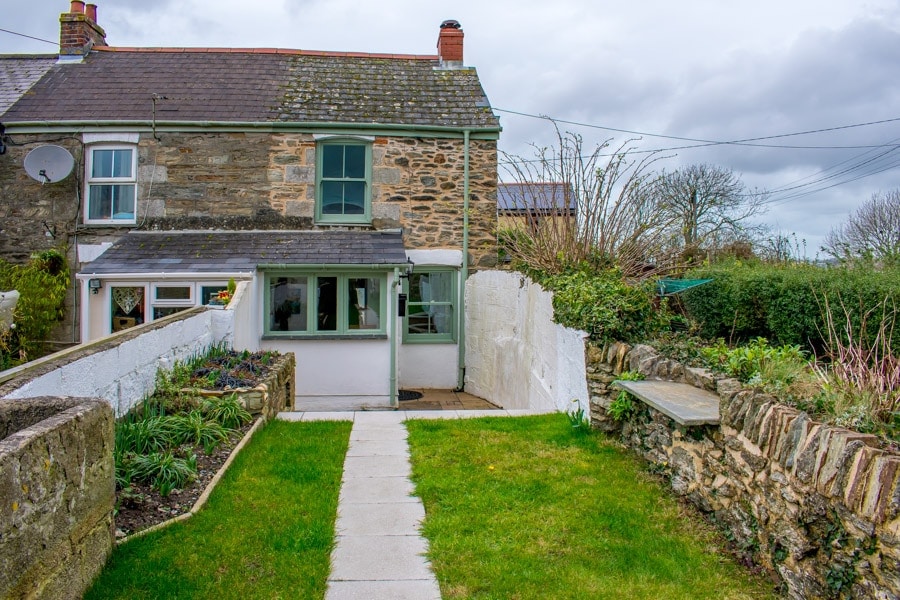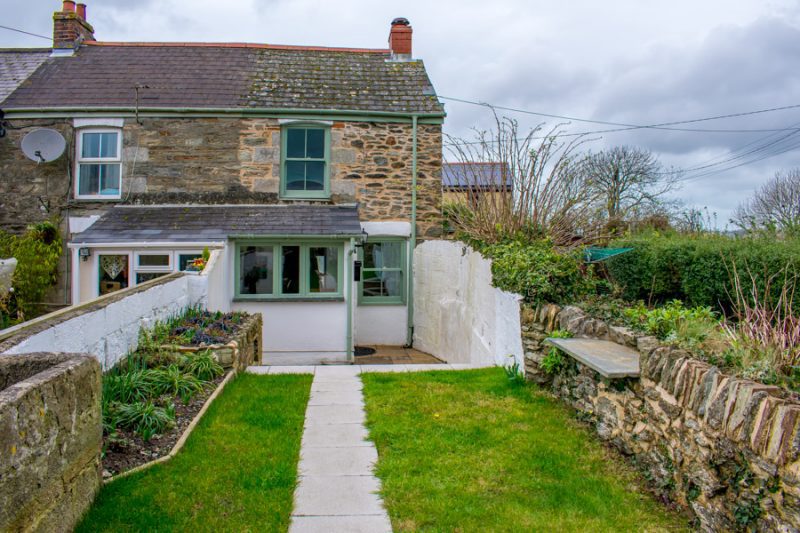 Sparrow Cottage is a one-bedroom semi-detached house set back from the road. It has a long garden in the front which is perfect for a little doggy to run around a bit, or to enjoy a morning coffee in the warmer months. The one bedroom is upstairs with a dressing room, while the kitchen, lounge, and bathroom are on the ground floor. The layout made the cottage feel spacious while still maintaining its cosy vibe.
We absolutely loved the time spent in our self-catering cottage in Cornwall. In fact, we found ourselves returning to the cottage early and spending extra time there in the evenings because we felt right at home. On all three mornings, we enjoyed our breakfast at the cottage and also cooked a local seafood dinner one evening. The kitchen had absolutely everything you could need, and our hosts provided some snacks and doggy treats as well!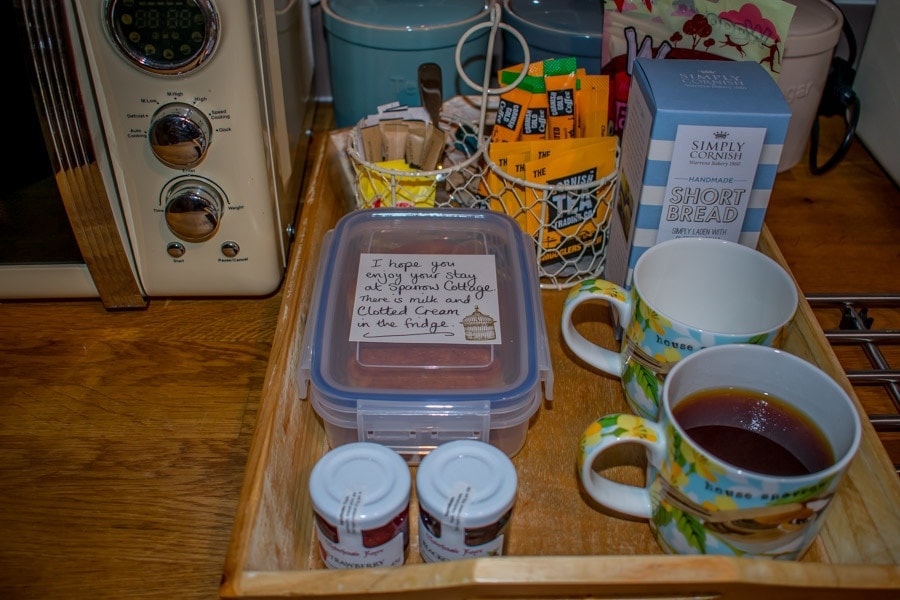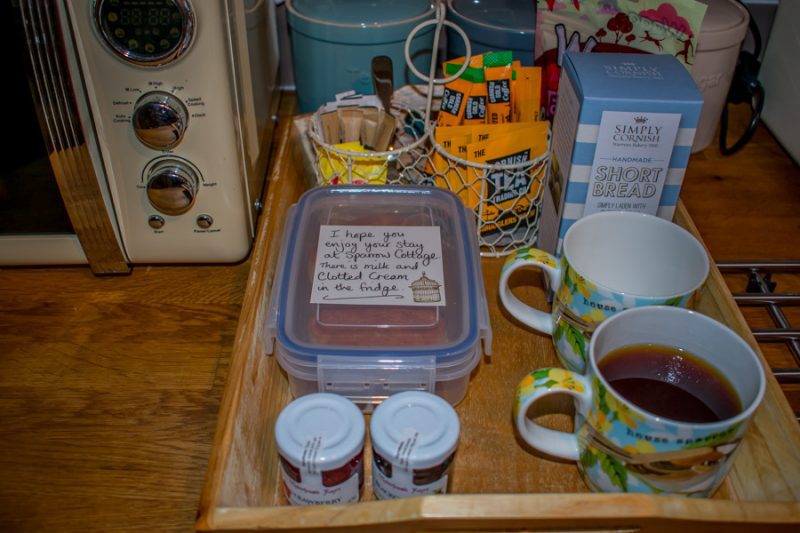 Our time spent in the cottage consisted of us splitting a bottle or two of wine, curling up on the couch, and watching reality TV before turning in for a good nights sleep. It was not cold enough to get a fire going, but we loved that we had the option of a wood burning fireplace if we needed it. If we felt like getting out of the house in the evening, we wandered down to the Pheasant Inn, the local pub just a two minute walk down the road!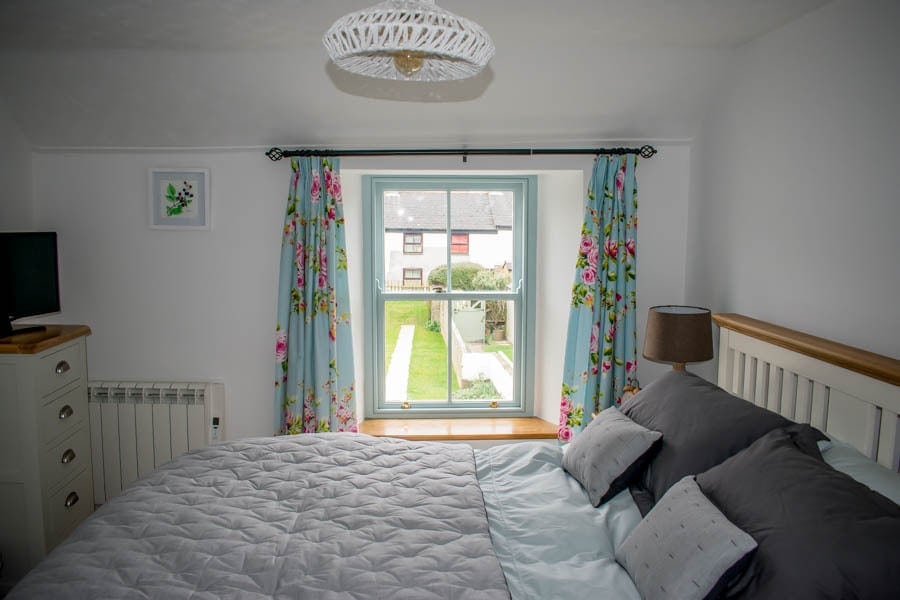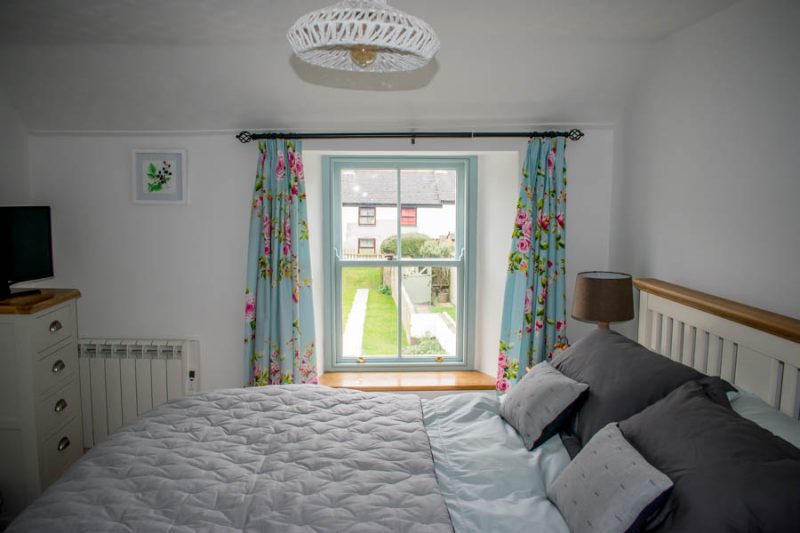 Out and About Around Cornwall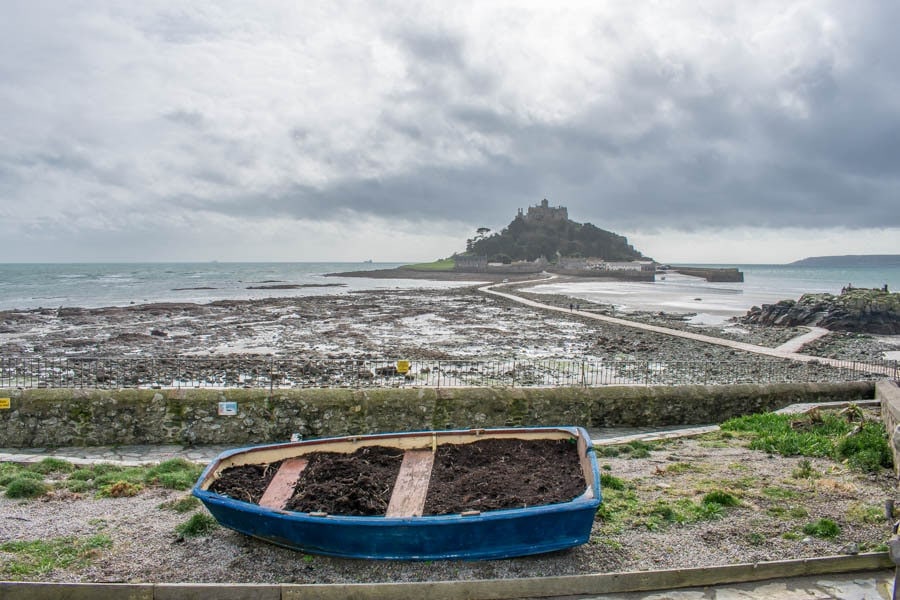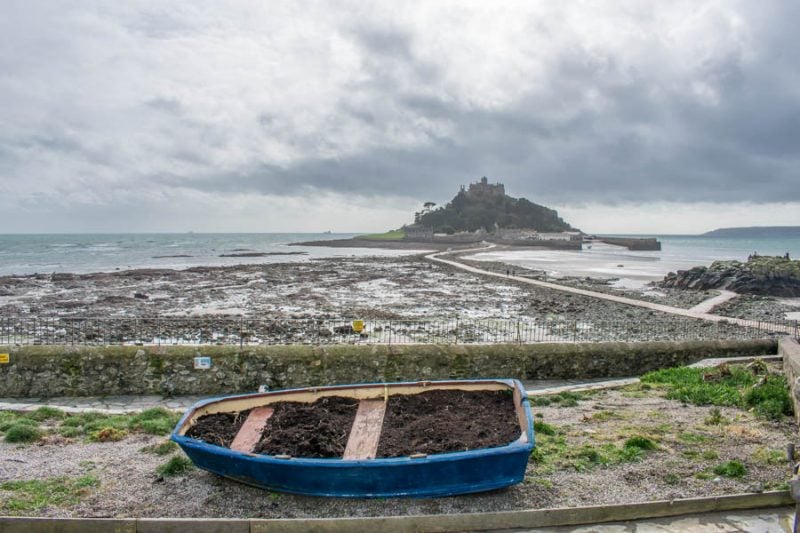 When we weren't curled up in our self-catering cottage in Cornwall, we were out and about exploring the region. Some of our favourite moments were:
Exploring Fistral Beach at sunset. Fistral Beach is dog-friendly and a surfers paradise. It was so beautiful!
Tasting English wine at Cornwall's five wineries. We only made it to four of them, but were able to try wine from all five. We loved the wine so much that we brought over 10 bottles home!
Taking in the view of St. Michael's Mount from Marazion. We walked all the way to the island, but I enjoyed viewing it from afar the most.
Trying some of Cornwall's best pasties. You cannot visit Cornwall without having a Cornish pasty, and we made sure to eat as many as possible. Our favourite came from Chough Bakery – they won the pasty championship in 2016 and we totally see why!
Dining at Lusty Glaze Beach Cafe during a live music session. They even provided a little mat and a bowl of water for Giorgio. The food was delicious and the music incredible, so all three of us were happy.
While we feel like we made the most of our weekend in Cornwall, we also know that we'll be back for more very soon! There is so much to do in the area, it's impossible to get to it all in one weekend. We have our sights set on staying in Padstow next time we visit, and we'll definitely see what Cornish Horizons has available when that time comes.
We received a complementary stay in exchange for an honest review. All opinions and words above are 100% my own.