Some posts on this site contain affiliate links. If you book or buy something through these links, I earn a small commission (at no extra cost to you). Take a look at my privacy policy for more information.
If there was one city that I fell for more than any other on my travels last year, it was Edinburgh. I headed up there on my first ever trip to Scotland for the jazz festival last July, and fell completely head over heels – so I was over the moon to be invited back there to join the #Blogmanay team for New Years Eve – or Hogmanay – in the Scottish capital. I've already written about my Hogmanay experiences in these two posts (Torchlight Procession and NYE), so this one is about everything else I got up to on my latest Edinburgh trip.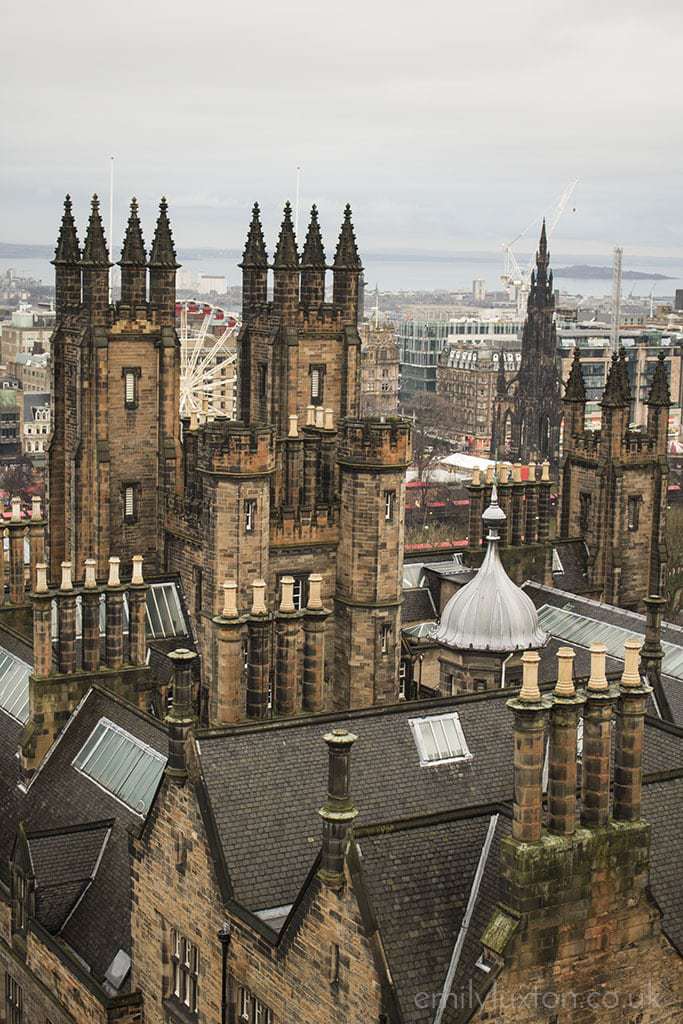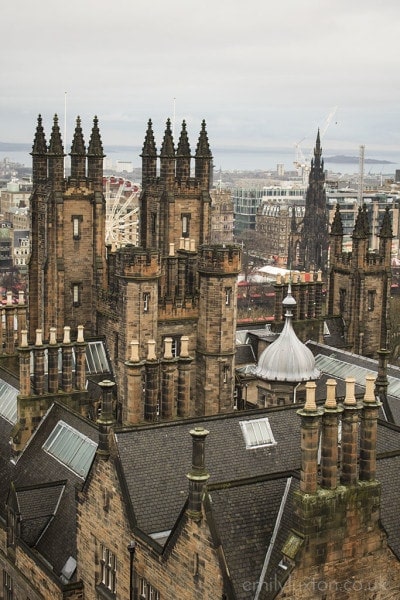 With the late afternoon sun slanting between rain clouds, I arrived to find Edinburgh just as stately and beautiful as I remembered, and just as vibrant and full of life. Princes Street was packed out in preparation for the Hogmanay celebrations, with a twinkling funfair and a
beautiful European Christmas market in Princes Street Gardens, and St Andrew Square opposite my hotel (the fab and funky Ibis Styles Edinburgh) was glittering with Christmas lights above a small ice rink. The atmosphere was festive and inviting, and I was in the mood for a party as I headed to meet the Blogmanay team for our first event of the week.
Hosted at a stunning penthouse apartment in the luxurious Old Town Chambers, we enjoyed incredible views towards Princes Street whilst we got to know each other other champagne and finger food. Celebrity chef and Edinburgh local Tony Singh was on hand to provide us with his unique Asian-Scottish fusion cuisine, which was amazing! After dinner, we headed down to the Royal Mile for something a little darker, with a late night Ghost Tour from Mercat Tours. This is one of the more unusual things to do in Edinburgh. Our guide, Gillian, met us on the Royal Mile and, after a quick chat the lovely lady suddenly dived right into character. Theatrically creepy, over-the-top ominous, and brilliantly entertaining, Gillian led us back into Edinburgh's wonderfully murky history, regaling us with the popular story of local murderers (and intrepid businessmen) Burke and Hare and comically acting out various forms of torture with two nervous volunteers from our midst.
Gillian was an amazing guide; lively, theatrical, and very funny. But she also knew just had to tell a scary story, and as we plunged into the underground Blair Street Vaults beneath the old South Bridge I was already shaking a little. A few flickering candles lit our path through the dark vaults of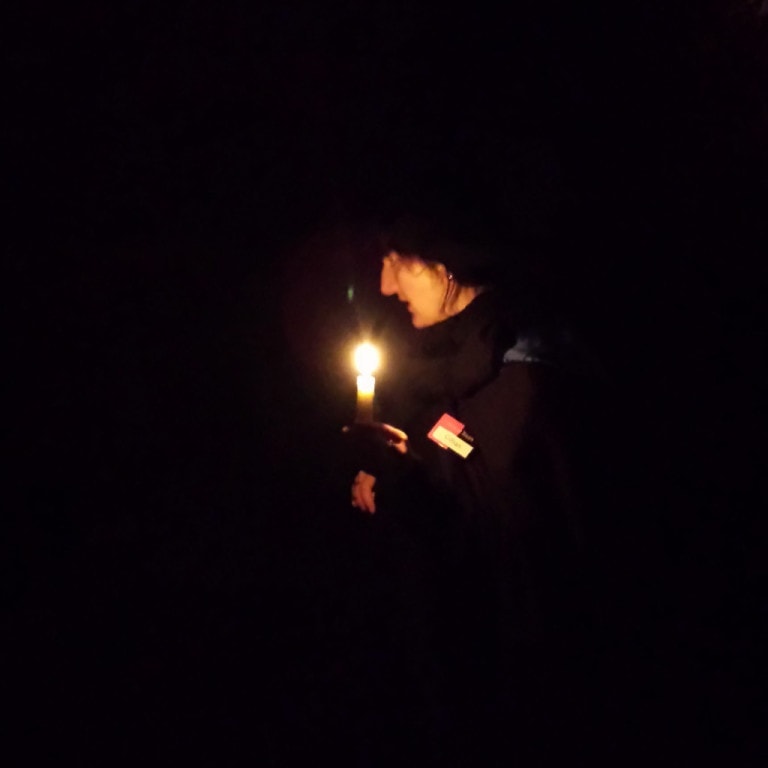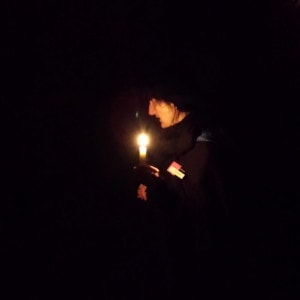 historic Edinburgh, one-time rooms and storehouses, as Gillian filled us in on the various ghosts that had been sighted over the years. Whether you believe or not, it was a creepy experience, and Gillian had me absolutely terrified – by the time we emerged into the warmth of Mercat Tours' cosy cellar I was gravely in need of the glass of wine that ended our tour.
Next day, all thoughts of eerie Edinburgh were completely out of my mind as our fab local guide, Blogmanay organiser Leah, showed us a more modern side of the city. We started with lunch at the gorgeous Edinburgh Larder Bistro, a local favourite and a hidden gem with a monthly changing menu and dishes full of local, artisanal ingredients – don't miss this place! Stomachs lined, we headed for a gin tour and tasting at Edinburgh Gin, where we got a full history of the drink once known as Mother's Ruin. The spirit's murky history rivals Edinburgh's itself for dark and disturbing – we're talking tales of gin inadvertently flavoured with the pickled corpse of a dead cat, and mothers killing their babies by feeding them gin to keep them quiet – but our tour guide made the whole miserable story hugely entertaining, leading us through gin's numerous revivals to the modern day, where Scotland is at the forefront of a much more enlightened ginnaissance.
That night, we swept through the city in a river of light for Edinburgh's spectacular Hogmanay Torchlight Procession – don't miss my post –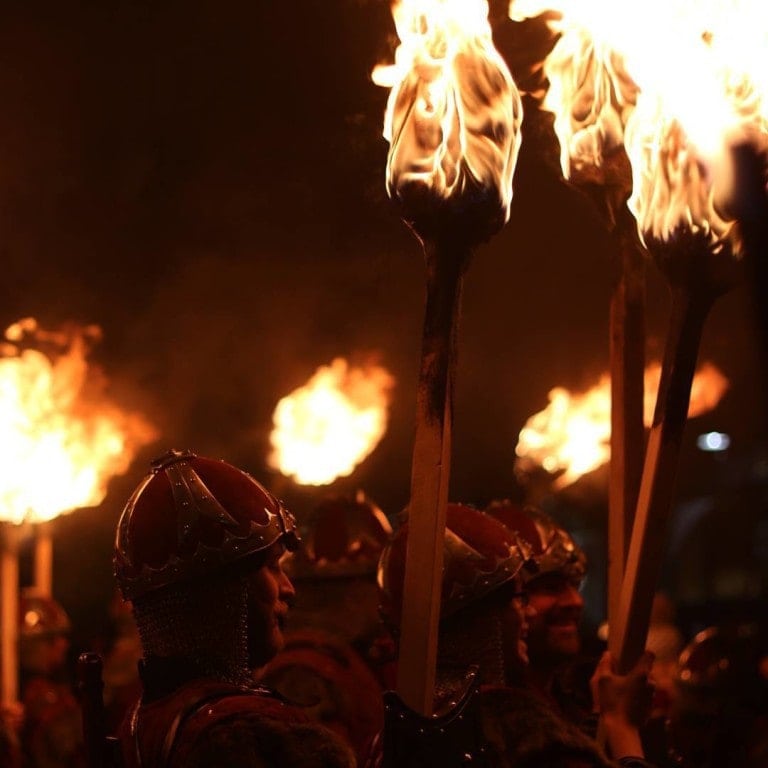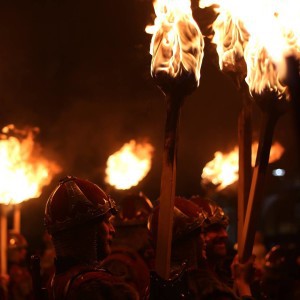 before watching the Carlton Hill fireworks from the top of The Mound. It was the perfect way to kick off the city's three day long New Years celebrations, and one of my highlights of the whole year!
During the day on New Year's Eve, we had a bit of free time, so fellow blogger Vicky Flip Flop and I headed to Camera Obscura to learn about (aka play with) the various optical illusions. Not usually a museum lover, I had so much fun at this one. I arrived at 9am, with the city just starting to wake up, so headed straight up to the roof for some of the best views in Edinburgh. The distant hills were draped in a haze of morning mist, and the quiet city around me was absolutely beautiful. Inside, we had a demonstration of the camera obscura itself, a small round building on the roof housing a rotating angled mirror, which projects an image of the surrounding landscape onto a white, inverted dome inside. Downstairs, we whiled away a couple of hours playing on some of the optical illusions, taking funny photos of ourselves as giants or disembodied heads, getting lost in the mirror maze, and generally behaving like a couple of oversized kids. It was great!
After an absurdly epic night ringing in the New Year with Biffy Clyro, ceilidh dancing, plenty of wine, and the best fireworks I've ever seen, I really didn't feel much like getting out of bed the next day. But, I'm very glad I did, because the third day of Hogmanay in Edinburgh was the Scot:lands festival, which was an amazing and totally unique experience.
Curated by some of Scotland's best artists and musicians, Scot:lands essentially took over the city. Eleven different venues around Edinburgh, from churches to museums, had been transformed into eleven "lands", each with a different theme. The idea is that you spin a wheel after checking in at the Home:Land departure lounge, and that will give you your first venue. You can spend as long as you like there, before spinning the wheel and finding out where to go next. This not only gives you a great mixture of different venues and artists, but it also ties in a lovely walking tour of Edinburgh city centre.
The joy of Scot:Lands was in the element of discovery. At Lyrical:Land, in a tiny and unassuming church community centre, we unexpectedly found ourselves enjoying an intimate acoustic gig from lead singer of Idlewild, Roddy Woomble. I was sat on the floor at the back of the small crowd with pins and needles in my legs, and was just considering leaving, when he came on stage – utterly unexpected and completely amazing. After missing Idlewild's performance the night before, it was fantastic luck that we stumbled upon that venue just at the right time – and the music was gorgeous. That whole land was by far my best experience of the day, with beautiful acoustic music from several artists, readings, and poetry, and readings, and the best part about it was that I'd had no idea any of it was coming.
We made it to five of the eleven venues in total. Traditional highlands music from Blazin' Fiddles at Blazin:Land in the beautiful Greyfriars Kirk; beautiful acoustic songs and the smell of cider beneath the glass dome of Potterow at Insider:Land; and a multi-media installation in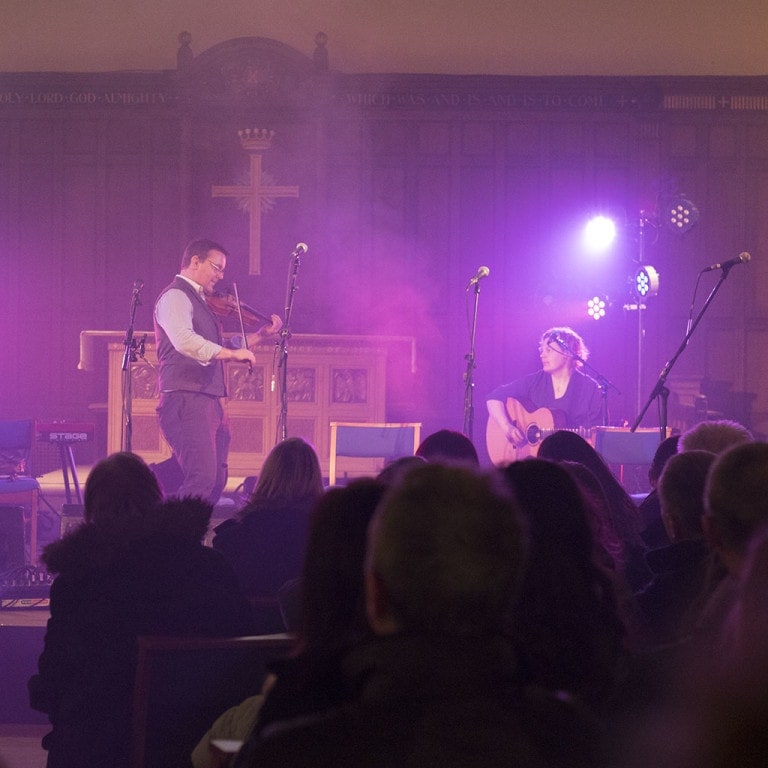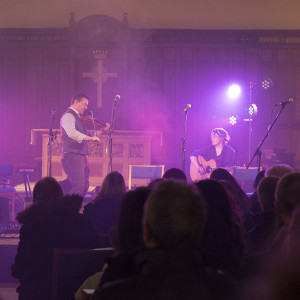 the stunning, candle-lit interior of Old Saint Paul's Episcopal Church for Seabird:Land. Finally, we caught the last performance of the day at Licht:Land in the Storytelling Centre, one of my favourite venues in Edinburgh. A woman with the most painfully beautiful voice I've ever heard closed things off with a slow, melodic version of Auld Lang Syne; the perfect finale to the first day of the new year.
Bringing in 2016 in Edinburgh was one of the highlights of my blogging career so far. The city is one of my favourite places in the world, and it was an amazing experience to explore the best local art, music, food, and drink with the #Blogmanay team, at the same time as enjoying an amazing few days of partying and revelry. Best New Years ever!
#blogmanay is brought to you by Edinburgh's Hogmanay and is supported by ETAG, The Scottish Goverment, VisitScotland, Festivals Edinburgh, Marketing Edinburgh, Arnold Clarke Van and Car Hire, Rabbies Tours and co-creators Haggis Adventures. Created and produced by Unique Events. As always, all opinions expressed are entirely my own.