Some posts on this site contain affiliate links. If you book or buy something through these links, I earn a small commission (at no extra cost to you). Take a look at my privacy policy for more information.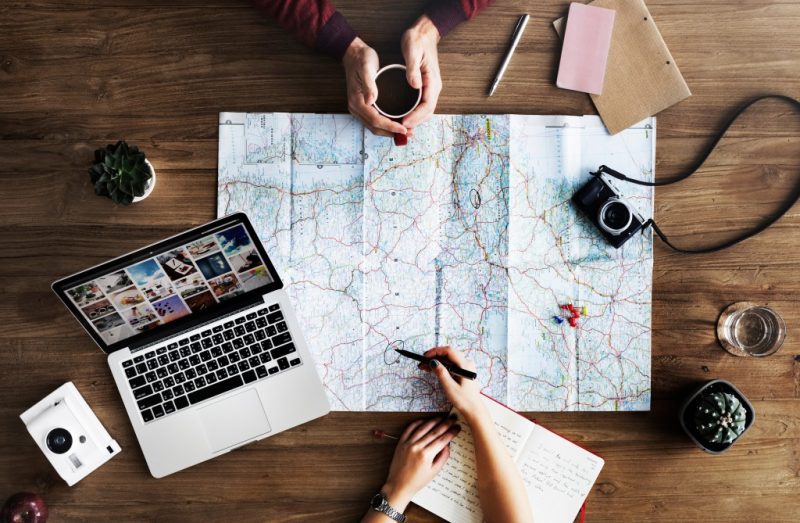 When you're browsing from abroad, have you ever wondered exactly how safe your internet connection is? If you've connected to a free WiFi network in a hostel, cafe, airport, or anywhere else, it's hard to know exactly how secure that network is – and if the network isn't safe, then nor are your personal details.
Luckily, there are some tools you can use to get around that. Like the Cocoon Browser, a fantastic free resource which is perfect for travellers. I've often wondered about internet safety when I'm travelling, but besides my normal anti-virus I'd never used anything else to keep me safe. So when Cocoon asked me to try our their product and write a post about it, I had to give it a go.
What Is Cocoon
In a nutshell, Cocoon is a free cloud-based browser that keeps travellers safe while they're browsing on unsecured networks. It's a fantastic free resource for travellers with loads of great perks. Anti-virus, proxies, and encryption keep you safe and private while you browse, no matter where in the world you are.
Oh, and it's totally free.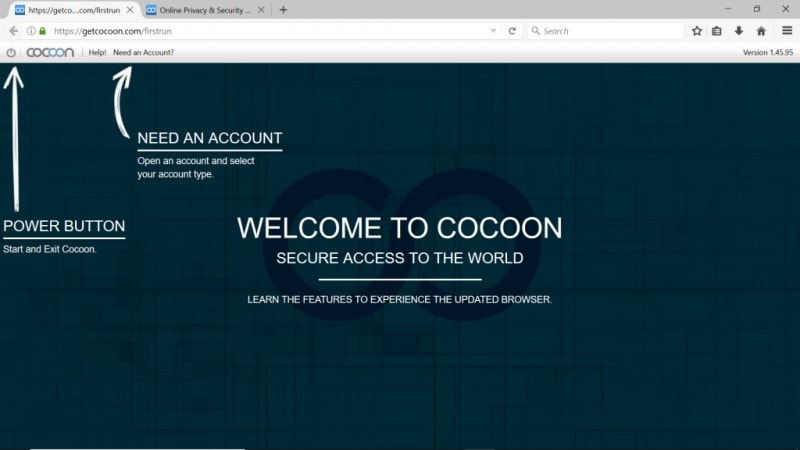 Cocoon Browser Review: Why It's Perfect for Travellers
So, what does the Cocoon browser actually do? Why is it perfect for travellers? And do you actually need it?
I've rounded up the major highlights below to show you exactly what you can do with Cocoon…
Watching Netflix Abroad
Ok, I've got to admit it – this was the main selling point for me. Not the security or the antivirus, but the Netflix proxy that means I can carry on watching Netflix abroad!
The Cocoon browser has built in proxies that allow you to browse US content no matter where you are in the world*. Their secure servers are located in the United States, so they act as a proxy and let you browse as if you're in the United States. No restricted access, and all the same Netflix content you're used to.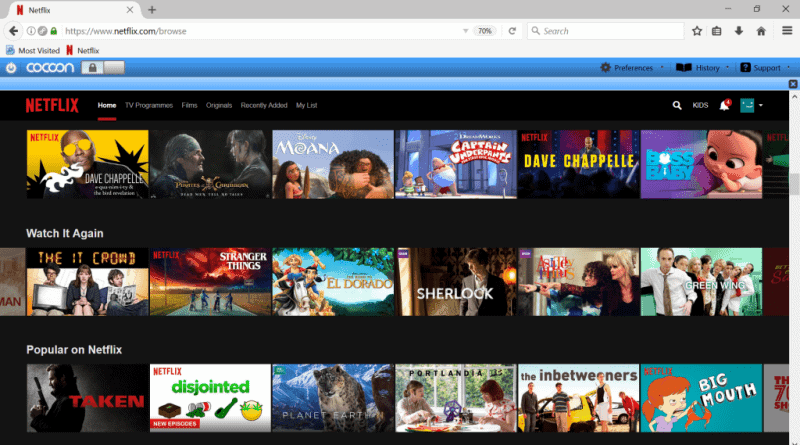 There's another perk here for customers from the UK. Thanks to Cocoon, you can access US Netflix content from the UK without needing a VPN. VPN's cost money and they're unreliable – so this is a great alternative. I've been catching up on Walking Dead from the UK using the Cocoon browser and it's been working perfectly. I love it.
*for some Asian countries you might need to download Cocoon Asia.
Secure Internet Access while Traveling
Security. Not as exciting as watching US Netflix abroad, of course, but just as important. Ok, probably more important.
When you travel it's hard to know how safe your connection is. Many WiFi connections in cafes, hostels, and airports are unsecured, which puts your personal data at risk.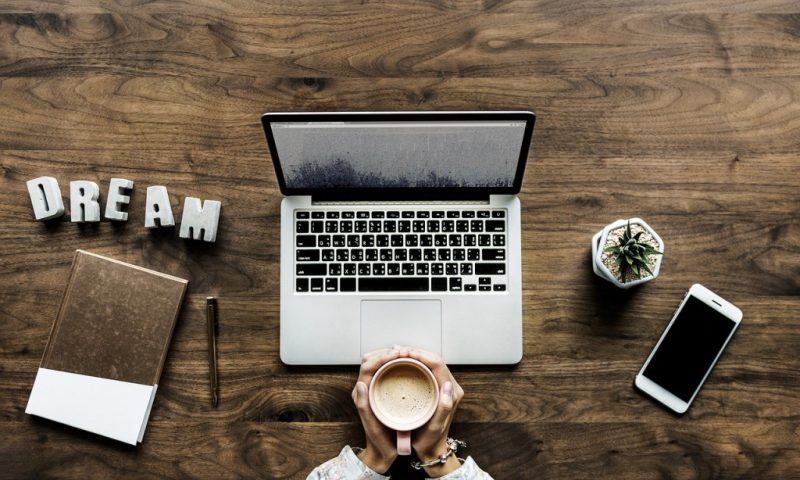 For one thing, Cocoon's proxies mean that web sites see their information instead of your IP address or ISP. Special "isolation technology" keeps malware away from your hard-drive, and in-built anti virus scanning adds additional protection. And Cocoon encrypts your connection to their servers to keep all your valuable data safe. Learn more about how it all works here
Privacy
Another of my favourite features of the Cocoon browser is the privacy it offers. Using a proxy service means that none of your own information is revealed to the site's you visit. That means no advertisers can see what you've been looking at and then follow you around the internet advertising that same product to you over and over. It also stops Facebook tracking, which is much more intense than you might imagine so it's useful to be able to avoid it.
Using Cocoon Browser – My Experiences
I installed the Cocoon browser and started trying it out straight away. I've always loved using Google Chrome so I was a bit reluctant to start using a brand new browser. But on start-up, Cocoon gave me the chance to import all my saved settings from Chrome – including favourites and passwords. Saved me a massive headache there! It's super easy to get started and to set everything up, and once you've set up all your favourites etc Cocoon will remember them whenever you log on – no matter what computer you're on.
First things first – I logged into Netflix and sure enough, all the US content was there. Although using a proxy is meant to slow connections down, I didn't notice any difference in streaming speeds compared to watching on Chrome. It's not just watching Netflix abroad that this is useful for. I've travelled in some countries that ban certain websites but using Cocoon should be an ideal way around this. And I find that when I travel, sites like booking.com or Google Flights default to the local currency and sometimes the local language. But thanks to Cocoon, I'll get all sites with my normal settings from now on.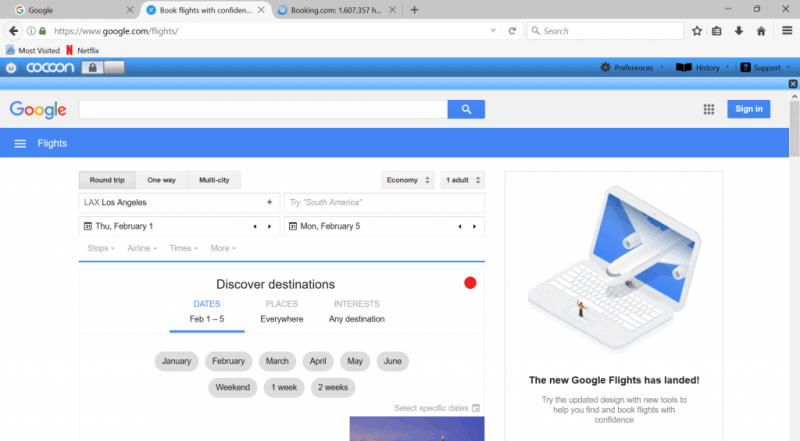 The browser itself doesn't feel quite as sleek as Chrome, but it is practical and just as easy to use. Because Cocoon deletes your cookies (an optional setting) every time you log out, it seems you always have to sign in again to any websites you'd normally stay logged into (like Facebook or Netflix). It's a slight hassle but totally worth it to keep your data safe on a shared network.
As for security, it's hard for someone non-techy like me to know exactly what's going on behind the scenes. But I trust Cocoon and it's nice to know that I have a protective barrier between me and any potential threats – especially when I need to access my online banking abroad.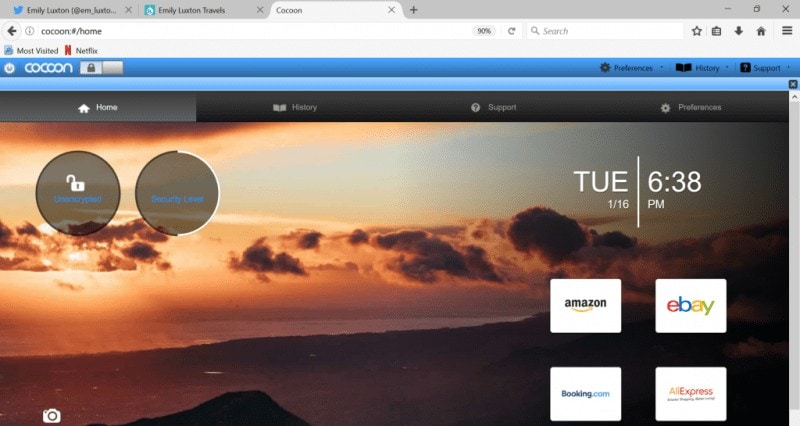 Should I Get Cocoon Free or Cocoon+
The Cocoon browser is totally free to download and you'll get the full functionality with the free version.
But there's also Cocoon+, if you want a little added security. With that, you get all the features of the free package, as well as Ad-Free Browsing, a selectable search engine, and more thorough Virus protection:
Virus Screening
Anti-Virus Scanning
Malware & Spyware Blocking
Malware Isolation
Drive-by Download Protection
Cocoon+ costs $2.49 a month ($19.95 annually). But, to be honest, the free cocoon browser has everything a traveller needs – so I'd say the free version is probably enough.
What do you use to keep yourself protected online when you travel? I'd love to hear your top tips since I feel like I've been a bit clueless up till now!
Pin this post: