Some posts on this site contain affiliate links. If you book or buy something through these links, I earn a small commission (at no extra cost to you). Take a look at my privacy policy for more information.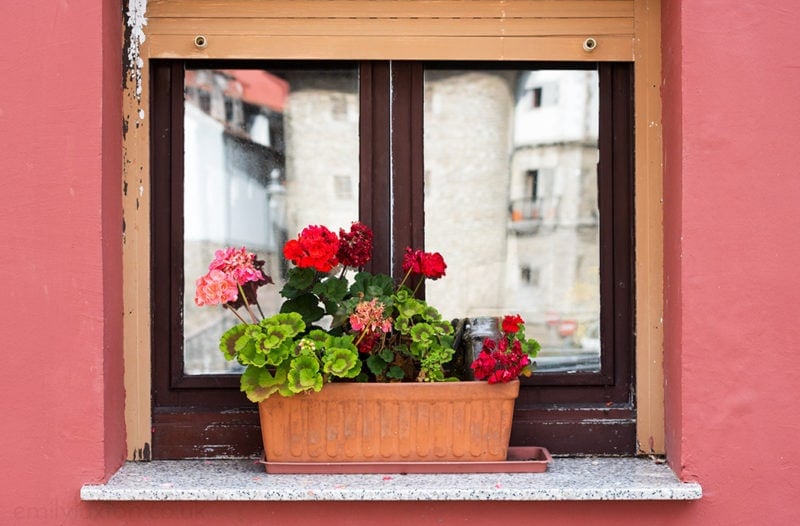 "We are proud to be who we are". A sentiment discovered on a shop door in a small village, this perfectly captures the spirit I discovered in Asturias. I explored the region in Northern Spain as I was following the Camino de Santiago, an ancient Christian pilgrimage that culminates at Santiago Cathedral.
My journey took me through four amazing regions in the north of Spain. Asturias, with it's rugged coastline and emerald green mountain landscapes, particularly captured my heart. Here, as I talked with locals and explored the region's smaller towns, I discovered a proud and unique spirit. This was a place where ancient history, religious spirituality, and local heritage are all deeply embedded. All over Asturias, the people I met showed an obvious pride in their individual or local origins.
Along the way, I met several locals who really captured the spirit of Asturias for me. These are a few of their stories…
Clementina, Cudillero

A picturesque fishing village nestled along the rocky coast of Asturias, Cudillero was one of my favourite stops in Northern Spain. Legend has it that the town was founded by vikings. These days it's a pretty town of less than 6,000 inhabitants, where colourful Indiano houses hug the interior of a natural amphitheatre formed by the surrounding mountains. A tunnel connects the town with the fisherman's port, and the town's main square sits at the centre of the ampitheatre. The view from the top is something to behold.
Clementina, a 91 year old local who's lived in Cudillero all her life, has one of the best views in town. As she can no longer tackle the stairs that connects her street with the lower town, this lovely lady spends most days on her own street. From her window she spends her days watching the world go by and gossiping with the neighbours. This is exactly where I met her, and couldn't resist stopping for a chat. Clementina's first language is pixueto, a unique dialect only spoken in Cudillero, and an important part of the town's culture. The pixueto language and customs are part of the Cudillero's proud heritage, something Clementina and her neighbours are determined to preserve. It's a unique little quirk, and one that makes the town a fascinating place to explore.
Aldreda, Oviedo

"I don't want to tell you this pilgrims, but I guess I should… festering are my blisters."
Aldreda is a tenth century pilgrim following the original route of the Camino de Santiago. She's also the only fictional local on this list. Aldreda was a character, based upon real accounts, and played by a local actor for a theatrical tour by Peregrinando Oviedo. Through her eyes, we had an insight into the life of the earliest pilgrims following the Camino de Santiago.
Psst! Find out more about what the Camino de Santiago is in this post.
With Aldreda, we explored the beautiful city of Oviedo, an important town along the Camino. It's from here that King Alfonso II the Chaste set off for the very first pilgrimage to Santiago de Compostela in the 9th century, so this is the start of the Camino Primitivo. Aldreda led us on a journey through the eyes of a tenth century pilgrim. From legends and local history, to explanations of the practicalities like clothing, food, and hospitals, she explained exactly what life on the road was like. Standing in front of the San Salvador Cathedral in Oviedo's pretty square, with real tears glistening on her cheeks, Aldreda had me spellbound as she explained the spiritual pull of the Camino and what it meant to her as a pilgrim. It was an eye-opening insight into the origins and early days of the Camino de Santiago.
Tono, Cudillero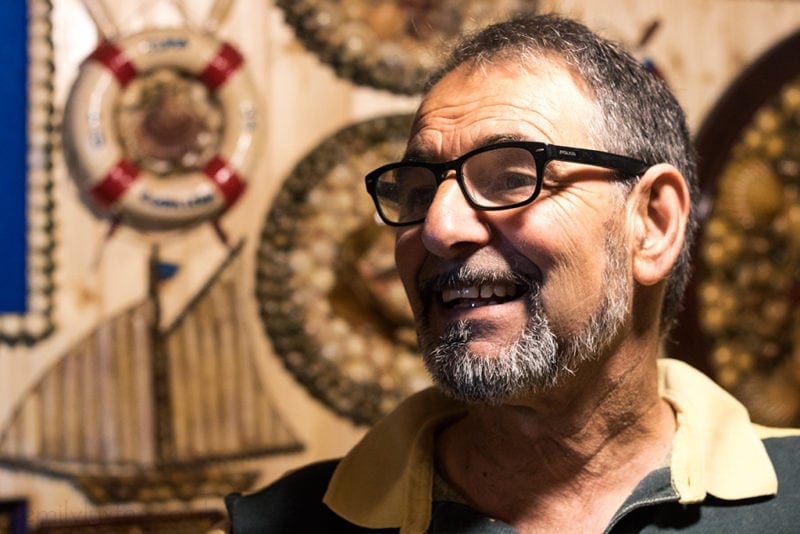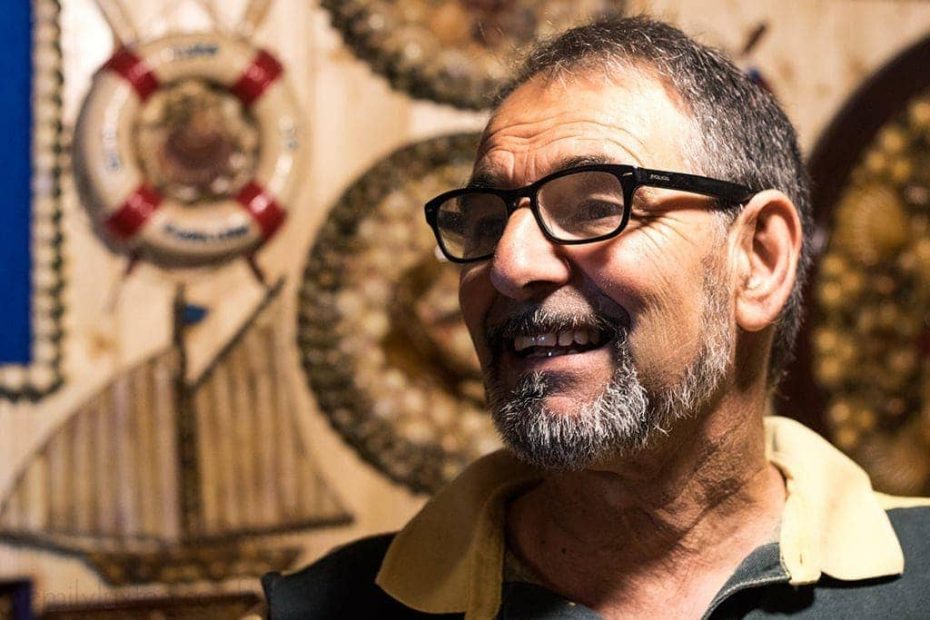 A few doors down from Clementina's house in Cudillero stood a narrow building completely covered in seashells. This was the home of Antoni, Tono for short, which he's converted into a small museum to display his father's extraordinary work. Tono's father, Virgilio González Antón, began creating art work with seashells after he retired. Over his years as a fisherman and yacht pilot, González amassed a huge collection of shells, coral, shark teeth, and fishing memorabilia. With them, he began to ornament the exterior and interior of his home. He also created dozens of art works; from pictures and picture frames, to sculptures and little treasure boxes. All of it now stands as a testament to his life on the sea.
González passed away last year at the ripe old age of 90, and Tono has turned his incredible collection into a mini museum. Although not listed on any tourism websites as a local attraction, the Cudillero shell house is a real hidden gem. What really made the experience, though, was getting to meet Tono. As he showed us around his father's work, explaining the history of it all and pointing out key pieces, Tono's eyes were bright with passion. It was a really moving experience and a fascinating local story. Yet another example of the beauty you can discover by exploring off the beaten track.
Celsa, Lamuño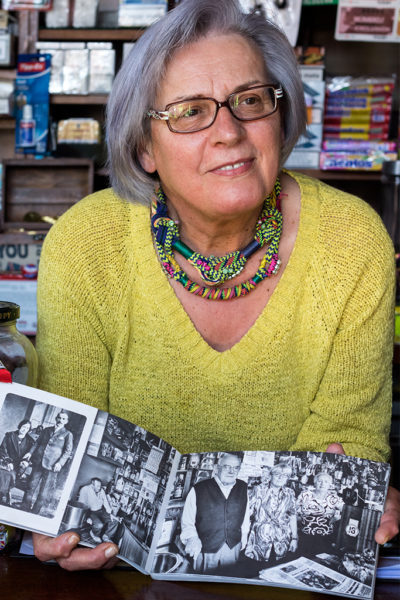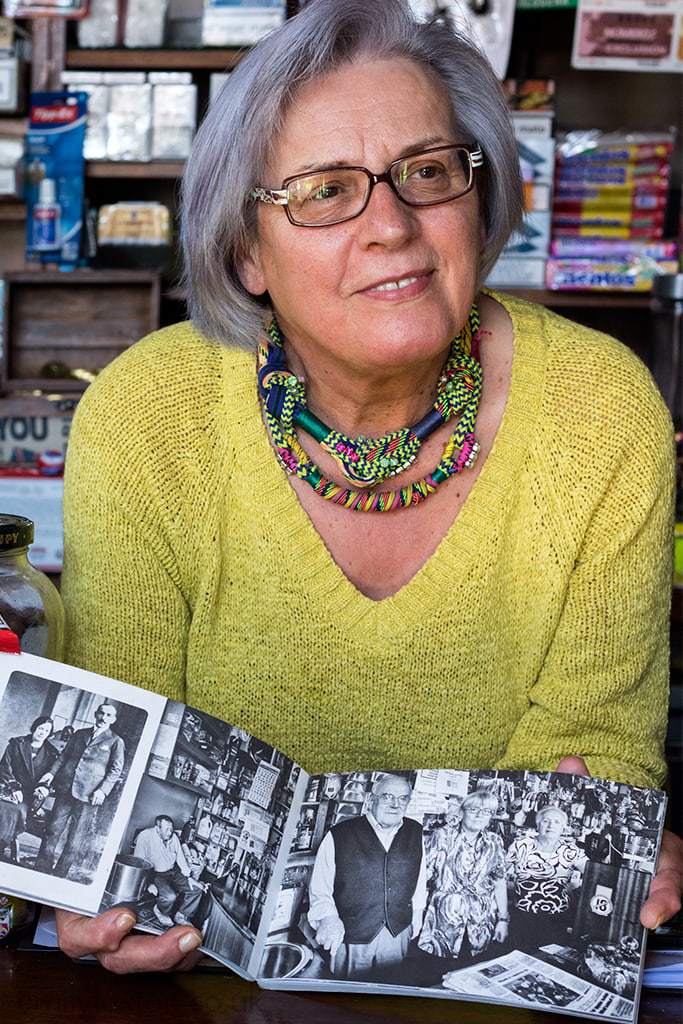 "Orgullosos de ser quienes somos."
Celsina Gonzales, Celsa for short, works with her sister in the family-run corner shop Casa Celsa in Lamuño. This is another hidden gem that's deliciously off the beaten path. Established by Celsa's grandfather, Jesús González Suárez, in 1914, the store – which seems to sell simply anything and everything – is over 100 years old and one of the oldest shops in the region. These days, the shop is still going strong. It's walls are lined with shelves stuffed with a mishmash of groceries, stationary, sweets, tins, and bottles. They sell everything, and it all comes with a slice of local history.
A sign on the door reads "orgullosos de ser quienes somos": "we are proud to be who we are". It's a lovely sentiment, and one that's evident when you talk to Celsa. When I asked after the store's origins, she was quick to produce the family photos, talking us back through the century that's seen this little shop passed down from generation to generation. This kind of pride was apparent in almost all the local I met in Asturias, and it was infectious. When people love their home this much, it's almost impossible not to echo the sentiment.
My visit to Asturias was as part of a press trip organised by The Travel Mob on behalf of El Camino Santiago and TurismoAsuturias for the #InGreenSpain and #VisitSpain campaigns. As always, all views and opinions (except quotes) are entirely my own and without bias.
Love this Post? Keep scrolling down to leave a comment, or pin it below: