Some posts on this site contain affiliate links. If you book or buy something through these links, I earn a small commission (at no extra cost to you). Take a look at my privacy policy for more information.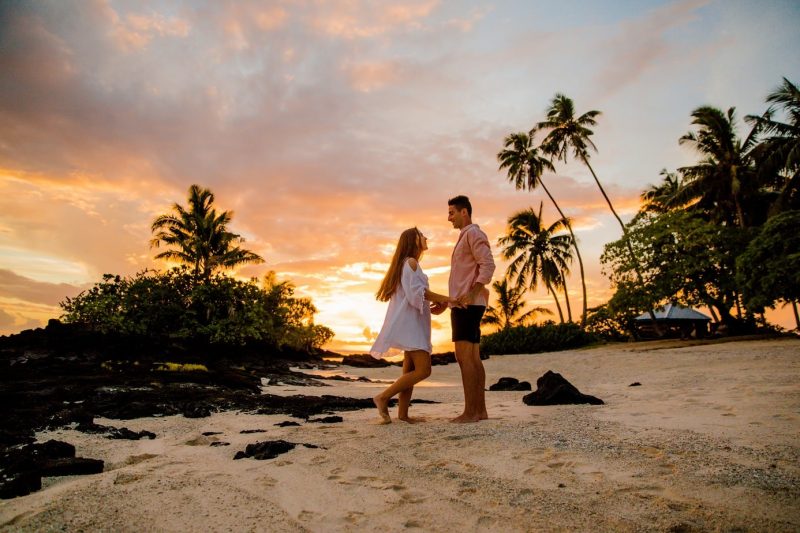 Samoa is a fantastic romantic destination for couples. From incredible proposals, to memorable honeymoons; anniversary celebrations to babymoons, these Pacific Islands provide the perfect backdrop for a romantic getaway.
Samoa is known for its incredible white-sand beaches, crystal-clear water, fresh island fare and incredible hospitality. Combine its unmatched natural beauty, culture and warmth and couples really are left with a once-in-a-lifetime holiday destination.
Best of all, as it is within easy reach of countries such as Australia and New Zealand, no Pacific rendezvous is out of the question.
So, as you wait for the world to recover, start dreaming about romantic getaway to Samoa!
This post was written by Sarah from Exploring Kiwis, in partnership with Samoa Tourism and Blogilicious.
Upolu
To Sua Ocean Trench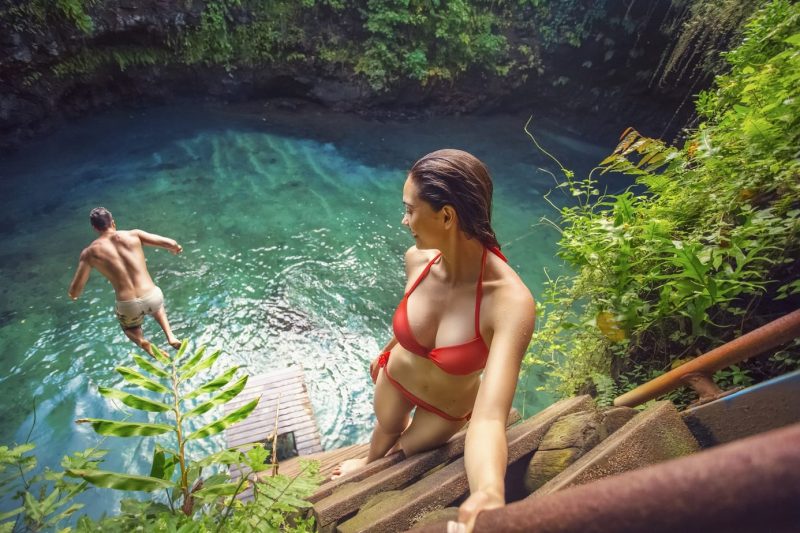 Perhaps the most famous tourist attraction in Samoa, the To Sua Ocean Trench absolutely lives up to the hype. It is incredibly beautiful and the perfect place to enjoy spending time as a couple.
Set amongst a stunning reserve, guests carefully make their way down a long wooden ladder to the platform below. From there, it is possible to dive off the platform into the pool below, or to continue the last of the descent on the ladder. Thrill seekers can even jump off from higher up on the ladder.
These giant pools are connected to the ocean by a lava cave. Because of this, there's a gentle current that pulls back and forth; holding onto the rope and relaxing with the slight well of the sea is amazing.
To enjoy it at its best, it is best to visit on a sunny day, when the sun is high in the sky. At this time of day, the water practically glows.
Cost: WST $20 per adult and WST $1 per child (6-11 years of age). Children 5 and under are free of charge.
Hours: Monday-Saturday, 8.30 am – 5 pm. Sunday, 12.30 pm – 5 pm
Lalomanu Beach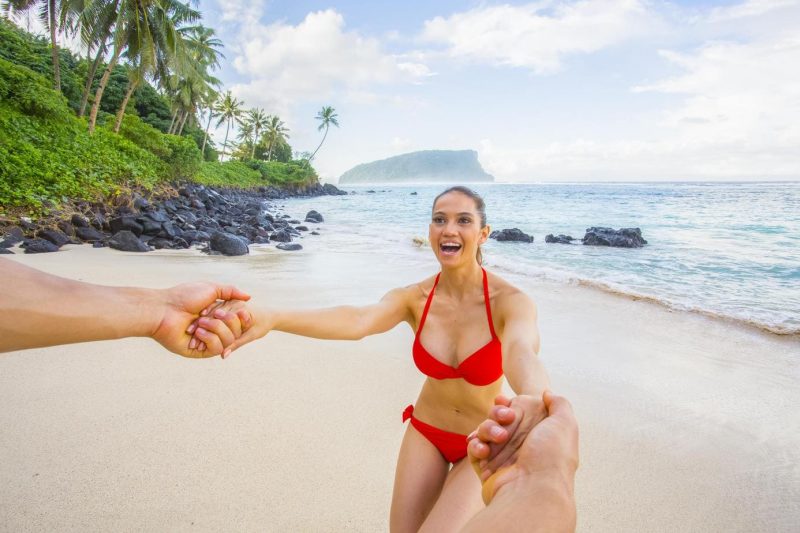 If there is one beach in Samoa that ticks all of the picture-perfect-postcard boxes, it is Lalomanu Beach.
Located on the south-eastern tip of Upolu, There, the water is clear, the sand is pristine and the palm trees sway gently in the breeze. Snorkelling is also readily available in the calm waters of the protected marine reserve.
Whether visiting for the day or booking a beachfront fale (in which to spend a few nights), this spot is the ultimate in authentic Samoan romance.
Lonely Planet agreed, naming it one of the top 10 beach destinations in the world!
Where better to spend time with a significant-other than on a pristine beach in the Pacific Islands?
Cost: Dependant on where visitors access the water; expect to pay an entry fee to the family the owns the land.
Pro Tip: Plan to watch the sunset at one of the beachfront restaurants and enjoy an evening of romance. You will not find fresher food served up in a traditional manner – that's not to mention the perfect backdrop!
Additional romantic stops on Upolu:

Togitogiga Waterfall – A picturesque waterfall, hidden away from view.
Taumeasina Island – Enjoy a delicious meal, massage and swim at one of Samoa's most luxurious resorts.
Aggie Greys – Another incredible hotel, we suggest visiting on Wednesday night, when visitors can enjoy their 'Fia Fia night'. Delicious traditional cuisine, cultural dancing and a fire-performance too!
Savai'i
Afu Aau Waterfalls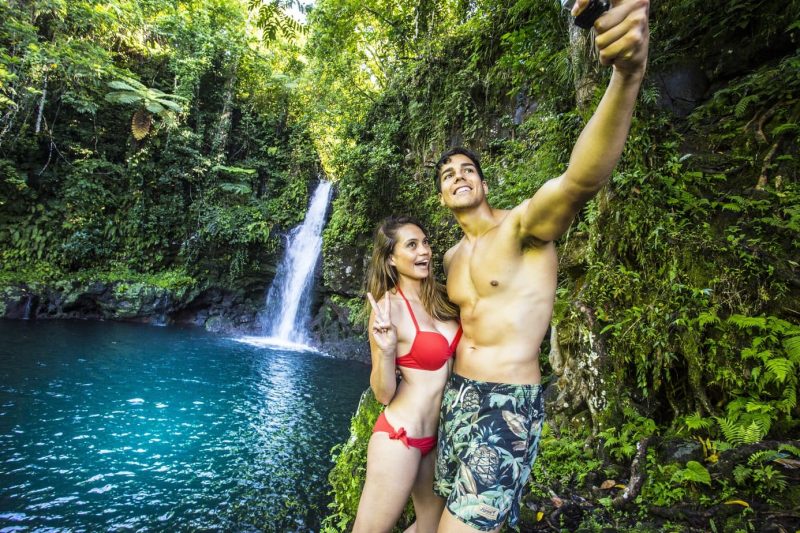 Surrounded by stunning native rainforest, the Afu Aau Waterfalls (which are also known as the Olemoe Falls) is an easy walk from the main road.
Tucked away from sight, this is an incredibly romantic location. With its crystal-clear lagoon, flowing falls and dense jungle, it's not hard to see why it is a favourite amongst travelling couples.
The pool is deceptively deep but remains shallow towards the edge. Though the water will be chilly, regardless of the time of year, it is undoubtedly worth taking a dip holding your partner close.
Located on the southern side of Savai'i, this must-see location works well, both as a stopover on an island road trip and also as a complete day trip. There are toilets onsite and plenty of spaces to lay out a picnic lunch too.
Cost: WST $5 per adult and WST $2 for children (6-12 years old). 5 years and younger are free of charge.
Hours: Monday – Saturday, 8 am – 5 pm.
Alofaaga Blowholes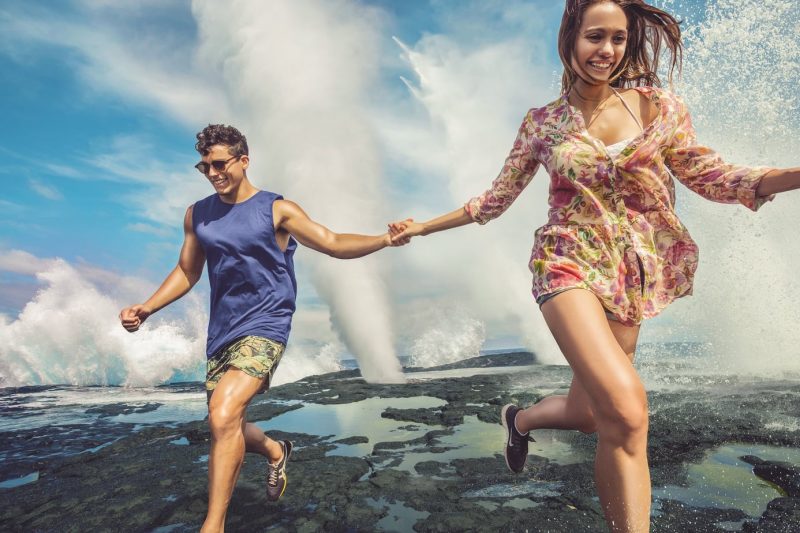 One of the most popular attractions on Savai'i, the Alofaaga Blowholes are as impressive as they are powerful. Located on the southern coast, they are an excellent example of volcanic activity on the shore font.
Best seen on or near high tide, locals can sometimes even be seen throwing coconuts into the blowholes. The height these coconuts (and water jets) reach is quite remarkable; they can go hundreds of feet into the air!
These blowholes provide a fantastic photo opportunity as a couple – simply find a spot together and set a tripod up or ask a passer-by to snap the memory.
Cost: WST $5 per person. Parking and fale use incur additional fees.
Hours: Monday – Saturday
Planning a Wedding in Samoa
Does tropical island destination wedding excite you – then a wedding in Samoa would be perfect for you!
Many hotels, resorts and tour operators offer wedding and honeymoon packages with in-house wedding coordinators to ensure smooth planning of the big day. They will also be able to assist with the application forms for a marriage license which must be filed fourteen days prior to the wedding with the Justice Department in Apia. Whether it is a traditional, formal service in a church or a more informal location by a cascading waterfall, Samoa's breath-taking scenery will provide a picture-perfect backdrop for one of the most memorable days in your life.
Sustainable Tourism in Samoa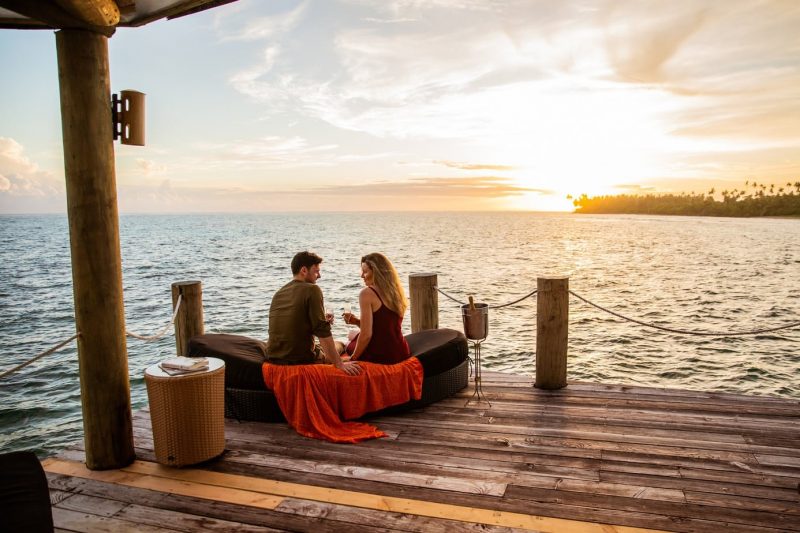 Samoa is a beautiful country that is not only rich in culture but is also mindful of its sustainable future.
By visiting Samoa and enjoying the aforementioned natural sights and cultural experiences, visitors can do their part to ensure this is the case.
When visitors act in a socially responsible manner, tourists are able to enjoy the best of Samoa whilst putting money back into the local economy.
That gorgeous couples massage and freshly caught dinner? Every cent spent in Samoa helps the community.
Tourist spending assists in conservation efforts and local community development, ensuring this incredible country is protected for years to come.
Unsurprisingly, authentic cultural practises are also important in the islands. When these traditional practises and values are combined with a modern understanding of sustainable environmental practices (in hotels and restaurants, for example), the result is beneficial for everyone involved.
Couples can explore this amazing country, safe in the knowledge that their vacation is not only enjoyable (and romantic!), but that it is also making a difference to the community.
It just doesn't get better!