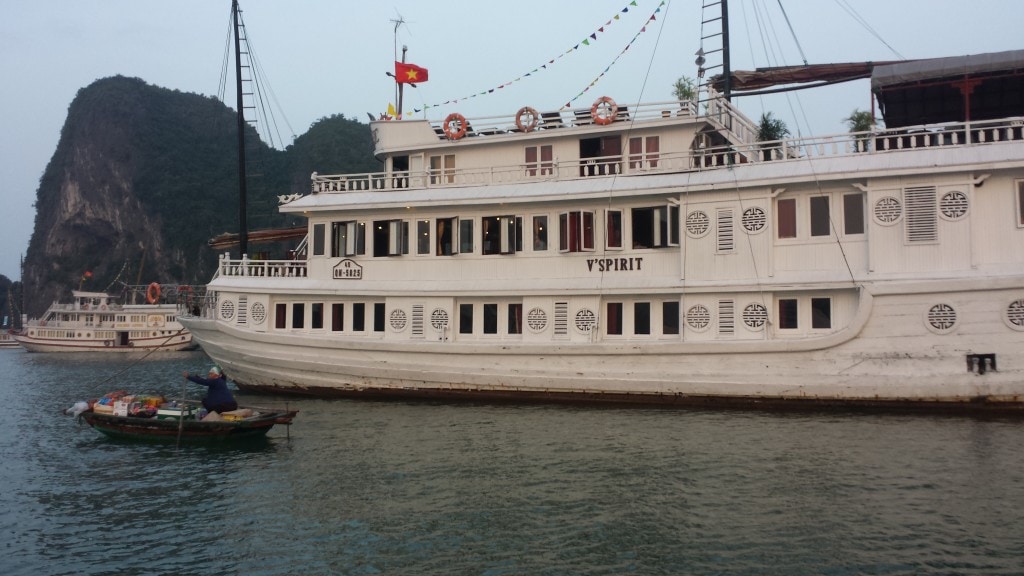 Perhaps the most iconic site in Vietnam, Halong Bay is a hugely popular attraction, and deservedly so. Stunning limestone islands towering above a gorgeously calm, greenish sea, dotted with looming caves and fascinating rock formations, this is the perfect destination for a cruise. Boat is the best way to see Halong Bay, and there is no better option than a short stay on a cruise ship – which is exactly what Sam and I did last week. We took to the seas with the excellent V'Spirit Classic Overnight Cruise, and between the incredible food, luxurious touches, and the gorgeous scenery, we had a pretty wonderful time.
Right from the start, our cruise staff were all fantastic, especially Tuna, the main guide who led us in all our excursions and activities. He was absolutely lovely and so friendly and helpful, making sure that we all had a fabulous trip! The V'Spirit bus collected us at our hotel in Hanoi and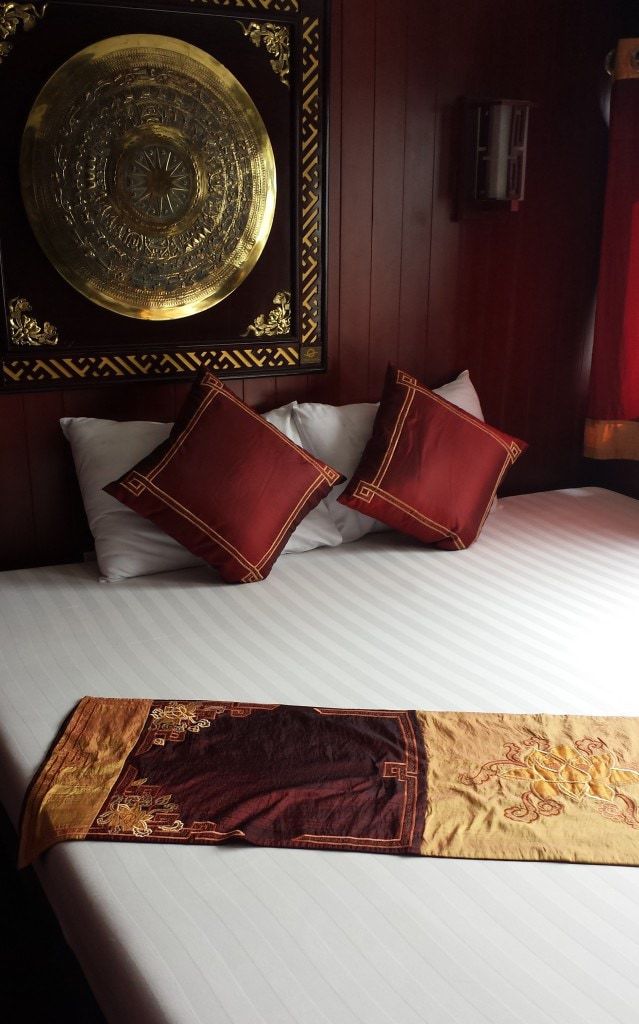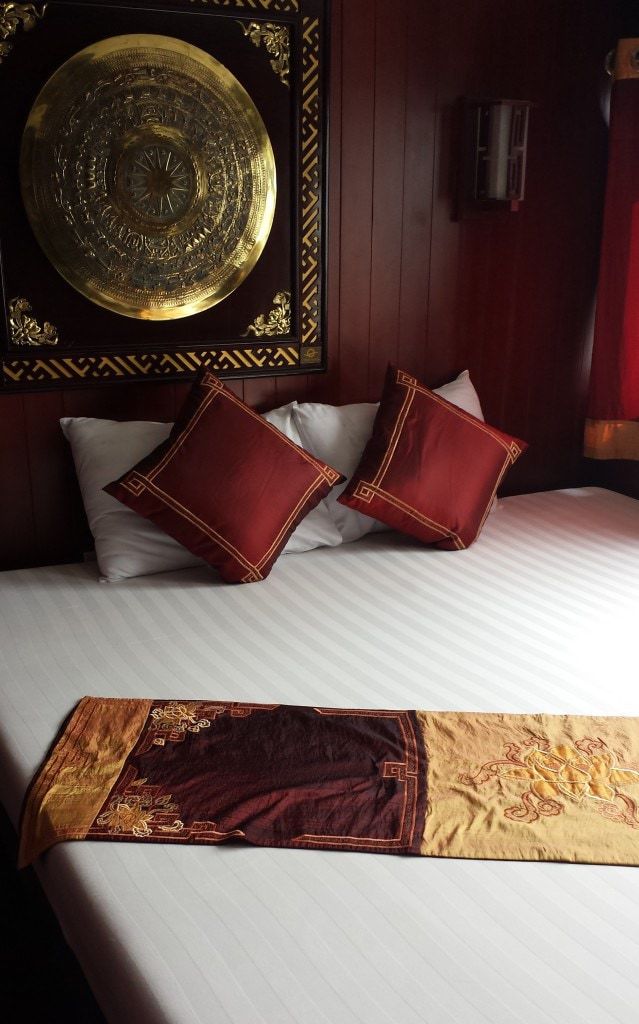 drove us to the Tuan Chau marina in Halong, where we connected with the V'Spirit Classic boat out in the bay. It was beautiful; a white wooden ship designed in the style of a traditional Vietnamese junk, and decked out inside with rich, dark wood furnishings and a real air of romance. Our cabin, a deluxe double, was fairly small, as might be expected, but in no way cramped and it was really very comfortable. A large double bed with smart red and gold trim, wood panelled walls, and large windows looking out onto the scenic bay. Upstairs, I loved the sundeck which provided even better views and where were able to relax on sun loungers surrounded by the jaw-dropping limestone mountains.
Halong Bay itself was absolutely wonderful. The bay is dotted with picturesque rocky islands smothered in tangled green foliage, which are reflected perfectly in the turquoise waters of the bay. I could have spent the entire two days of the cruise gazing out at the views from a seat on the sundeck – but V'Spirit had plenty more planned for us than that!
The real highlight of this cruise, besides the stunning scenery sailing past the windows, was the food. In just under 24 hours, V'Spirit managed to ply us with so much food that I still feel full days later! It started with lunch, which was served not long after we started sailing. Course after delicious course appeared on our table, with each dish overlapping, so that I soon lost count. Each time it seemed I couldn't possibly eat another bite, a new plate appeared loaded with delectable treats. The emphasis, of course, was on seafood, with everything from battered fish to prawns to perfectly soft calamari, and all of it was amazingly fresh and perfectly cooked. Alongside seafood, we had beef salad, chicken curry, sautéed vegetables, and the standard mound of steamed rice, all served up as we floated past the serenely beautiful limestone mountains.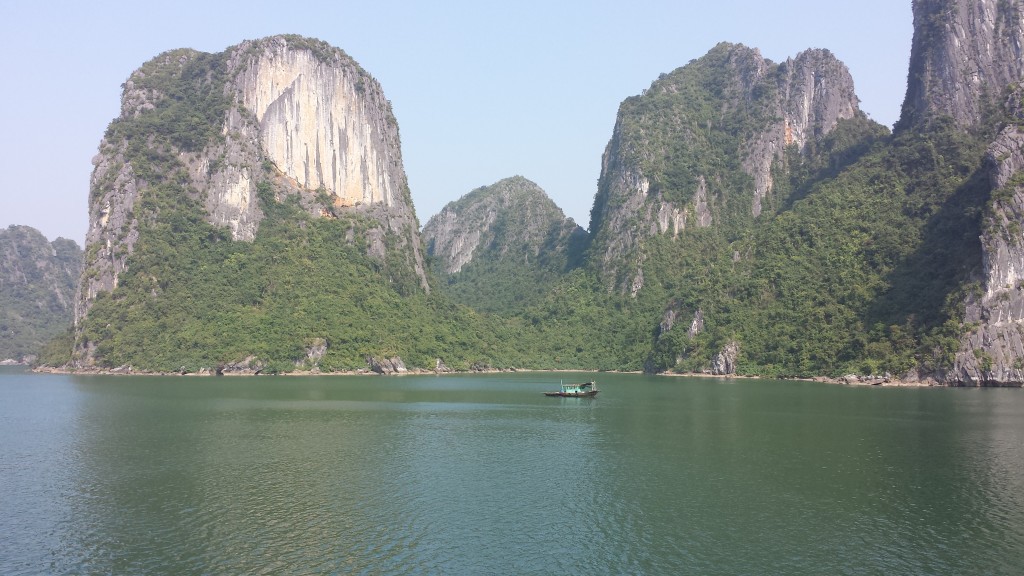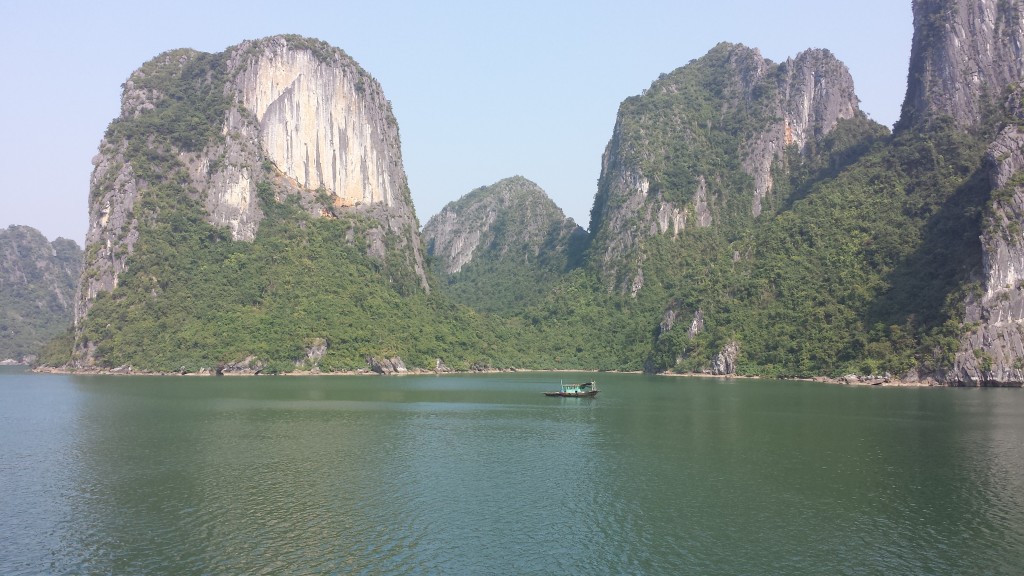 If possible, things got even better with dinner, which worked in a few western dishes like homemade chips along with the traditional Vietnamese treats like beef noodles, plus mountains of seafood including prawns, oysters, and delicious crab cakes. For Sam, who is unfortunately allergic to shellfish, the kitchen staff managed to prepare tons of tasty alternatives so that he didn't miss out, and made sure to point out exactly which dishes contained hidden shellfish.
Breakfast the following day was served bright and early before the first excursion, but there was still plenty of it, with bacon and fried eggs as well as stacks of toast and cakes. Then, just a couple of hours later it was time for the final meal of the trip, an enormous brunch with huge helpings of yummy Vietnamese treats and still more seafood. It might sound like V'Spirit were choosing quantity over quality, but that really wasn't the case; everything was delicious and cooked to perfection.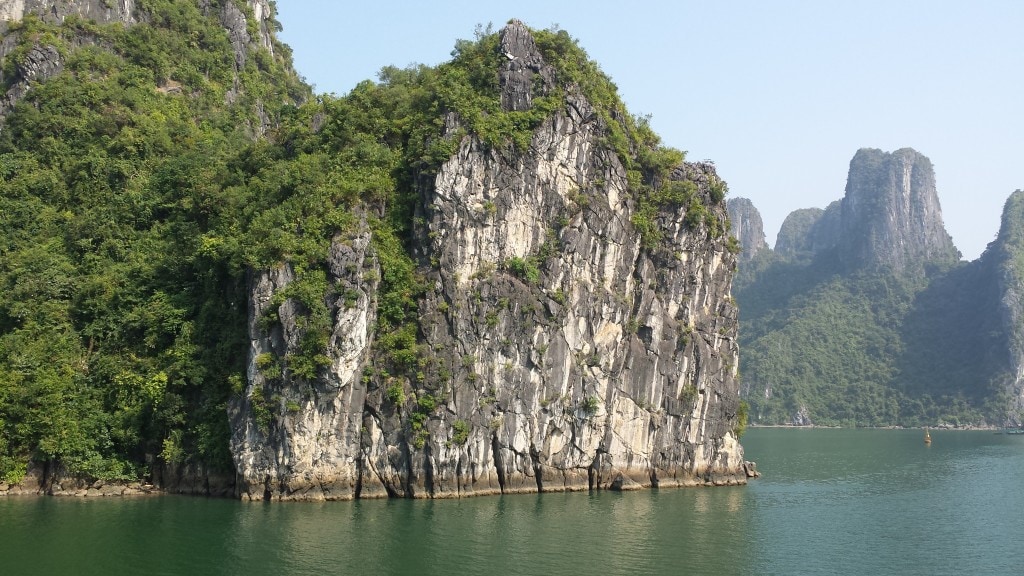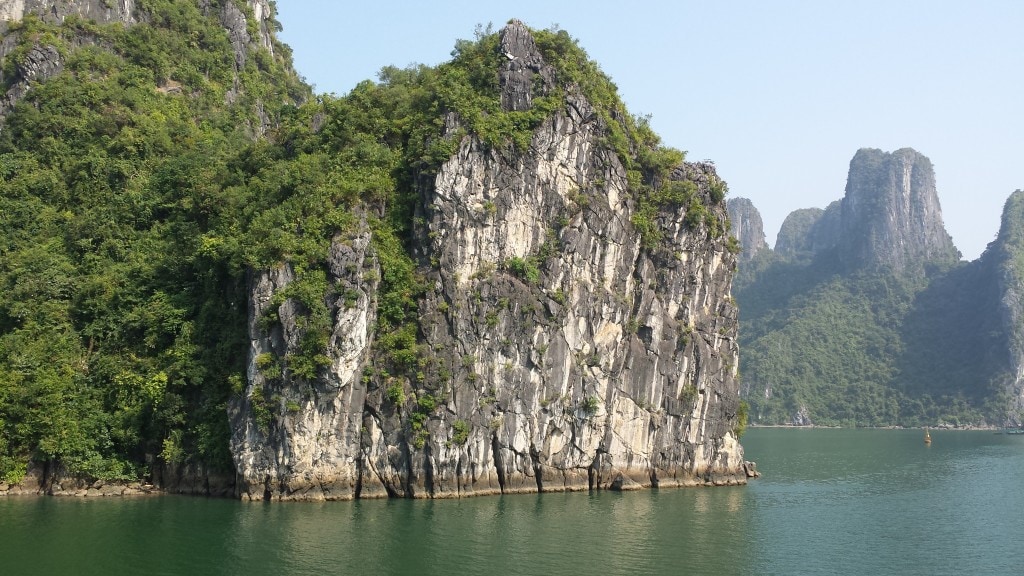 In between all those amazing meals, V'Spirit found just enough time to show us a little of Halong Bay, too! We began with an excursion to the Sung Sot Cave, aka "Surprising Cave", which is the largest and most popular cave in Halong. As such, we found ourselves there at the same time as a lot of other people, but Tuna held us back for a few minutes, passing the time with some interesting information about Sung Sot, to wait for a lull in the crowds so that we'd have a little more space to walk.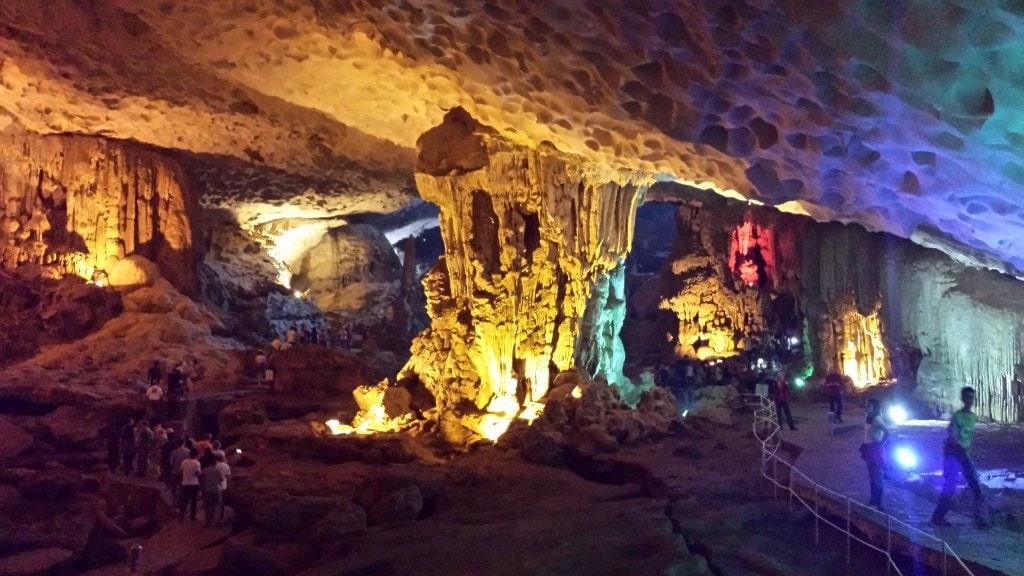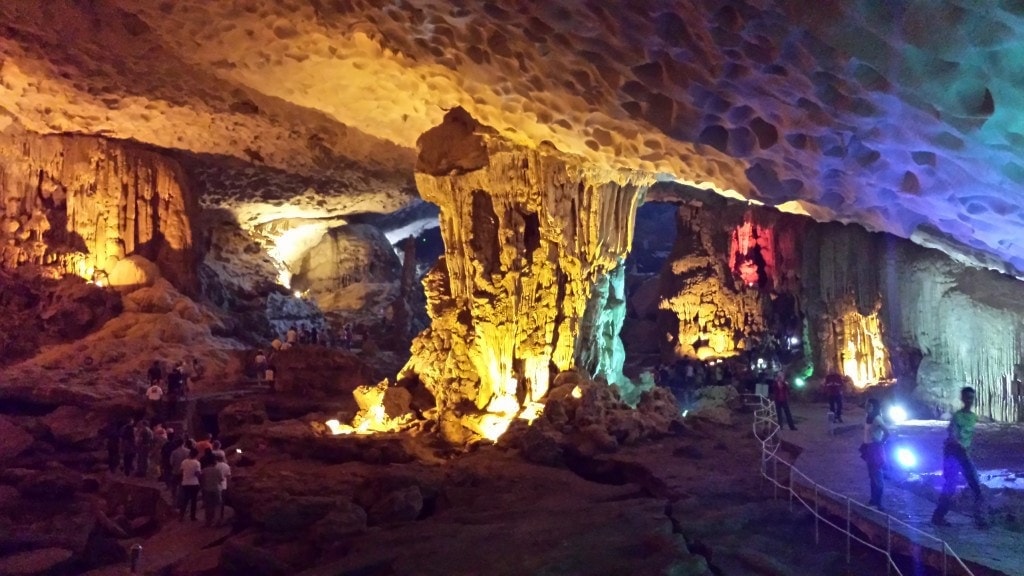 The cave really is as surprising as the name suggests, in fact according to the locals the awe-struck reaction of the first visitors to Sung Sot is what inspired the name in the first place. After a short climb up the stone staircase, we descended into the first of the two chambers, which was much bigger than the glimpse from down in the bay had led us to believe. The smooth walls and strangely shaped ceiling, all dotted with spiny stalactites, were lit with coloured spotlights which created a very beautiful ambience inside the cave. All over Sung Sot are fascinating rock formations, most notably the 'finger' in the second chamber, which is highlighted by a red light and which looks something like a pointed index finger sticking out of a sheer rock face.
After Sung Sot, we visited the lagoon at Luon Cave for some kayaking. Sam and I shared a kayak, with him doing most of the work while I took on the all-important role of photographer. The entrance to the lagoon is through a low, dark cave gaping from the face of one of the islands. As we passed through the cave, ducking to avoid the stalactites looming above the water, we emerged into a huge, tranquil lake completely enclosed by limestone rock except for that one small opening.
The water was the gorgeously blue-green colour of the rest of Halong Bay, looking particularly striking against the grey of the rock walls surrounding them. It was such a peaceful, beautiful area, cut off from the rest of the world, and a joy to kayak around. But the real highlight was the wildlife; the lagoon is particularly famous as being home to a small colony of monkeys which were darting around the trees at the edge of the lake. We managed to get close enough on our quiet kayaks to get a really good view of these beautiful creatures, which was a fantastic experience.
After dinner, we were free to enjoy the boat as we pleased, so Sam and I decided to try our hands at squid fishing. V'Spirit provided us with fishing poles rigged up with special squid jigs, and we directed a spotlight at the water to try and lure some over. Although we didn't manage to catch anything, we did spot a lot of fish, including flying fish, and a even (we think) a few squids, which weren't quite interested enough in our lures to get themselves hooked. It was still really fun and a great way to spend the evening, on the quiet deck of a boat moored in Halong Bay, surrounded by the pretty lights of other cruise ships and the almost hidden forms of the shadowy limestone mountains.
On the second day of the cruise, I skipped the 6:30am Tai Chi demonstration on the sundeck and spent an extra half hour in bed before breakfast, although I regret that decision now and wish I'd made the most of everything the cruise had to offer. Our final excursion was to the picturesque island of Soi Sim where we climbed to the top of the hill for a gorgeous final view of Halong Bay, swam in the warm waters of the small beach, and spotted still more monkeys, wh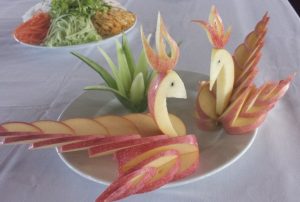 o were lounging in the early morning sunshine grooming one another. Back on the boat, Tuna held a cooking demonstration as we began the cruise back to the mainland, but not before V'Spirit's incredible chef turned two apples into beautiful sculptures of swans using just a small knife (and, I can only assume, magic). Tuna showed us how to make the fresh spring rolls (rather than the fried kind), which were easier than I'd expected once I'd got the knack of rolling them up, and – more importantly – absolutely delicious, crammed full with egg, carrot, pork, cucumber and rice noodles.
Then, after brunch and having eaten so much I could barely walk, we transferred back to the mainland and said goodbye both to the ship and the lovely V'Spirit staff.
My one complaint? At two days one night, the tour simply wasn't long enough. If you visit Halong Bay and want to do a cruise, I strongly recommend that you opt for a two night package, as you'll see so much more of the area and have a more relaxed time. Thankfully, V'Spirit's fantastic itinerary managed to pack such a lot into our short trip that I don't have too many regrets, but if I ever revisit I will definitely take a two night cruise and see even more of the bay. Other than that, we had a truly fantastic time with V'Spirit and I enjoyed every second of our time on board. It was comfortable and very welcoming, with lovely staff, amazing food and a really nice, calming, quiet atmosphere – exactly the best way to experience Halong Bay.
Information
Prices start at $318 USD for a Deluxe Double cabin on board the 2D1N cruise, but contact V'Spirit before booking to see if there are any promotions running.
V'Spirit Cruises – sales@vspiritcruises.com – Tel: + 84 4 3247 4488
RELATED POST: Cruising the Mekong Delta