Halong Bay, one of the most iconic sights in Vietnam, is a sumptuously beautiful setting that seems synonymous with relaxation and luxury. A tranquil area of calm, green-blue waters dotted with limestone mountains, far from the noise and traffic of the mainland and miles from the stresses of ordinary life, this is the perfect place for a luxury cruise. And last week, Sam and I were lucky enough to experience the staggering beauty of the area with one of the best cruise companies in Halong Bay, the truly wonderful Paradise Luxury Cruises.
For once, this was a tour which lived up to it's name, and then some. From start to finish, every last detail of this cruise was gorgeously luxurious and sumptuously indulgent, from the ship itself, to the food, to the incredible staff.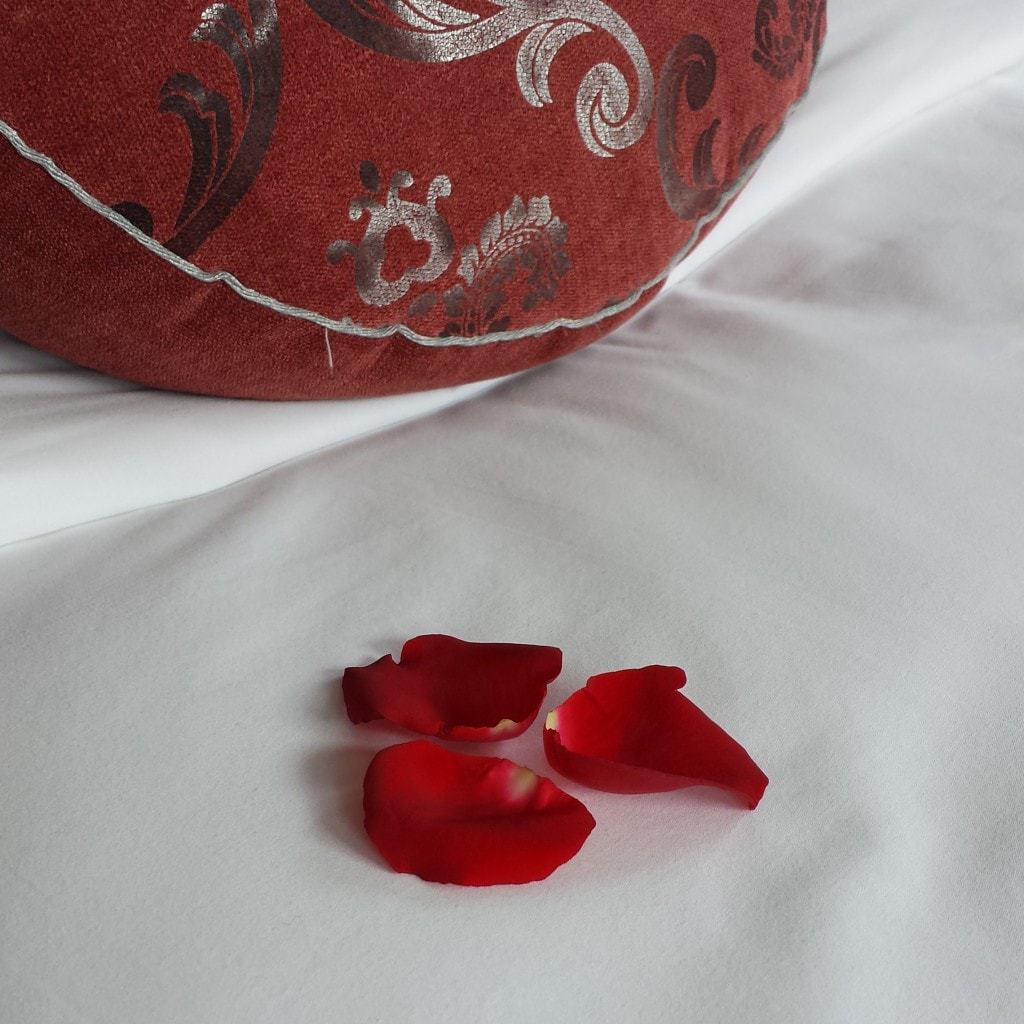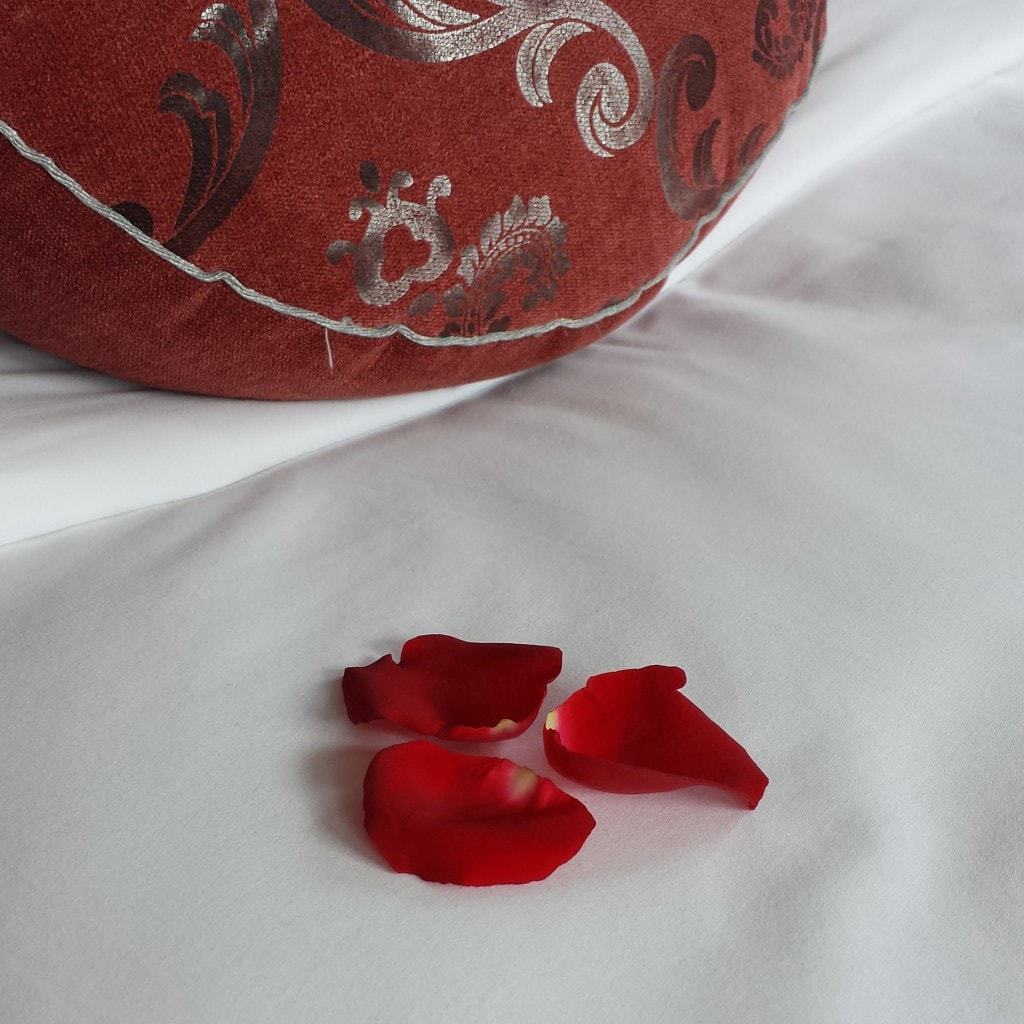 As we boarded the boat, a white wooden ship in the style of the traditional Vietnamese junk, we were greeted by a scattering of rose petals from above and introduced to the beaming, elegantly dressed staff. Inside, the décor was rich and grand, with dark wooden furnishings and beautifully elegant touches. In our cabin, one of the Paradise Suites, we found more rose petals scattered on the crisp white bed linen, wooden floors, and double sliding doors leading out onto the public terrace at the prow of the boat. Even the bathroom was indulgent almost to the point of going overboard, with marble tiles on the walls and – the piéce de resistance – a huge double jacuzzi in one corner. Everything really was a luxurious as possible.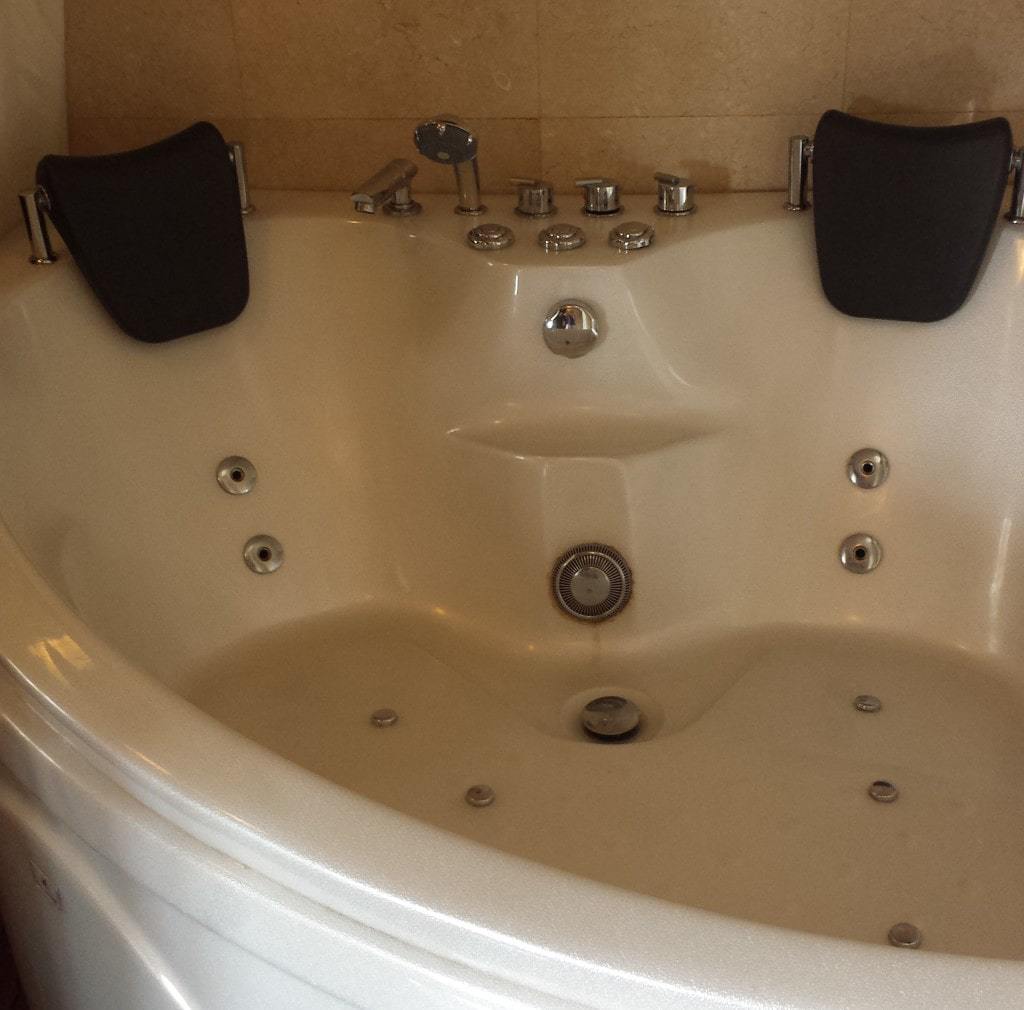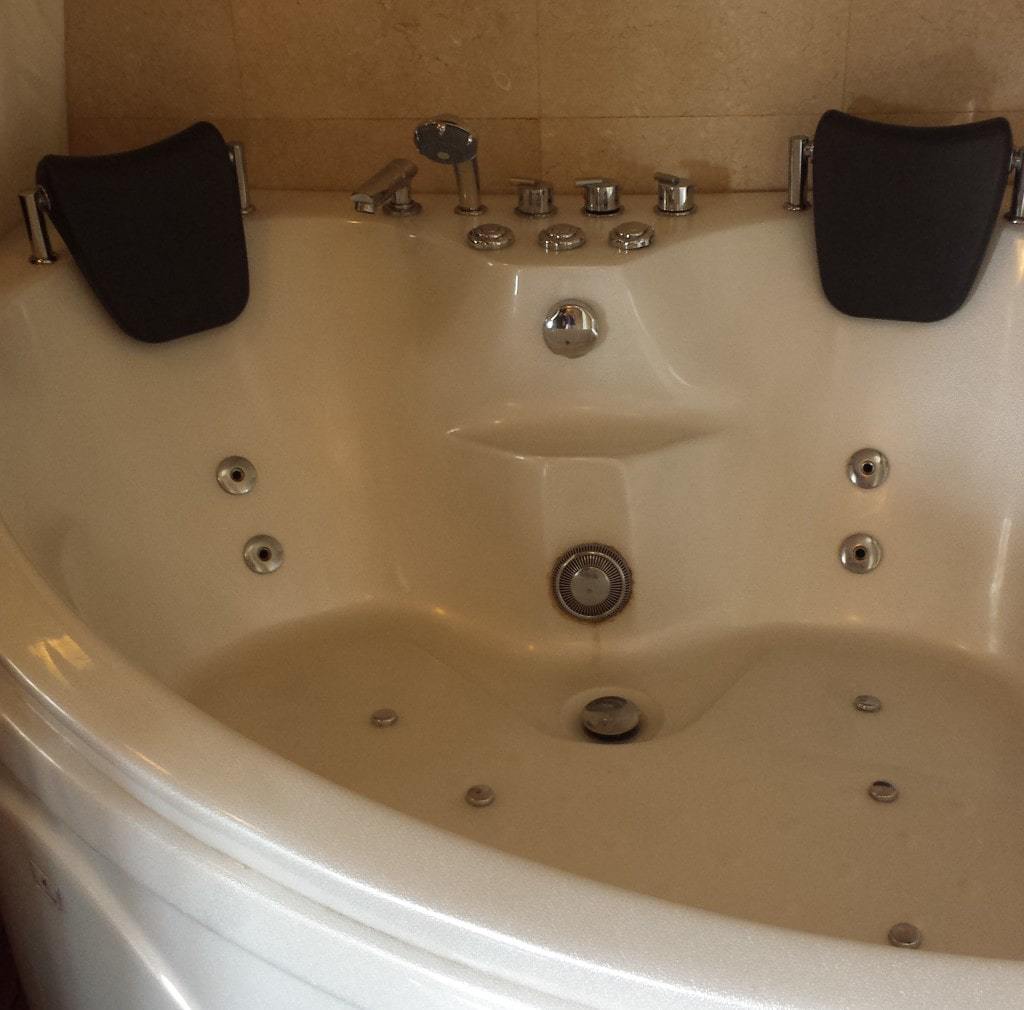 This theme continued throughout the ship, especially in the elegant dining room – all wooden floors and beautifully furnished tables – and on the sun deck. There was also a spa on board, with a very tempting menu of massages and facials, which sadly we simply didn't have time to use. Instead, we made the most of the sun deck as much as we could, lazing in the sun on loungers and marvelling at the dazzling 360 degree views of Halong Bay.
Starting at the Tuan Chau marina on the mainland, we set off into the bay and cruised past the serene limestone islands and one of Halong's colourful floating villages. As we cruised, lunch was served; a ten course feast of a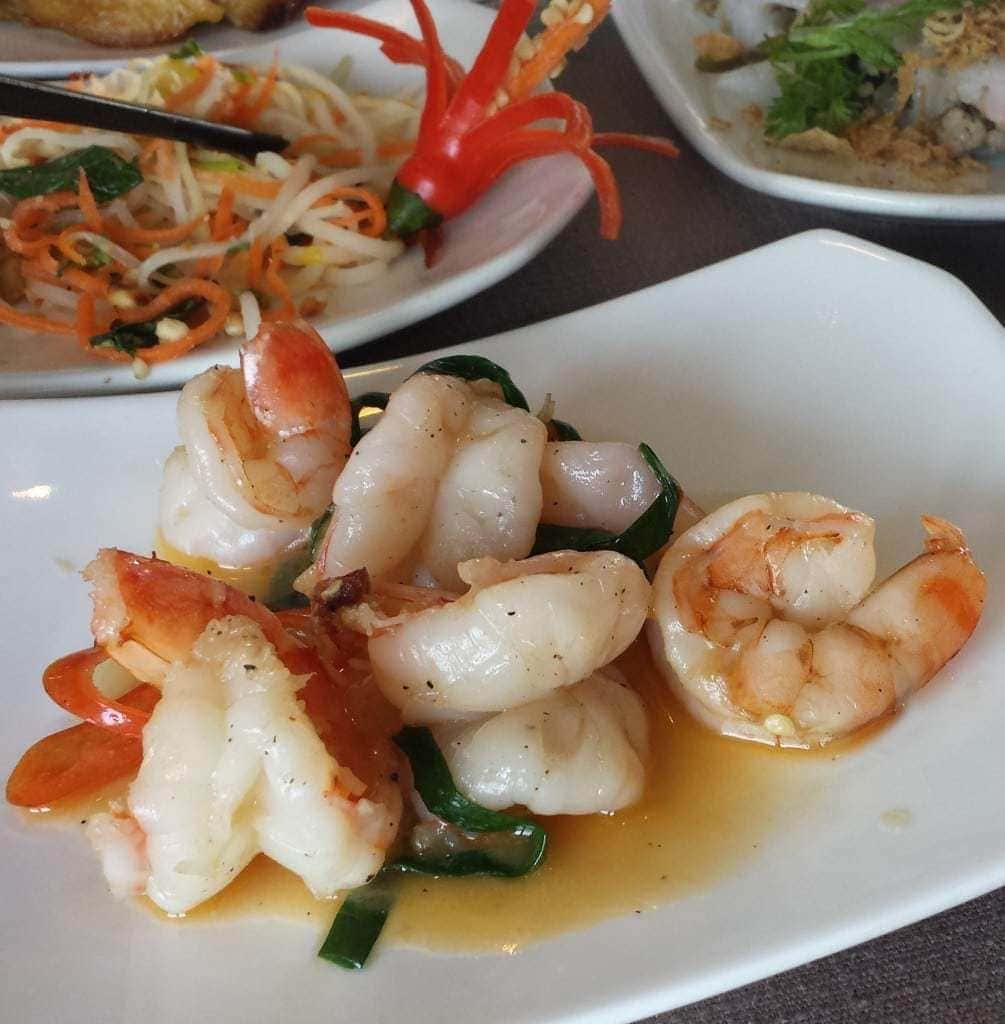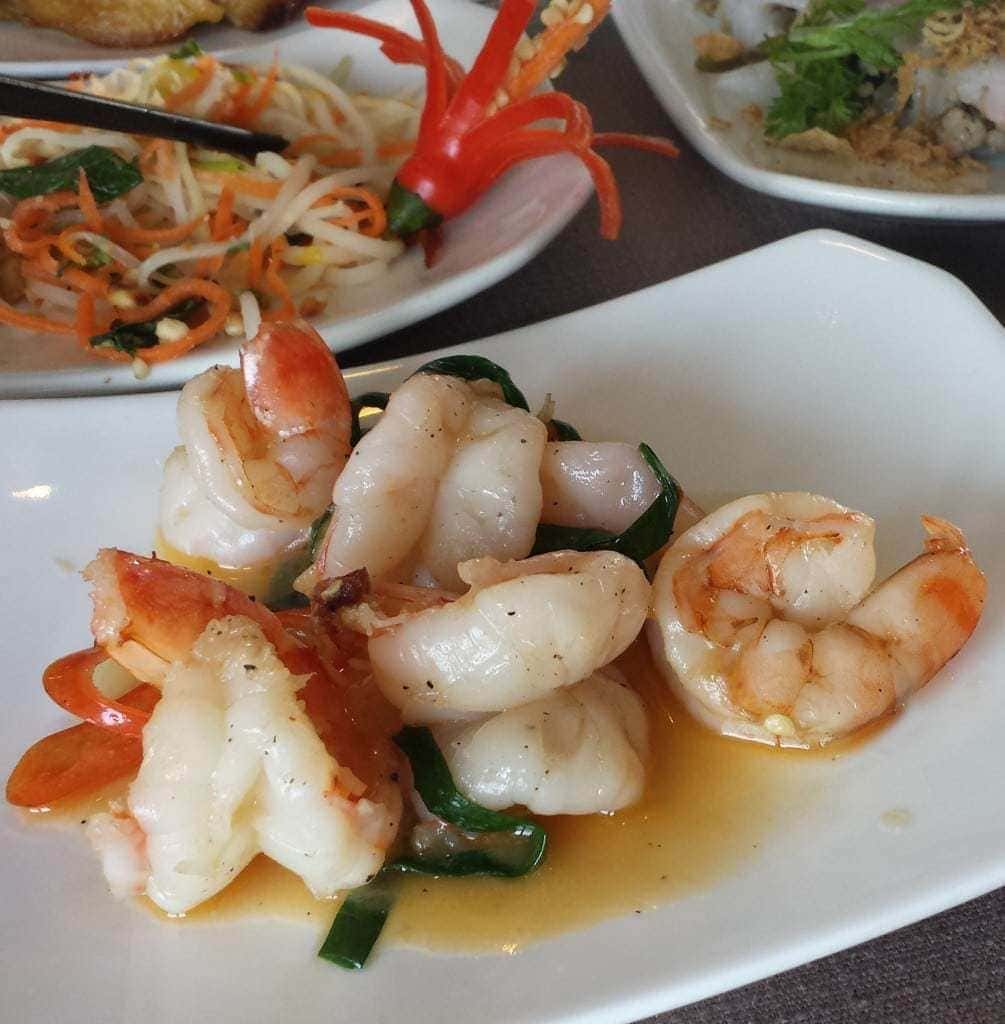 uthentic Vietnamese dishes which centred largely on delectable seafood. Highlights included tiger prawns in coconut milk with chilli and garlic, deep-fried soft shell crab with tamarind sauce, and sweet and sour papaya salad with spicy beef. For Sam, who can't eat shellfish, the chef was careful to provide extra of the other dishes, and swapped the clam broth for a vegetable soup. Service was absolutely fantastic, our waiter was so attentive and helpful, and made sure every detail of the meal was perfect.
After lunch, we visited Hang Sung Sot, aka Surprising Cave, one of the largest caves in the bay with two huge chambers full of fascinating rock formations, strikingly smooth walls and enormous stalactites. It was a fairly short walk around the cave, but worth the trip for the fantastic view of Halong Bay from the mouth of Sung Sot, from where we could glimpse the peaceful mountains and the greenish waters dotted with cruise ships.
Back on board, we headed up to the sun deck to enjoy the low afternoon sun. It might be winter here in Vietnam but the weather was perfect; clear skies, warm sun and a cool, steady breeze – ideal conditions for relaxing on the top deck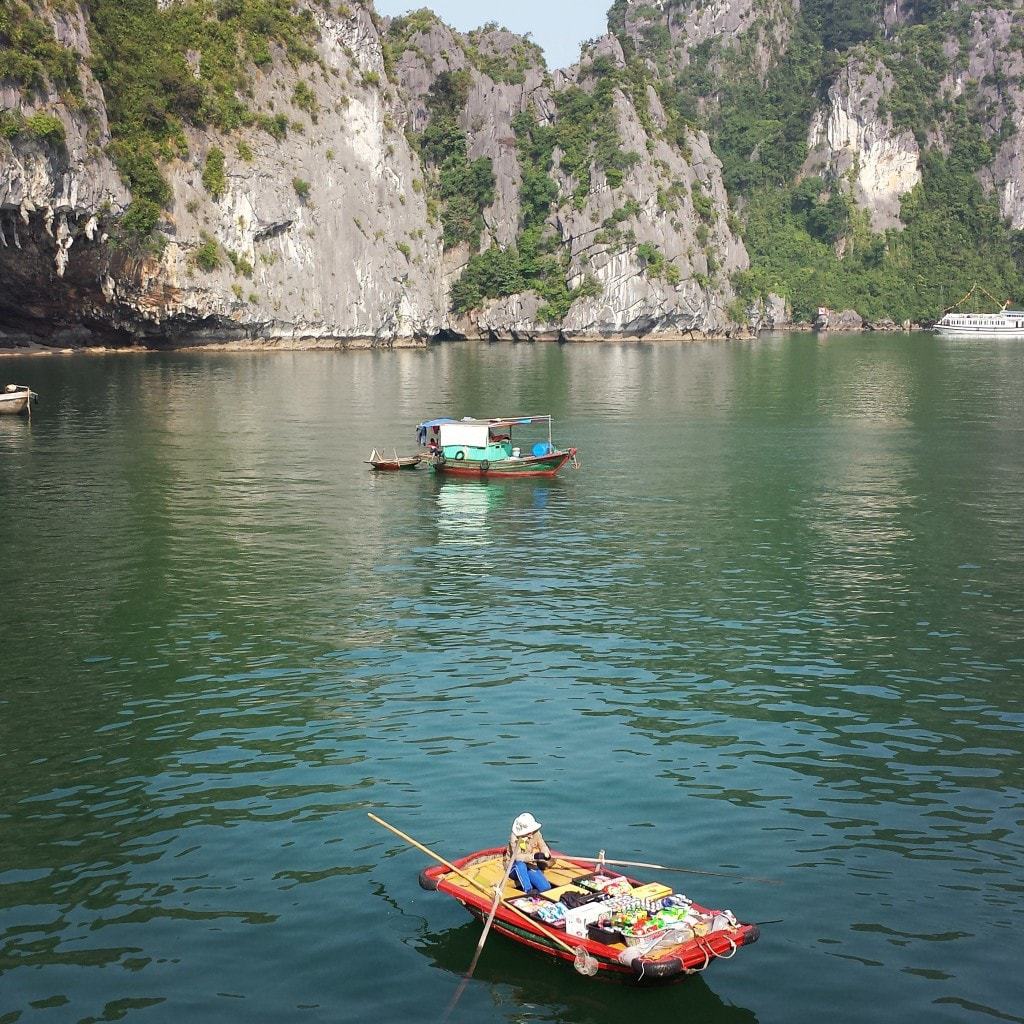 of a luxury cruise liner. As we cruised into the quieter areas of Halong, where few other ships visit, we passed another fishing village, the Me Cung cave and the Tung Sau area. A little later, we enjoyed a Vietnamese High Tea on deck with our lovely cruise manager, Lance, who showed us how to brew traditional Vietnamese coffee – which has a strong, robust flavour – by filtering it through a special cup known as a phin. The coffee is served hot or on ice, served with sweet condensed milk to counteract the bitterness of the coffee, creating a delicious toffee-like flavour. We also tried King Bo Dai Tea, but not before we'd smelled and tasted the dried tea leaves, which were surprisingly good! All this was served with still more food, as if lunch had left us with any room; small nutty biscuits and powdery white rice cakes.
We reached the Ho Dong Tien area, where we anchored for our overnight stay, just as the sun was vanishing behind the tranquil grey mountains. As evening fell, the bar staff opened a 'moonlight bar' on the sun deck so that we could keep enjoying the warm air at the same time as taking advantage of happy hour. An on deck cooking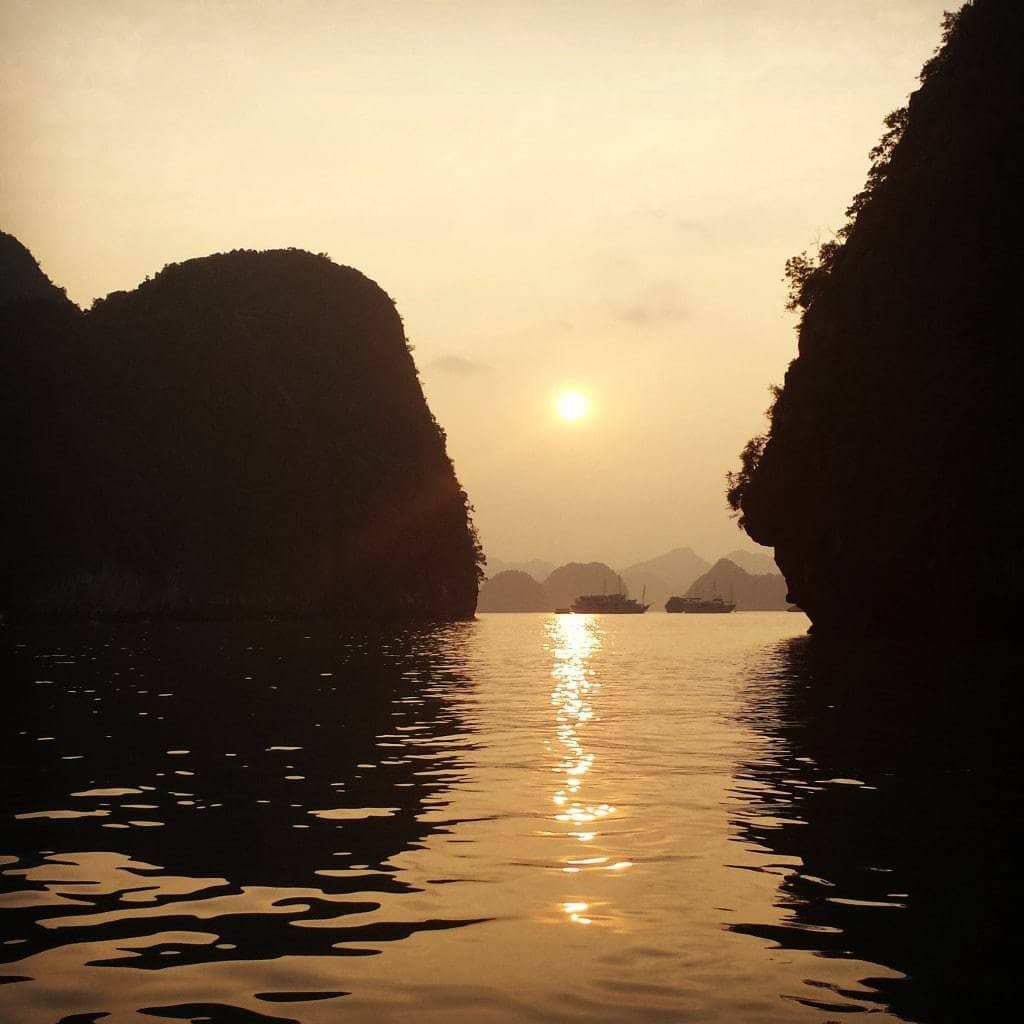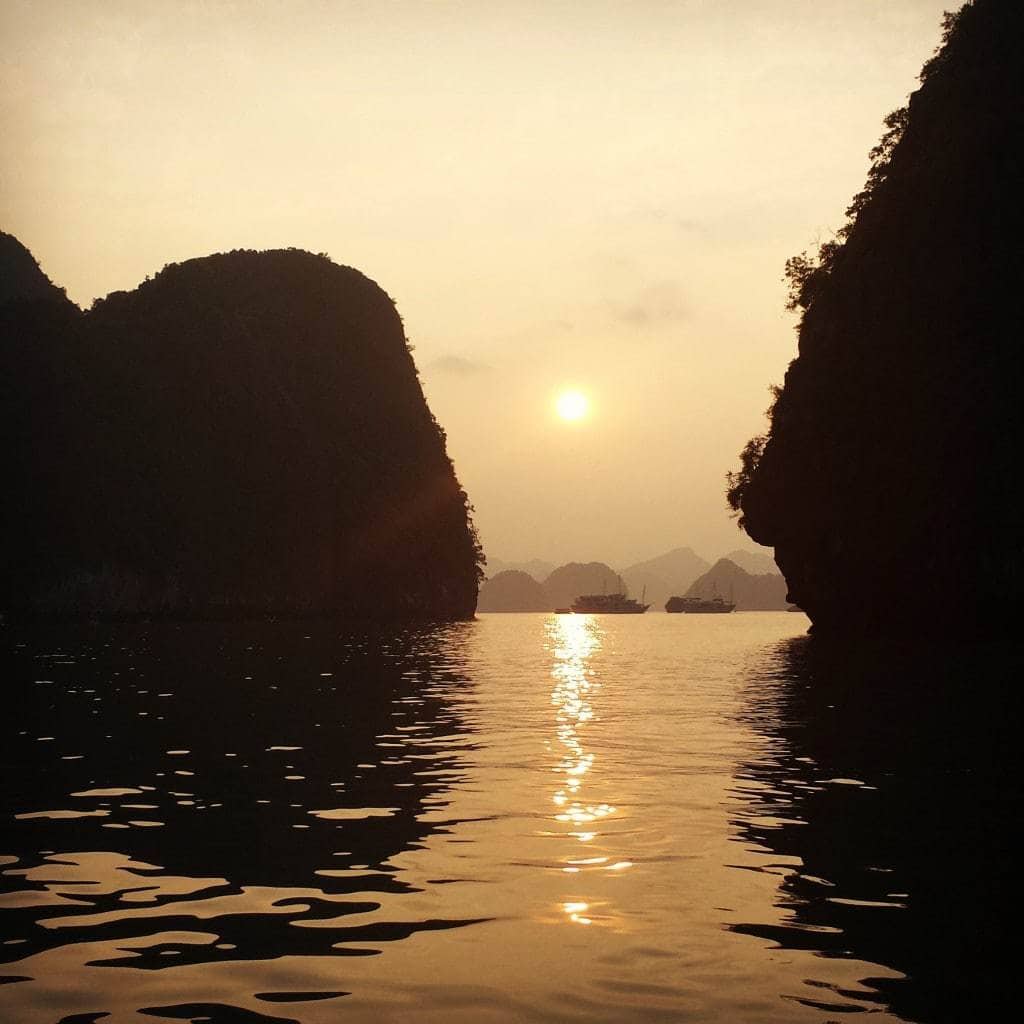 demonstration followed the coffee, with staff showing us how to wrap and fry a traditional Vietnamese spring roll, as well as a lesson in Vietnamese toasting using rice wine – Mot, Hai, Ba, Yo!
Having spent the entire afternoon indulging, the theme continued over dinner. Just six courses this time, but each was an absolute triumph; pan seared foi gras with a tangy raspberry coulis, a delicious lobster bisque with sour cream, perfectly cooked salmon fillet served on grilled asparagus, and – my favourite – a gorgeously soft beef tenderloin roasted with port jus and wild mushrooms, which was absolutely incredible. After a cheese selection came dessert, a light and creamy coffee cake with tropical fruit sauce. It was by far the best meal we've had in a very long time, and felt like the height of luxury – because it was!
Day two kicked off bright and early, so it was lucky that we'd been moored in such a peaceful spot that I'd had a fantastic night's sleep. First up was Tai Chi at 6:30am on the sun deck, where we followed our instructor in a series of rel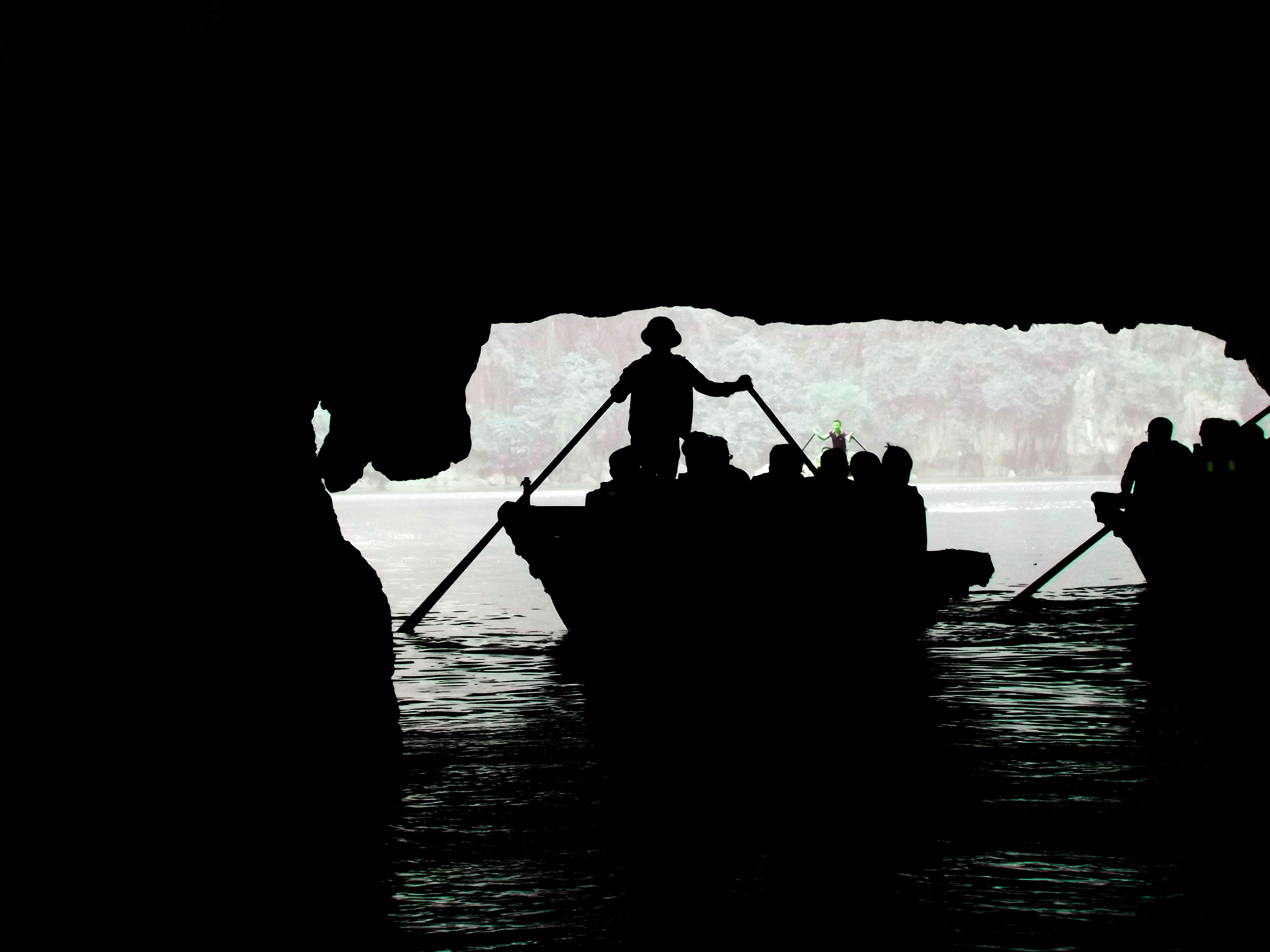 axing stretches as the pale pink sky grew brighter around us. Then, after a "pre-breakfast" of coffee and pastries to wake us all up, we headed for Luon Cave, where we explored the beautifully tranquil hidden lagoon on a traditional bamboo rowing boat. Up in the trees above the lagoon, which is completely cut off from the sea outside except for a small cave entrance on one side of the island, we spotted a big group of monkeys playing in the branches or sitting at the water's edge, which was a fantastic experience. I just wish we could have stayed longer.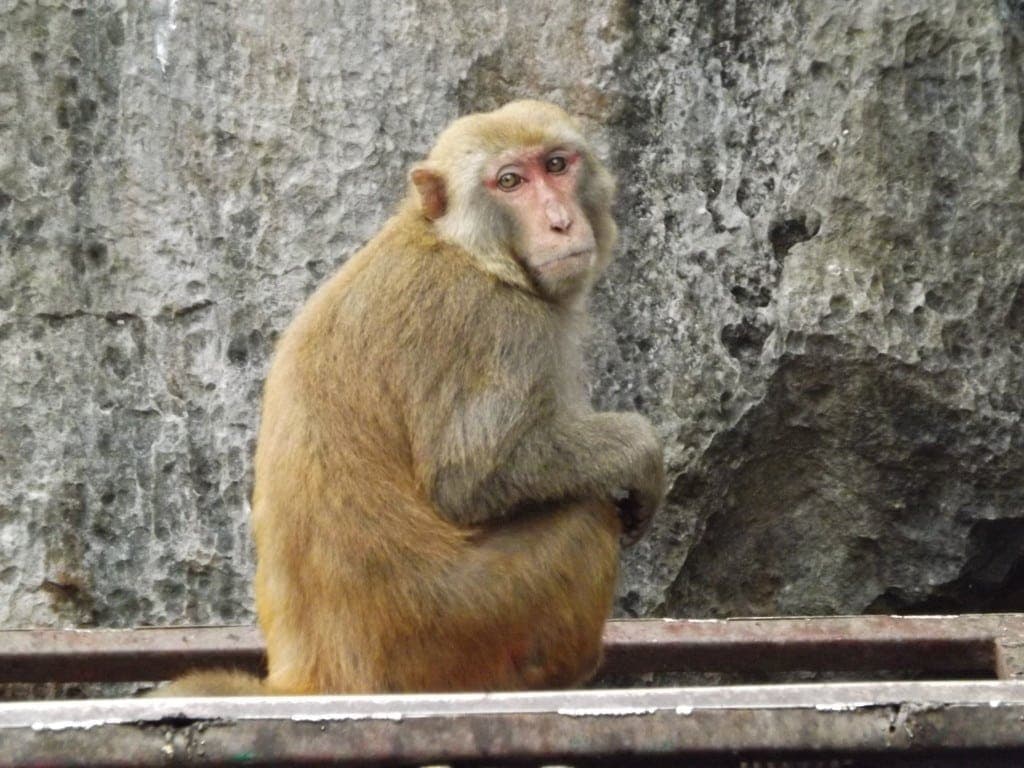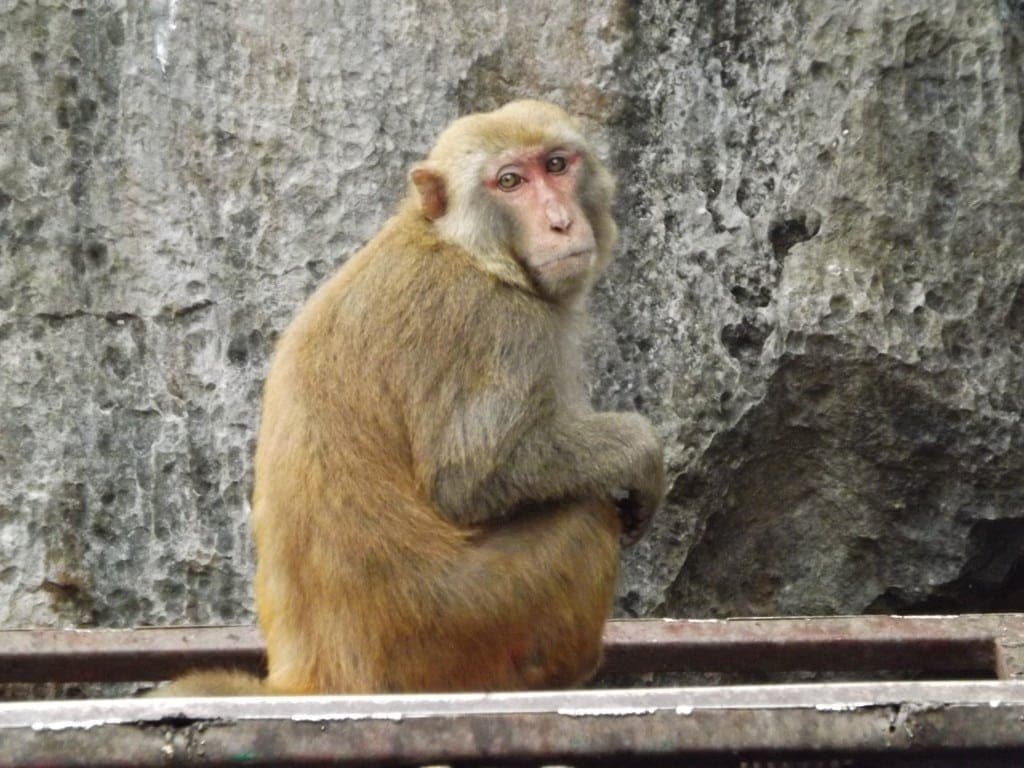 Instead, though, it was back to the boat for breakfast; another feast with a huge buffet selection combining Vietnamese dishes like Pho (noodle soup) with eggs made to order, bacon, toast, pancakes, fruit, cereal and still more pastries, not to mention more of that delicious coffee. Sadly, this was our last meal on board, and by about 10:30am we were back in Tuan Chau marina and heading for dry land with heavy hearts.
The Paradise Luxury Cruise was hard to say goodbye to, especially after so short a time. Every element of the cruise had been fantastic – sheer, unadulterated indulgence from start to finish – but what really made this a luxury cruise wa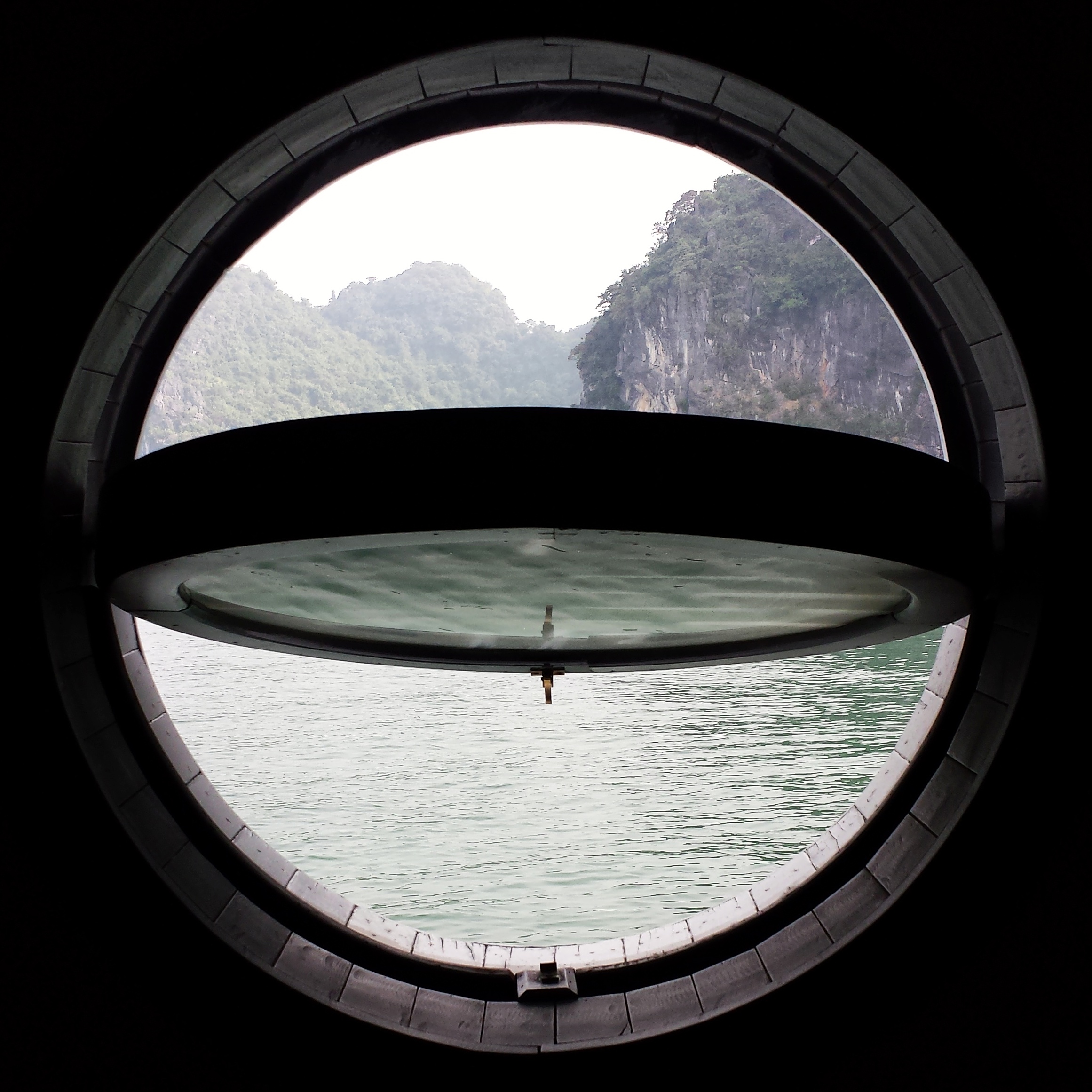 s the staff. In particular, the cruise manager, Lance, who worked tirelessly to ensure that the activities and excursions ran like clockwork and that we all had an amazing time on board, along with our waiter in the restaurant who was absolutely wonderful. As well as bucketloads of Vietnamese manners and charm, the staff were so friendly and welcoming, and we really did have a fantastic experience. Lance even went as far as to book a taxi to the bus station for Sam and I which was waiting as soon as we arrived in the marina, as we weren't continuing on to Hanoi with the rest of the group.
Those two days on board the Paradise Luxury Cruise were without a doubt the highlight of our Vietnam trip so far. Halong Bay is the ideal setting for some serious luxury and relaxation, and Paradise Cruises were the ideal company to make the most of that with. However, I would urge anyone booking to opt for the two night cruise, as you will see so much more of the bay and get to enjoy the experience even more than I did. Whatever you decide, though, you can't go wrong with a Paradise Luxury Cruise: as one of the leading cruise companies in Halong, with a large fleet of ships and a private marina on Tuan Chau – not to mention a certificate of excellence from TripAdvisor – Paradise really are one of the best choices, and I would whole-heartedly recommend them. We had an amazing couple of days indulging and spoiling ourselves in total luxury, and I loved every moment.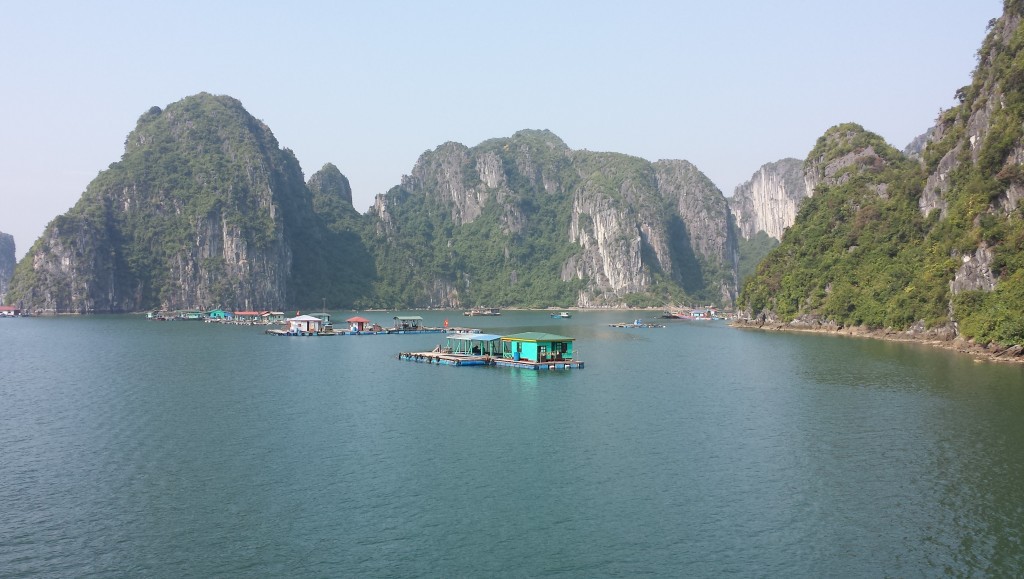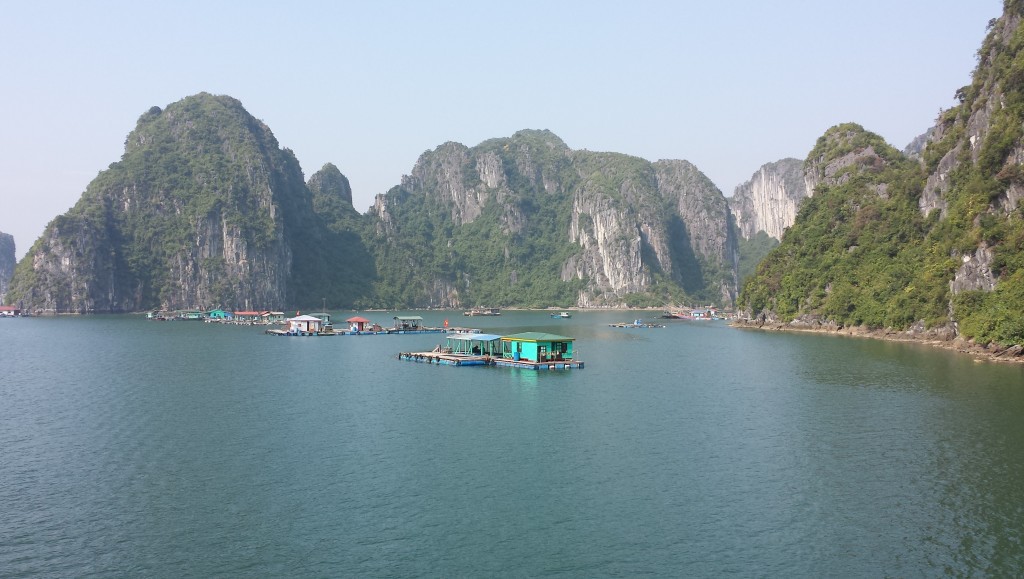 Information
Cabins start at around $466 for a Deluxe Double Cabin, but book now for October – December 2014 to receive 20% off, or take advantage of the 35% Early Bird discount when booking more than three months in advance.
Paradise Luxury Cruises – info@paradisecruises.vn – Tel: (+84) 43 941 6666 or 1800 6368 (Toll Free)
Read More
If you're looking for something a little different, consider a Bai Tu Long Bay cruise instead and get off the beaten track.
Fans of cruising might also enjoy a Mekong Delta cruise – I loved mine!