Some posts on this site contain affiliate links. If you book or buy something through these links, I earn a small commission (at no extra cost to you). Take a look at my privacy policy for more information.
"Keep Calm, and Eat Like a Local"
That's the slogan on the guide's t-shirts for the Hoi An Motorbike Food Tour, and it's a very apt one; especially in a tourist-packed city where every other restaurant seems to boast pizza or "homemake lasagna". Vietnam, especially this central part of Vietnam, has a wonderfully rich, varied cuisine packed full of flavour.
Whereas the northerners prefer to keep the purity of the food without over-flavouring, and southerners prefer things sweet, central Vietnamese food places the emphasis on spice and flavour, sitting right in the middle of the two extremes and getting it, in my opinion, just right. Hoi An has an amazing street food scene, and there's no better way to explore it than from the back of a moped with a local guide!
Hoi An Motorbike Street Food Tour
There are plenty of local delicacies to try, but it's always hard to know what everything is, or where the best places are to find everything. That's where the Hoi An Motorbike Street Food Tour comes in, for the perfect, local eating exp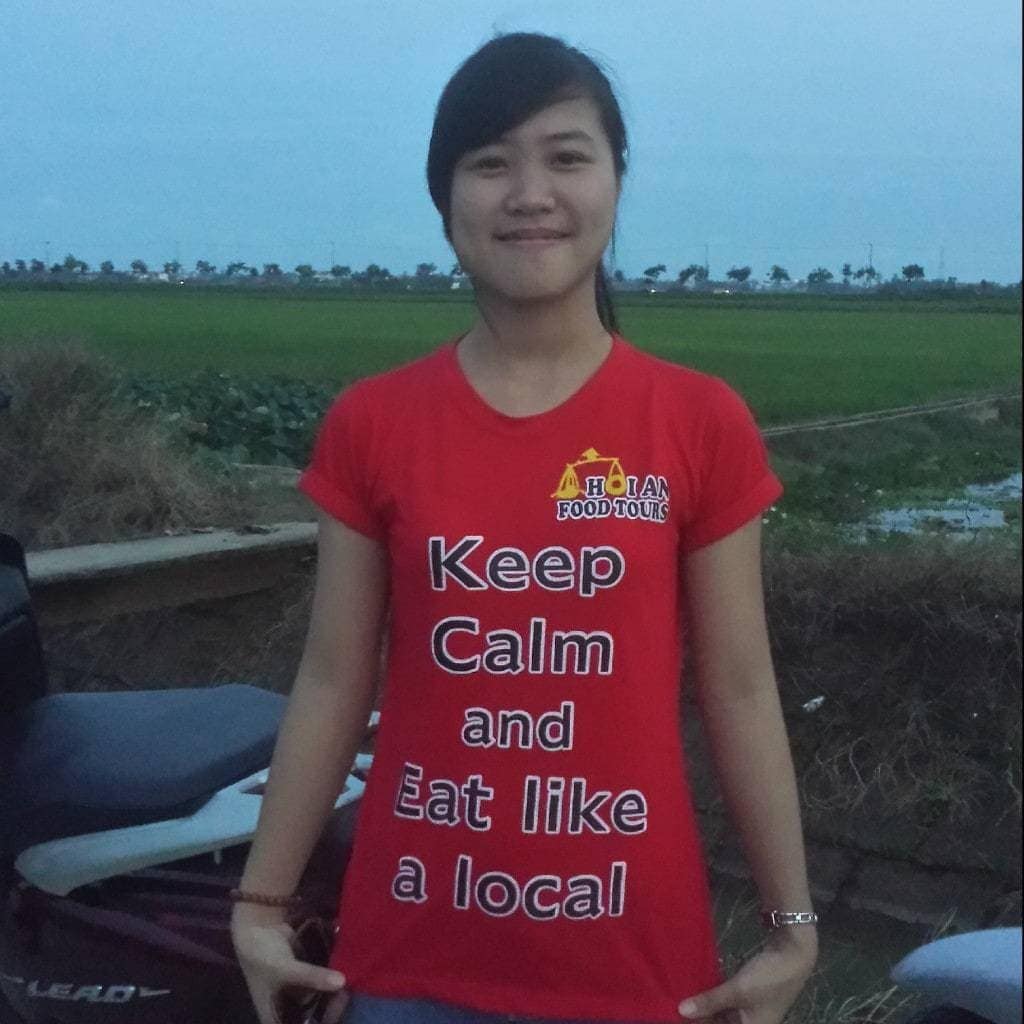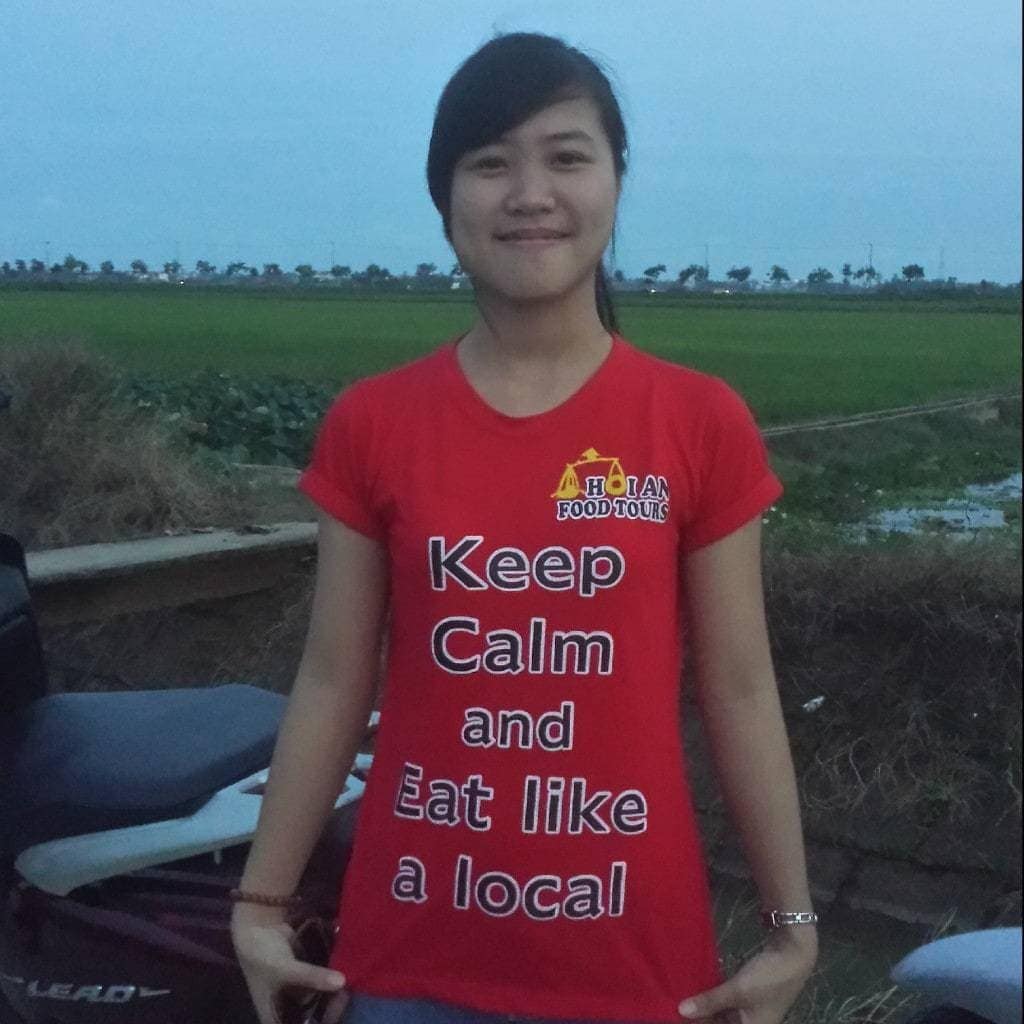 erience in the city. This is easily one of the best things to do in Hoi An. Our drivers collected us from our hotel and drove us to the tour office, where we met the other four tourists on the tour and their drivers, so that we were twelve in total.
My driver, Tum, was absolutely lovely, really chatty and very sweet. In fact, all the girls, mostly local university students or recent graduates, were so attentive and lovely that we felt really at ease straight away; if anyone was spotted not talking to anyone or looking awkward, one of the guides would strike up a conversation immediately – keeping conversations going and filling all awkward silences.
The lead guide, Hong, was also absolutely amazing and spent the day plying us with enough related information to make us veritable gourmands by the end of the day – as the tour promises, "you will become a Vietnam food expert in just four hours". The aim of the Hoi An Street Food tour is all about learning more about Vietnamese culture through its food, so the tour focuses on real local food, especially street food, with an itinerary packed full of dishes most people outside of Vietnam have never even heard of, let alone tried, and many of which can't be found in most Hoi An restaurants.
Banh Mi Phuong
We aim to show you how real Vietnamese people live, work and eat! Eat like a LOCAL!" Hoi An Food Tour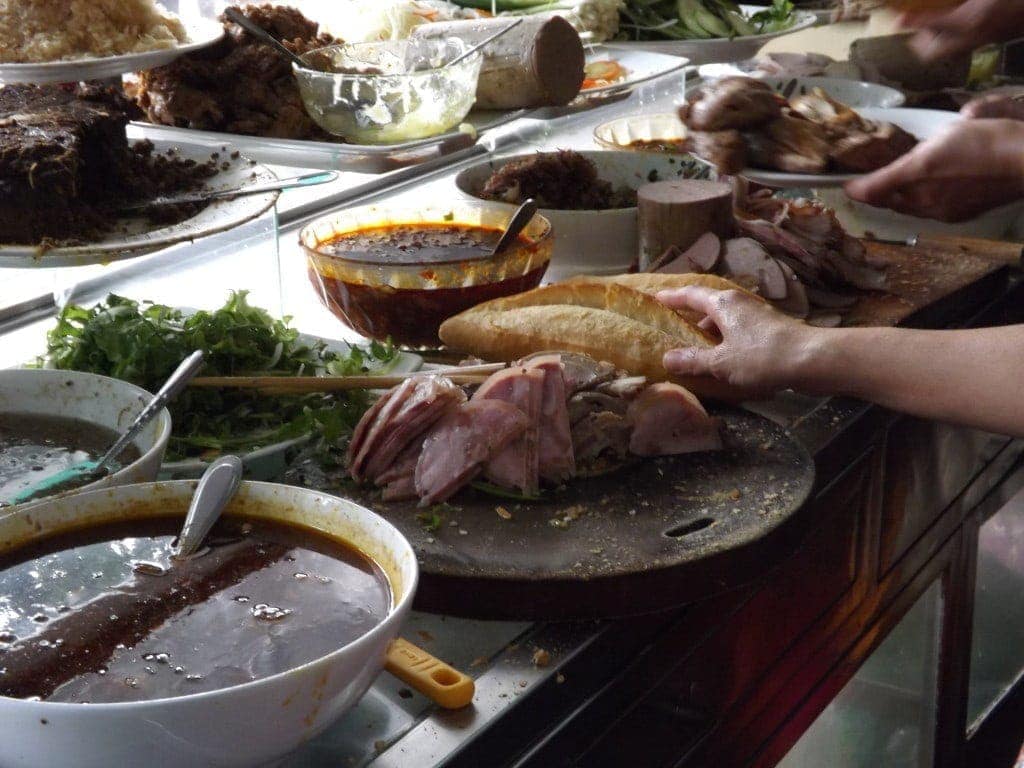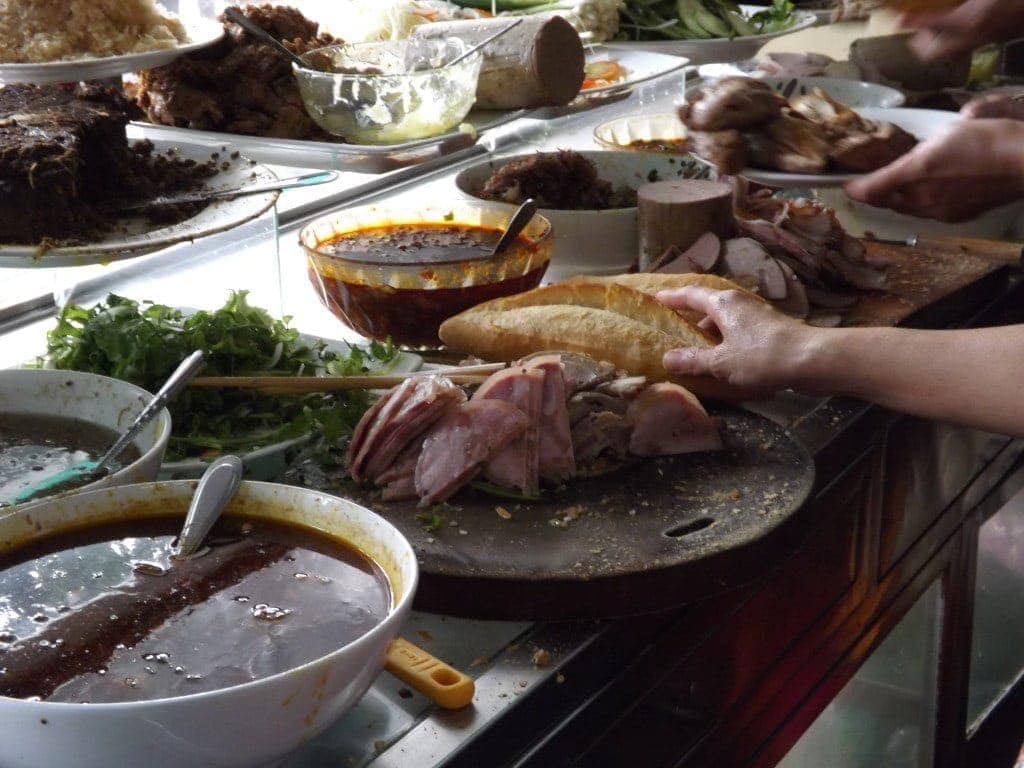 To start, though, we made a beeline for one of the more famous Hoi An establishments to try everyone's favourite Vietnamese dish, Banh Mi. Banh Mi means bread – specifically the Vietnamese version of a French baguette, which is deliciously crisp on the outside and super soft on the inside – but it also refers in general to any kind of sandwich, par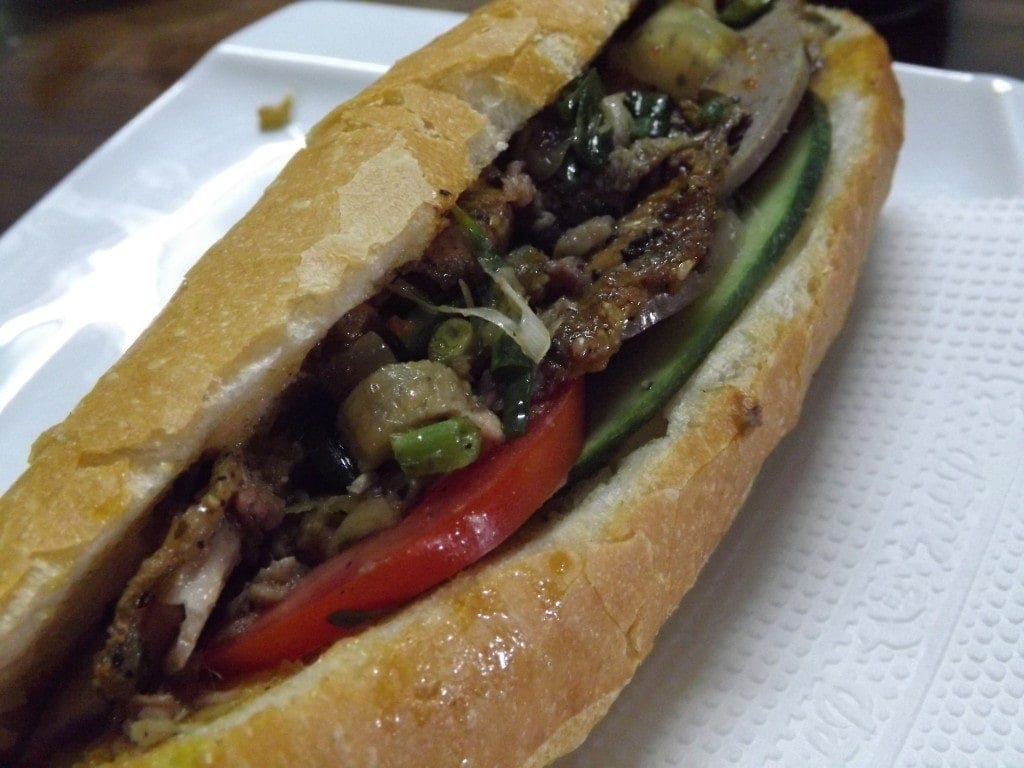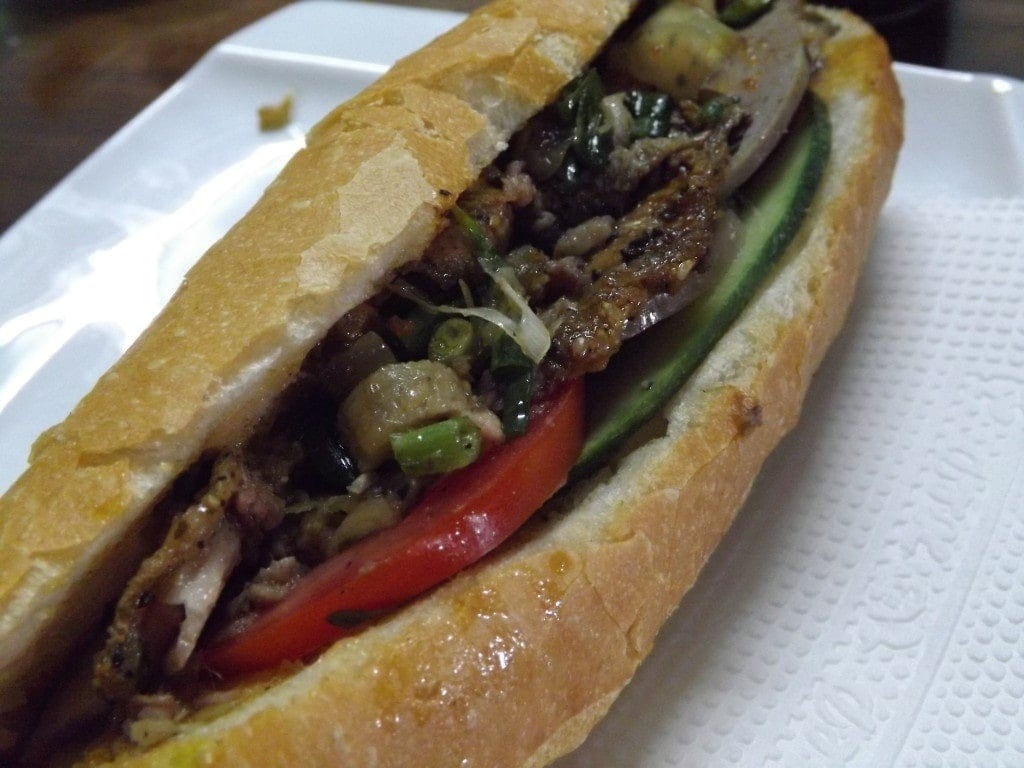 ticularly the classic version which is what we tried. Hong took us to Banh Mi Phuong, generally considered the best place in Hoi An to try banh mi, and possibly the best place in the whole of Vietnam.
Made particularly famous by Anthony Bourdain raving about her establishment on his show, Phuong of Banh Mi Phuong still runs her establishment – a tiny shop on Phan Chau Trinh – in exactly the same way as she has for years, getting up every morning to prepare her delicious BBQ pork and her secret recipe sauces. She's so popular that she now churns out between 2,500 and 3,000 sandwiches a day, with all the bread freshly baked at the bakery right next door. We tried the full works: baguettes stuffed so full of Vietnamese sausage, grilled pork, pork liver pate, grilled chicken, veg and I'm not even sure what else, that we could barely lift them – and they were incredible! Delicately spicy, richly flavoured, and just plain delicious. We're already planning to go back for lunch today!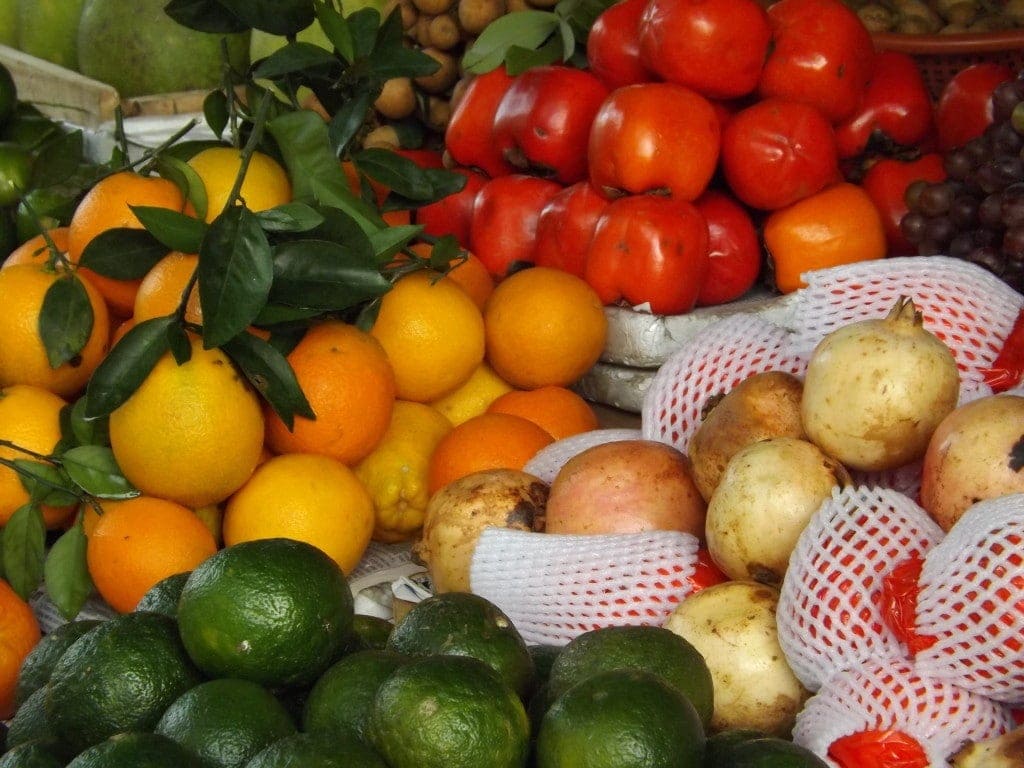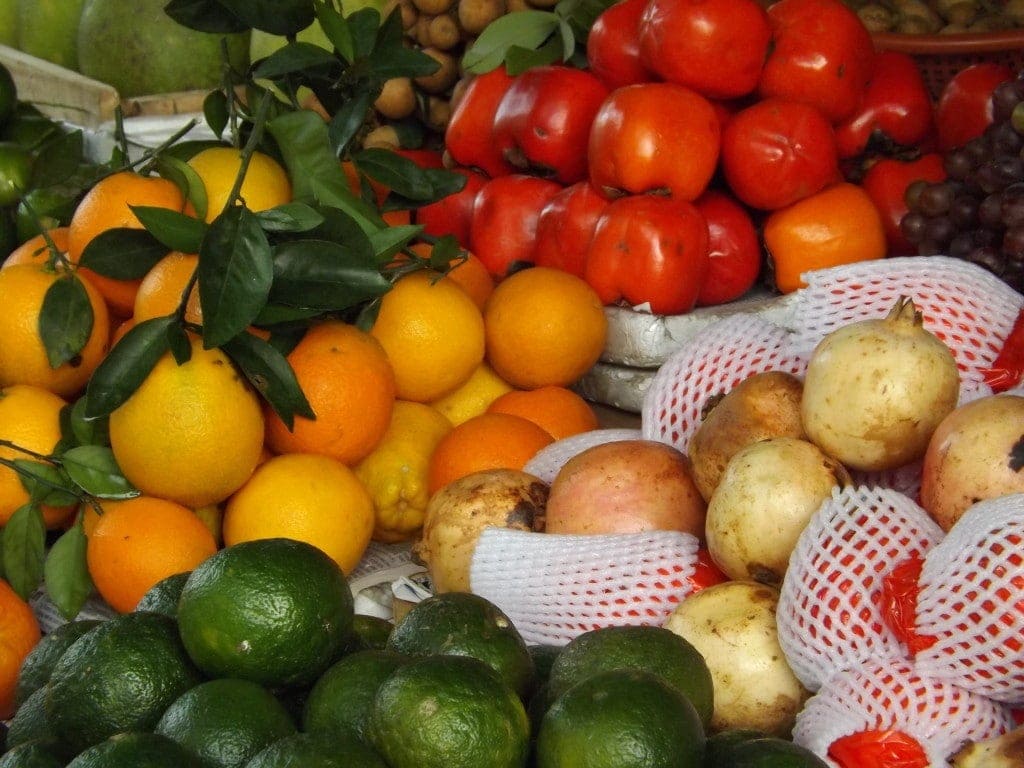 Central Market
Already feeling dangerously close to full – and we were only one stop in! – we headed to the bustling central market on the banks of the Thu Bon River, where the girls pointed out various fruits and vegetables, telling us stories and interesting facts behind certain foods. One of the weirdest looking things we spotted was a bitter melon, which looked like a cucumber covered in thick wrinkles, as well as the betel nuts which we saw some of the older women chewing on, dying their lips red. Tum told me that in Vietnam, it actually used to be desirable to have black teeth from chewing the nuts – although not so much any more.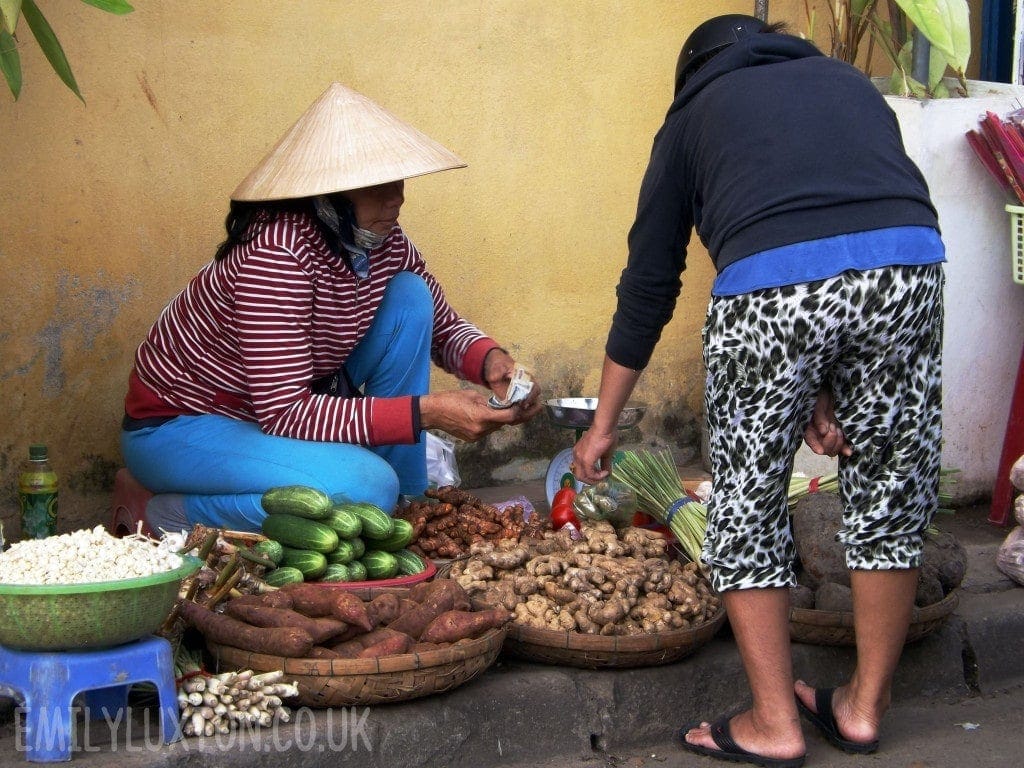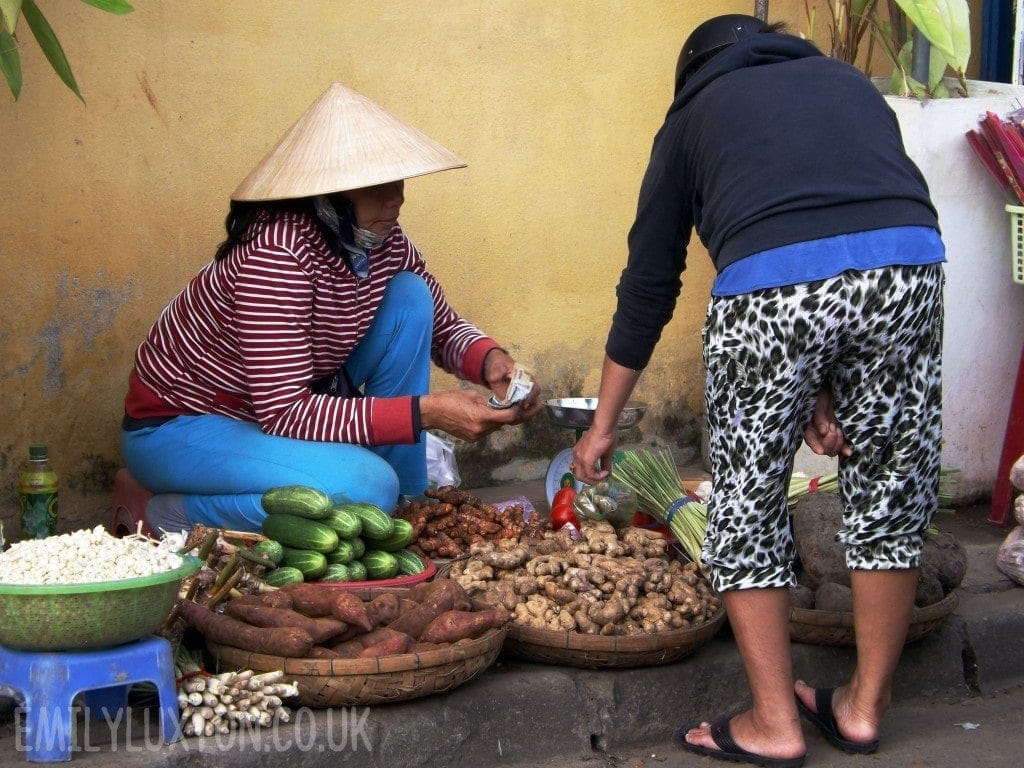 At the market, we crowded around a tiny stall to try a bowl of Hoi An's other famous dish, Cao Lau. This is a scrummy concoction of pork, greens, and "secret noodles" which were similar to Japanese Udon noodles and which are made, according to legend, using the water from an undisclosed ancient Cham well not far from town. The girls also ordered Sam and I a bowl of Mi Quang as we'd already tried Cao Lau, a broth made with rice noodles, pork, shrimp and peanuts. Both were really tasty, but overall I prefer Cao Lau. Maybe it's just thanks to the secret water!
Next up, we tried two traditional Vietnamese cakes, served wrapped in leaves for freshness. Banh Phu The (pronounced bang foo thayye) were small morsels of a strangely squidgy texture, made from tapioca flour, pandan, mung bean paste, sugar, sesame seeds and coconut milk, which looked bizarre but were surprisingly tasty! Known as "husband and wife cake", the story goes that a jilted wife once made the cakes and sent them to her absent husband, reminding him why he married her and enticing him back (although, I'd personally say she was better off without him!). Banh It were similarly textured, but a striking black colour; these were made from sticky rice stuffed with green beans. It might not sound particularly appetising, but both cakes were surprisingly sweet and quite nice if you can get past the disconcerting texture and appearance.
Banh Beo
From the market, we drove a few blocks to a place that I doubt any tourist would ever find by themselves. It was a small local restaurant run from the owners' living room, which is only open around four hours a day, where they serve one th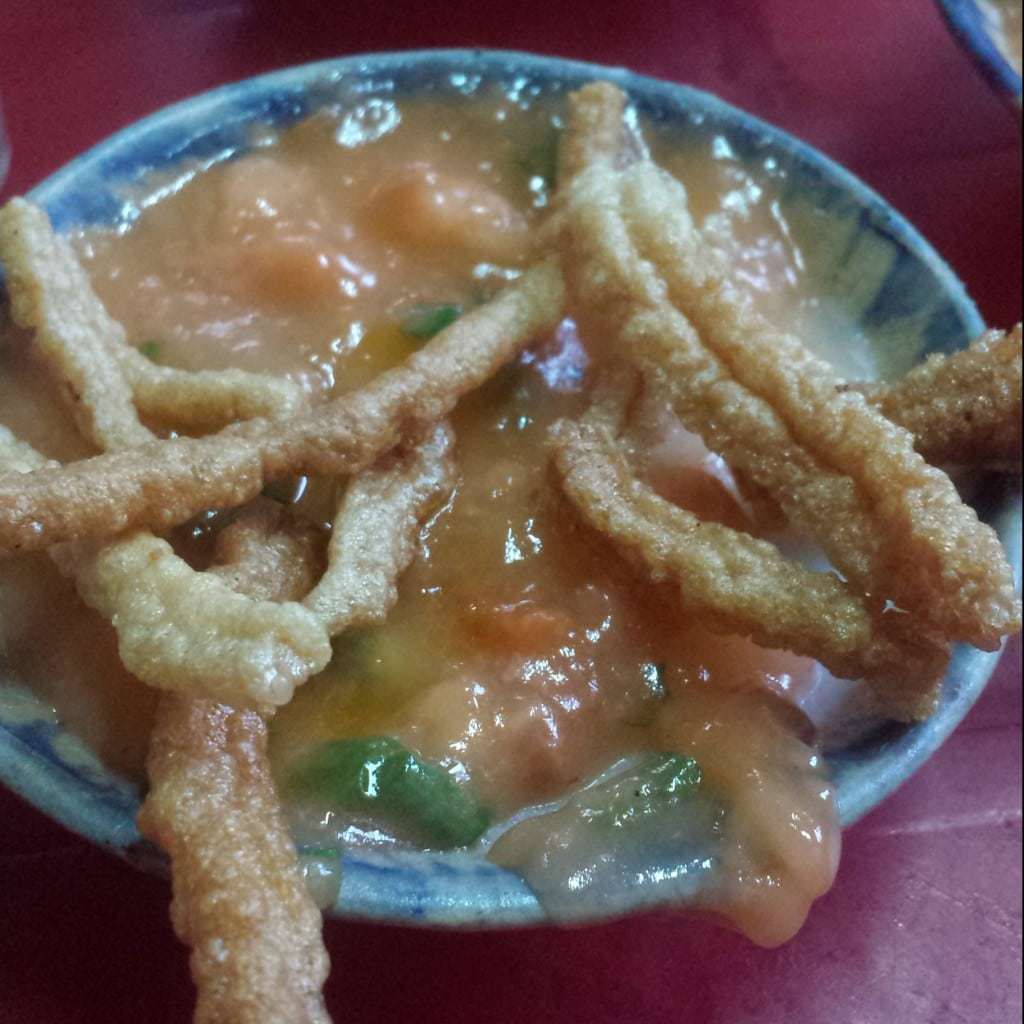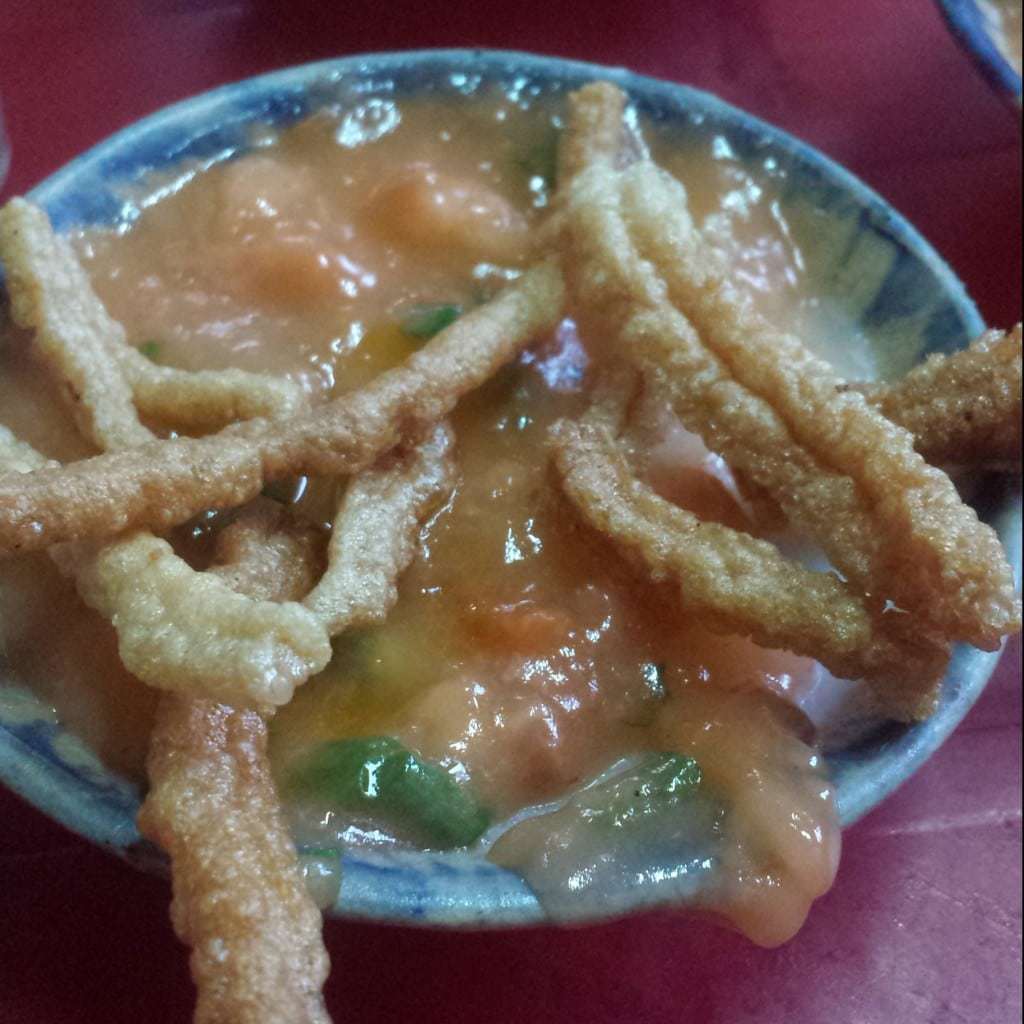 ing and one thing only; Banh Beo, aka Water Fern Cake. These rice flour cakes are served in small bowls and topped with shrimp paste and crisp noodles, and are a hugely popular afternoon snack in central Vietnam; this tiny pop-up restaurant, with no more than six tables, sell about 500 a day in the few hours they open. The girls said they order them by the dozen when snacking with friends, and often have competitions to see who can stack up the most empty bowls.
Water Fields and Pagodas
Finally taking a break from eating, we drove to the water fields to see the rice paddies. At this time of year, there was no rice growing in the flooded fields, but they made a picturesque spot to chat about agriculture in Vietnam as the daylight began to fade behind us. Then, we hopped back on the bikes to drive to the oldest pagoda in Hoi An, Chuc Thanh Pagoda. By now it was fully dark, but we could still get a good glimpse of the ancient entrance gates guarded by stone unicorns (a Vietnamese mythical creature which has no horn and looks much more like a lion or dragon than a horse).
Balut Eggs
Stomachs sufficiently rested, it was time for the "food challenge", so we stopped as a small street cafe for Balut Eggs, a Vietnamese delicacy listed as one of the top 10 weird foods in the world. "Egg no more, duck not yet" is the intriguing way Hoi An Tours describe this dish, which is a revolting-looking boiled duck egg containing a half-formed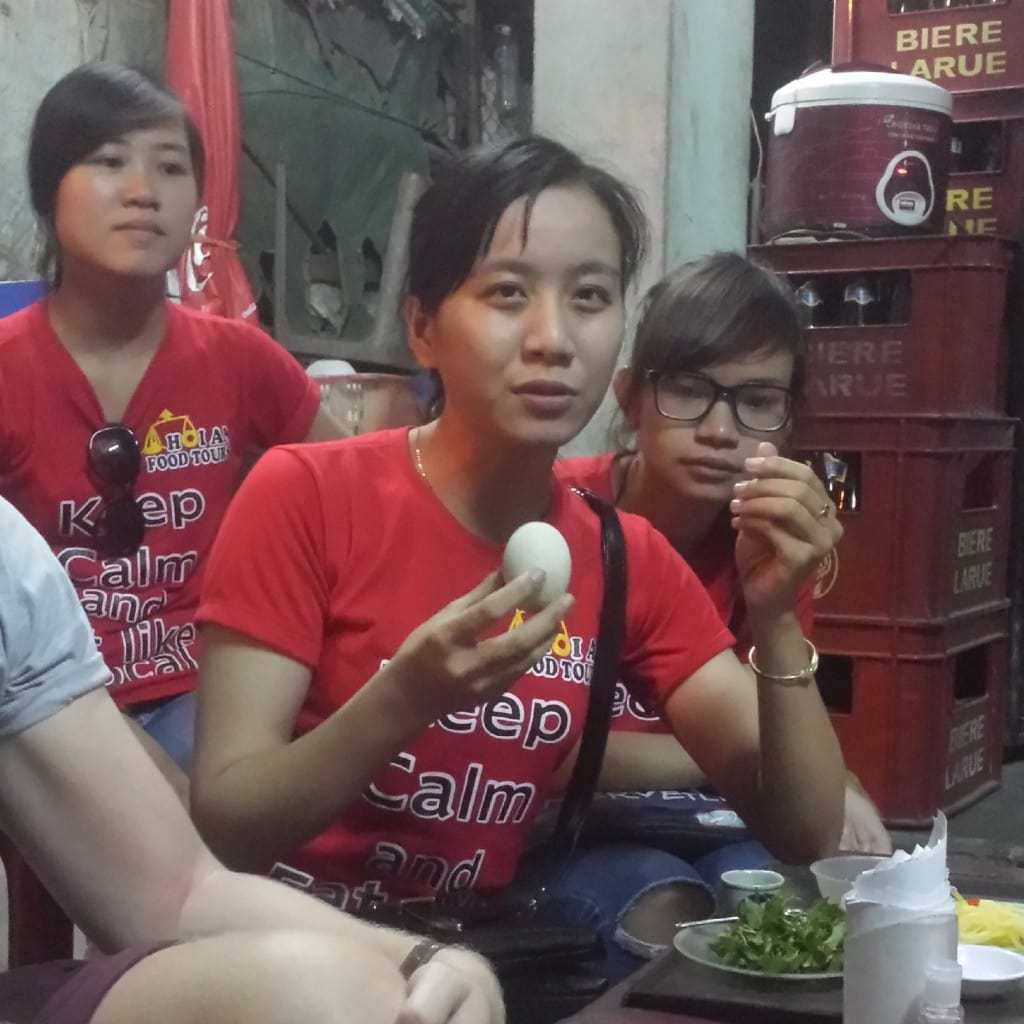 foetus around ten days old.
To eat, you simply crack the top of the egg off – just like with a soft boiled egg – drink the scummy grey broth surrounding the yolk, then eat the soft, black mulch that is a cross between ordinary egg yolk and the bones, head, and feathers of a baby duck.
The younger the better, apparently, as a younger duck has softer bones and is more like an egg. According to the guides, the challenge is getting past the appearance because flavour-wise there's nothing disgusting about this dish, but as only the men in our group were brave enough to try it I can't vouch for that. Sam ate his whole egg, each spoonful garnished with plenty of pickle and Vietnamese mint, and says that the flavour was similar to a salty egg and not that bad, but my stomach turned just watching him. Not a dish for the faint-hearted, Balut Eggs are worth a try if you like to sample the strangest foods possible.
Banh Khot
Thankfully, at the next stop – another roadside foodstall – there was not a foetus in sight, although there were eggs. T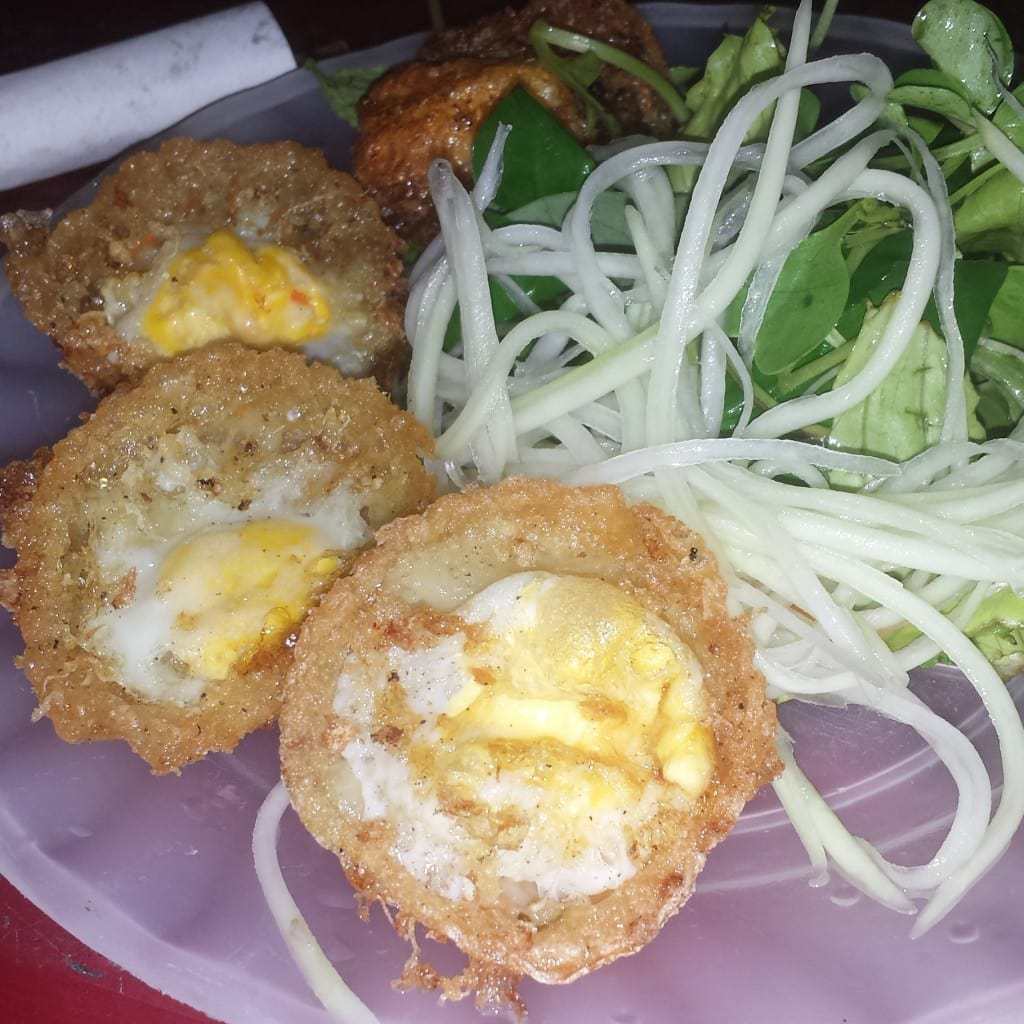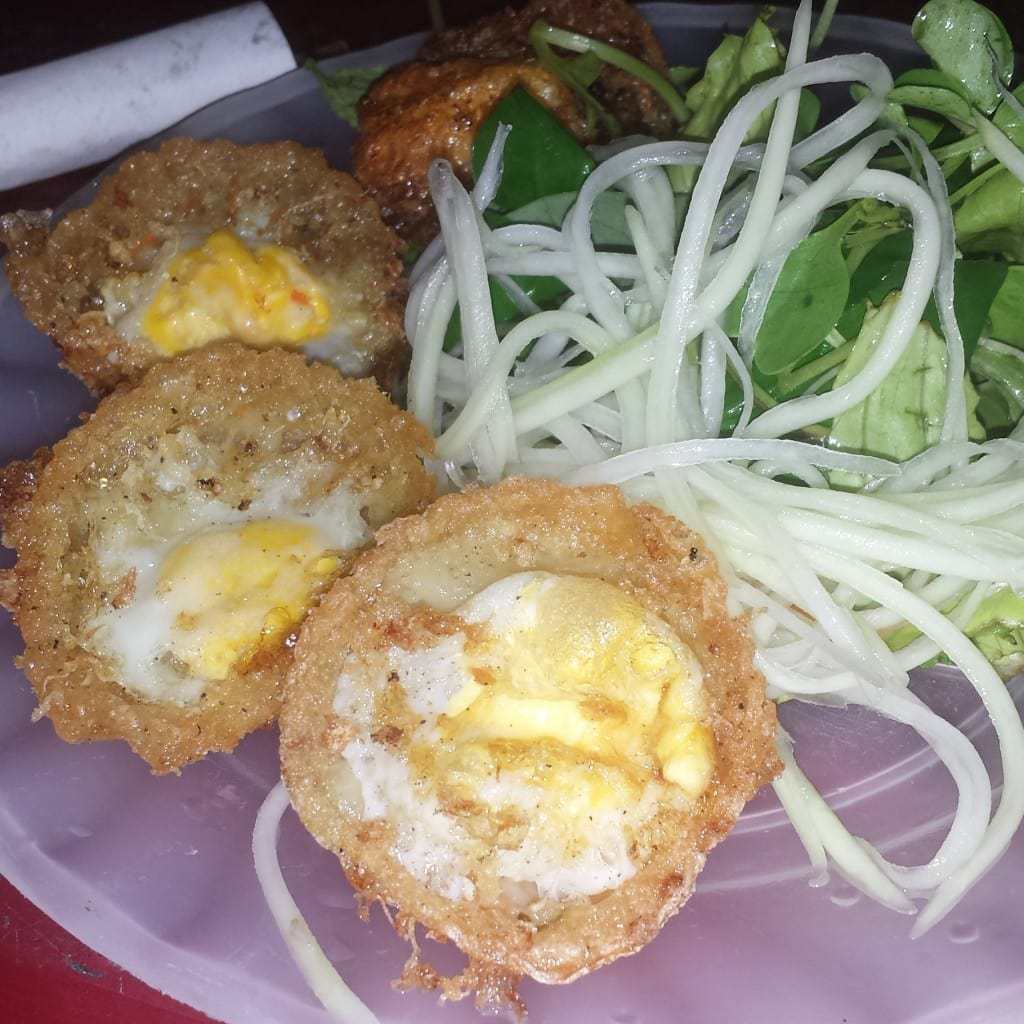 iny fried quail eggs, to be exact, another popular delicacy in Vietnam. These were served on small, savoury coconut pancakes made from rice flour and coconut milk, called Banh Khot, and were absolutely delicious.
Dinnertime!
So, having spent the afternoon pigging out on Hoi An's best treats and appetisers, the only sensible thing to do was head straight to a local restaurant for dinner. We ate "Nhua style": a Vietnamese social phenomenon that traditionally involves a group of friends sitting around sharing bowls of food. Soon our table was piled high with heaped dishes of delicious food, including fried rice with shrimp and vegetables, fresh boiled clams, and a traditional Vietnamese hot pot served over a small burner and stuffed full with vege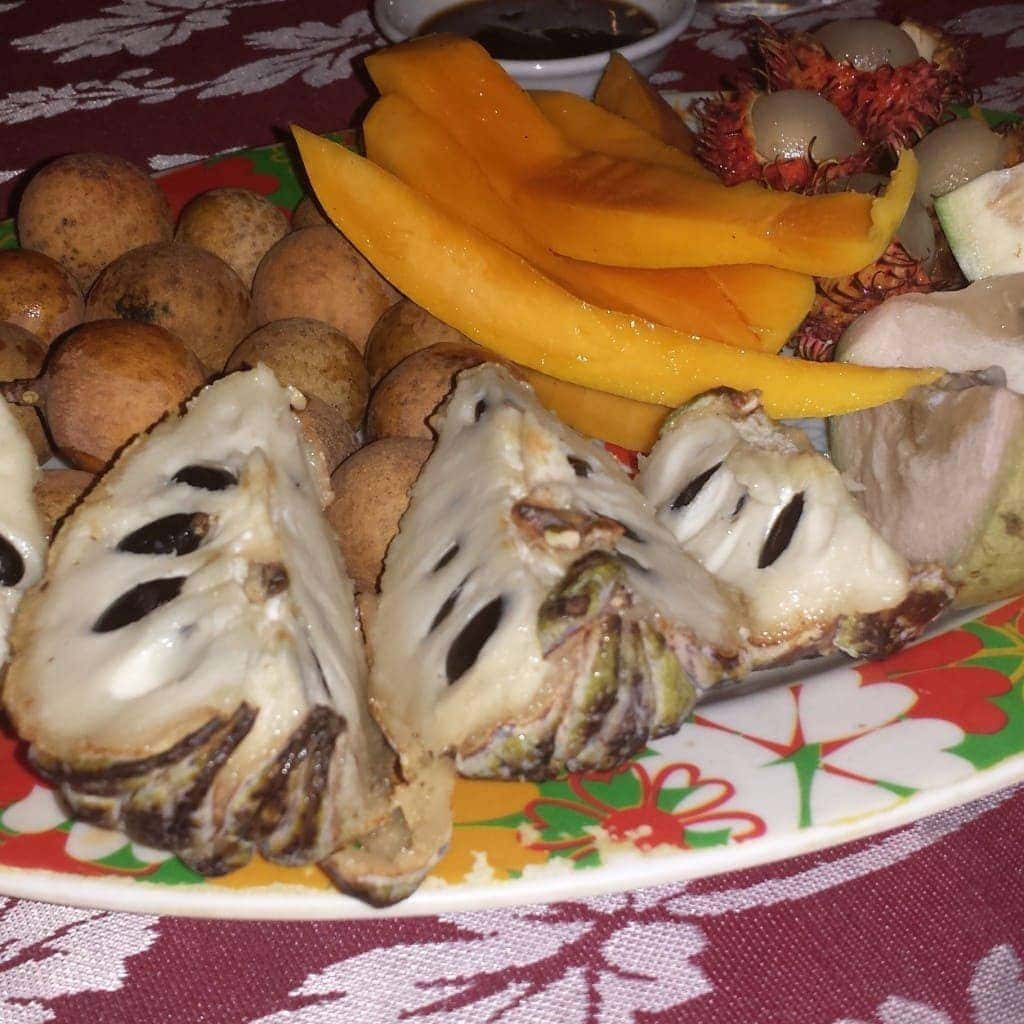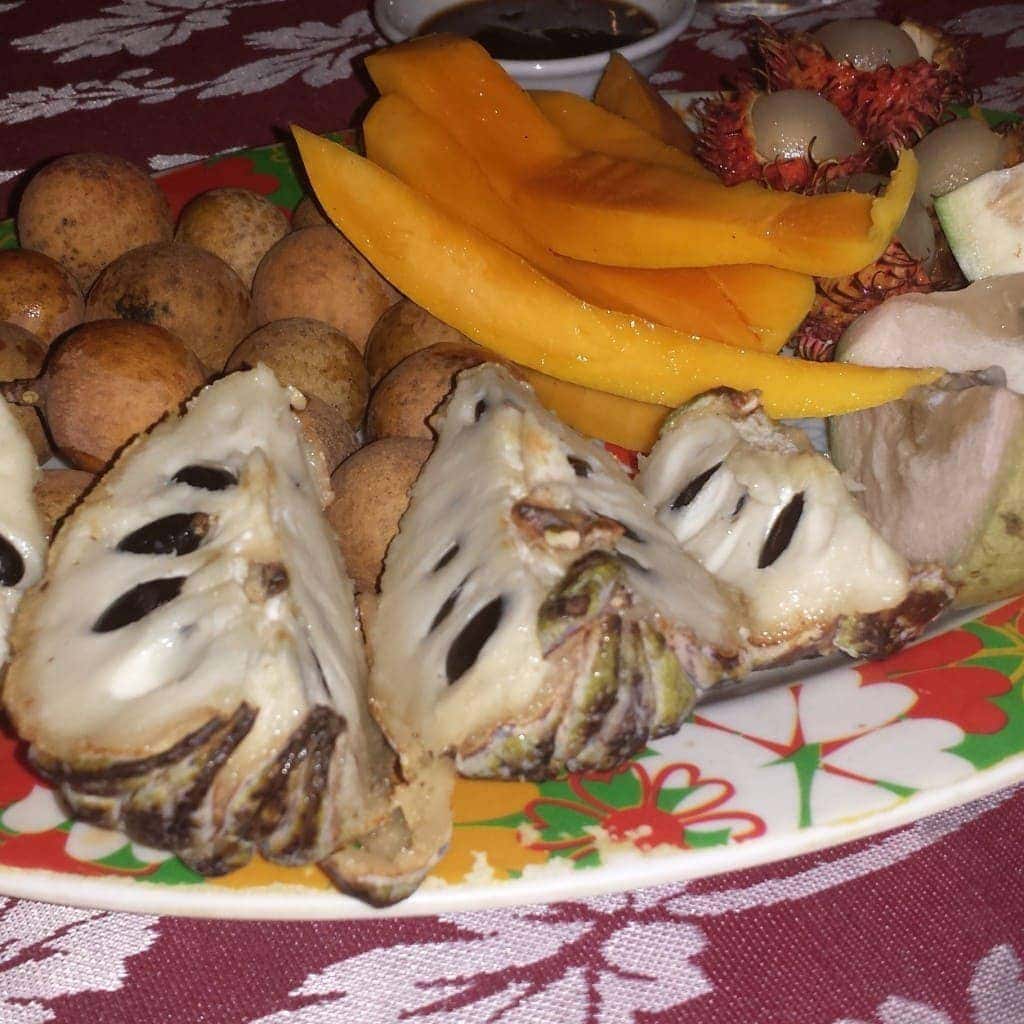 tables, fish and prawns. By this point, we were all struggling, but everything was so yummy that we simply had to persevere. Finally, we finished everything off with platters of fresh tropical fruits including mango, lychees and dragon fruits, which we'd picked out at the market at the start of the tour – which by this point seemed so long ago.
It was by far the most educational and most filling food tour I've ever taken. Eating with locals is always the best way to discover a culture's cuisine, as you'll gain insight not just about what to eat and where, but also how to eat it, and what the traditions and stories are behind the food. So the Hoi An Street Food Motorbike Tour was simply the best way to discover the cuisine of Hoi An and Central Vietnam, and we had an absolutely amazing time doing it.
Hoi An Street Food Tour – Info
Hoi An Motorbike Street Food Tour – 3pm to 8pm
To book, contact Best Price Vietnam on +84-436-249-007 or [email protected]
Bring an empty stomach – do NOT eat lunch before this tour!