Strangely, Hanoi looks much better from the back of a motorbike – especially at night. In spite of the sea of traffic and the sheer number of people, sitting on the back of a bike somehow feels safer than trying to navigate the city on foot. Perhaps that's not so strange in a country where the 39 million registered motorbikes outnumber cars eighteen to one. Given that cars often can't make it through the hoards of motos, and that pavements are more commonly used as parking bays or shop display space, bike really is the best way to see this bustling city when night descends and Hanoi lights up like a fairground ride.
So, one of the best experiences in Hanoi has to be the Night Lights and Food Motorbike Tour by Paloma Motorbike Tours. We spent Sunday night speeding round the city, able to look around us for once instead of dodging traffic and potholes at the sides of the roads, and it was the most fun I had during our time in the capital.
Our guide, Nam, picked us up from our hotel around 6pm and introduced us to our drivers, the lovely Mik and Inh, tw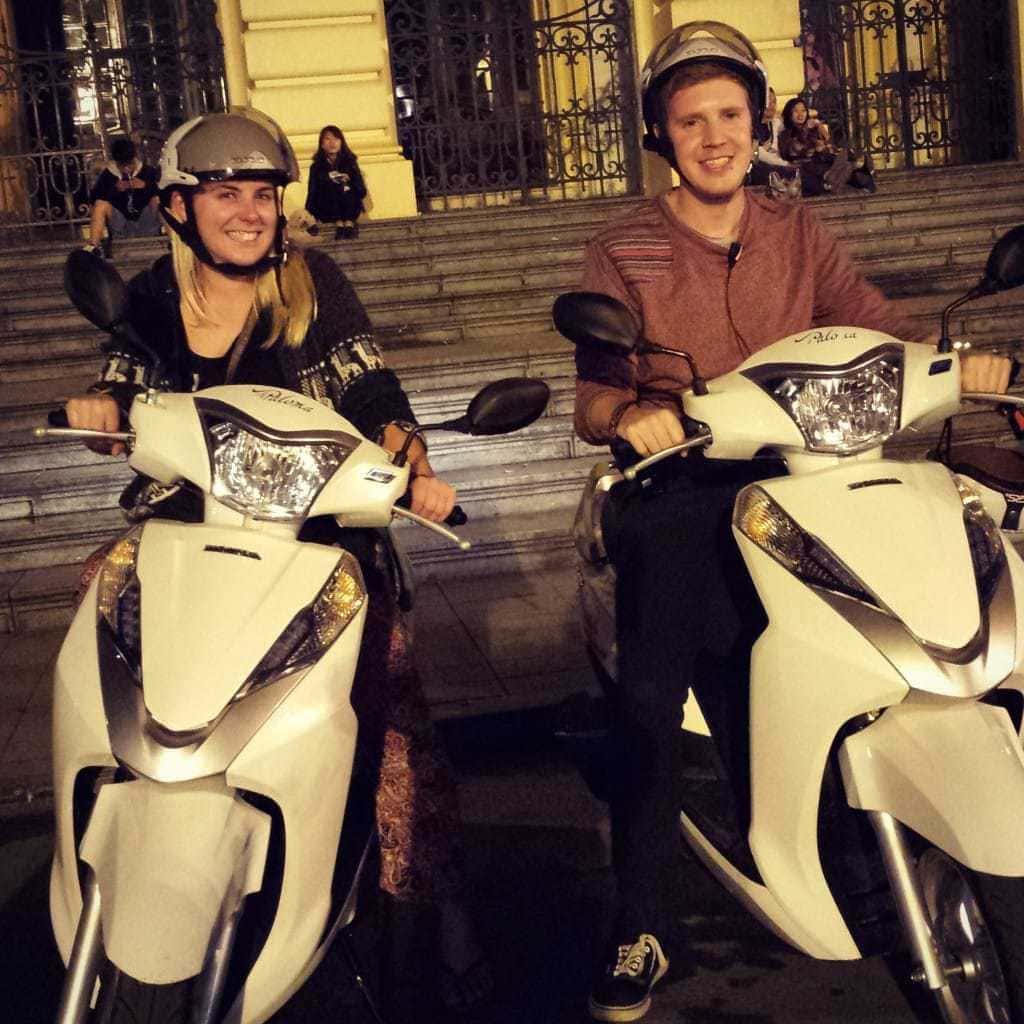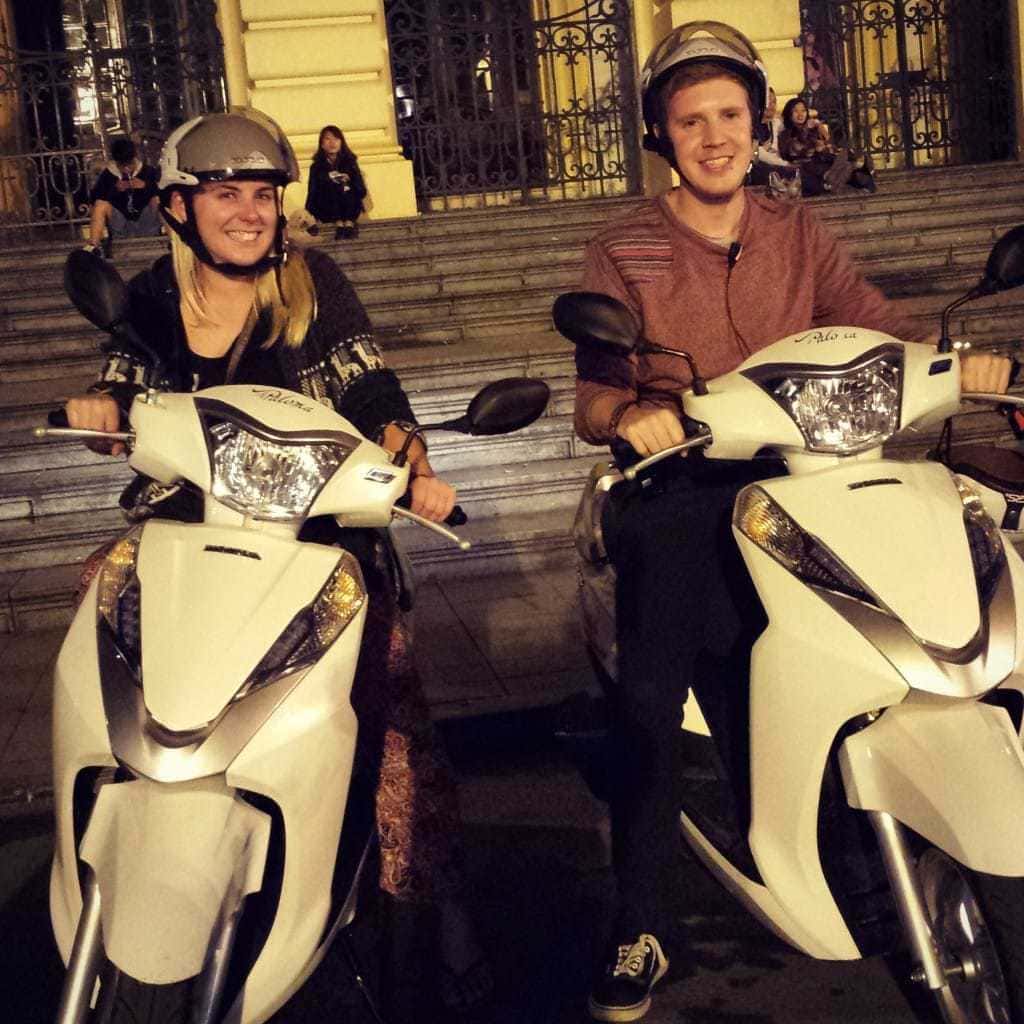 o girls studying English at university. The bikes were big, new and much comfier than some of the motos we've had lifts on before, and we each had our own bike and drivers, while Nam led the tour from the back of a bike with a third driver. Besides the four guides and drivers, it was just me and Sam on the tour as they only cater to small groups, giving us plenty of privacy – and ensuring that we were kept nice and safe by the four staff members taking care of us.
We started – where else? – in a coffee shop: Cafe Nang on Nguyen Huu Huan. Coffee, introduced to the country by French colonialists in 1857, has been seized by the Vietnamese and forms a huge part of their food culture. Hanoi, like the rest of the country, is rammed full of coffee shops, which are less the quick energy fix and free wifi we see them as in the UK and more a place to meet, chat and linger over one or two (or six) delicious coffees, while at night many of these cafes function as bars, blasting out music to compete with the roar of the motos and serving coffee long into the early hours.
Nam introduced us to the history of coffee in his country and gave us a little insight into this culture. Coffee in Vietnam is strong, but usually served with condensed milk giving it a sweet, toffee-like taste to counteract the tangy, subtle bitterness. The evening being particularly hot and humid, I took my coffee brewed over ice, a popular drink which tastes like a milkshake, and over our yummy pick-me-ups Nam gave us the evening's itinerary and set us up with our ear pieces.
This is a particular stroke of genius. In a city where stopping even at the side of the road can be dangerous, and not much can be heard in the street, Paloma Motorbike Tours use walkie-talkies for their Hanoi Tours with small ear pieces so that the tour can be conducted whilst guests are whizzing along on the back of their bikes – and there was even two-way so that we could ask questions.
Safety briefing over, and armed to the teeth with coffee-related recommendations (like the popular brand Weasel Coffee
which delivers worldwide, and the must-try Vietnamese egg coffee which is apparently not as weird as it sounds), we headed out into the city on our bikes.
The first sight was the stunning yellow façade of the Hanoi Opera House in the calmer, more spacious French Quarter. Vividly lit against the night, the ornate white-pillared building looked
stunning, and it's picturesque steps were dotted with couples sitting hand in hand, enjoying the warm night. From the French Quarter, we zipped through the busy streets below colourful light decorations, over to Ho Chi Minh's Mausoleum. Closed for three months for maintenance, we couldn't get right outside the building, but it was lit so brightly in white and red that it stood out brilliantly against the dark sky.
Nam was full of facts not only about Ho Chi Minh, but about Vietnamese culture and politics in general. I particularly enjoyed learning about the various superstitions surrounding marriage – with the numerous unlucky years and days making it very hard for brides to arrange a date. Learning about a country from it's locals is always the most interesting way to experience it, and Nam was a brilliant guide with a ton of knowledge and fantastic English. We loved him!
Having thoroughly worked up an appetite, it was off to the West Lake to spot the pretty reflections and hunt down a small local restaurant which was totally off the beaten track; tourists rarely visit this part of town and if they do, I doubt they'd stumble upon Moc Quan Restaurant (53 Nguyen Khac Hieu Street). This unassuming looking place se
rves up some incredible local dishes which can't be found in the old quarter, as they originated in the lakeside village of Ngu Xa which now forms the Ba Dinh district of Hanoi. First up, an enormous quantity of the delicious fresh spring rolls Pho Cuon. These amazing treats are made from super-thin sheets of rice noodles stuffed with marinated beef, coriander and fresh rice noodles and, unlike their more famous cousins, aren't fried at all. We ate them with a sweet dipping sauce of papaya, fish sauce, and rice vinegar, and I had far too many – making it much harder to finish the second dish of Pho Chien Phong. These were little crispy squares made of the same rice noodle sheets folded into a 'cake' and fried till they puff up, served smothered in beef, green vegetables and a deliciously rich, garlicky sauce. All those snacks, served with the traditional Tra Dang (a kind of tea), seemed enough for one meal, so finding out there was another coming was a bit of a surprise.
First, though, we drove around the edge of the West Lake to visit the gorgeous Tran Quac Pagoda, a tall, slim structure which was lit up fantastically in the night. We stopped in front of the yellow entrance gates, watching bats flit around the trees, to listen to still more fascinating information from Nam, this time all about religion in Vietnam and the complicated lunar calendar. Did you know, for example, that the best days to worship and leave offerings at the temples are the first and fifteenth of the lunar month?
Crossing the Red River via Long Bien Bridge, which only accommodates motos either side of the tracks for the huge diesel trains, one of which clanked past us as we zipped across, we found ourselves in a part of town which almost never sees tourists, and this was where we stopped for dinner. The restaurant, Quan Nuong 3 Nhat (Ngọc Lâm, Long Biên), was a lively place on the river with plenty of tables outside packed full of locals, serving delicious barbecued meat and a whole lot of other delicious stuff. Nam placed the order and the six of us took seats around the table, which was soon laden with dishes.
Barbecued pork ribs, water morning glory sautéed with garlic, spicy scraps of pork served wrapped in leaves and dipped in hot sauce, and doughy, fried balls of sweet potato – not to mention the standard mound of sticky rice. Everything was, quite simply, delicious, and I kept shovelling down fresh bites long after I was so full I felt sick. The atmosphere outside the restaurant in the fresh night air, surrounded by locals eating and laughing, was fantastic, especially when a busker pulled up and commenced to sing along to some loud dance tracks. But what really made the night special was getting to chat to our lovely crew; Nam, the two girls Inh and Mik, plus Nam's driver (also called Inh). It was really fun, the staff were all really friendly and very funny, and we learnt even more about the local culture – like the popularity of 1 Direction with local girls (some things are just worldwide I suppose).
Finally, we headed back to our hotel at around 10pm, completely stuffed full of delicious food and really pleased with our amazing evening. The tour and the company were fantastic, with great new bikes and helmets (very important!), and I was especially impressed with our drivers – especially because, being generally scared of everything, I really hadn't expected to feel so safe on the back of a bike in Hanoi. The food and the cultural insights were wonderful, and the whole evening was just brilliant fun from start to finish.
Information
If you want to try out the Hanoi Night Lights and Food Motorbike Tour from Paloma, head over to Best Price Vietnam to book. The price is $68 per person, which includes all food and unlimited beer and soft drinks. Tours run from 6pm to 10pm, starting and finishing at your hotel.